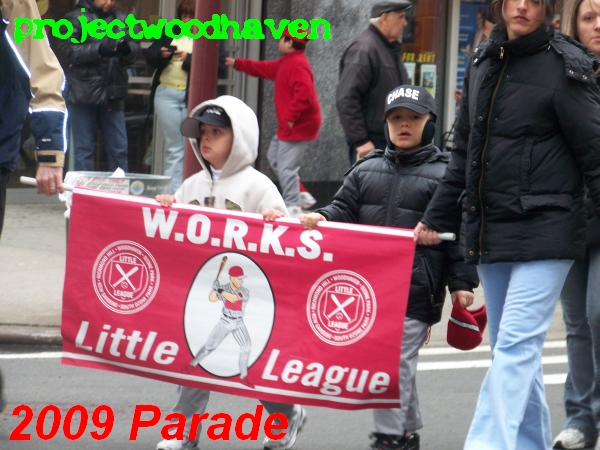 For over half a century, little league baseball has been an integral part of life in Woodhaven. For many years, it was Rich-Haven Little League that provided that outlet for our children. A few years ago, Rich-Haven (which served Richmond Hill and Woodhaven) expanded its' reach to include Ozone Park, Kew Gardens, and South Ozone Park and was reborn as WORKS Little League. WORKS also expanded its' reach to include 4 teams for girls, and challenger division that specializes in children who are afflicted with autism. It's a wonderful story evolving right here in Woodhaven and on Saturday, April 4th 2009, the league's children, their parents, managers and coaches took part in a long tradition - the Annual Parade.
Note: For a little bit more on the background of WORKS and their history, check out our prior coverage of their picture day here. Also, for a real blast from the past, keep reading - a real treat awaits you.
It had rained heavily the day before, but we lucked out and Saturday morning was dry. However, as you can see by how folks dressed up, it was real windy and there was a definite chill in the air. The parade began at PS 90 on 108th Street in Richmond Hill around 10 AM and by around 10:20 they were crossing Woodhaven Boulevard, led by the police and the auxiliary force from the 102nd Precinct.

The Beach Channel High School Marching Band did a wonderful job providing a beat to march to, and a wonderful job up in Forest Park at the Seuffert Bandshell (as you will see later on).

Sandy the Seagull, one of the two team mascots for the Brooklyn Cyclones was on hand to enjoy the festivities and to, perhaps, scout for some future talent for the New York Mets.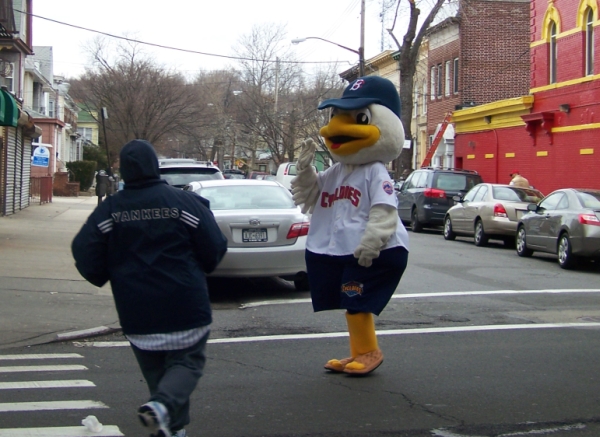 The children were enthusiastic, waving and smiling to all who turned out to watch the parade. Here is the first part of our video coverage of the day - WORKS parading down Jamaica Avenue, filmed at the corner of 91st Street.
The parade, as they say, passed us by. So we hopped in the Project Woodhavenmobile and zipped over to Forest Parkway to await their arrival there. I'd like to say that we exhibited solidarity with the marchers and drove with the windows down so we, too, could feel the cold. But I can't . . . I'll admit that the heat felt good. We arrived a few minuted before the marchers and we could see, and hear them, in the distance. And as they made their way up Forest Parkway, we got a good glimpse of just how many people wee marching.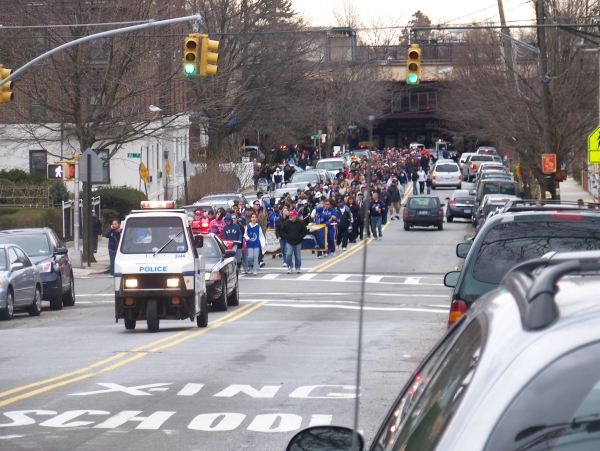 The wind was really whipping down Forest Parkway and many cups of coffee and hot cocoa were in evidence.

Within a few moments . . . the parade passed us by again. It's not often where that happens to you twice in one day. Once they were past, we hopped back in the Project Woodhavenmobile and made our way to the Seuffert Bandshell. It was a terrific sight, seeing all the children and adults making their way along Forest Park Drive, and a few of them recognized us from Jamaica Avenue and said hello. Soon, they began making their way down to the benches, taking a well deserved rest.

Here now, is our video coverage of the march up Forest Parkway, and their arrival and the Seuffert Bandshell:
That was terrific, wasn't it? It's great to see that kind of community spirit and enthusiasm. Well, while I was standing on Forest Parkway, the President of WORKS Little League, Terrence Flanagan, held out a disc and asked me if I was interested in the 1959 Rich-Haven parade down Jamaica Avenue. I nearly fainted. It was given to him by one of the auxiliary police officers (whose name we will get so we can credit him properly). Folks, this is indeed a treat:
Isn't that remarkable? There must be dozens of similar films - and hundreds of photos and slides - of Woodhaven from back in the day. If you have some lurking about, and would like to contribute them to the site, please contact us. We will, of course, take care of - and return - all contributions. And now, back to the future -- the 2009 Parade.
By the time everyone got to the bandshell, the cold and the wind no longer seemed to matter. It was quite a walk, and many of them - the young children especially - appeared to be excited by their accomplishment. And on this day, we were joined by a number of our local elected officials who were in good spirits and just as enthusiastic.

At left, WORKS President Terrence Flanagan with Rep. Anthony Weiner as the Congressman addresses the crowd. At right, New York State Senator Joe Addabbo, Assemblywoman Audrey Pfeffer, Sandy the Seagull, Councilwoman Elizabeth Crowley, and Councilman Eric Ulrich await their turn. Each of them took a turn at the bullhorn, congratulating the children, their parents, and the league and wishing them all the best of luck on the 2009 season.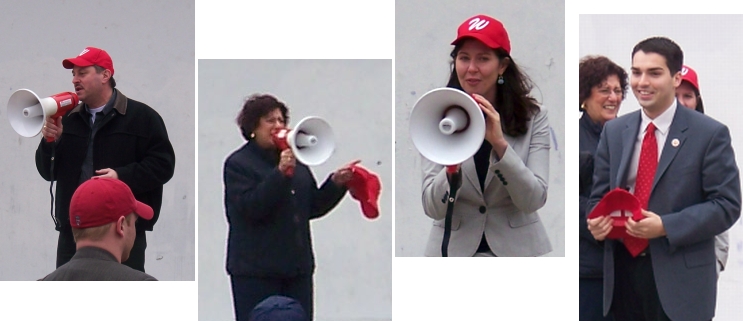 The proceedings took a bitter partisan turn, however - but that's to be expected when you get hundreds of Met and Yankee fans in one place. Here is our video report on the WORKS Rally at the Seuffert Bandshell:
Again, this is a wonderful story unfolding before our eyes here in Woodhaven - and it deserves our support. We'll be making sure we stop by a number of the games this season to file reports, and we hope to see a lot of you out there.
Related Links:
If you have any comments, or would like to suggest other projects, drop us a line at info@projectwoodhaven.com or projectwoodhaven@aol.com.
Return to Project Woodhaven's Home Page
Photos by Joey Wendell