One of our earliest reports, back in February 2009, was a look at Strack Pond in Forest Park. This area, known as a kettle pond, was drained back in the 1960s and turned into ballfields. But these ballfields flooded so often that they became unusable, and a few years ago they were converted back to their natural state, and exist today how they were meant to exist.
These pictures were send to us by the Ahmed family, who took a walk down to the pond after last week's car show at the bandshell. On this day, Mokarram and Scarlett Ahmed introduced their son Omar to the beauty of Strack Pond and have kindly shared their photos with us. When we last visited the pond, it was still winter -- here we are in the midst of summer and the trees are full.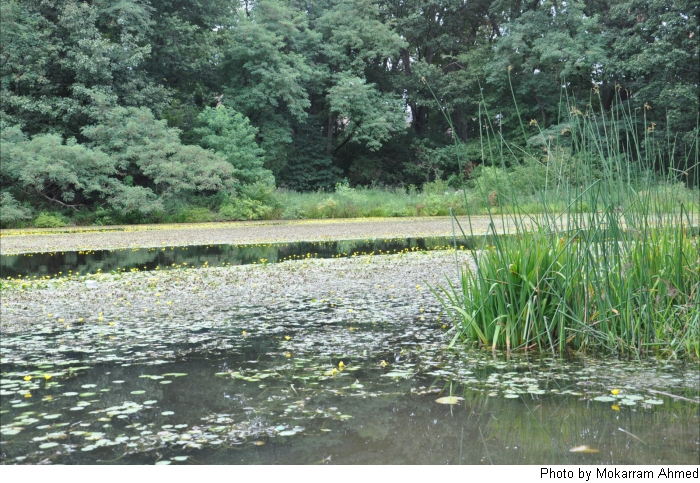 Since getting these pictures, we were inspired to pay the pond a visit of our own. It's really a lovely, peaceful place to visit. And, sitiing there, surrounded by trees and bushes and wildlife, it's easy to forget that you're just a 6 minute walk to your car.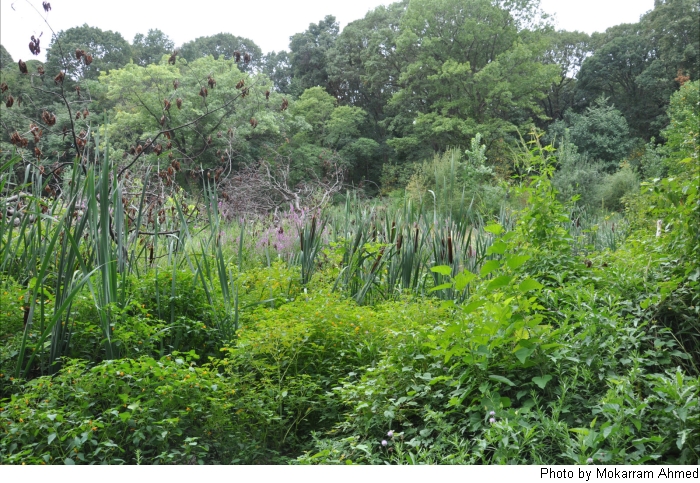 This would be a terrific spot for an artist to bring their easel and start painting. There are a few rocks at the water's edge to sit upon and watch the geese. We saw a bunch of turtles and frogs on the day we were there. Lots of interesting thing going on.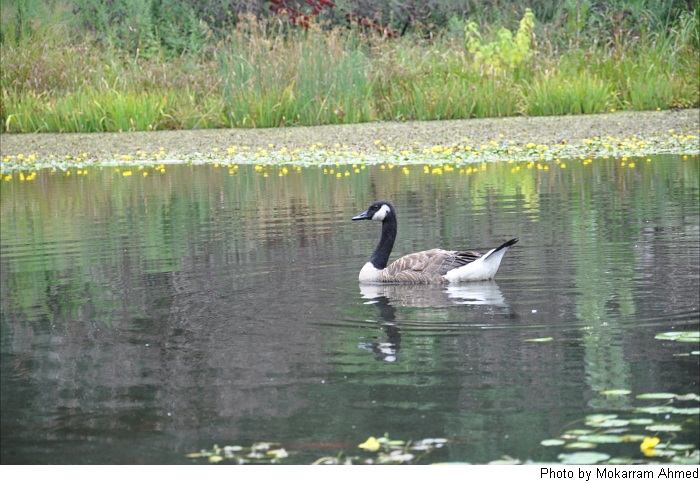 Here, Omar and his pals go fishing with a makeshift rod -- just as kids used to fish here decades ago. If you've not visited this spot, it's a must-see destination in Woodhaven. There's a nice cement pathway from the entrance directly across from the parking lot that leads right to the pond.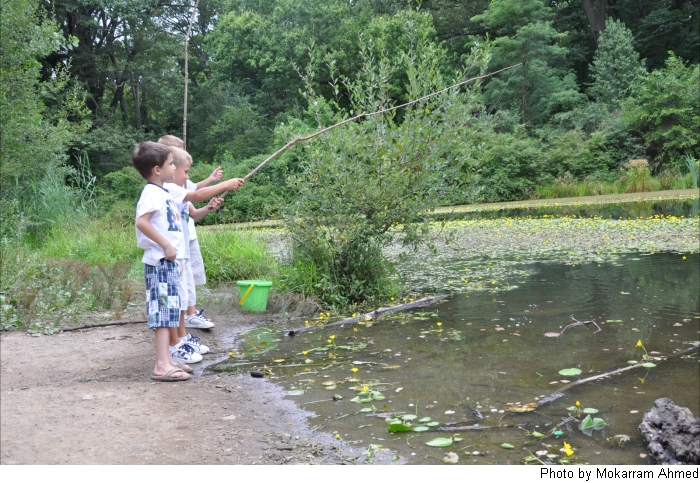 There's more of a natural path which you can follow, taking you around the back end of the pond, which leaves you off on Forest park Drive near Woodhaven Boulevard. It's a short hike, but a lovely one -- and plenty of places along the way to stop and admire the scenery.
Here is an aerial shot of the park -- you can see the bandshell and the parking lot on the left. And you can see the pond on the right and the path that connects the two. The path around the back of the pond is covered by trees. Side Note: You can also see the carousel in this image. Look at how large the carousel is -- compare it to the size of the banshell. That's got to be an illusion -- is the carousel really that much bigger than the bandshell?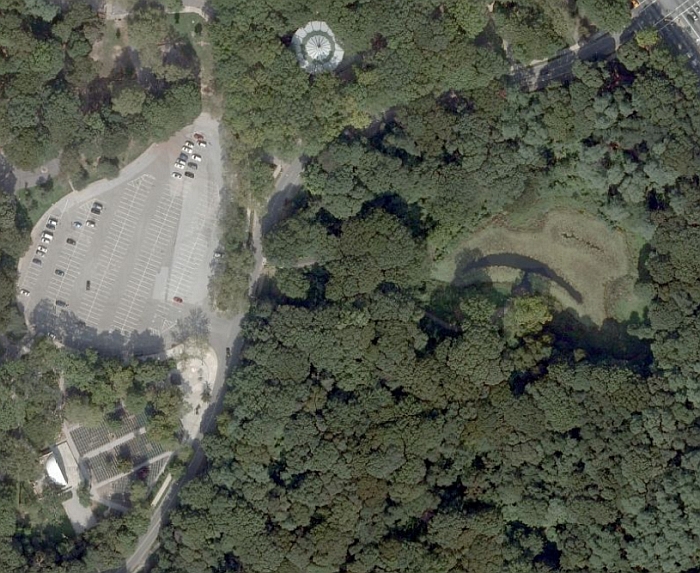 Here's a nice picture of some young butterflies having lunch. There are all sorts of different plants and flowers surrounding Strack Pond, attracting all sorts of beautiful insects.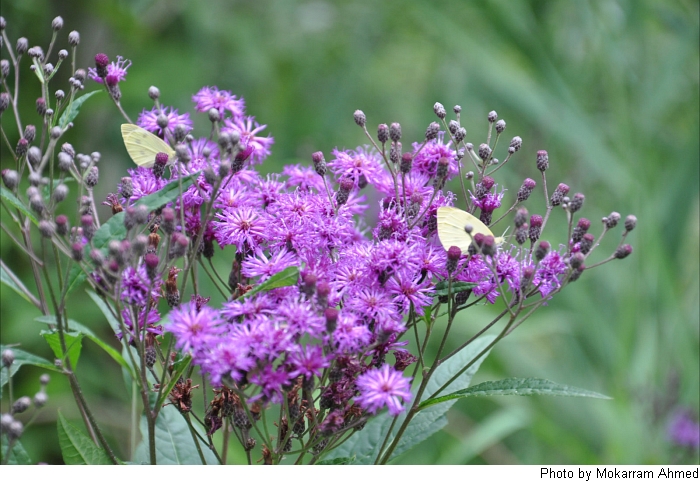 We are so fortunate to have such a beautiful park, right here in our community.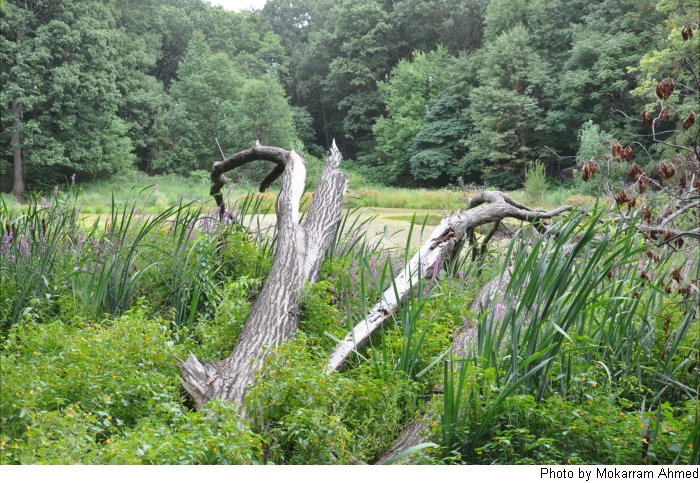 These are some beautiful pictures of the pond, and hopefully some of you will feel similarly inspired, and make a trip of your own to our beautiful kettle pond.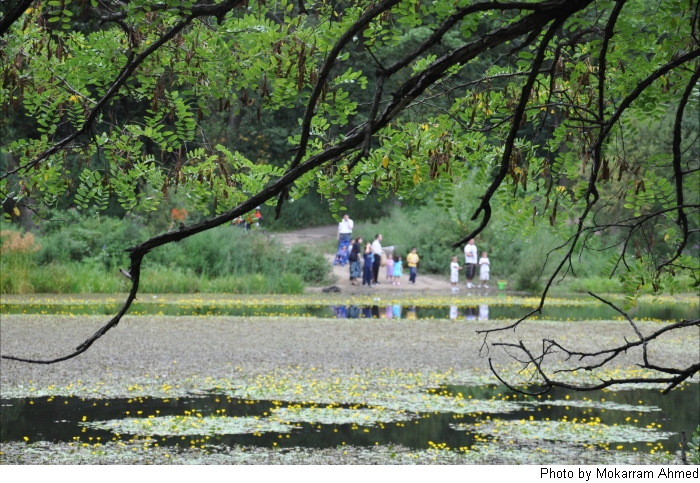 There are some trees which were cut down -- perhaps they were sick -- and the stumps make for nice resting spots. And there's lots of nice little hidden spots.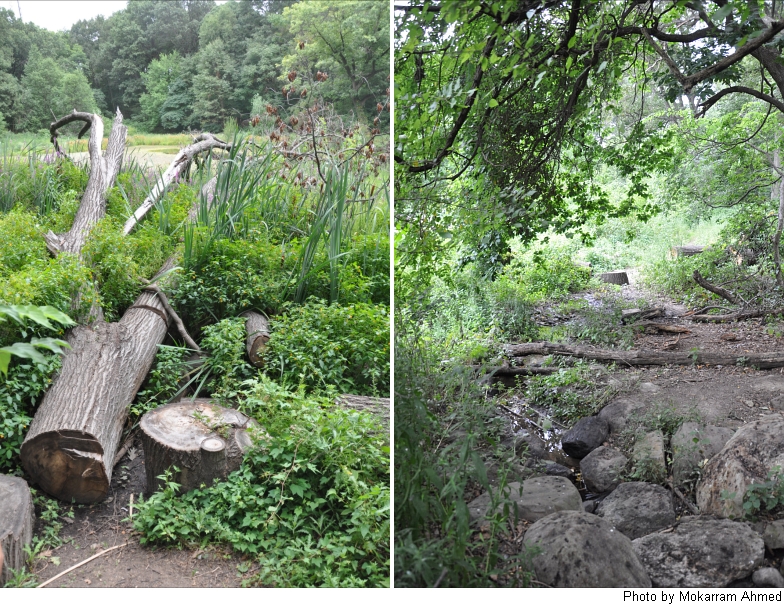 A very special thank you to the Ahmed family for sending along such wonderful pictures of Strack Pond.
Before we go, a little bit of background on the name -- Strack Pond --
As boys, Gil and Laurence Strack would walk from their Woodhaven home to the frozen pond in Forest Park they called the "soup bowl."

There they would play hockey with their buddies, Laurence usually sporting a Chicago Blackhawks jersey that Bobby Hull once tossed at him during a game.

Thursday, Gil Strack choked back tears as he looked over the newly-restored pond named for his brother, who was killed in 1967 after parachuting into a firefight during the Vietnam War.

"What they did here is simply breathtaking, and I can almost see my brother here sitting under a tree," Gil Strack said after the emotional dedication of the Pfc. Laurence Strack Memorial Pond.
NY Daily News, May 23, 2004 - Click here for the entire article

Laurence Strack was the first resident of Woodhaven to die in Vietnam. It is a place that he used to visit as a child, and it has been named in his honor.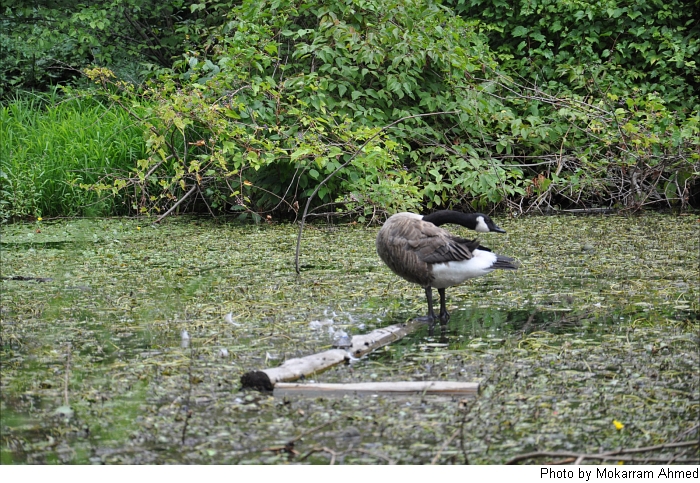 If you have any comments, or would like to suggest other projects, drop us a line at info@projectwoodhaven.com or projectwoodhaven@aol.com
Return to Project Woodhaven's Home Page