Well, we got lucky once. But the next time around, we got hit hard. The snow started in Woodhaven around 2 AM. And by the morning's commute, the snow was falling heavily. These next few pictures were taken between 7:30 and 8 AM. The snow was falling so hard, so fast, that it made focusing the camera a little tricky. Here's a nice shot of the Oak Ridge building in Forest Park with the streetlights still burning.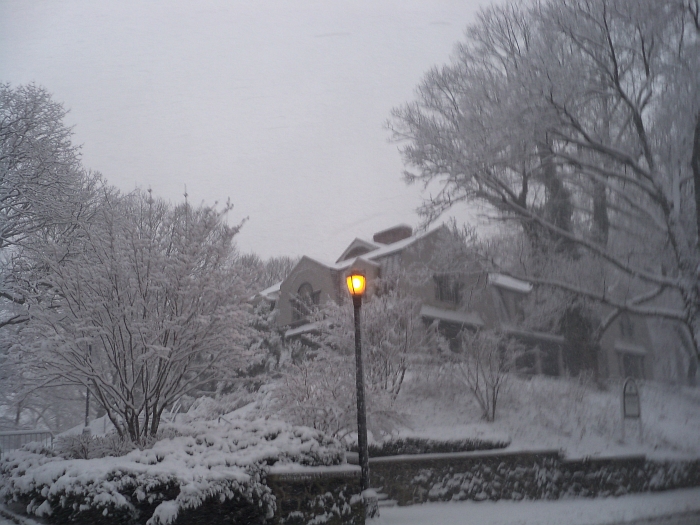 Here's another picture taken as we rolled through Forest Park. Look at how the snow is resting on each of the bare branches. Pretty, isn't it?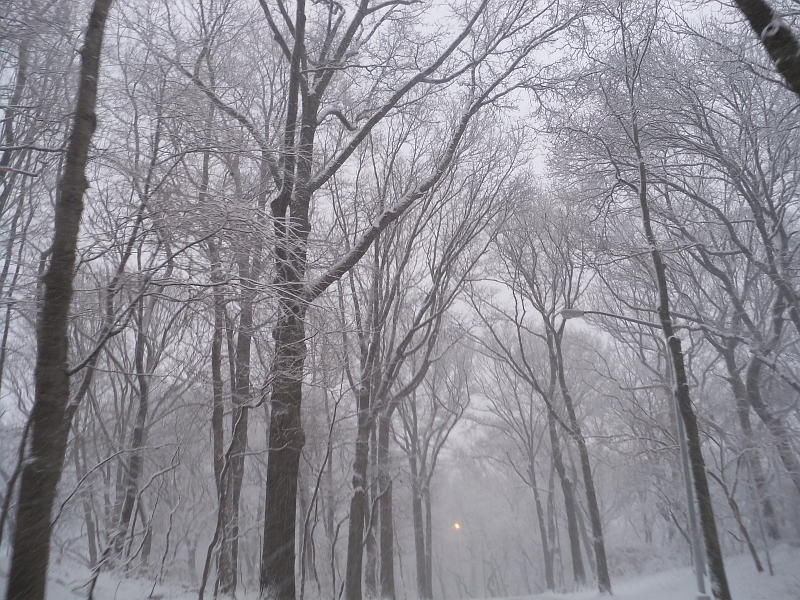 Some more trees in the park. At one point, we pulled over and just enjoyed the view. Readers of this site no doubt know that we're great admirers of our park. A morning like this, when you're all alone, and it's so very quiet -- it's very special. We're so lucky to have this beautiful park just minutes away.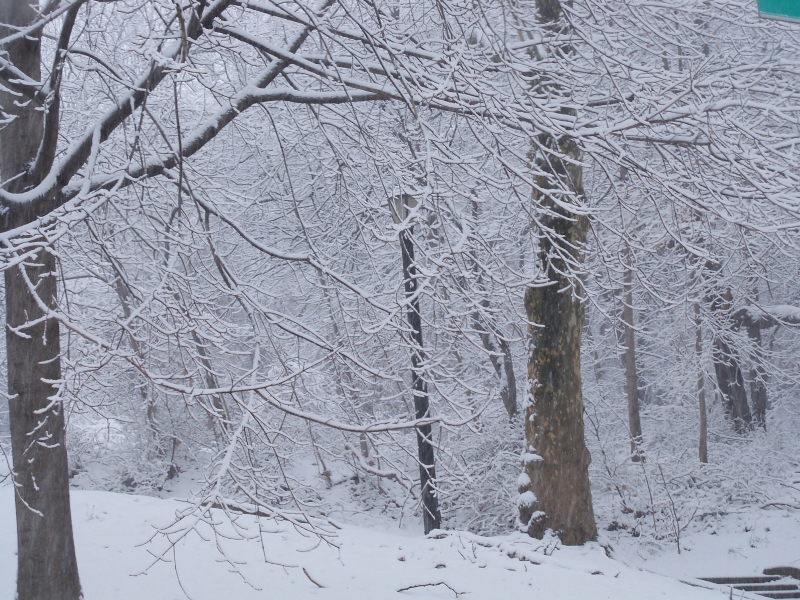 The streets were also pretty quiet. This is Woodhaven Boulevard around 8:15 AM. Now there was only about 2 or 3 inches on the ground at this point. But it seemed that most folks opted to stay home, as this picture below shows.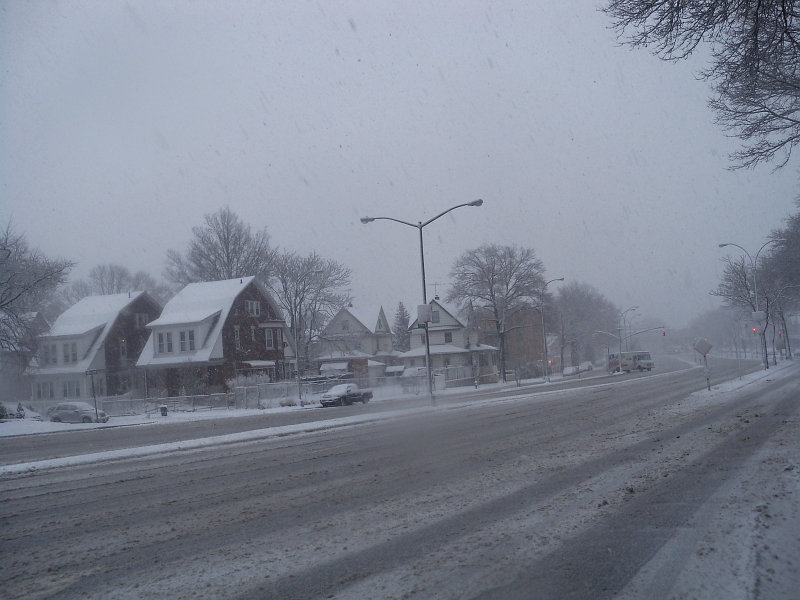 No sooner did a car pull put of a spot when the bare ground beneath would be covered in snow. You could tell this was gonna be a biggie. Heh, check out the sneakers gathering snow on the telephone lines.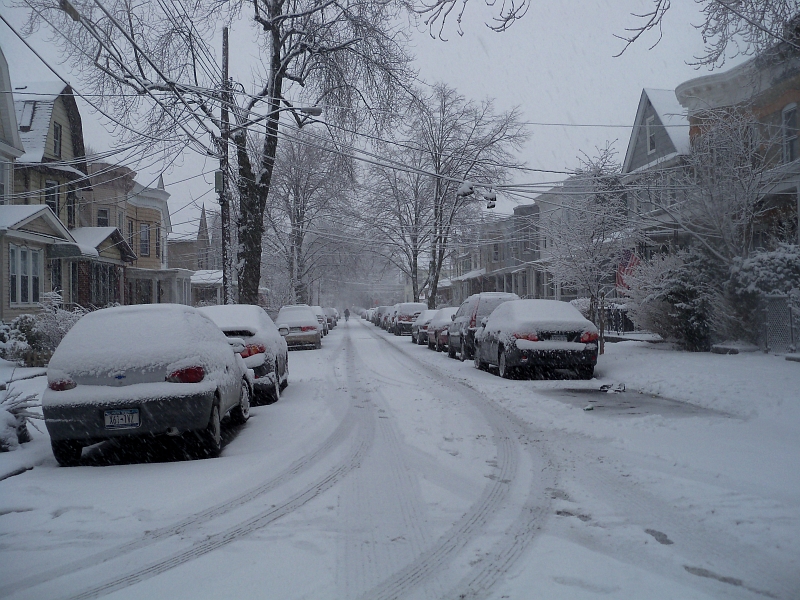 Let's take a closer look at that:

Jamaica Avenue was empty, and faring pretty well. By this time, it was around 8:30. Although a lot of these stores would open later on, it looks as if the owners were traveling carefully. The plows were already working to keep the main roads clear.

So we spent the day inside, venturing out to the porch once in a while to see the storm's progress. The picture below was taken around 9:30 PM. We did try to get our car out, to see if we could get around town to take some more pictures -- but our driveway was blocked by a solid, wet, heavy wall of snow.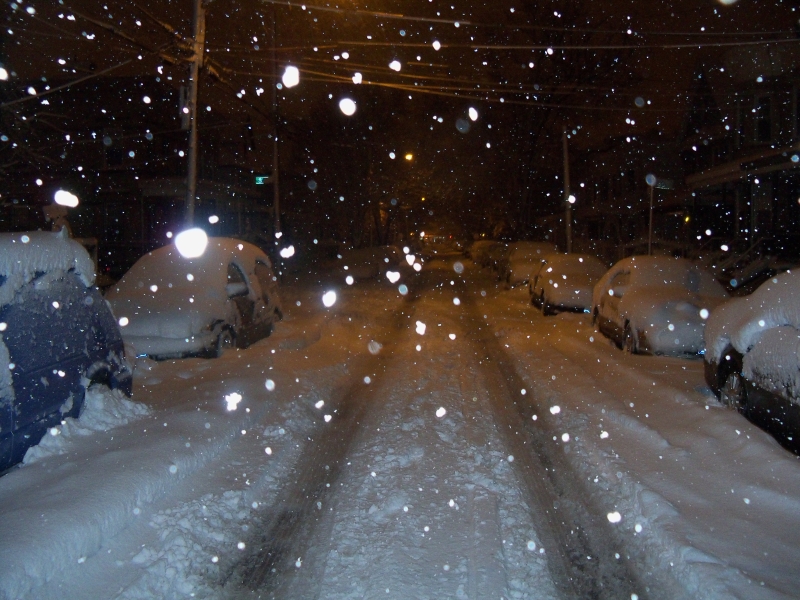 But we did manage to walk to the corner and take a few snaps. Then we got cold and ran back indoors.

By the next day, the sun was doing its good work -- and the snow was beginning to melt. The temperatures remained low, however, and so the snow and ice has stubbornly stuck around.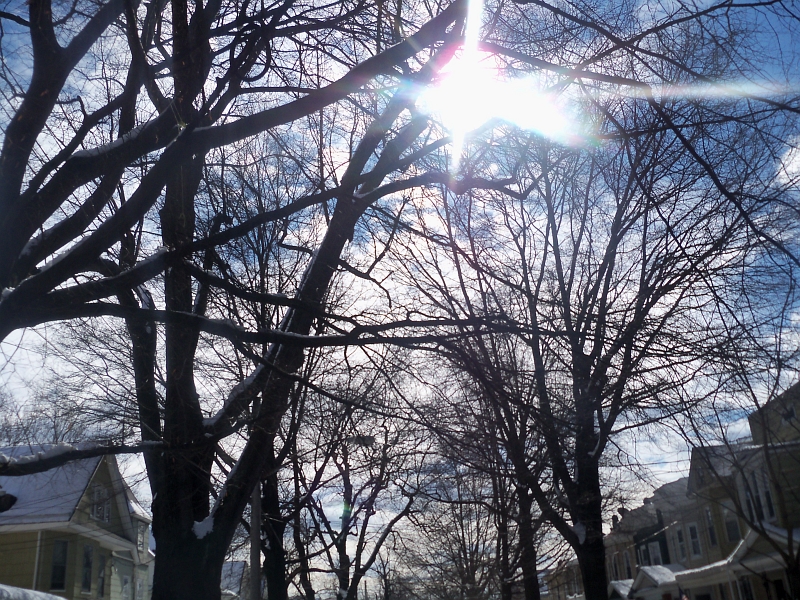 This picture was taken on the Saturday -- 3 days after the storm. Squint your eyes when looking at this picture -- doesn't that look like the shadow of a man on that hill? The Woodhaven Giant!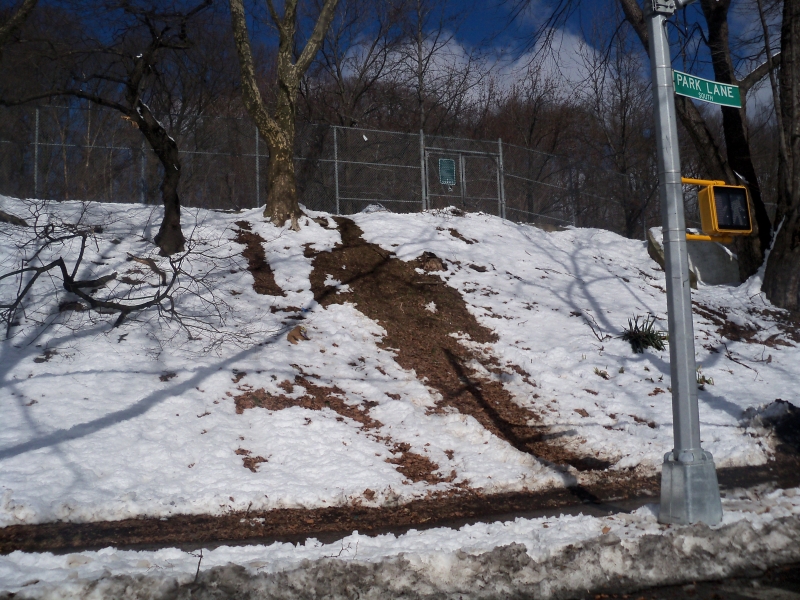 Here's the video we took. Check out the opening of this video -- it's really cool. At first, you're under the cover of the El Train on Jamaica Avenue -- and then, as the car turns onto Forest Parkway, it's like you're entering a whole new world. The video moves to the next day, and a drive in the sun through Forest Park. And then, finally, the video takes a funky twist as we troll an ice covered Woodhaven at night. Enjoy!
The snow melted a bit -- and life went back to normal. For a few days. Less than week later, we got another dusting. Yeah, this snow thing is getting old. Bring on the Spring!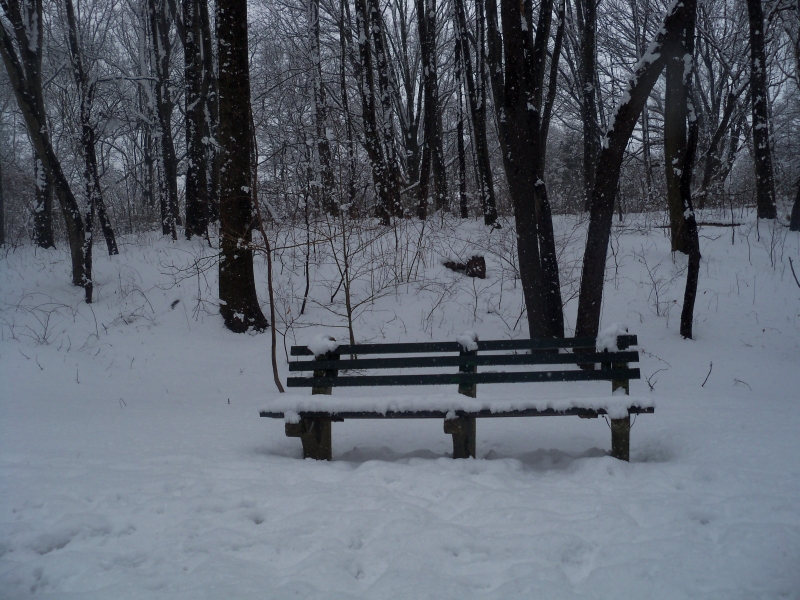 If you have any comments, or would like to suggest other projects, drop us a line at info@projectwoodhaven.com or projectwoodhaven@aol.com .