In a previous update, we alerted you to a proliferation of commercial signs around Woodhaven. There was even an article about it in The Queens Tribune. The owners were called and alerted that they were breaking the law -- and we are happy to report that within days the signs began disappearing. Over 40 of the signs were removed -- but they missed some. Around a dozen still remained.
Up to the plate stepped a pair of gentlemen, both of them sick and tired of the way these signs made our neighborhood look -- a pair of Woodhaven residents with zero tolerance for these tacky signs. Today they made their way around Woodhaven -- working off a list of signs sent in by a fellow resident -- along with a second list containing a few locations that were called in by residents. And one by one -- the remaining signs came down.

Most of them came down with a sharp tug. Others required the use of a hammer to pry out the nails. But no sign was too tough for these two men whom we have dubbed --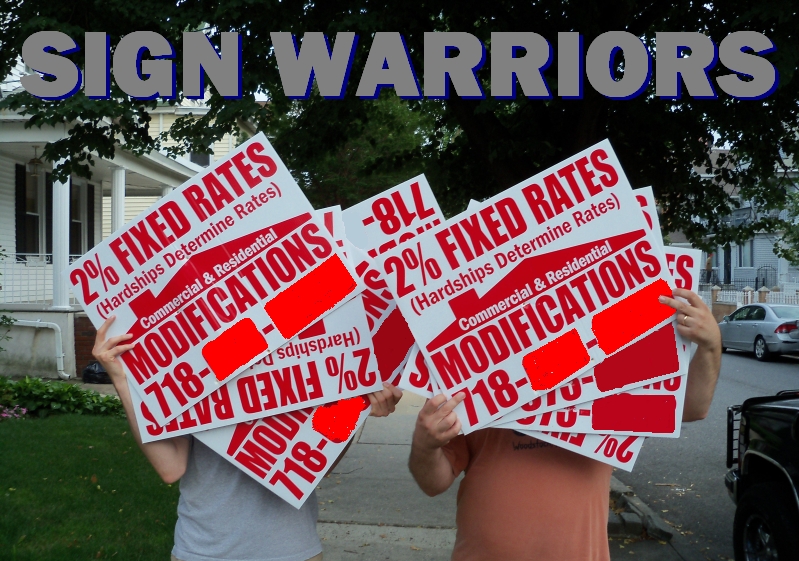 And we are now very happy to report that Woodhaven is 100% free of these signs -- and this particular business, for one, knows not to post their tacky ads in our community. If you drive through some of our surrounding communities, you may still see these signs -- but not here.
These are the things that are possible in our community -- if we act together. If we sit back and wait for others to take care of all our issues -- they'll never get taken care of. There's a Woodhaven Town Hall Wednesday Night June 16th -- at Emmanuel Church at 91st Avenue and Woodhaven Boulevard. 8 PM. Come on out and meet your neighbors.
Be part of the solution.
If you have any comments, or would like to suggest other projects, drop us a line at info@projectwoodhaven.com or projectwoodhaven@aol.com .