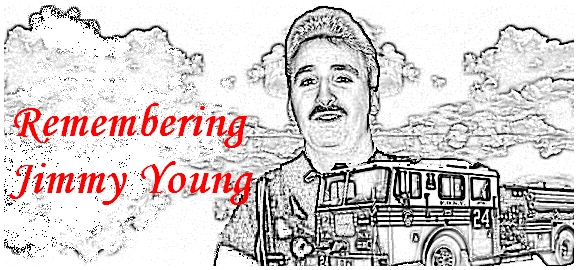 16 years ago this month, New York City lost three of its' bravest. And this month, Woodhaven will remember Firefighter Jimmy Young. On Saturday, March 27th 2010 the Woodhaven Residents' Block Association will commemorate "Jimmy Young Day" by laying a wreath at the corner of 87th Street and 88th Avenue. The ceremony will commence directly after the 4:30 Mass at St. Thomas the Apostle and prayers will be led by Father Frank Tomino. Anyone who knew Jimmy Young will be invited to share their memories.
* * * * * * * * * *
Just after 7:30 PM on March 28, 1994 heavy smoke was reported at 62 Watts Street in Manhattan. Engine Company 24, Hook & Ladder No. 5, on the Avenue of the Americas, was dispatched and on the scene within minutes. They wasted no time and fearlessly entered the building to combat the fire.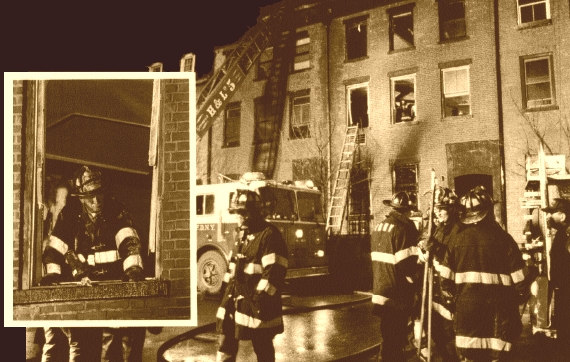 Among the emergency personnel entering the building that night was Captain John J. Drennan, Firefighter Christopher J. Siedenburg, and Firefighter James F. Young. They were on the second floor when a large flame from the first floor apartment burst out of the doorway and up the stairwell, engulfing them. The backdraft was ferocious and unforgiving. Firefighter Young was killed instantly. Firefighter Siedenburg died shortly thereafter, and Captain Drennan lived for over a month before succumbing to his injuries.
It's a dangerous profession, and we are reminded just how dangerous it is all too often. This tragedy hit closer to home as one of the brave souls that lost his life, Jimmy Young, was one of Woodhaven's own.
This month, Jimmy Young is being remembered on Facebook on a group started by one of his best fiends, Jack Lentini. Mr. Lentini created the group "for everyone who knew Jimmy so they could share their memories and photos of him." As Mr. Lentini put it, "Jimmy was my best friend and I loved him like a brother. I miss him immensely." The group, entitled "In Memory of Jimmy Young" has rapidly grown and now counts well over 200 members who have shared their memories of Firefighter Young with each other, in words and pictures. Some examples:
"Jimmy was the nicest guy in the world. Everyone loved him, he was a sweetheart, would do anything for anyone. Too special for this earth, that's why he was taken so soon. We love you Jimmy, miss you always, and forever you will be embedded in our hearts."

"Everyone in Woodhaven respected Jimmy for who he was which was a great person!"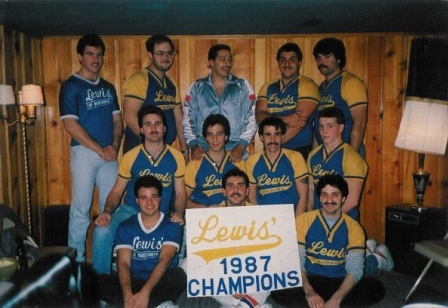 Jimmy Young, middle row, far left
"I met Jimmy when I was 15 and I thank God I had the honor to have known such an individual. I have never in my life met anyone who was so sure of who he was and what he should do . . . He did more favors than anyone I've ever met. If he couldn't help someone he would get ahold of someone who could as a favor to him."

"He was an awesome guy and he got me my first real job . . .He definitely left an everlasting impression on me. Everything in your life happens for a reason...often where you feel like there's a disconnect from one event to the next there is actually a bridge that leads you to exactly where you are supposed to be. Jimmy's help in getting me that job began a series of bridges to the path of becoming a teacher. Thanks Jimmy! Rest in peace."
Click here to view the group and read more memories of Jimmy Young. Woodhavenites are, of course, familiar with Jimmy's name every time they cross 87th Street, which was renamed in his memory.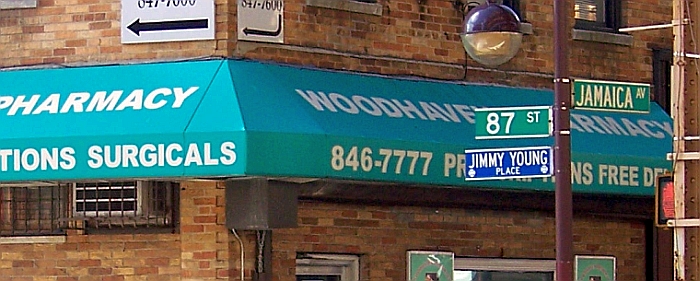 Here is a wonderful picture posted on the Facebook Group of friends and family of Jimmy Young during the ceremony at which the street was named in his honor: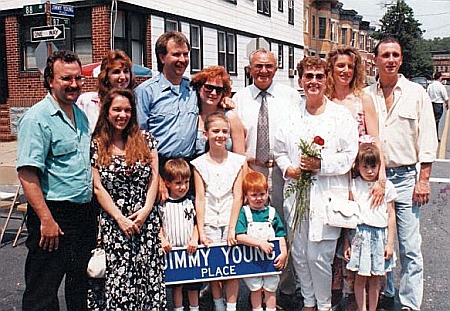 This picture is, of course, directly across the street from St. Thomas the Apostle, where an estimated crowd of ten thousand, including firefighters from all over the region, gathered to say goodbye. The New York Times described it thusly:
"Will Ye No Come Home?" the bagpipes wailed on a gathering breeze; the Mayor of New York City stood at attention, and the sun shone brilliantly. A woman looking from a second-floor window across the street sobbed and shook. Firefighters from all over the region, in a crowd the Fire Department estimated at 10,000, created a sea of dark blue with scattered white caps.

James F. Young, 31, had come home to a place he had never left: St. Thomas the Apostle Roman Catholic Church in Woodhaven, Queens, where he was baptized and confirmed, and where he mourned his sister Barbara seven years ago. These were the pleasant streets on which he played and dreamed of becoming a firefighter like his father. A block away is the video store where he worked during his time off from Engine Company 24 in Greenwich Village. Handwritten signs hailed Jimmy Young as Woodhaven's hero.

"Where do we find men and women willing to walk through fire to search for other human beings?" Mayor Rudolph W. Giuliani asked at Mr. Young's funeral. The firefighter's father, Harry, was a retired battalion chief and two of his three brothers are firemen, the Mayor noted.

The Rev. George Schuster emphasized the story of Easter, which promises life after death. He recalled baptizing Jimmy Young 31 years ago, and being with him and his family through good times and bad.
This week, Project Woodhaven took a trip into Manhattan and paid a visit to Engine Company 24, on the Avenue of the Americas, near West Houston Street, where there is a plaque commemorating the three heroes who lost their lives that dreadful night: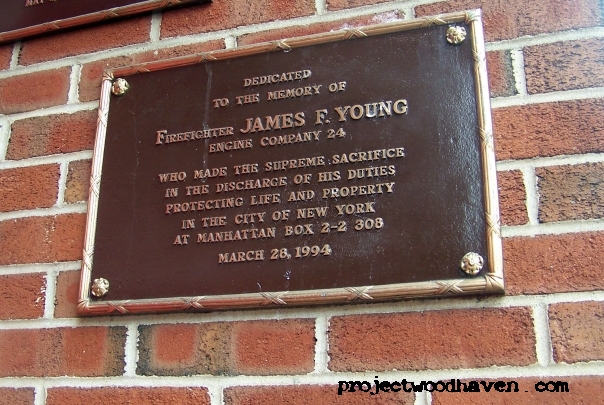 One of the firefighters on duty saw us taking pictures and came out to see if he could help us. When we told him why we were there, he graciously opened the doors and let us take some photos which we hope you will enjoy. Directly inside the doorway, just a few feet away from the plaques shown above, there is a larger memorial. Sadly, as you can see below, this station was hit hard yet again on September 11th, 2001.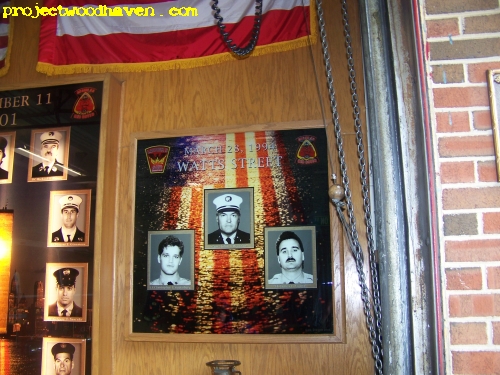 The firefighter on duty was kind enough to point out the memorial painted on the side of the truck above, at left: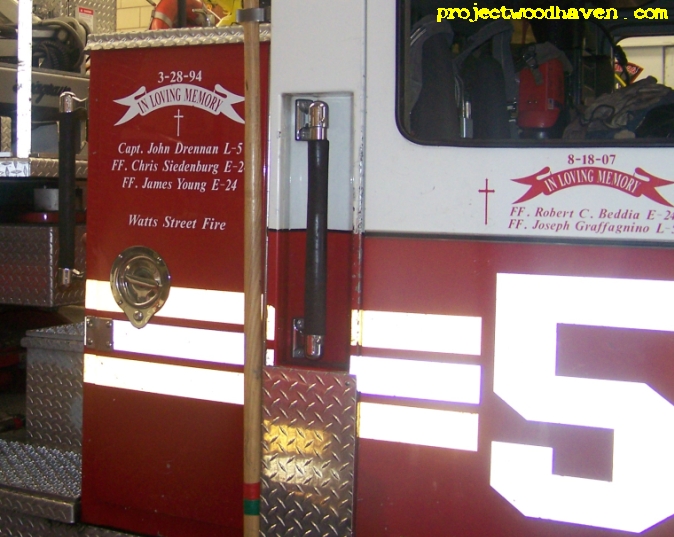 Firefighter Young clearly made as much of an impact with those he worked with, as he did with those he lived and grew up with. His name, along with his brother firefighters, adorn the walls and trucks of Engine Company 24, everywhere you look. In a hallway leading upstairs, is yet another tribute: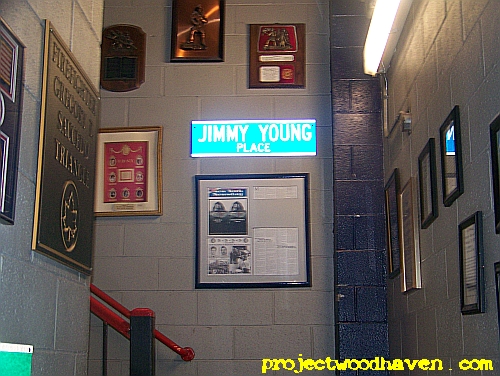 On a side note, according to an article in the N.Y. Daily News, there had been plans to erect a large memorial in the street outside of Engine Company 24. Here is what that memorial would have looked like: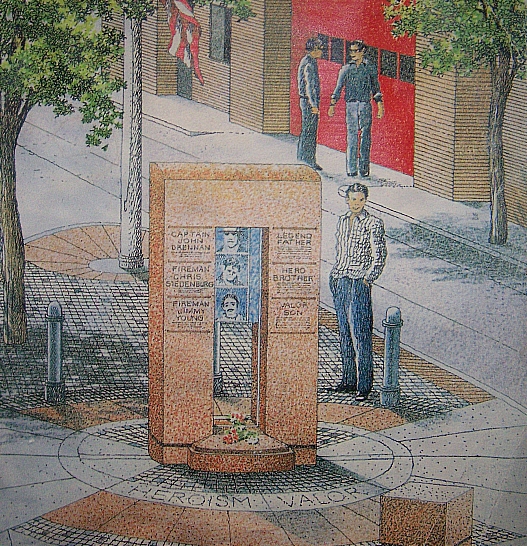 However, the city and local block association rejected the bid leading to the erection of the memorial inside the firehouse instead. It was an unfortunate decision, but as you can see, it doesn't mean that these men have been forgotten. Judging from all the memories within the station, and all of the memories being shared each day by friends and family on Facebook, the years have done nothing to dim the love and appreciation that people feel.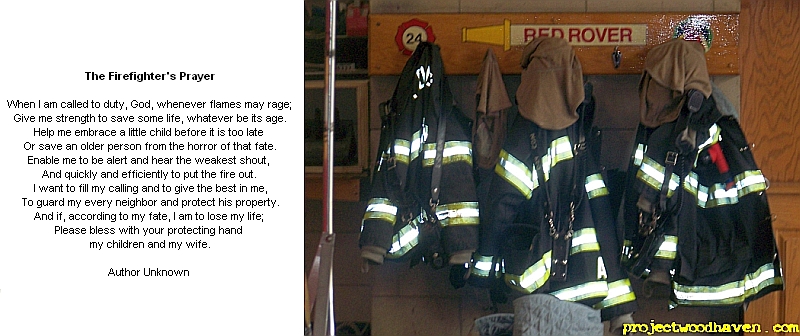 If you have any comments, or would like to suggest other projects, drop us a line at info@projectwoodhaven.com or projectwoodhaven@aol.com.
Return to Project Woodhaven's Home Page