The Forest Park Carousel has been closed to the public since it stopped spinning in September 2008. Since then, it has been the subject of numerous stories and intense community interest. The city recently sent out an RFP -- a request for a proposal -- seeking vendors to operate this facility. The Parks Department took a novel approach, basically tying this Carousel together with the very profitable one in Flushing Meadow Park meaning that whoever wants that moneymaker, must take over this one.
There are lots of details and lots of ground to cover -- and we will get to that. But not today. Today is a day to enjoy the scenery. We cannot explain to you how it felt to be back inside that building. For the past 2 years we were happy with stolen glimpses through a barbed-wire fence -- today, we took a tour of the Forest Park Carousel -- enjoy some of the sights -- and make sure you scroll to the bottom for a nice treat --
As soon as you walk inside, you understand why this has been an object of interest to members of our community -- as well as the surrounding communities -- and as well as former residents of communities surrounding Forest Park. As soon as I walked inside, I was a kid again. My Dad took me here regularly as a child. I'd ride one of the outer horses and I'd slap his hand as I went around. Sometimes he came on the ride with me and we sat on the bench together. Nice memories. I like to think he was there with me today.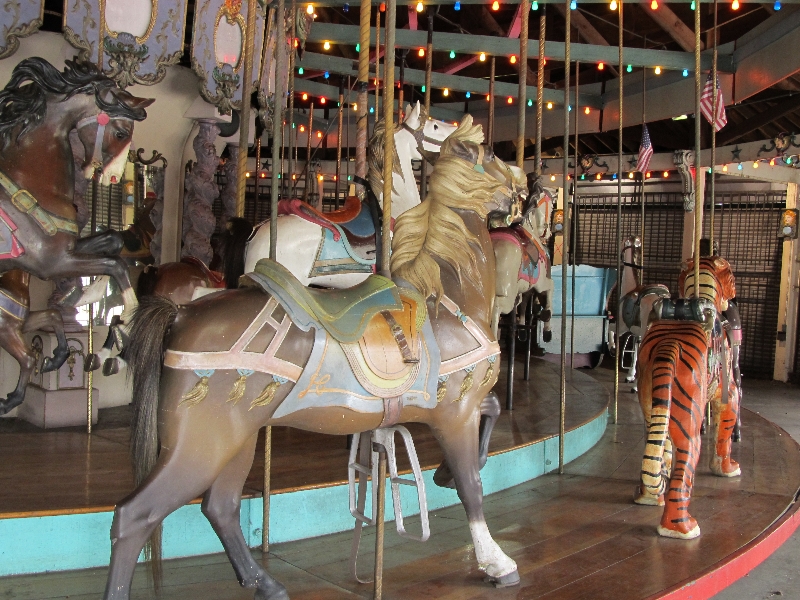 Our Carousel is a wonderful, colorful menagerie -- a very special place in our community. And every where you look, more and more details pop up -- we were grateful for every minute we had inside, but we could have stayed there all day.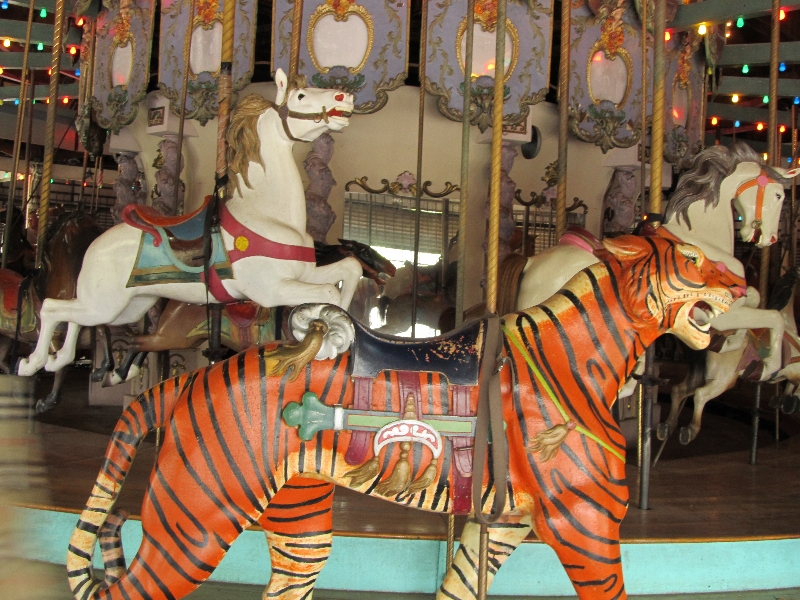 Some of the horses's paint showed a little wear and tear, to be expected for a Carousel that's over 100 years old. But they appeared to be in really good shape.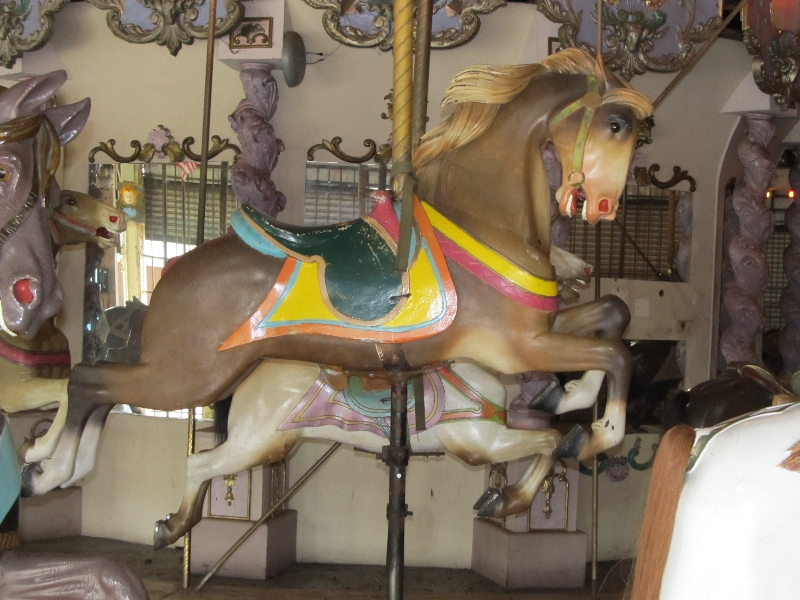 Daniel Muller was an artist and he did a marvelous job, giving each animal as distinct look and personality. The benches are designed in a way to give it a circus-like atmosphere.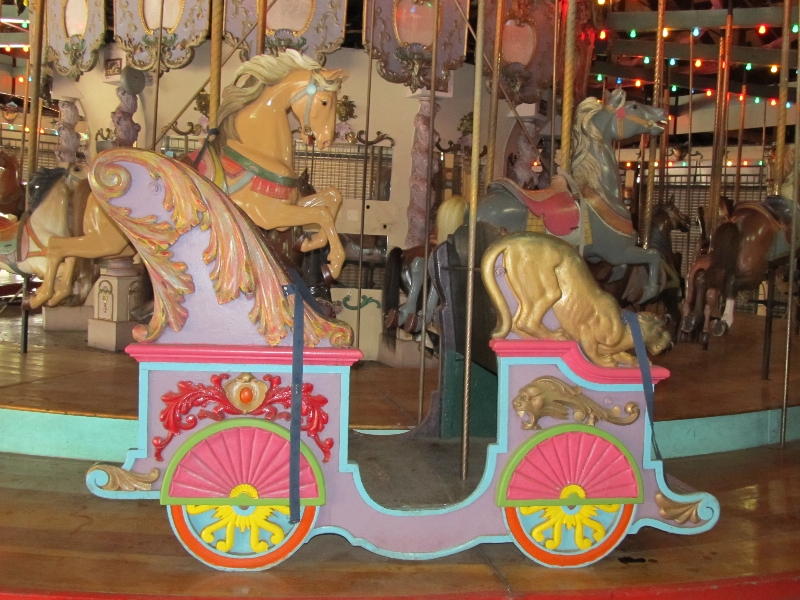 We look forward to the day that the Forest Park Carousel -- maybe a lot of folks from our Facebook Carousel Page will meet up and have a party!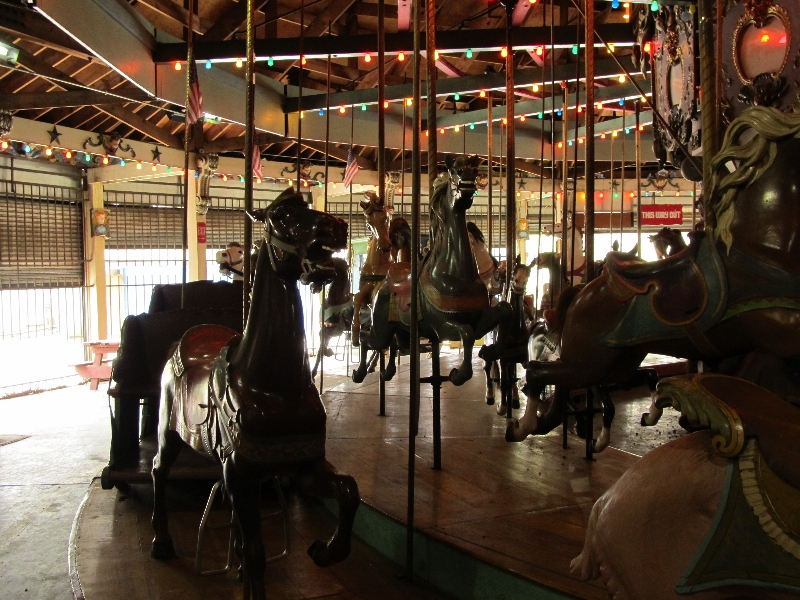 Such beautiful animals. And so many different kinds of horses -- each of them hand-carved by the same man.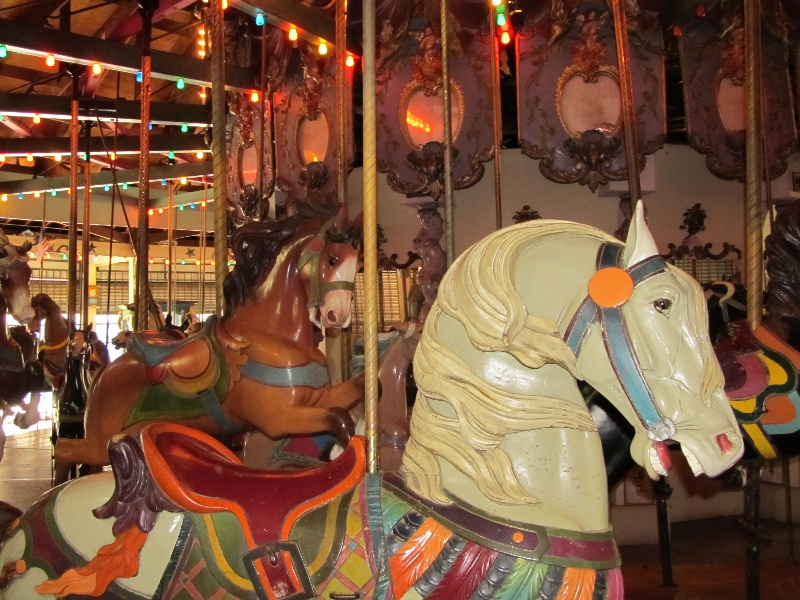 They opened most of the gates -- on a regular day, you would think that they would all be opened. But having them half opened like this made for some interesting photographs.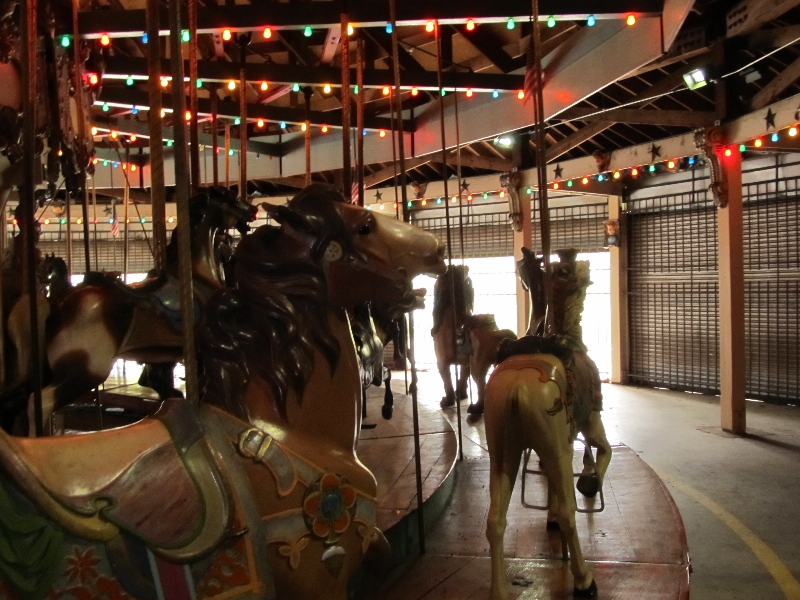 It seemed like this guy was staring at us! It's very important that these carvings are treated with care, something the Parks Department was very good about stressing to the potential vendors.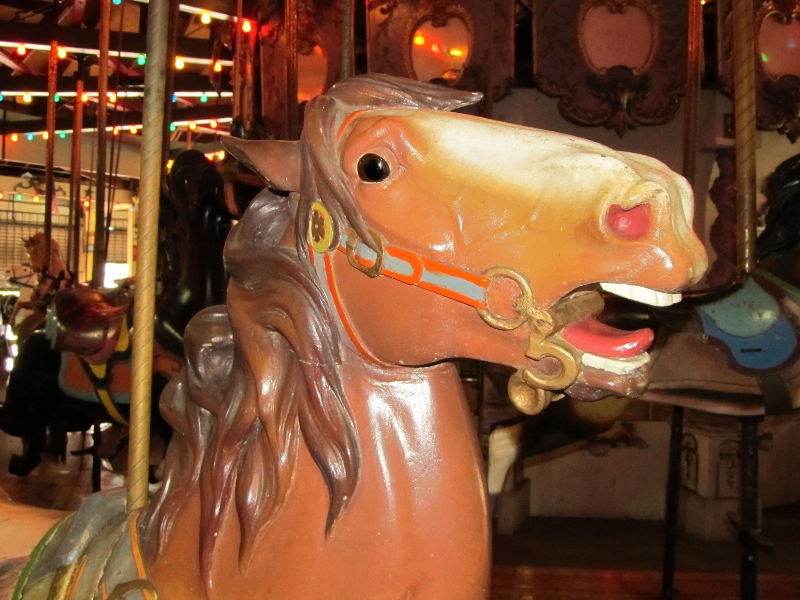 This was my favorite as a kid -- the Tiger! Beautiful cat!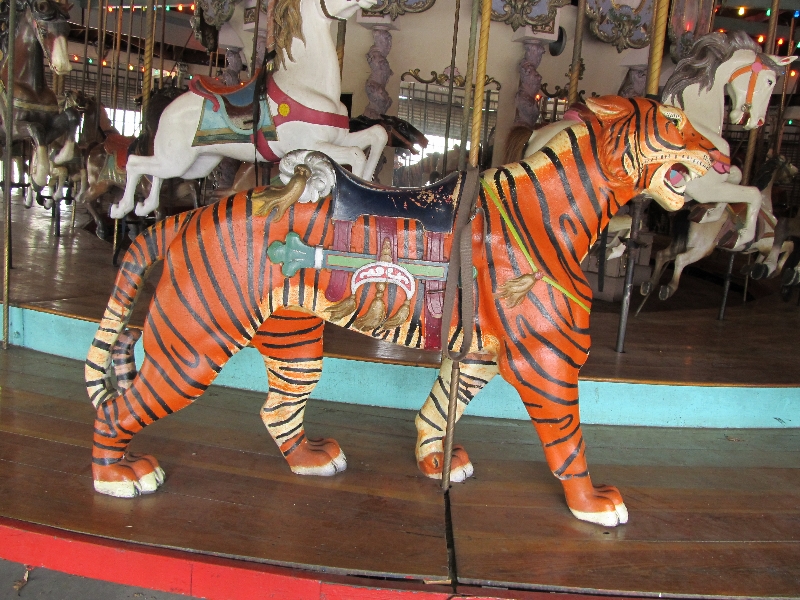 We noticed some beautiful paintings along the top of the Carousel -- that looks like Oak Ridge, doesn't it? We asked one of the Parks Department Reps who painted these, but she didn't know. If anyone knows, please drop us a line.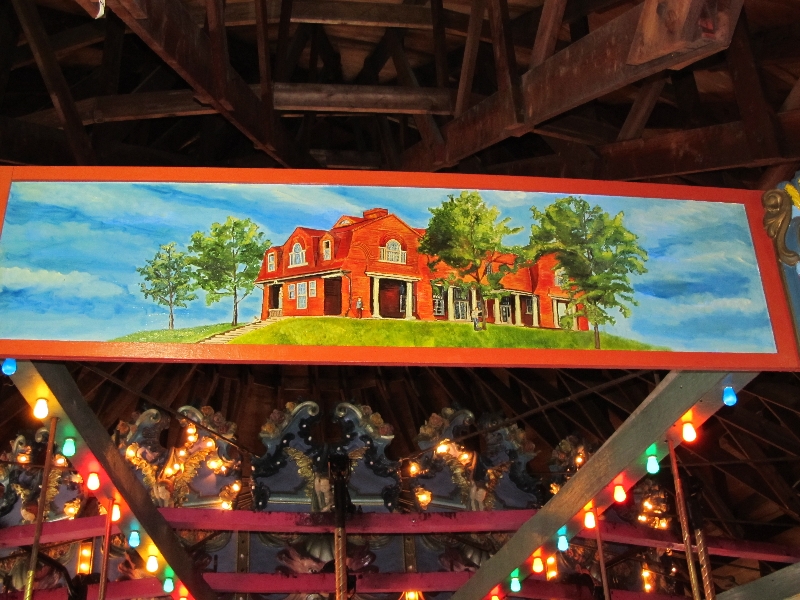 Folks, it's been a long time since we enjoyed covering something as much as this -- we hope you're enjoying these photos. Stick around, at the bottom of this page is a real nice treat --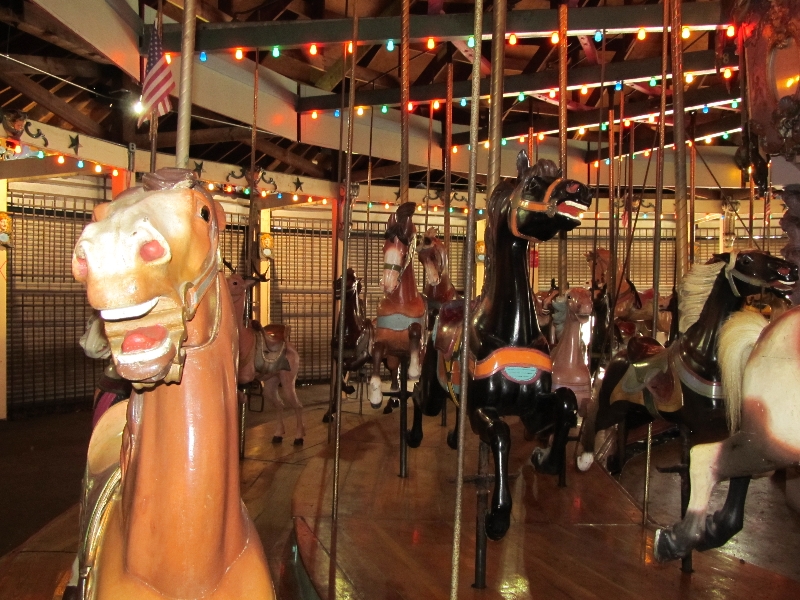 Another cat, this time a Lion! There's a whole bunch of kids in our community that are going to eat this up when they see it -- we hope it's very soon!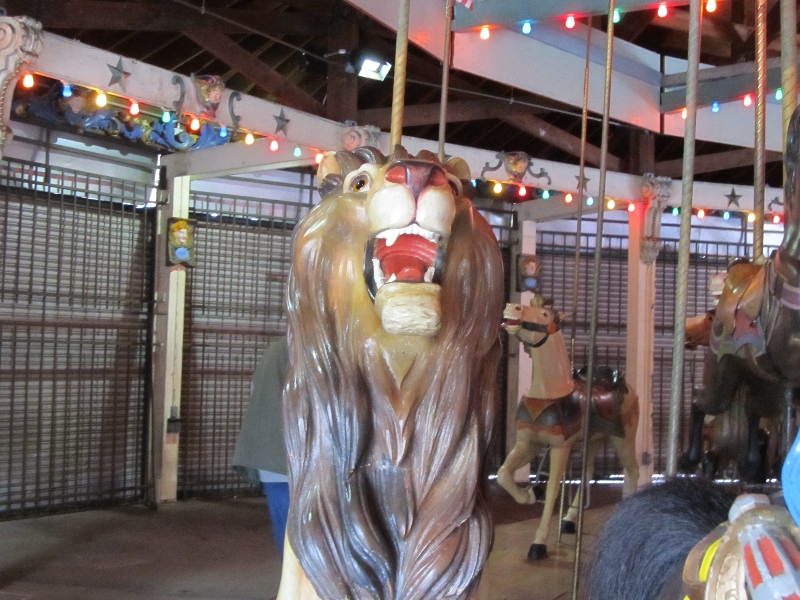 All of the mechanics seemed sound -- love the way they even decorate the holes where the pistons go in -- lots of details --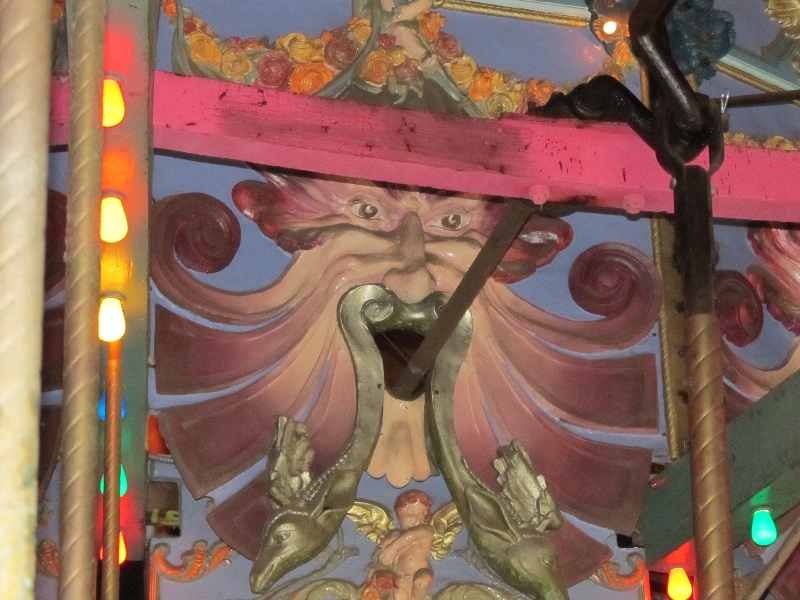 And finally, the organ -- more on that later --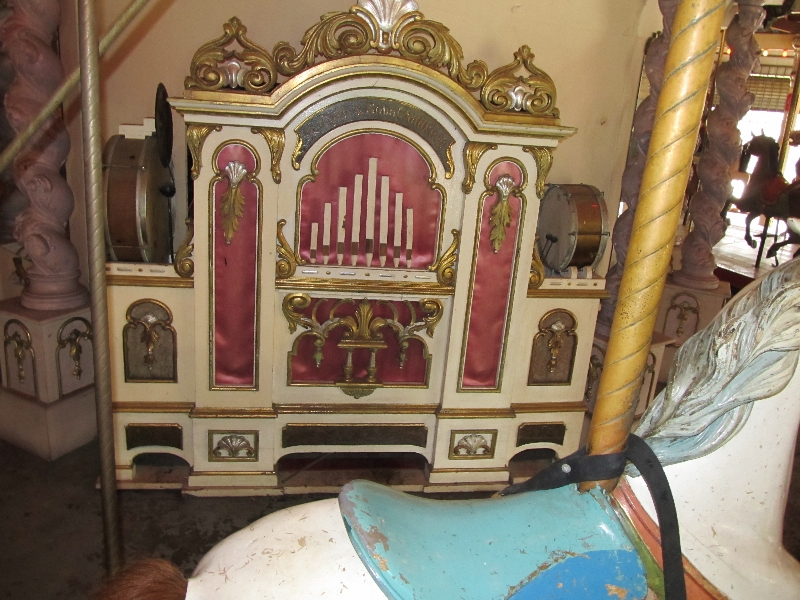 Okay, here's a real treat -- as part of the tour they fired up the Carousel and let her fly -- only for a few minutes -- but here we are.... for the first time in almost 3 years.... your Forest Park Carousel in action!
We took a lot more photos -- and we have a lot more thoughts to share. But we wanted to get this up and out to you as soon as we could. We've taken it this far -- let's hope we hear some good news soon.
If you have any comments, or would like to suggest other projects, drop us a line at info@projectwoodhaven.com or projectwoodhaven@aol.com.
Return to Project Woodhaven's Home Page
Photos by Joey Wendell