Parks advocates and civic groups are getting behind a proposal to convert the old abandoned Rockaway Beach Branch of the Long Island Railroad into green space for walking and bicycling, similar to the very successful High Line in Manhattan, which itself was converted from an elevated freight line in 2009. The High Line project has revitalized the areas it passes through and supporters are hopeful that it could do the same here in South Queens. Click here to read an article about it in the NY Daily News. Community Board 9 voiced their support for the project which, as far as Woodhaven is concerned, would run through Forest Park (Victory Field), behind the Forest Park Co-Ops and emerge at Park Lane South. All of the overgrown weed and streets would be cleared and replaced with a paved path and benches. According to the proposal, there would be "free public observation towers at high points... So people could get a different view. Have a destination when hiking in the parks... sculptural, beautiful landmarks in the neighborhood..."
As stated, the first access point for Woodhaven would be behind Victory Field (see below). A piece of the old railway is visible in the leaves. Years ago, when I was younger (many, many years ago) we used to walk in these woods and they weren't all that overgrown. But this was back in the late 1970's, less than 20 years after the Rockaway Line stopped running. 30 years later and they are wildly overgrown.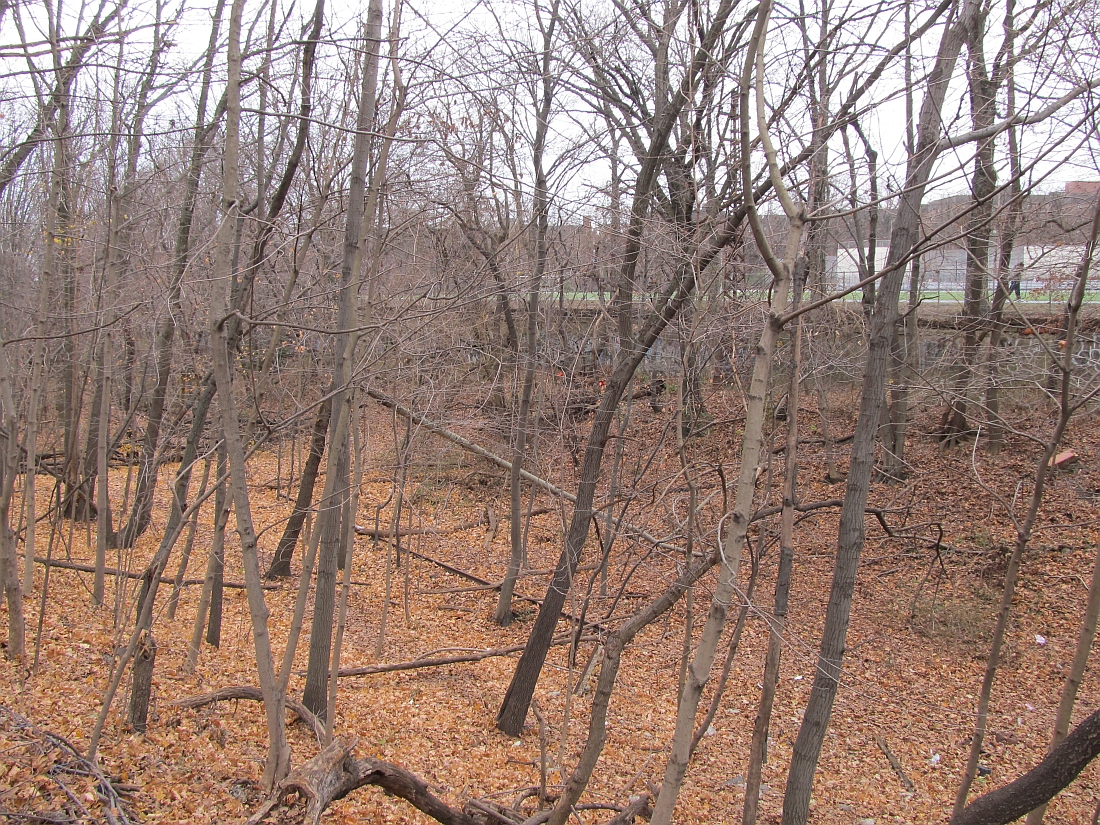 The Greenway would come down behind the Forest Park Co-Ops and next emerge at Park Lane South and 98th Street, right next to the condos that were converted from factories. It might be nice if there were a door on that side of the building that led right out on to the Greenway.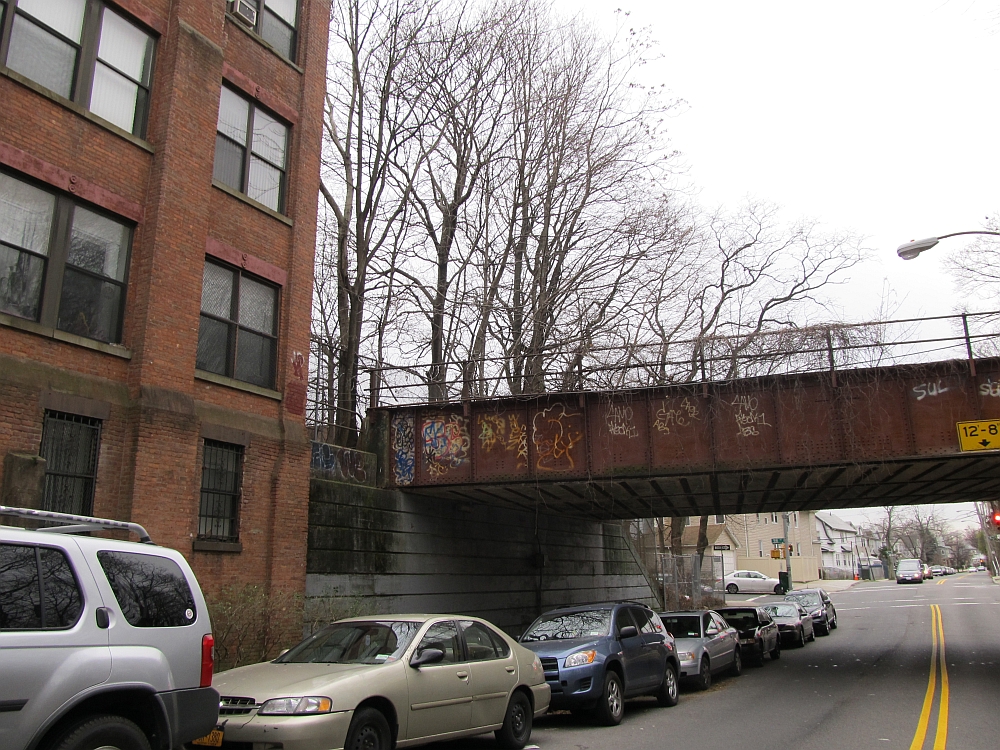 At the very least, it would be nice to see this train trestle renovated and cleaned up. This would have to be an entry/exit for the Greenway so residents could access it.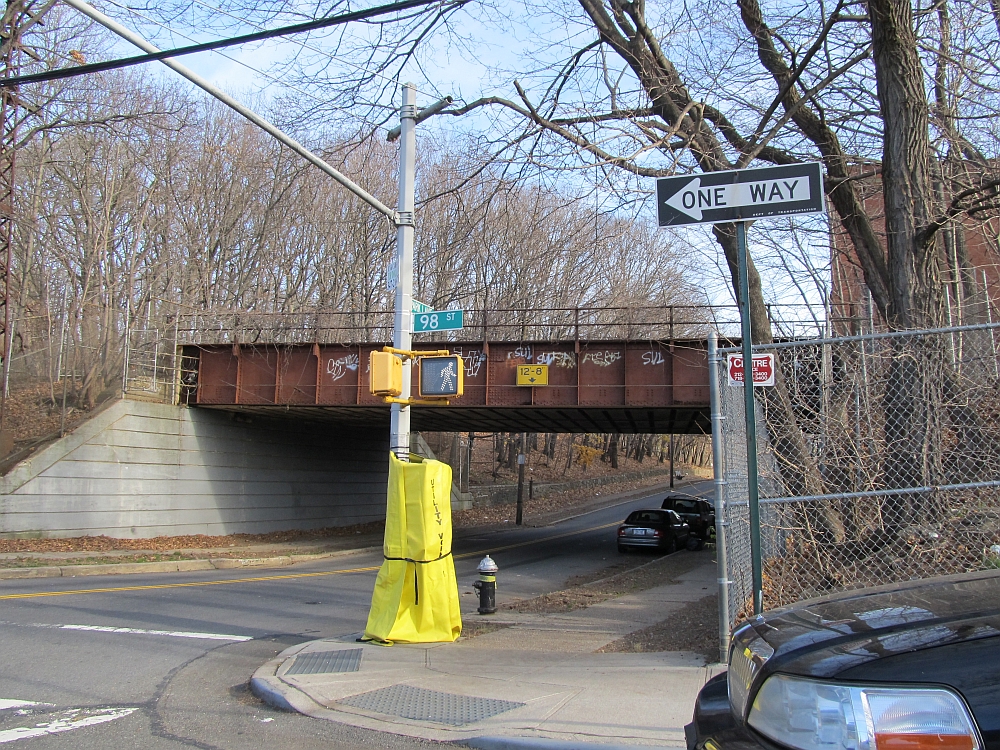 There is an online petition in favor of the Greenway Project -- click here to visit the petition. From Park Lane South the Greenway would proceed behind the houses on 98th Street and emerge again on Jamaica Avenue where, we would expect, there would also be a staircase for people to enter/exit. Bringing this sort of project to this area of Jamaica Avenue may be exactly what it needs. Businesses close to the border of Woodhaven & Richmond Hill here have been hurting and this could give them a seriously needed boost.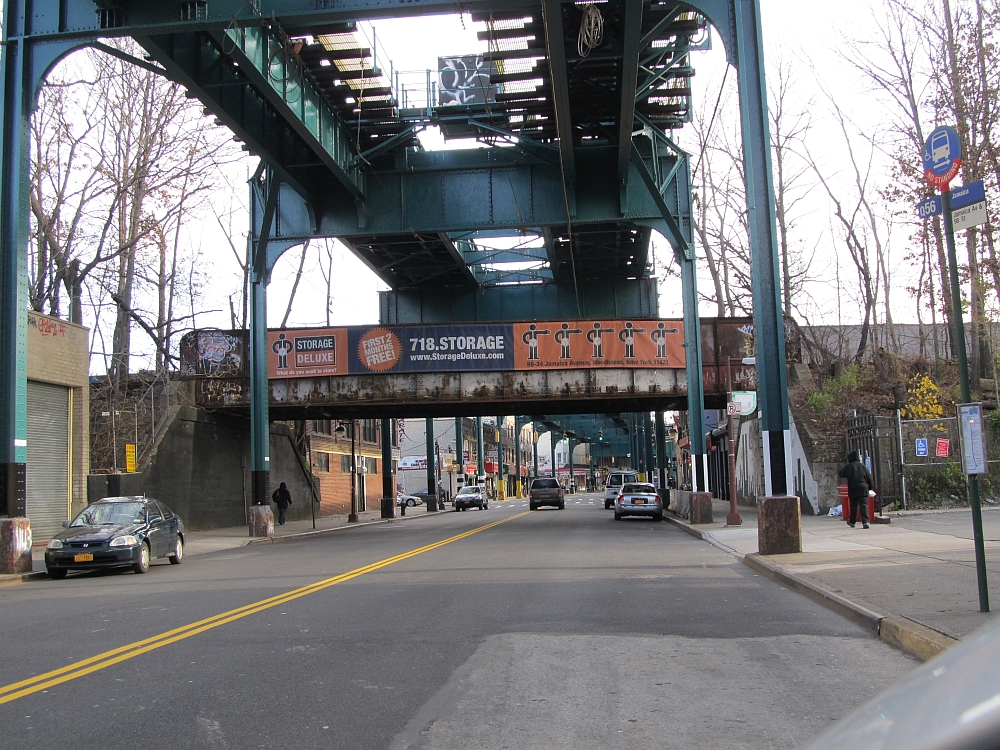 Here is a page from the proposal showing how it would take advantage of the cover provided by the elevated train line, turning an eyesore into something attractive and useful.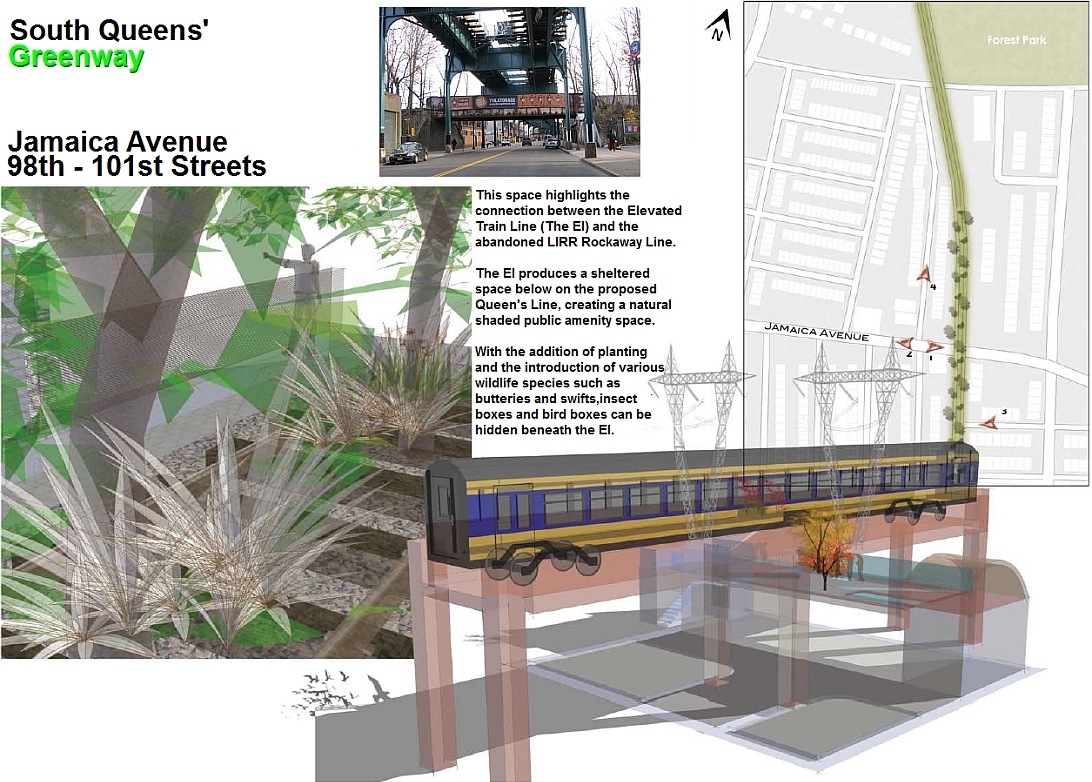 That could be made into something really nice and it would make for a great way to walk to Victory Field and back -- relaxing and healthy.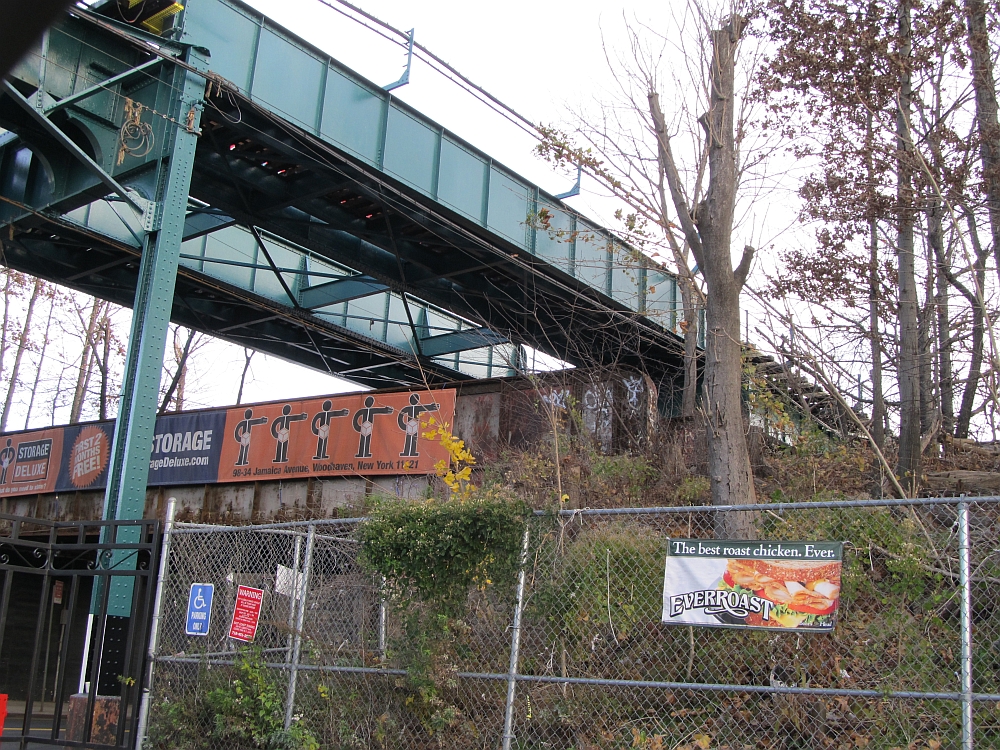 For many years, this was the site of the Brooklyn Manor LIRR Station which was demolished in 1962. In the picture below we are looking North along the line, towards Forest Park. The factories that sat where PS 254 (Rosa Parks School) sits now is visible in the distance. Could that be the roof of the Park Lane South Condos in the distance?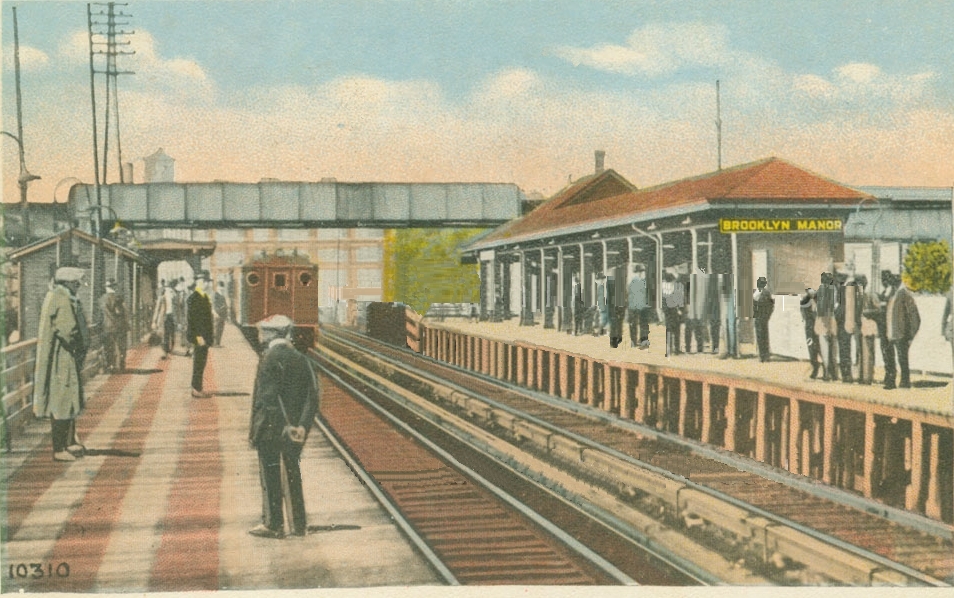 Here's the roof of the condos, you can compare it to what is above. The windows in the factory above are different because that building does not exist anymore -- but I seem to recall that they were very big windows as pictured above. I used to work in that factory back in the early 1980s.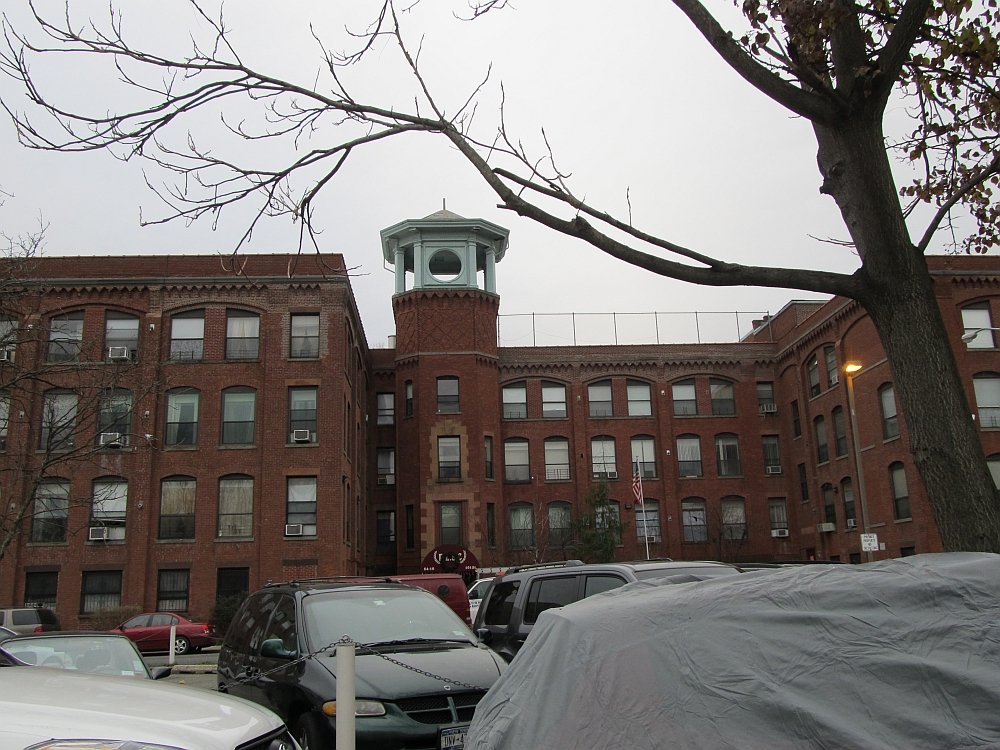 The towers visible in the picture below are just about the only thing left over (besides the trestle) from the Brooklyn Manor Station. Presumably, those would remain as part of the scenery of the South Queens' Greenway.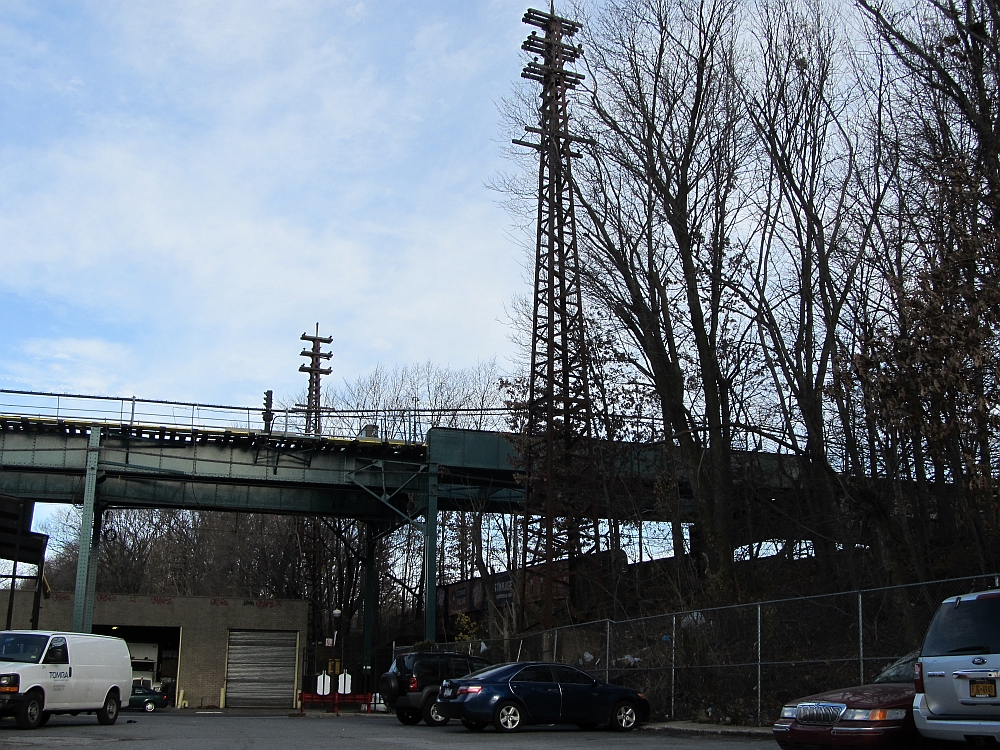 The South Queens' Greenway would next appear at 91st Avenue between 98th and 102nd Streets.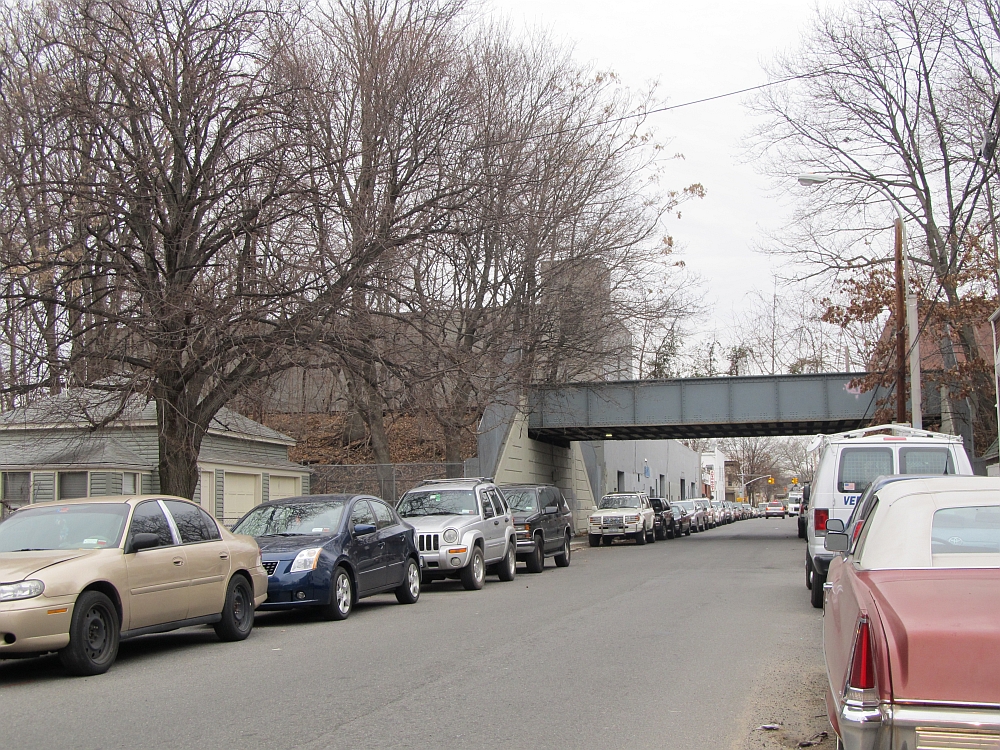 And then it would reappear at Atlantic Avenue at another eyesore. This is another area that could be revitalized by this project.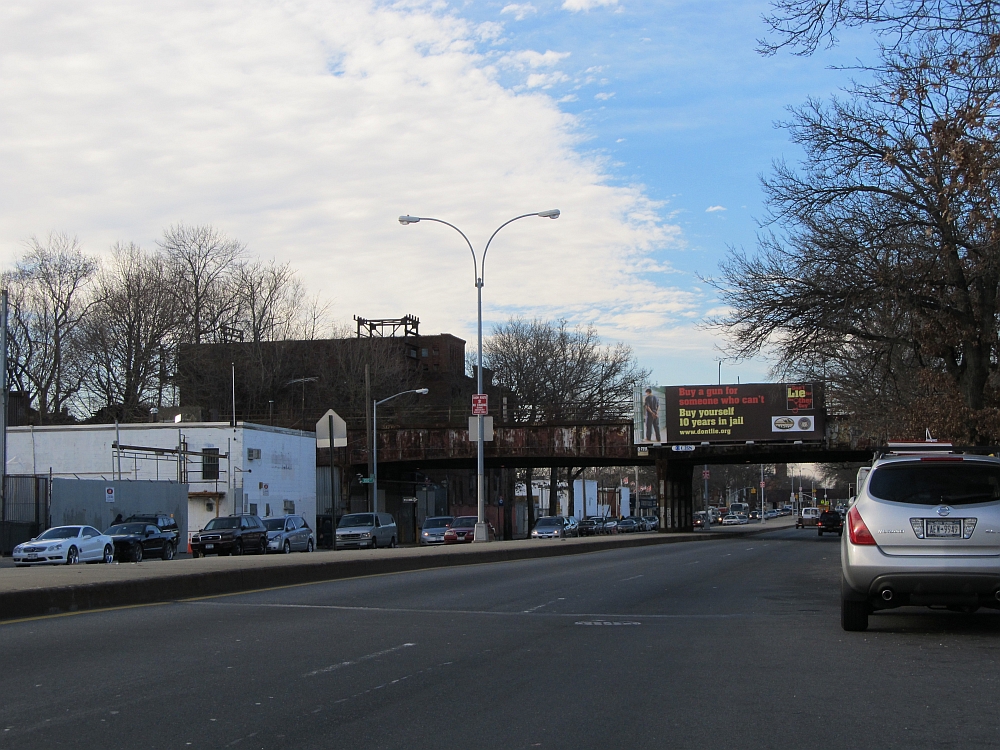 There are already staircases -- these have been frequently used by homeless and vandals, hence the locked fences.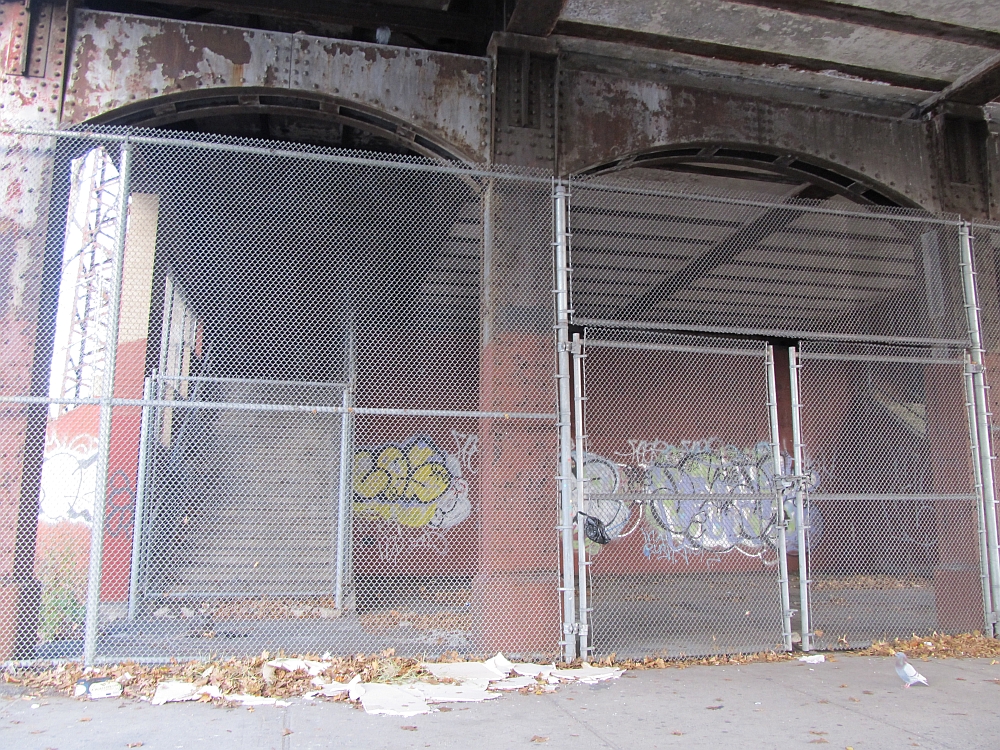 Here is a page from the proposal -- doesn't really tell you much, though.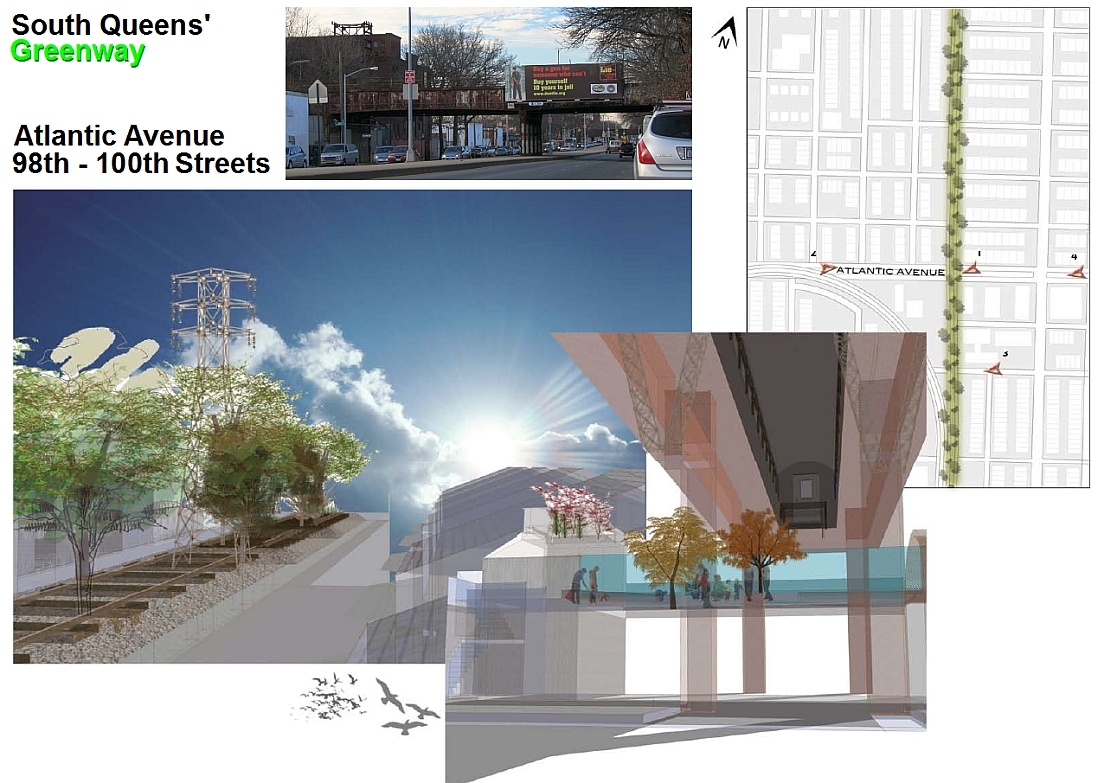 If you go past Atlantic and a bit into Ozone Park, along 100th Street, you can see where the Greenway would be. Looks like it runs into a corrugated fence there at the left of the picture -- they'll figure it out.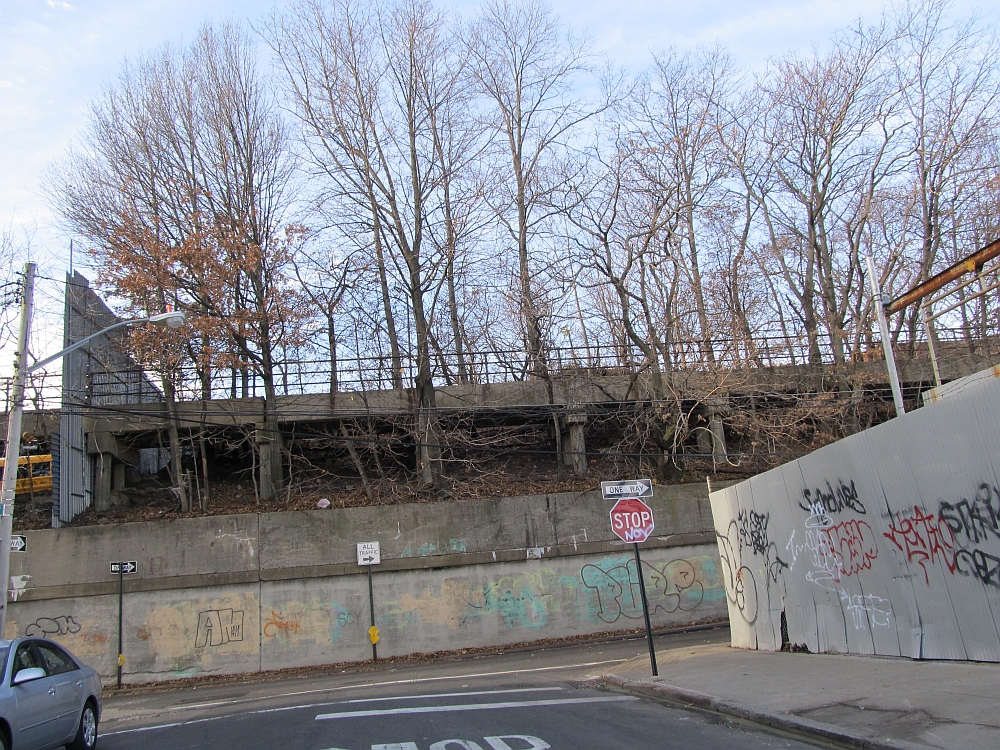 Back to Atlantic Avenue where the Greenway will pass right next to the abandoned LIRR Sub-Station. If there are staircases there, this would become an interesting property, no? Imagine a small shopping center, with a cafe and a book store -- with a Greenway exit/entrance right there, this unused, abandoned eyesore would have lots of potential. Note: That's if it's unused. There is a LIRR line that runs beneath Atlantic Avenue -- could it be used for that? For storage, perhaps? If anyone knows, drop us a line.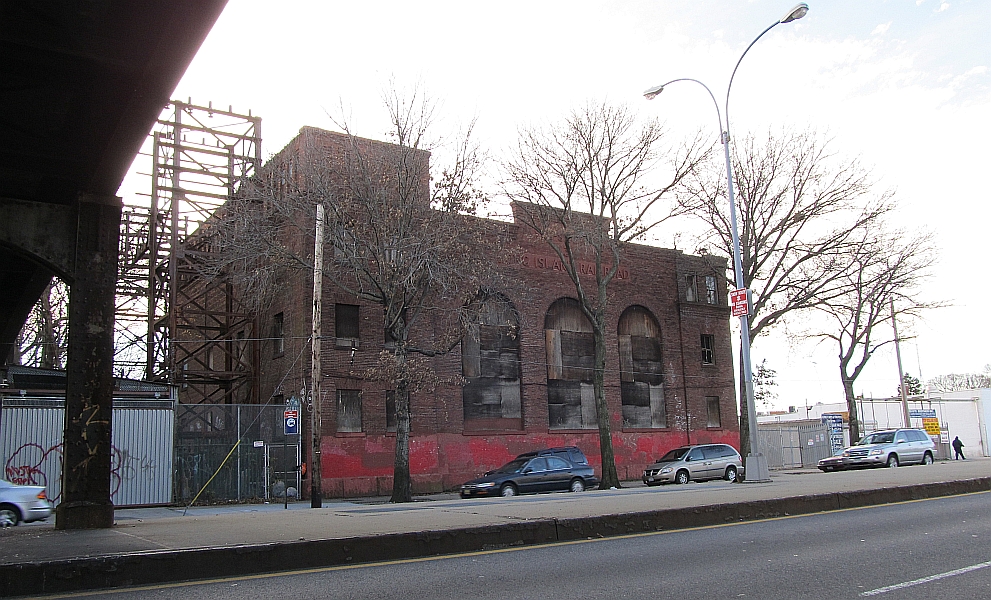 Here's a close up -- look at the size of those windows! Judging by the 8x4 panels of plywood, I'm guessing that those windows are about 21 feet tall. Beautiful building -- on the outside, that is. Wonder what it looks like on the inside.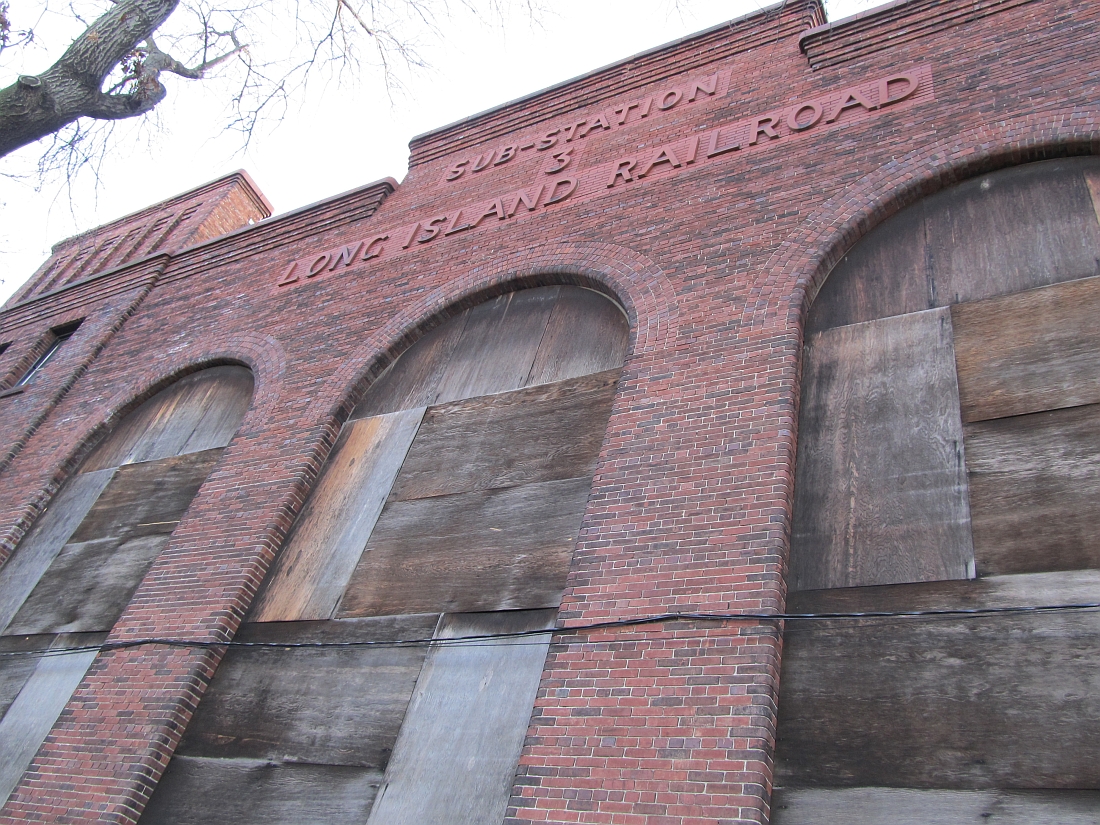 Here is the building in its' heyday. This is the back of the building -- note the metal structure at the right. Also take note of the steps leading to the train station at the right. Would love to get a picture from that same angle today.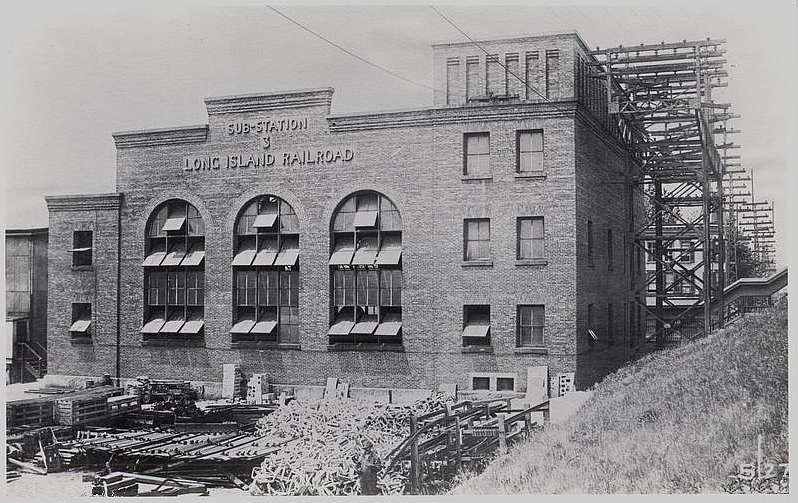 This once vibrant building could be useful once again -- certainly has a lot of potential.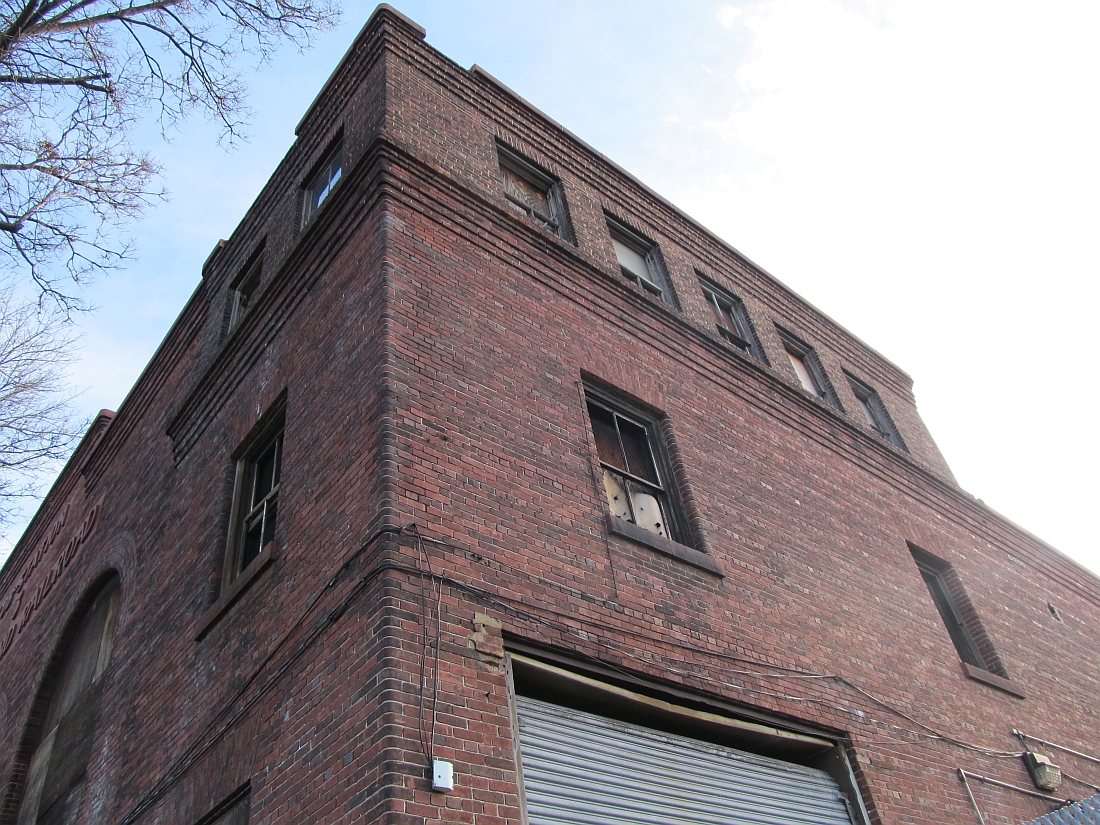 The Atlantic Avenue overpass still has light fixtures, but how long they've been out of use is anyone's guess. They look fairly modern, though - no?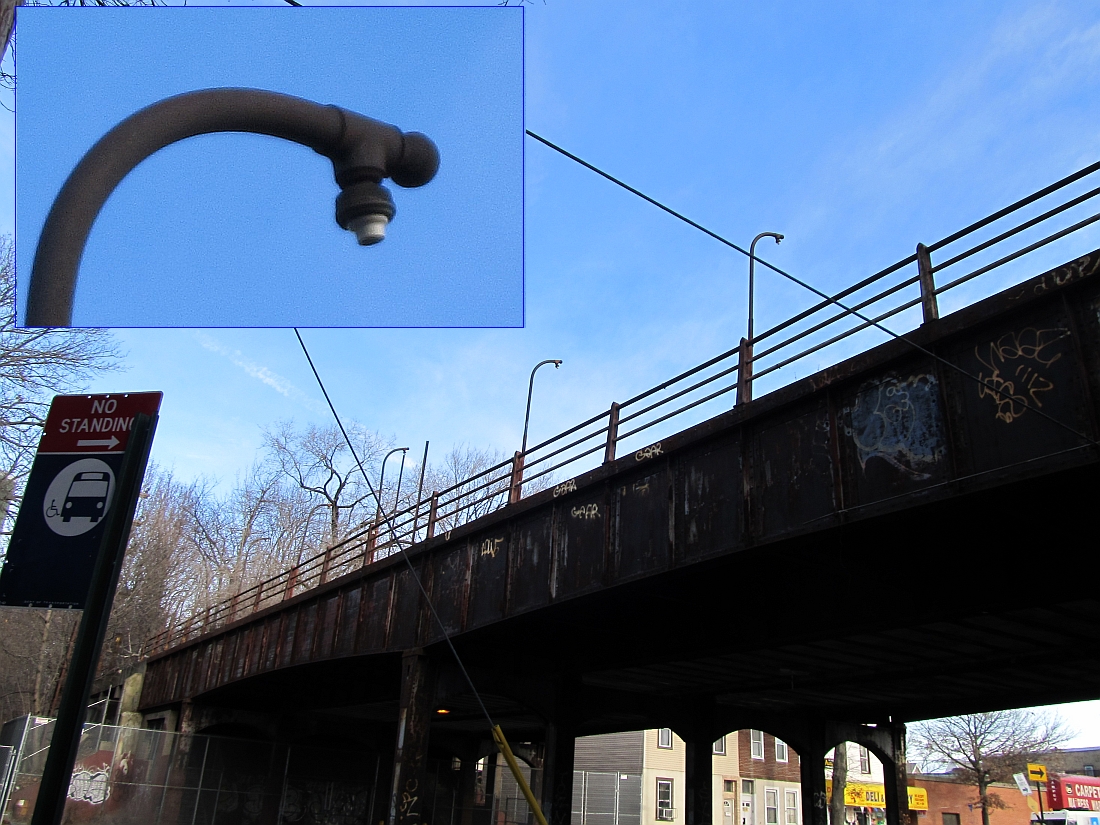 If you have any comments, or would like to suggest other projects, drop us a line at info@projectwoodhaven.com or projectwoodhaven@aol.com.
Return to Project Woodhaven's Home Page
Photos by Joey Wendell