At each annual fundraiser / dinner dance thrown by the Woodhaven Residents' Block Association, a journal is distributed with information about the organization as well as biographies of the persons or organizations being honored. It is also jam-packed with advertisements and messages from local businesses and residents. These sponsors of the WRBA have reached into their pockets to support an organization that is working to improve life in Woodhaven -- and for that, we are very grateful.
Each business will be receiving a framed certificate of appreciation -- for now, however, please look through this year's journal and try to make a conscious decision to support these businesses. The next time you are in one of these businesses -- don't be shy -- let them know that you saw their ad in the WRBA's journal -- and thank them for supporting your community.
About This Year's Cover
This year's cover is an homage to Saul Steinberg's famous New Yorker cover entitled "View of the World from 9th Avenue." That cover showed a skewed map in which Manhattan is viewed as the center of the planet -- the streets of Manhattan shown in close-up, while the rest of the country is presented as an afterthought. See the original cover here. The WRBA's riff on this theme presents our World with Woodhaven as the center of attention -- Woodhaven Boulevard from Park Lane South to Jamaica Avenue and Atlantic Avenue and beyond. The J Train is there and a few of our other recognizable landmarks -- see how many of them you can spot.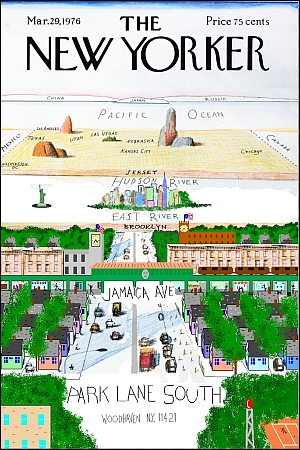 Here is the 2011 Fundraising Journal of the Woodhaven Residents' Block Association -- the one that was handed out on Friday, September 23, 2011at Joe Abbraciamento. Once again, please support the sponsors who support us -- and let them know you saw their ad!
If you have any comments, or would like to suggest other projects, drop us a line at info@projectwoodhaven.com or projectwoodhaven@aol.com.
Return to Project Woodhaven's Home Page