Christmas Season 2012 Kicks Off In Woodhaven

Each year, the Christmas season kicks off in Woodhaven with a potent one-two punch. Traditionally, the first Friday in December sees the lighting of our Christmas tree, followed by the Christmas Parade the very next day. Both events are arranged and sponsored by the Woodhaven Business Improvement District and the Greater Woodhaven Development Corporation. This year, they were presented with a problem -- Hurricane Sandy knocked down our tree. So, a few days before the lighting ceremony, a new tree -- an 18-foot artificial tree -- was put up in its place. A new tree will be planted in the spring -- but for this season, this tree is a welcome addition to the Woodhaven family.

The skies were overcast and windy -- in fact, there was a steady drizzle throughout the evening's festivities. But the residents of Woodhaven were not to be denied, nor were they to be deterred by a little rain.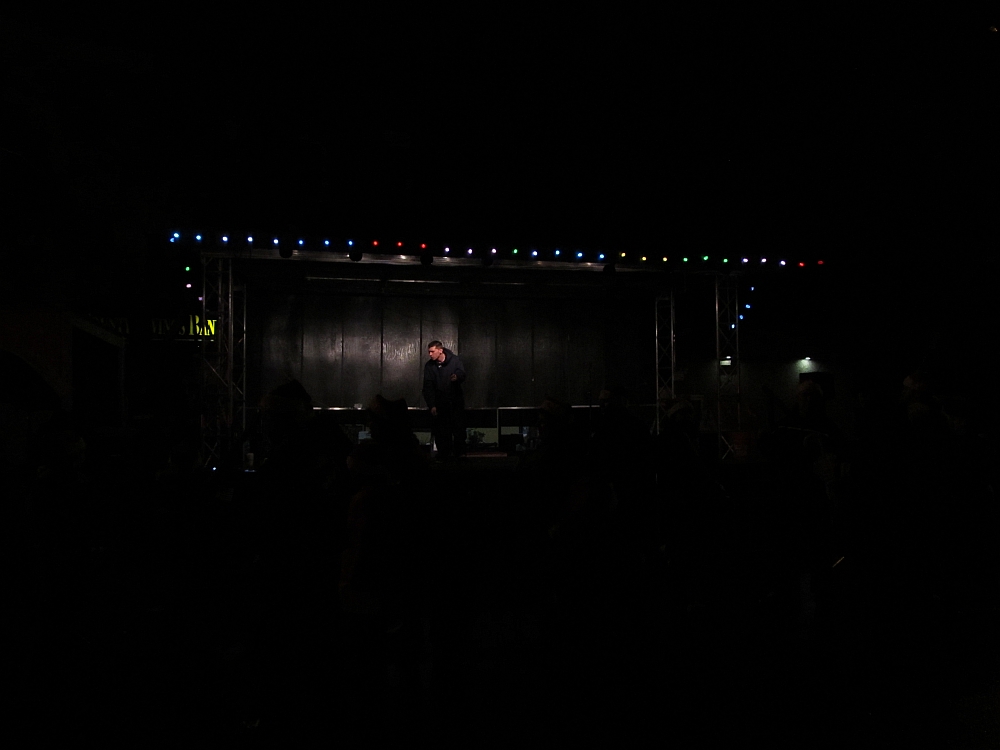 People were happy to see one another, despite the evening chill. Below, left, I said hello to our City Councilperson Elizabeth Crowley and welcomed the new Captain of the 102nd Precinct, Captain Hank Sautner. Below, right, a young girl and her mother prepare for a wonderful evening.


The ceremony got underway, led by WBID Executive Director Maria Thomson (center). From left to right, the others are Father John Francis (St. Thomas the Apostle), Paul Rudolph (Walker Funeral Home / GWDC Board Member), Steve Esposito (GWDC Board Member), and Elizabeth Crowley.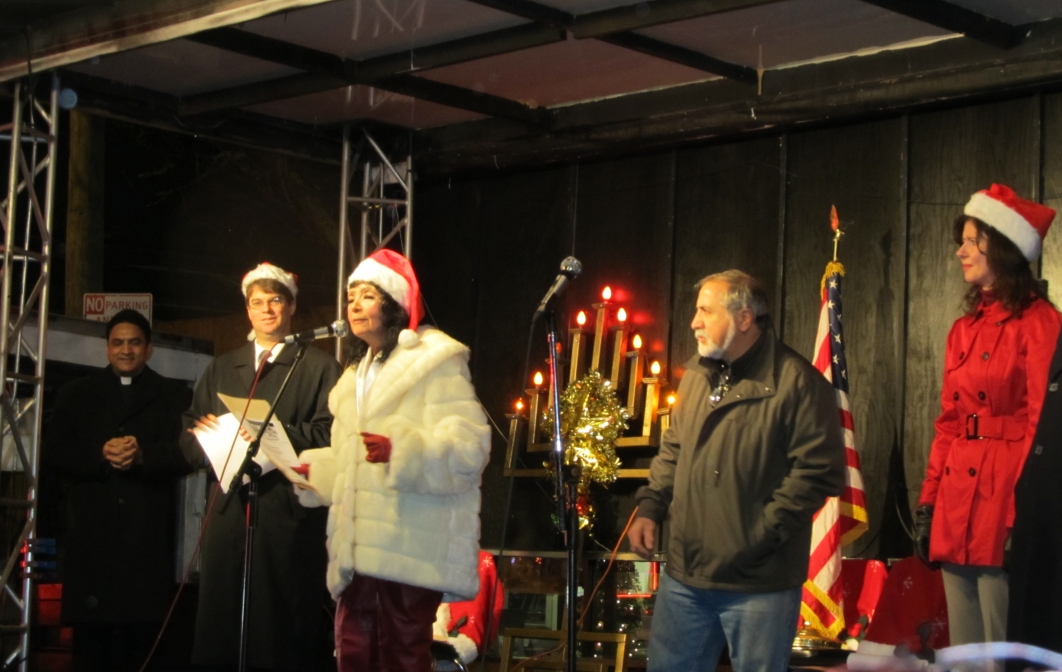 The flag was borne by the ROTC of Franklin K. Lane.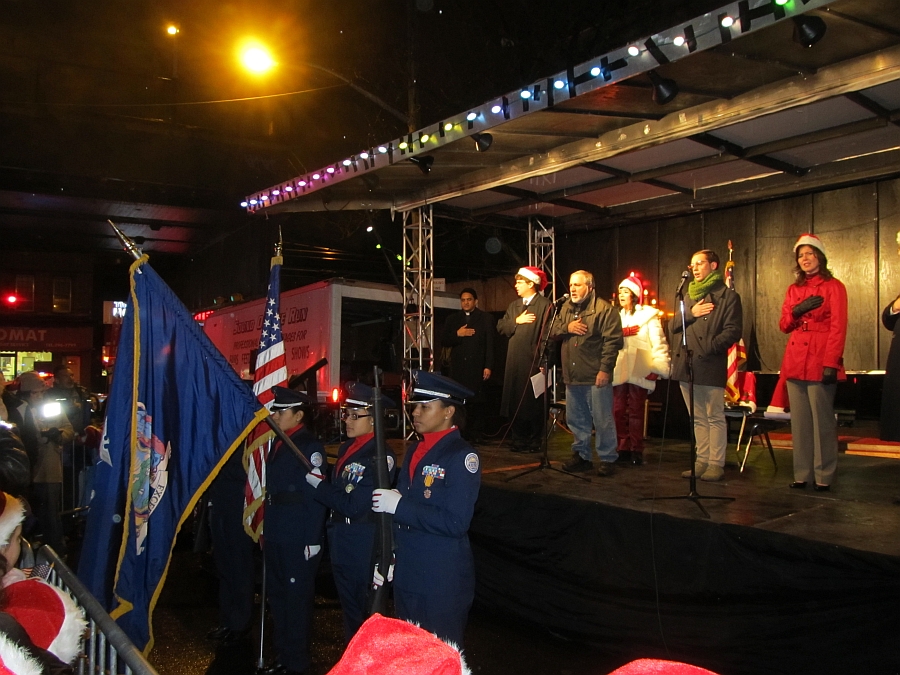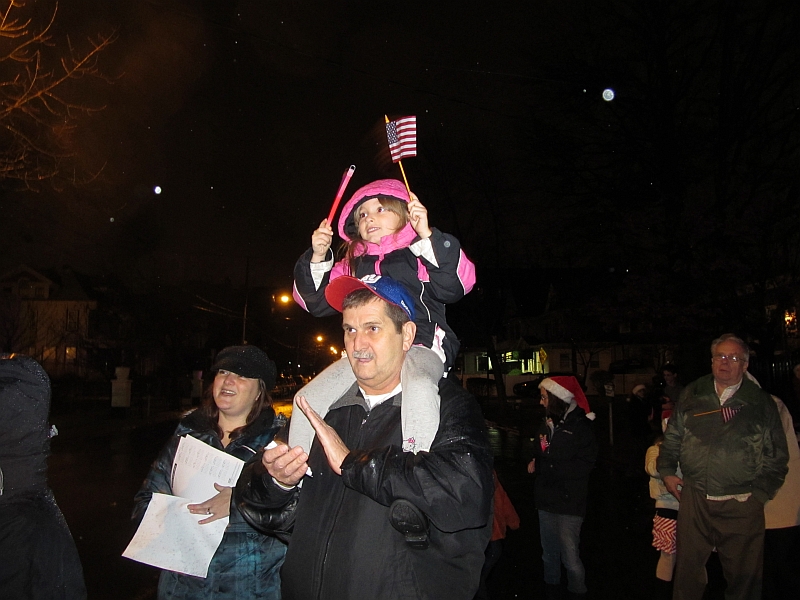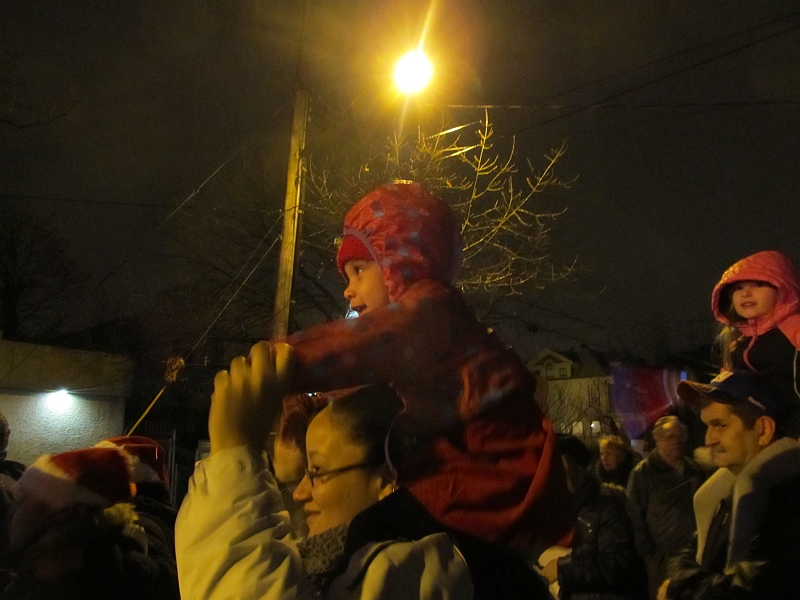 The kids in the crowd were delighted to see old favorites Rudolph, Frosty, Easter Bunny, Christmas Mouse, Shrek and, of course, Mr. and Mrs. Santa Claus.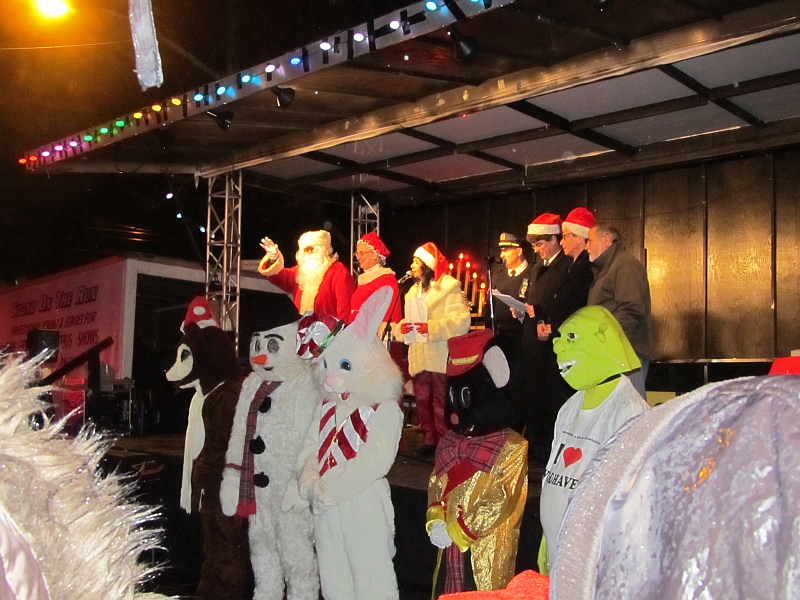 The countdown began and in no time, our new tree was lit -- it looked spectacular.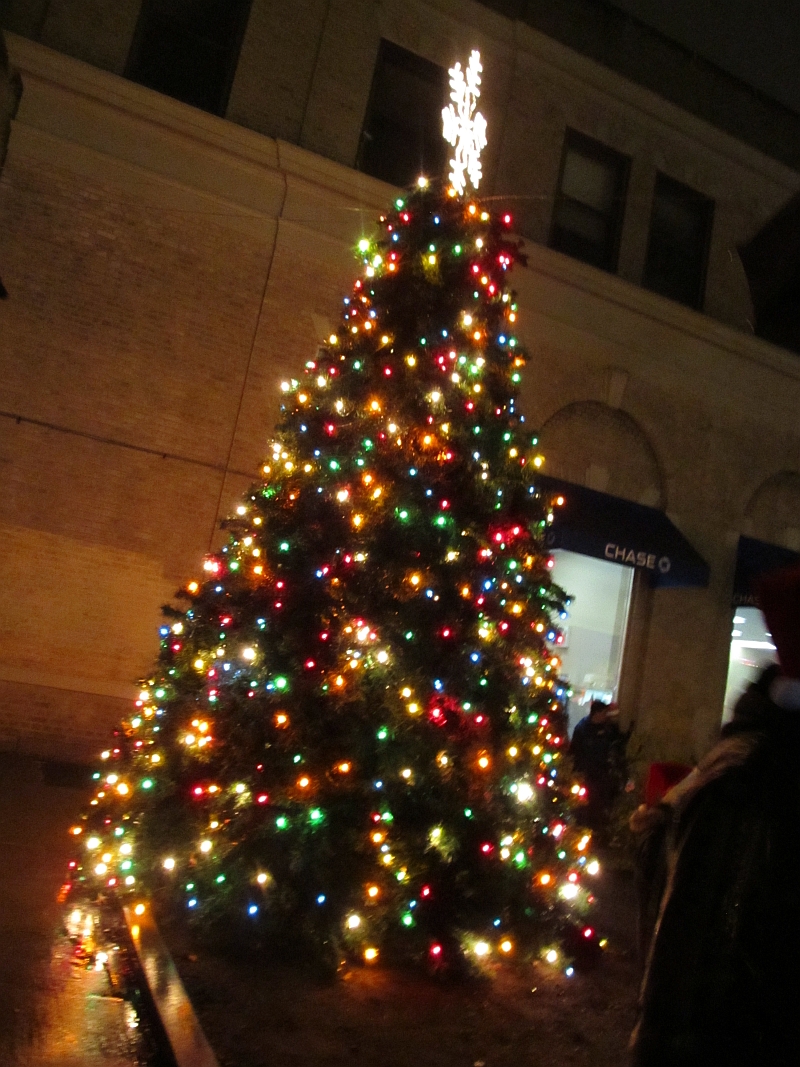 The crowd hung around in the cold and the rain to sing Christmas carols - and even the rolling thunder of the J Train couldn't drown them out!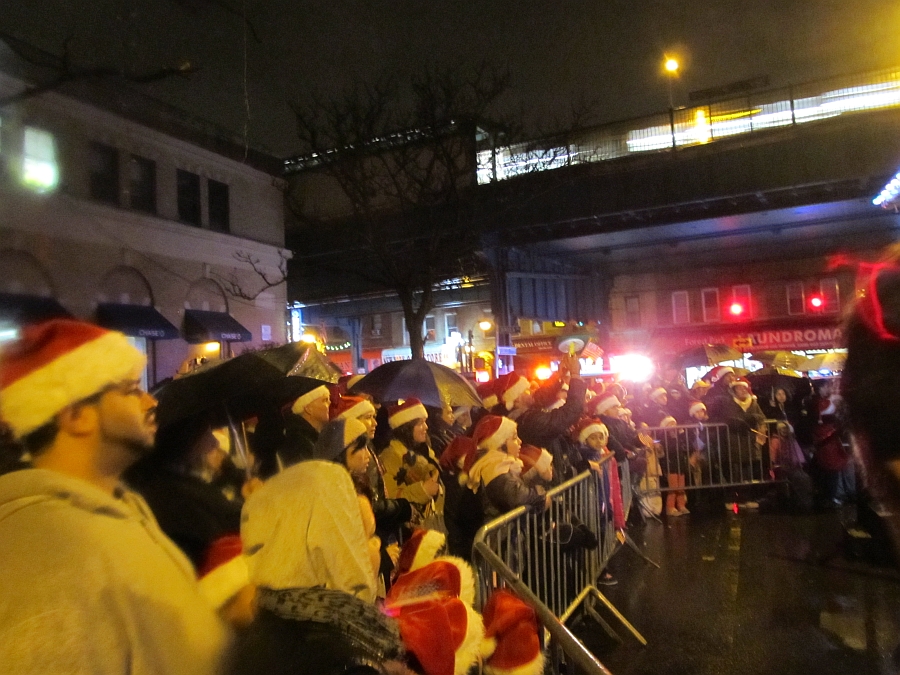 Shrek loves Woodhaven -- who knew?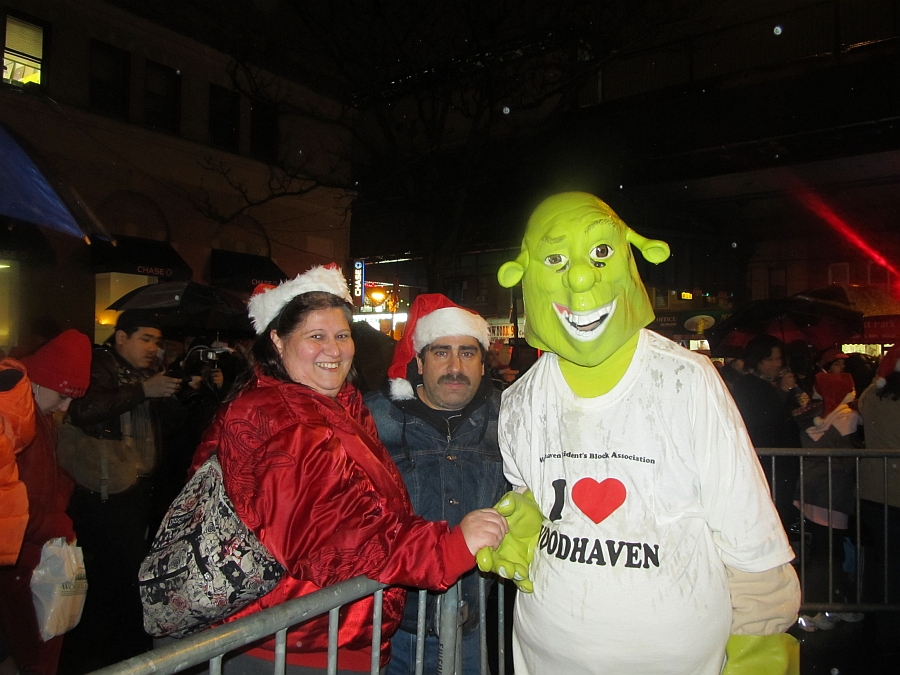 The tree was a popular destination afterwards for posing for pictures --


Maria posing with Mr. and Mrs. Claus --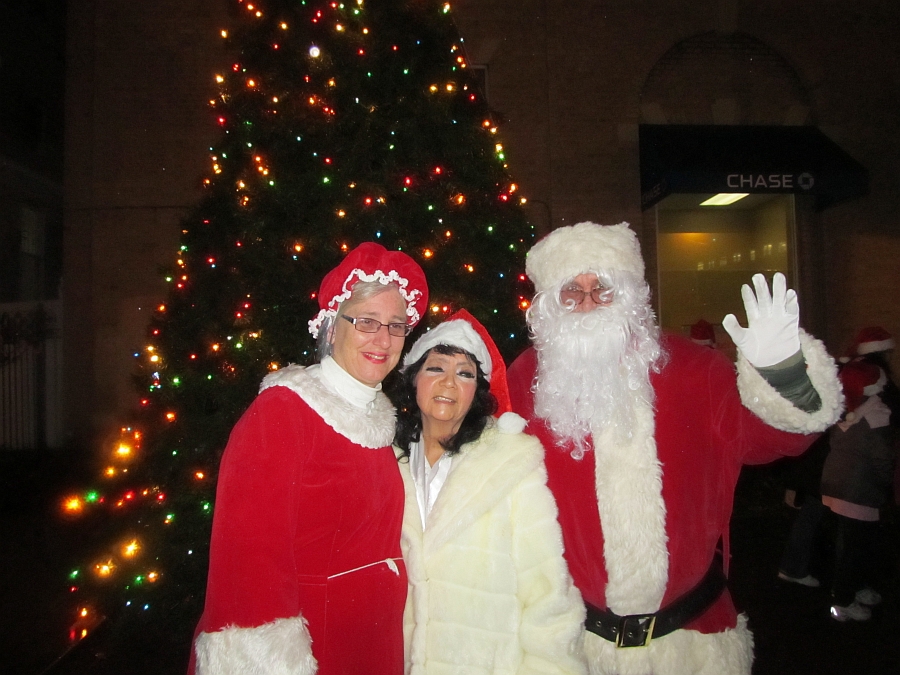 The kids loved both Mr. and Mrs. Claus -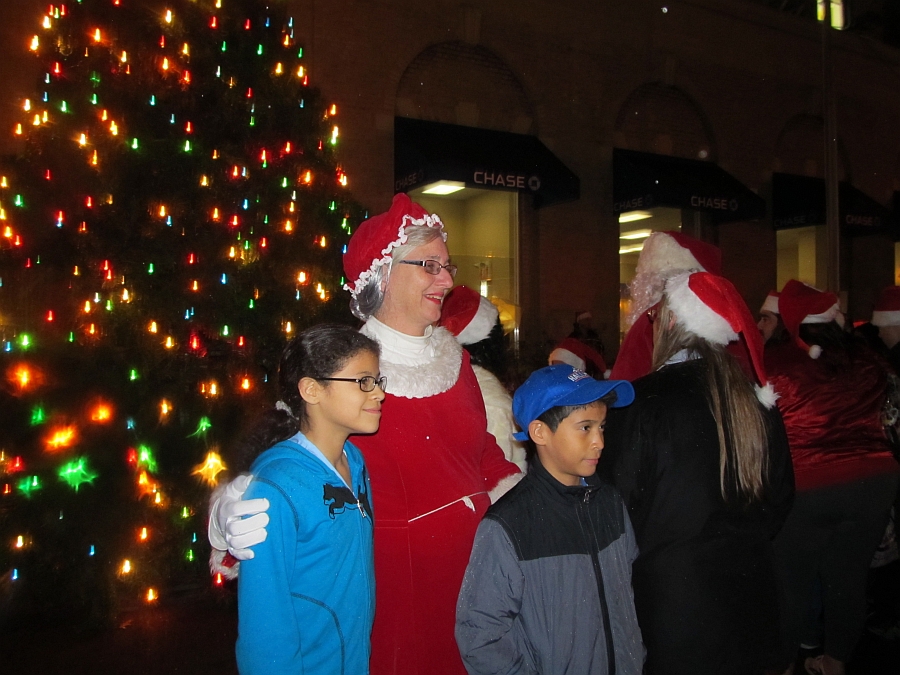 It was a special evening -- and all the kids had a wonderful time!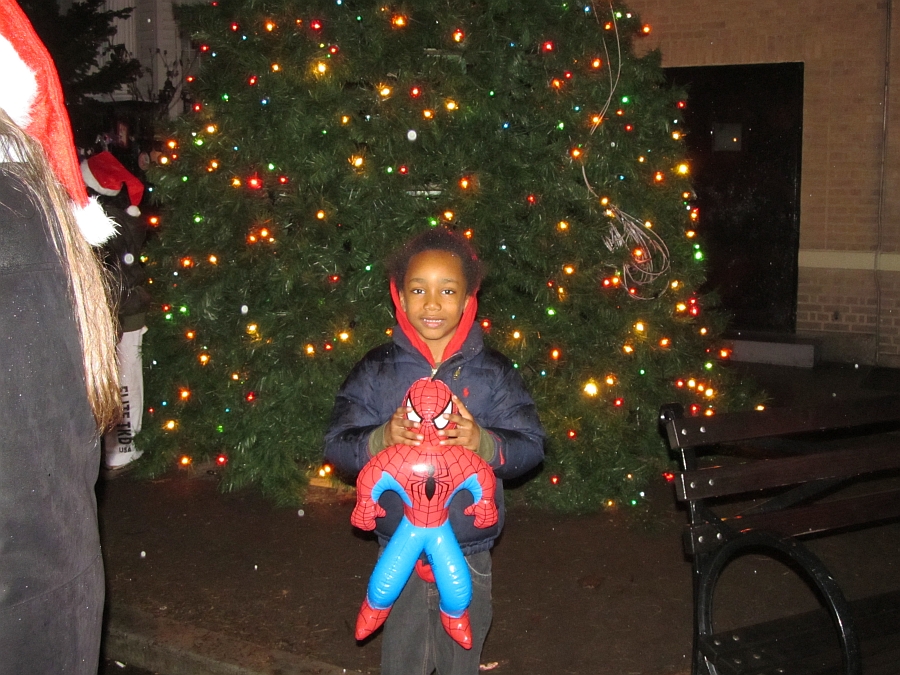 Here is the video of the tree lighting and the parade --
The next day, Saturday, was also wet -- but the rain held off while the parade marched from 96th Street (Cordon Bleu) to Franklin K. Lane.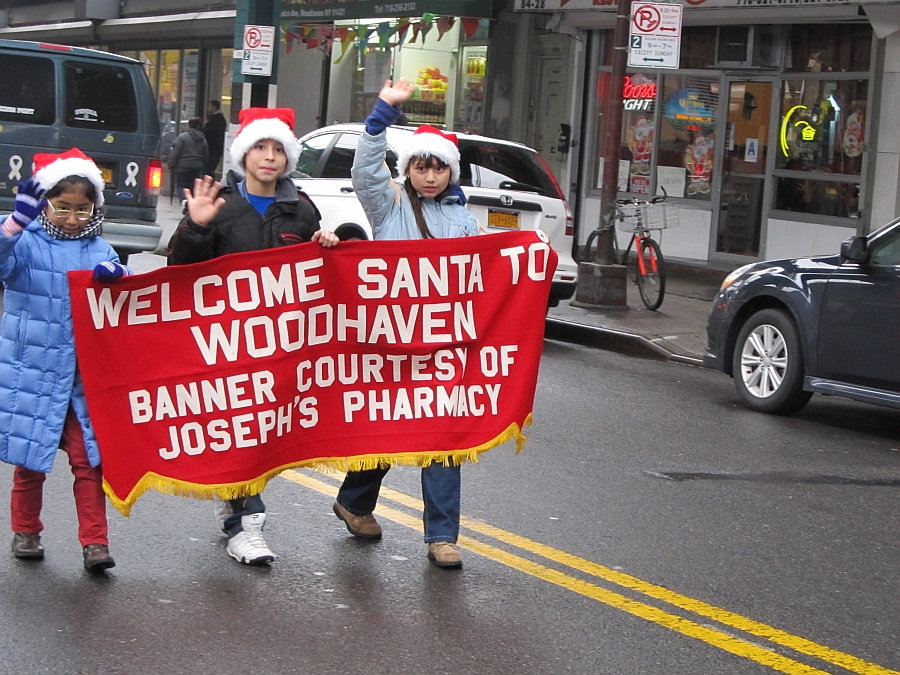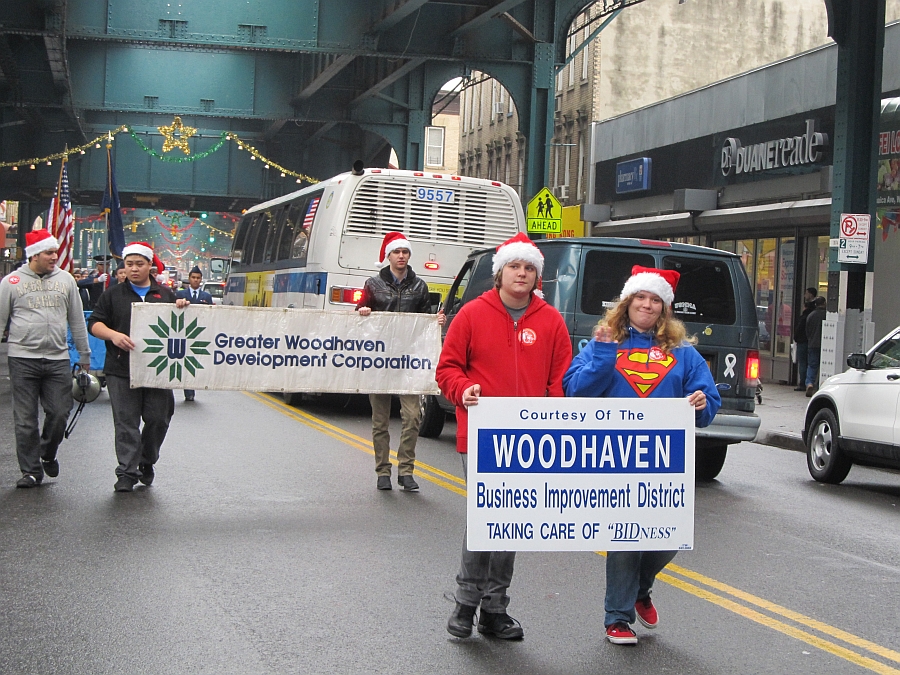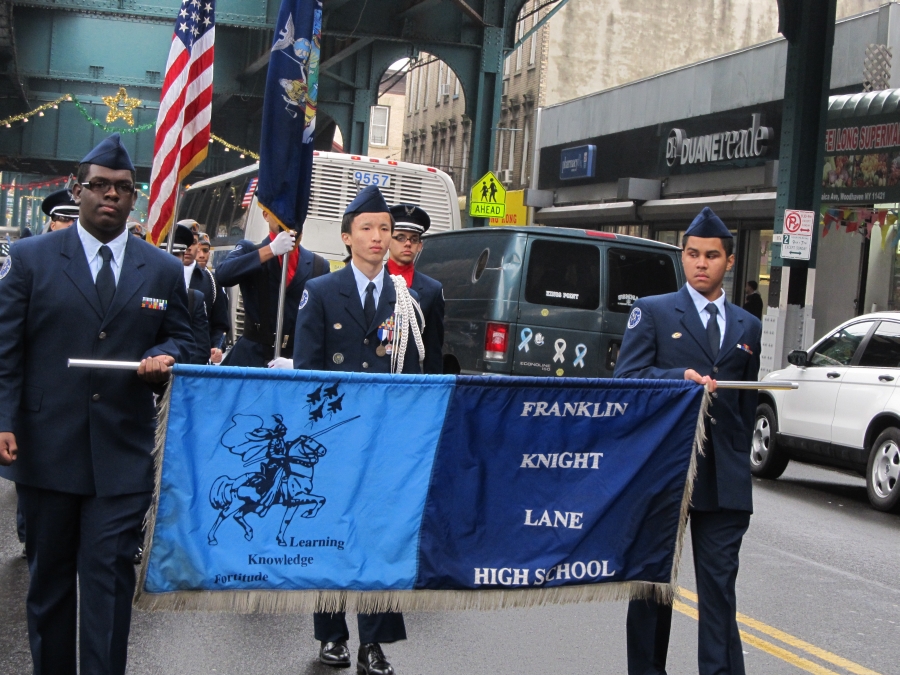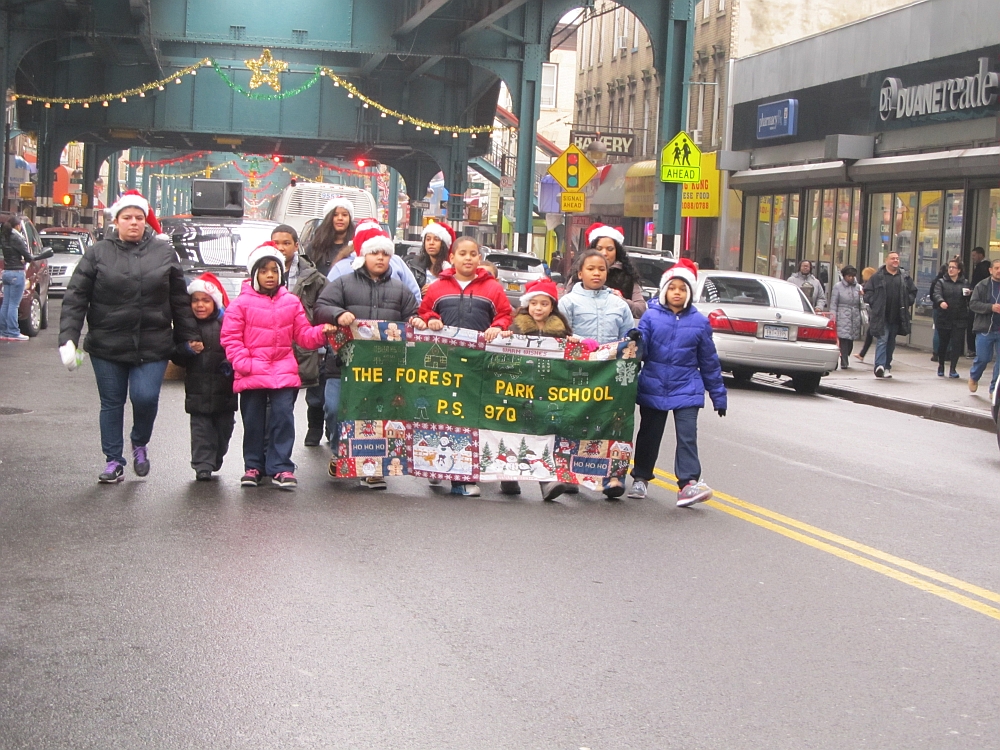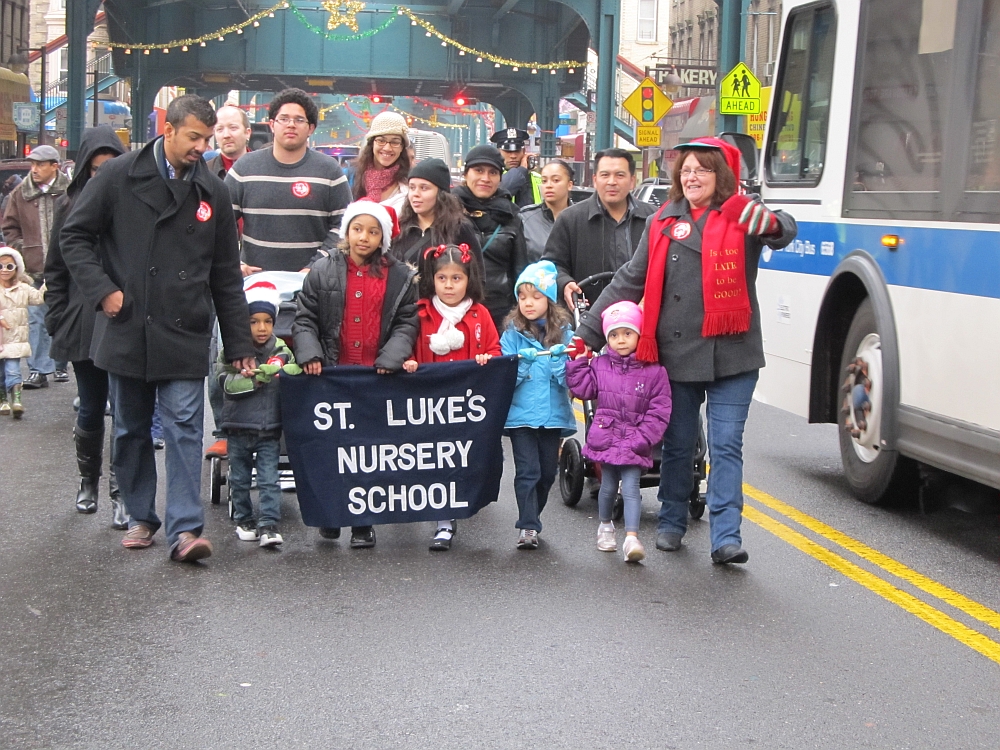 Many thanks to all the parents and children who marched. And here is what it's all about -- seeing the smile on a kid's face when . . .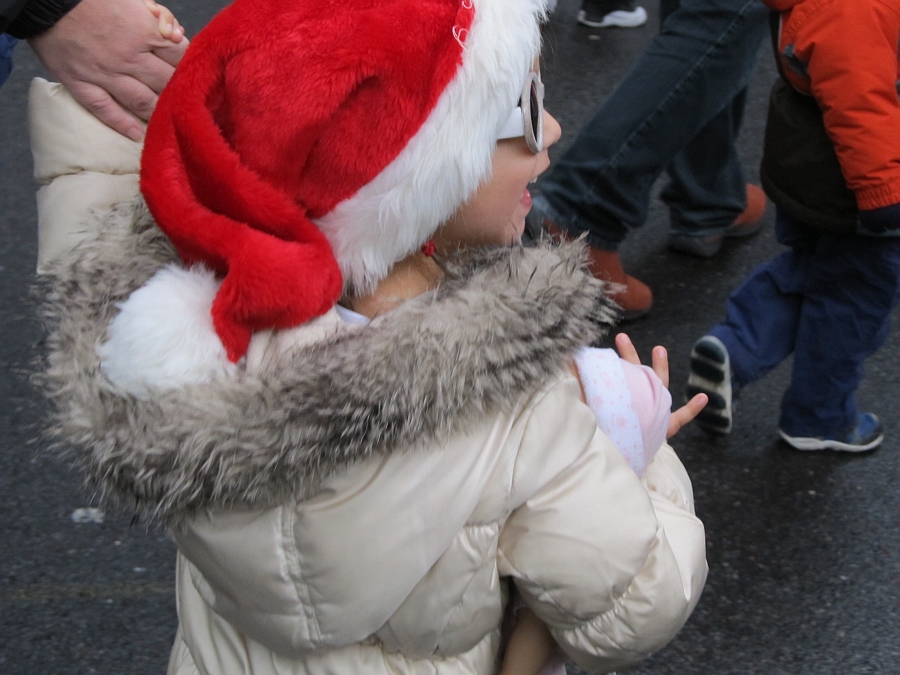 they see the stars of the parade -- Mr. & Mrs. Claus.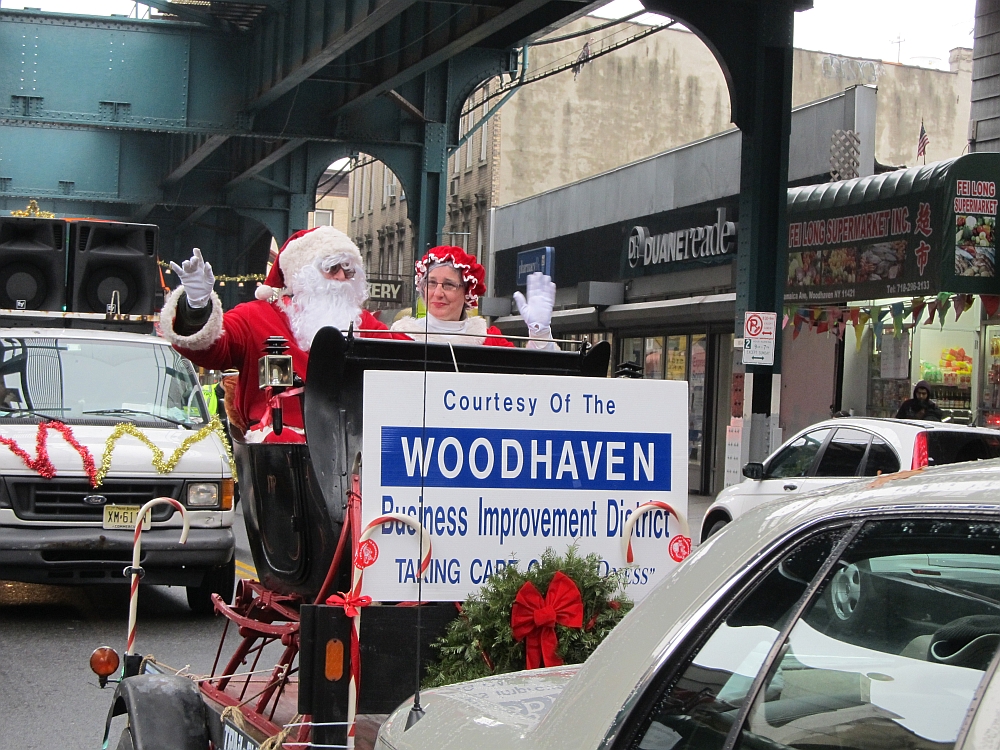 If you have any comments, or would like to suggest other projects, drop us a line at info@projectwoodhaven.com or projectwoodhaven@aol.com.
Return to Project Woodhaven's Home Page
Photos by Joey Wendell