The Ghosts of Christmas Past

Here's a walk down Memory Lane courtesy of the Leader-Observer, which is far from being a ghost and is still a vital part of our community (click here for their homepage). Over the years many of our local businesses placed holiday ads -- here is a look at some advertisements from the mid 1970s through the mid 80s. We hope you enjoy some of these Christmas Holiday greetings from old friends from your past.

First up is a yearly ad that was placed by the Woodhaven Chamber of Commerce. Before there was a Woodhaven Business Improvement District,we depended on voluntary contributions to put up lights on the avenue. All of the businesses received a poster to display in their window -- and had their name displayed in the Leader. How many of these businesses still exist? Answer below the picture.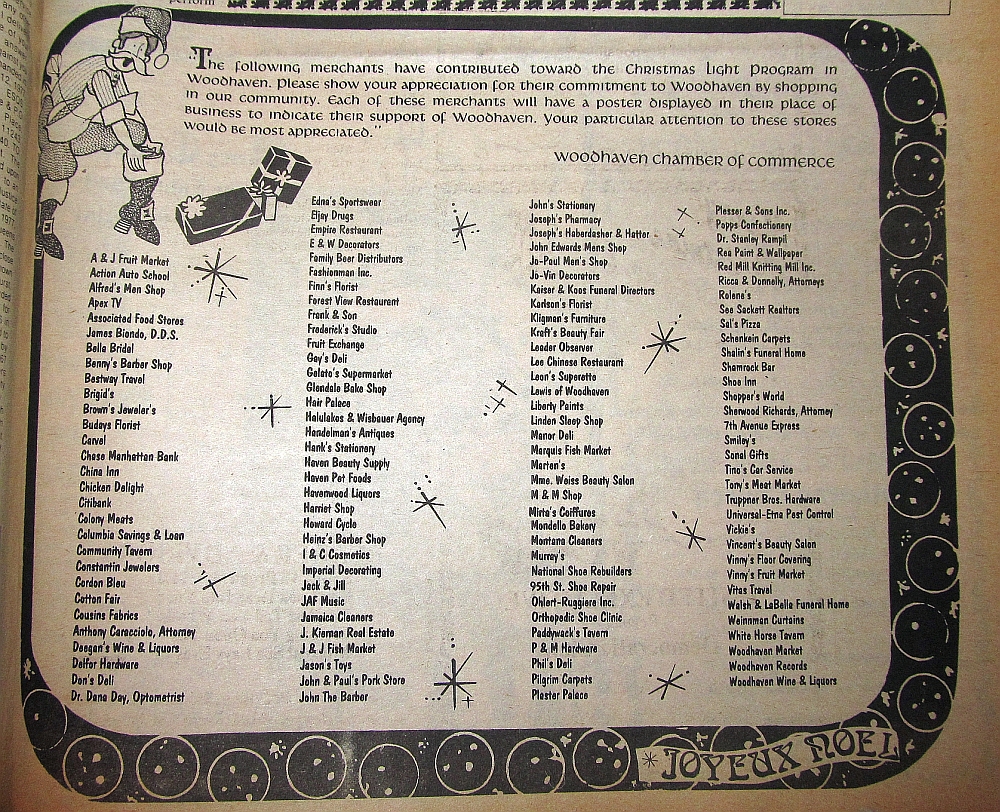 Off the list shown above there are 18 businesses still around: Benny's barber, Chase Manhattan, Columbia Savings (acquired by NY Community), Cordon Bleu, Deegan's, Imperial Decorating, Joseph's Pharmacy (renamed Woodhaven Pharmacy), Jo-Vin Decorators, Kaiser & Koos (merged with Walker), Liberty Paint, Manor Deli, Montana Cleaners, Ohlert-Ruggiere, Popp's, Ricca & Donnelly Attorney, Sal's Pizza, Smiley's, Walsh & LaBella.
Here's a narrow ad from Kligman's in 1974. There are many homes in Woodhaven that still have furniture from Kligman's.


I was never musically inclined. But I knew a bunch of kids growing up that loved JAF Music.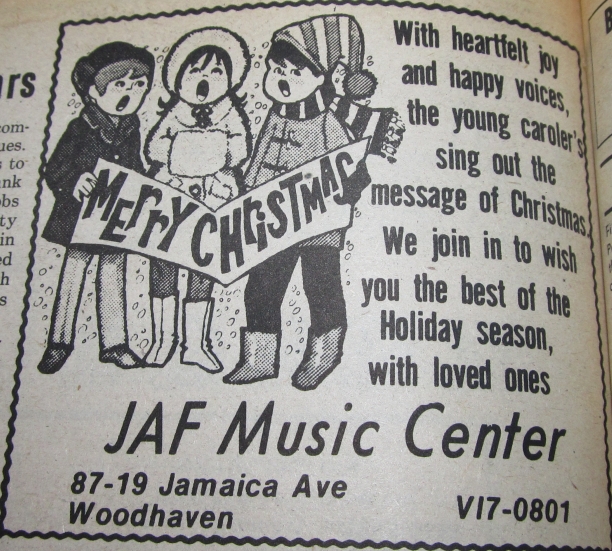 Including pictures of the staff of Halulakos & Wisbauer is a nice touch. We hope some readers out there recognize these folks.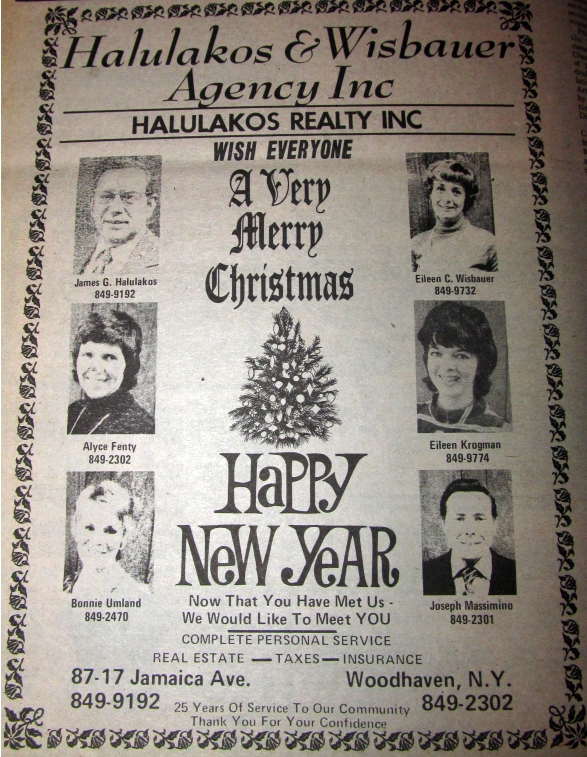 From the files of the recently departed - the Orthopedic Shoe Clinic closed its doors in 2012.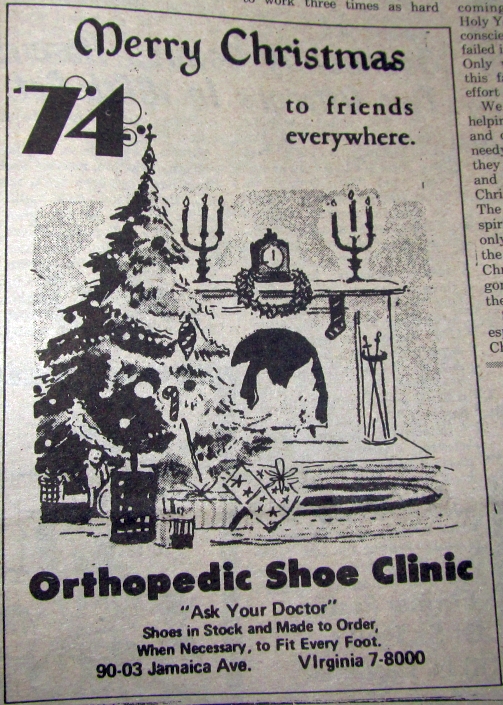 A nice advertisement from Walker Funeral Home, establised in 1899 and still operating in Woodhaven (click here for homepage).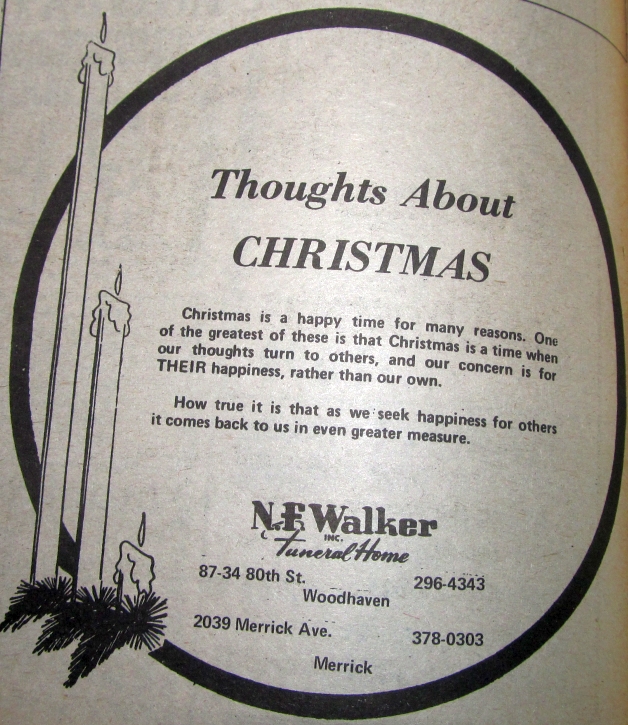 Here is a beautiful ad for Walsh and LaBella (still in business here in Woodhaven - click here). This is a very confident ad -- they don't need to put their address or even their phone number. Heck, they don't even state that they are a funeral home.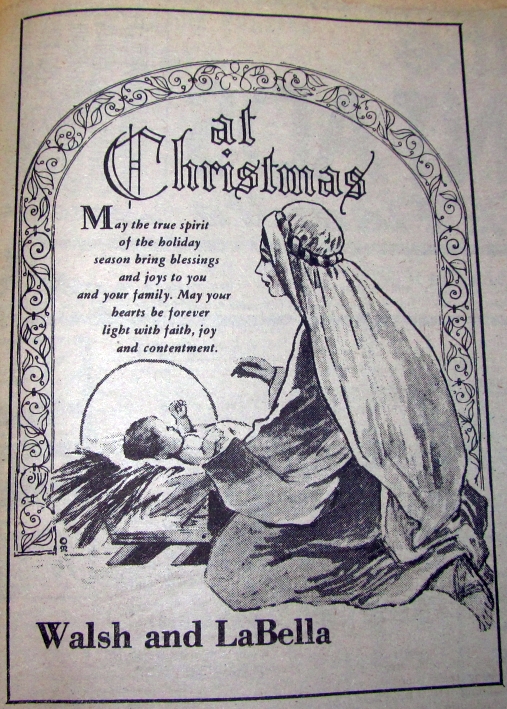 Harriet's Specialty Shop around 1977. Bodices. Hosiery. This was the first sign of credit cards we spotted in Christmas Ads in the Leader. Love the usage of the VI (Virginia) exchange in the phone number. For the younger folks: If your phone number begins with 84 (e.g. 849) then you were in the Virginia exchange and when you told people what your phone number was you would say "Virginia 9" or "V-I-9." Click here for a nice list of exchanges in NYC.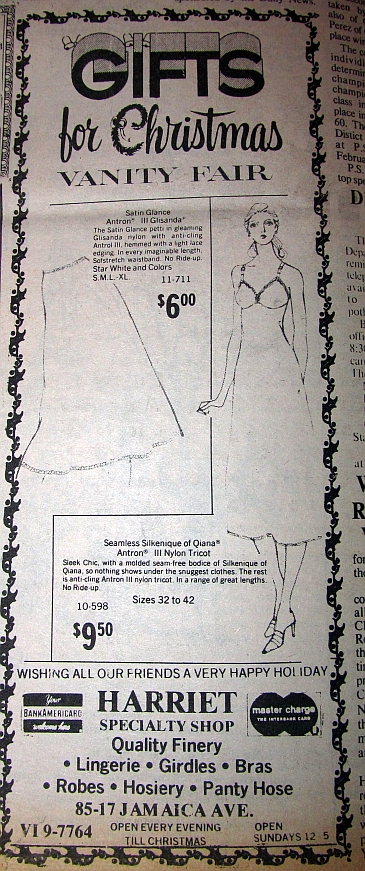 I lived directly across the street from Finn's Florist. Their window at Christmas was beautiful -- full of red and white poinsettias.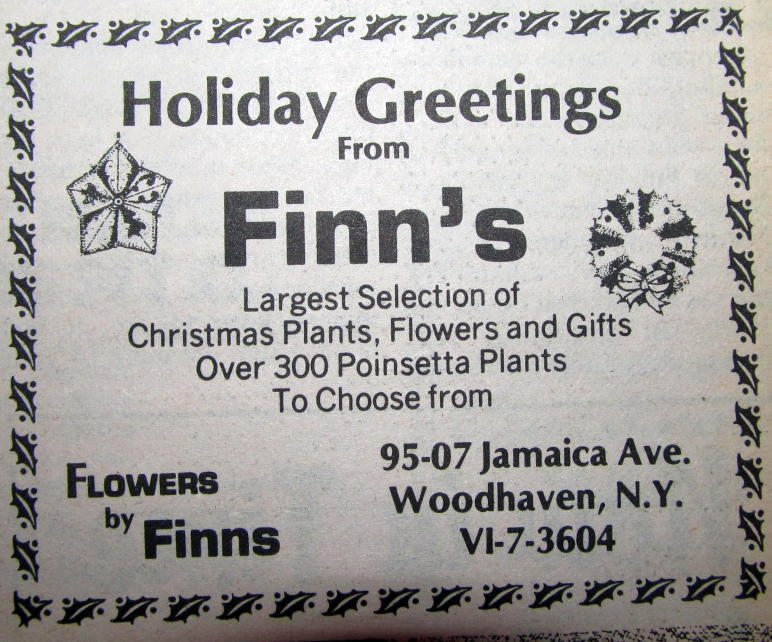 The 1978 Leader. A brand new Schwinn would be a fantastic Christmas present. At right is a small ad from Lewis. We say small because in future years Lewis would take out several pages per year.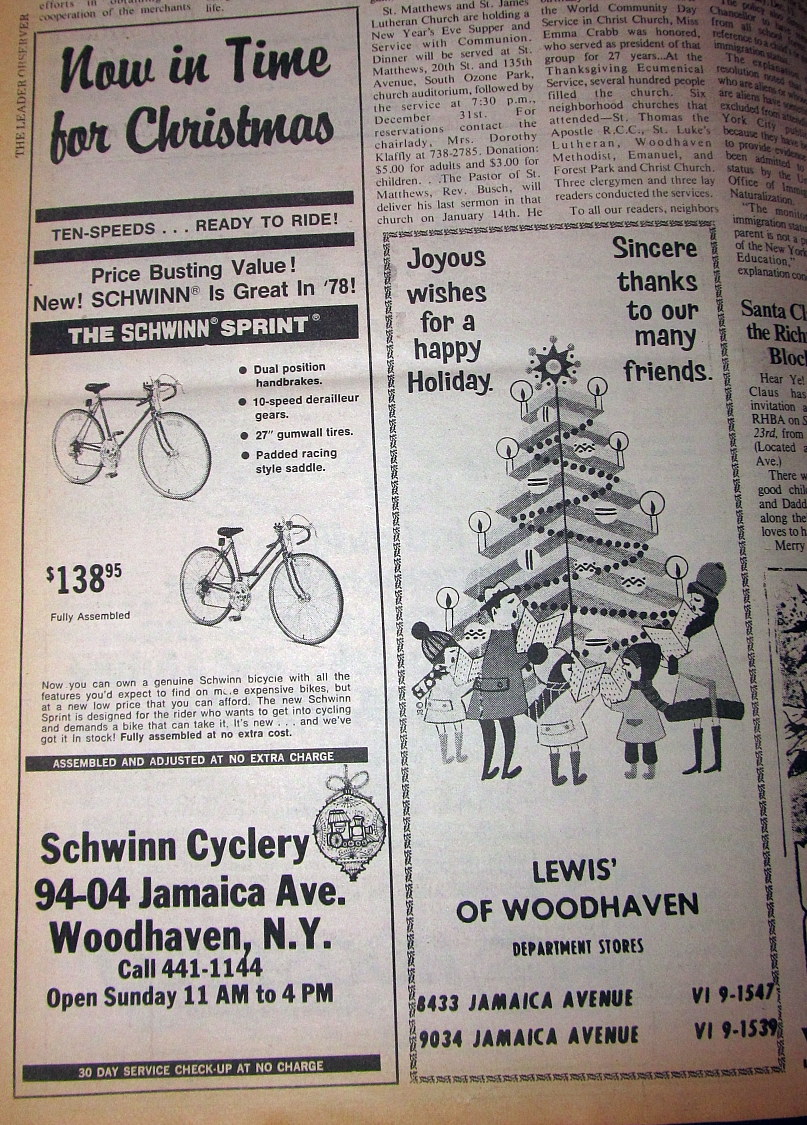 The centerfold of the Leader always had a ton of local businesses and individuals. Click here to view this ad SUPER SIZED.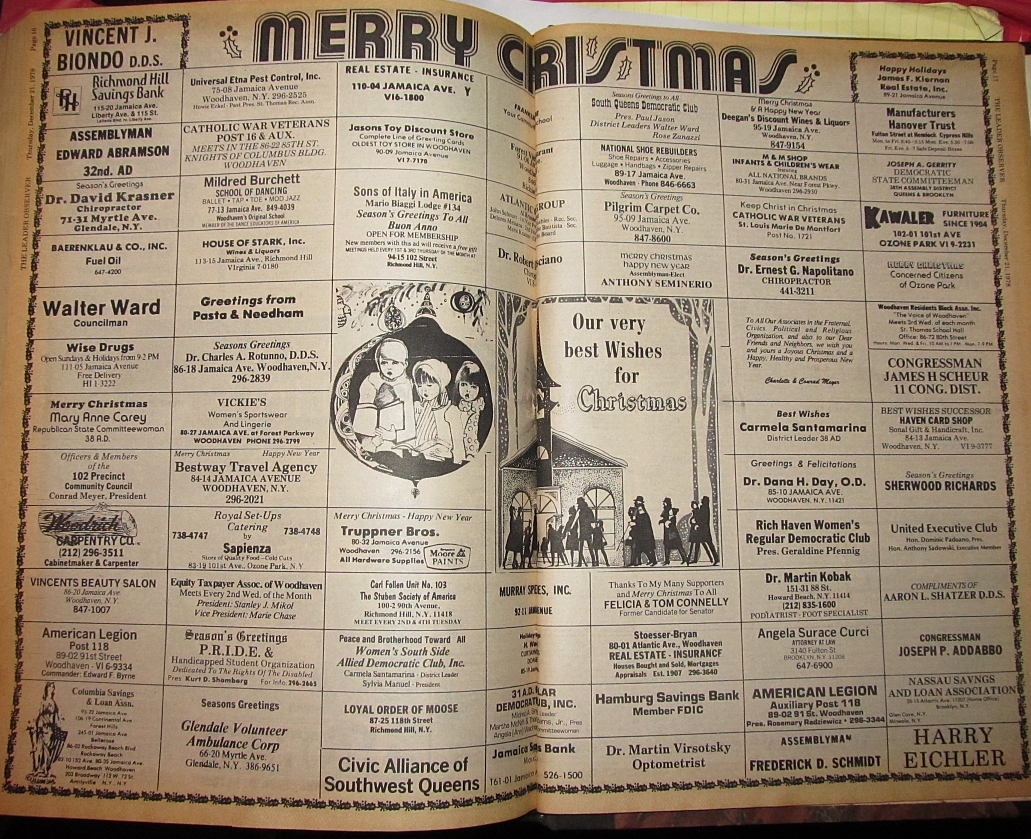 Columbia Savings and Loan, now owned by New York Community Bank. But lots of people here still call it Columbia.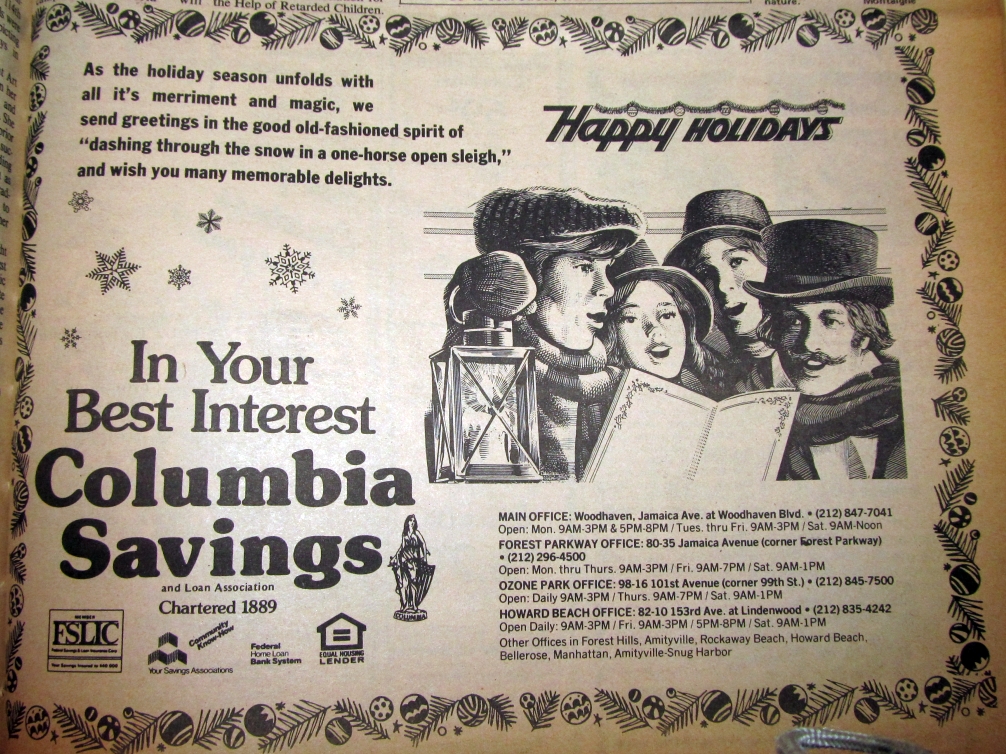 Kiernan Real Estate. Lot of familiar names in that ad.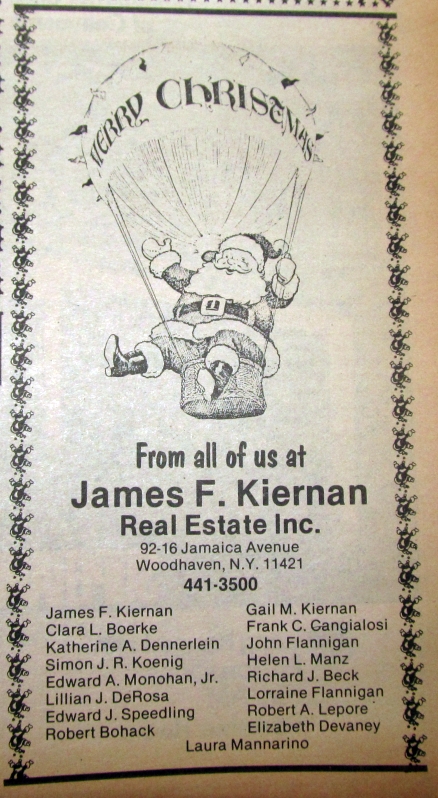 Lewis of Woodhaven - 1980. Lots of underwear ads for boys and men.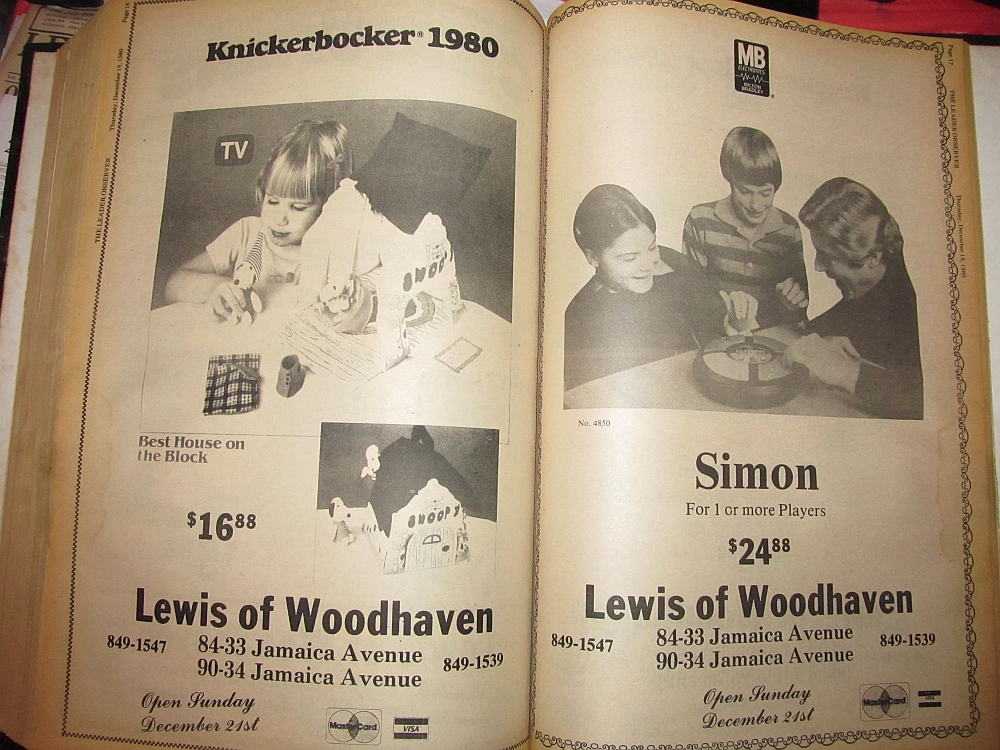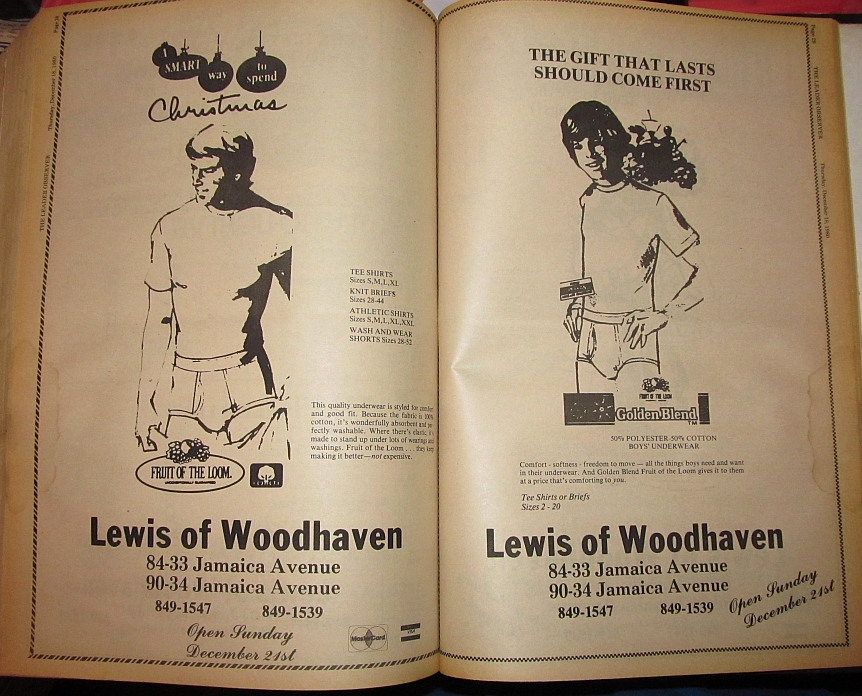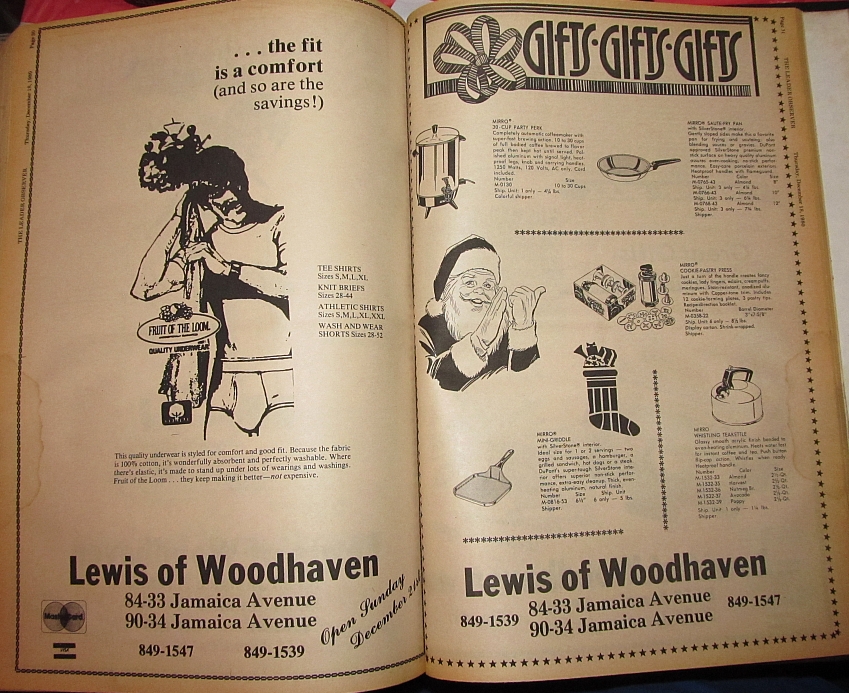 Eebee's of Woodhaven. Corduroy Slacks!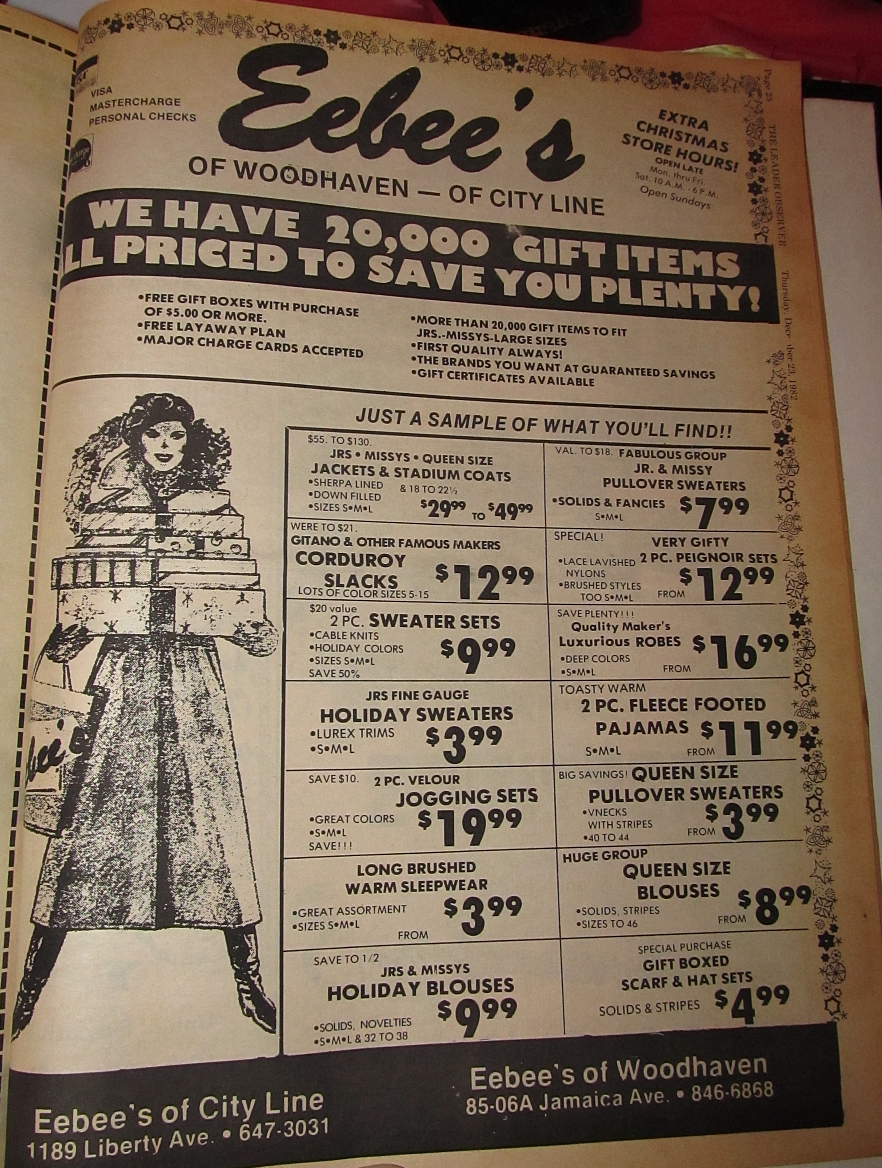 By 1983 the underwear ads came with binoculars. That's an odd drawing of a pair of underpants -- is that a butt crack?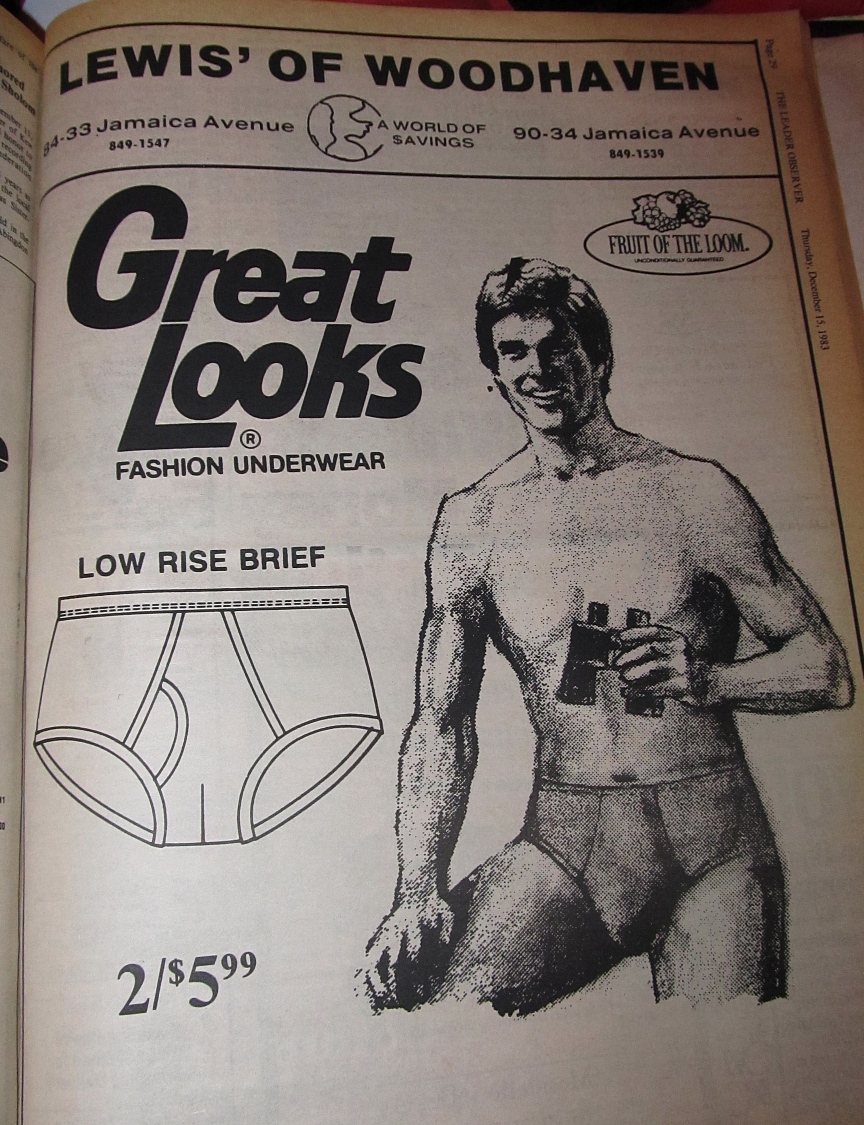 How many Christmas parties did you bring Mondello's cookies and pastries to?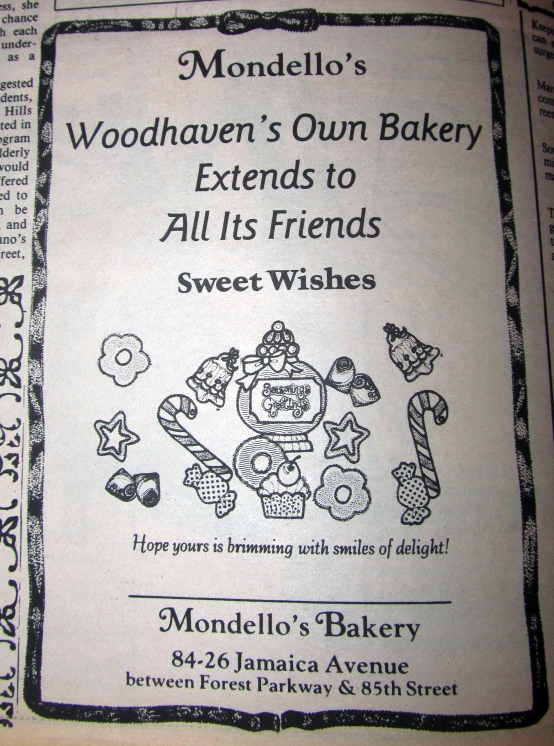 Brow's Jewelers was busy at Christmas -- lots of engagement rings were purchased there. And the Cordon Bleu was gearing up for New Years Eve. Unlimited Liquor and everything else for $42.50? Count me in!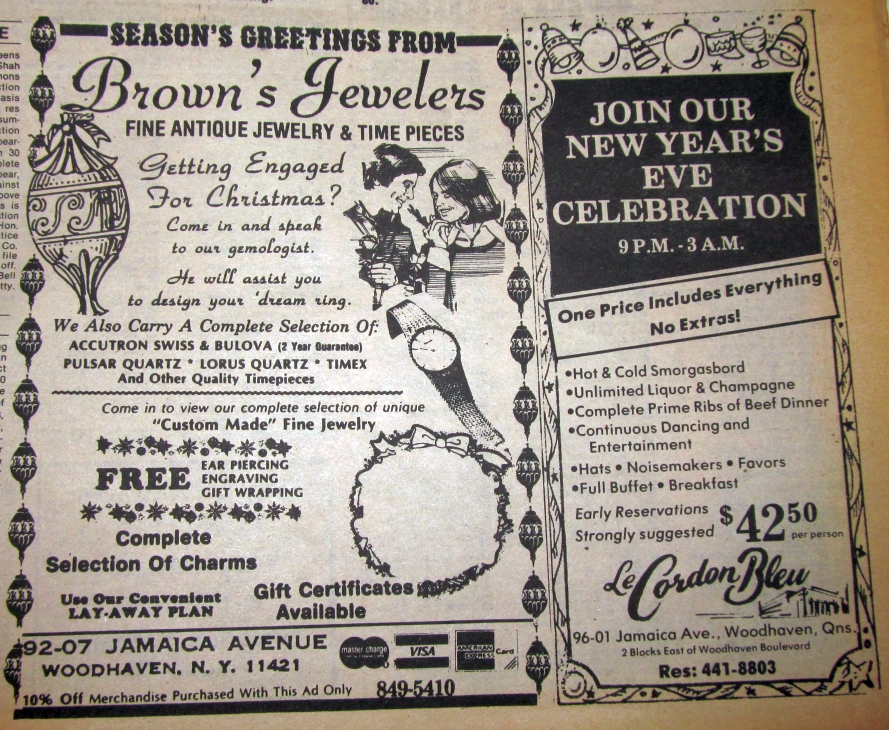 The mid-80s saw the concept of Jamaica Avenue as the Woodhaven Mall -- it's a catchy theme.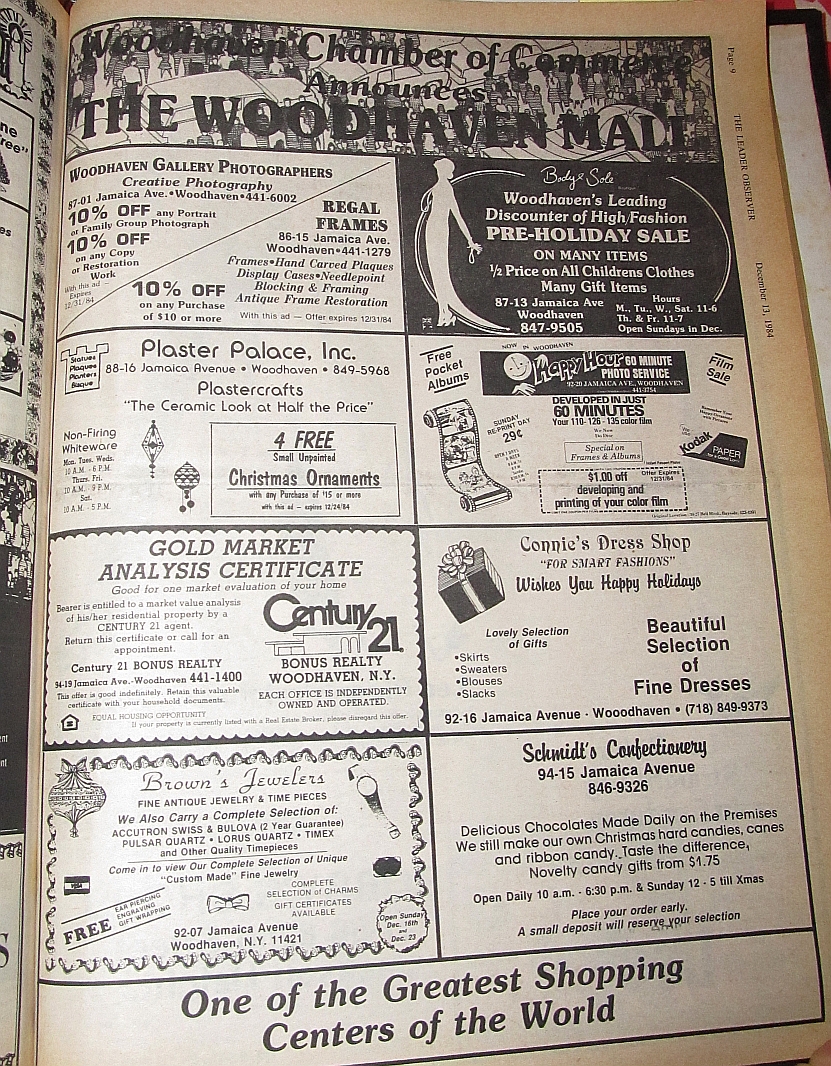 We'll end this update with a thought that is as valid in 2012 as it was in the 80s and the 70s and all the decades before that. Whenever possible -- shop locally. A strong business district helps make for a strong community.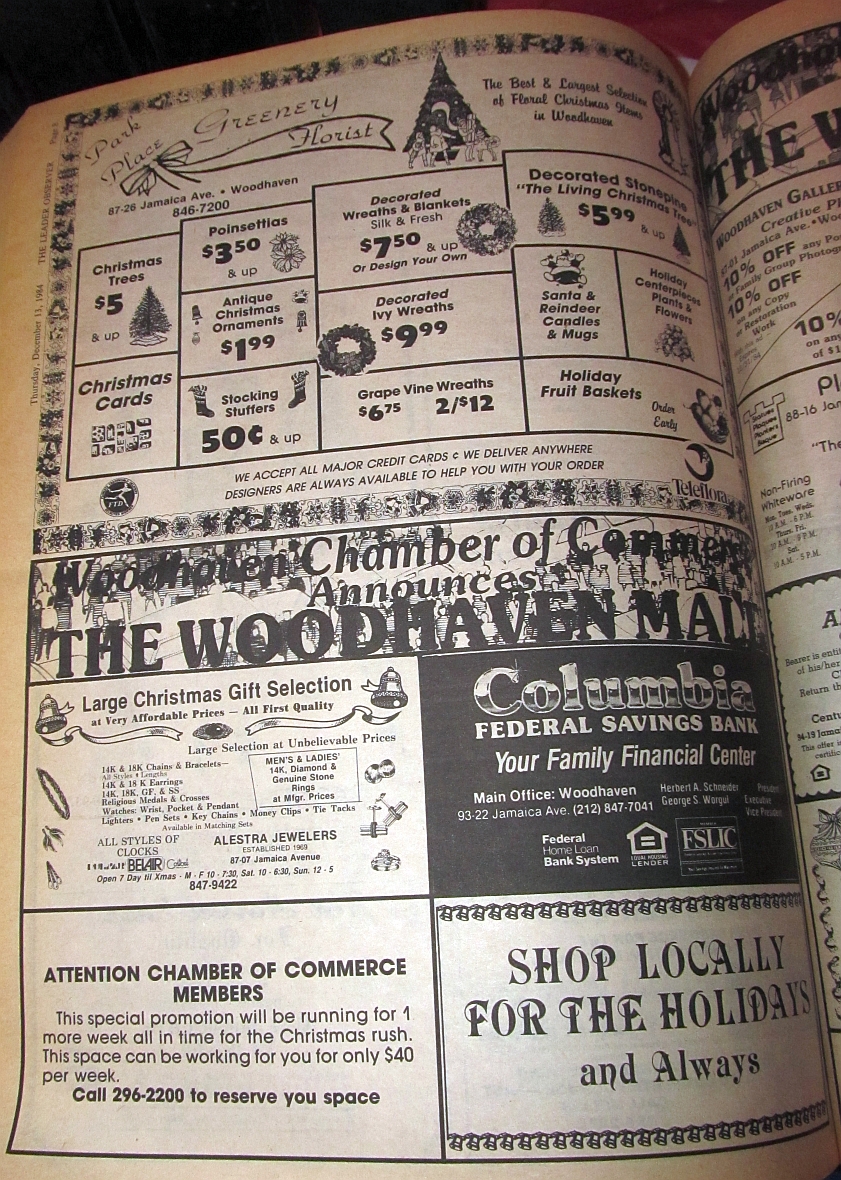 Merry Christmas and Happy New Year from Woodhaven!

If you have any comments, or would like to suggest other projects, drop us a line at info@projectwoodhaven.com or projectwoodhaven@aol.com.
Return to Project Woodhaven's Home Page
Photos by Joey Wendell