Woodhaven's Brooklyn Manor

Sometimes amazing things happen and all you can do is shake your head and appreciate it. Such a happening occurred this week and the result is a very interested update. Let's start off with yesterday morning when someone in a Woodhaven Facebook Group posted a link to a post from the very cool About Queens. A conversation ensued, you can see the post we were discussing here. Here is a portion of the photo in question -- you have to go to About Queens to see the entire image full size -- it's fantastic.

This is a picture looking North on Woodhaven Boulevard -- back when Woodhaven Boulevard was one dusty lane. Ligget (Rexall) Drugs would sit at that bottom left-hand corner one day (watch out for that pup!). Now it's a Dunkin' Donuts. The house with the impressive turret at the corner of 86th Drive (known as Oakland Place back around 1910) is still standing -- beautiful, isn't it?

Everything on the right-hand side of that classic photo above is gone, torn down a few decades later to make way for 8 more lanes of Woodhaven Boulevard. I love this portion of the image -- the little girl waiting at the corner. Maybe looking for her friends, she looks up in time to see a man taking a picture -- and here she is, around a century later. To her right is a small building -- as this appears to be a new development, we assumed this to be the manager's office, but we couldn't be sure as the sign says the office is on the opposite corner.

And then just a few hours later, in the mail, we received an envelope from former residents of Woodhaven, Judy & Walter Kramer -- they had reached out to us after seeing a newspaper article about our succeeding the lovely Leonora Lavan at the head of the Woodhaven Cultural & Historical Society. We opened the envelope, not sure what was inside -- and we were floored to see the following -- look familiar?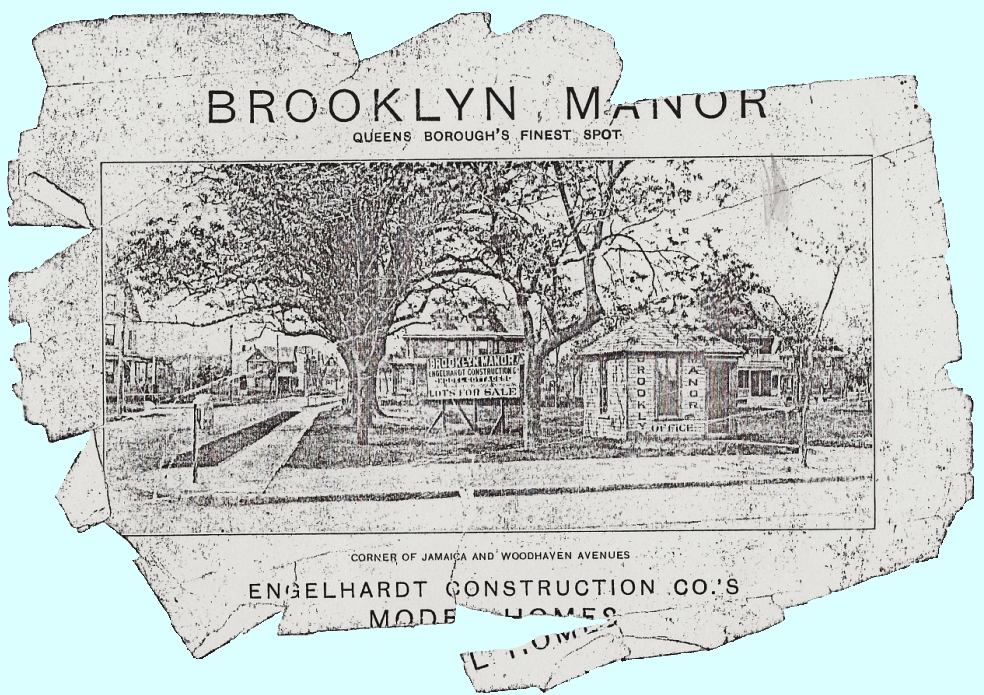 It's a copy of an old brochure, selling brand new houses in the Brooklyn Manor section of Woodhaven, which was located between Park Lane South and Jamaica Avenue -- and between Woodhaven Boulevard and 98th Street. The Jamaica Avenue station of the Rockaway Beach Branch of the LIRR was named Brooklyn Manor until it was torn down in the 1960s. This is an amazing find -- and many thanks to the Kramers to sharing this rare piece of Woodhaven history with us. Keep in mind that along Woodhaven Boulevard, from Queens Boulevard into Howard Beach, one hundred and eighty seven homes were destroyed. 187 homes just wiped out -- again, not all of them were in Woodhaven -- but a bunch of them were.
But before we get to the fun stuff -- let's let the Real Estate guys give you a pitch!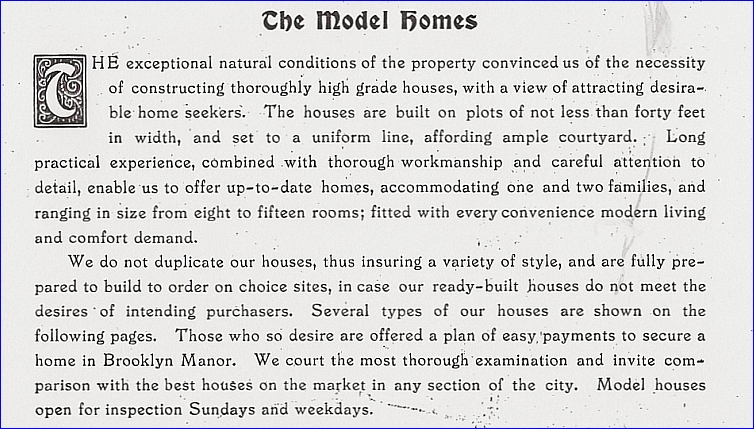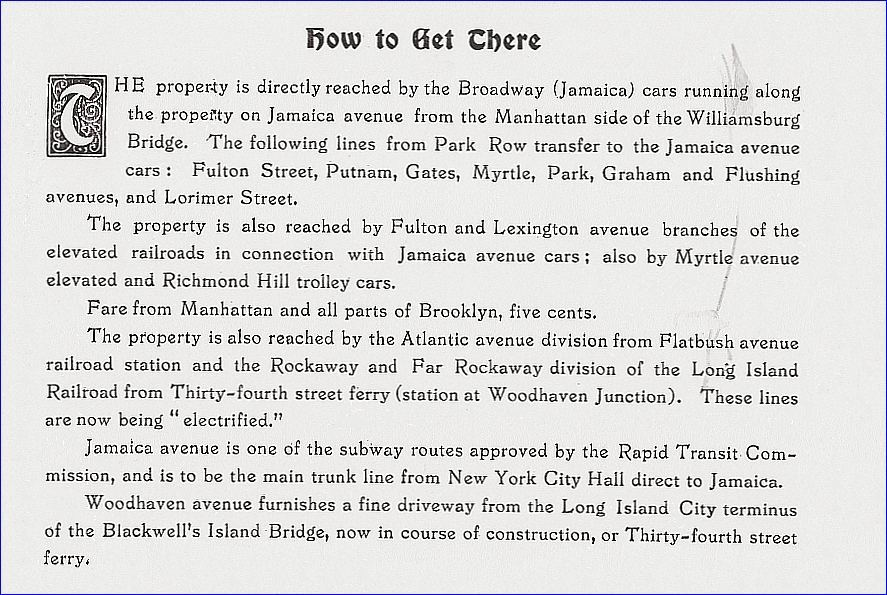 Five cents! Amazing -- and don't you just love the part about the railroads now being "electrified"? What will they think of next? Okay, enough talk -- let's take a look at the houses -- these ones below are under construction. These pictures are amazing -- this is Woodhaven being built. When you next walk or drive up 94th Street, towards Park Lane South, think of those dirt streets, surrounded by empty houses -- empty save for the men climbing ladders and hammering in boards of wood and installing plumbing -- the sounds of construction all about you --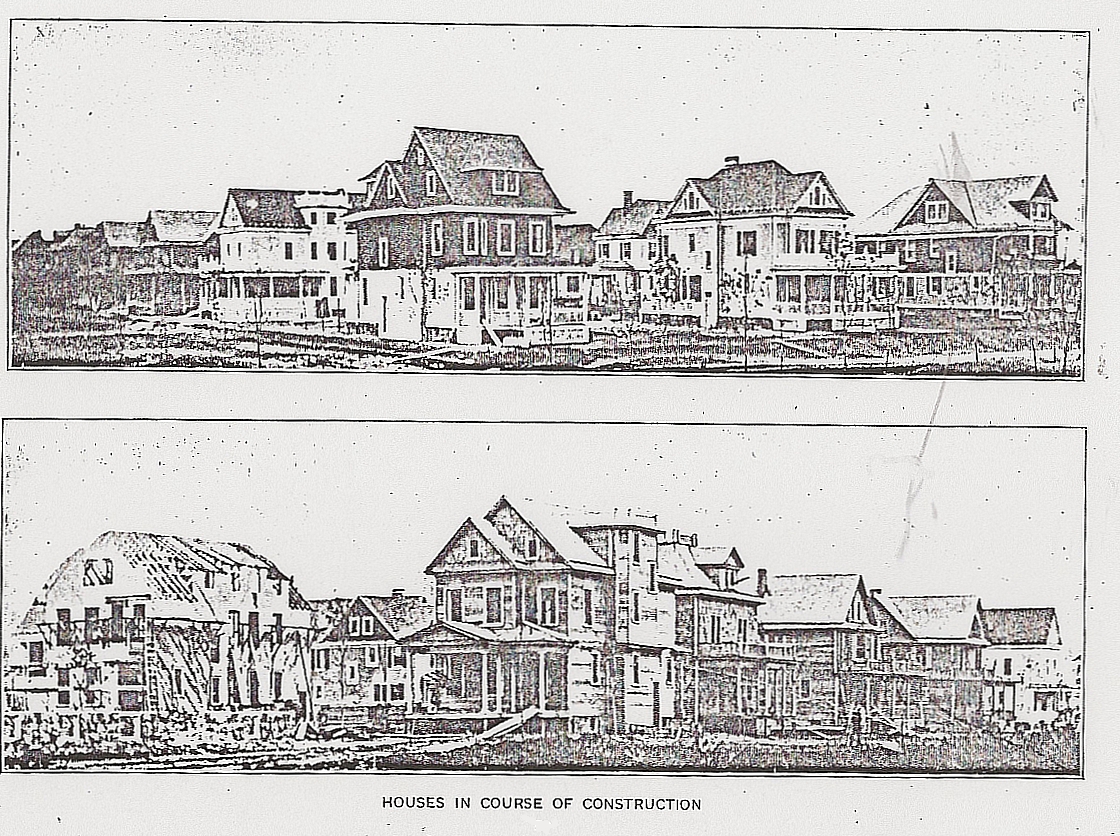 Here are two of the many houses that were constructed -- were these houses spared? Or are they still standing today?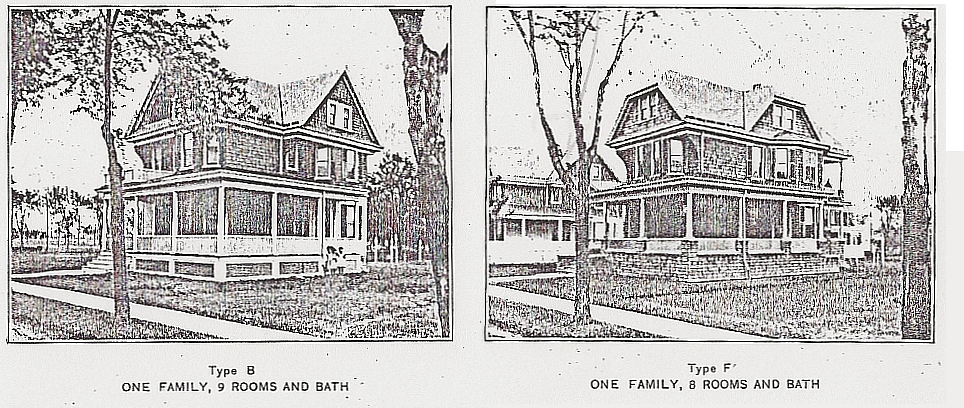 Looks like most of the houses were "one family" -- wonder how many families they hold in 2012.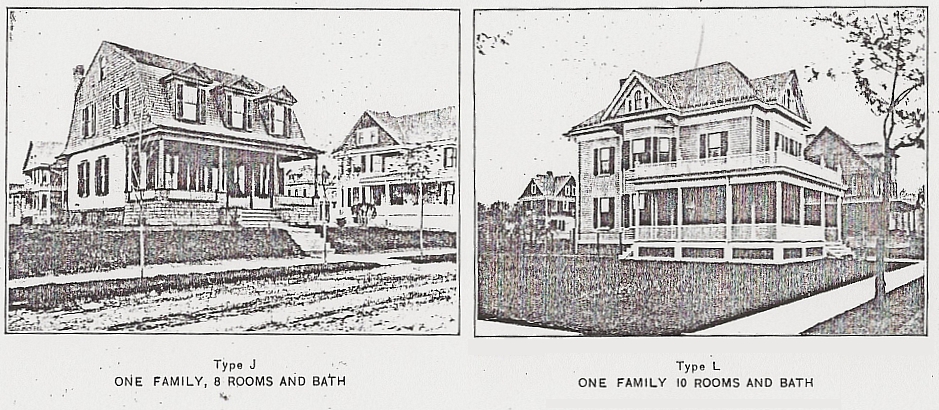 If any of these houses are on (what was then) Woodhaven Avenue, they were torn down to make way for the expansion. I know of at least one senior who told me his house was torn down -- I will make sure to show this to him and see if he recognizes anything. These pictures were taken 100-110 years ago -- but the boulevard expansion did not take place until the late 1940's, only 70 years ago.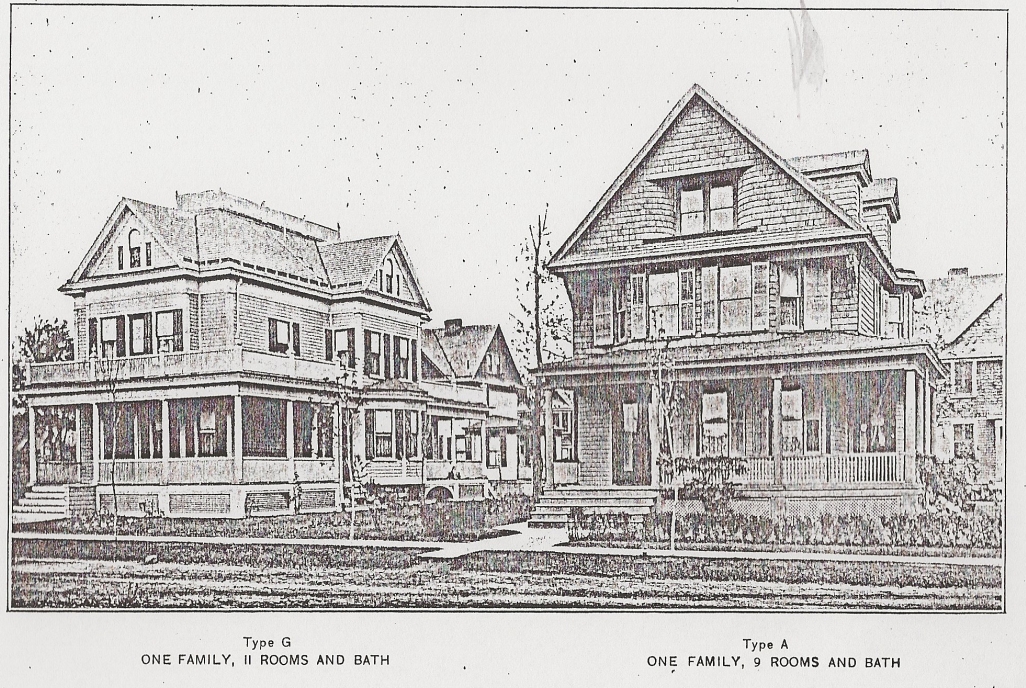 Now, let's take a look inside at a typical house of Woodhaven, 100 years ago -- high ceilings, many of us have lived in homes here in Woodhaven with very high ceilings.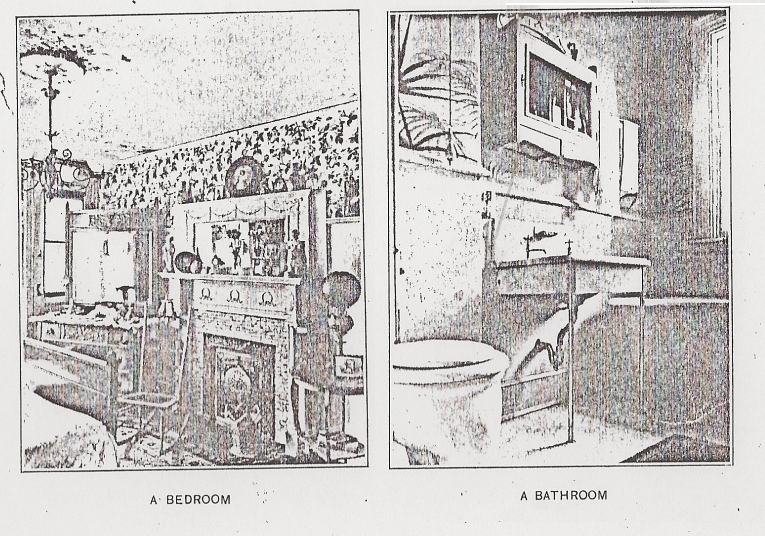 The hall and staircase -- and the parlor. We don't have parlors anymore. Well, pizza parlors :-) I guess they were replaced with Living Rooms.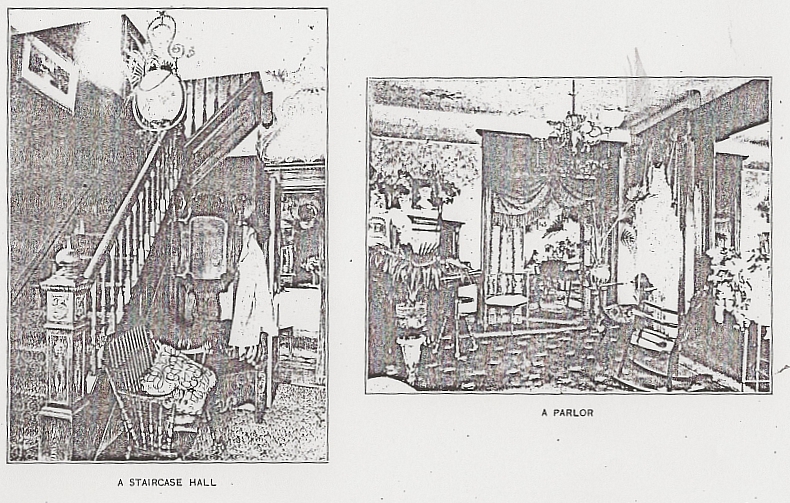 Two shots of a dining room, including the fireplace --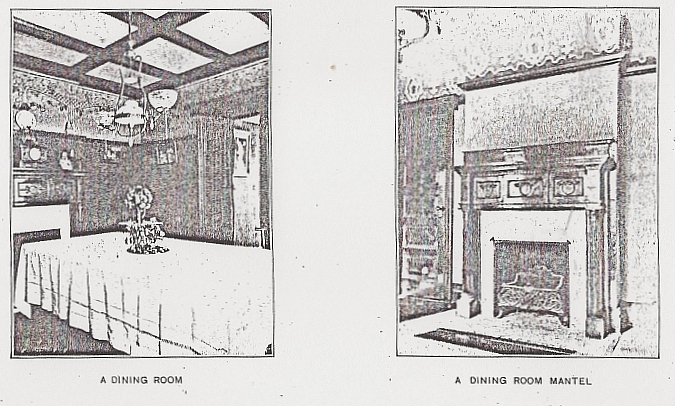 Two shots of the sitting room -- all their rooms had cool names. Check out that fantastic ceiling -- I hope that ceiling still exists here in Woodhaven in 2012 -- if someone out there knows this ceiling, please send us a picture.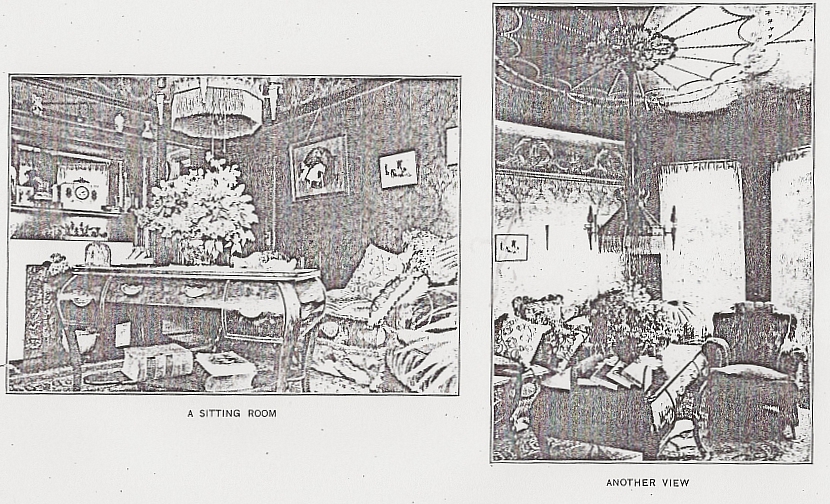 And we wrap up this tour with two last shots of Brooklyn Manor -- the first is a picture from Jamaica Avenue -- we can't be certain, but we think that's the houses along 86th Drive (east side of the boulevard).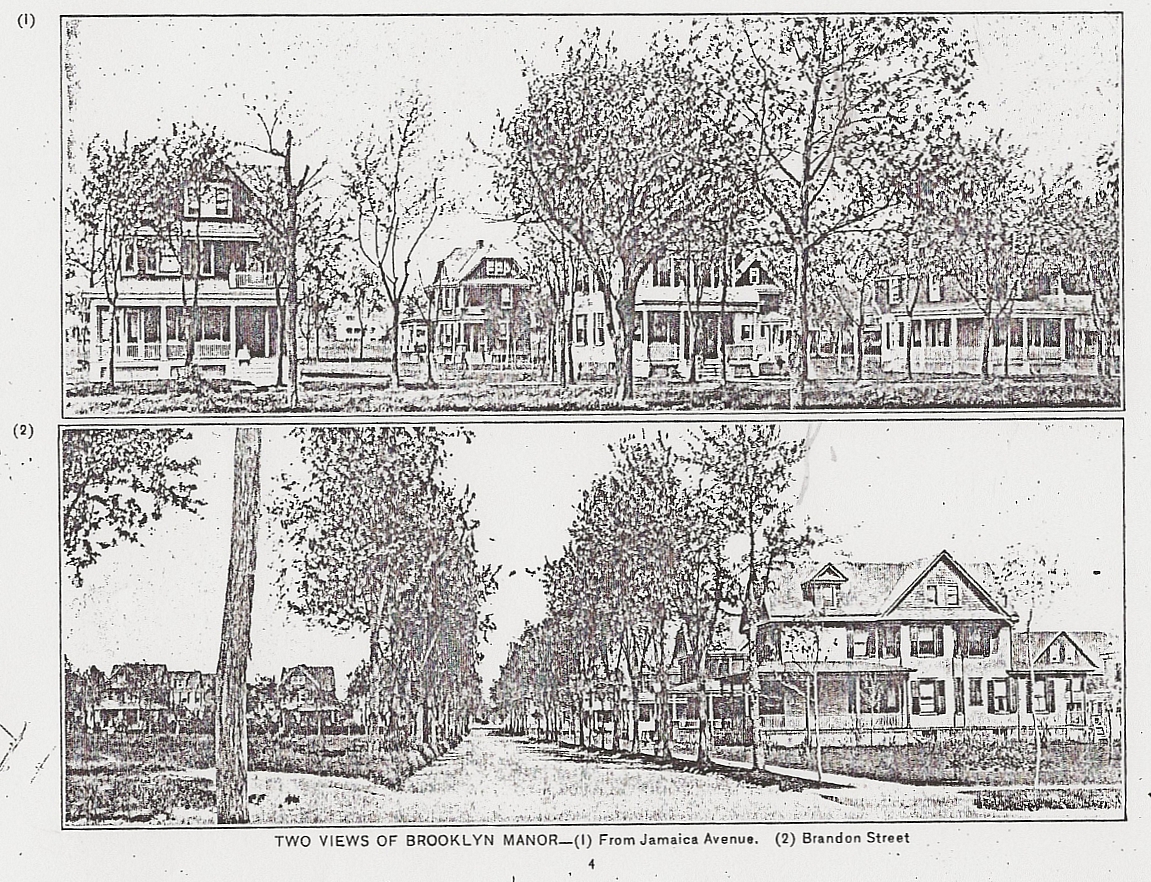 The bottom picture is 86th Road (Brandon Street). Not sure where it was taken from -- if it was taken from Woodhaven Avenue (Boulevard) then that house on the right is gone. Very hard to tell -- more research is needed. Here is a 1908 map of Woodhaven -- everything between the two red lives was destroyed to make way for the expansion of Woodhaven Boulevard. Looks like maybe 18 or 19 houses at least between Park Lane South (Ashland St.) and Jamaica Avenue (Plank Road).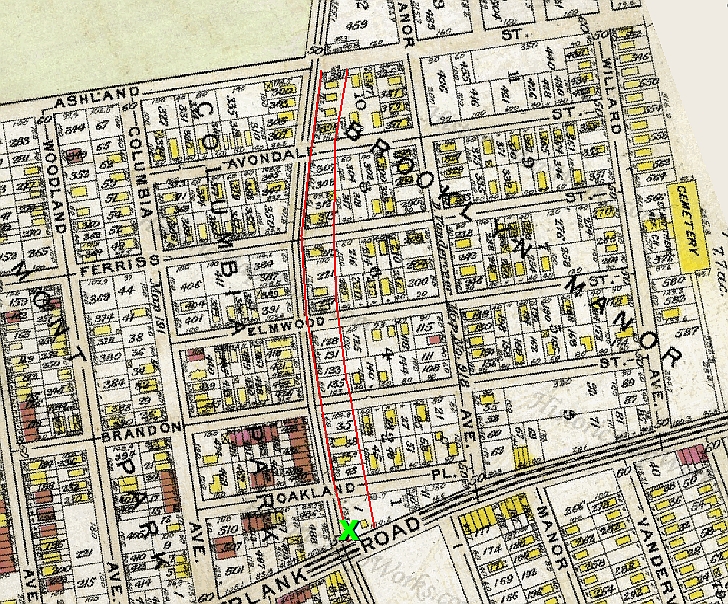 A few other quick things to note about the map above: (1) The green X is where the little girl was standing in the picture at the top of this page -- that tiny yellow square -- is that the manager's office? (2) At the right you can see the Wyckoff-Snedicker Cemetery behind St. Matt's -- ever been there? Click here for a tour of Woodhaven's Cemetery. (3) 95th Street was called Manor Avenue -- Manor Delicatessen took its' name from this street (and the area). (4) Willard Avenue (96th Street) was the home of the famous Willard Theater, which closed in the early 1960s and became Le Cordon Bleu.
Finally, during the 1930's there was a great debate over what to do with the Boulevard -- increased population and the upcoming World's Fair prompted plans to do something with Woodhaven Boulevard. Did you ever know there was once serious consideration of turning Woodhaven Avenue into Woodhaven Expressway? This was considered so they could avoid destroying homes --
A $2,700,000 elevated express highway from Glendale to Ozone Park, to deflect traffic from a congested strip of Woodhaven Boulevard, has been mapped by Queens engineers and approved by Borough President Hafyey and the Queens Planning Commission, The Eagle learned today. The elevated speedway, as planned, will start at Woodhaven Boulevard, between Myrtle Ave. and Interboro Parkway, and return to grade where Woodhaven Boulevard runs into Cross Bay Boulevard, opposite 107th Ave. The raised highway will not follow the route of Woodhaven Boulevard, between those two points but will swing to the east of it in a narrow arc with its back against the Rockaway Beach division" of the Long island Railroad.


(The) elevated road will be 50 feet wide, of steel and concrete, and have four lanes for traffic. The express highway was devised as an alternative for the widening of Woodhaven Boulevard, between Forest Park and Liberty Ave. The Federal Government last week set aside $280,000 to bring Woodhaven Boulevard from a 60- foot width to 160 feet, between Queens Boulevard, Rego Park and Park Lane South, Forest Park. From Park Lane South the boulevard is only 50 feet wide as far as Liberty Ave., beyond which it reaches a 150- foot width.

The cost of increasing the width to 150 feet, between Forest Park and Liberty Ave., has been estimated at $3,700,000 by borough engineers. Of this amount, $3,200,000 would be. needed to acquire property for the widening. Construction costs for the elevated highway were set at $1,700,000, with an additional $1,000,000 for property acquisition.

Million Cut in Cost

"The elevated express highway represents a saving of $1,000,000 and has several other advantageous features," Mr. Schoonmaker said. "The structure would be made as artistic as possible and would not be unsightly. We are sounding out civic groups and property owners on the idea." One of the members of the Planning Commission, Hans Baader, is addressing civic meetings to win support for the project. Financing of the work might be through WPA funds, if more money is made available next year, and with city funds. In any event, it would not entail any local assessment, Mr. Schoonmaker declared. "This is a project that should be completed before the World Fair opens," he said. "It should take a year, or 18 months at the outside, including the time for acquiring property and easements. As soon as we get definite expressions of public-sentiment we can move towards accomplishing this solution to the Woodhaven Boulevard problem, which has been a difficulty for so long." The express highway, as mapped, would pass under Myrtle Ave., and pass over all other streets between Myrtle Ave. and Liberty Ave. The average height would be 20 feet, allowing a 14-foot clearance. At Liberty Ave. the express highway would pass under the elevated rapid transit structure.

Holy smokes -- that's hard to imagine, isn't it? An expressway cutting through Woodhaven, over 98th Street. In any case, events overseas conspired to change plans here in the unites States and before long, the plan to widen the boulevard moved ahead and by September 1940, the project was near completion.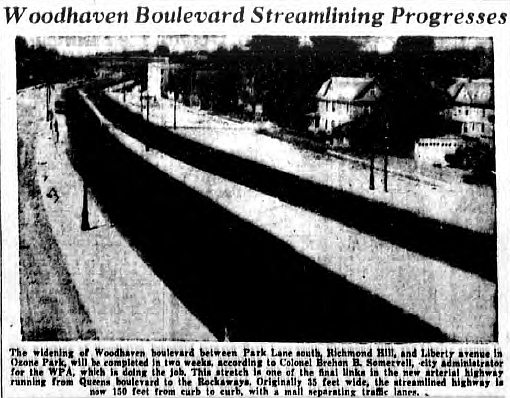 Many houses in Brooklyn Manor were destroyed -- Emanuel Church of Christ (which used to sit on 89th Avenue and Woodhaven Avenue) was destroyed and the new Emanuel Church was erected at 91st and Woodhaven, where it still stands. Amazing that both projects -- the widening of Woodhaven Boulevard and moving the Atlantic Avenue railroad underground -- we able to be completed almost simultaneously. A bridge was built to cross Atlantic -- and the Woodhaven that many of us grew up with was beginning to take shape.


If you have any comments, or would like to suggest other projects, drop us a line at info@projectwoodhaven.com or projectwoodhaven@aol.com.
Return to Project Woodhaven's Home Page