The Moment of Truth

Background: On January 4th, the Woodhaven Residents' Block Association was alerted to the fact that the DOT had entertained proposals to change 2 streets that would, in our view, negatively impact Woodhaven. The vote was scheduled for January 10th and we objected -- finally, it was postponed. A public hearing was scheduled for February 1st.

Here is why we objected to these street changes.
Eventually, the final vote was moved to March 13th in Woodhaven.

On Tuesday night, for better or worse, two hard fought battles were going to come to an end. The first battle, over two proposed street changes that would negatively impact Woodhaven, stated back in January when the WRBA was alerted to an upcoming vote. The Woodhaven community had not been included in the discussion of the changes and, as time was short, had to mobilize quickly. Residents wrote emails, made phone calls and lobbied Community Board 9 to postpone the vote until a hearing could be held. After the February 1st hearing the vote was postponed once more so that the final vote could be held here in Woodhaven.
The second battle, the Rezoning of Woodhaven / Richmond Hill, has been going on for years. A lot of work went into crafting this proposal, the first review and adjustment to zoning laws in Woodhaven since Eisenhower was President.
Below, the calm before the storm . . .


Many of the WRBA regulars were in attendance, as were many other residents. These are issues that a lot of residents of Woodhaven were concerned about.


There was a line to get into the room and it filled us as the meeting started. At one point we counted around 175 people in the room, a real healthy turnout.


The residents were afforded 3 minutes each to speak out on the issue of their choice. Some of them even brought their own homemade maps!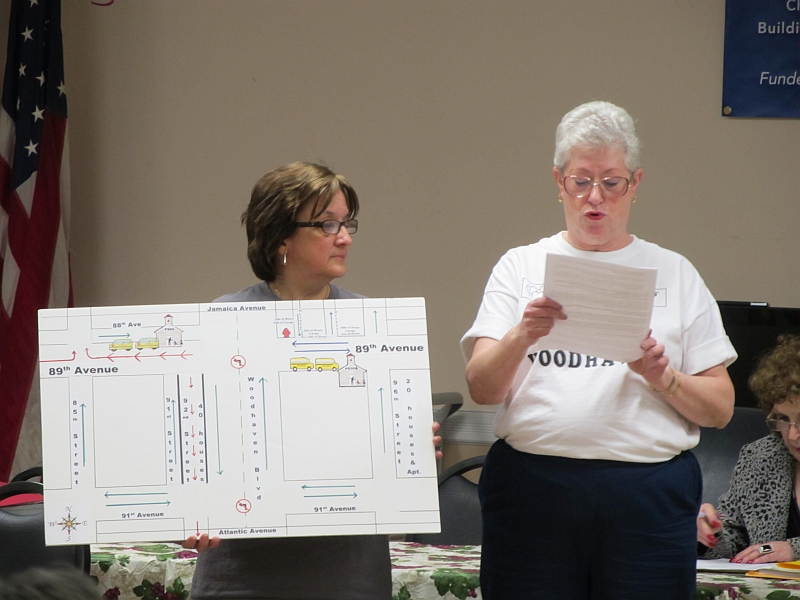 There were some residents from Ozone Park who supported the change to 84th Street. It's not easy to get up in front of so many people who you know disagree with you strongly and we give those who did support the plan credit for standing up and supporting their position. And we give our residents credit for treating those speakers with respect and giving them a polite round of applause after they were done.


There was about half an hour of public forum.



It was hard for our elected officials to even get in the room!

Here is some video of the public forum and the vote on both proposed street changes --
And here it is -- the moment that the proposed change to 84th Street went down in flames, unanimously.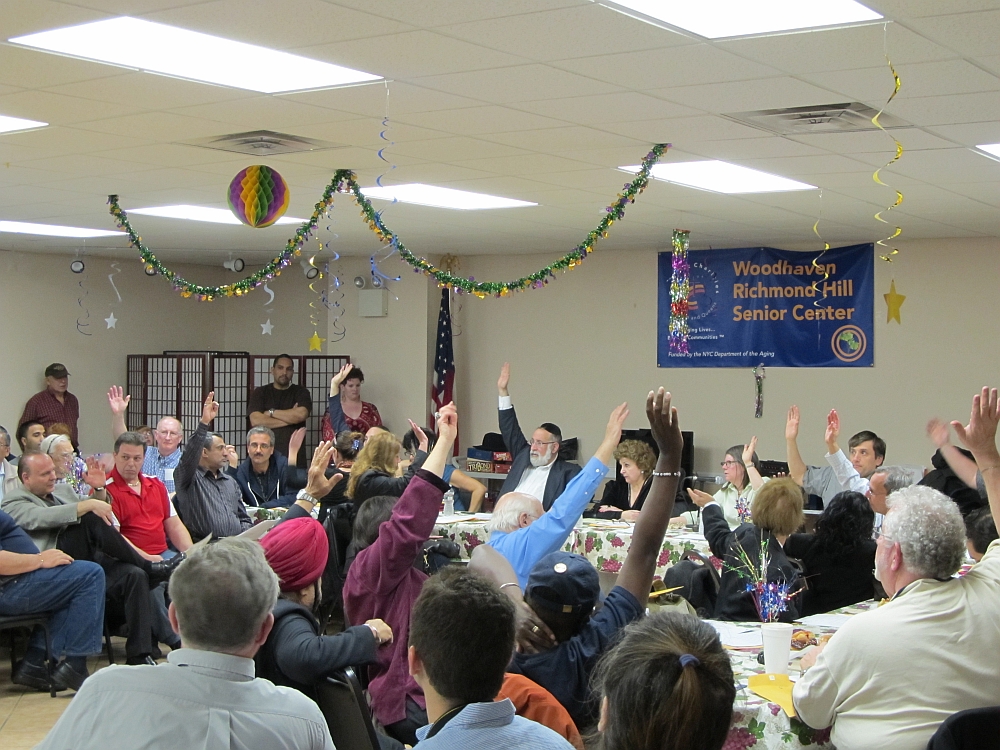 Up next was rezoning -- and after the public forum, John Young and Brendan Pillar of the office of NYC Planning gave a presentation on what rezoning will mean to our communities --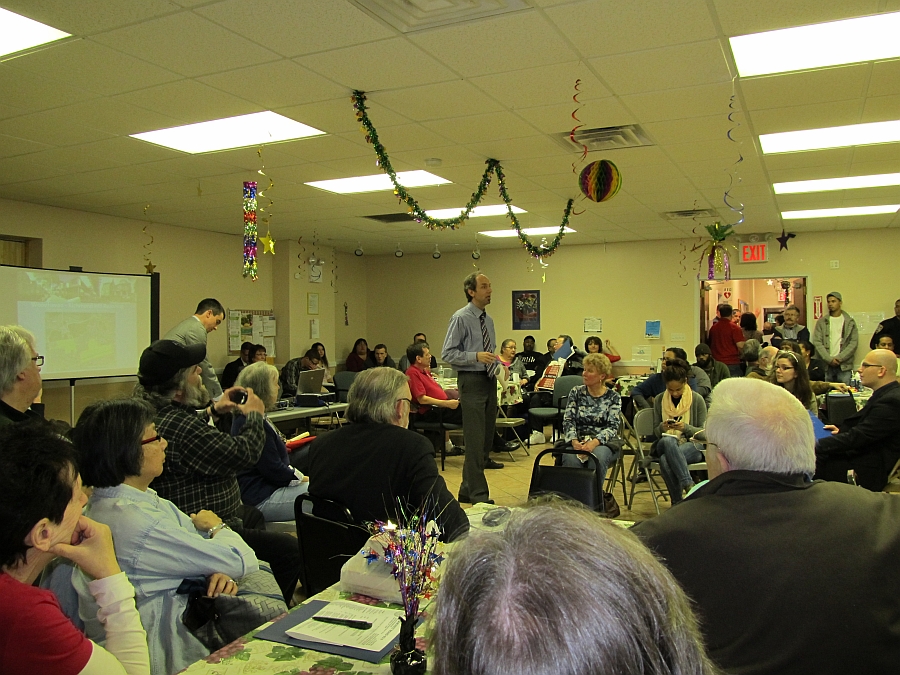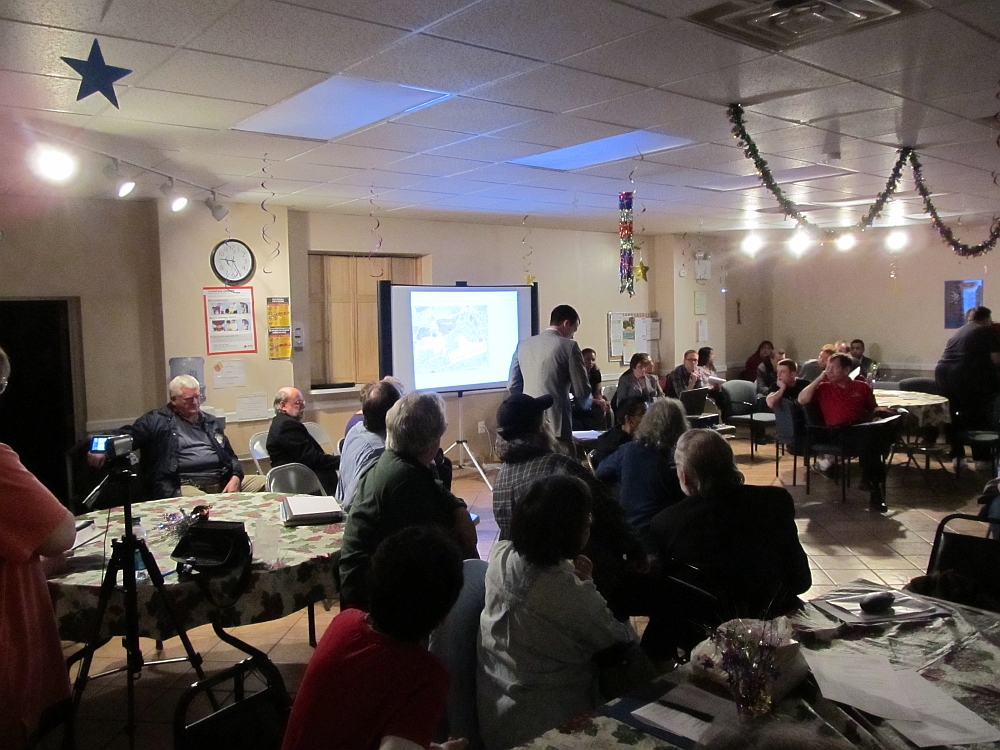 And here is some video of the public forum and the final vote by CB9 --
So, in summary, the 2 street changes were defeated unanimously. CB9 was ready to pass these proposals in January. One resident saw a small note in a church bulletin, got in touch with the WRBA and it bloomed from there. With the help of residents all over the community turned this around from a done deal to a unanimous vote against. We frequently speak with residents who want to get involved but feel like it isn't worth it, that they can't change anything. This is proof that one person CAN make a difference.
And rezoning, after many years of hard work, passed unanimously. All in all, a great night for Woodhaven.

The WRBA meets this Saturday (3/17) at 1 PM at the Ambulance Corps. Come down, meet your neighbors, and start making a difference.
If you have any comments, or would like to suggest other projects, drop us a line at info@projectwoodhaven.com or projectwoodhaven@aol.com.
Return to Project Woodhaven's Home Page
Photos by Joey Wendell