Here is a brief report of Woodhaven's relief efforts for our neighbors -- this report will cover the events of Saturday, November 3rd.
When we opened up Saturday morning we had an office full of donations. Here is a brief video taken before closing on Friday Night:
We knew we had much more coming in so we put out a call for drivers with gas -- a number of drivers showed up bright and early and we headed for Aqueduct Racetrack (now Resorts) where the NYPD was collecting and disbursing donations. There were disaster relief units from all over in the parking lot, waiting to be moved into locations where they could be of most use.


The majority of our donations have been going to residents of Queens -- coming to Aqueduct afforded us the opportunity to also send donations to people in Staten Island as the NYPD had packed vans going all over the place.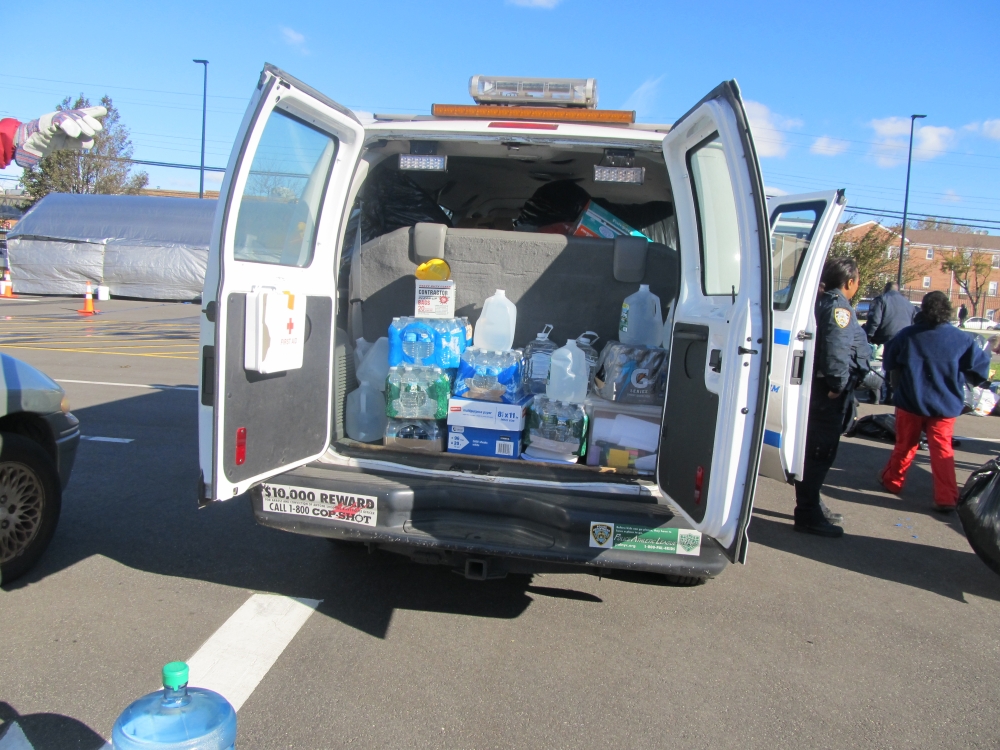 There was a chill in the air, which gave us all a sense of urgency as people were in desperate need of warm clothing. Please take note of the piece of tape on the bag of clothing the young man is carrying -- the volunteers at the WRBA office worked hard to sort all donations very carefully. This was very helpful to those at the other end, who were distributing clothing. We witnesses a lot of bags of clothing being delivered -- but the volunteers at the other end were overwhelmed and did not have the time to sort through clothing. Some of the bags they were getting were a jumble of men, women and children clothing -- and shoes! -- and those bags were put aside for later review. The bags of donations we were providing -- as they were sorted and labeled -- were opened straight away and put out for people to take.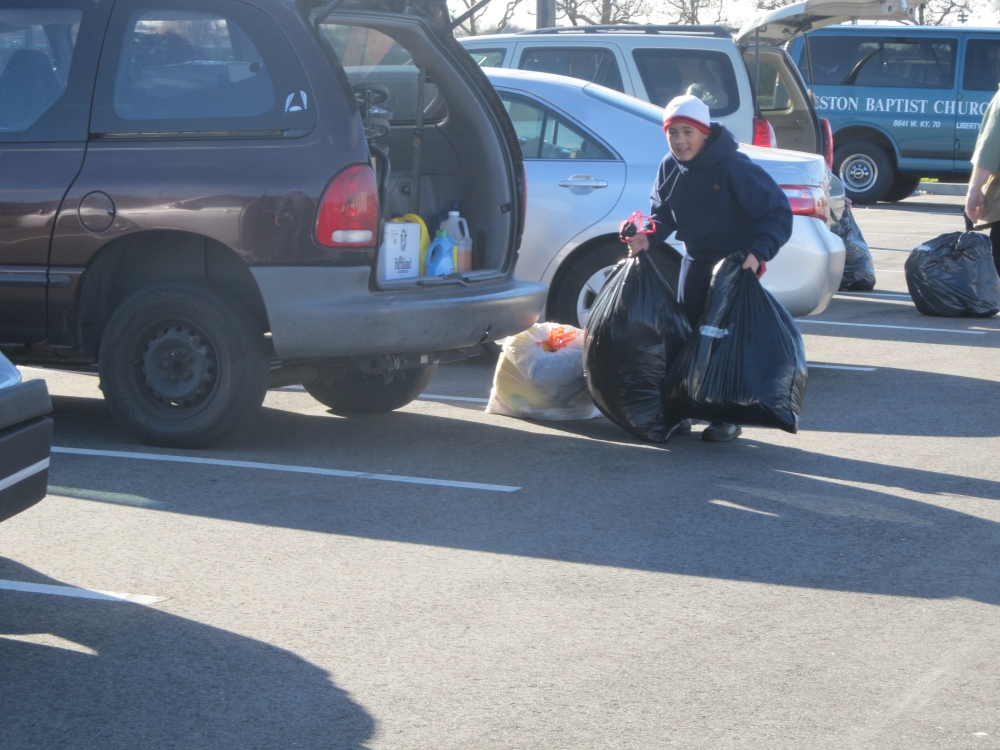 The Saturday Morning caravan -- the call was put out for help, and Woodhaven responded.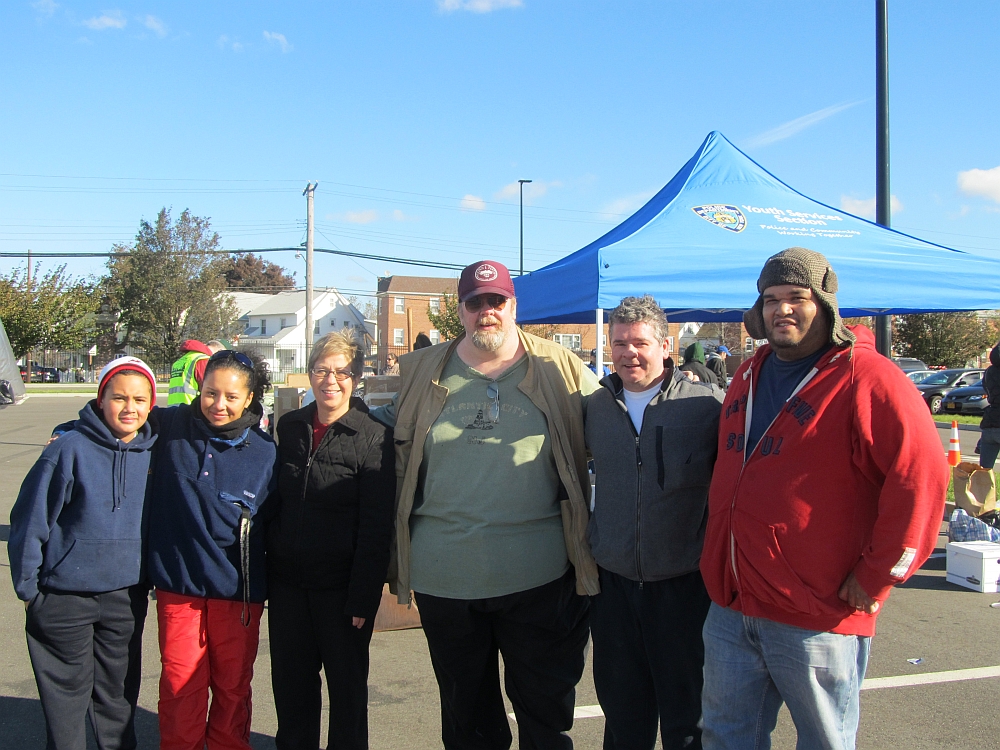 This was ingenious -- this resident had part of an old trailer and used wood to put together something we could use to carry a bunch more warm clothes and blankets. Very clever!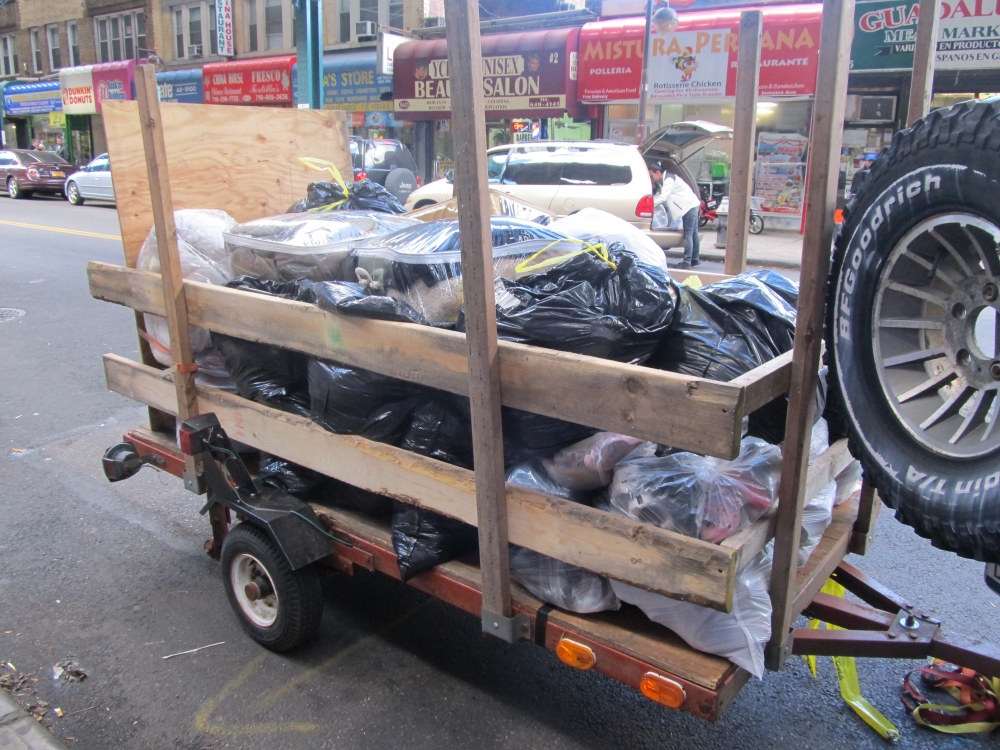 The scene in Howard / Hamilton Beach on Saturday -- we made trips all over the area -- Breezy Point, Broad Channel, etc. At one point we had 2 groups of cars out there distributing items. So although you will see a lot of pictures from this locations, please rest assured that we were trying to spread out our relief efforts as best we could. We also had to take traffic and gas into account when making our decisions. We saw a notice from a NY1 reporter on Saturday afternoon that traffic going into Broad Channel was at a 90-minute stand-still, so we had to divert some of our efforts temporarily elsewhere.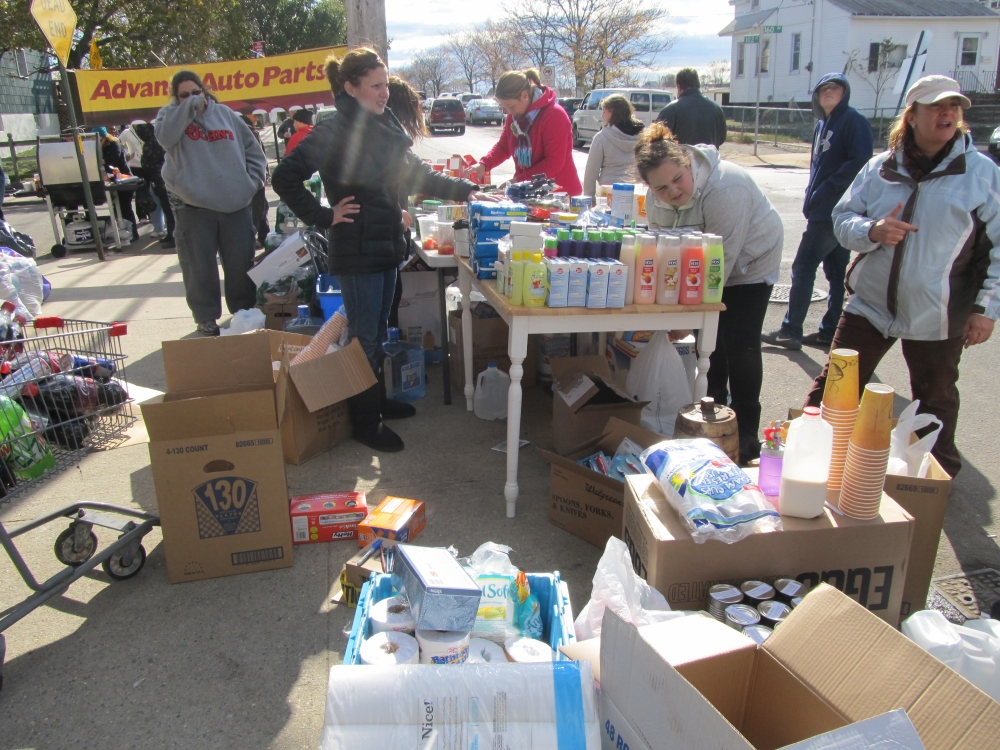 Mario's Pizza on Myrtle Avenue in Glendale reached out to us with an offer of free pizza -- we went there, picked it up and brought it to Hamilton Beach.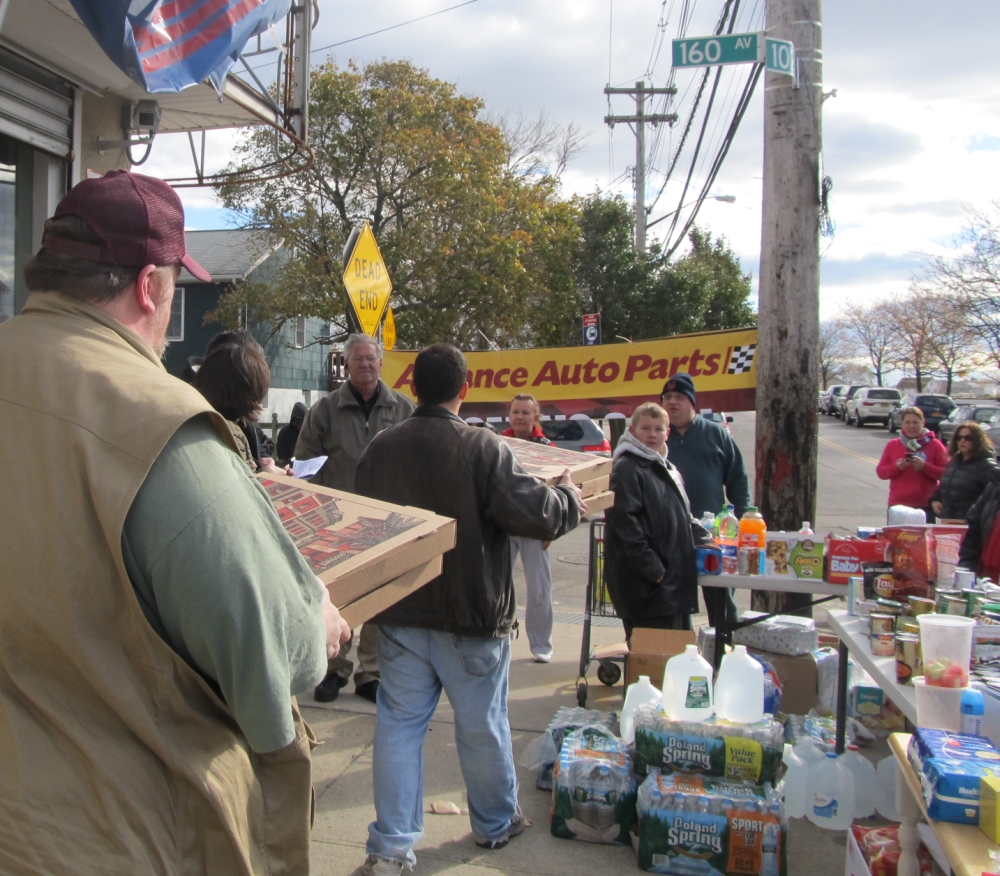 I had the pleasure of being joined on this trip by songwriter and actress Lori Martini of Middle Village and Chief Deputy County Clerk of Queens Frank Kenna. Here we are with State Senator Joe Addabbo. Frank, Joe and myself were all members of the Class of 1982, Archbishop Molloy High School.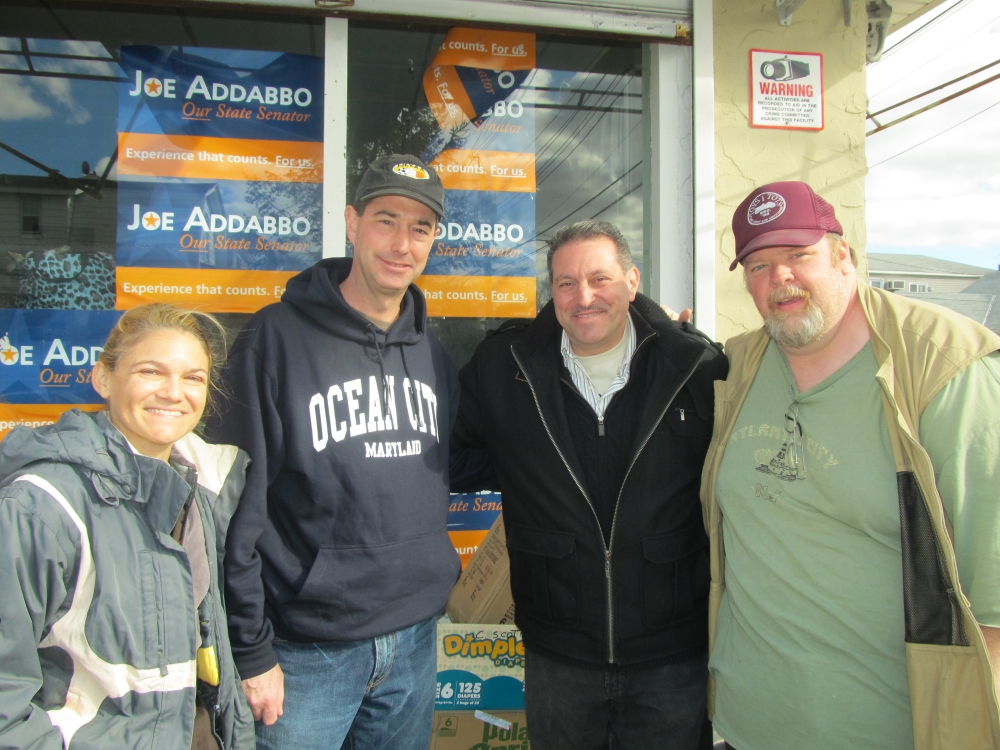 Back at the office, the volunteers were still calling for -- and receiving -- tons of donations.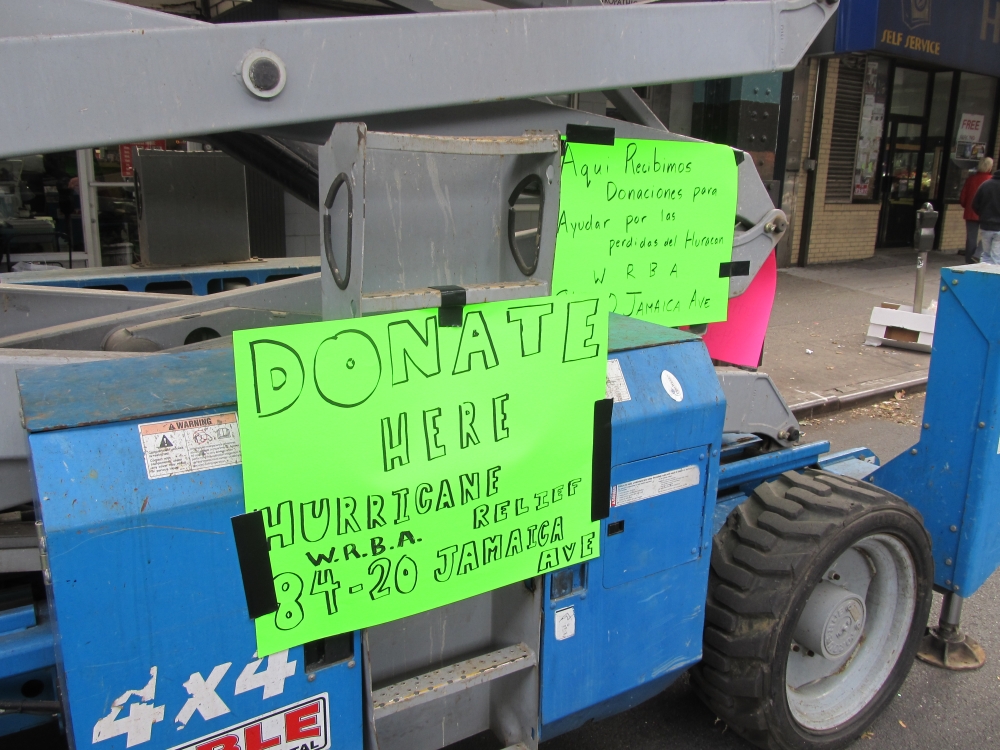 Here is a young woman and her father -- she brought a car seat and toys and clothing -- the residents of Woodhaven, both young and old, were very generous.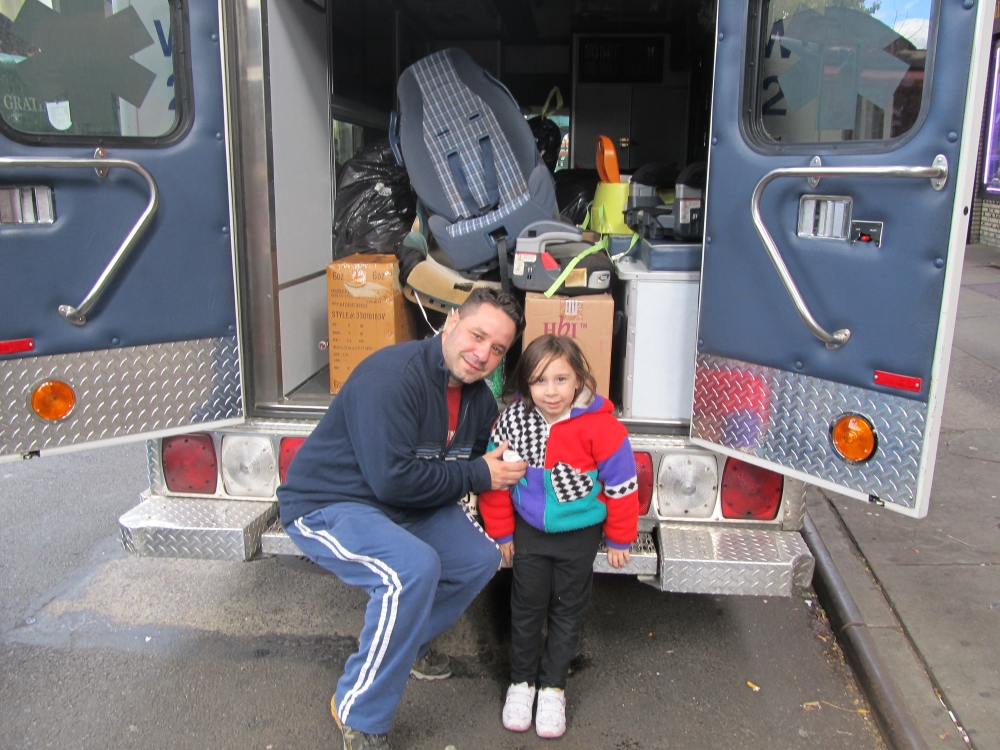 Here we are on another run to Howard / Hamilton Beach -- this time assisted by our friends at the Woodhaven-Richmond Hill Volunteer Ambulance Corp.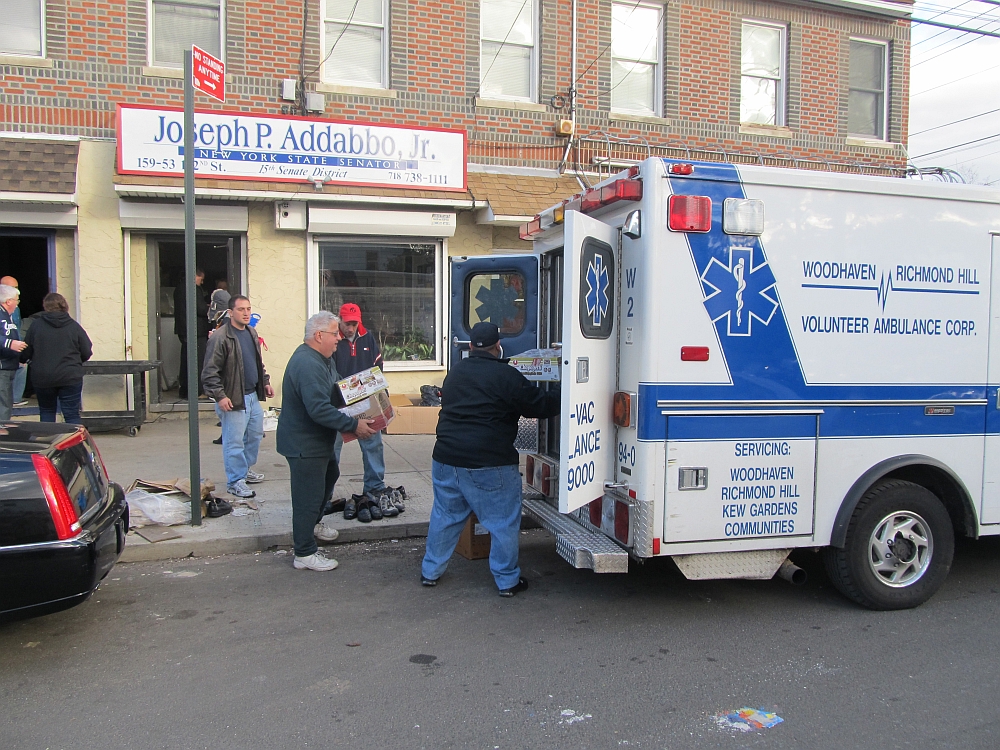 The delivery done, we stop for a few minutes to chat -- and head back to Woodhaven for more work.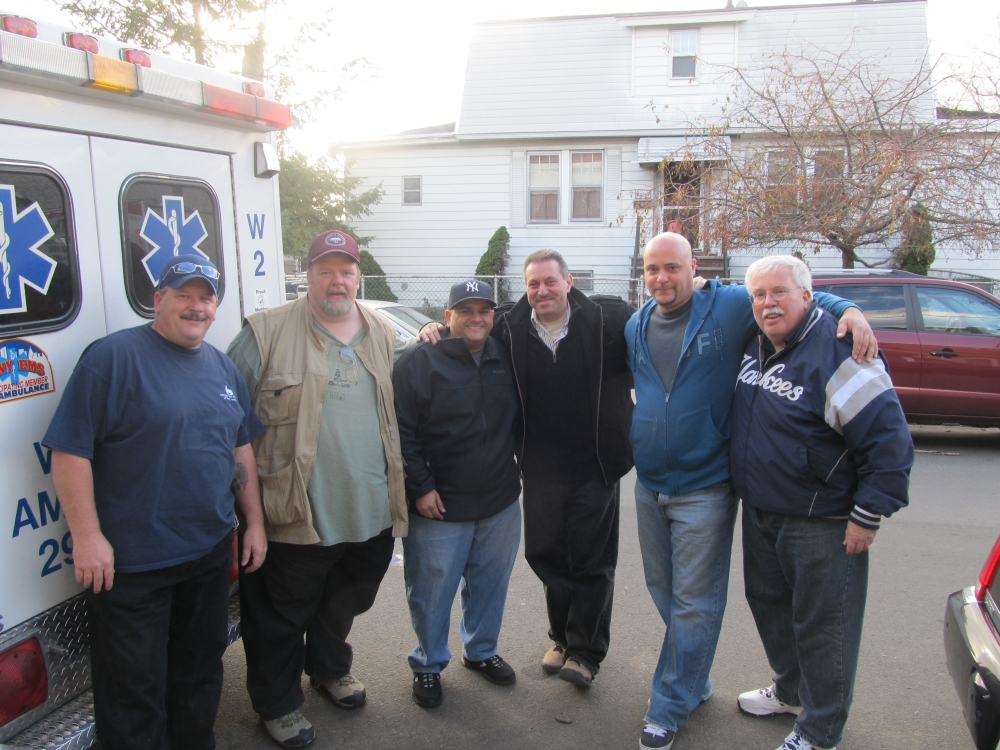 Back in Woodhaven, the flag flies over Woodhaven Boulevard -- battered, but still flying. A simple reminder how lucky we were -- a reminder that we were also hit hard, but our wounds pale in comparison to the many thousands of people who lost everything. And a reminder that we will pull together to get through this.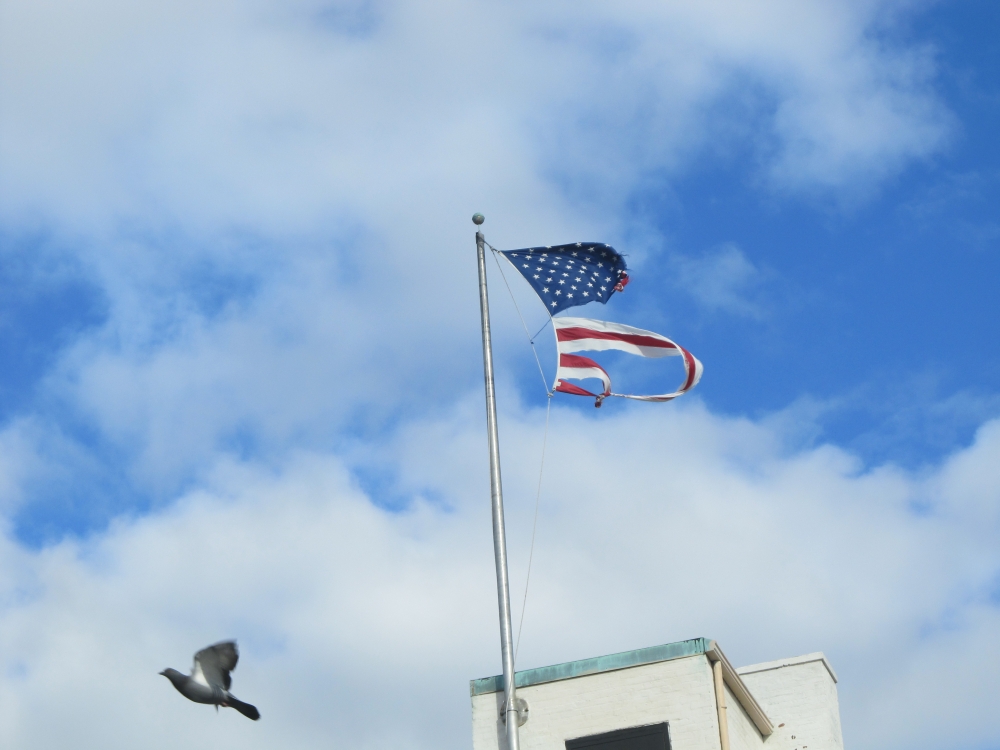 If you have any comments, or would like to suggest other projects, drop us a line at info@projectwoodhaven.com or projectwoodhaven@aol.com.
Return to Project Woodhaven's Home Page
Photos by Joey Wendell