Update 2: Click here to read our article out the lights in this week's Leader-Observer. We'll be discussing this on our web-based radio show tonight (10/18) at 10 PM -- click here at that time to listen. The lights were all out again this morning. The DOT is showing a stubborn indifference to the safety of our residents.
Update 1: We've added media coverage to top of this page. There was an article in the Queens Chronicle detailing this fight (click here). And we owe a big THANK YOU to the blog Queens Crap for helping us get the word out about safety and lighting conditions in Forest Park -- here are some of the recent stories on this subject the Queens Crapper has published:
At Forest Park, Safety Continues to Be A Joke (September 3, 2013)
Some Want Forest Park To Have It's Own Precinct via DNA Info (September 5, 2013)

Will Someone Please Turn on the Lights? (September 8, 2013) - Including the creepy dark video later seen on WCBS-TV's report.
Turn On the Lights, Already! (October 7, 2013) - Includes the funny Gravity inspired satire on Freedom Drive
DOT Says Forest Park Is Supposed to Be Dark (October 16th, 2013)

Thanks again to Queens Crap for staying on top of this.
And a big thank you to Channel 2's Hazel Sanchez, for coming out to Forest Park to see the conditions and meet residents and joggers. She was horrified by the lighting conditions and by the stories she was hearing. Hazel not only filed a live report illustrating how bad the problem was, she did an excellent follow-up. Here is the initial report:
This feature generated reports that ran all morning on 1010-WINS -- amazing how many calls we received from people who heard it on 1010-WINS.
And here is Hazel Sanchez' follow-up report. There's lots to love about this report. First, News Anchor Dana Tyler basically ridicules DOT at the start and end of this clip. Second, don't you love DOT saying they have no record of our complaints? We started with a 311 complaint (which was closed) but we have plenty of emails going back and forth between us and the Queens Commissioner of the DOT. Third -- you have to love the statement DOT gave to Hazel: "The lighting in and around the park is functioning during seasonally appropriate hours, and DOT continues to assess lighting conditions there, including the potential for altered or additional lighting hours." Heh... the potential for altered or additional lighting hours... a fancy way of promising to fix it.
Great shot near the end there showing the lights on in the daytime - we're glad Hazel pointed that out because it shows how screwed up their timing is. We made a video about this a while back --
Some of our other lighting report videos will follow at the end of this report, after pictures from the other night.
Original Report:

For the past 9 weeks, we have been documenting the Department of Transportation's complete failure to adequately light the trails and roads of Forest Park. In the morning, while people from Glendale, Woodhaven, Richmond Hill, Kew Gardens, Forest Hills and other neighborhoods, are jogging and bicycling and walking their dogs -- they are doing it in the dark.
We posted numerous videos and pictures and we've been communicating directly with the Commissioner of DOT -- they say that it's being worked on, but still, 9 weeks later, no results. Finally, videos like the following caught the attention of Channel 2 News reporter, Hazel Sanchez:
So, Hazel came out to the park, near Myrtle Avenue and Freedom Drive and met with members of the Forest Park Runners who told us all that they have been complaining about this FOR OVER FOUR YEARS. That's disgraceful, but not the first time we've heard from others that they've been complaining for years and years. The report will run tonight on Channel 2 (10/14) at 11 PM, we will post video of it here after it airs. Here are some pictures from tonight:
Myself with Assemblyman Mike Miller,Hazel Sanchez from Channel 2, and two members of the Forest Park Runners. They told harrowing tales of running early in the morning and having all the lights go out at once - leaving them in total blackness. Amazing that DOT would even try to defend this. They should just admit they are wrong, fix the lights and get on with their lives.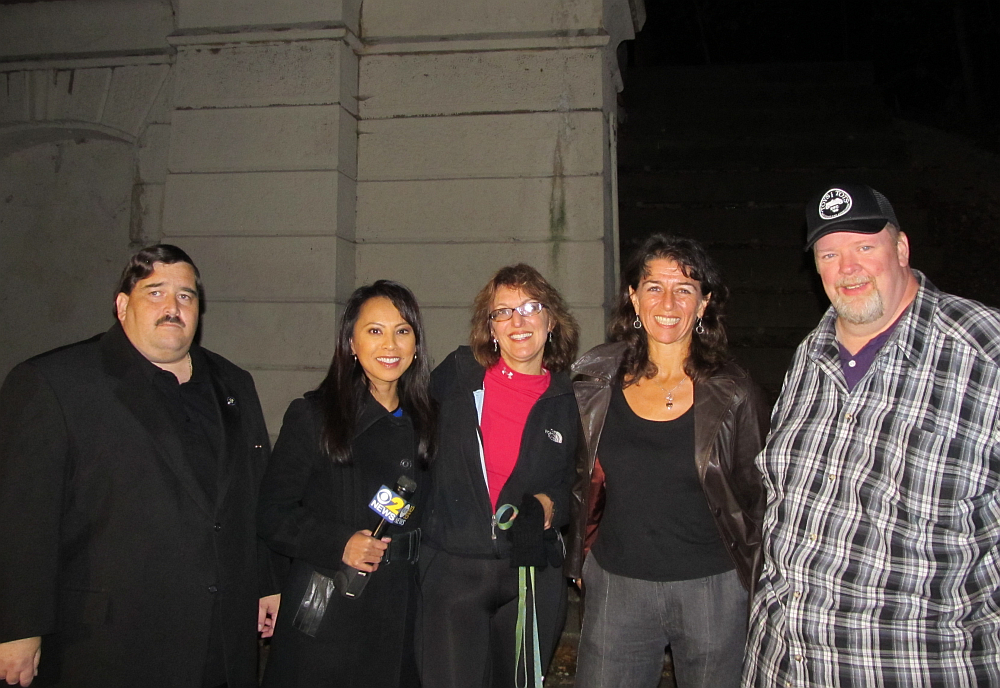 Here I am getting in front of the camera under the bridge at Myrtle Avenue.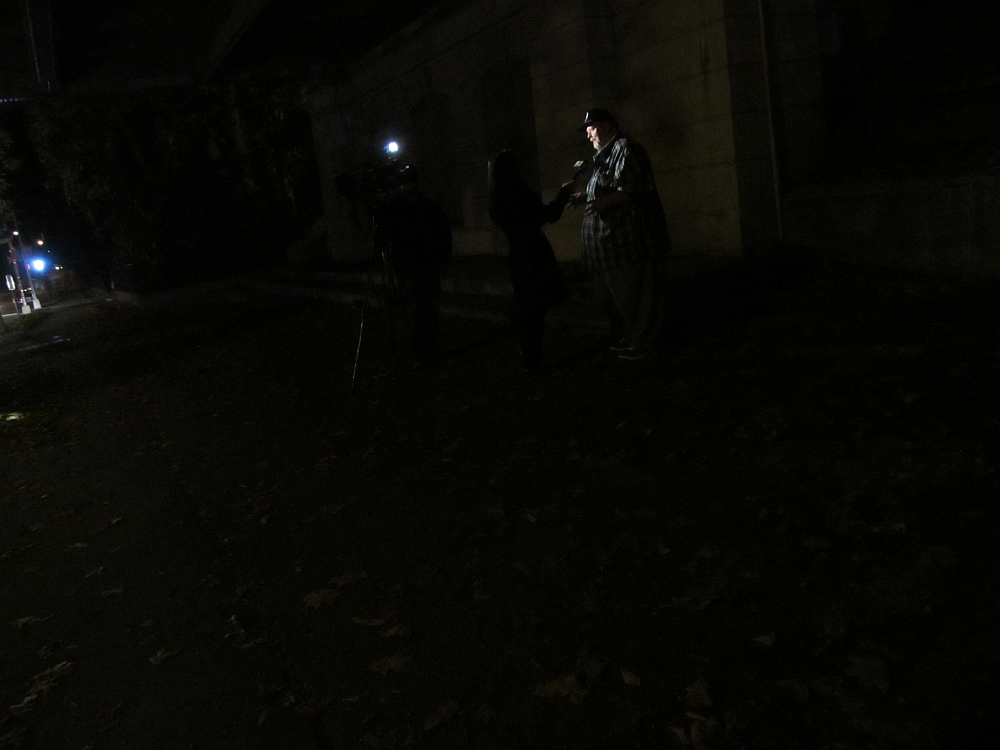 Here's a jogger on the Brooklyn-Queens Greenway -- and these are under lit conditions. At 6:00 AM, with no lights, this would look like one big black box.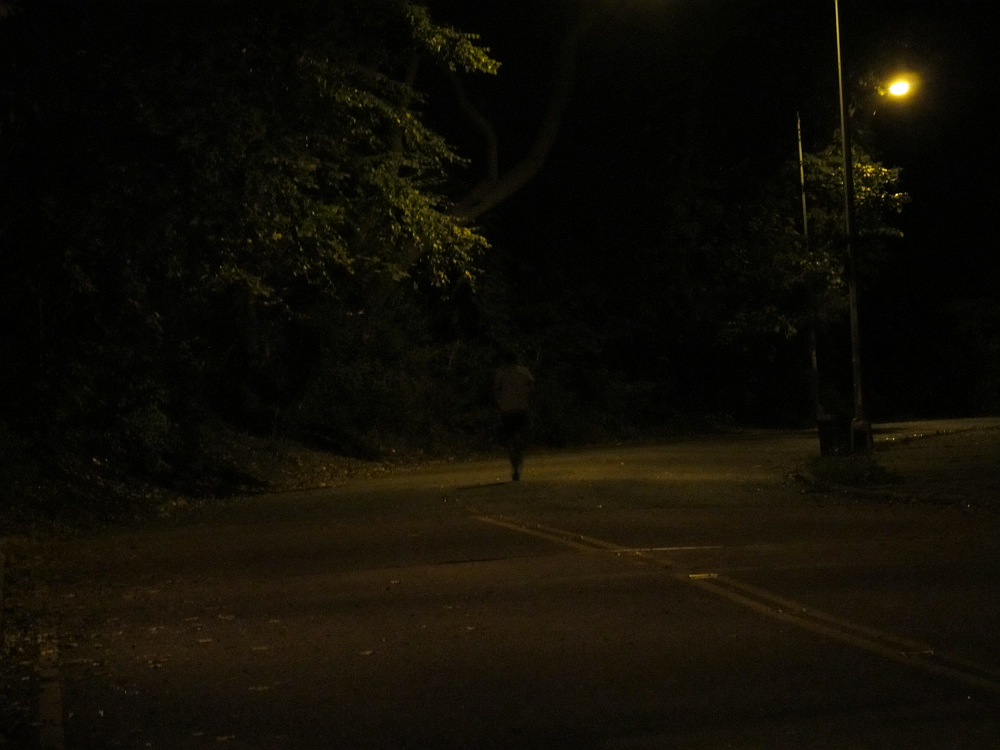 In fact, here is a no-joke photo taken with our cell-phone at 6 in the morning on the Brooklyn-Queens Greenway (Forest Park Drive): Here is a video taken right around the same time in the morning --
Here the cameraman sets up a shot of the Wanted Poster on the Brooklyn-Queens Greenway (Forest Park Drive).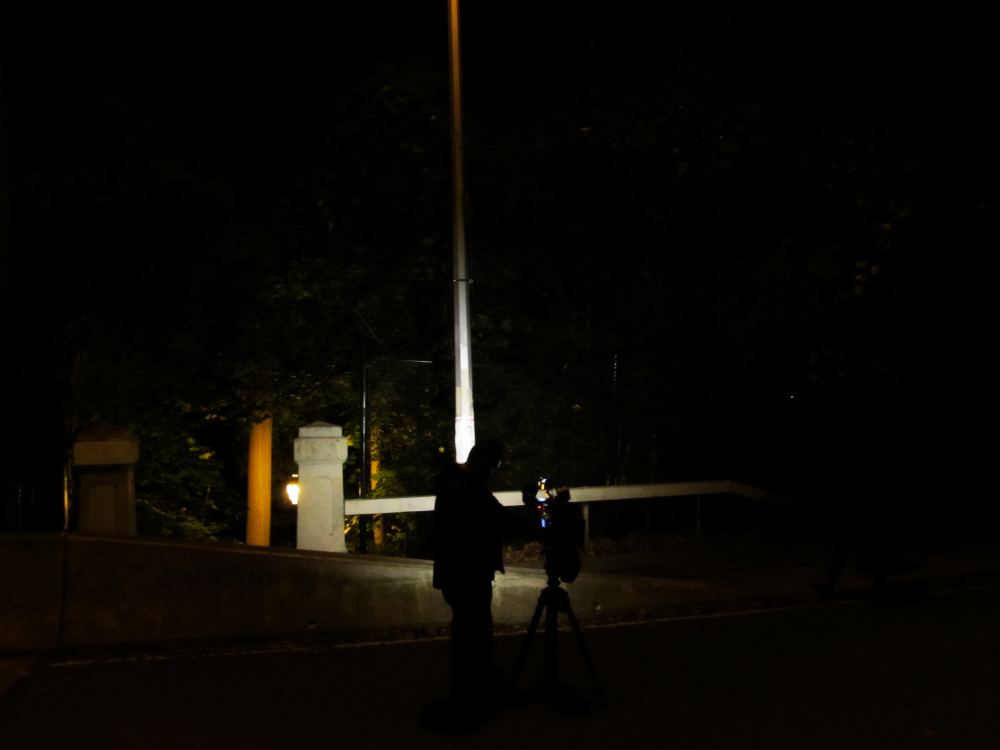 Assemblyman Miller tells how he's been trying to get DOT to change the timing of the lights to no avail.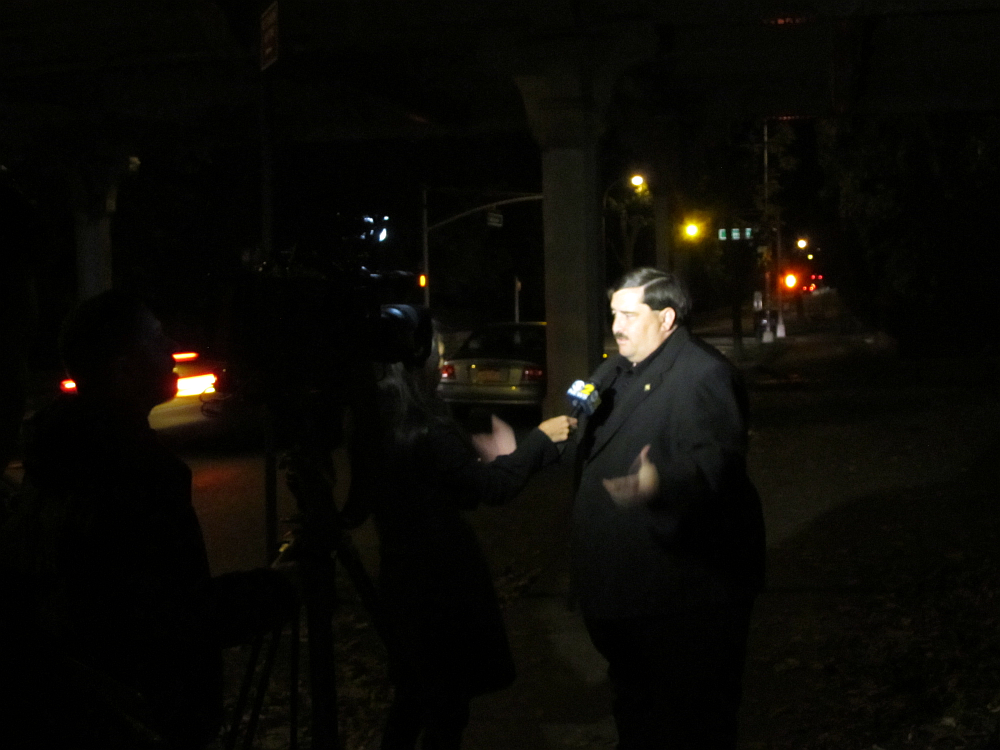 The Forest Park Runners told horrifying stories of running in the dark, using their iPhones for light!! Tune in tonight at 11 PM EST.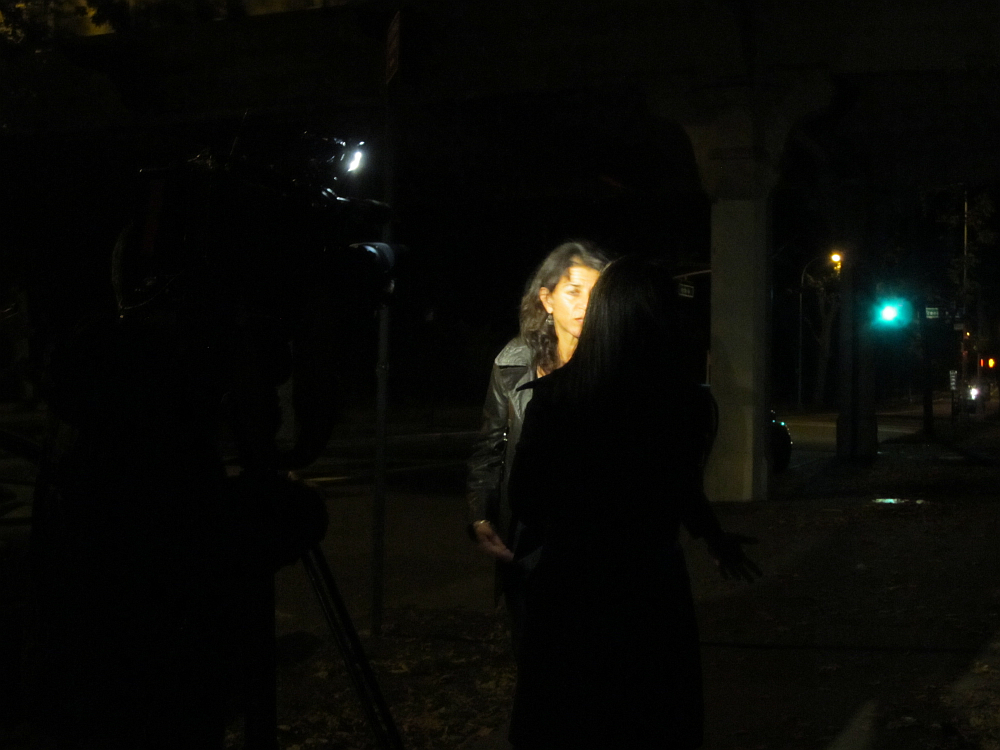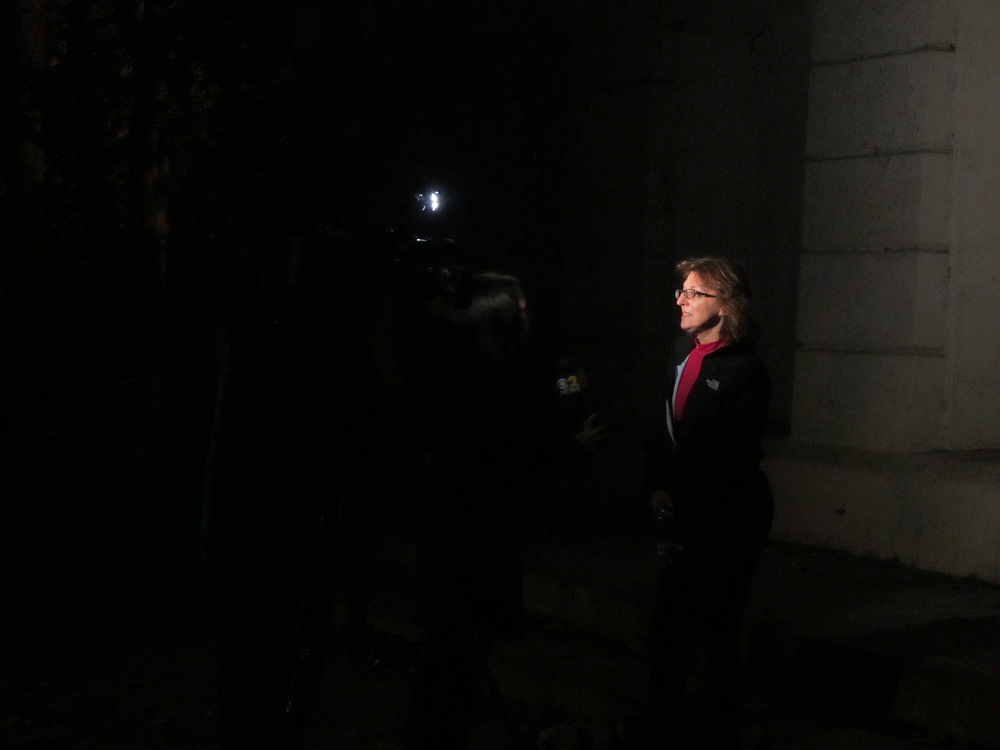 And one last group shot, this one with Mrs. Project Woodhaven. She's usually behind the camera, this time Assemblyman miller took the picture so she could get in one.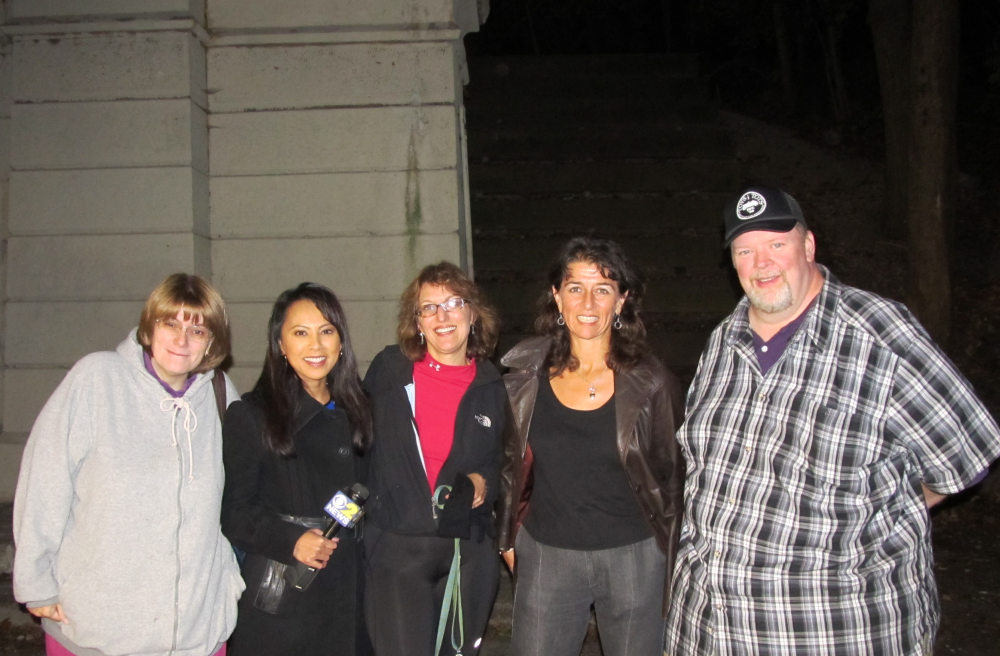 Videos:
The scary one:

Light Check 09/09:

Light Check 09/11:
Light Check 10/2:
Myrtle Avenue - Freedom Drive 10/6:
Freedom Drive ala Gravity:
Light Check 10/16:
If you have any comments, or would like to suggest other projects, drop us a line at info@projectwoodhaven.com or projectwoodhaven@aol.com.
Return to Project Woodhaven's Home Page
Photos by Joey Wendell