The Woodhaven Residents' Block Association help their first graffiti cleanup fundraiser on Saturday, July 25th - with all donations going to the NYFAC Foundation - New York Families for Autistic Children. It was a beautiful day today, the weather could not have been better for hitting the streets with paint and brushes. In all, 67 mailboxes were painted today - all signs of graffiti covered by Blue or Green paint. The rest of the mailboxes were checked and all mailboxes in Woodhaven should be free of graffiti.
Anyone who made a pledge (or still wants to make a donation) can pay by cash, check or money order -- please make checks or money orders out to the Woodhaven Residents' Block Association (84-20 Jamaica Avenue, Woodhaven NY 11421) and we will present NYFAC with one consolidated check. Or you can pay for your donation online via credit card (see below). There's still time to donate! If you like what you see and you'd like to support these volunteer's hard work to raise money for NYFAC, just click on the button below. Any donation, no matter how small, will be greatly appreciated! And it will be going to a great cause. Any questions? Email the WRBA at info@woodhaven-nyc.org or call 718-296-3735.
The volunteers gathered bright and early on Saturday morning, ready to hit the streets. The volunteers were broken up into groups and provided with maps of the mailbox locations. Here, WRBA President Martin Colberg thanks everyone for coming out, acknowledging that they "could all be doing something different on this beautiful day."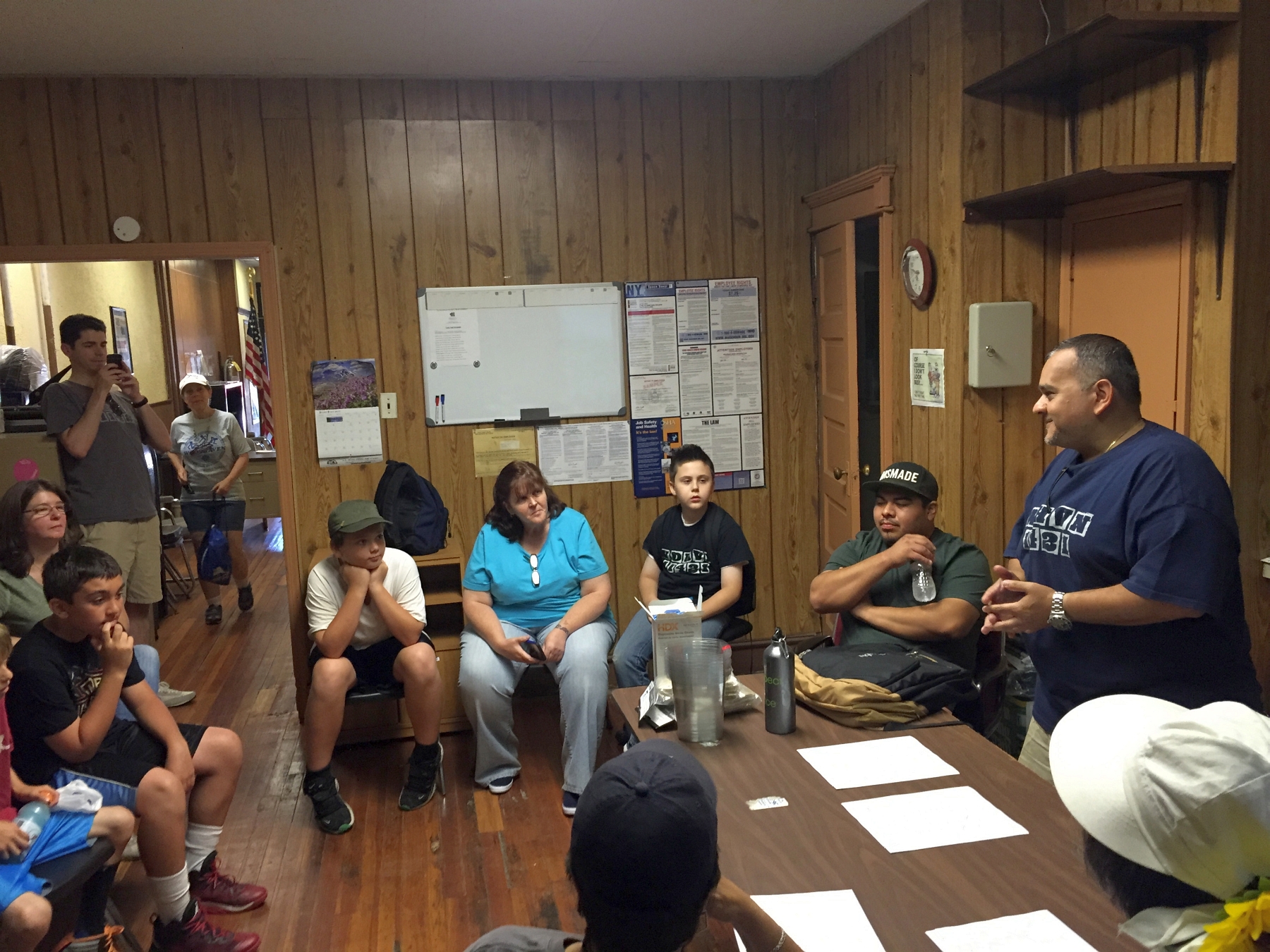 The group paused for a quick group shot before they got started. We were joined by Boy Scout Troop 139 in Howard Beach, members of the Woodhaven-Richmond Hill Kiwanis, and residents from the community. We broke up into 4 smaller groups and headed out separate ways.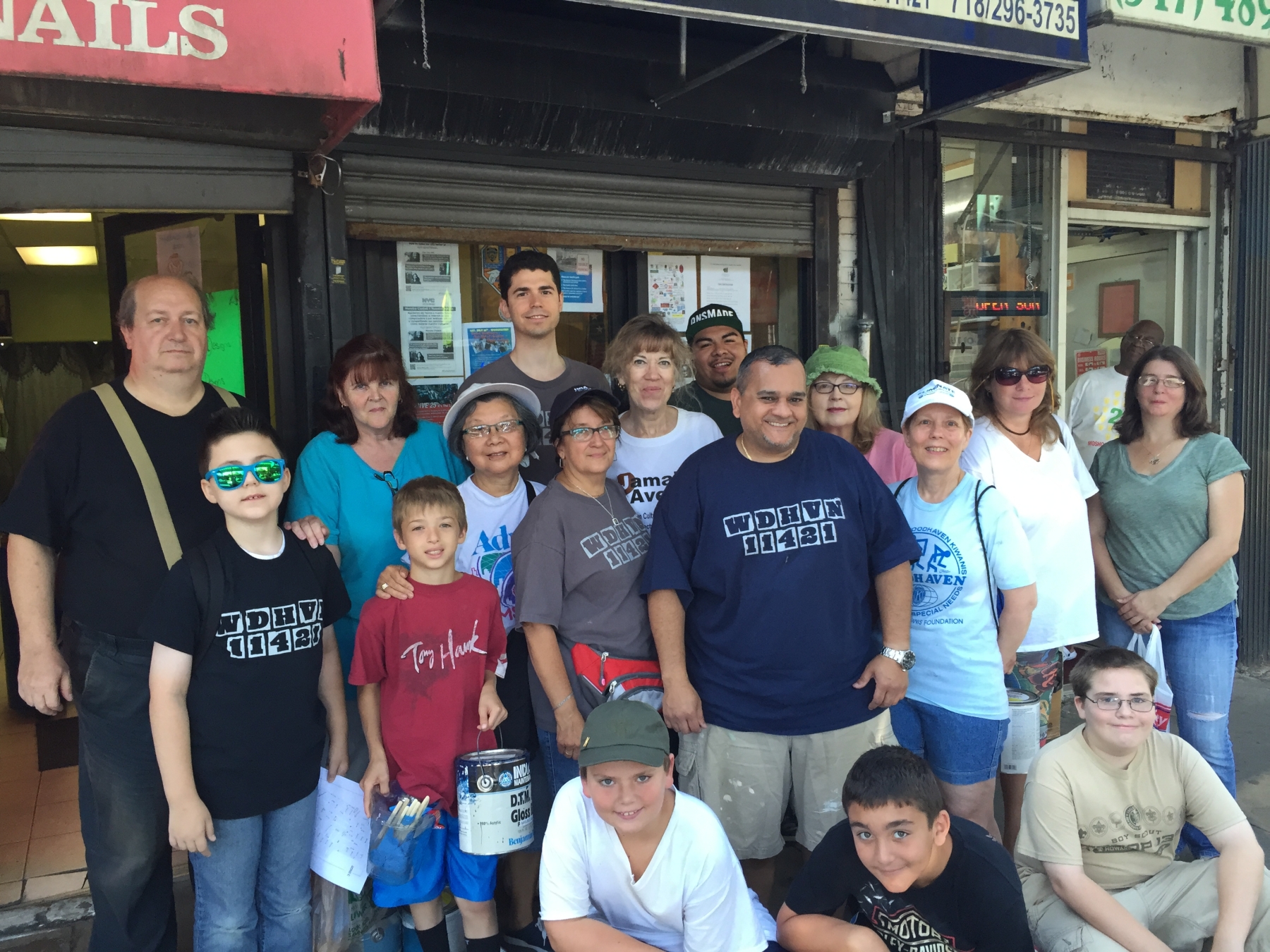 The final results - well, see for yourself! What a difference a bit of paint and hard work makes!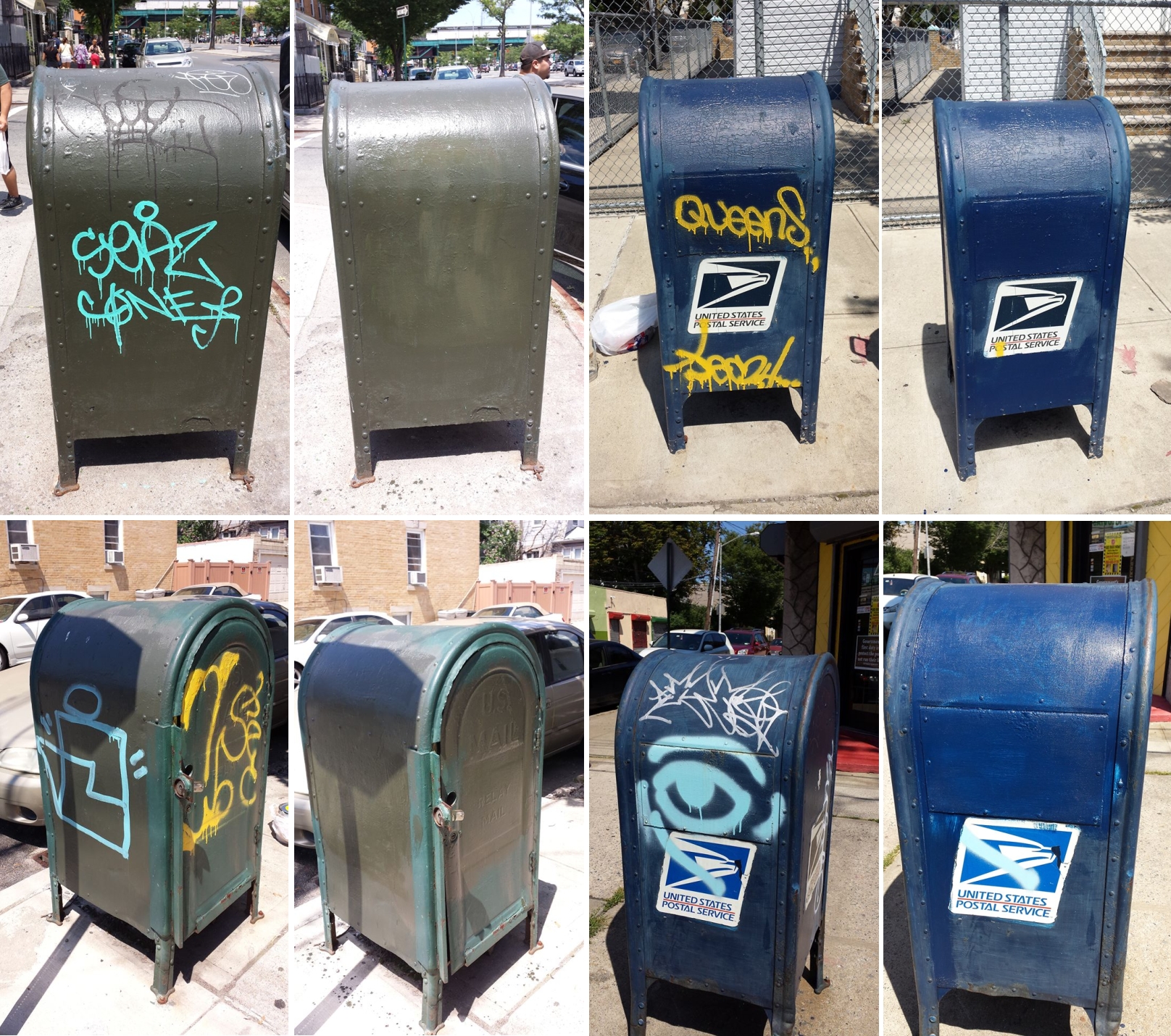 Some groups walked the entire route - others drove to strategic spots and walked to the nearest mailboxes. With 2 or 3 pair of hands painting a mailbox, it gets cleaned up in a hurry! Check out the progress of this green relay mailbox on 78th Street -- it started with ugly tags on all four sides ...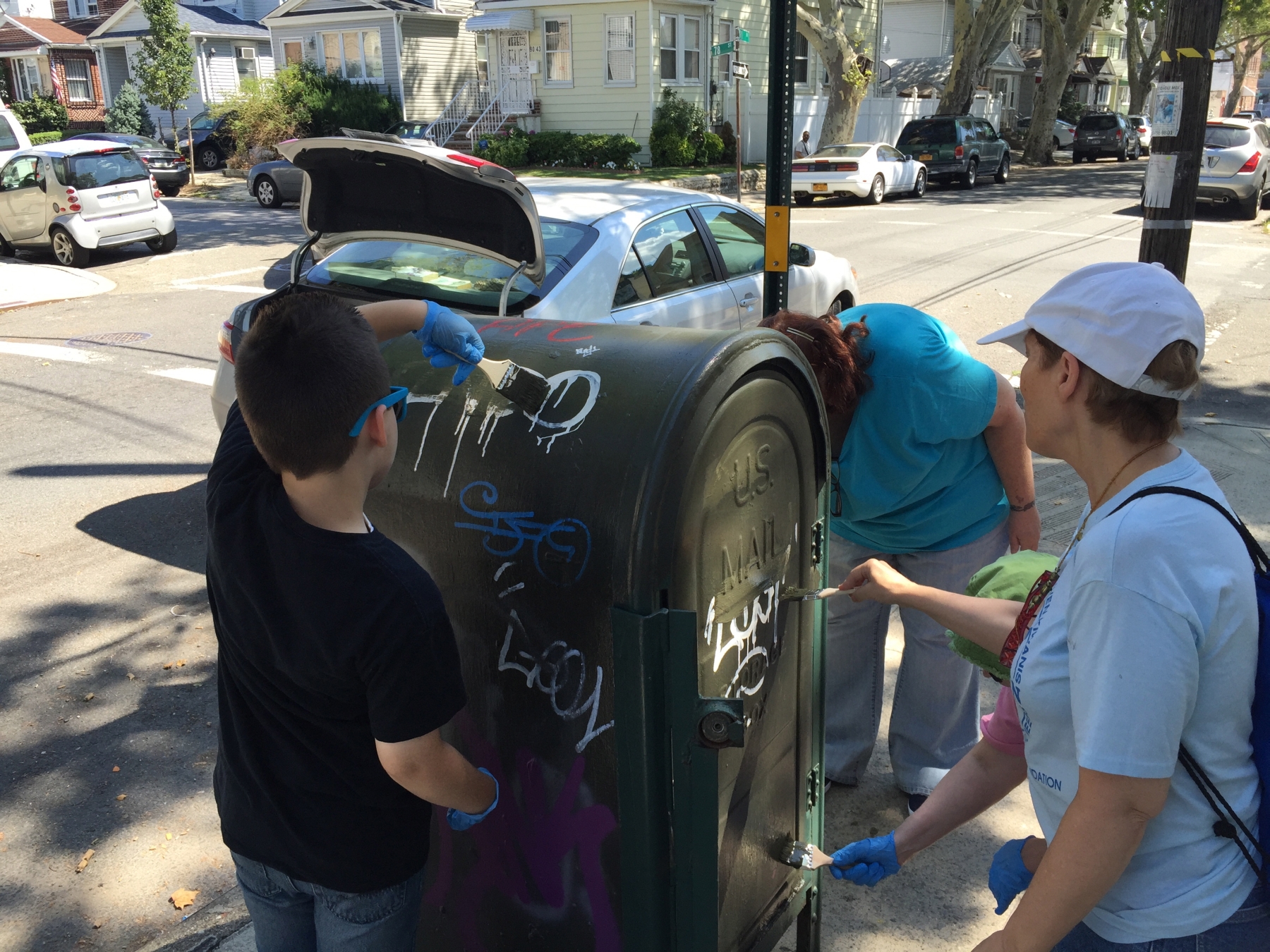 The group quickly made progress, turning an eyesore into a nice clean green space.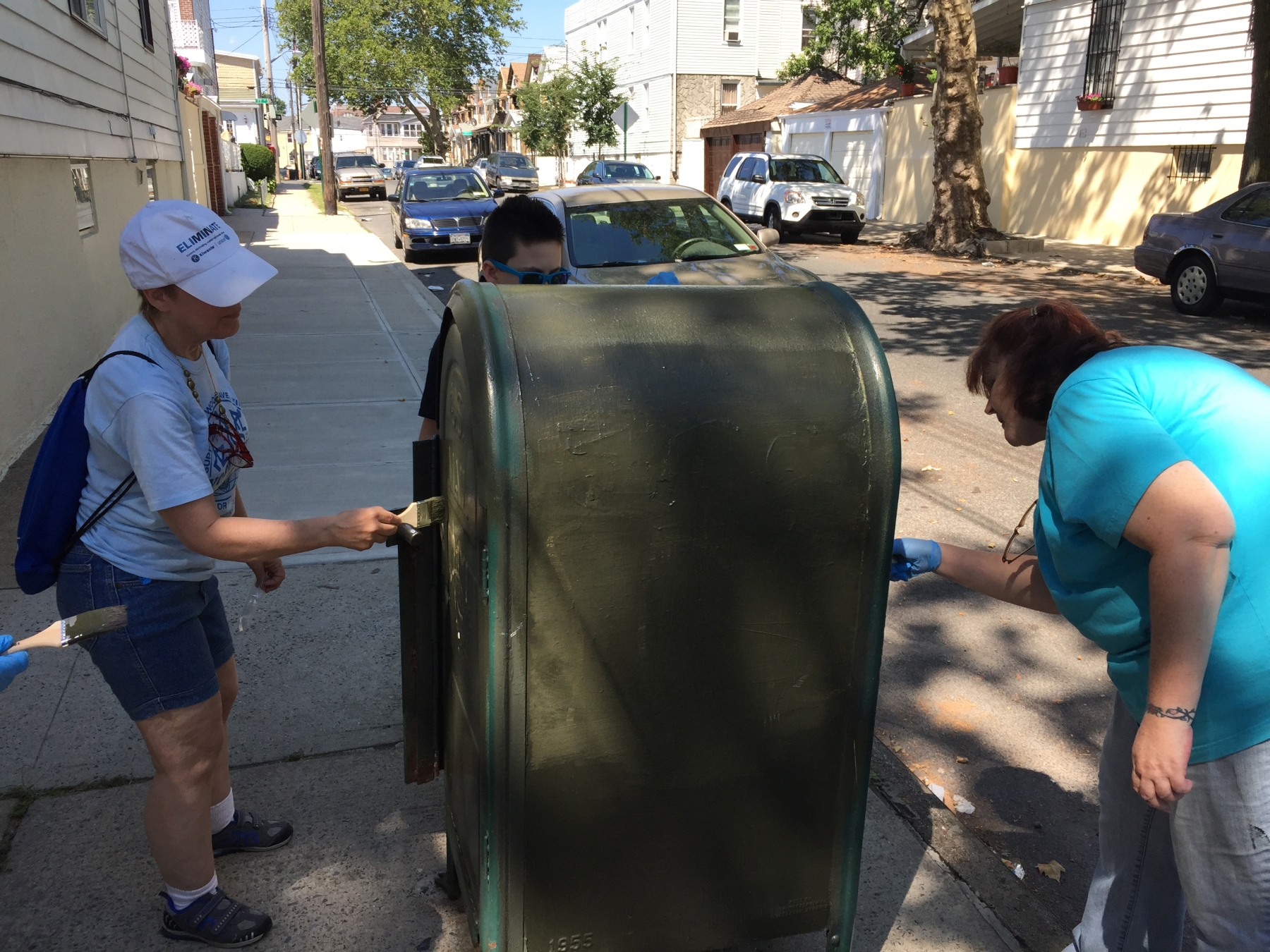 There is a definite sense of accomplishment as you see something ugly and dirty turn into something clean. Driving through the neighborhood afterwards was very satisfying. And knowing that each mailbox painted triggered a donation was extra-special.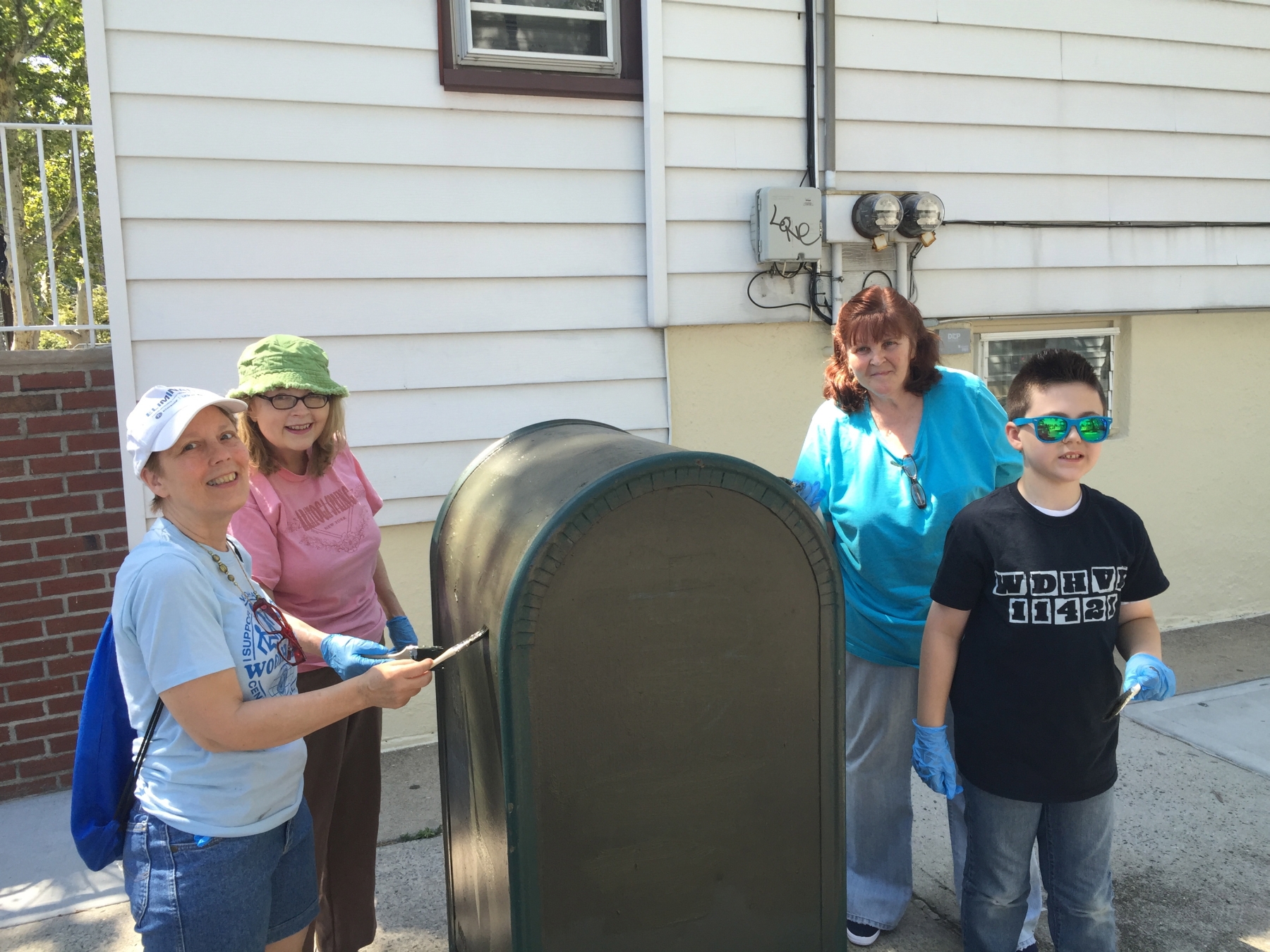 Look at the smiling faces on this group, tackling a mailbox on 94th Street. Working together, they made quick work of this relay mailbox.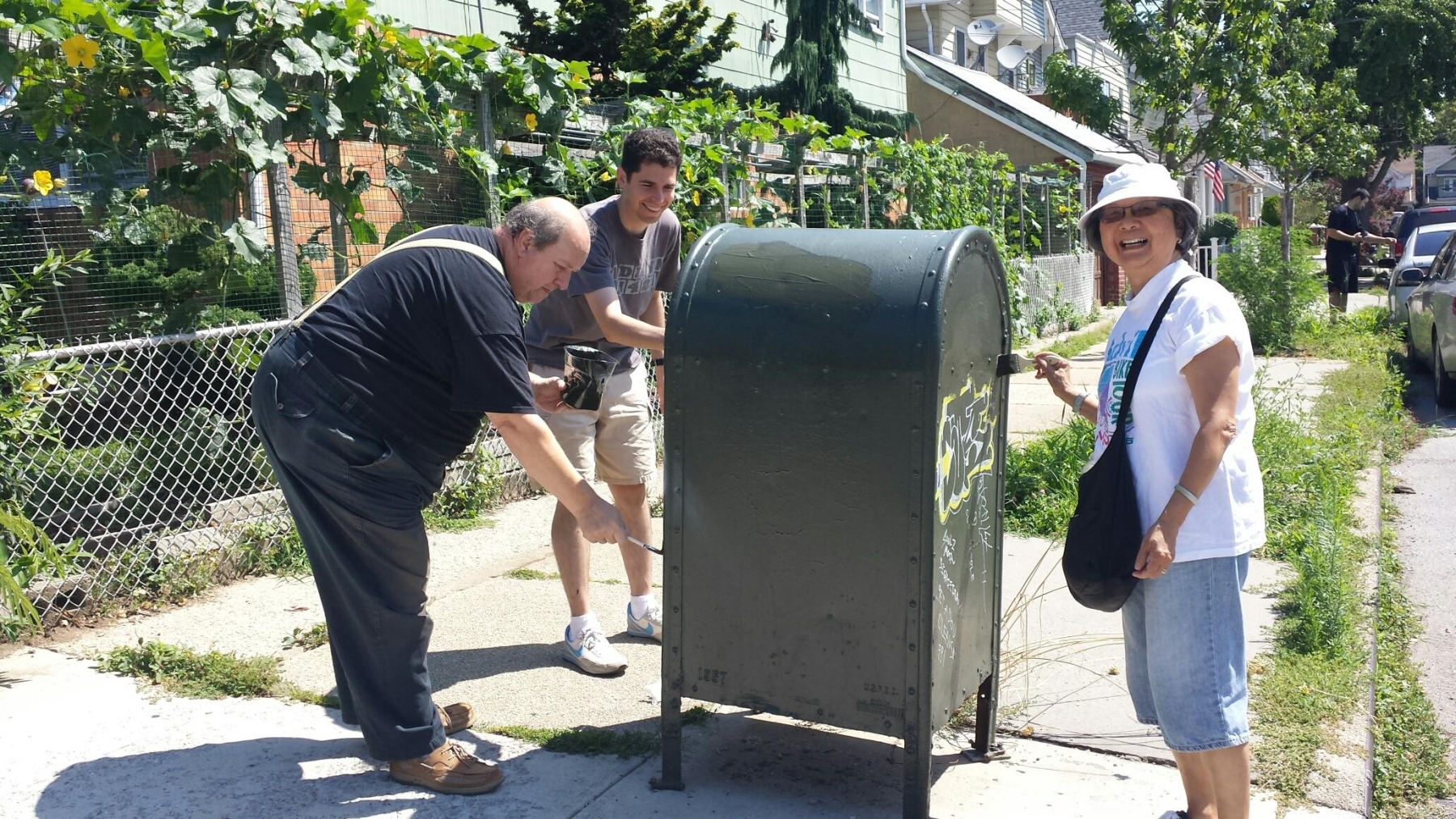 The Boy Scouts from Troop 139 in Howard Beach did a great job tackling the boxes on Jamaica Avenue. When you drive or walk down the avenue tomorrow and see clean mailboxes, these are the kids you can thank for it!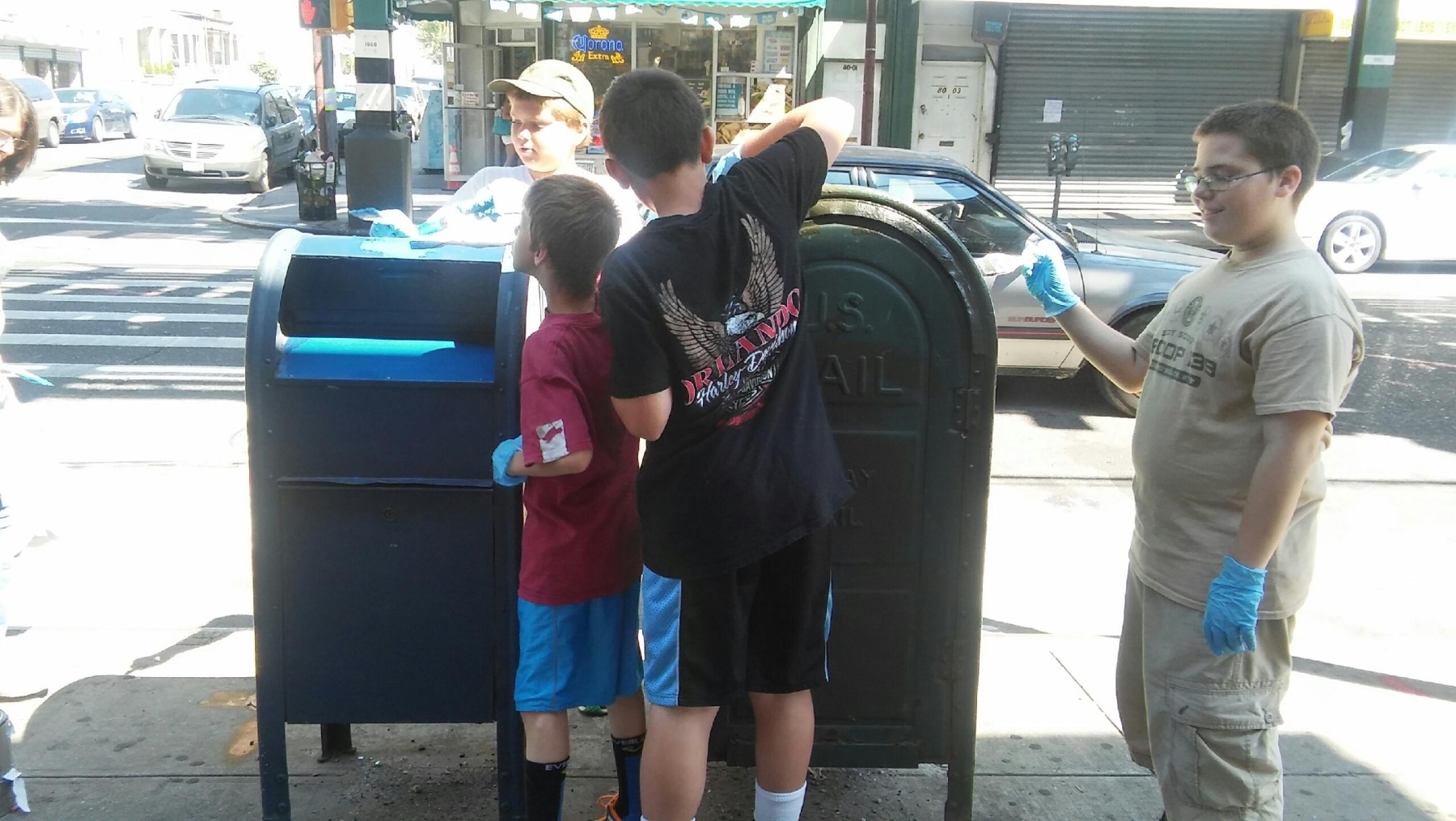 The great thing about these kind of projects is that not only do you benefit the community, and benefit a good cause - but it's a fun day out in the sun with friends! Please consider joining us on a future cleanup.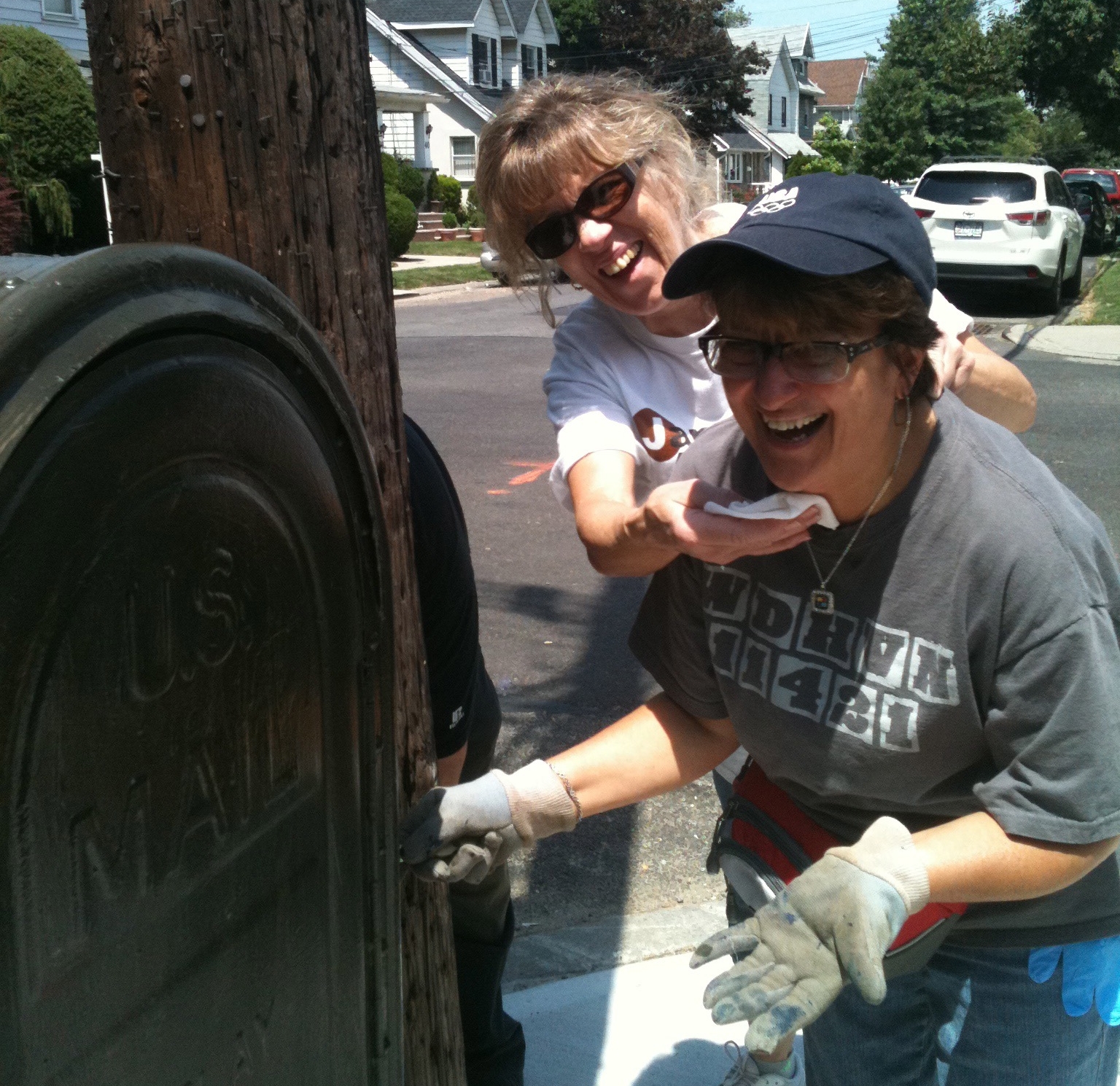 These kids were on foot, all the way from Jamaica Avenue to Park Lane South, near Forest Park, leaving clean mailboxes in their wake.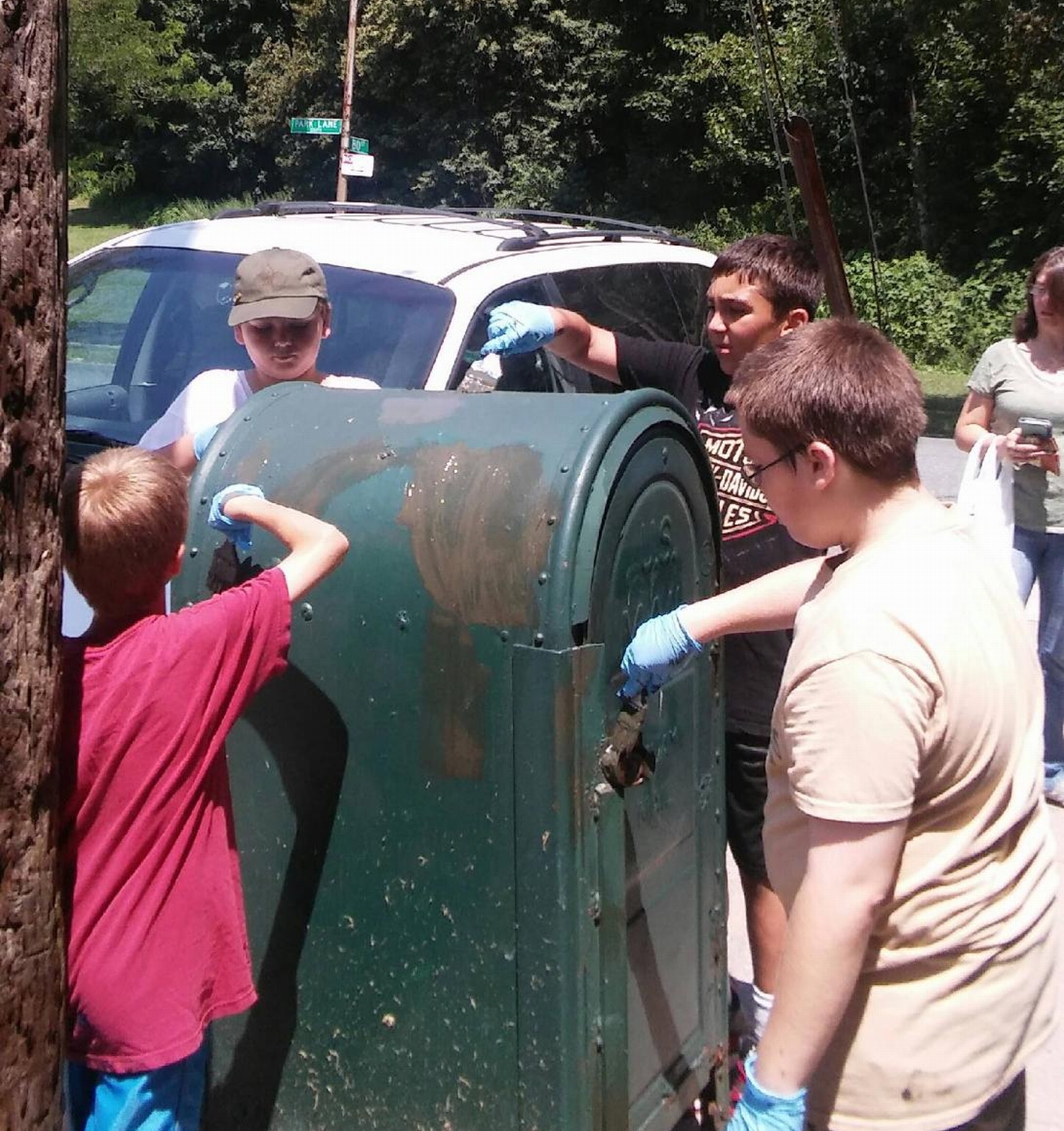 Everywhere in Woodhaven, people were spotting our groups - stopping to say hi, to thank the volunteers for taking the time to clean up these ugly eyesores.
In one instance, a resident learned of our goal to raise money for NYFAC and he made a donation. Another resident, shown below, came out and gave the volunteers a few bottles of cold water. Many thanks to everyone who stopped to say hi and thank our volunteers.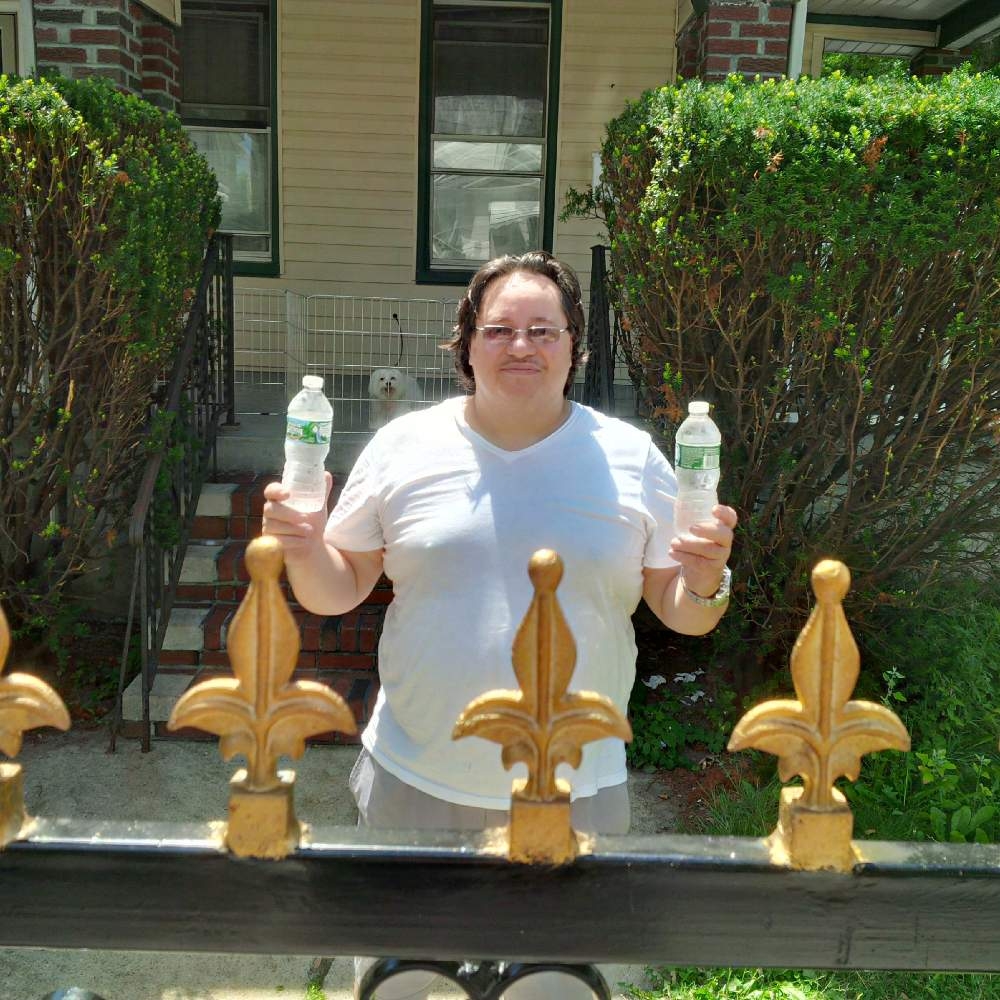 Remember - there's still time to donate to our fundraiser for NYFAC -- click here if you'd like to help.
It was a very good day here in Woodhaven - and we're grateful to everyone who came out to participate - the neighborhood is a cleaner place this evening.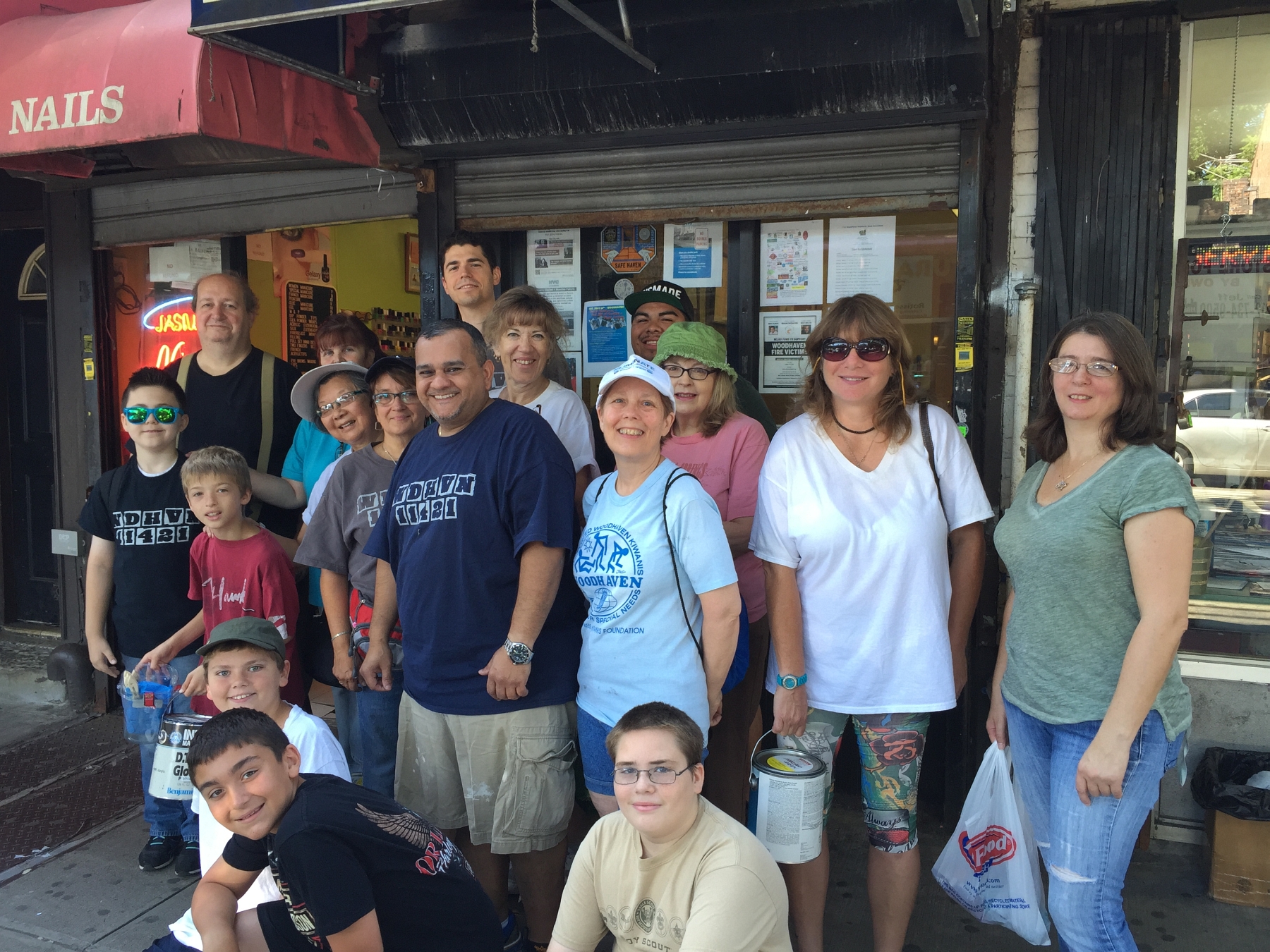 If you have any comments, or would like to suggest other projects, drop us a line at info@projectwoodhaven.com or projectwoodhaven@aol.com.
Return to Project Woodhaven's Home Page
Photos by Joey Wendell