Woodhaven Celebrates - 2015
Each year, the residents of Woodhaven gather to celebrate and honor those among us who have gone the extra mile. This celebration is the Woodhaven Social Event of the Year - and this year we have a fantastic slate of people we're honoring. The celebration will be held on Friday October 2nd at Roma View Catering (160-05 Cross Bay Boulevard). The celebration kicks off at 7:30 PM.
We are very proud to be celebrating with our honorees this year - and we hope you will come out to share this special night with them! Our 2015 Honorees are:
Woman of the Year – JoAnn Bartos
Resident, Volunteer Woodhaven Senior Center
Man of the Year – Neil Giannelli
Resident, Volunteer WORKS Little League, Rep for Joe Addabbo
Business of the Year – Beaver Tattoo
Caring Artists & Residents
Woodhaven Hall of Fame –
FDNY Engine 293
FDNY Engine 294/Ladder 143
NY's Bravest Protecting Woodhaven for a Century
Tickets to the celebration are:
$70 for adults (anyone 12 and up) and $30 for children 5 to 11 years old.
This includes a full buffet dinner with soda, beer and wine. For more information, e-mail info@woodhaven-nyc.org or call the WRBA office at 718-296-3735.
To Purchase Tickets: You can purchase tickets by stopping by or mailing a check to the WRBA office, or by cash or check at one of the upcoming Town Hall meetings. Checks should be made out to the Woodhaven Residents' Block Association.
If you cannot attend this year's celebration but you would like to make a donation, you can do so at the following button, and set your own amount:
To Purchase Tickets Online: You can also purchase tickets online via PayPal or Credit Card by clicking one of the Add to Cart buttons above. When you click Add to Cart you will go to a screen where you will be able to enter Quantity (see below).
If you want to add another ticket type (e.g., you purchased an adult ticket and now you need to add a children's ticket) click on Continue Shopping and add another type to your cart.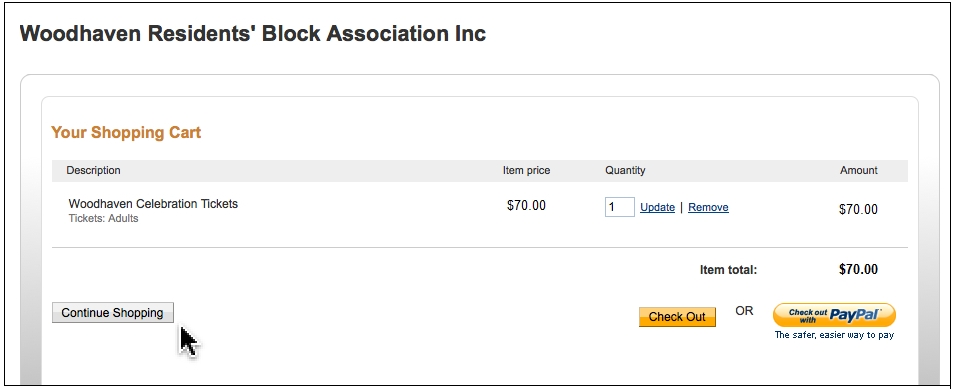 Special Instructions:
If you are coming to celebrate any particular honoree - please let us know in the Special Instructions when checking out so we can ensure that you are all seated together. Simply click on the Add link (see below) when checking out.

Our 2015 Honorees:
Our Woman of the Year, JoAnn Bartos is a volunteer at the Woodhaven Senior Center - and a strong voice for seniors in our community.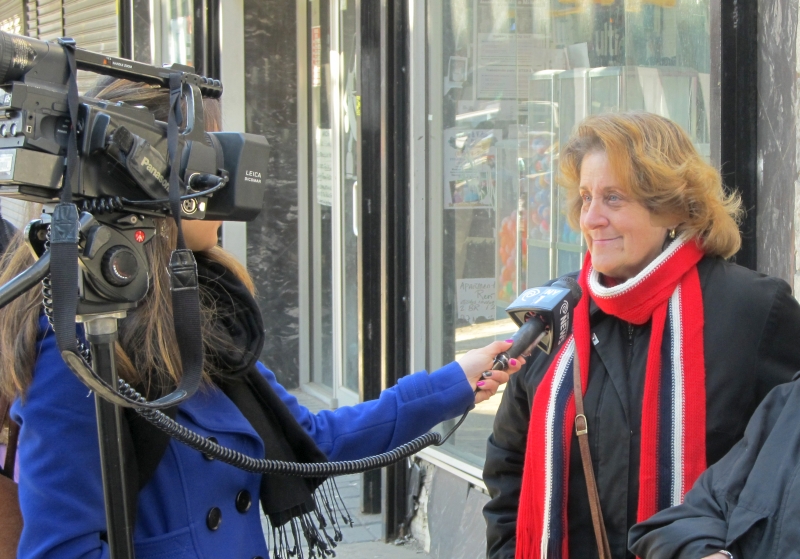 Our Man of the Year is Neil Giannelli, a regular at our meetings representing Sen. Joe Addabbo, but also a resident of the Woodhaven Community, and a longtime volunteer for WORKS Little League.

Our Business of the Year is Beaver Tattoo - a talented group of artists that care about the community. In the aftermath of Hurricane Sandy, Beaver Tattoo raised over 800 dollars towards our relief efforts for our neighbors that were affected by that terrible storm. Here they are at a WRBA meeting, presenting the donation to the WRBA and receiving a certificate of appreciation.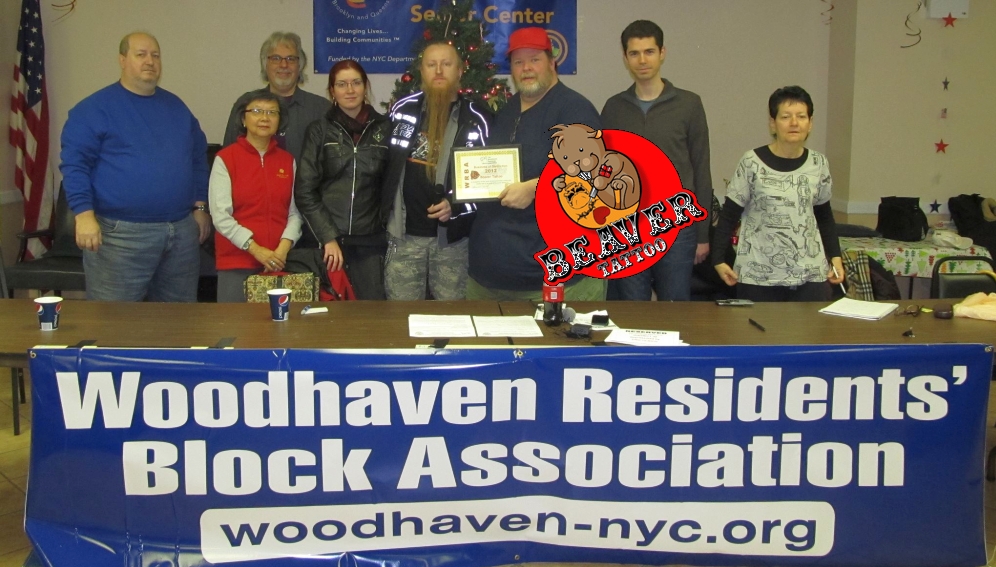 And for our Hall of Fame this year, we are honoring the two firehouses that watch and protect us - FDNY Engine 293 aka Woodhaven Wildcats (on 87th Street) and FDNY Engine 294/Ladder 143 aka El's Angels (on Jamaica Avenue). Both of our firehouses have been protecting Woodhaven for over a century!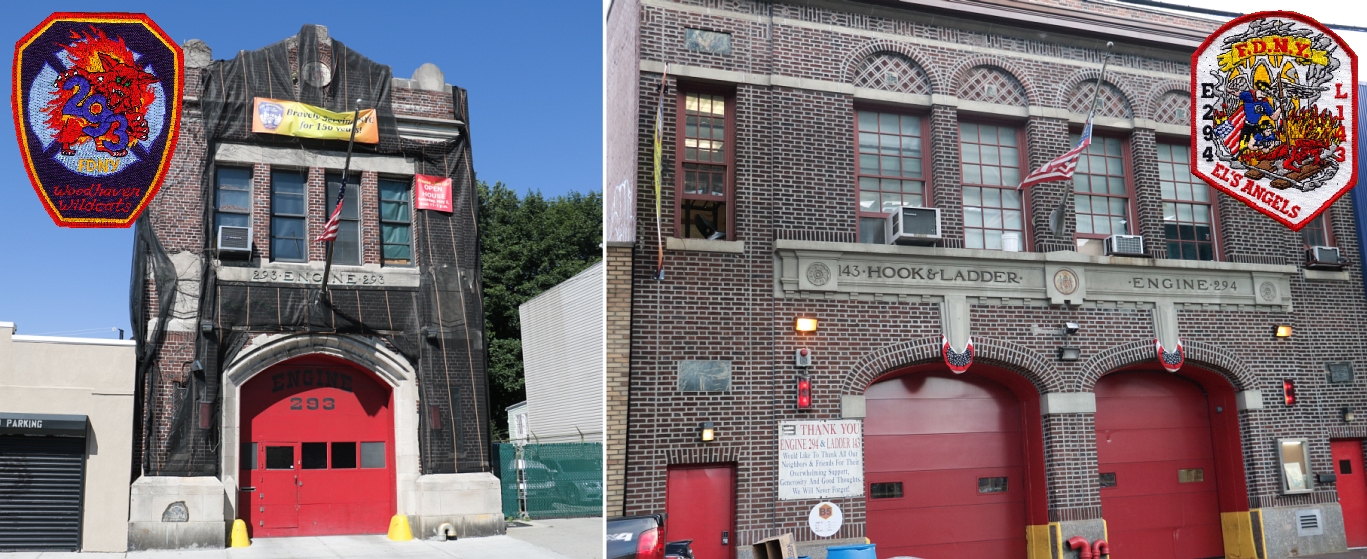 About the Hall of Fame:
The Woodhaven Hall of Fame is a relatively new award and our firehouses become the sixth inductee. Plans are underway to create a permanent space acknowledging all inductees into the WRBA's Woodhaven Hall of Fame. Previous inductees include:
2014 - Lewis of Woodhaven - a legendary and cherished business for over 70 years.
2013 - Ohlert-Ruggiere, Inc. a trusted name in Woodhaven for over 125 years.
2012 - Emanuel United Church of Christ on occasion of their 135th year in Woodhaven.
2011 - Woodhaven-Richmond Hill Volunteer Ambulance Corps. for decades of dedicated volunteer service to the community.
2010 - Roger & Josephine Hennin - for decades of dedicated volunteer service to the church, to the American Legion and to our community.