For close to a century, Woodhaven's historic cemetery was subject to long periods of neglect. The bushes were not only overgrown, they were growing wild. Piles of garbage and debris blocked pathways. Tombstones were being knocked down and destroyed. This historic cemetery, which contained the remains of some of Woodhaven's original families, was an embarrassment. An eyesore.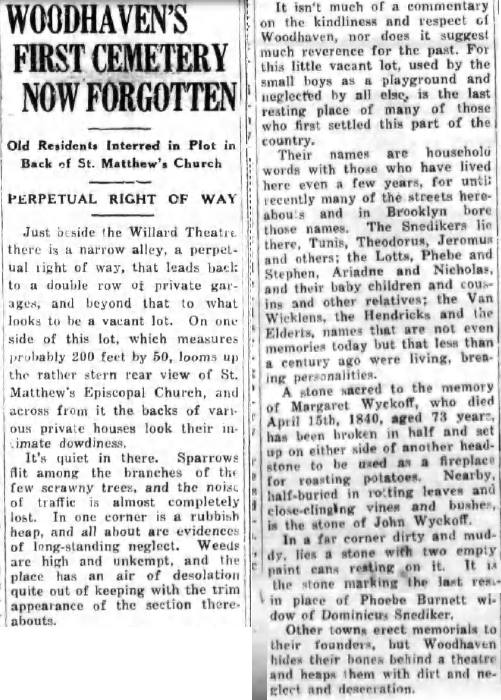 In the Summer of 2014, the Woodhaven Cultural & Historical Society began a project to not only clean up this historic cemetery - but to turn it into a beautiful green spot that the entire community could enjoy. Imagine having a nice, lush, garden - a peaceful, quiet spot just a few steps off of Jamaica Avenue. That is the long-term goal. But it's not going to happen overnight - and certainly not without some hard work. And it is with that in mind that we gathered for the first time in 2016. We are shifting the focus a little this year, out-sourcing some of the regular tasks (cutting down the grass and weeds) so we can concentrate on specific areas of the cemetery that need extra attention.
In other words, instead of spreading out a dozen volunteers across the entire cemetery, we will now be able to focus on smaller piece of land, flooding a small zone with volunteers and really have a deep impact. One trouble spot was the northeast corner (what we sometimes call "the back") -- here is how it has typically looked the past few years. This picture was from 2014.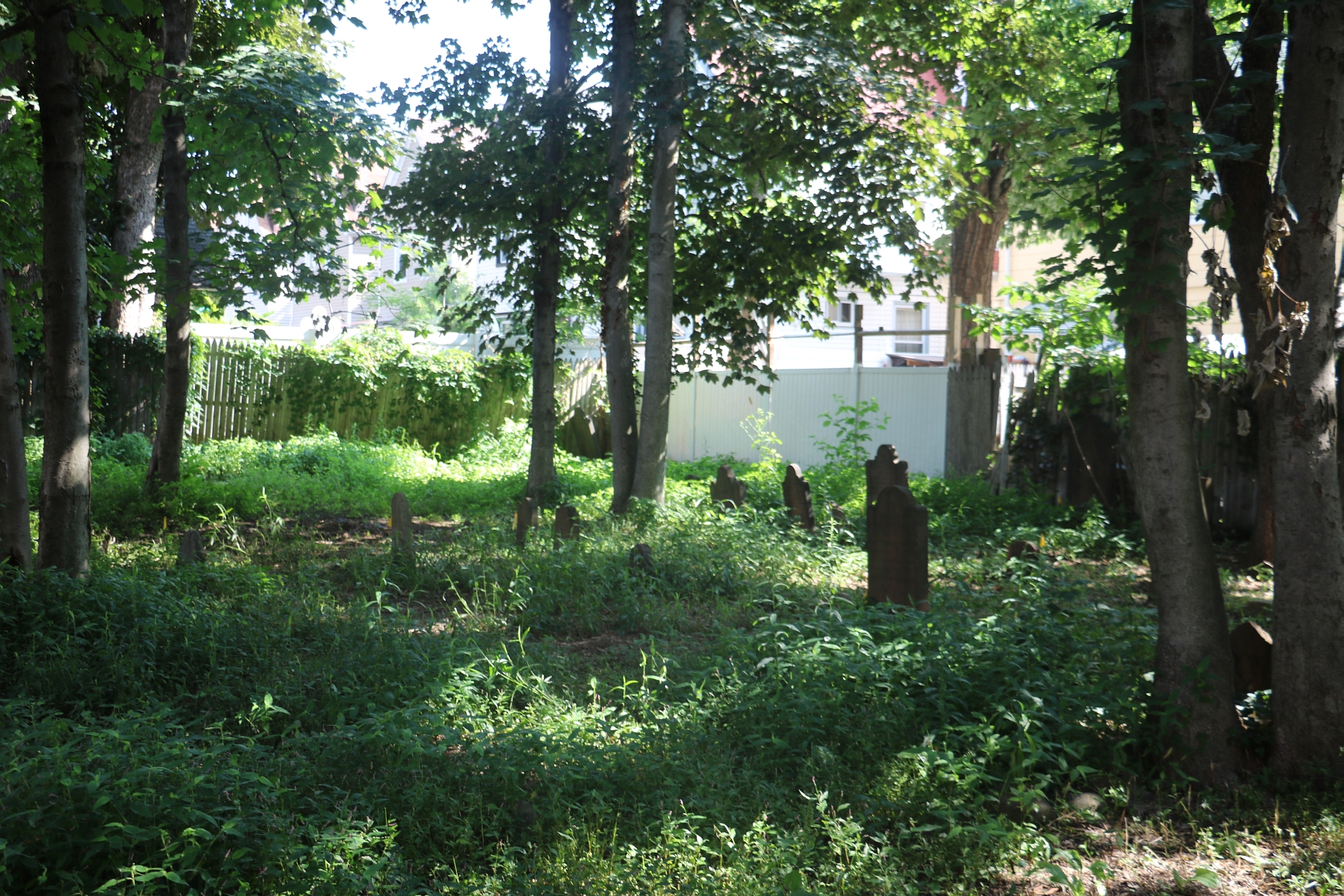 Last year, we managed to keep this corner from getting too much out of hand -- we hit it at least once a month with weed whackers. But because the ground was so uneven and had so many rocks, it was dangerous to use the lawn mower. It was this corner that we focused on this past weekend, with about a dozen volunteers.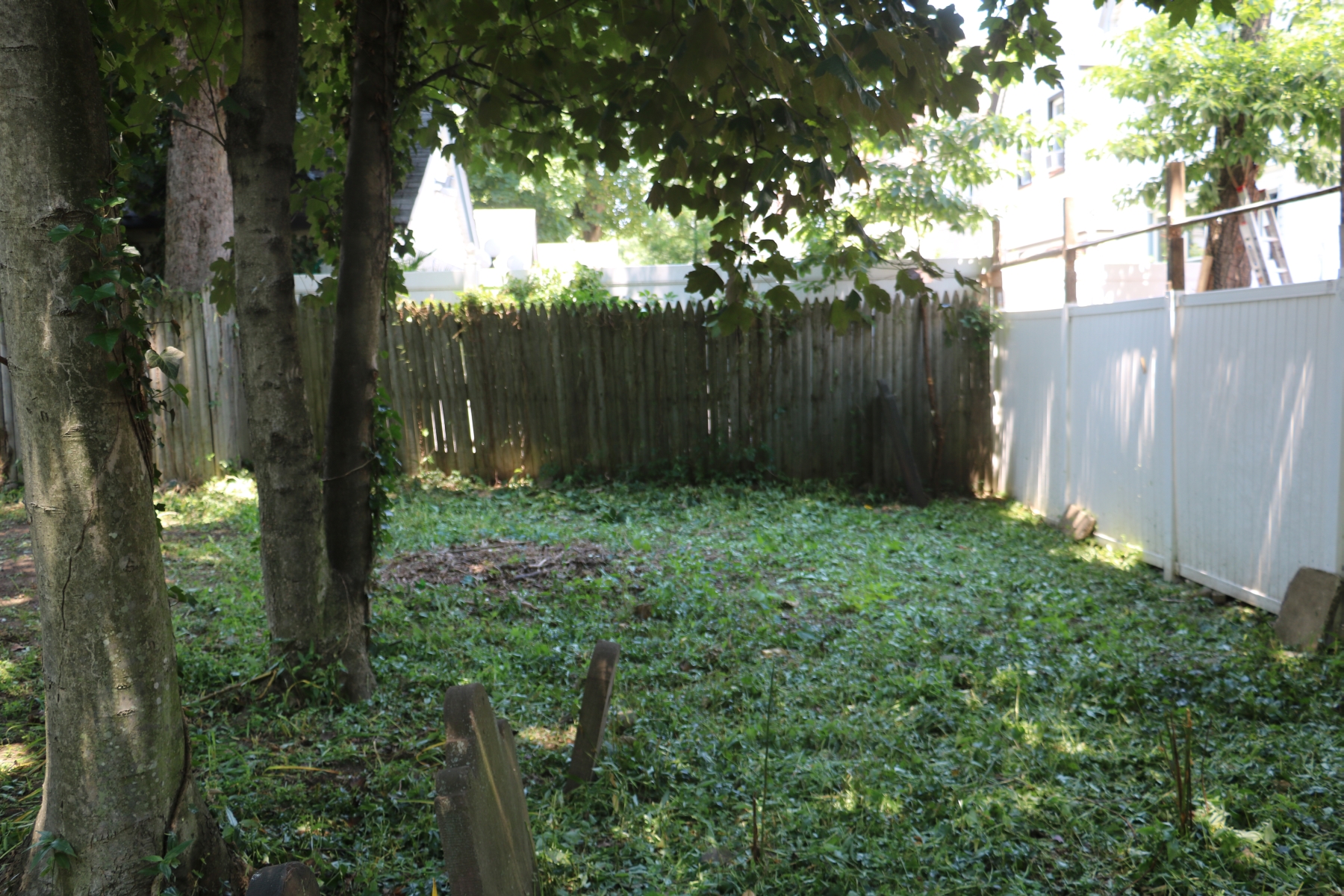 We had a light turnout because there were so many conflicting events this past weekend, but we still accomplished quite a bit! We removed hundreds of rocks and thick branches of ivy. The back fence is ready to collapse but thanks to some bright thinking (thanks, Vanessa!) we were able to prop it up with a metal pipe. The posts are shot so we will probably cut down this fence, especially since there is a nice white fence behind it. The next step, which will be accomplished before the next gathering, is to take a tiller and turn over the earth (and flatten it a bit) and get some weed killer in there and also get some good grass seed down. Then, we'll straighten out that tombstone and this back corner will be in good shape.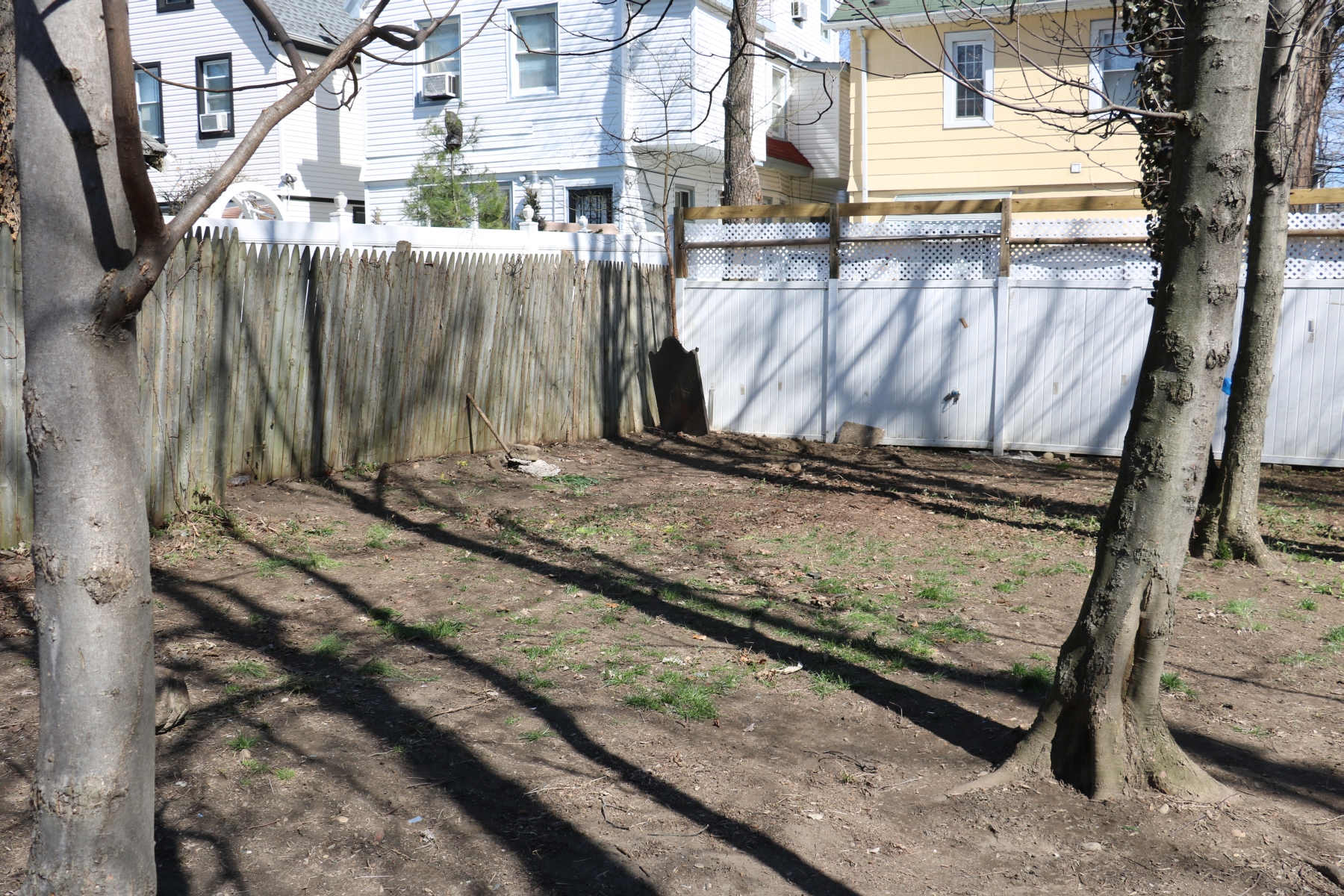 It's still early and we haven't had a lot of growth yet - but, again, we will be having someone come in to run over this with a lawn mower twice a month - that will keep the growth down. Last year, we were visiting the cemetery once between cleanups to hit it with the lawn mower and that pretty much did the trick (except for the areas that we could not get to).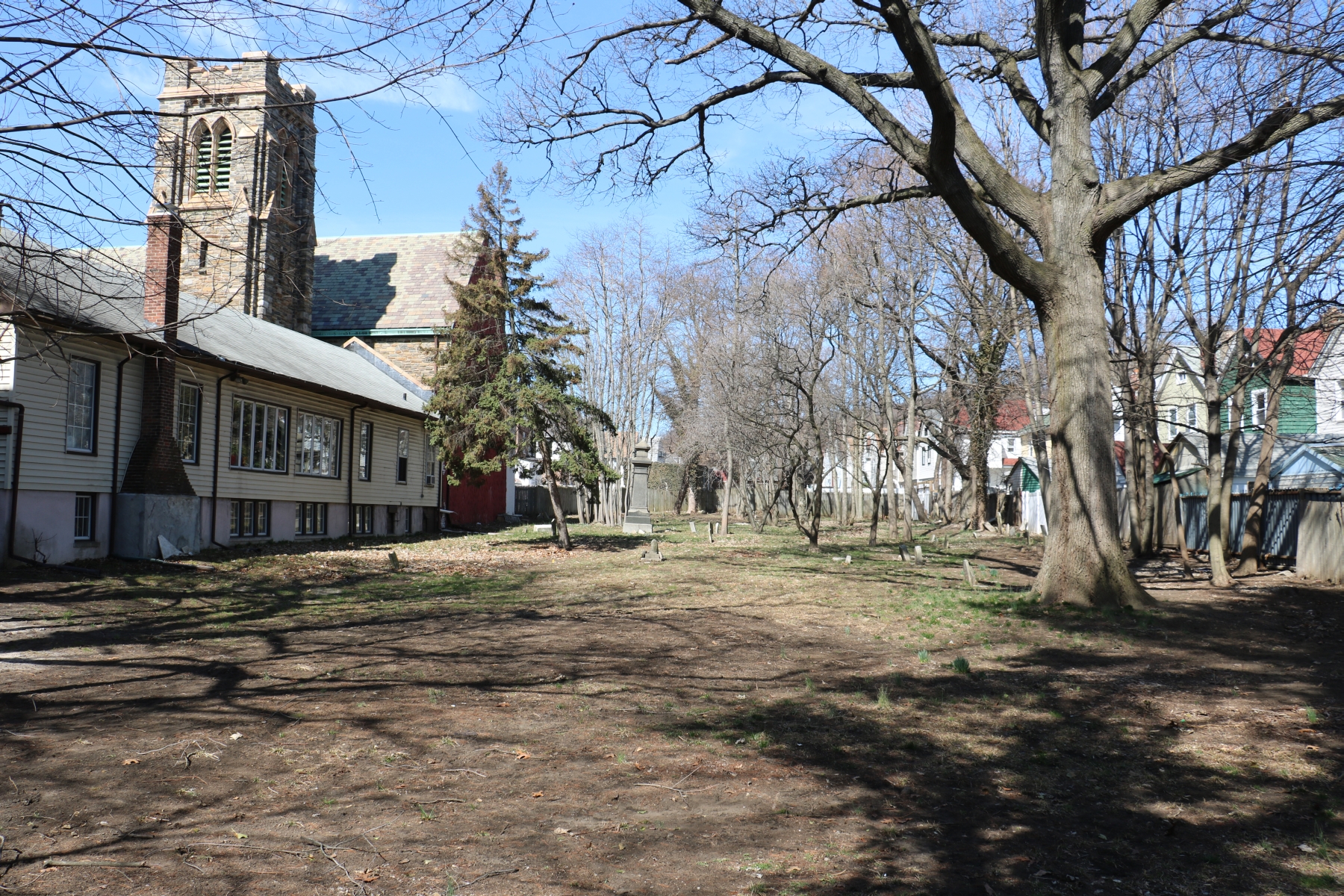 This year, our focus is also going to include design - we want to create some flower beds - plant some bushes. Below is a rendering - an example of what the cemetery could look like.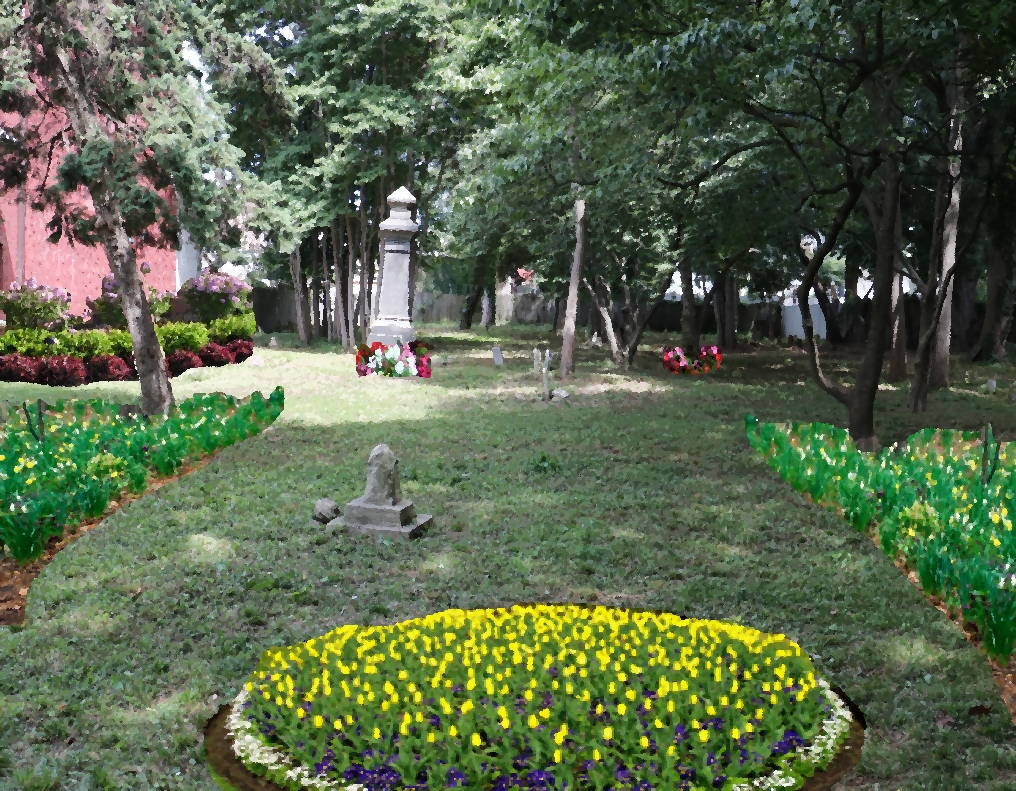 Here were our volunteers for this first meeting of 2016 -- a small crew, but hard-working. It was a beautiful day and we had a great time. If you like working outdoors, with good people -- and you like seeing something really nice accomplished -- this is a good project to turnout for. We meet on the 2nd Saturday every month, at 9 AM until 12 PM. The cemetery is located on 96th Street and 86th Avenue, behind All Saints Church. Volunteers are needed and most welcome. If you have questions, drop us a line at woodhavenhistory@gmail.com.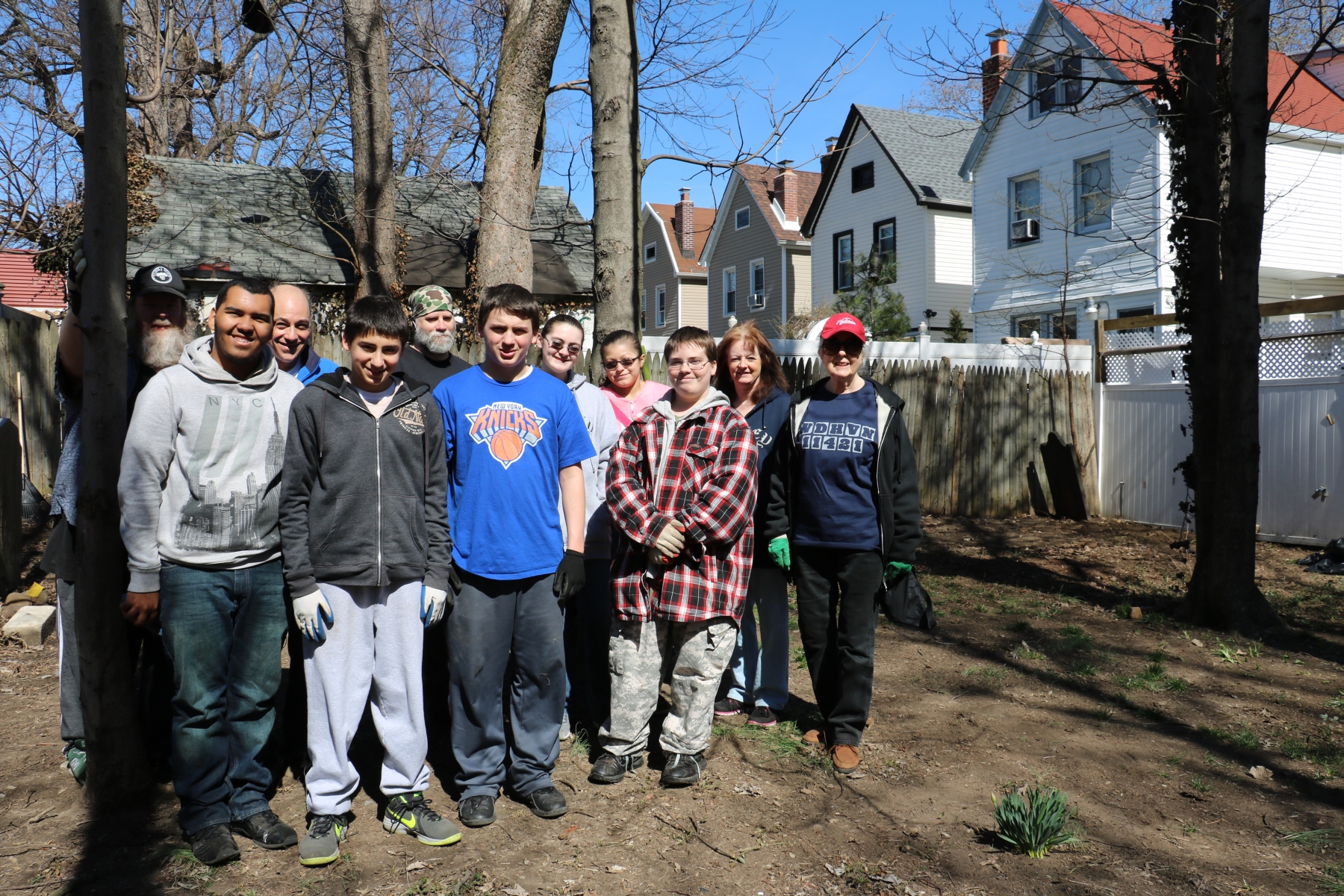 Here is a very brief video of this past weekend's activities.
If you like local history, the cemetery is a great project to work on. The cemetery was surveyed back in 1919, the plots were mapped out, and the names and inscriptions were recorded. The majority of the neglect occurred after 1919, and many of the tombstones were moved. The Woodhaven Cultural & Historical Society and the Queens Historical Society partnered up on a restoration back in the 1990s and moved many tombstones back. Unfortunately, many were missing. Over the past few years, we have recovered a number of tombstones - one from a neighboring yard, one from a backyard on 86th street (that's a long story!) and several more that were buried under a few layers of dirt.
Here is the 1919 survey --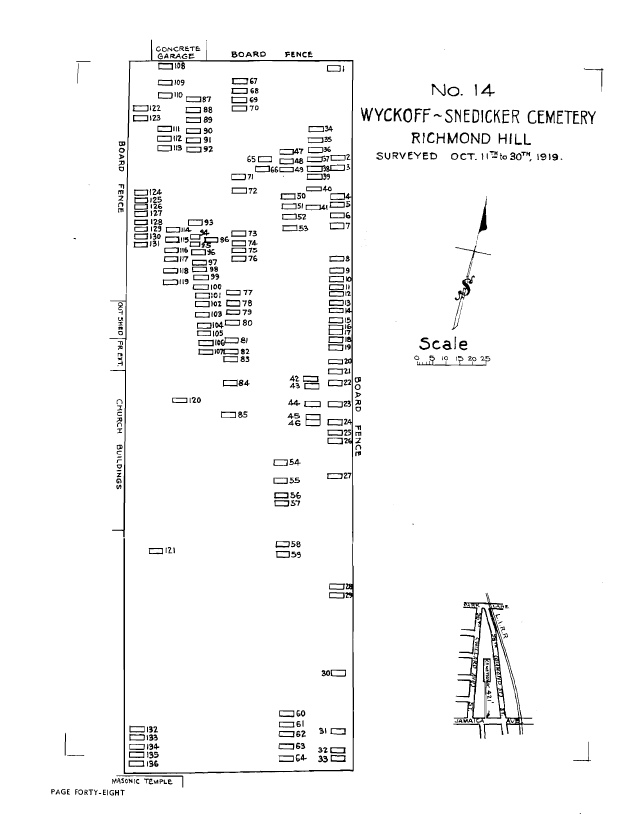 The survey is very helpful to track down the full story. For example, this is the stone of Gitty Maria Eldert, who died on December 29th 1821.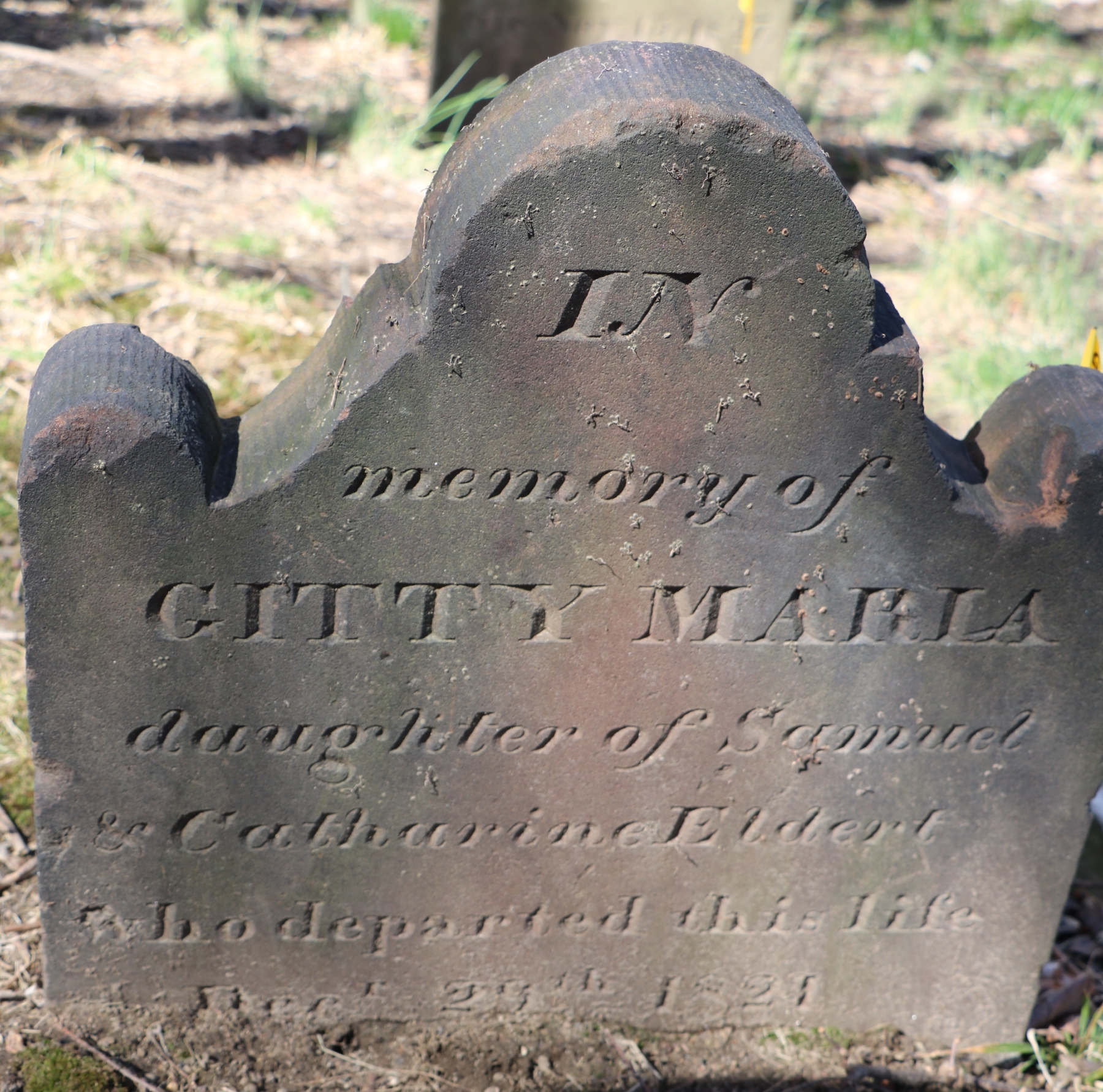 When you look at the survey, you see a piece of the inscription that is below the ground -- it turns out that Gitty Maria was 2 years old.

Here is a tombstone that is damaged on one side, and badly pockmarked. Much of this damage has been natural (the weather, age) - but many of these tombstones were damaged by fallen trees and limbs. The trees were allowed to grow wild over the years and they were strangling each other and damaging the tombstones. This one was found beneath a rather large fallen tree. We carried that tree trunk out -- it took about 8 or 9 people to carry it -- it was very fortunate that only once side was damaged.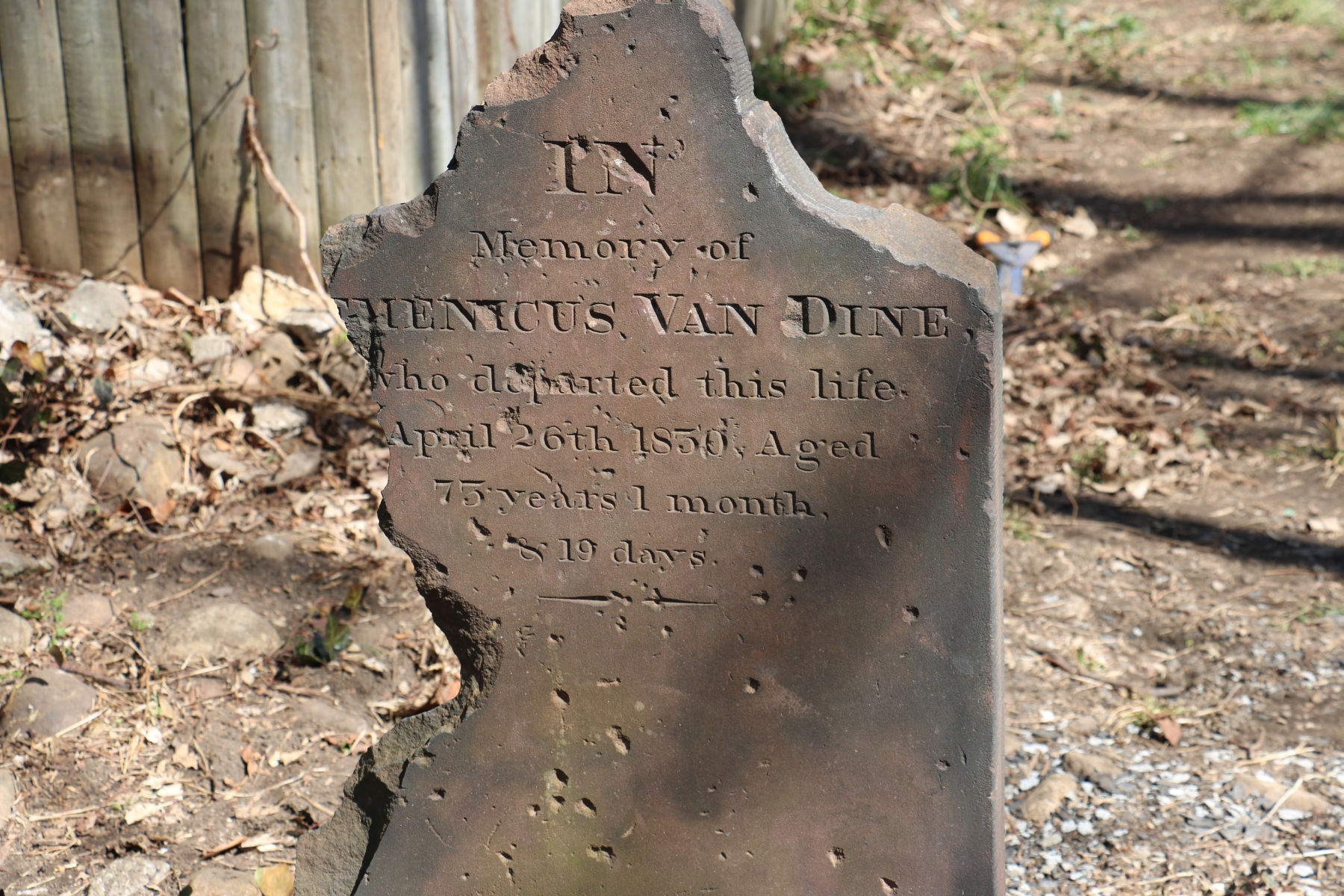 Here is Demenicus Van Dine in the survey. I used to this the tombstone said 1850 -- but after reading the survey and looking more closely, it is actually 1830.

This pair of tombstones always catch my eye. A brother and sister who died 52 years apart. Hannah Van Dine died in 1823 at 11 years old. Her younger brother John W. Van Dine was only 9 when she passed and he lived until he was 61 years old, dying in 1875. An old man and a young girl - brother and sister, together forever in our Woodhaven cemetery.
When Hannah was alive, there was no Woodhaven. Her little brother would live to see the area called Woodville and then Woodhaven. I wonder how many times he stood over her grave, how many times he brought flowers to her grave. Both graves are in similar shape -- and the style are almost identical - so it's possible that her original stone was replaced when he passed away. PS We had some help from Boy Scout Troop 139 in Howard Beach in cleaning up the back of the cemetery and around Hannah and John's graves.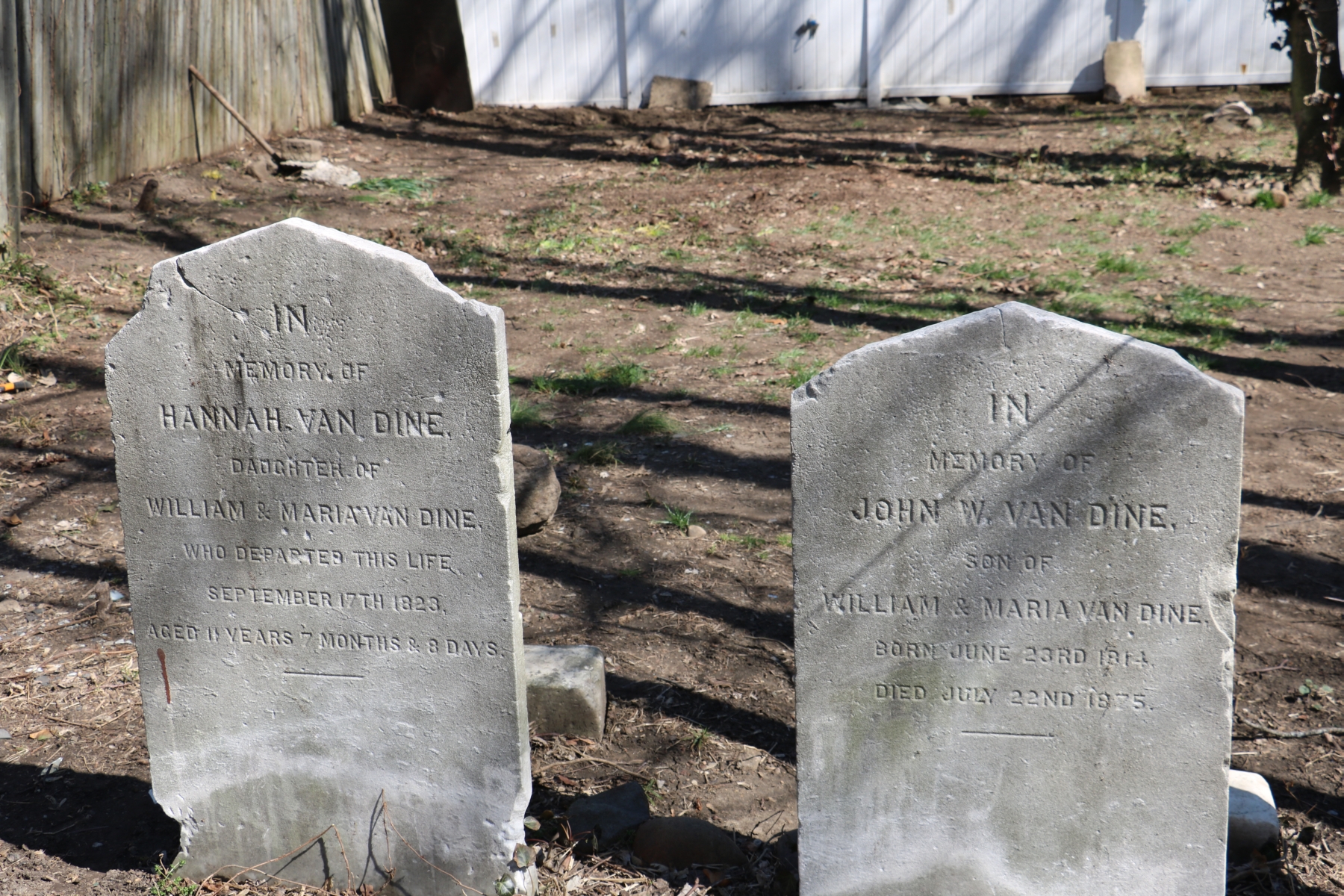 The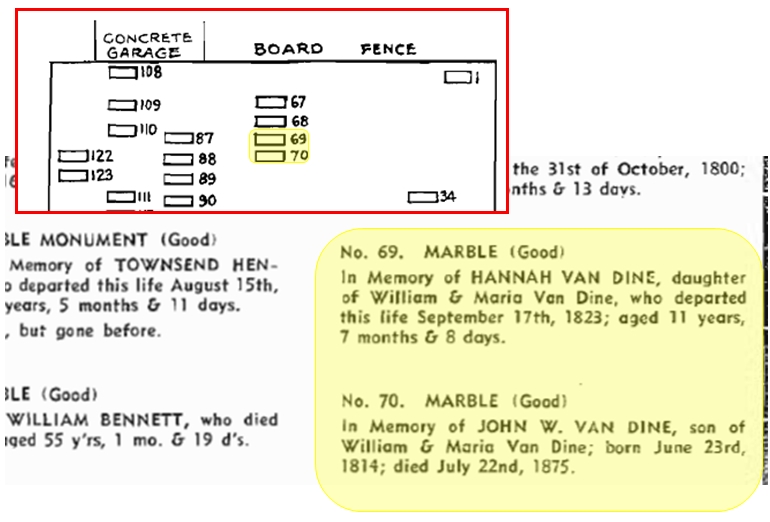 There are a lot of Lotts in our cemetery here in Woodhaven. They owned large areas of Woodhaven (and 76th Street was named after them).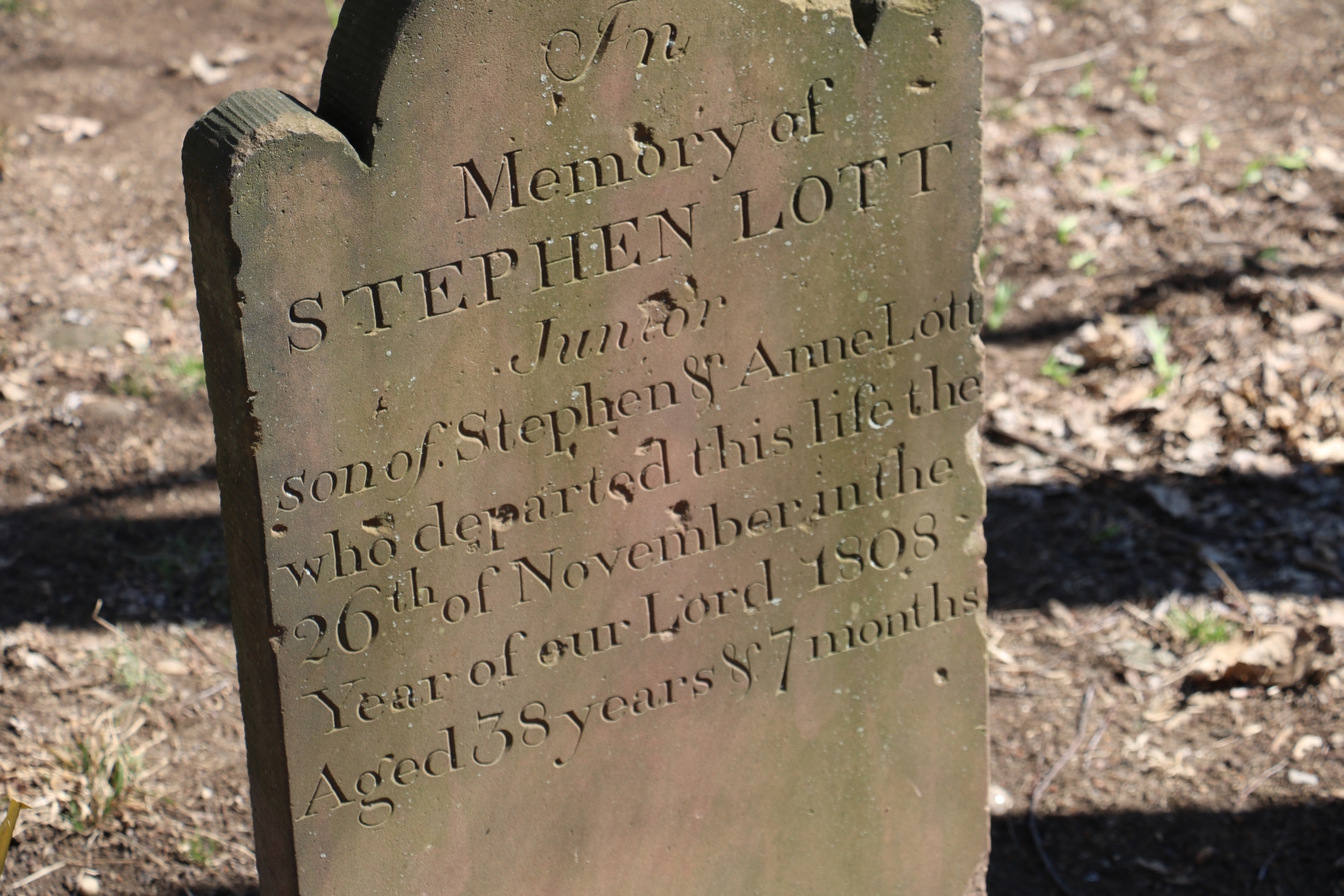 Here's an old map (I put in some current names to give you an idea of how big one of their farms was). Here are 2 Lott farms (one was sold to a Wyckoff). Those two farms stretch from Jamaica Avenue to Park Lane South -- and from 85th Street and 89th Street. That wasn't all the land they owned - just some of it.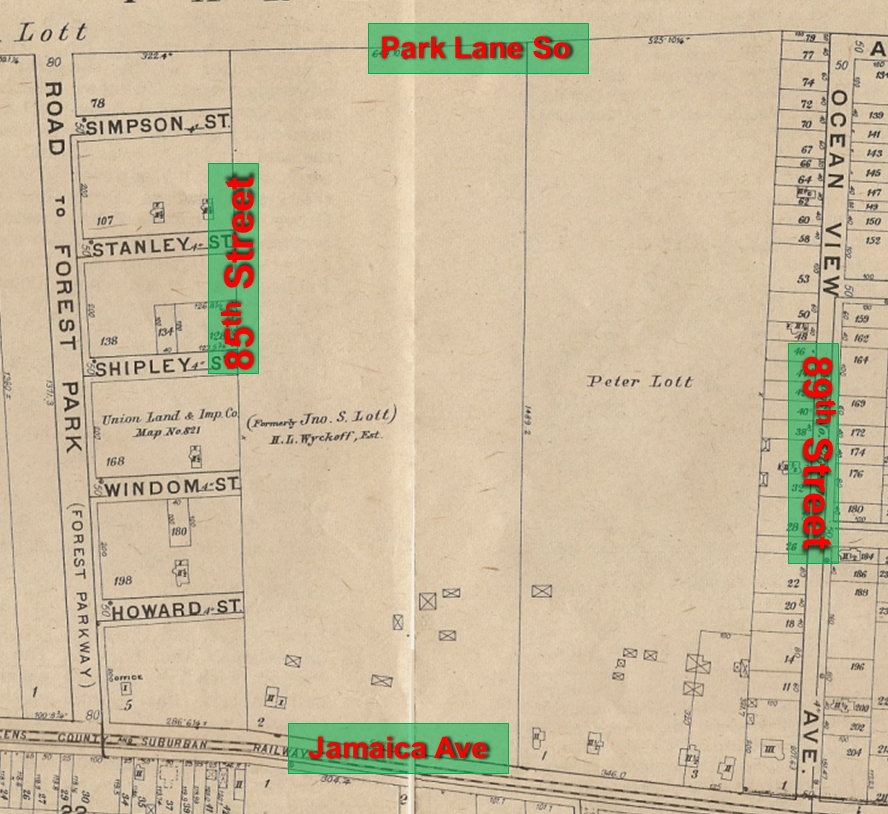 A few months ago, we wrote about the interesting life of Professor Yoerger, one of the more colorful characters in Woodhaven's long history. A professor of boxing in a love triangle, a crime involving a blue diamond, who trained a dog with a mind of a child. A trick shot, a magician, who met John L. Sullivan and Helen Keller and married into one of Woodhaven's more prestigious families - the Lotts. His wife, Florence, was a bit younger than he and lived here in Woodhaven until her death in 1973 (see her obit below).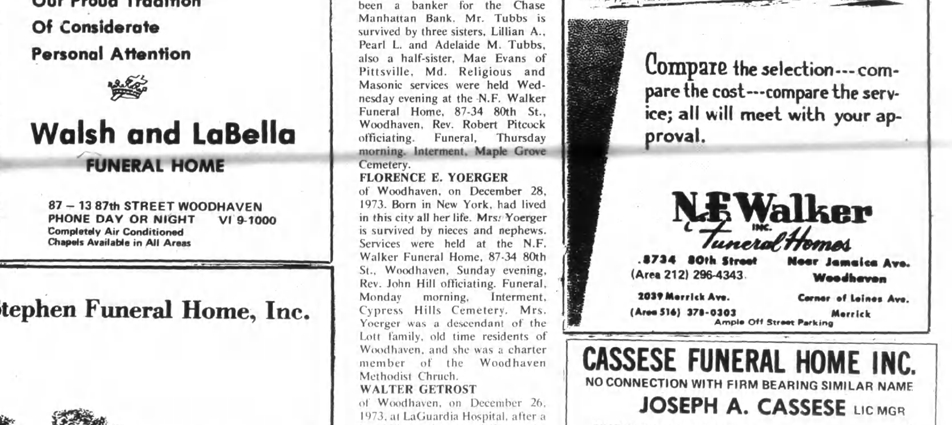 The progress has been remarkable - but we still have such a long way to go. If you like getting a good workout, if you like getting fresh air -- this is a great project for you. 2nd Saturday of every month -- all you have to do is show up and get started! Scroll down for more history!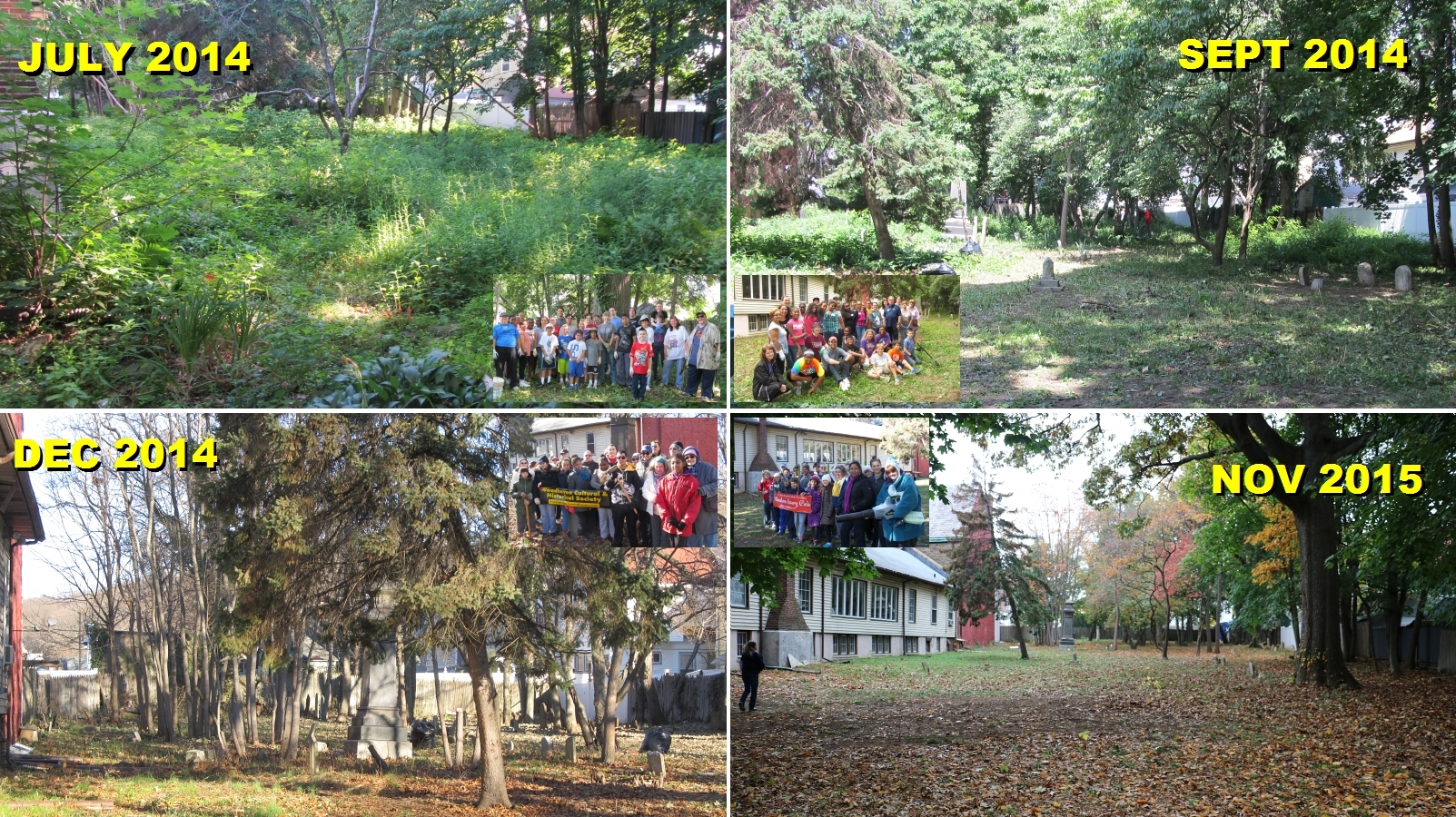 Sadly, there are many graves that are still lost -- and many others that are damaged beyond repair. But thanks to the survey, we have been able to identify many of them (the yellow flags with names were placed by the students of St. Thomas the Apostle under guidance to teach Patti Eggers.).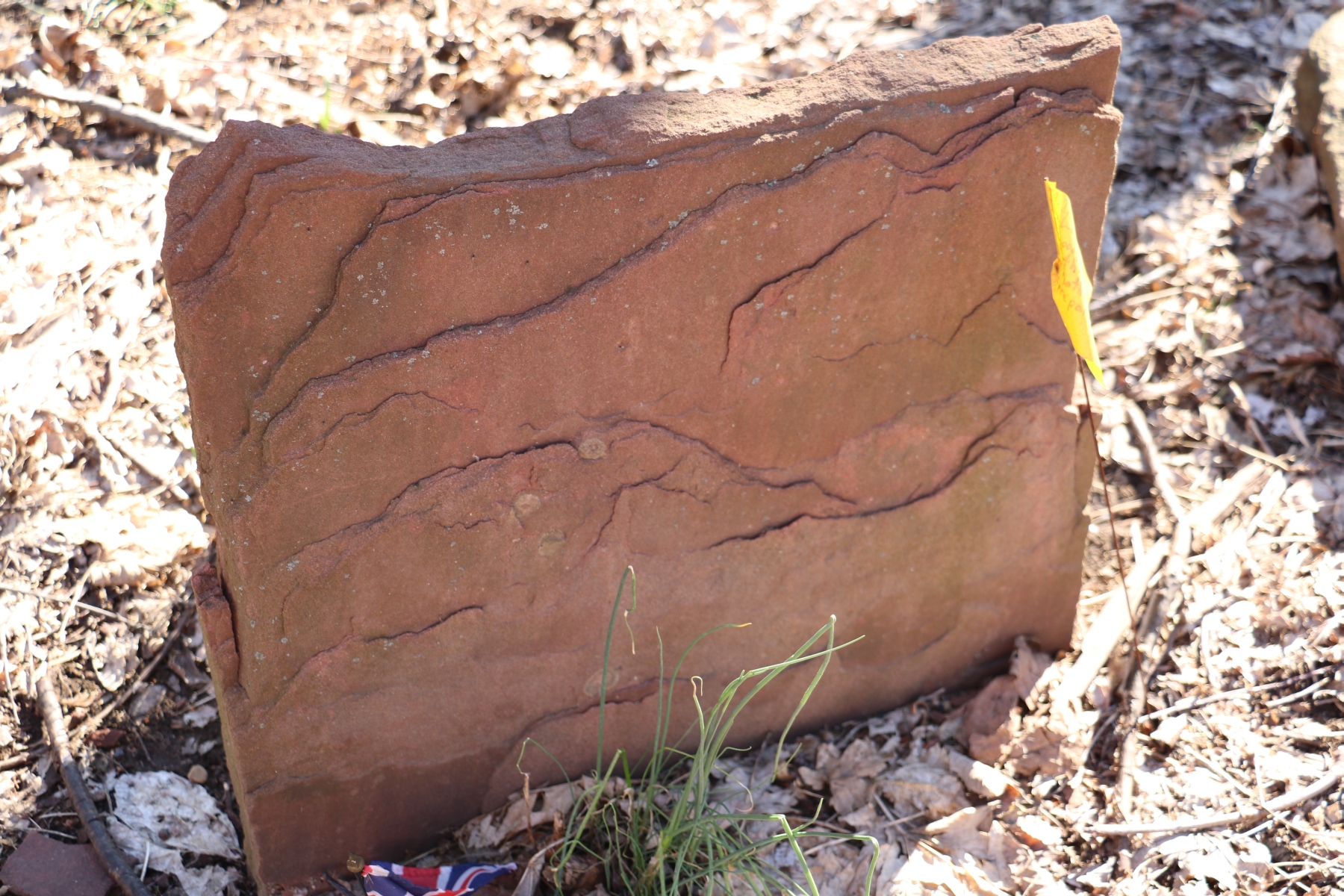 The tombstone of Jeromus Snedicker (Snedicker Avenue is now 78th Street). We have found several pieces of the tombstone and are always looking for more. Earlier when we said we were collecting rocks and moving them - each rock is looked at to make sure it is not part of a tombstone.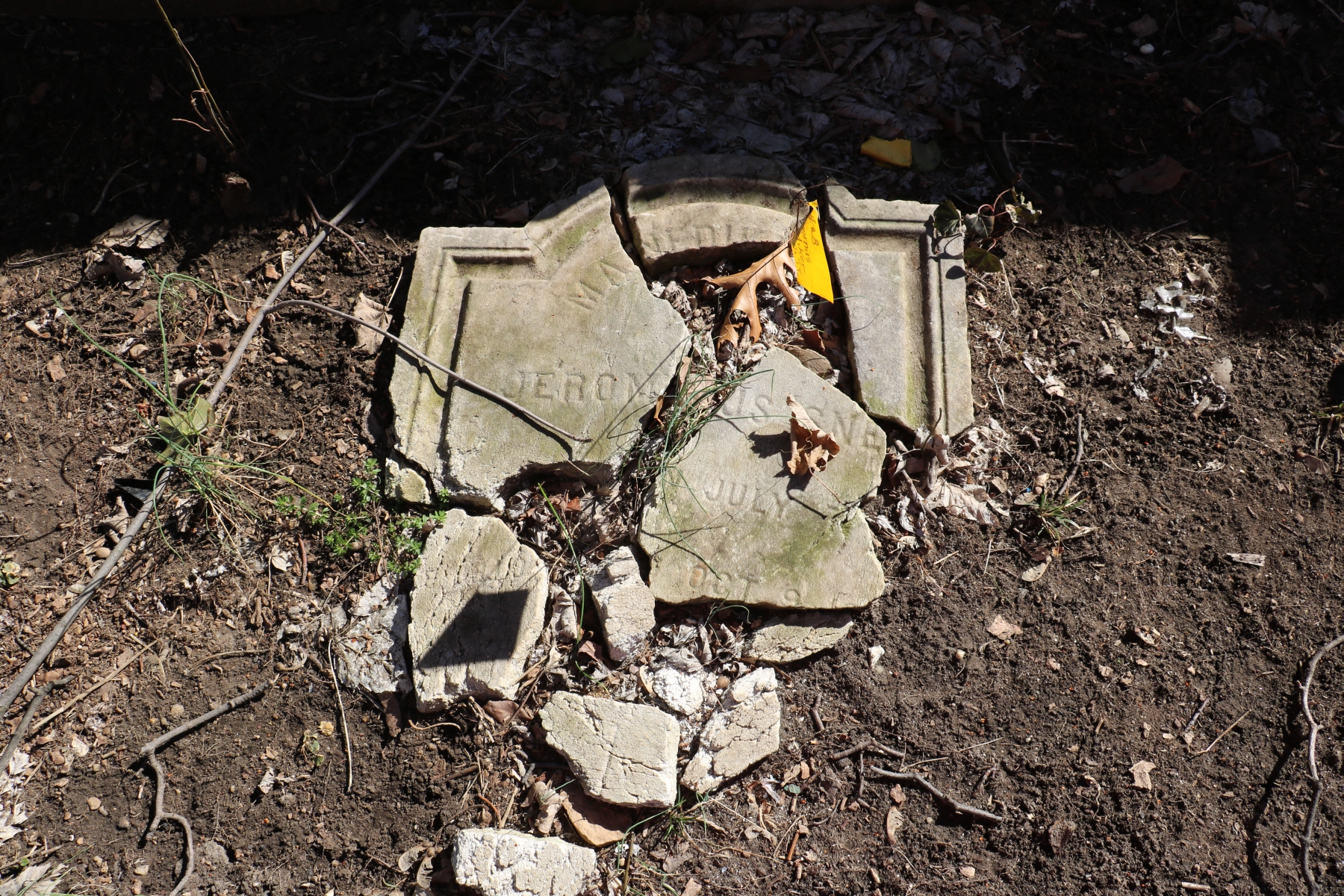 Here is a sad one.
In memory of Matilda, wife of Garret Eldert. Died June 3rd, 1872, aged 42 years.
Then beneath, are listed:
Samuel Eldert; born June 3rd, 1872; died July 9th 1872.
Garret Eldert; born June 3rd, 1872; died August 15th 1872.
Twins.
The mother, Matilda, died giving birth to twins, Samuel and Garret, who both died shortly afterwards.
That is one of the best reasons to take part in this project. Yes, it's fun. Yes, it's a nice workout and a great sense of accomplishment. But in the end, it's just the right and decent thing to do. Each and every one of these tombstones has a story, a sad story - and none much sadder than this story of the Eldert Twins.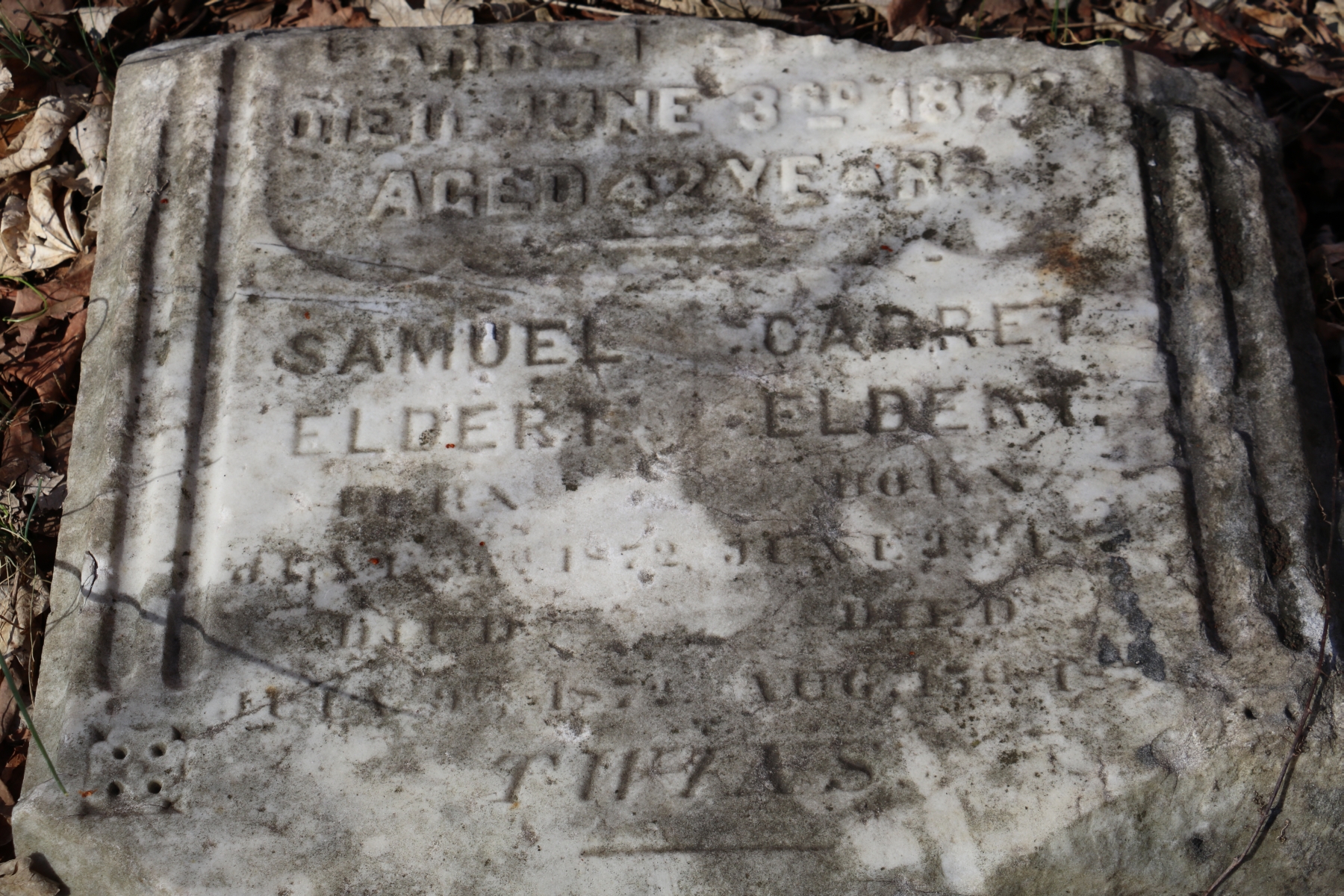 The survey is a great tool for identifying tombstones that have erodes a great deal in the near century since it was taken. This poetic tribute to young Mary Brasier, 22 years old, would likely have been lost to history had it not been for that survey. You can make out enough words on the faded tombstone to confirm the words - but it would have been near impossible to piece together the entire tribute.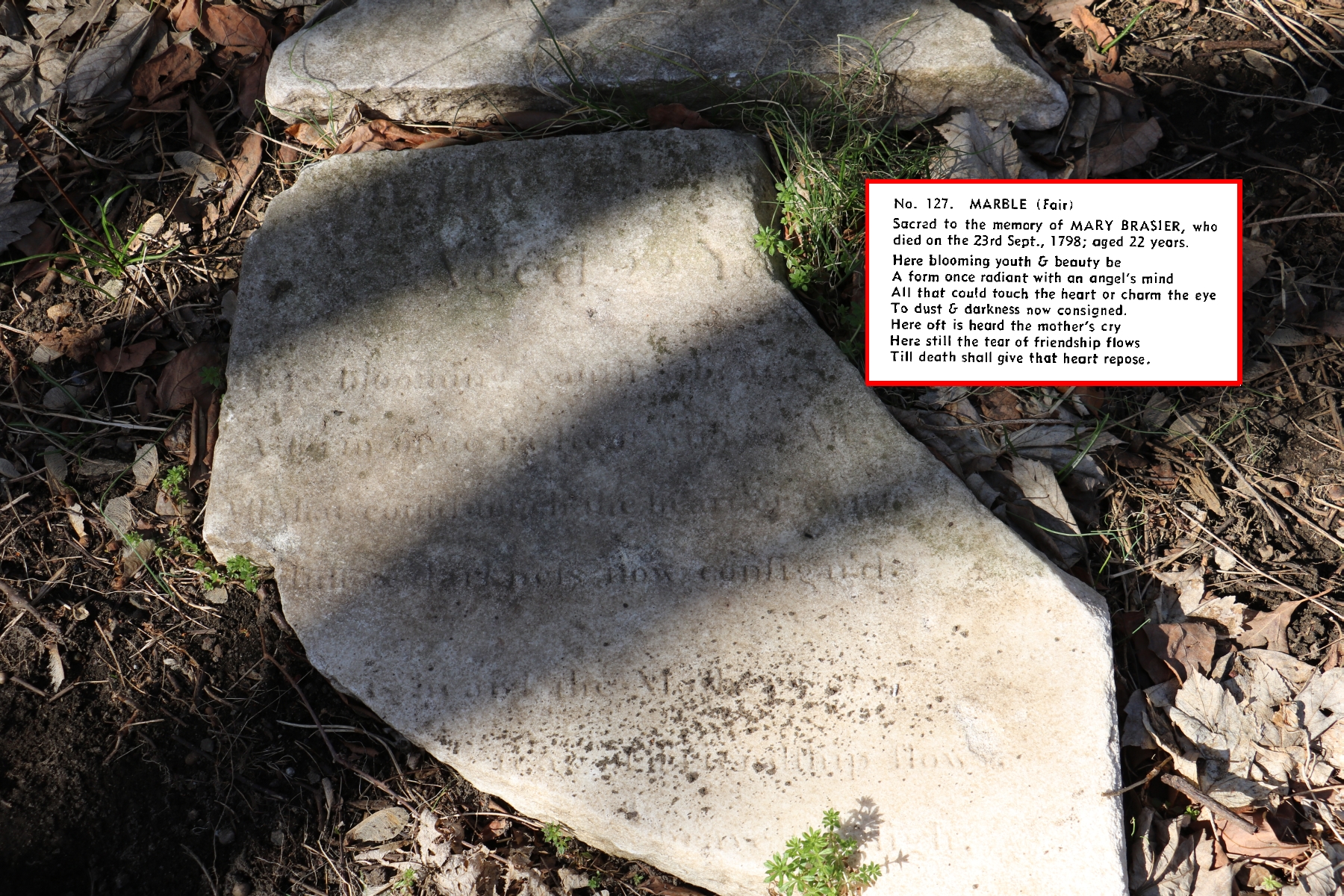 There are a few dozen extra reasons to come join this project -- and that's the great people who come out to work on it. We've got people of all ages, of all shapes and sizes -- you can come and do some light work, heavy work -- we have it all available. It's a great event for the family - to teach your kids about history and about working with others. And you'll make some new friends! Again, if you have any questions, contact us at woodhavenhistory@gmail.com. We hope you enjoyed this little glimpse at the cemetery and that you'll join us one day soon.
If you have any comments, or would like to suggest other projects, drop us a line at info@projectwoodhaven.com or projectwoodhaven@aol.com.
Return to Project Woodhaven's Home Page
Photos by Joey Wendell