This is a large update that took a while to piece together -- and we suspect that we'll be adding to it over time. In this update we take a look at one family that played a very important role in shaping Woodhaven. Our story begins with Florian Grosjean, a Frenchman born and raised in Switzerland (above left) and ends with Auguste Cordier (above right). It's quite possible that you could poll 100 current residents of Woodhaven and only a few would be able to tell you who these men were. But they were all around us if you grew up in Woodhaven. You should be very familiar with the factory that bore the Grosjean name, the Clocktower factory on Atlantic Avenue that housed the Lalance & Grosjean Manufacturing Co. for nearly a hundred years.
Grosjean's company was based on Pearl Street in Manhattan, manufacturing tin utensils, but after a few very successful years he required larger quarters. In 1863 he purchased an abandoned factory in Woodhaven and within a year, over 100 Woodhaven residents were employed at the factory. Here is what the factory looked like back then - the road at the bottom of the drawing is Atlantic Avenue.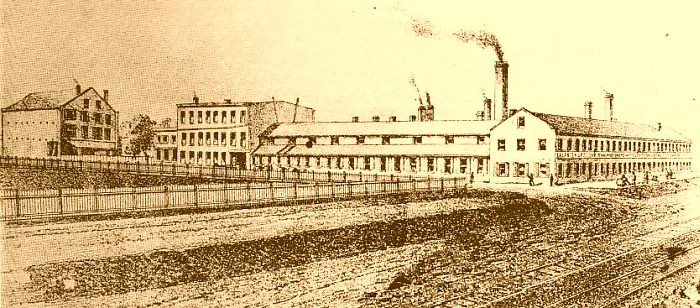 By 1876 the factory had grown and over 300 Woodhaven residents were employed by the Grosjean factory. On February 21st of that year, the entire factory was destroyed by fire. It was estimated that Mr. Grosjean's losses stood at somewhere between $300,000 and $400,000. Mr. Grosjean lived in Brooklyn at the time, and legend has it that when he arrived at the building that morning, only to see a giant field of smoking ruins along Atlantic Avenue, he fainted. Can you blame him?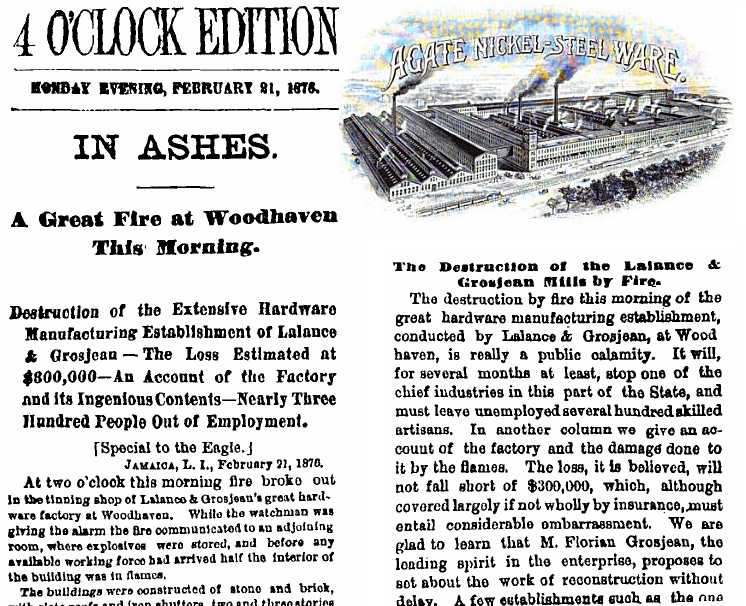 Many of the residents of Woodhaven, all suddenly without employment, were ready to pack up and move. Had they done so, there's no telling what shape our community would have taken. It may have been a ghost town for many years. Grosjean stepped up and put everyone on half-salary, and this convinced most residents to stay put. It was a smart move on his part, one he hoped would be financed by his insurance settlement (it was) -- and he put the town to work rebuilding a new factory.
Furthermore, he built many homes where these workers lived, in an area known back then as "Old Woodhaven Village." We filed a report on this area about a year ago, it's well worth a look. Click here to see "Old Woodhaven Village" and see what remains of the buildings that Mr. Grosjean built for his workers.
A larger factory, mostly brick with fire doors, was built and the doors opened by the end of August that same year. Mr. Grosjean's foresight, his patience, and his generosity saved Woodhaven.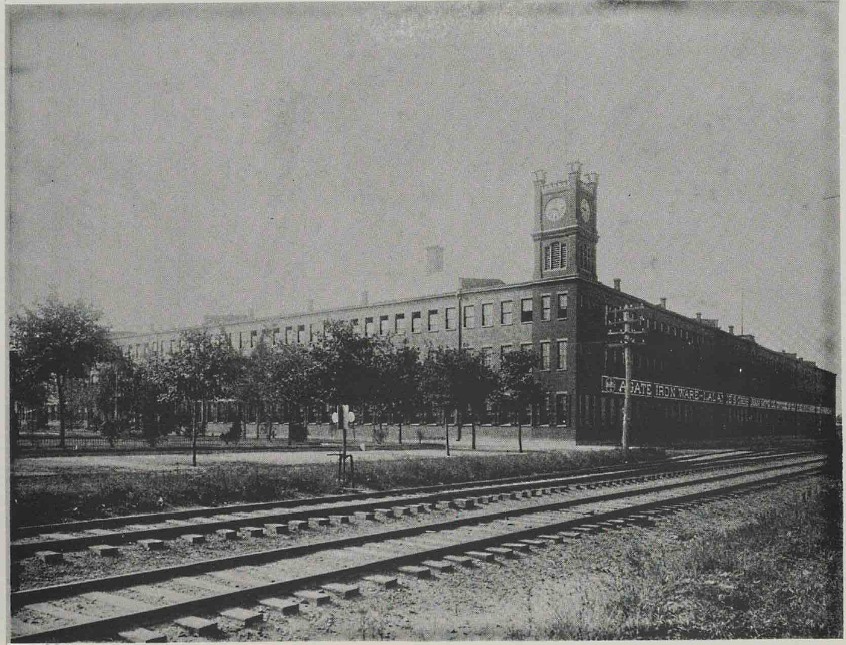 Above is a photo of the new LaLance-Grosjean factory around the turn of the century, by which time well over a thousand people were working there. The park at the left of this picture was built by Mr. Grosjean. Today, a Burger King and a Gas Station sit where the park used to be. In the distance in the picture above, one can barely make out the smokestack that, for many years, loomed over Woodhaven. You can also see, on the front of the building, the word "Agate" - which was what Grosjean called his product (more on that later).
Here are some samples of what was produced over the years right here in Woodhaven. These are collector's items and quite valuable. It's a shame that we don't have any on display here in Woodhaven. There may be dozens of these in basements around Woodhaven, Ozone Park, Richmond Hill -- a piece of our history sitting in the dark, unnoticed.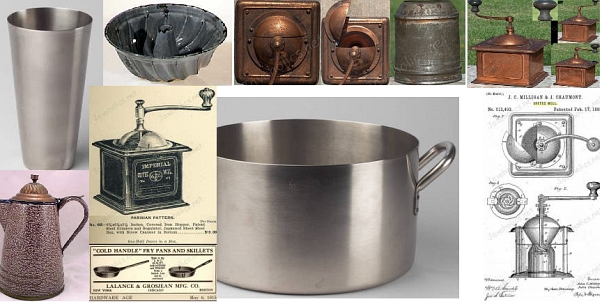 Long after the stories of Mr. Grosjean and Mr. Cordier came to an end, the factory continued. However, along the way, fate dealt this family a cruel hand and it is hard to say how things may have panned out. Mr. Grosjean had groomed his son, Alfred, to take over the business but he died tragically young. And Mr. Cordier, who was married to Alice Grosjean (the daughter) took ill and passed away a mere three years after Mr. Grosjean. And so, after that, there was no strong hand to guide the company. And though it remained in business for many decades, and even prospered at times, it's better days were effectively behind them shortly after the 20th century began. Who knows how this community would be different had Alfred Grosjean, or Auguste Cordier lived long enough to guide the company into the future. Here is the factory, looking a little more familiar to our eyes, though this picture was taken in the 1930s, when they were manufacturing Crusader Cookware.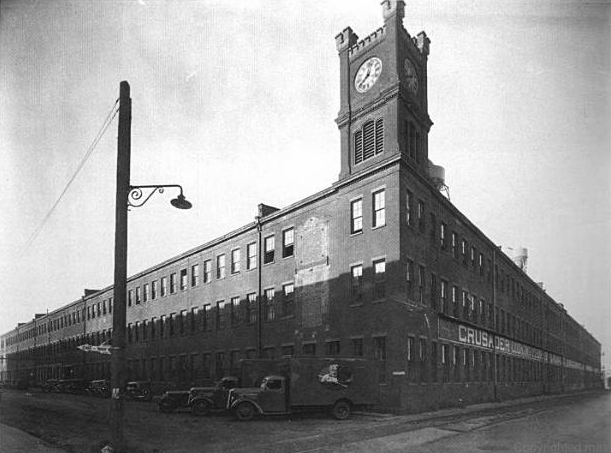 After years of neglect, these factories were eventually torn down with the exception of the clocktower, and most of the section that faces Atlantic Avenue. Columbia Savings Bank was housed at the clocktower for a while, now it's a medical center. There's a Chinese Buffet and at the far end there is a Piano Factory that also serves as a Christmas store each year. And along this building's walls each December, thousands of Christmas trees sit under a string of light bulbs, waiting to be adopted. We did a profile of the Piano Factory a year ago, with a close look at the interior of the building (including the fire doors) -- click here to go inside a piece of Woodhaven's history.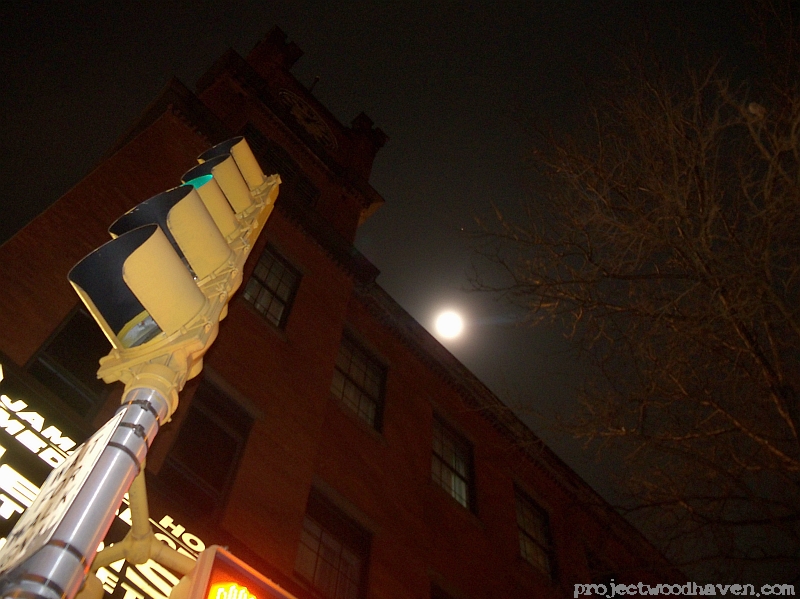 But it wasn't just the factory that this family was famous for. Florian Grosjean lived in Brooklyn for many years, commuting daily to his factory. But he eventually bought a parcel of land nearby and soon, right after the great fire, the Grosjean Estate was constructed. Here is a beautiful etching of the estate. Click here to view a FULL SIZED version of this etching.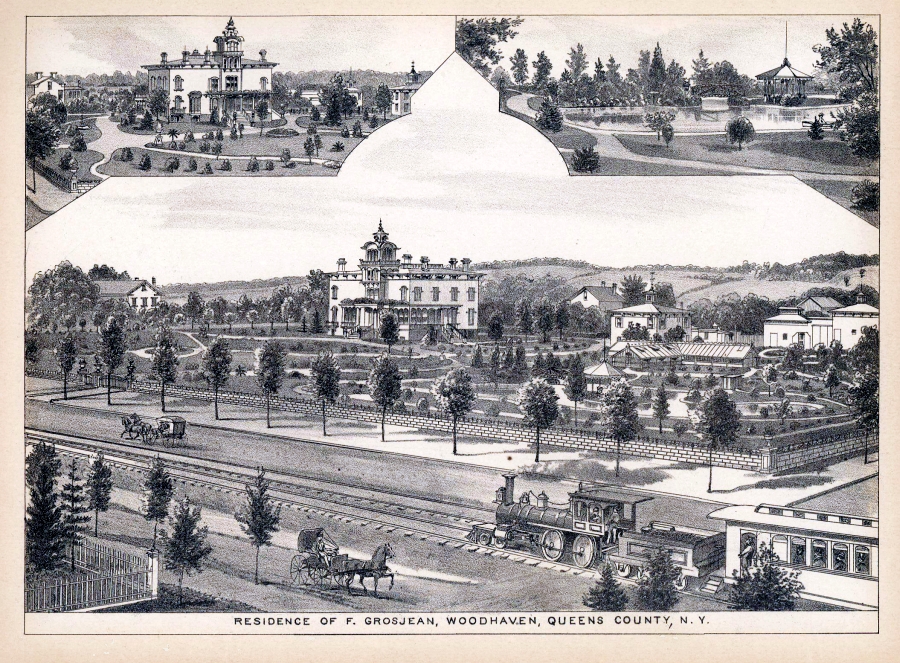 What you are looking at above is the train that ran above Atlantic Avenue. The right hand side of the picture is the northwest corner of Atlantic Avenue and Vanderveer Place, which is now called 96th Street. To the far left, the section of road was called Flushing Avenue, which is now part of Woodhaven Boulevard. On the west side of Flushing Avenue is the land and mansion of a Mr. Henry Owen. Flushing Avenue was just one lane back then, so the western end of the Grosjean property is, today, under the bridge that crosses Atlantic Avenue. The white picket fence at the bottom left is now the southwest corner of 96th Street & Atlantic Avenue.
Below is an overhead shot of Woodhaven. Just to give you a frame of reference, the yellow box is where St. Anthony's Hospital used to be. Just below that is a red box -- From 91st Avenue to Atlantic Avenue -- from Woodhaven Boulevard to 96th Street. This represents the grounds where Mr. Grosjean's estate once stood. At the left of the picture is another red box -- that is currently Pathmark -- it used to be the LaLance & Grosjean factory. You can see that Mr. Grosjean's estate was on a large piece of land.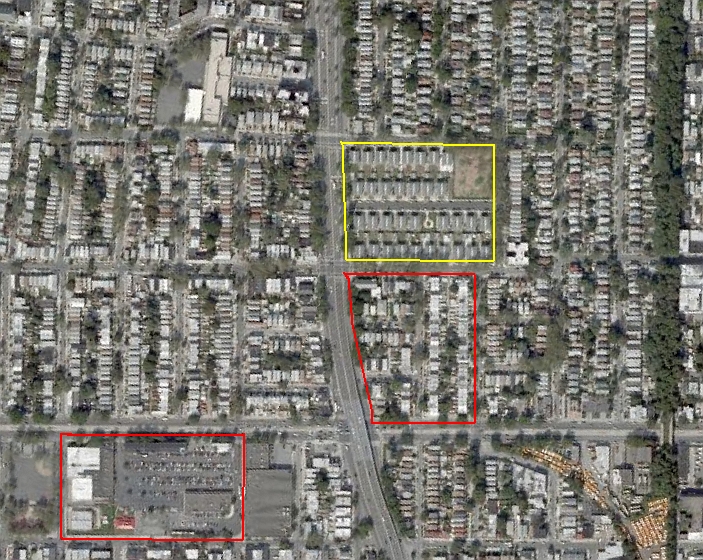 The one thing that strikes us about the estate etching are the hills in the background. If that etching is accurate, it would have to mean that the area east of 96th Street near Atlantic were once hills that were somehow flattened when the houses in that area were built. We're interested in hearing what anyone else knows about this.
Here is a much older map, this one from 1873. You can see that Mr. Grosjean owned a residence at this location -- you can even see the entrance on Woodhaven Boulevard (or Flushing Avenue as it was known back then). Take note of the railroad along Flushing, heading directly into the Grosjean factory. This map is 3 years before the fire.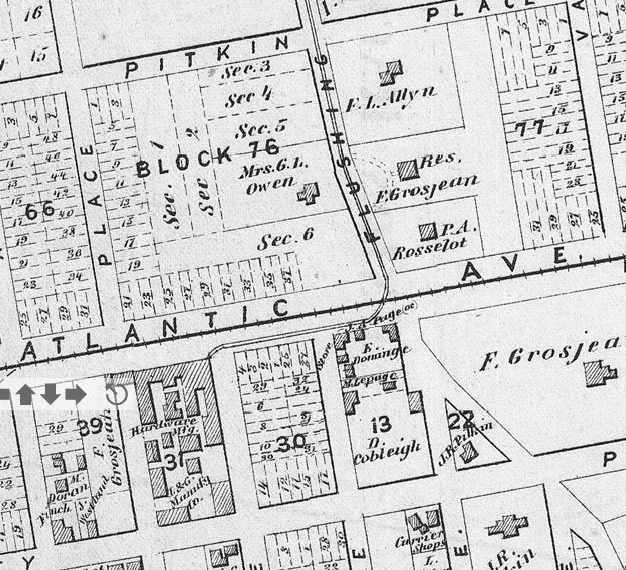 Here is a photograph of the Grosjean estate, the main house, facing Woodhaven Boulevard. The grounds were lush with greenery and stone walls -- it also contained a lake and a greenhouse.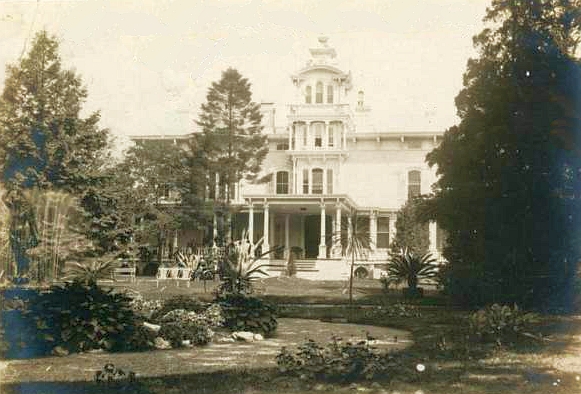 After the mansion was built, the Grosjean family moved to Woodhaven. Mr. Grosjean's wife Eugenie died very young, at the age of 31, leaving him to raise Alfred and Alice (who were 10 and 6, respectively). They spent many years in these gardens. When Alfred Grosjean died tragically, Mr. Florian Grosjean found it too sad to remain here. Thus, he moved back to Brooklyn leaving this estate in the hands of his daughter, Alice, who had married a man named Auguste Cordier, who had worked for Mr. Grosjean for 30 years, starting as an office boy, graduating up the ranks -- clerk, salesman, head salesman -- and eventually he would run the company. In the meantime, the estate at Woodhaven was now known as Cordier's Park.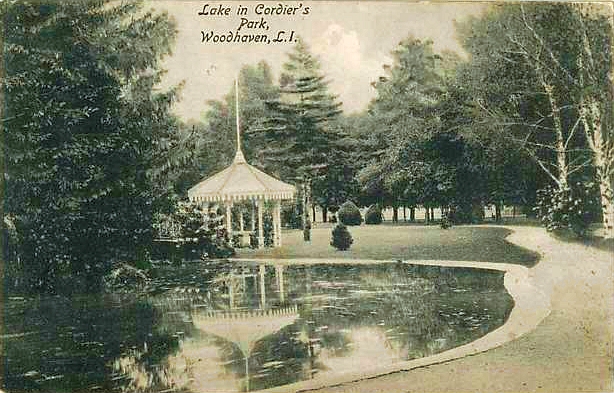 Here is another shot of the main house. We are always on the lookout for remnants of old Woodhaven -- we walked up and down the streets where the estate once stood -- but as far as we can tell, nothing remains.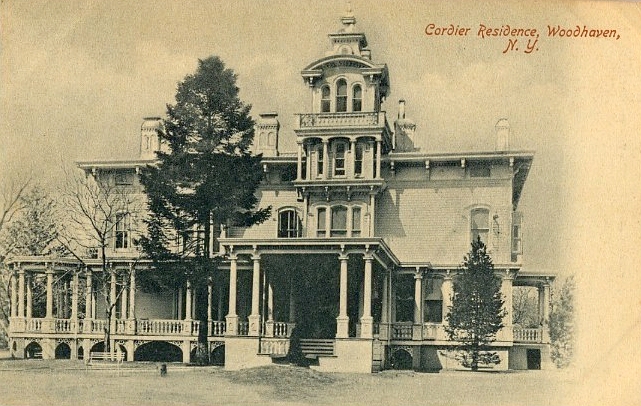 Not only is there no remnant of the Grosjean-Cordier estate, we have not been able to determine exactly what happened to it. We'll save that research for another day -- or maybe someone out there has some answers. We do know that New York City widened Woodhaven Boulevard in the 1930s. In fact, Emmanuel Church (at the corner of 91st and Woodhaven) used to be in the middle of Woodhaven Boulevard, at 89th Avenue. It was torn down near the end of the 1930s and the city paid for the construction of the current church.
We have no idea what happened to the estate between 1906 and the late 1930s (though Alice Cordier, Florian's daughter and wife of Auguste, lived until June 12, 1937). Did it fall into disrepair? Were parcels of land sold of a piece at a time? Or was the whole thing torn down to make way for an expanded Woodhaven Boulevard and new housing?Update: Readers Dee Royere and Stacey Kerr alerted us to information in "The History of Woodhaven" book where it points out that the Grosjean-Cordier Estate was sold in June of 1912 and demolished to make way for housing. What a sad end to a beautiful piece of property.
CLICK HERE FOR PART 2 OF THIS REPORT - SEE THE FINAL RESTING PLACE OF THIS FAMILY -- SEE THE BROOKLYN STREETS WITH A WOODHAVEN CONNECTION - LEARN THE TRAGIC STORY BEHIND A 120-YEAR OLD CHURCH IN OUR MIDST
If you have any comments, or would like to suggest other projects, drop us a line at info@projectwoodhaven.com or projectwoodhaven@aol.com .