16 years ago this month, New York City lost three of its' bravest. And this month, Woodhaven remembers one of its own -- resident, businessowner, and friend to many -- Firefighter Jimmy Young. On Saturday, March 27th 2010 the Woodhaven Residents' Block Association along with St. Thomas the Apostle commemorated "Jimmy Young Day" by hanging a wreath at the corner of 87th Street and 88th Avenue directly after the 4:30 Mass. Folks began gathering early and we were honored that some of Jimmy's family came for the ceremony.

It was a cold and windy afternoon, but we had a fantastic turnout. We spoke for a few minutes before handing the microphone over to Father Frank Tomino led the crowd in a prayer. "It's so important for us to be remembered," he said. "And there's nothing worse than when we feel that we've sacrificed and people just move on with their lives. And so as we come together it is so fitting as we celebrate Palm Sunday that we also recognize the sacrifice of Jimmy and so many others who have served and who have been so much a part of the fabric and fiber of who we are."

This was followed by the hanging of the memorial wreath, carried for us by Jimmy's two niece's, Allison and Jaclyn.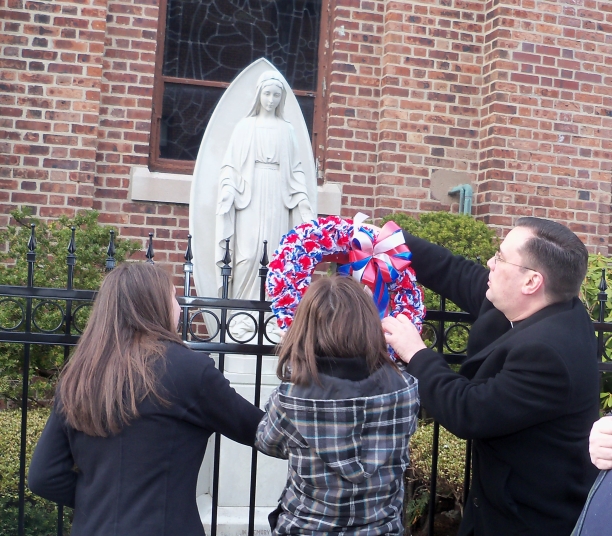 Here, Jimmy's nieces pose with their mother -- Jimmy's sister Maureen. We were very honored and grateful that Jimmy's family came back to Woodhaven for the ceremony.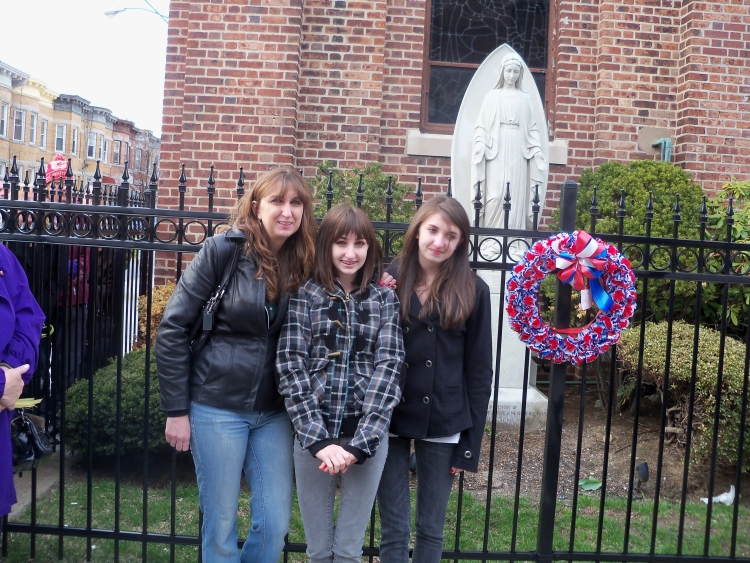 Maureen addressed the crowd telling them "I want to thank everyone for coming ... for remembering Jimmy, after 16 years, it's amazing ... Jimmy was an amazing person, he touched so many people's lives, and it's great that he's still remembered and honored." She also spoke about her Mom, saying that "she was overwhelmed with gratitude" and thanked Woodhaven for remembering her son.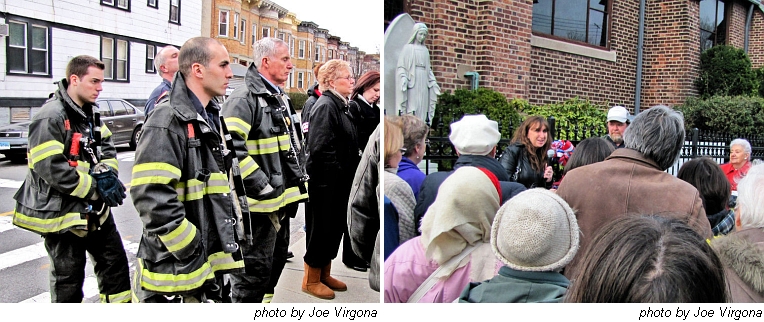 Next up, Maria Thomson read from the statement she read at City Hall on the day they signed the bill renaming this street Jimmy Young Place. "Spring is a time of rebirth, so it is fitting that we gather today to celebrate the spirit of, and the rebirth, of Woodhaven's Hero Firefighter Jimmy Young. Let us honor him and the way he died, in the line of duty, as one of New York's Bravest. But most of all let us remember how he lived - a handsome, talented and intelligent young man who loved his wonderful family and contributed to is community. Jimmy is a role model to the children of his Queens' hometown of Woodhaven and to all the youth of New York City." She concluded by saying "Jimmy, you were taken too soon, and we miss you. But with your name proudly displayed on Jimmy Young Place, the legacy of your winning life will always live on."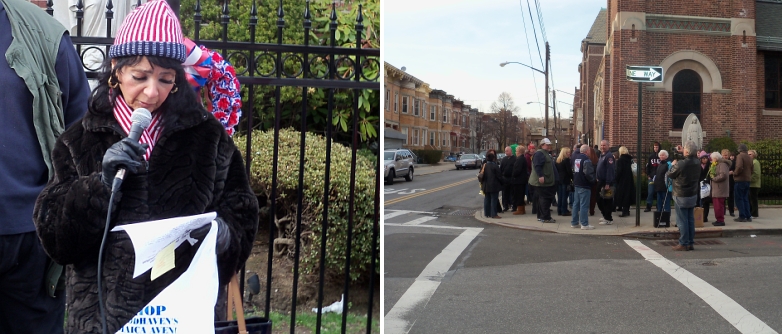 This was followed by a moment of silence.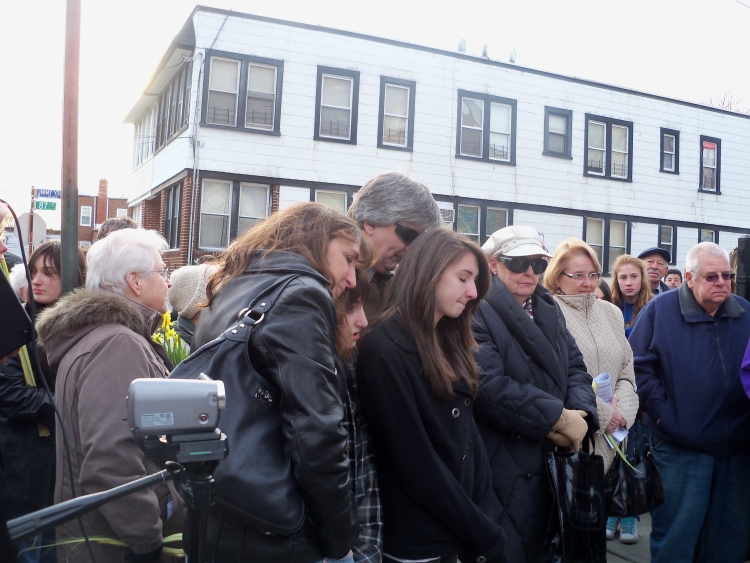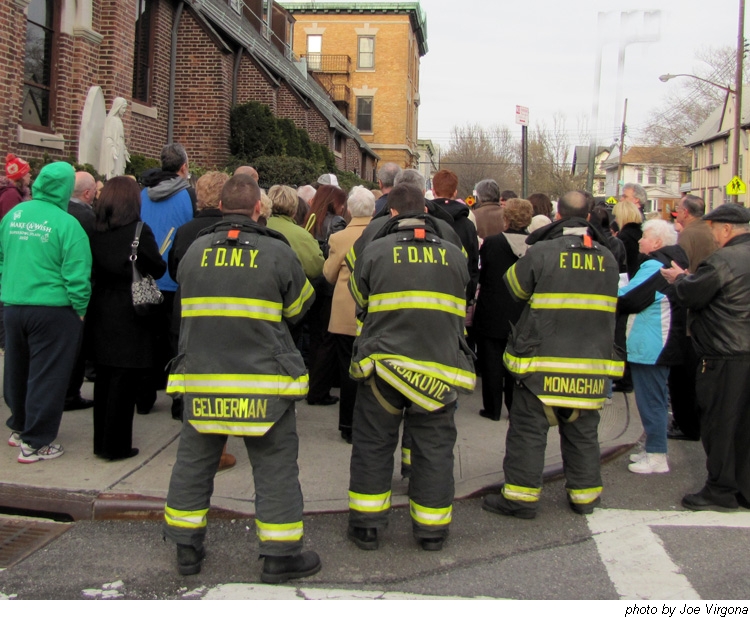 Here is a video of the day's ceremony. Check out the assist Fr. Tomino gets and the end of his prayer from St. Thomas the Apostle :-)
Later, the residents milled around, talking amongst themselves. Jimmy's brother Kenny Young was there, and ran into a lot of familiar faces.

In his hands, he carried a chilling reminder of why we were there -- Jimmy's helmet from that fateful last call.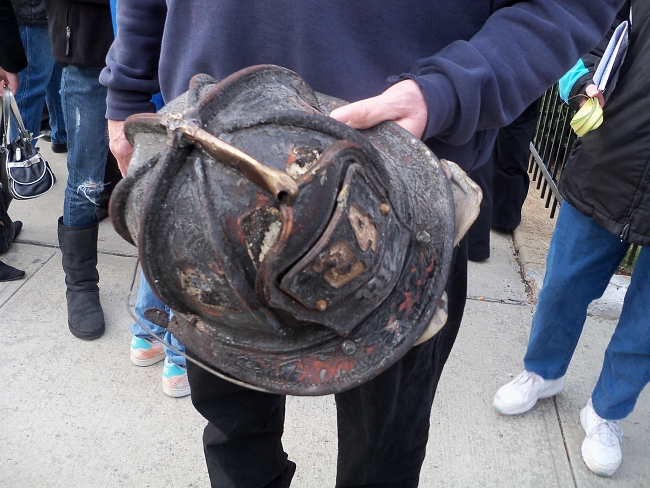 One hears the stories, and notices the way Jimmy Young touched the lives of so many people. The lingering warm feelings and fond memories attest to that. His was a loss that was, obviously, devastating to his family and one admires the class and dignity in which they carry on. One can only imagine the contributions he would have made to Woodhaven -- as a resident, a business leader, and a friend.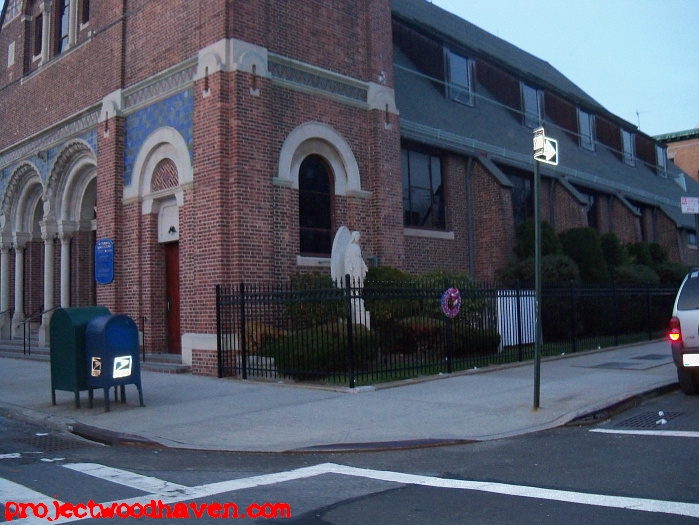 Previous Project Woodhaven Story on Jimmy Young
New York Times - March 30, 1994 - 2 Fire Companies Silently Mourn Two Who Fell in the Line of Duty
New York Times - April 3, 1994 - At 2 Services, 10,000 Firefighters Each Mourn a Brother
If you have any comments, or would like to suggest other projects, drop us a line at info@projectwoodhaven.com or projectwoodhaven@aol.com .