As the Forest Park Carousel enters its' fourth year, the gates are still padlocked, the music still silenced. While residents try to remain optimistic, recent news stories have been far from encouraging. Earlier this year, the Parks Department released an RFP (Request for Proposal) -- if you are interested, you can read it here. The Parks Department had come up with a good idea -- they tied the Forest Park Carousel together with the carousel in Flushing Meadow Park. In other words, if you want to manage the Flushing Carousel (which benefits from higher foot traffic), you also need to manage the one in Forest Park.
As part of this process, back in April, the Parks Department opened the Carousel for a tour -- see our coverage here. A small number of prospective vendors showed up, including Sal Napolitano. President of Central Park Carousel, Inc. Mr. Napolitano was already familiar with the Flushing Carousel as he is already sub-contracted to manage it, and is well-known in carousel circles (see a NY Times profile here). He is also acknowledged as one of New York City's "carousel experts" -- on the Park Department's Website:
Since 1970, Sal Napolitano has taken care of the carousel at Central Park. Starting out as a summer job at 15 with "no intentions of staying," Napolitano soon fell in love with the carousel, and after graduating from college dropped plans for law school to devote himself to the historic attraction. Napolitano figures he has welcomed millions of children in his 38 years of taking care of the carousel. Some of his notable clients have included Billy Joel, Madonna, and Angelina Jolie, and Napolitano notes that as many adults as children ride the carousel, especially Midtown workers on their lunch breaks. When asked what makes carousels so enduring, Napolitano explains that it is because it is a fantasy ride, not a thrill ride: "That is why the carousel never loses its charm … you can be anything you want on the carousel."
So, it was surprising to hear that Mr. Napolitano's proposal to manage the Forest Park Carousel (alongside the Flushing Carousel) was summarily rejected by the Parks Department. And in both the Daily News Article and in this article in the Forum, the Parks Department refuses to explain why they rejected the carousel expert's proposal. We were curious to meet Mr. Napolitano and took a ride over to Flushing Meadow Park to see one of the last remaining open, functioning carousels in New York City.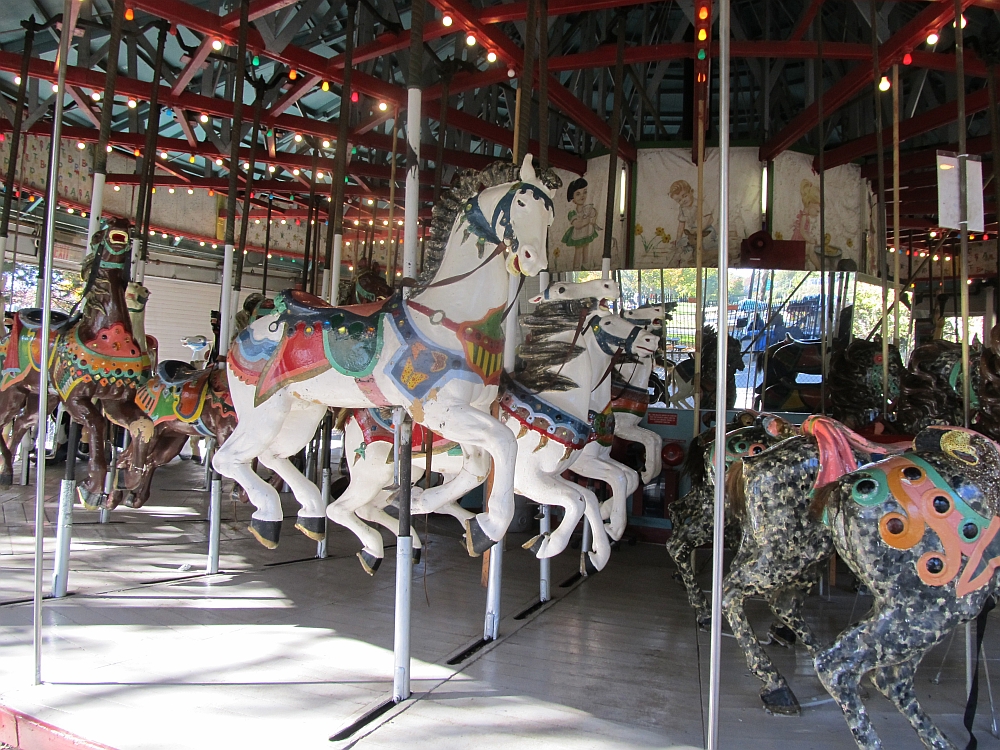 As opposed to the Muller carved Forest Park Carousel, the Flushing counterpart was carved by Marcus Charles Illions, a Coney Island based carver who was also famous for carvings in various synagogues.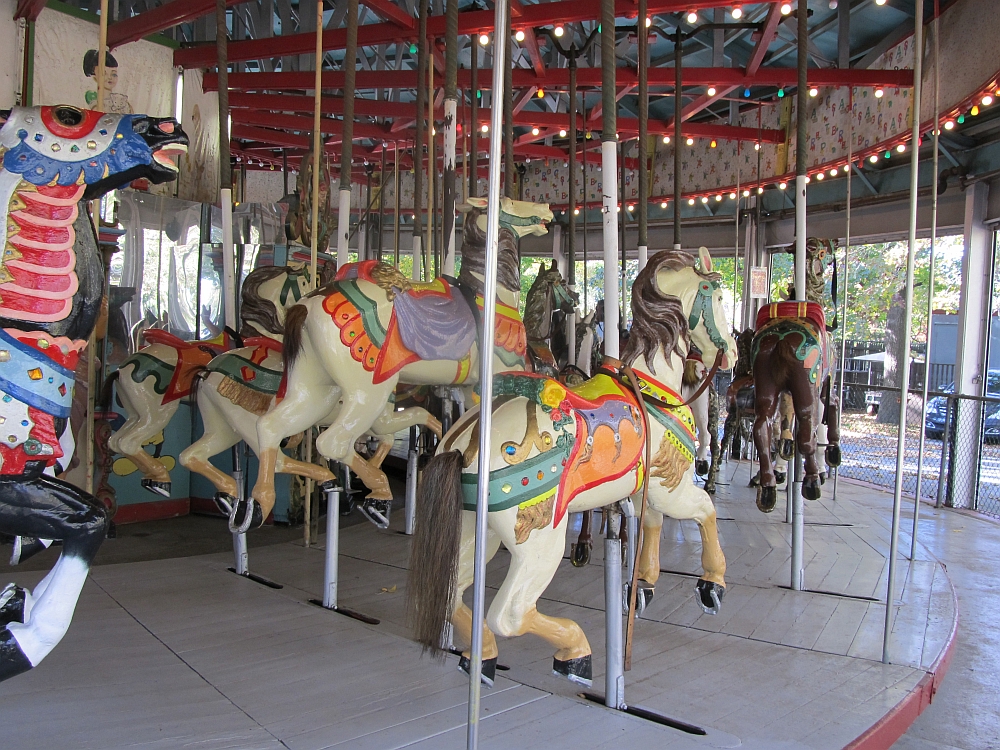 It's a beautiful carousel, though we believe the Forest Park Carousel has a larger variety of carvings -- but we are likely biased. It was a cold November day that we visited the Flushing Carousel and there were a few families taking their kinds for rides -- however, they may not have that opportunity for long. While Mr. Napolitano's proposal would have kept both carousels open, as of right now both carousels are without a vendor and may sit silent next summer.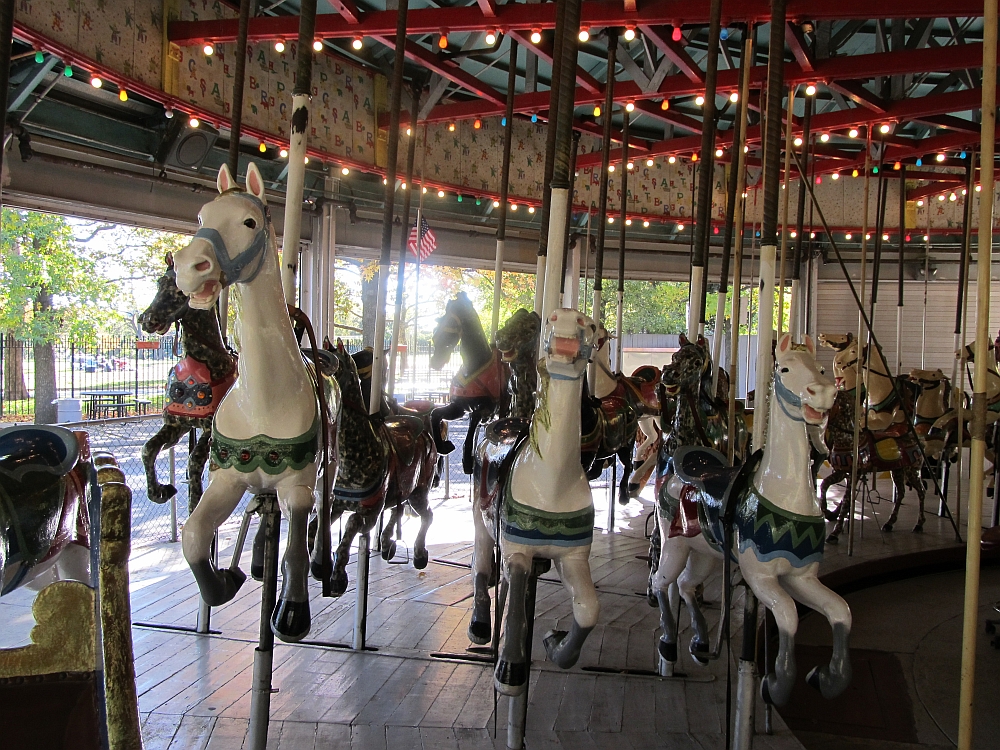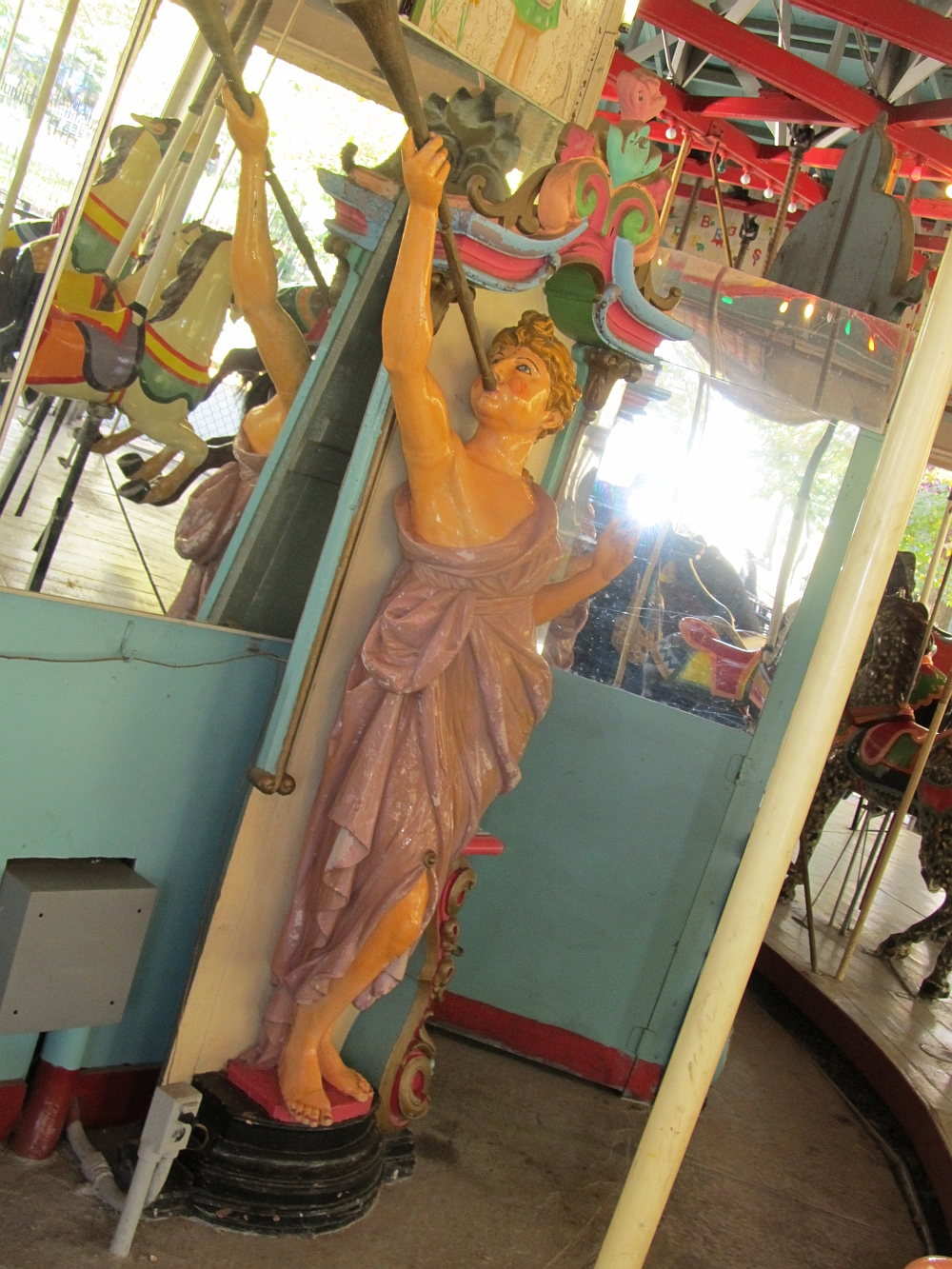 We wanted to show the Flushing Carousel -- in the pictures above -- and the video below, so you could get a measure of how it is being run --
It's sad to think that there are hundreds and hundreds of local children who have never had an opportunity to ride our carousel. We have residents in Woodhaven who have lived here their whole lives -- who, as children, went to the Forest Park Carousel with their parents. Who, in the course of time, grew up and had children of their won, who they brought to the carousel. But now they cannot take their grandchildren to our carousel because it has been padlocked for 4 years.
You cannot buy back those years. Those opportunities are lost forever. But there is no reason for this to continue endlessly. A deal can, and must, be reached.
Below is the proposal that was submitted by Sal Napolitano and Central Park Carousel, Inc. complete with references and projected expenses and income through 2025, the length of the desired lease. Judge for yourself.

Meanwhile . . .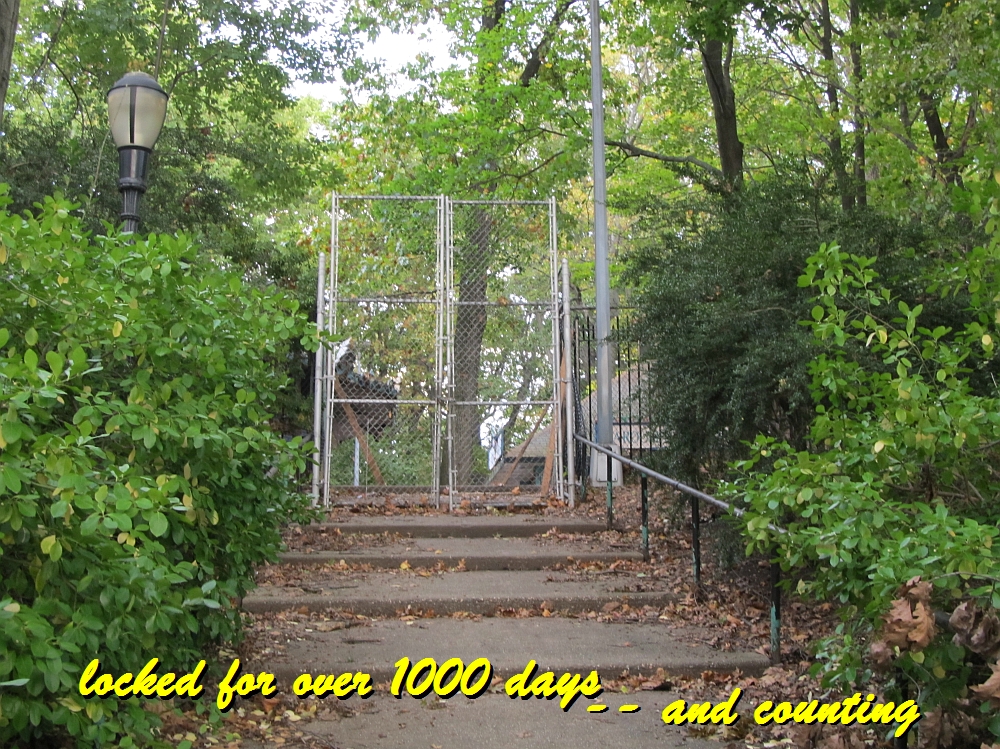 If you have any comments, or would like to suggest other projects, drop us a line at info@projectwoodhaven.com or projectwoodhaven@aol.com.
Return to Project Woodhaven's Home Page
Photos by Joey Wendell