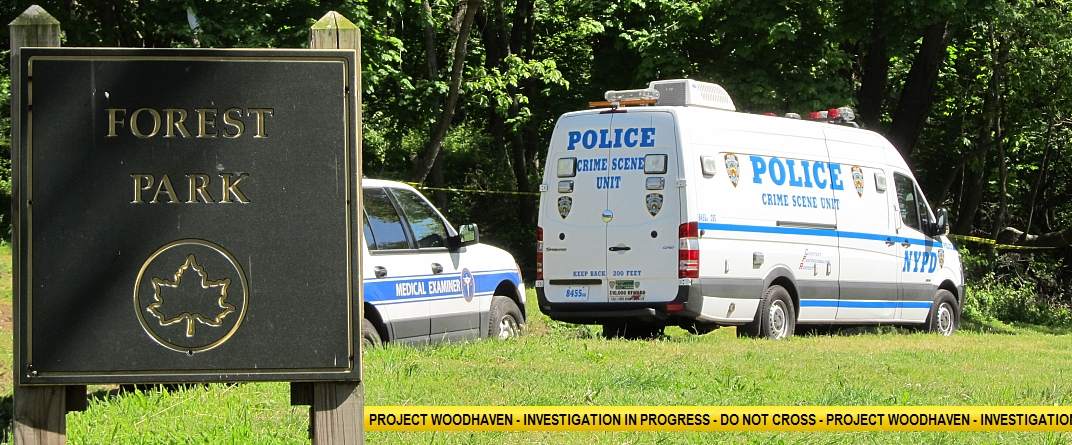 Early this morning (May 12th) someone reported a small fire in Forest Park, just off Baby Carriage Lane on 86th Street and Park Lane South. The call came in cometime before 6 AM and when the FDNY responded they quickly set out extinguishing what appeared to be a burning pile of garbage. What the soon discovered, though, was a body atop that pile of trash. The grisly find turned out to be a male of undetermined age and identity. Police were immediately called and Baby Carriage Lane became a crime scene. (Please Note: This crime will be but one of the topics discussed with the 102 Precinct at Woodhaven's next Town Hall meeting -- Wednesday May 23rd at 7:30 at Emanuel Church of Christ 91st Avenue and Woodhaven Boulevard -- if you have complaints about the neighborhood, come down and begin to be a part of the solution. E-mail us for more information at info@woodhaven-nyc.org).
With members of the FDNY, NYPD, Medical Examiners, local residents and the media, Park Lane South soon became crowded. Traffic stopped repeatedly as drivers slowed down to ask the inevitable question. "What happened?" As it turns out, that's a question the police are still trying to figure out. Results of an autopsy will, hopefully, shed more light on what happened.

Eventually, the NYPD and the Medical Examiner removed the body from the scene --
We certainly pray that this was not a resident of Woodhaven -- and whoever it was, we pray for their family. No one deserved to end up like this. From the time it was called in until the time the body removed, over 6 hours passed. Photographers and reporters swapped stories about previous crimes they had covered and, as is natural, there was an element of black humor. It's a perfectly human reaction to death.


The prevailing theory was that the victim was either (a) killed elsewhere and dumped in Forest Park (and then burned); or (b) killed and then burned in Forest Park. No one seemed to think that he was burned alive in the park as people who are lit on fire tend to make a lot of noise and run. The investigators hung around for quite awhile discussing these and other theories.


Benny the Garbologist was there and stopped by to say hello! Click here to view our report on Benny way back in August 2009.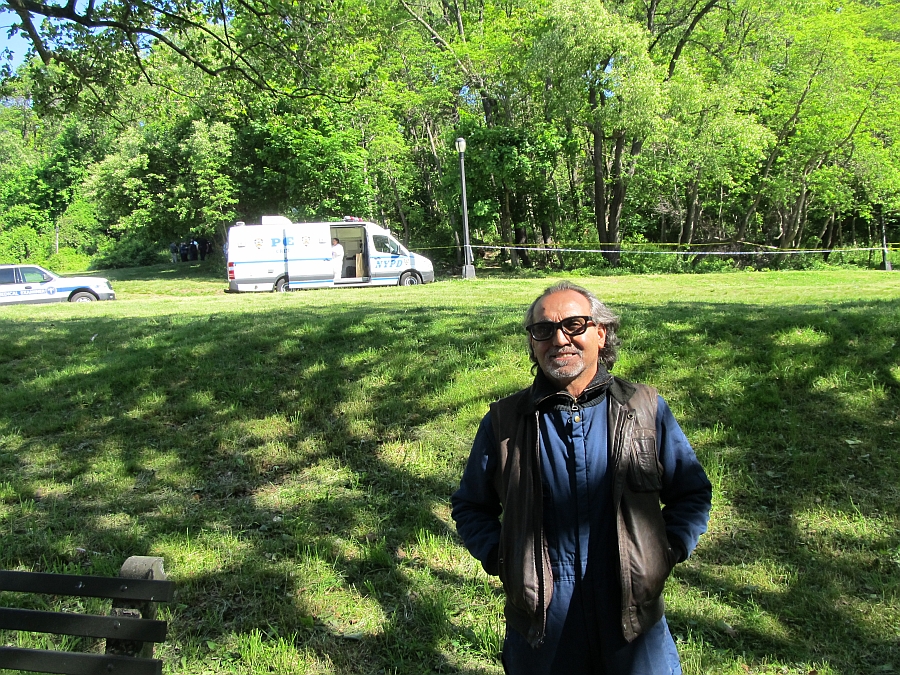 The crime scene itself was deep in the woods, just off Baby Carriage Lane. Not many people call it that anymore, do they? In this picture below you can see the investigators at the scene where the body was still laying. The staff from the Medical Examiner's office were all wearing hazmat suits.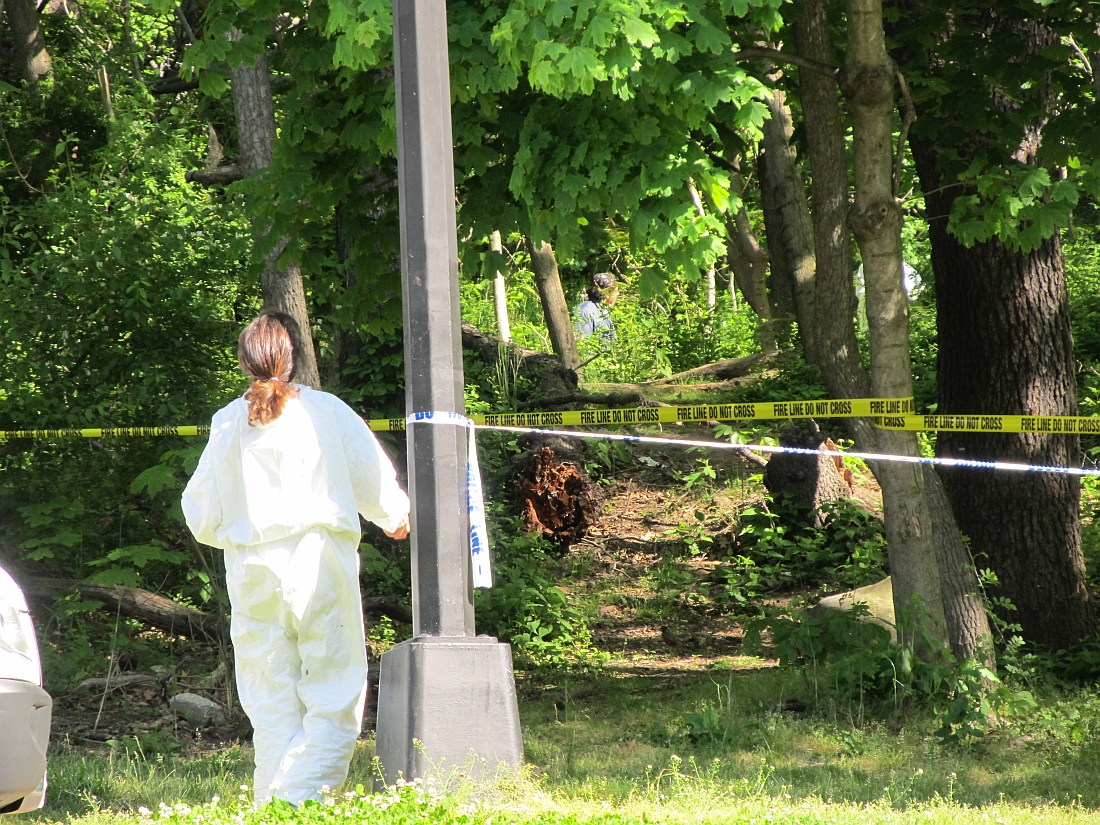 Then, the investigators and the Medical Examiners began slowly removing evidence from the scene. They seemed to collect a lot of evidence. If you were involved in this crime in any way, if were there at the scene, you should be aware that they collected a ton of material. Turn yourself in.

The whole time, this one lone cop stood guard to prevent passersby from wandering into the crime scene. They never completely closed down the path and managed traffic and pedestrians at the scene expertly. Well done!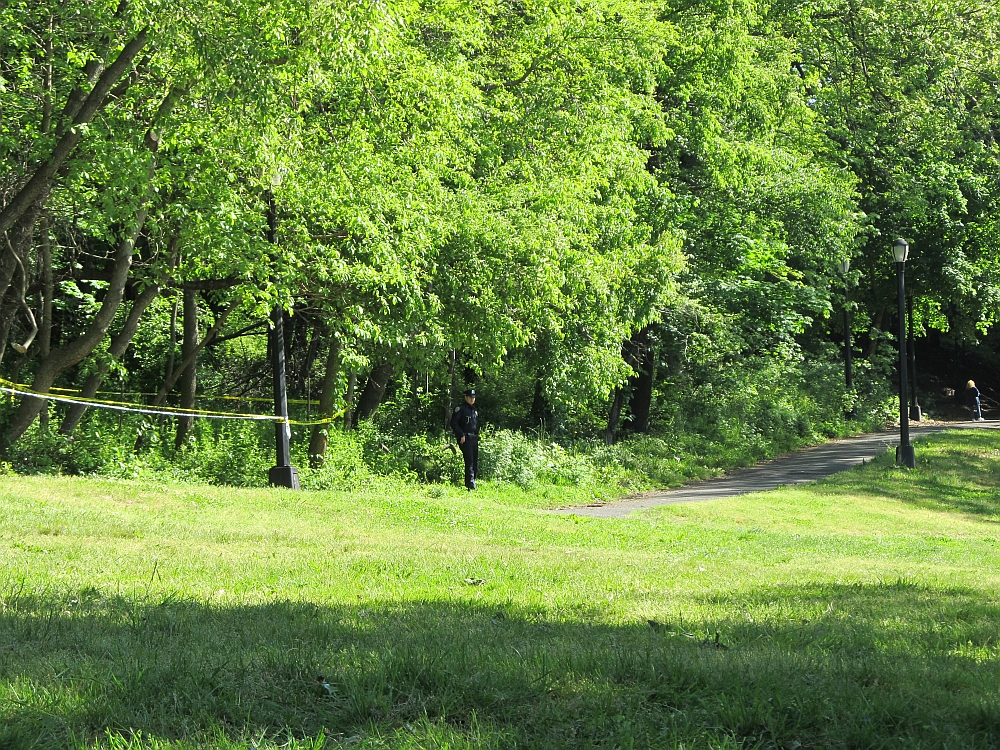 Here's another view of Baby Carriage Lane. You can see how it remained open to park goers who seemed to pass by, unaffected by the scene around them. A few passersby stopped and expressed shock about what happened but most said they generally feel safe in the park. Around the time this scene was discovered, Forest Park is coming awake with joggers, walkers, bicyclists and dog walkers.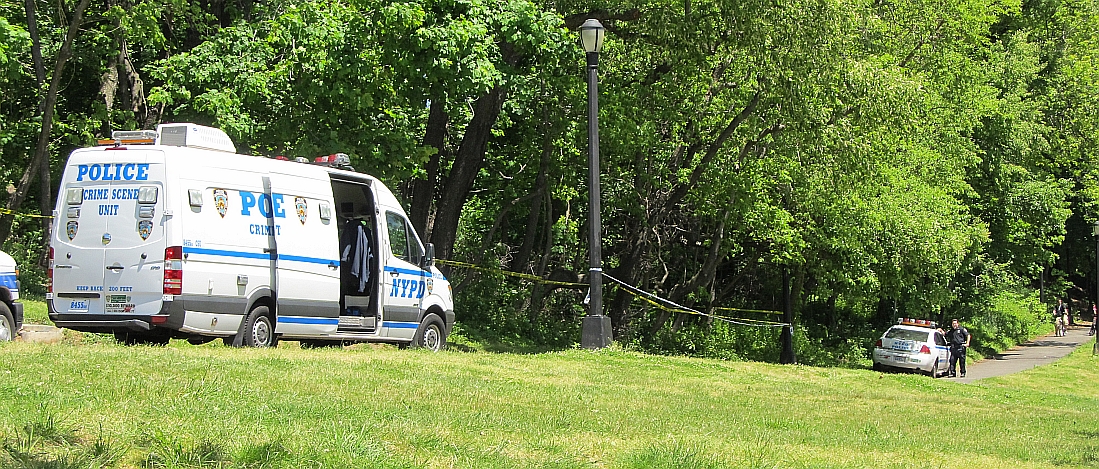 It was well past noon when the victim's body was removed from the scene.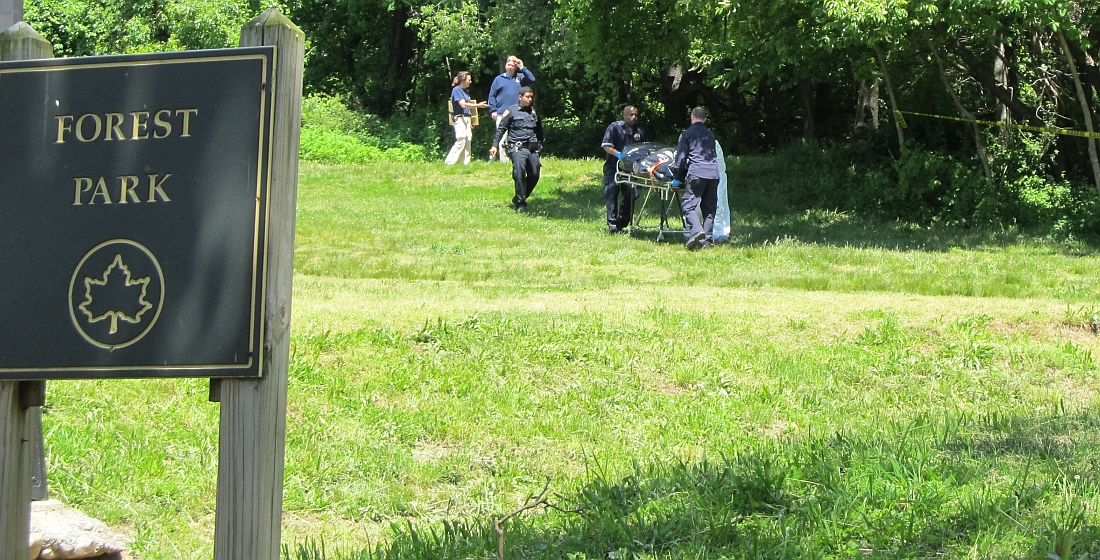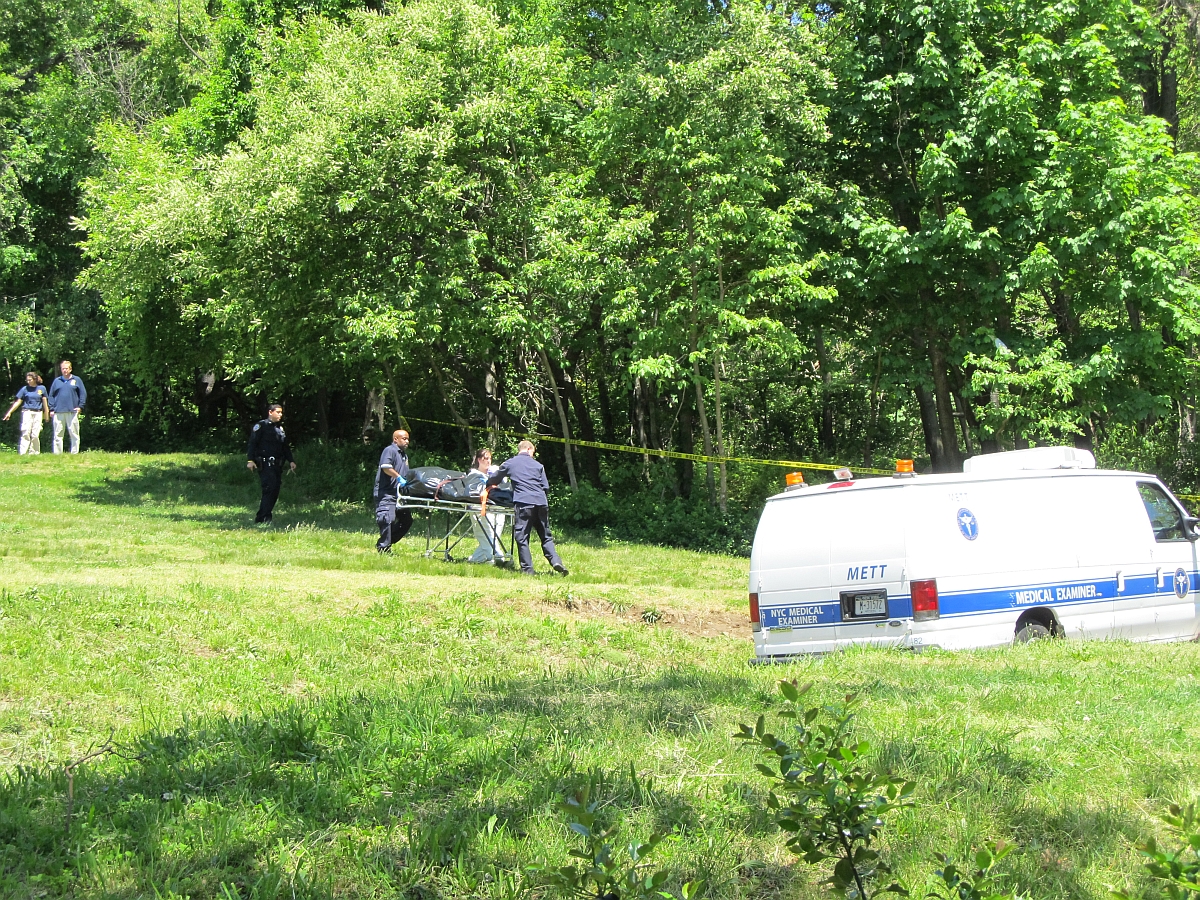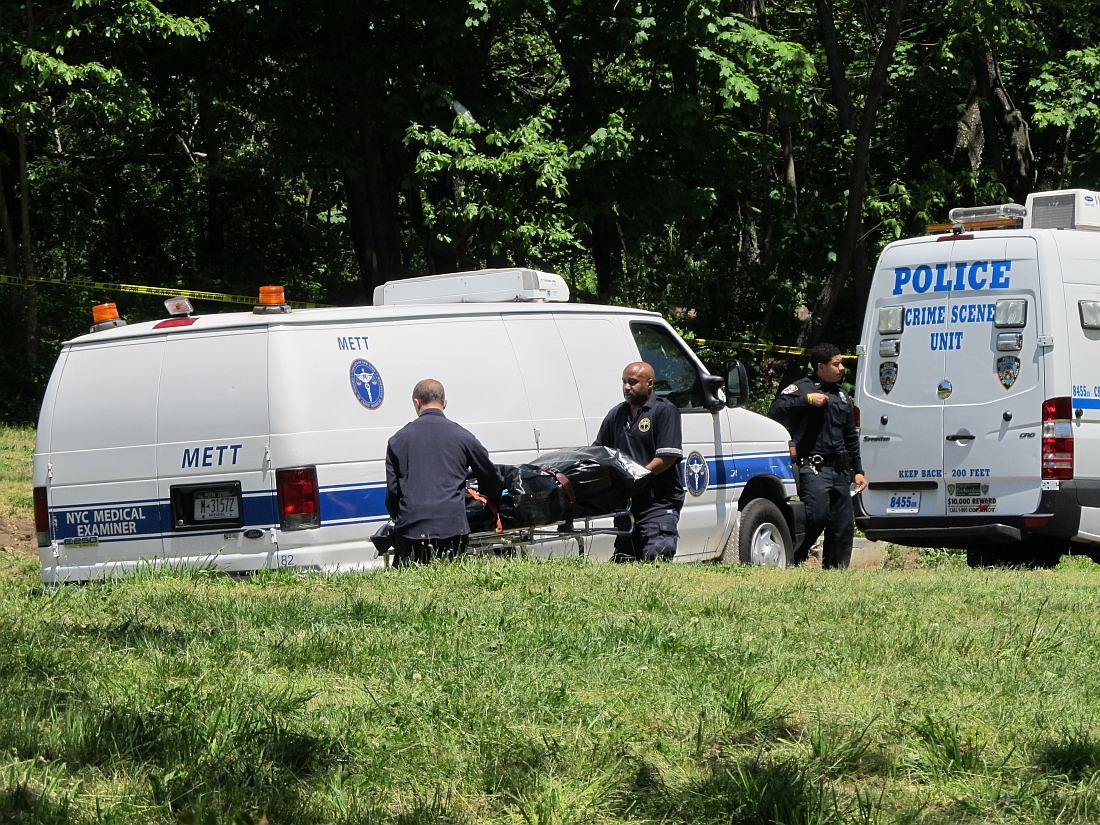 The steep slope of the hill next to the road proved to be a challenge, but the Medical Examiners managed to get the gurney down around the front of the truck.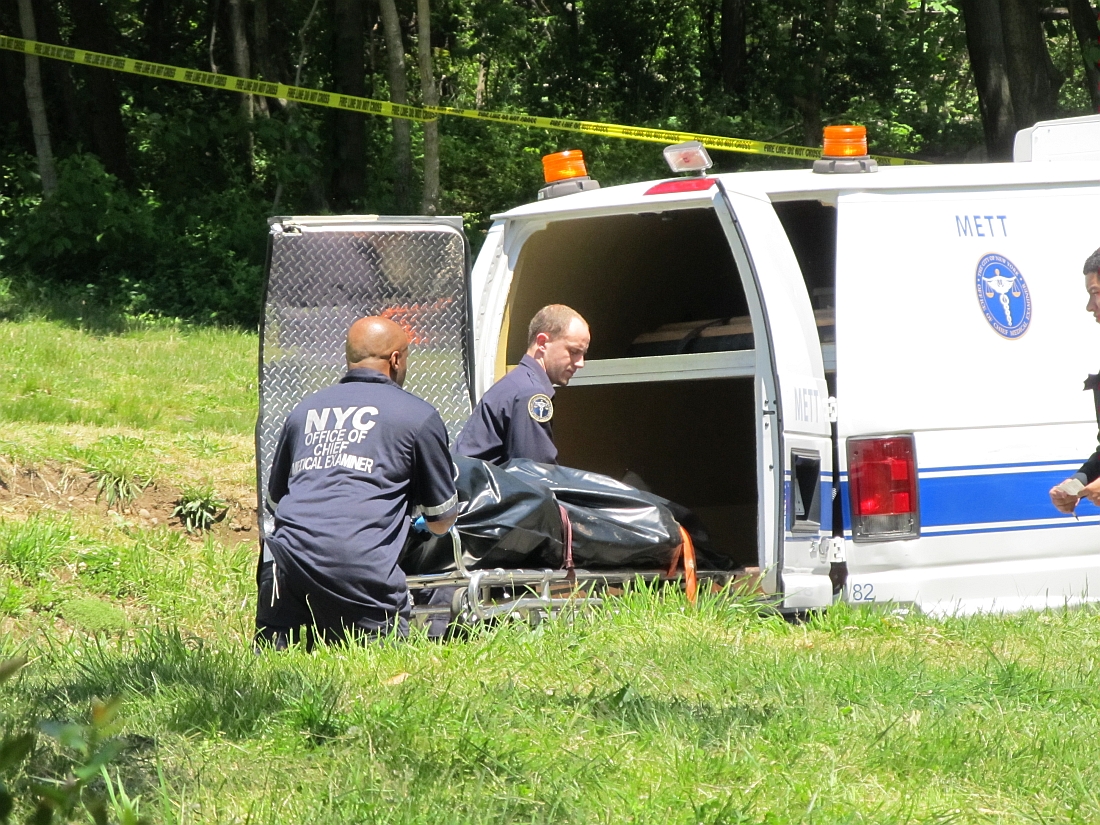 And finally, the victim was driven away - and wehope to hear more about what happened, who he was and -- of course -- who could do such a thing.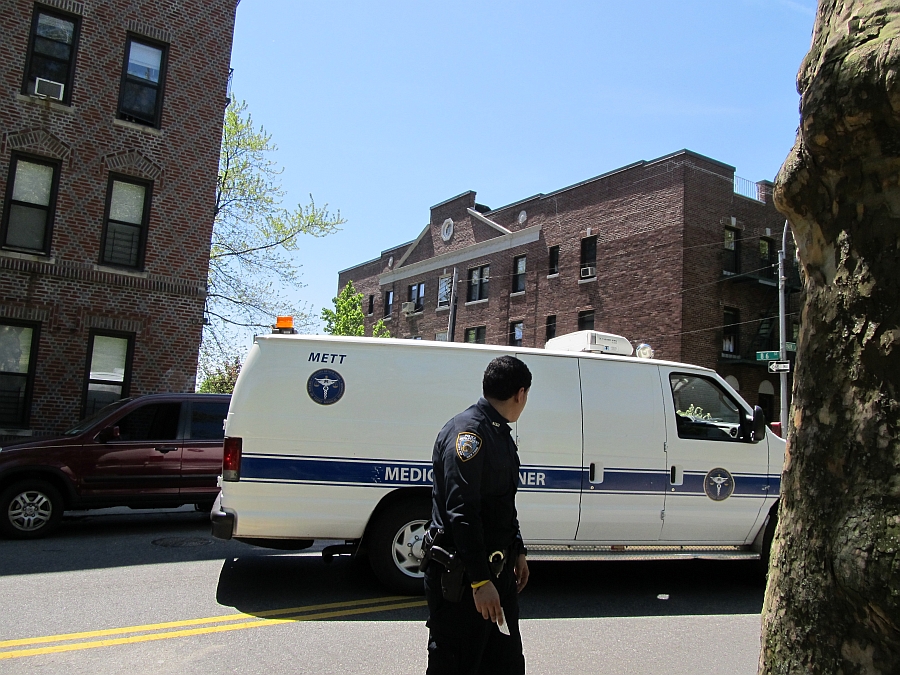 If you have any comments, or would like to suggest other projects, drop us a line at info@projectwoodhaven.com or projectwoodhaven@aol.com.
Return to Project Woodhaven's Home Page
Photos by Joey Wendell