I walk through Forest Park a lot these days - and I posted an interesting update the other day where I walked behind that circular field where they used to fly the model airplanes (which needs a name - we can't keep calling it that circular field where they used to fly the model airplanes.) Anyway, during that walk I came across a sort-of hidden staircase and path - and I received a lot of feedback and interesting responses that left me determined to see the other side of the fence. Besides, there was a spot up there I wanted to revisit with my camera. So, I walked up to Park Lane South and Forest Parkway - my starting point. If you stick with this post and scroll down, you'll see some remarkable views.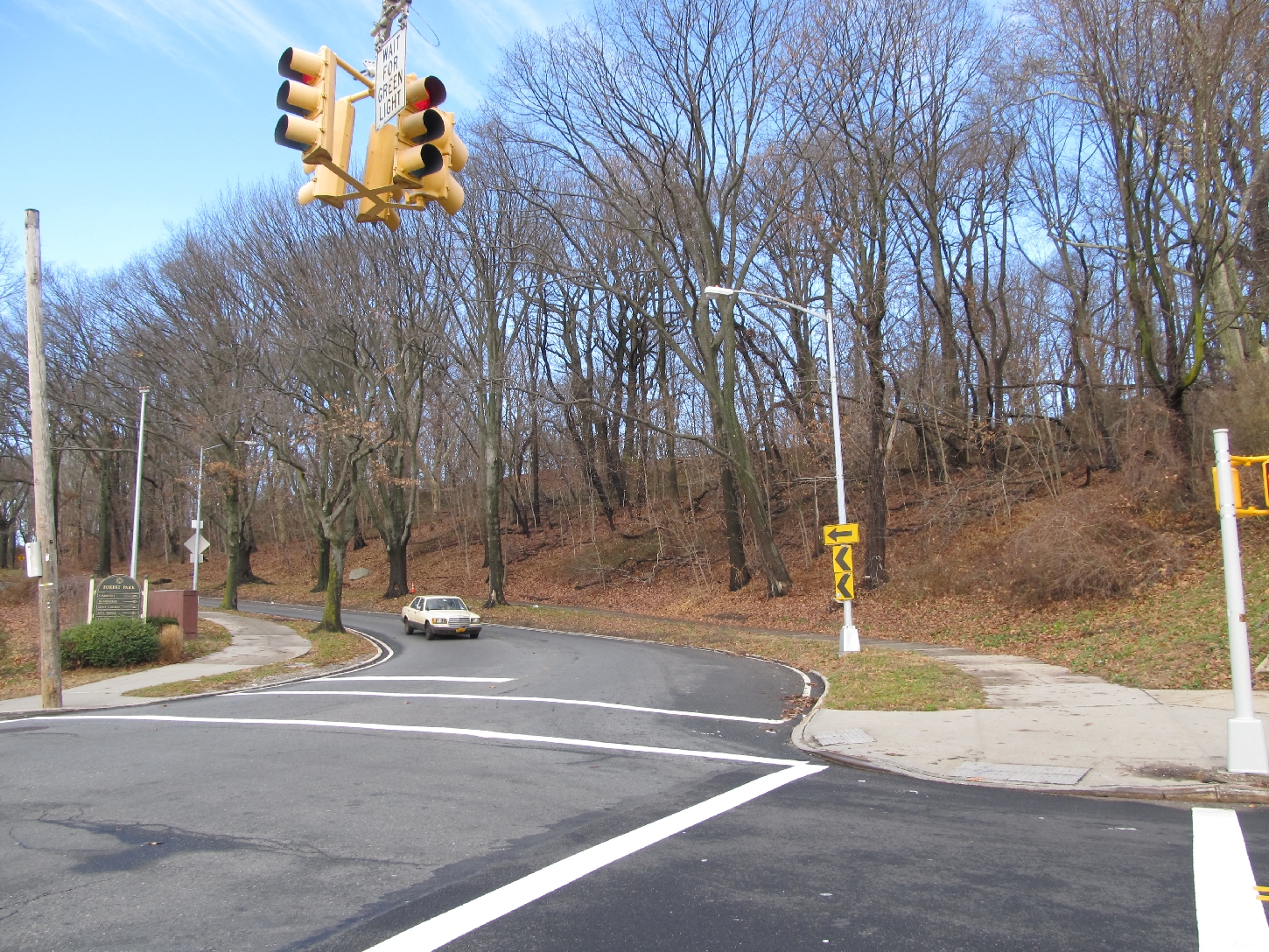 A quick, little story. The other day, while I was behind "that circular field where they used to fly the model airplanes(!)" in order to get out, I had to climb a big wet hill -- and come down the other side, which was steep. I grabbed a stick and used that to guide myself down the hill. I really think that without it, I probably would have slipped and fallen. After I got down, I took a 5 minute breather on a bench - and when I got up, I walked away, leaving the stick behind. Afterwards, I felt almost guilty. And when I drove past this bench, I saw the stick still sitting on the bench. So this morning, I made a slight detour to the bench to see if it was there -- and it was! And so, this stick came with me on my next journey.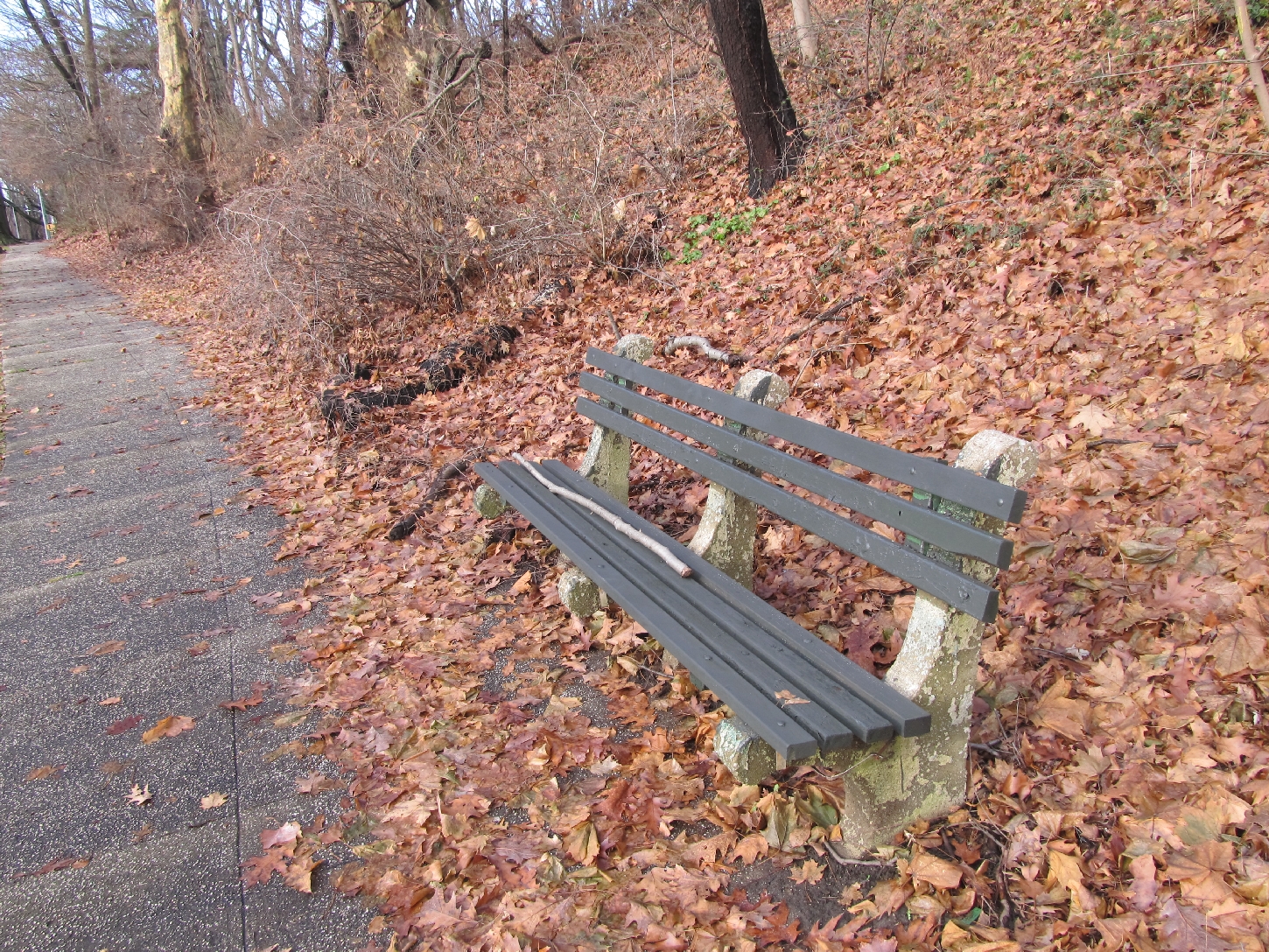 But first, I took a few minutes to enjoy the view from Forest Park Drive (the Queens GreenWay). It was a beautiful, sunny morning and the view of Woodhaven and beyond from up here was just spectacular. You can never see that far in the summer due to all the leaves.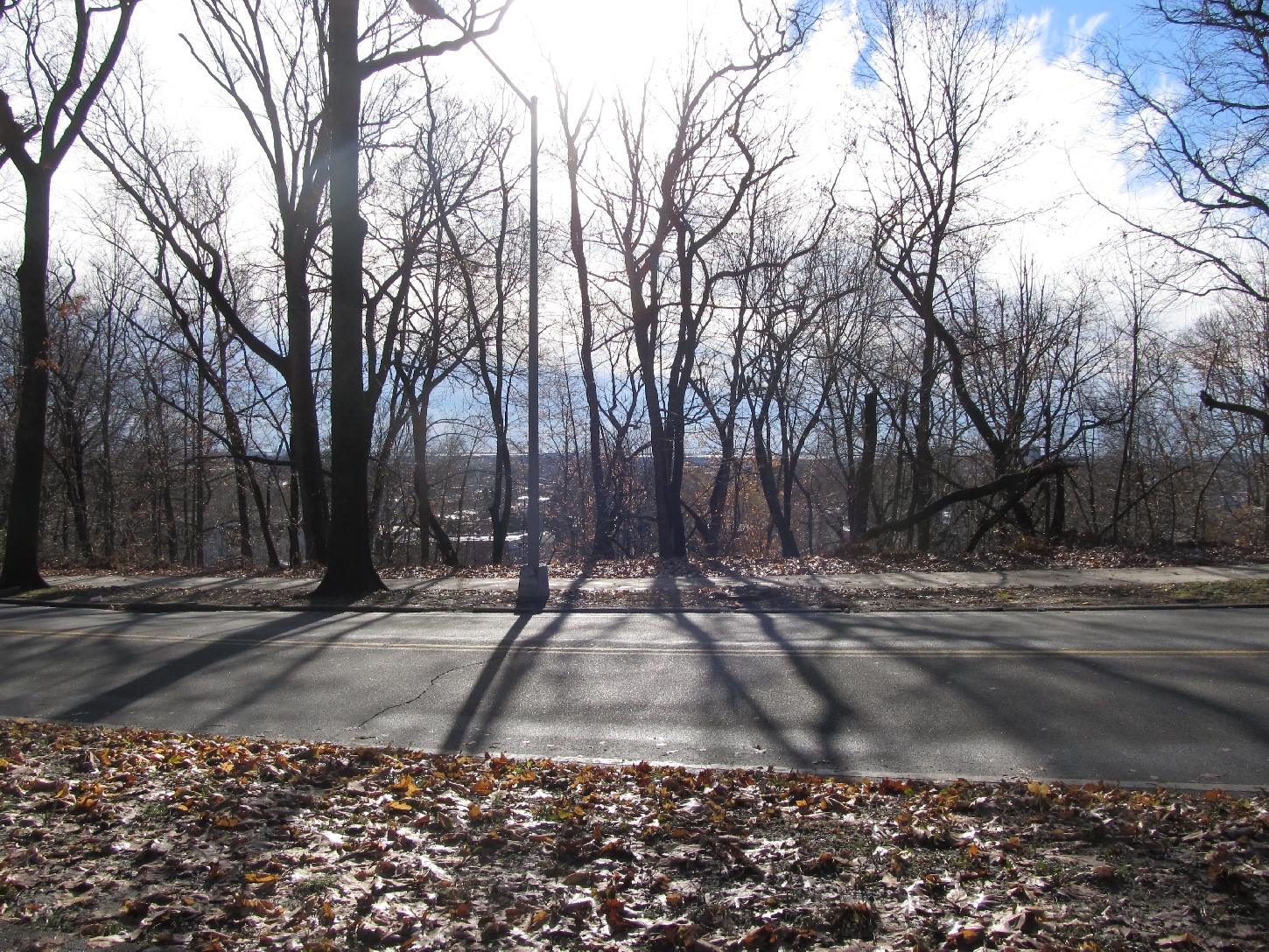 Okay, so here's where the journey for me and my stick begins -- this is right off the steps at 76th Street and Park Lane South. Some of you might be familiar with this area, ahem, for various reasons. Mostly, I see a lot of people walking their pups down this path. You can see Franklin K. Lane in the distance. We'll be seeing a lot more of Lane.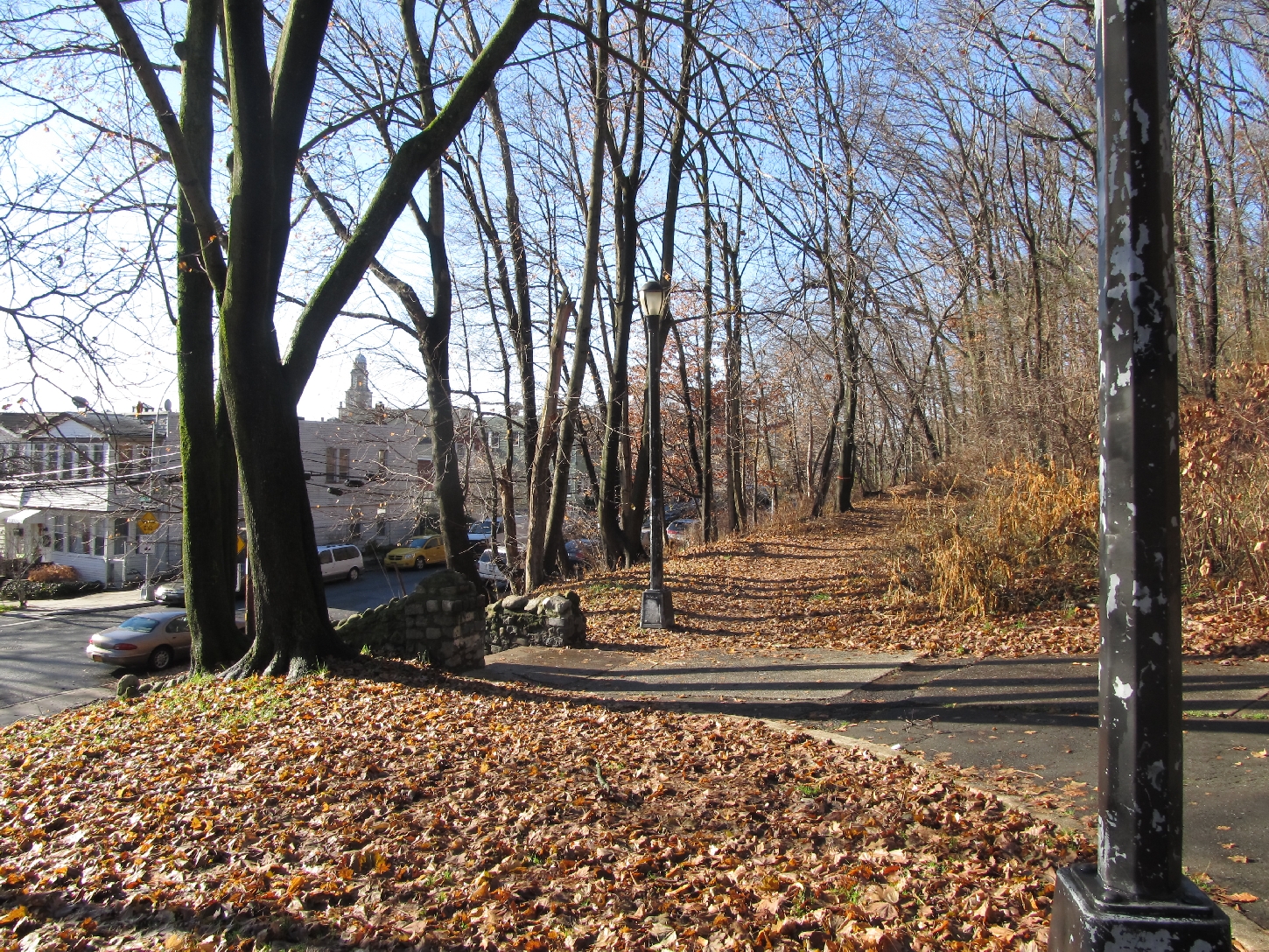 Here's the view from the path -- just to give you an idea of where we are.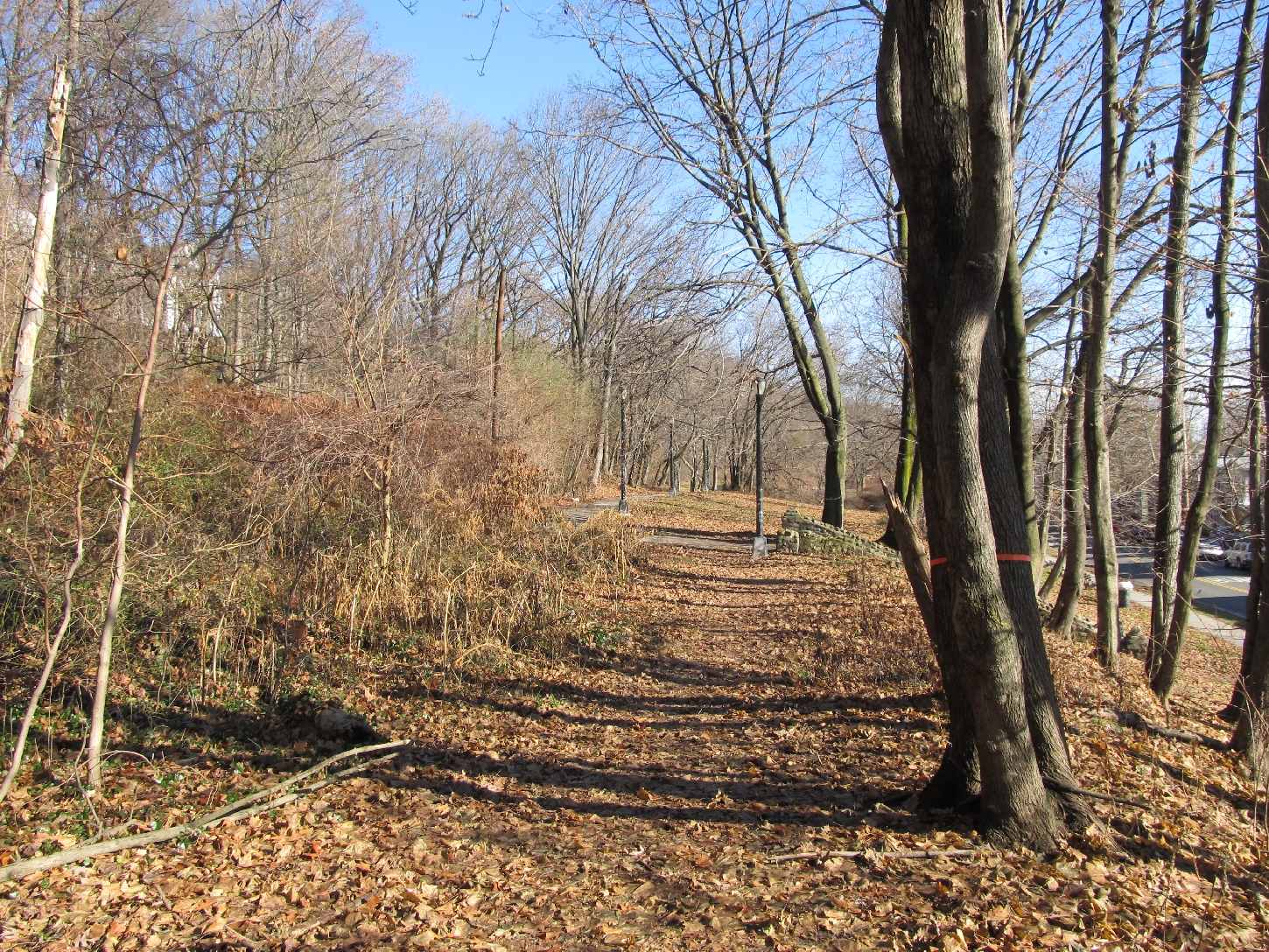 A few feet inside the path and you'll come across something really neat - this tangle of trees, fallen trees, vines, leaves, etc. Holy smokes, it was noisy - a ton of birds in here all tweeting away. Yeah, I know, you don't see any birds but they're there, I heard them.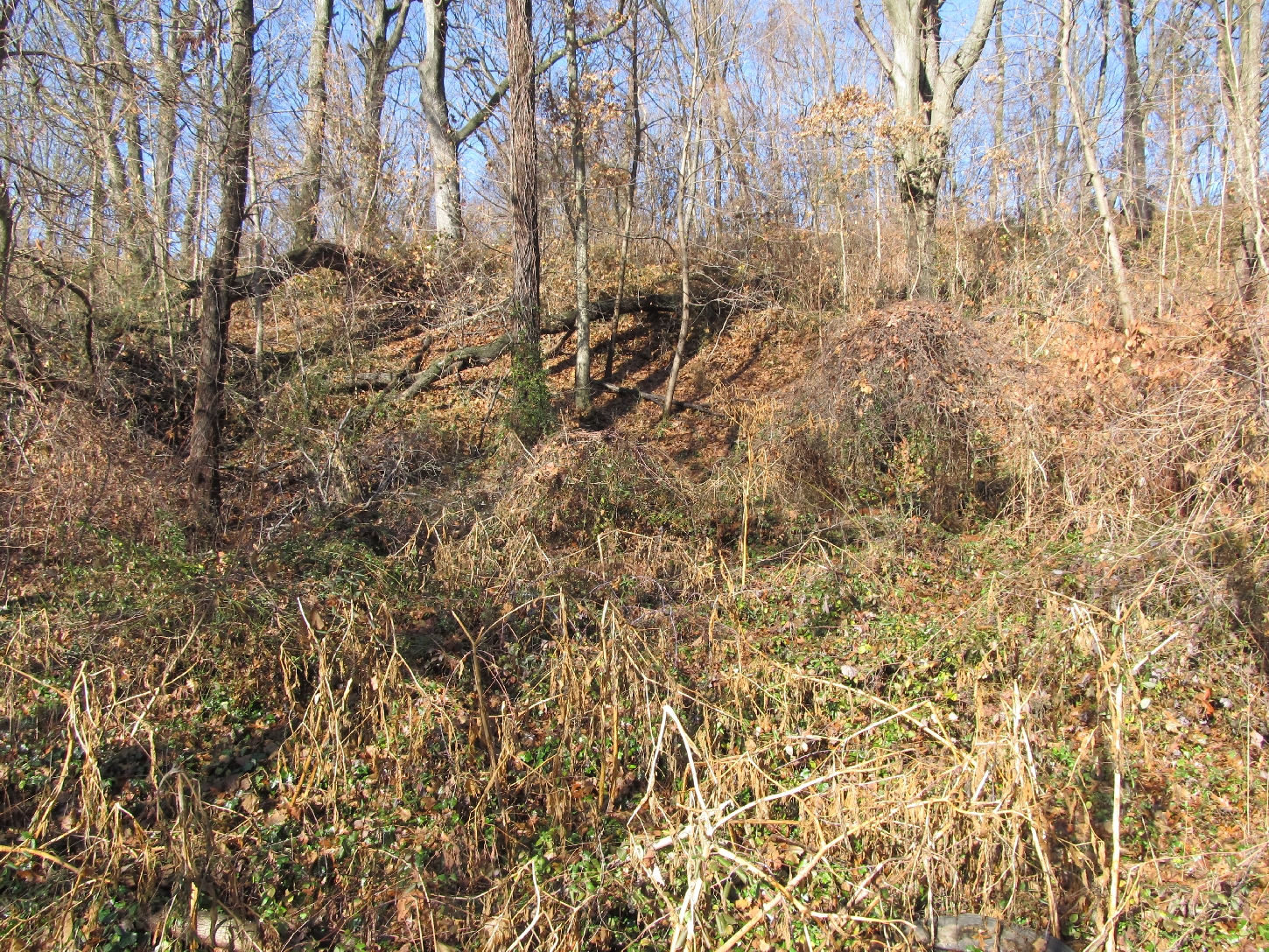 Here's a closeup of one section - there are 3 cardinals in this picture, see if you can spot them. When I came across them, there was about 10 but a bunch flew away before I could take a picture. I don't know much about birds, so I can't tell you what other kinds were there, but there seemed to be a lot.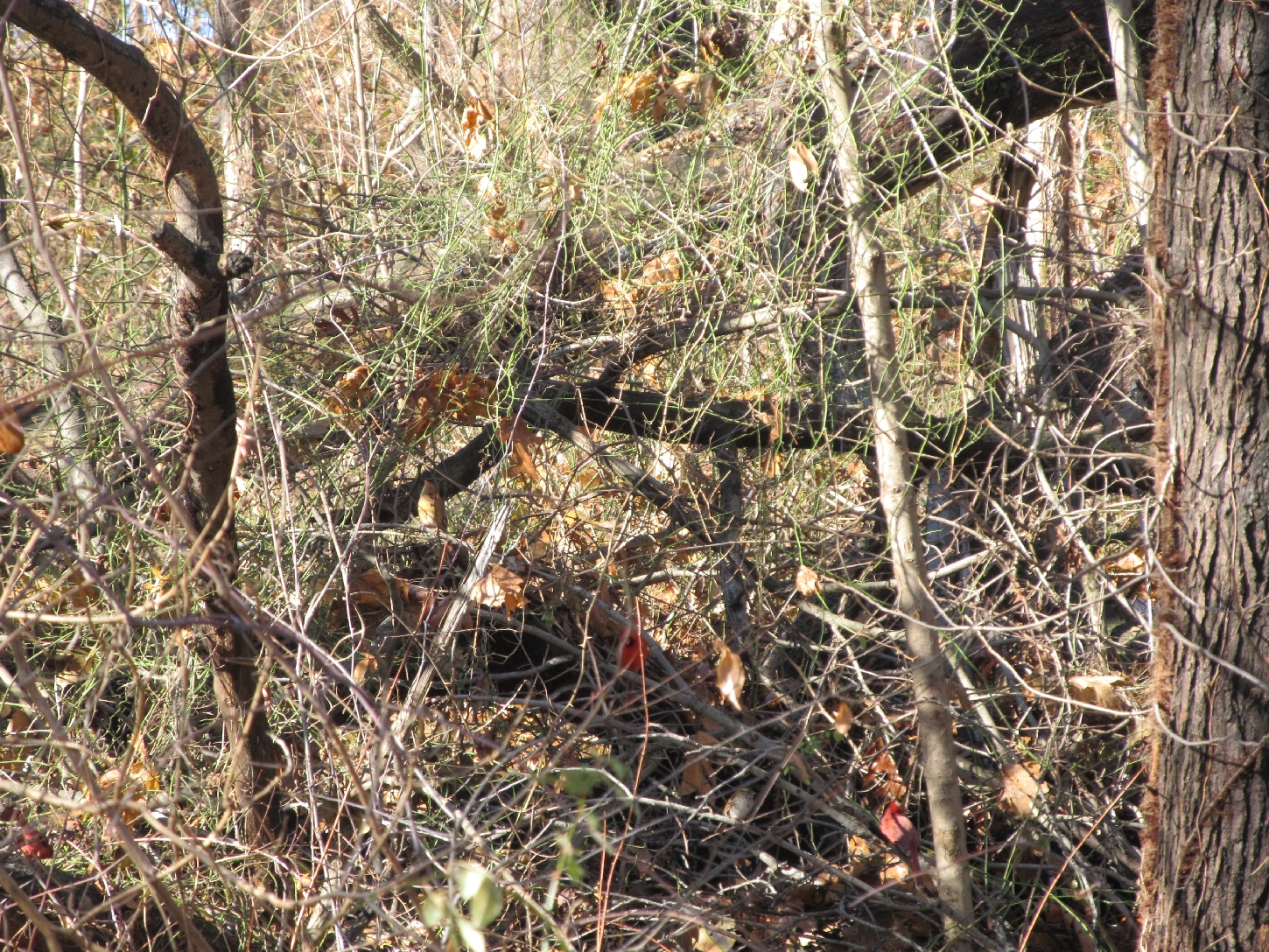 The path continues upward and more towards the park, away from Woodhaven. The hill is steep in sections, but there are a lot of exposed roots that you can use as improvised steps.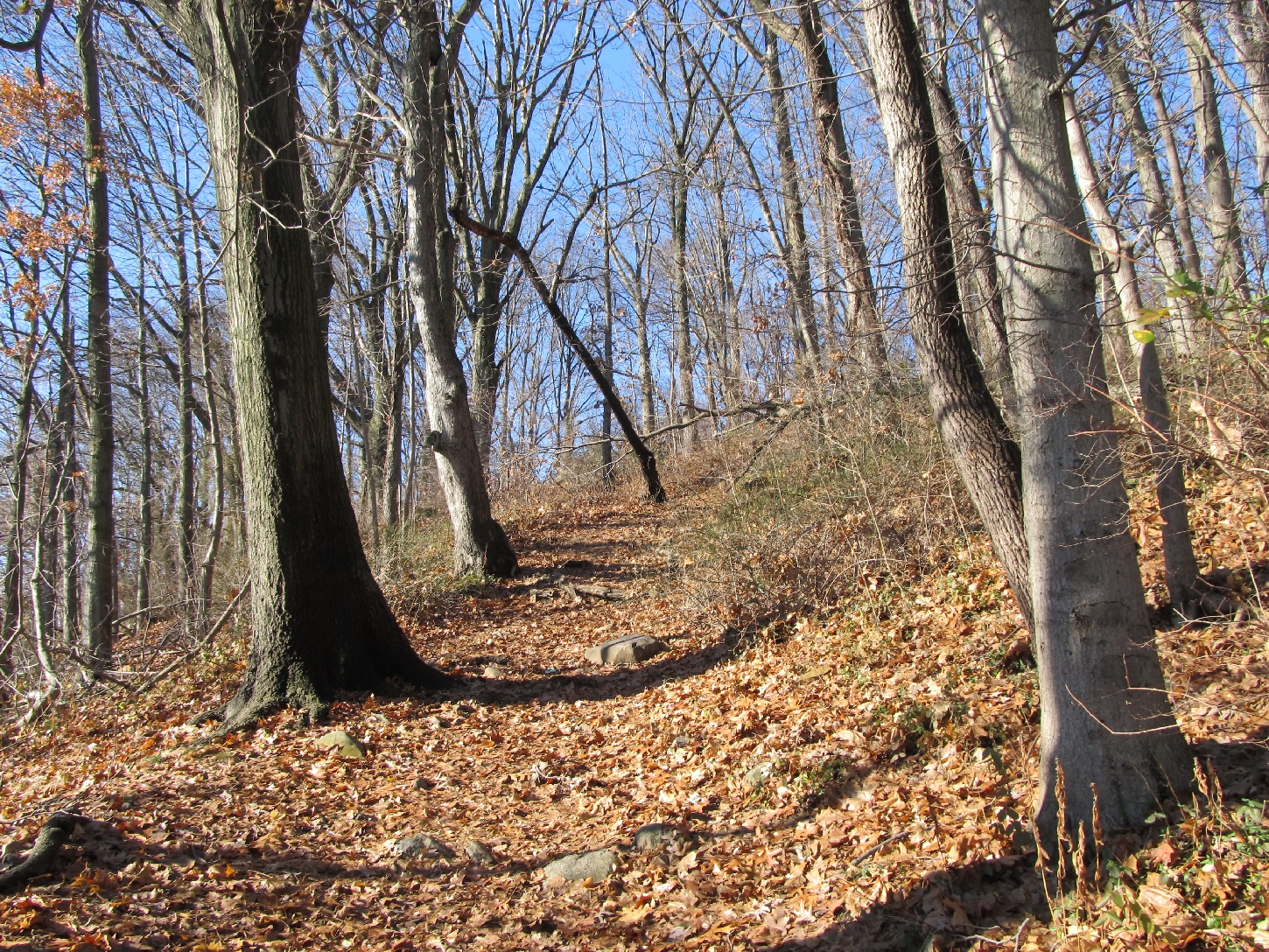 There are a lot of fallen trees here and there. Stick with me, though. If you've been here, you know what's coming. If you've never been here, you're in for a treat.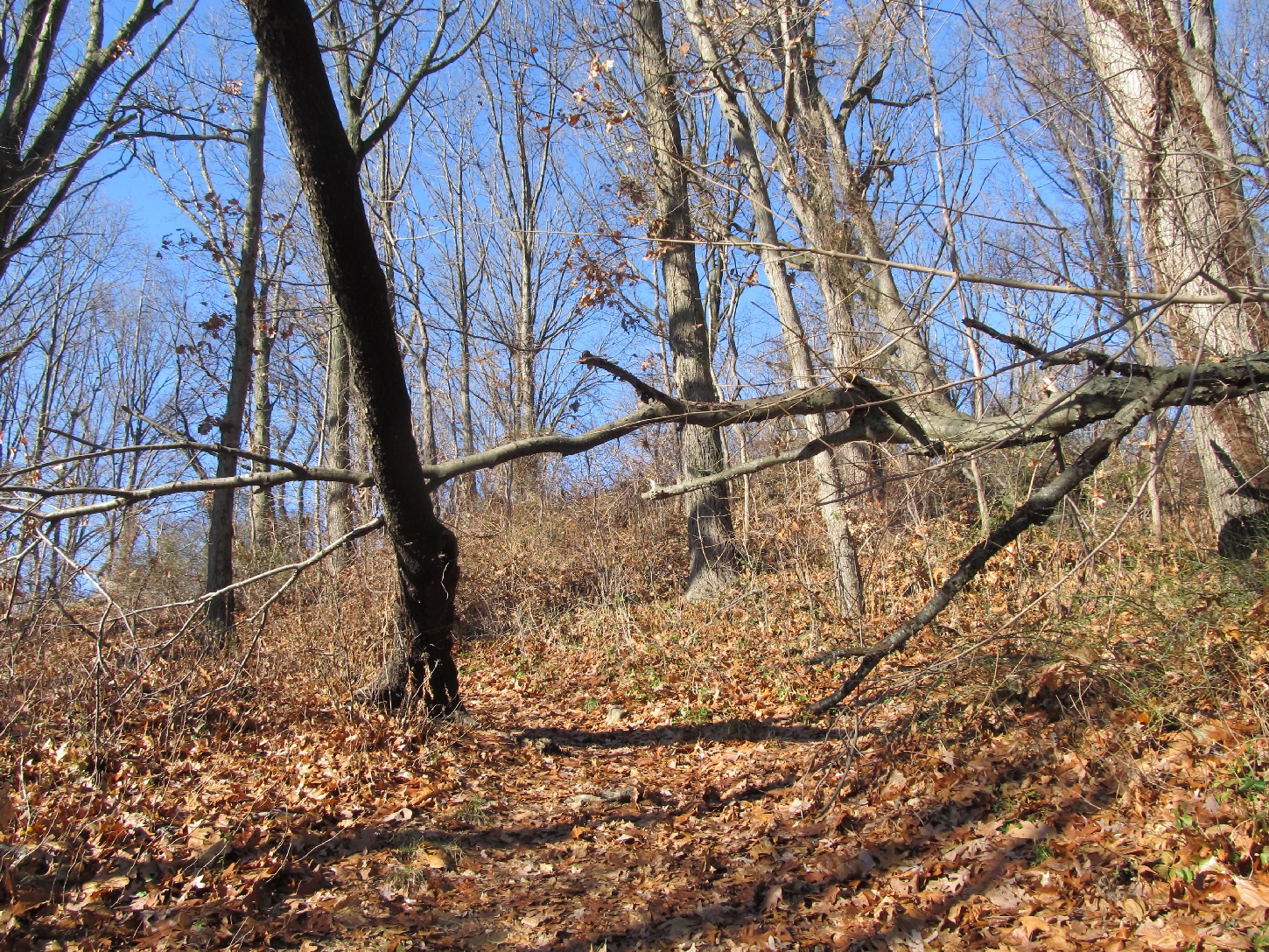 Just taking a moment to look back to see how far I've come. You get a little peek through the branches at Park Lane South. You can see that we've gone up quite a bit . . .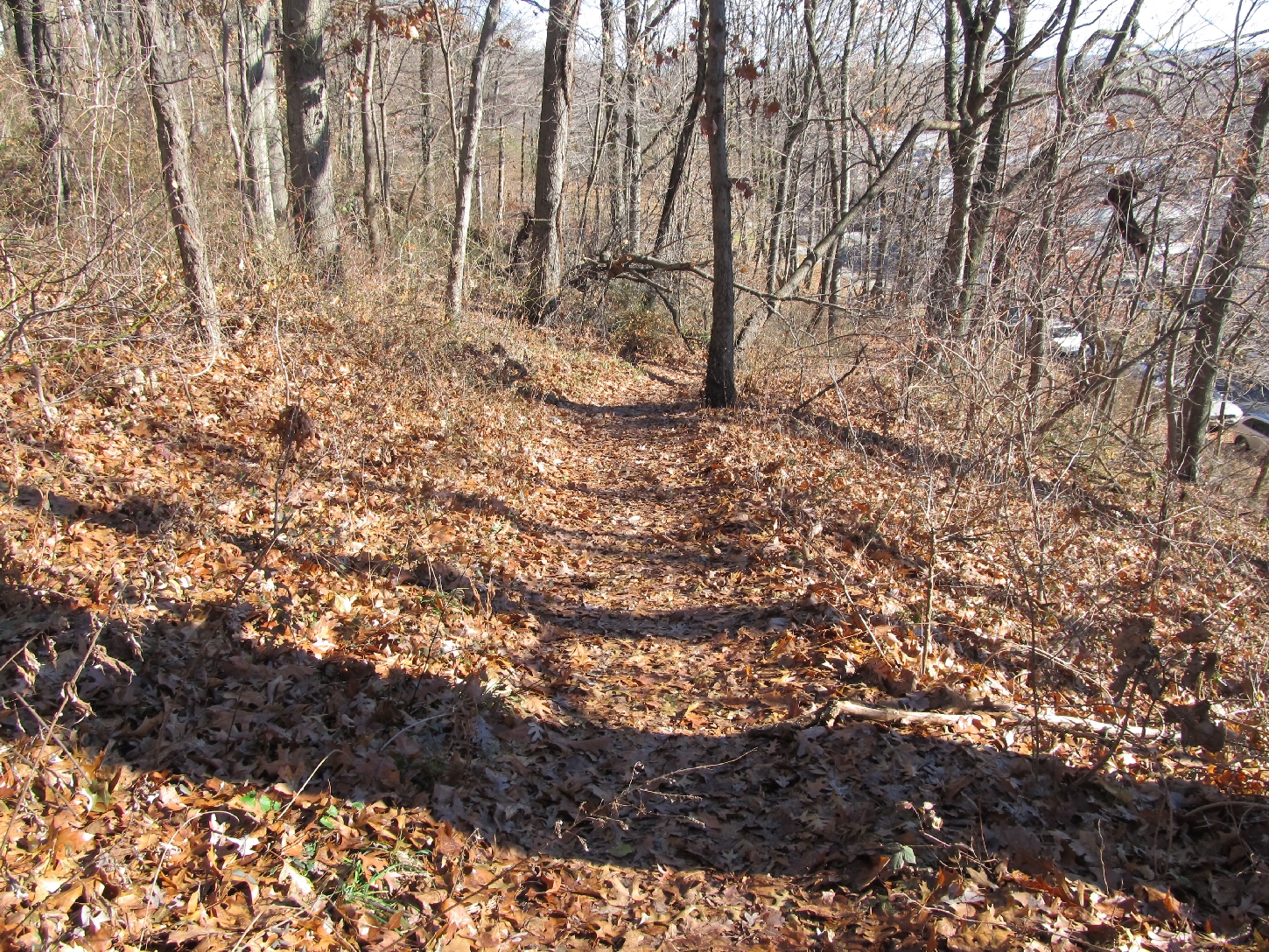 . . . but we still have a good amount to climb. Especially on a day like this you need to take it slow and easy - and my stick was coming in handy.
That hill climbed, I took another second to enjoy the view of Woodhaven - the houses of Park Lane and 76th Street below me.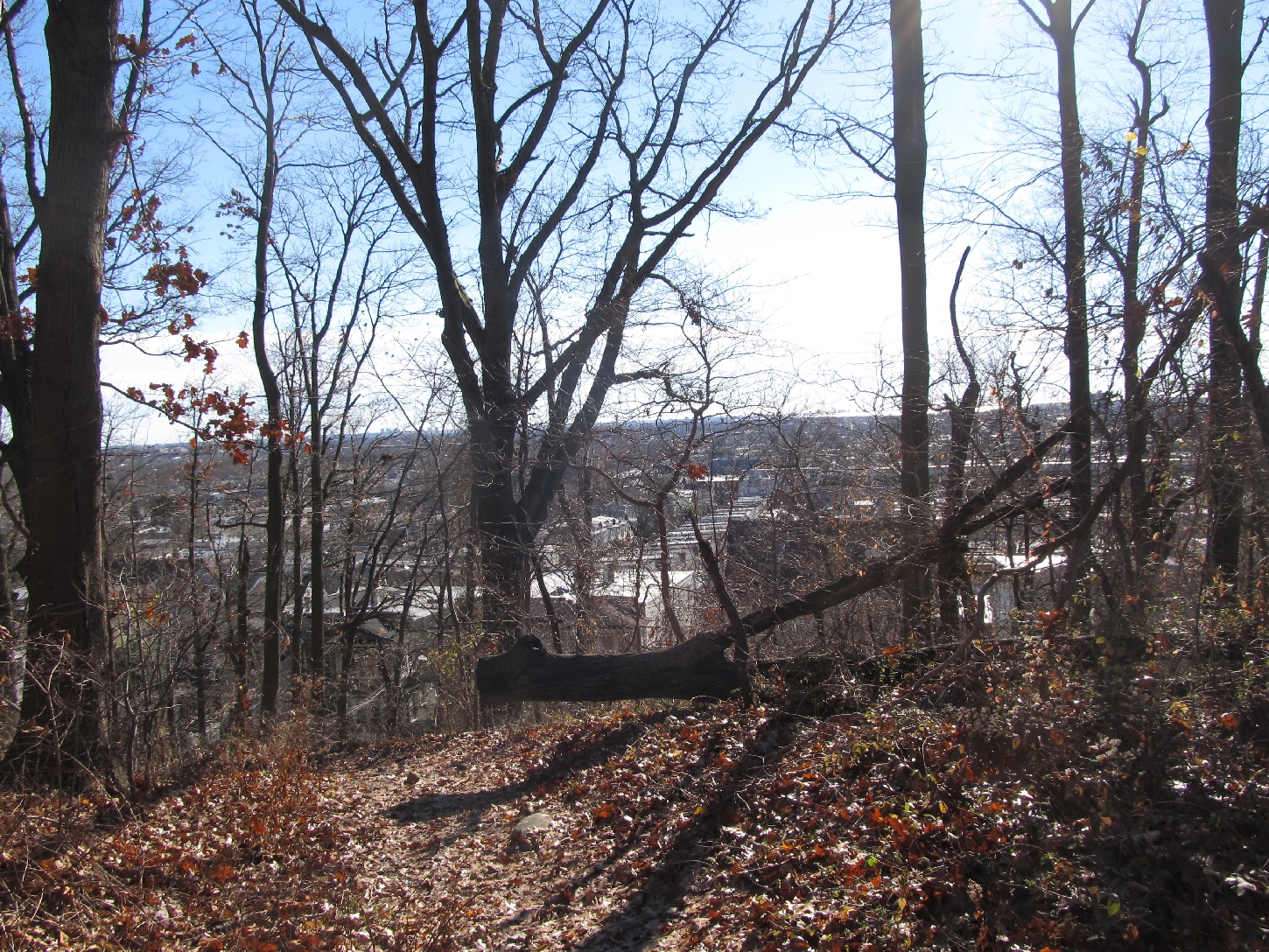 Here's a picture using the zoom -- you can see Jamaica Bay very clearly in the distance, the sun is gleaming off of it.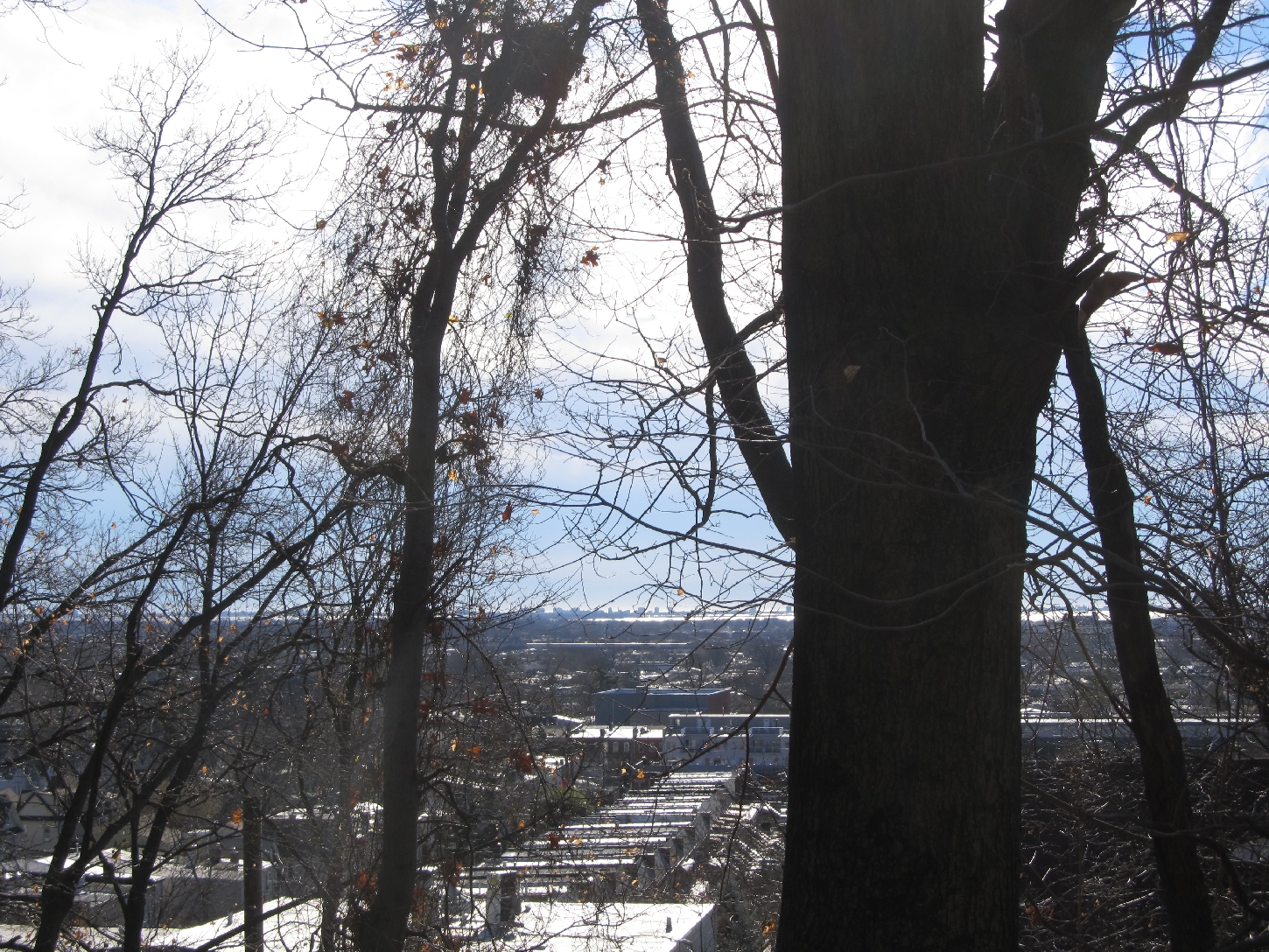 The other day, when I was behind that circular field where they used to fly the model airplanes, I saw a bunch of rocks painted the exact same shade of green. I recognize the shade - that's mailbox green. I've used enough of it over the past few years to recognize it. It's also the same color as the park benches. As for the meaning of the painted rocks, I have no idea.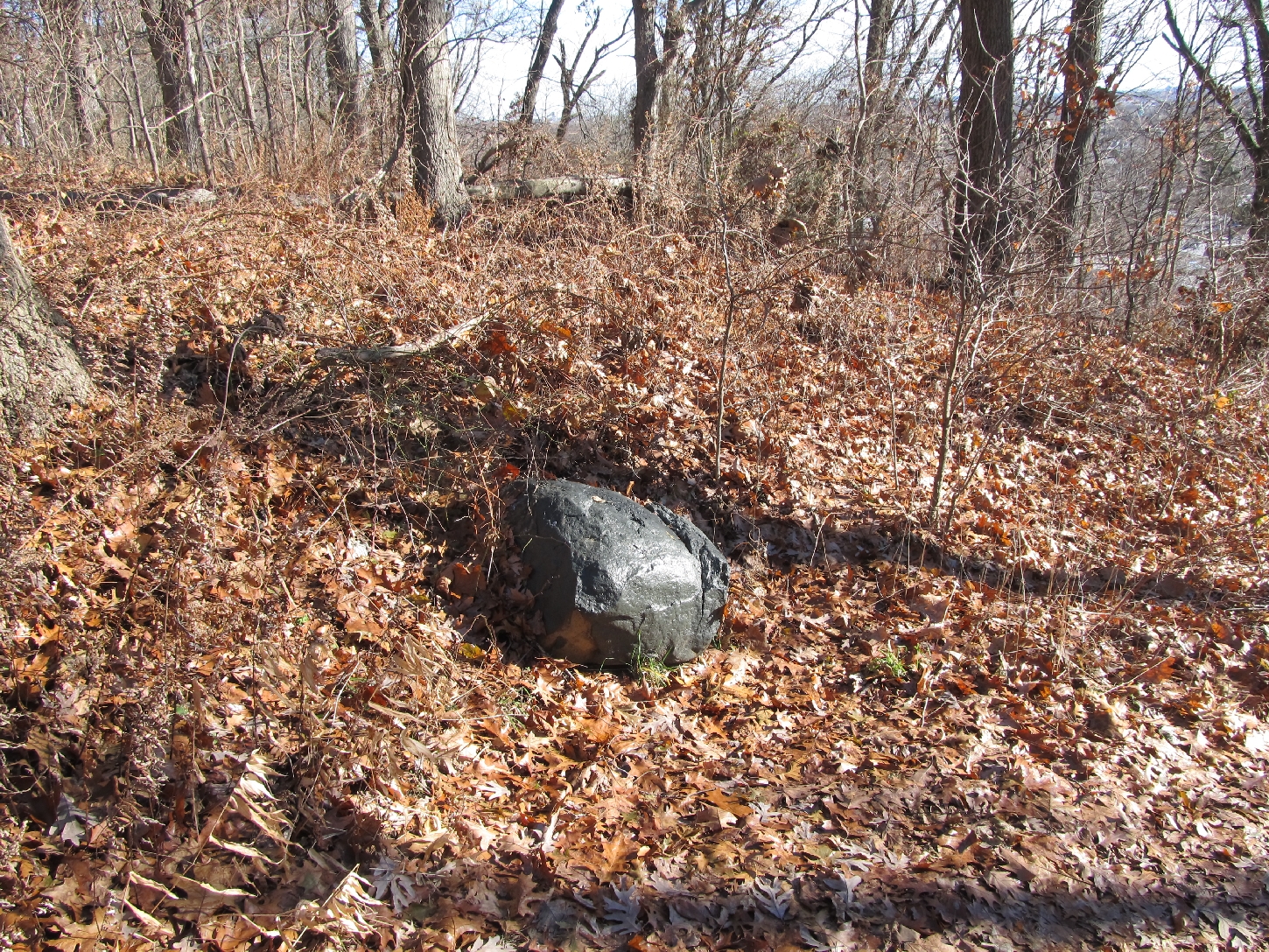 This fallen tree makes a really nice resting spot, offering you a chance to have a seat before you venture the rest of the way.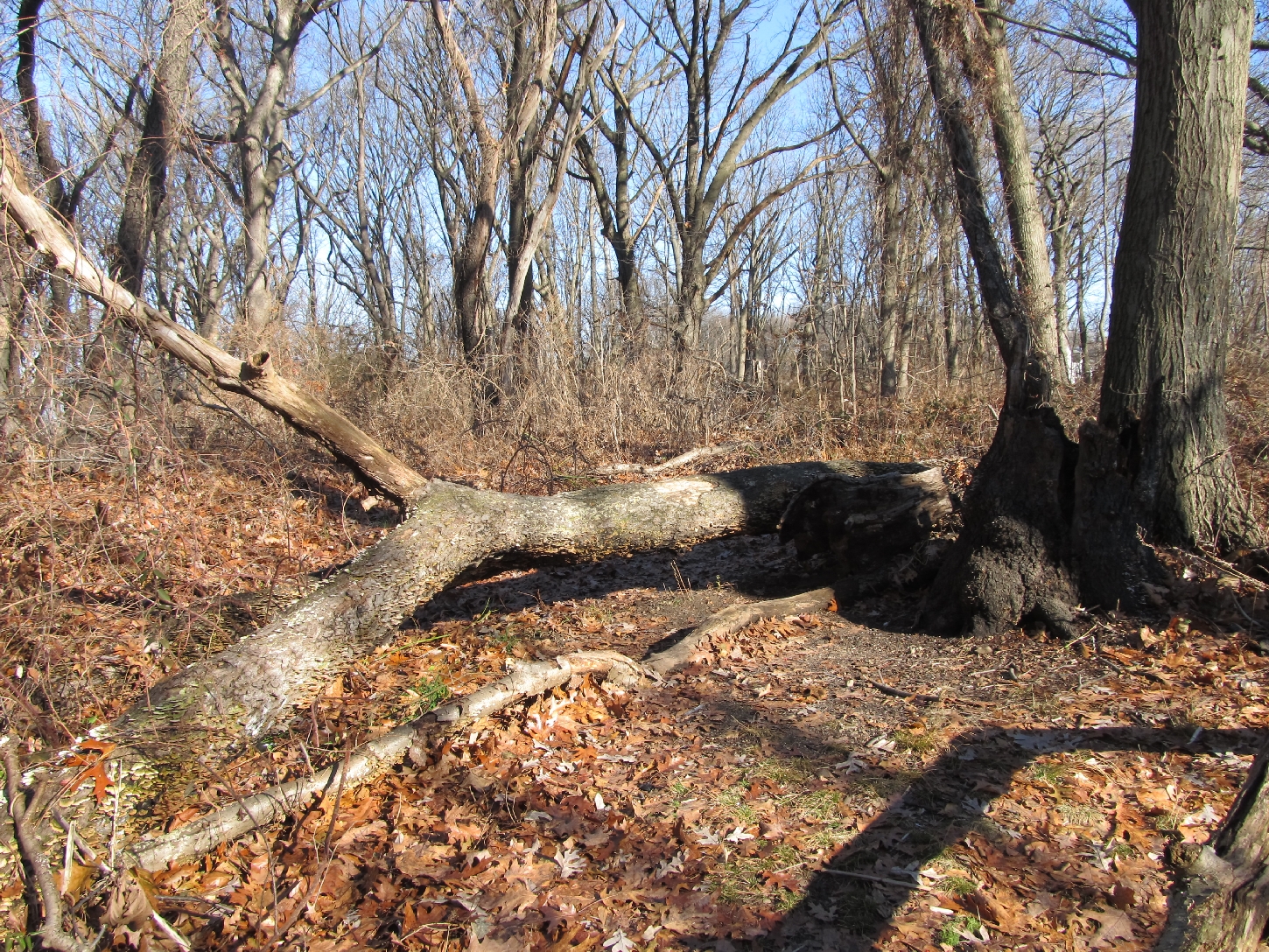 You'll have to hop over this guy. By the time you get here, you can no longer see Park Lane South - you are completely in the woods.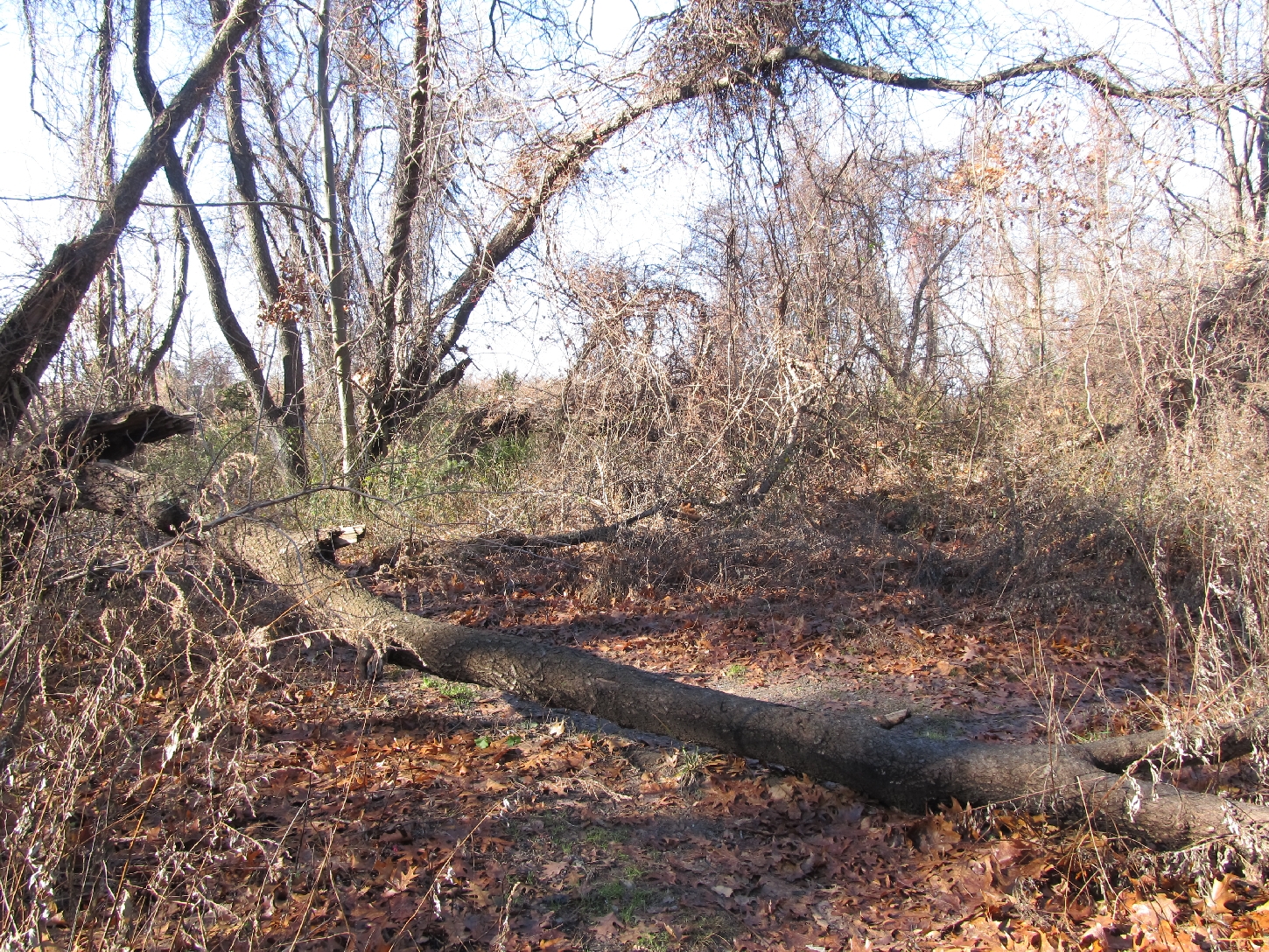 A path! I wonder how long this path through the woods has been here.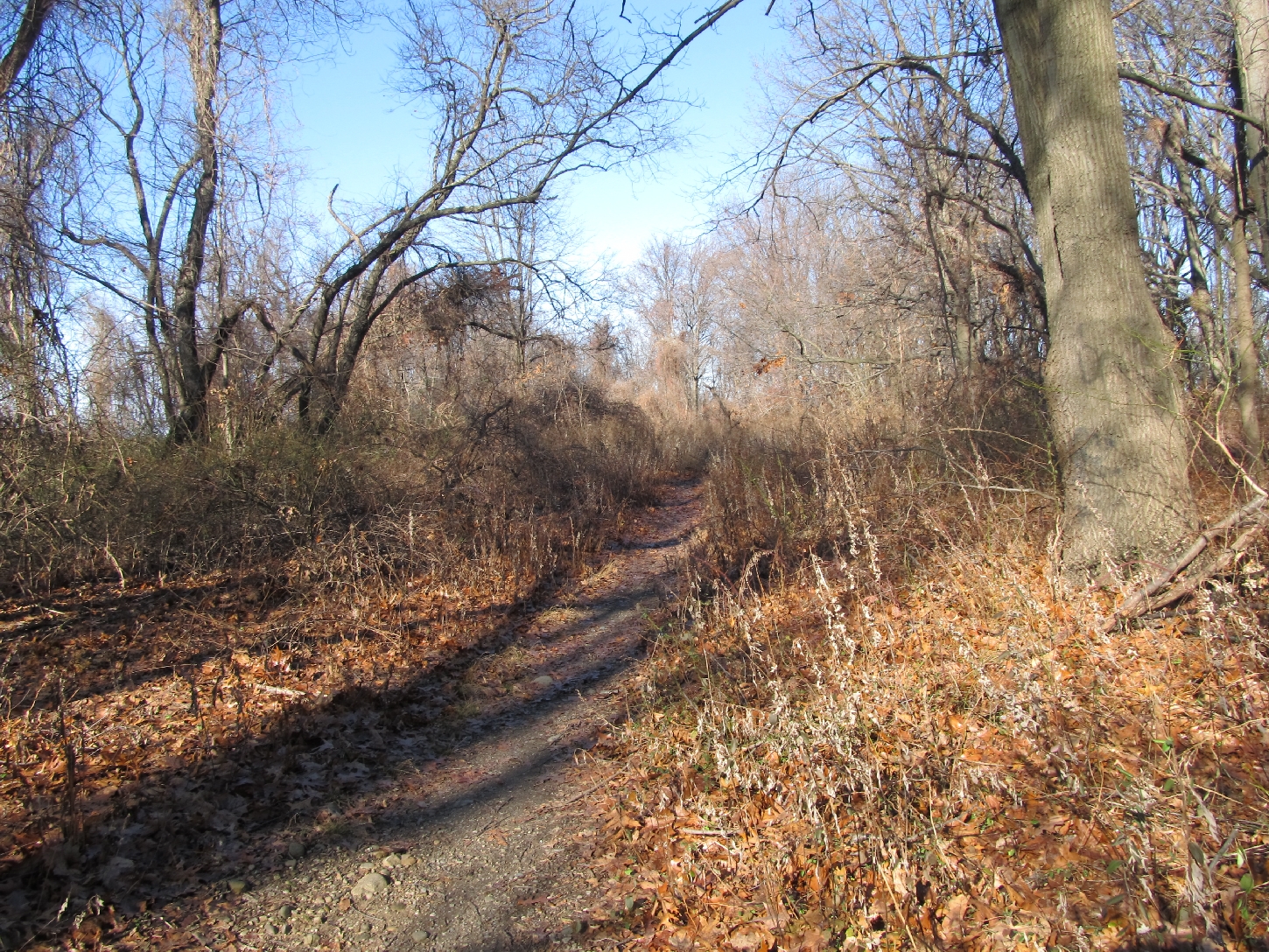 Almost there - and just one last hill to climb. This last little hill isn't bad to climb, just a few steps. But it's a nasty hill coming down, you need to be careful. If you look closely, you'll see a fence at the top of this little hill.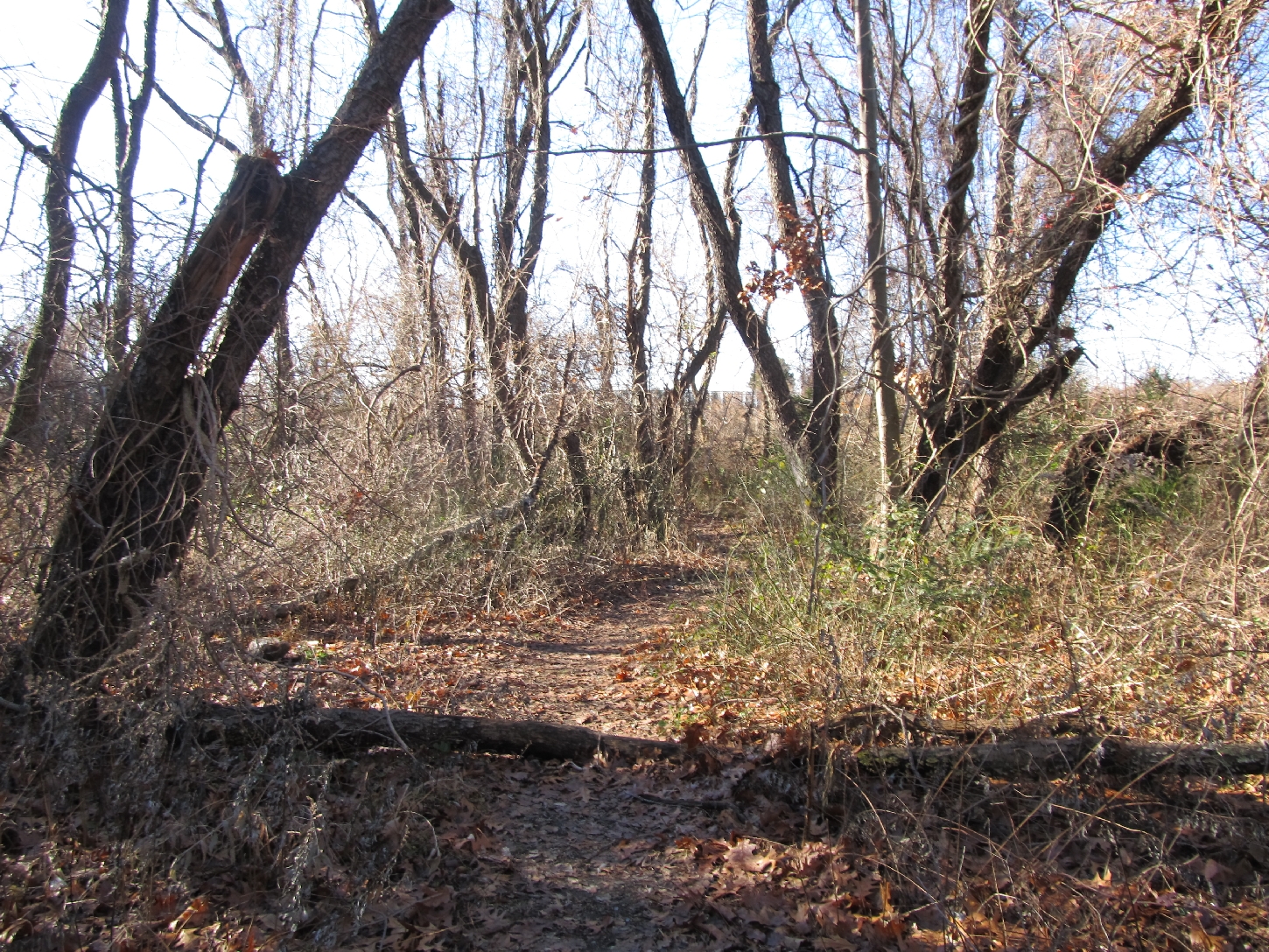 A closer look at the last hill and the fence beyond.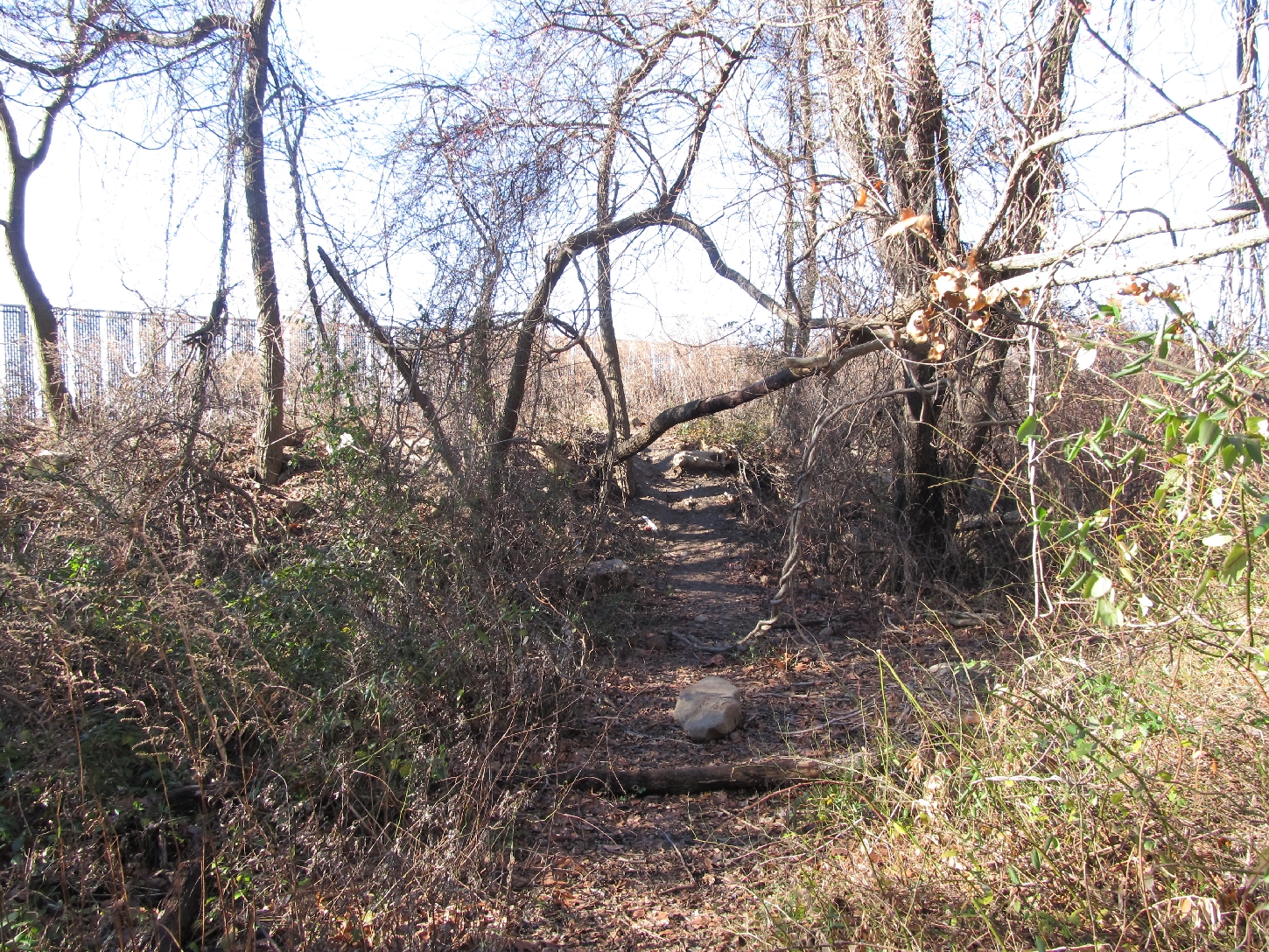 At the top of the hill at last -- and if you look to the left, you'll see where the fence ends. We're almost there, you're patience is about to be rewarded. When you get here, head for that opening.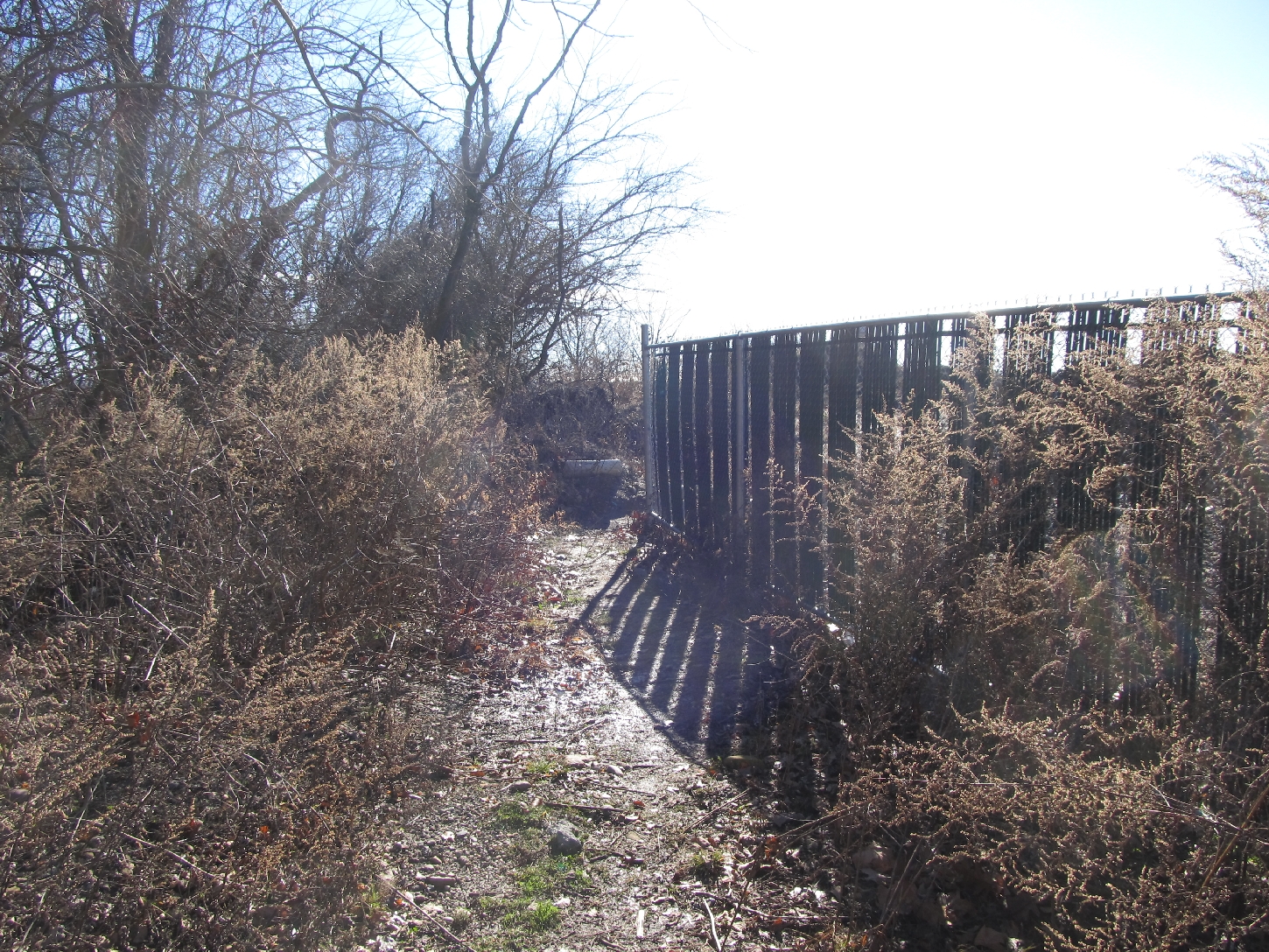 When you get to the corner where the fence ends ... this is what you'll see. I've spoken to a few people who said they used to hang out here when they were young, so this might be a welcome and familiar sight to many of you.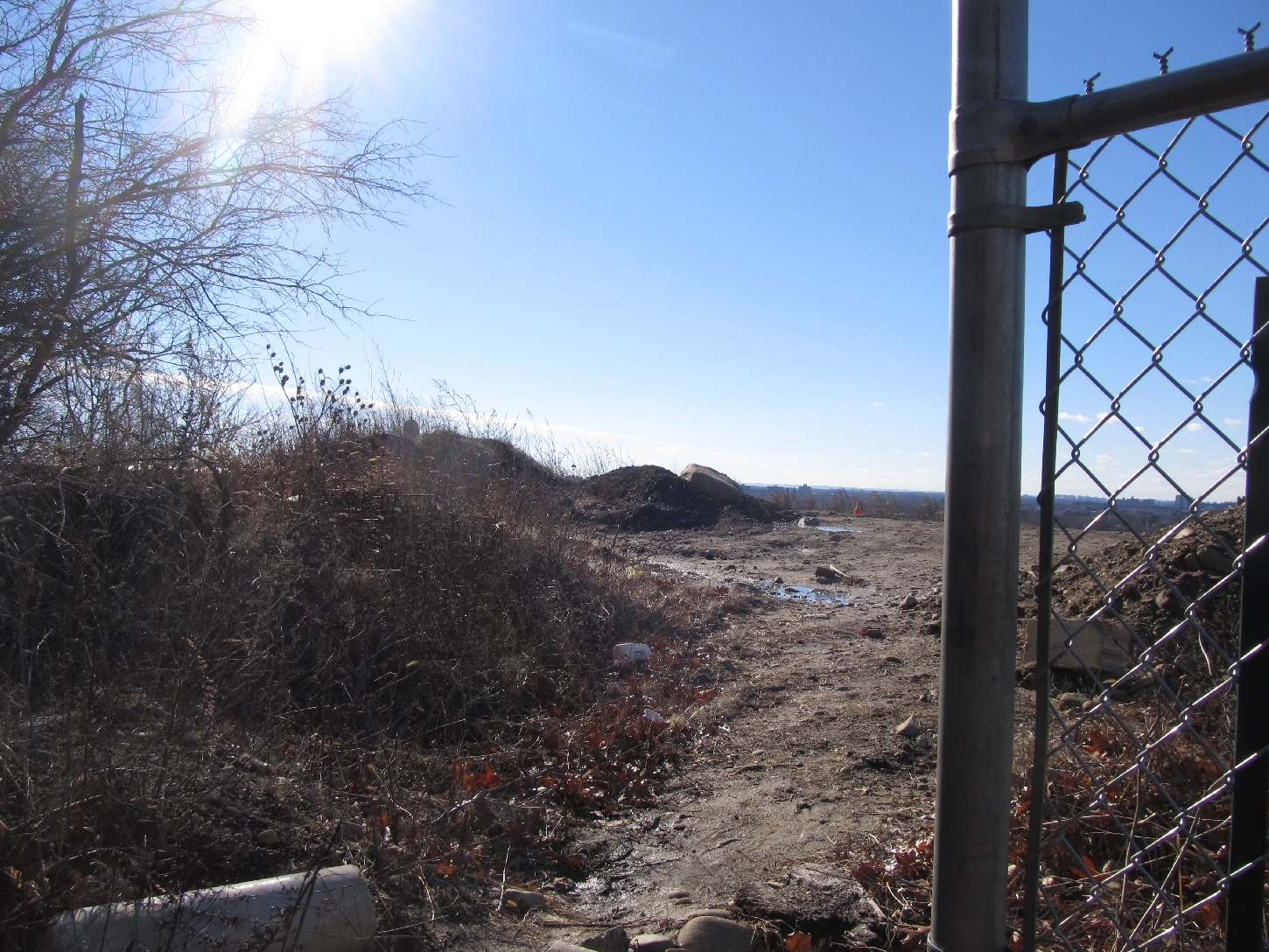 And here we are, behind Franklin K. Lane and above it. What a spectacular view of Queens and Brooklyn.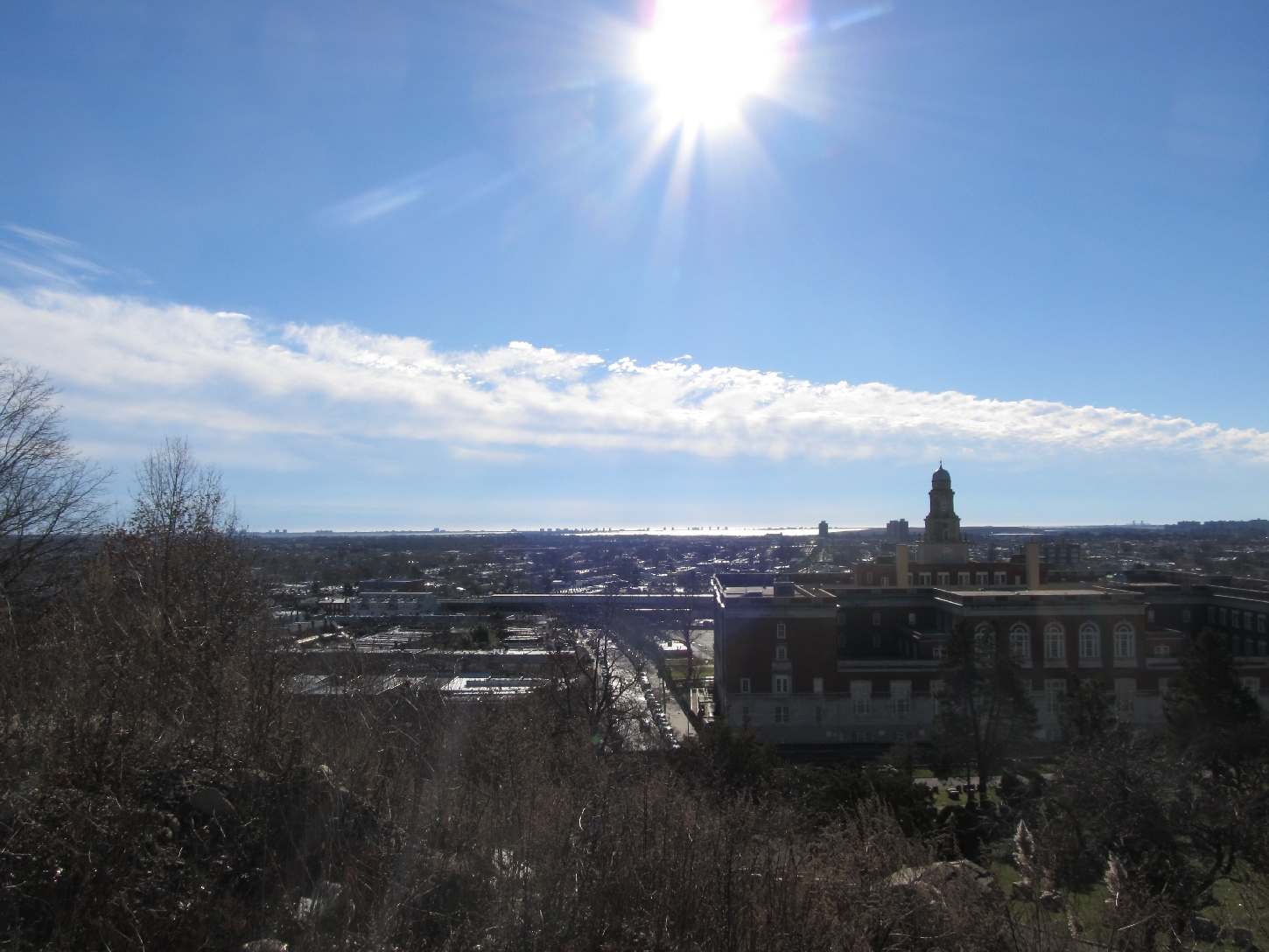 Looking west, towards Brooklyn, you can see forever. It's a beautiful view from up here - and so peaceful. I could hear church bells in the distance. Down below, children were opening up their presents, people were going about their Christmas mornings.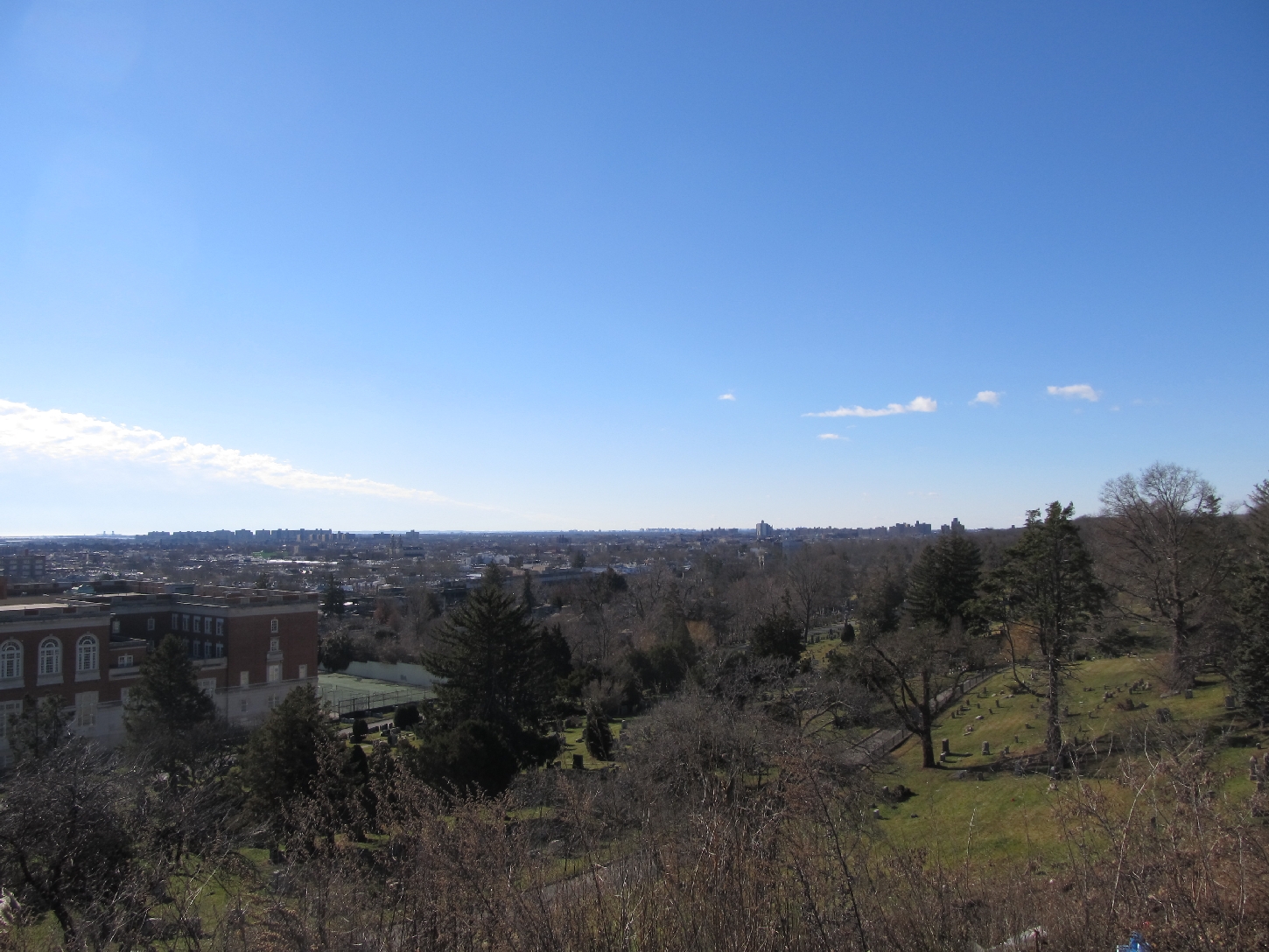 Of course, we're now in Cypress Hills Cemetery, at the top of the hill. Click here and here for some background on this hill.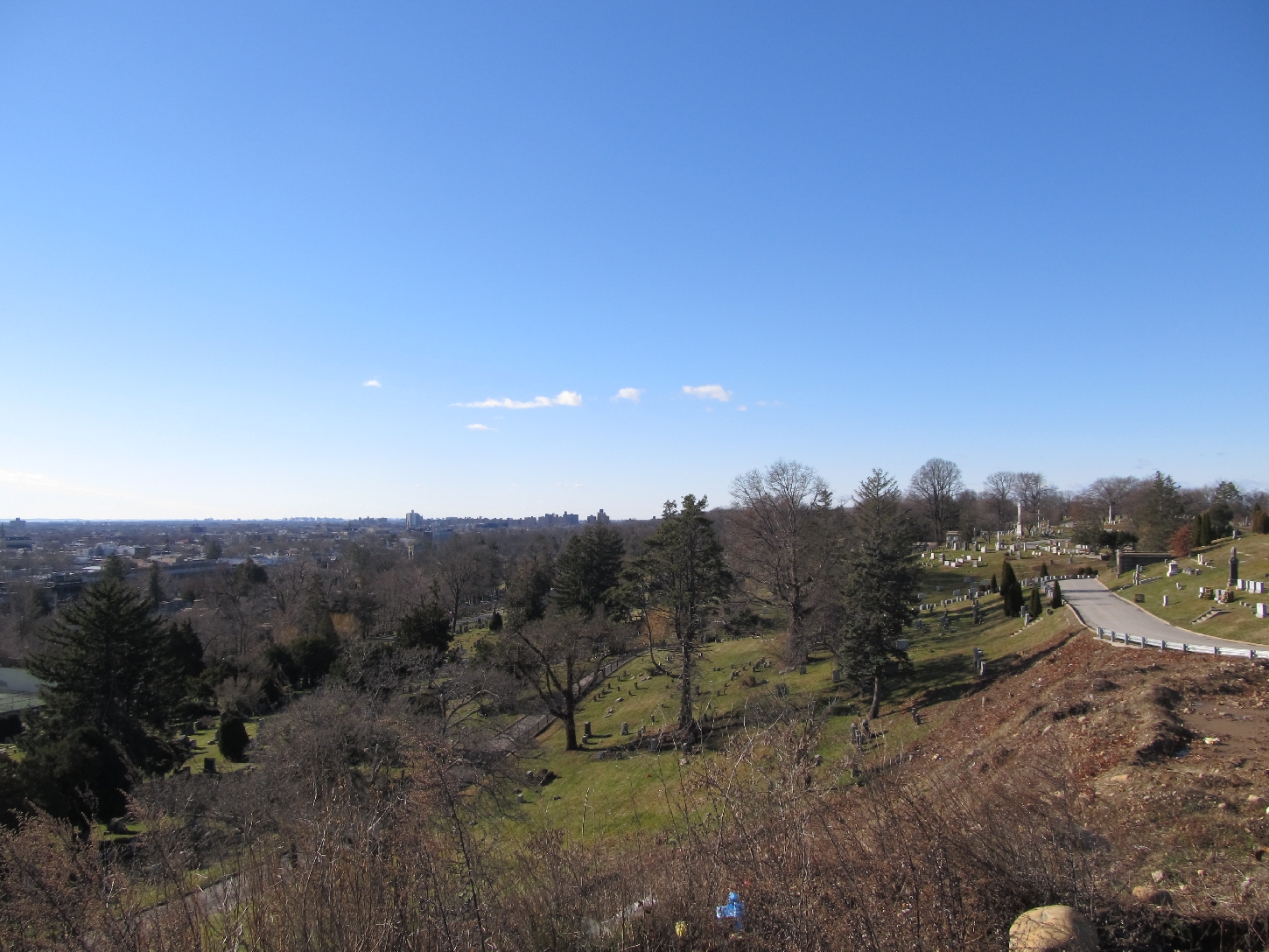 From this spot, you get some nice views of Franklin K. Lane. But it's hard to see much of Woodhaven because of the trees in the way.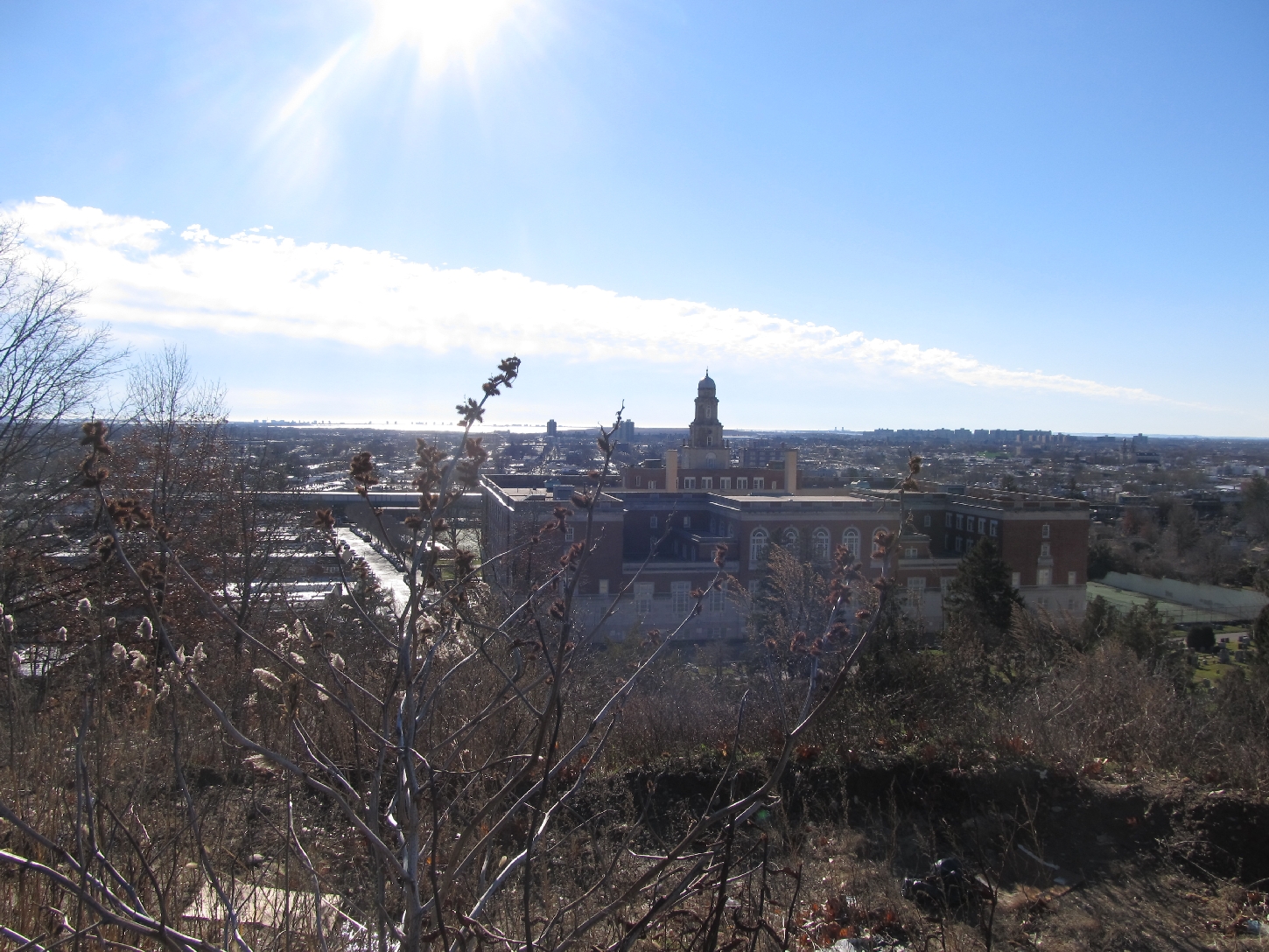 Looking over there, I see a hill -- I started thinking that I might be able to get a good view of Woodhaven from over there.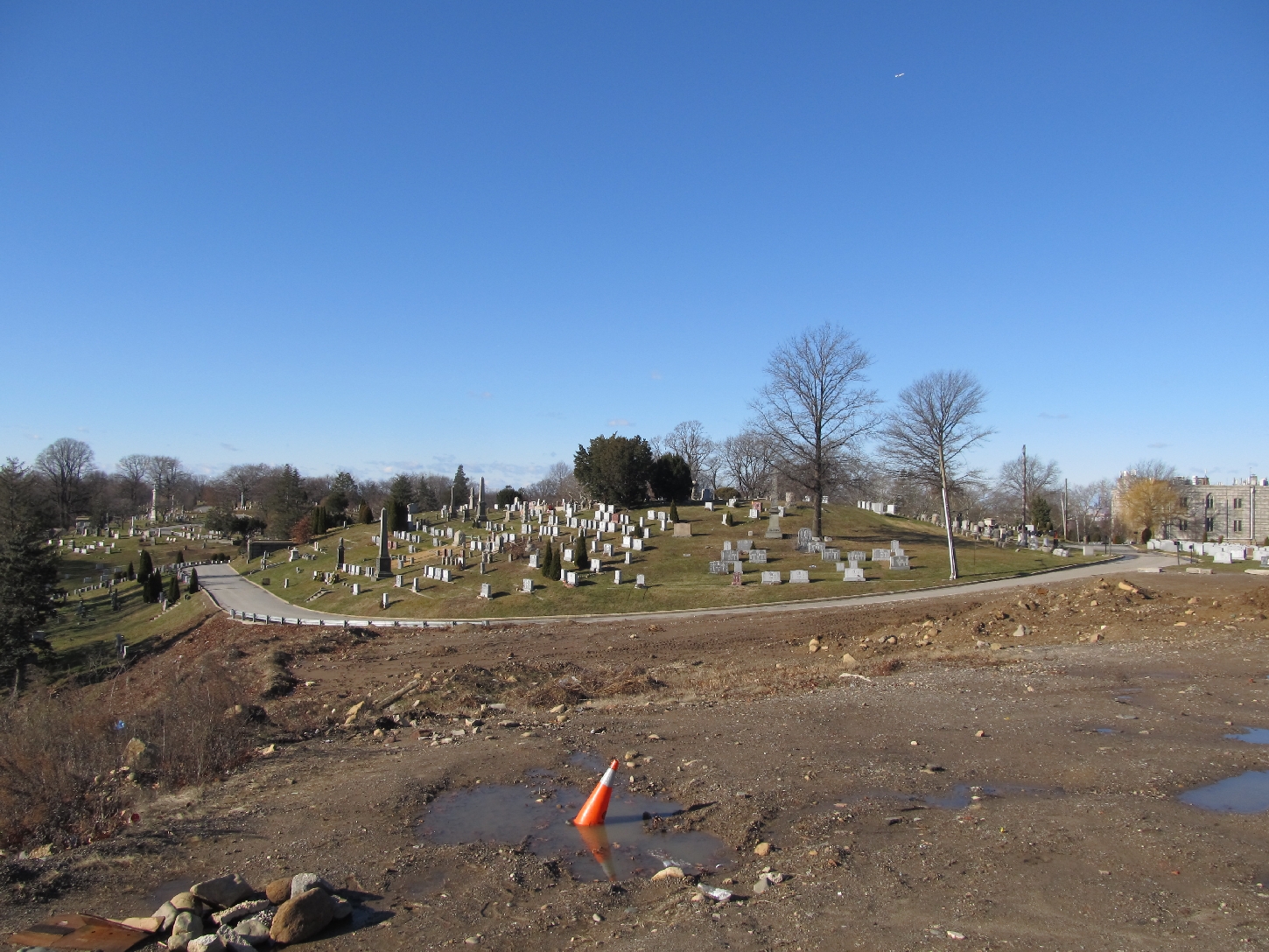 This is a nice view of Woodhaven from the road -- if you stand here for a while, your eyes will start to pick out and recognize some familiar sights. Click here for a large view of Woodhaven from up here.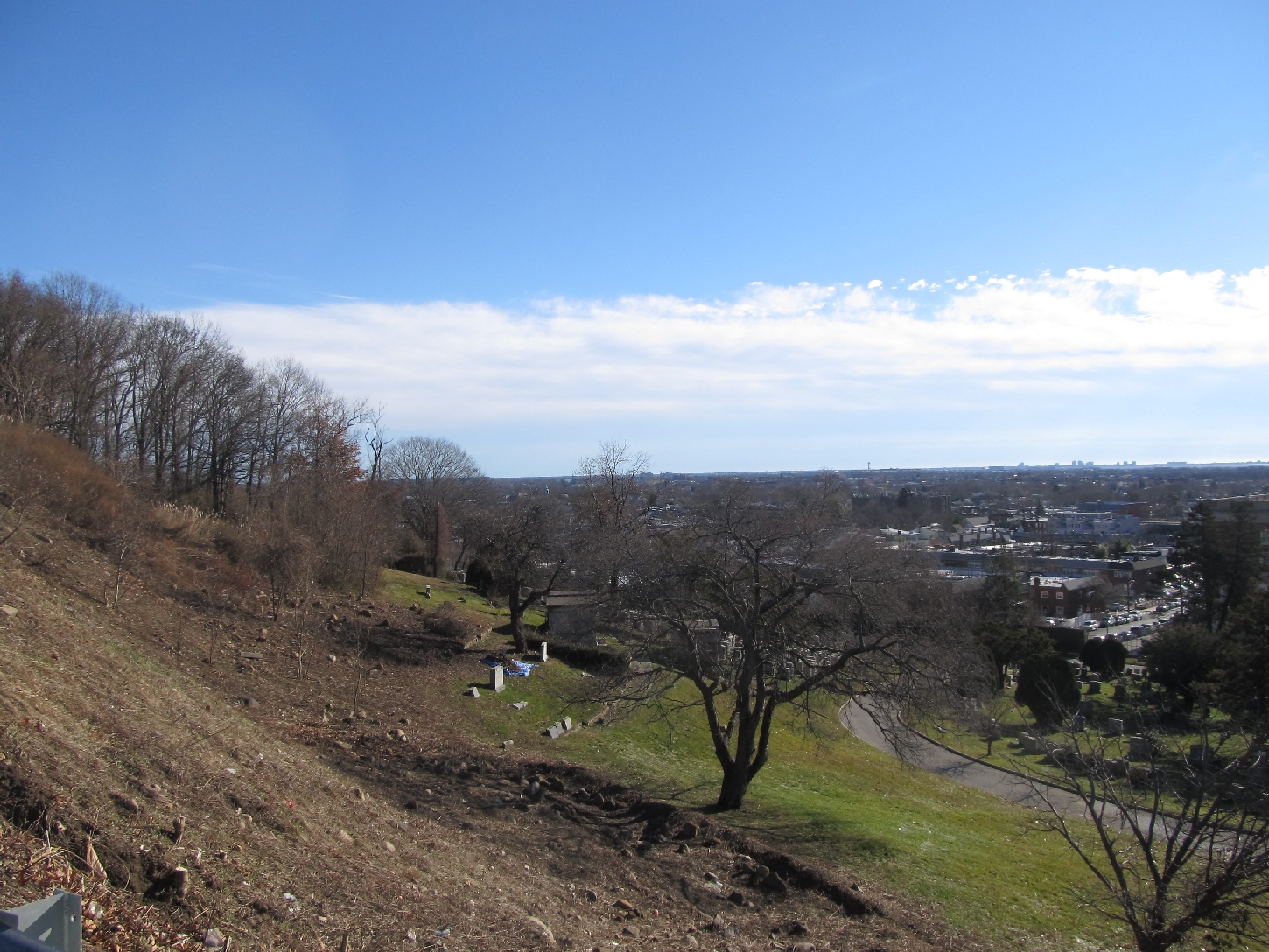 A really nice view of FKL --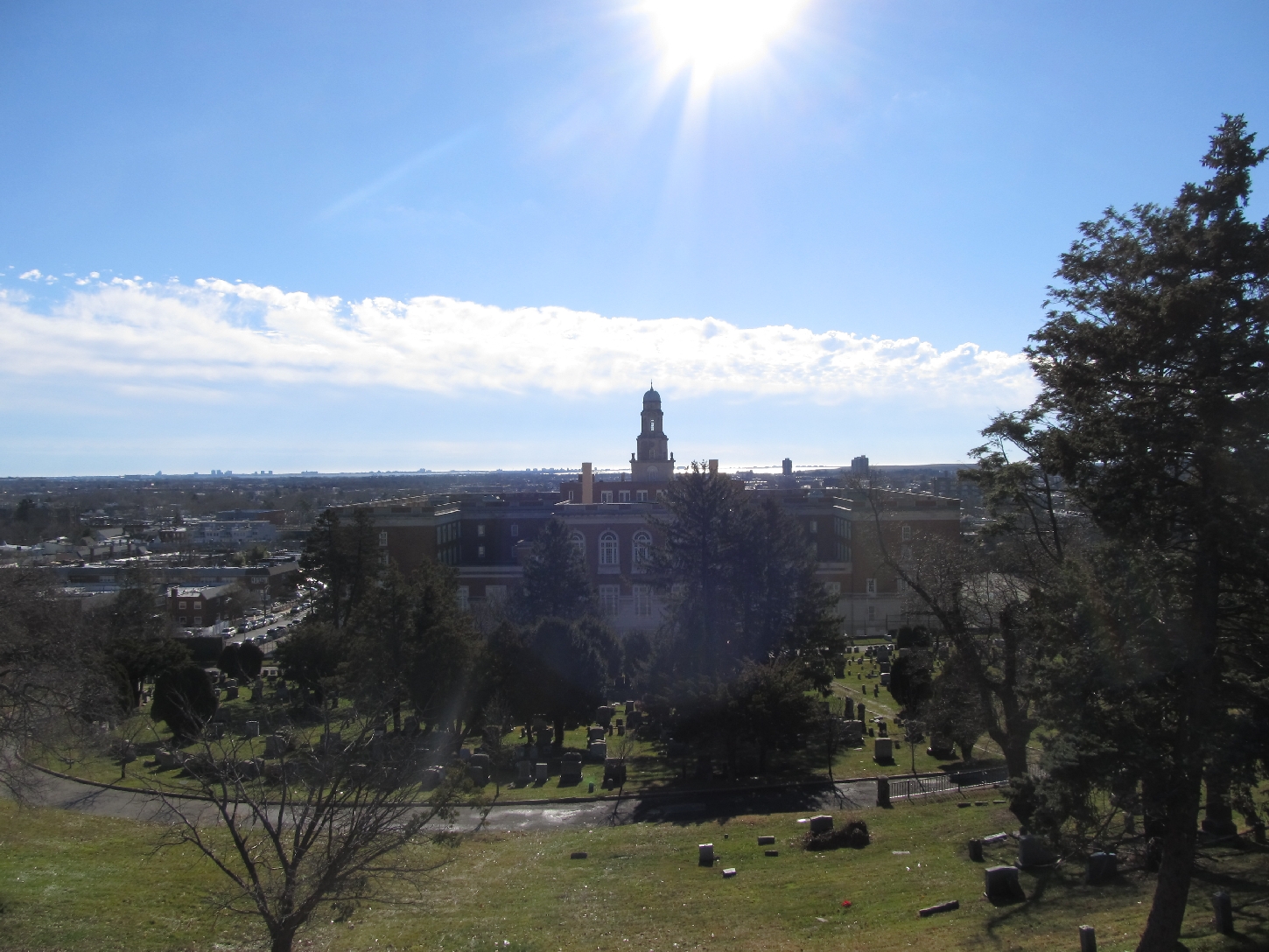 Here are some graves decorated for Christmas. I wanted to see the view from up there. I took a few moments to pay respect to those that live here permanently. I like to stop and look at the names and the dates - these were all people with families and friends and lives and loves and pets and likes and dislikes -- if you are going to walk through their final resting place, it's important to do so respectfully.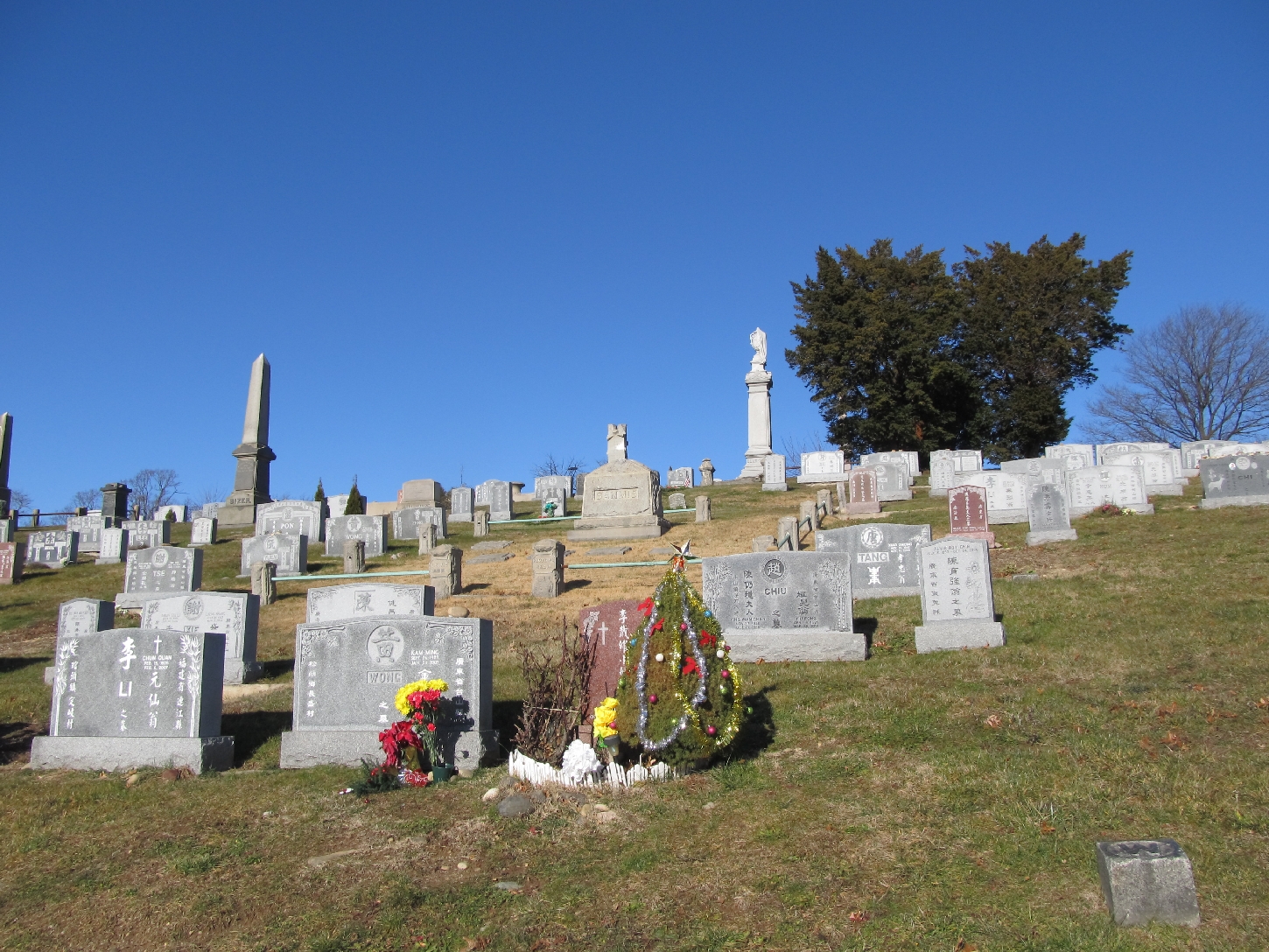 Here we are at the top of the hill -- this is the highest point I saw in the cemetery, in this section at least.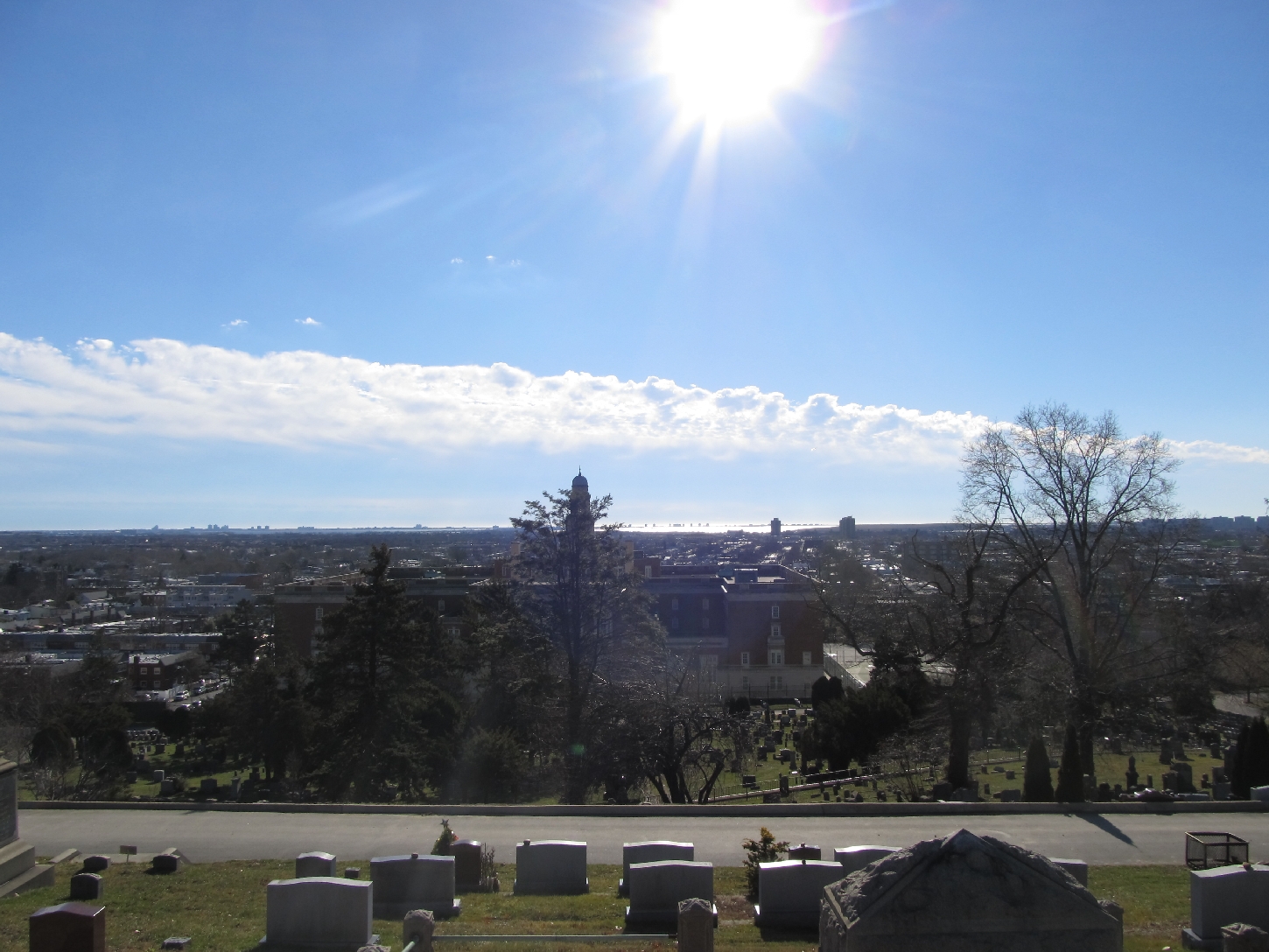 And another look back at Woodhaven --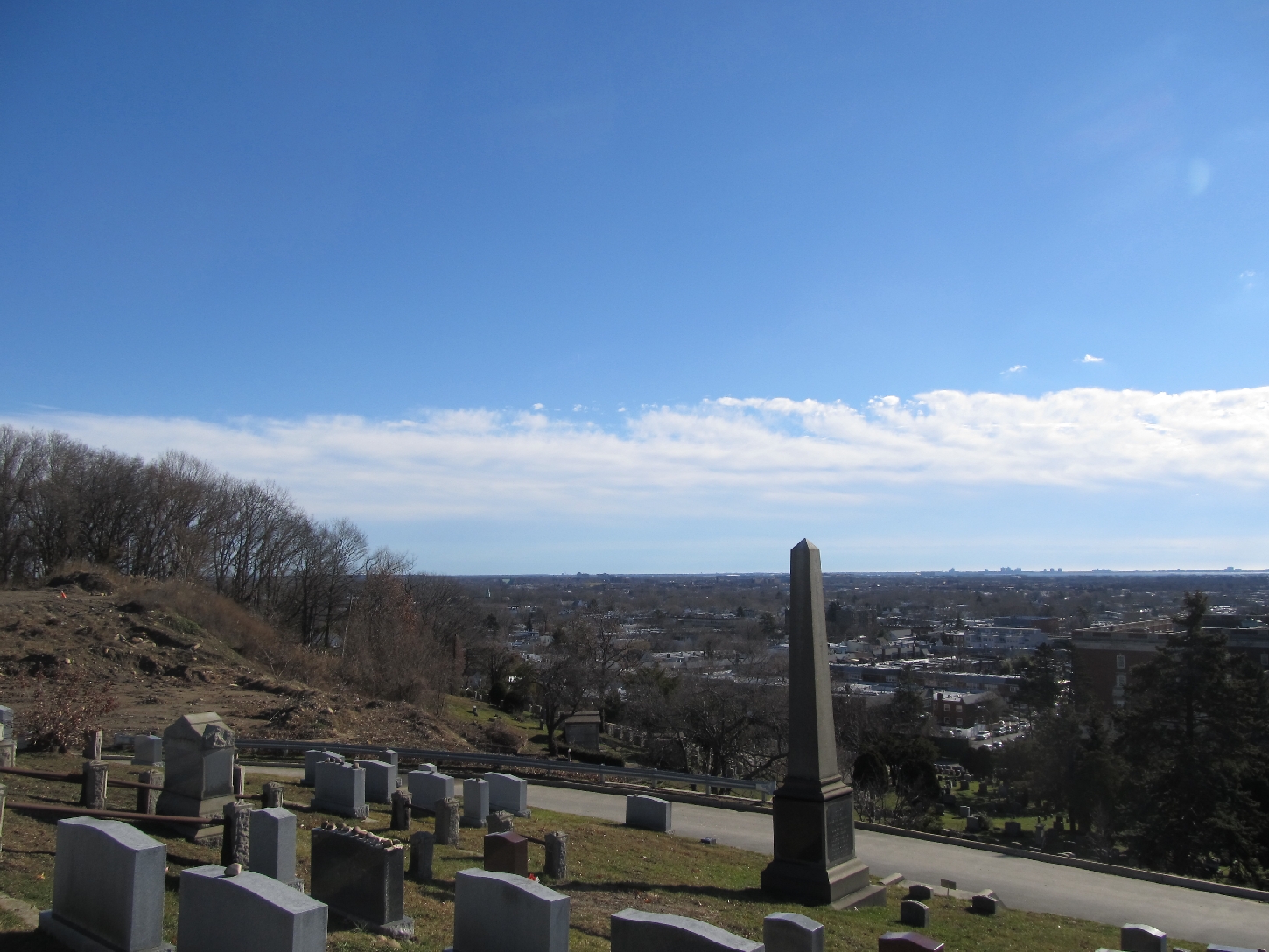 Okay - so with one last look back, we now proceed to the other end, over by the Jackie Robinson (Interboro) where we were the other day (just the other side of the fence). But it is worth pausing here for a moment for a last look. Spectacular.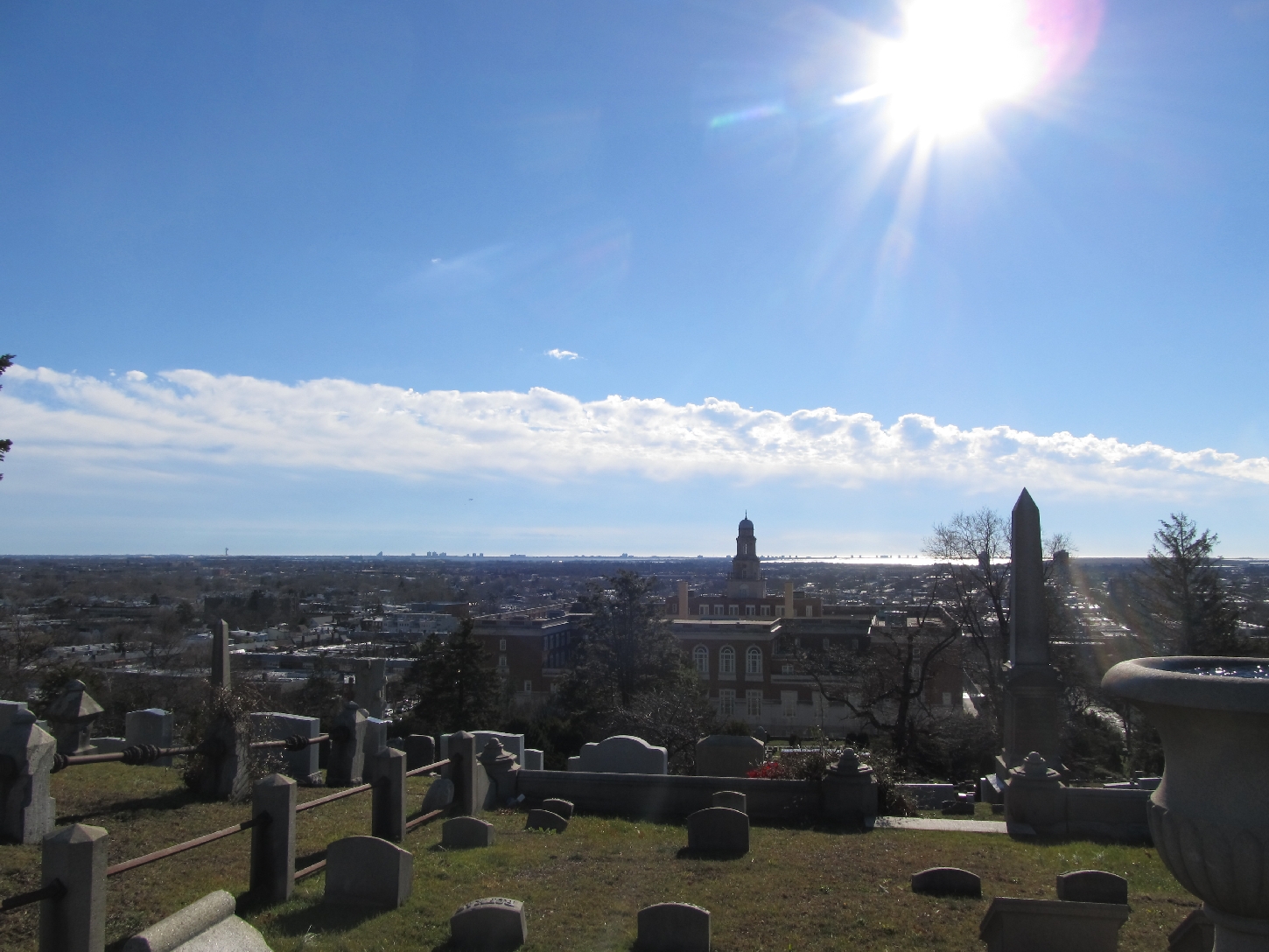 There were a lot of Christmas wreaths on graves today -- and a number of people visiting loved ones.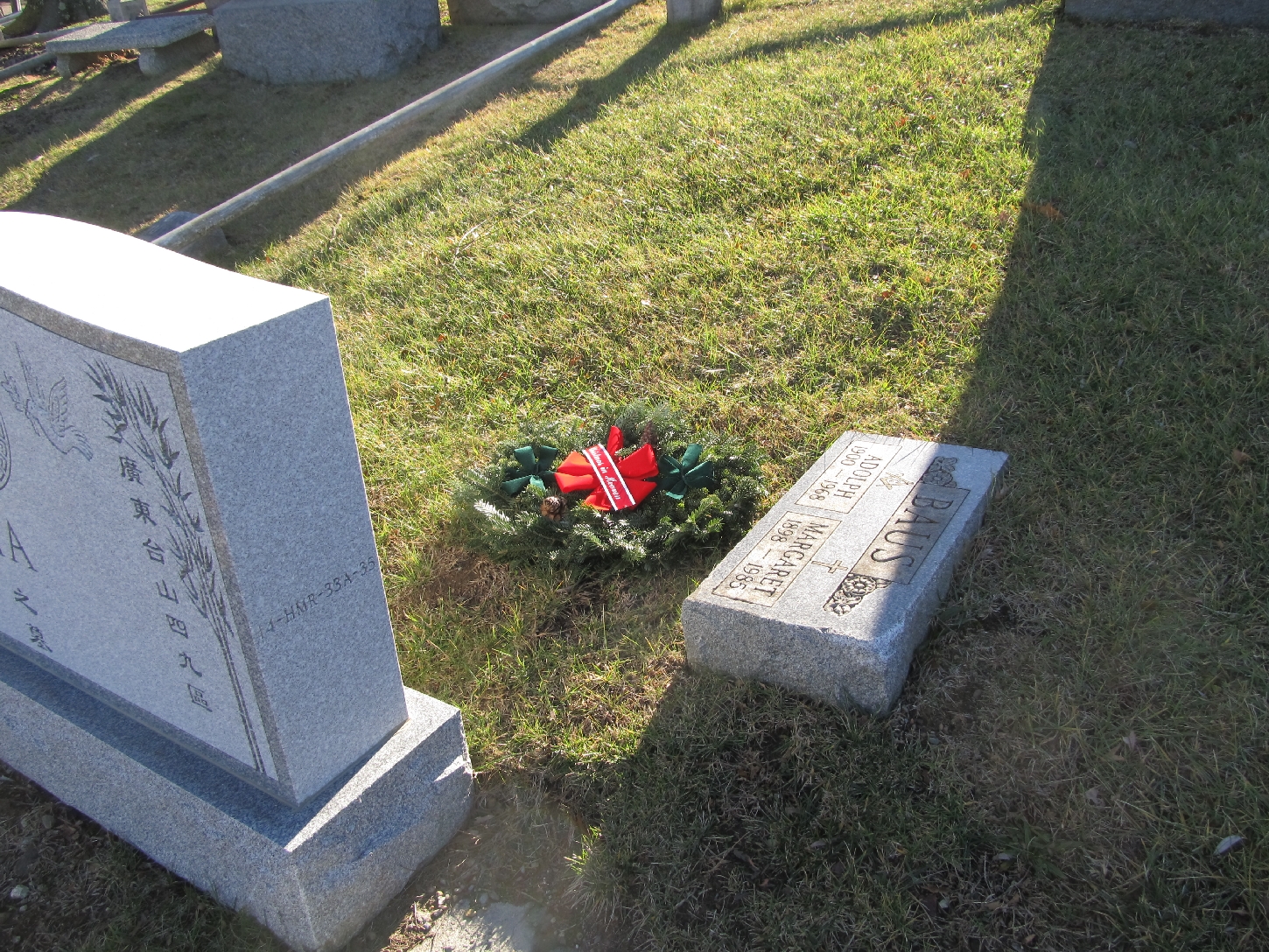 We're now in Mt. Hope Cemetery, part of Cypress Hills. We're heading for that fence back there.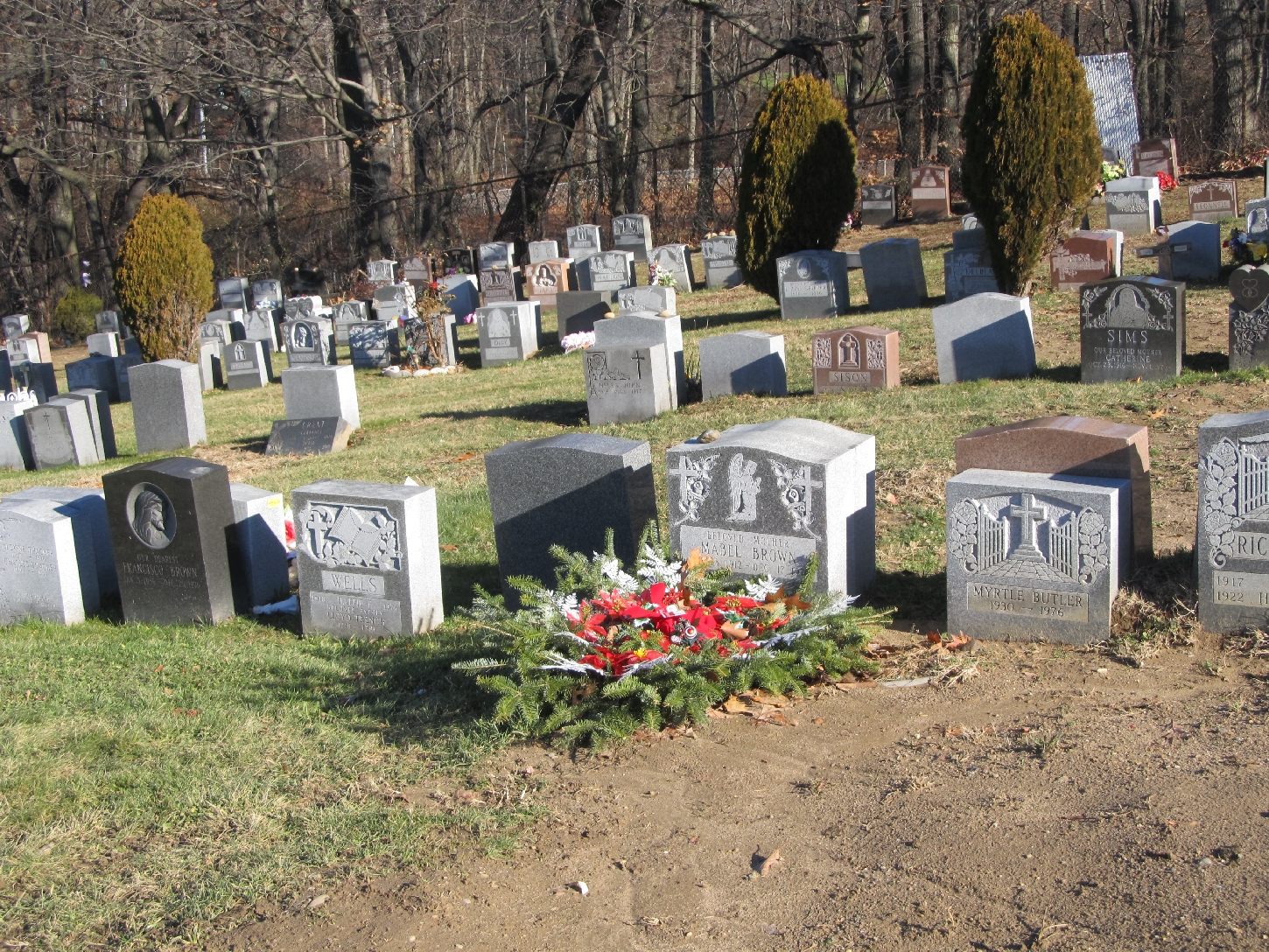 And there, just on the other side of the fence, what do you see? That circular field where they used to fly the model airplanes! You know what? We're going to have a contest, rename this thing, and put up a sign and see if anyone notices.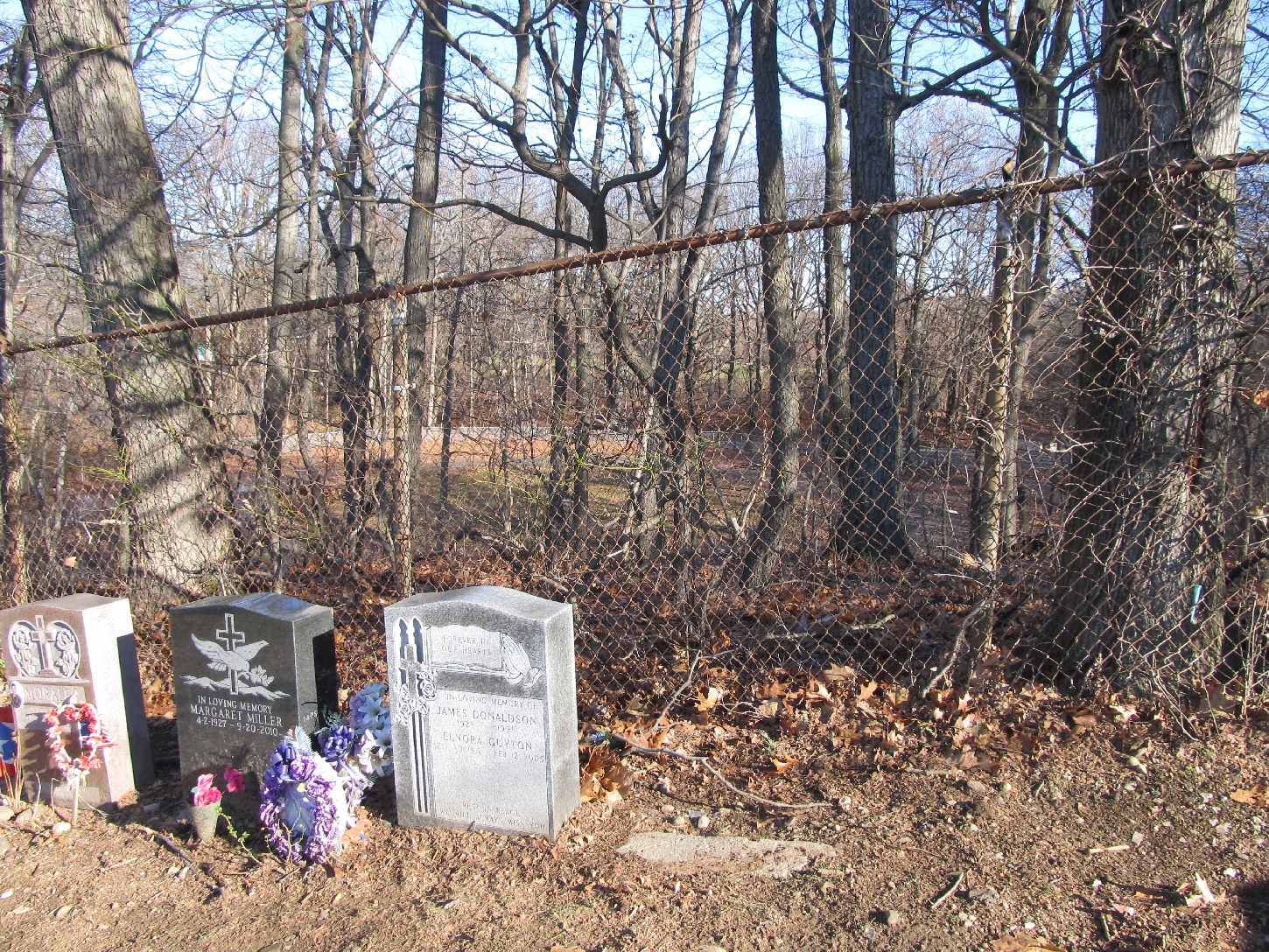 Walking through cemeteries always produces a fair number of questions and mysteries, such as this one: amidst all of the new gravestones is this small, simple wooden marker for an Olga. The letters of her name are carved wood -- and you can see where 5 carved stars used to be (only one actually remains). We'd love to know more about Olga.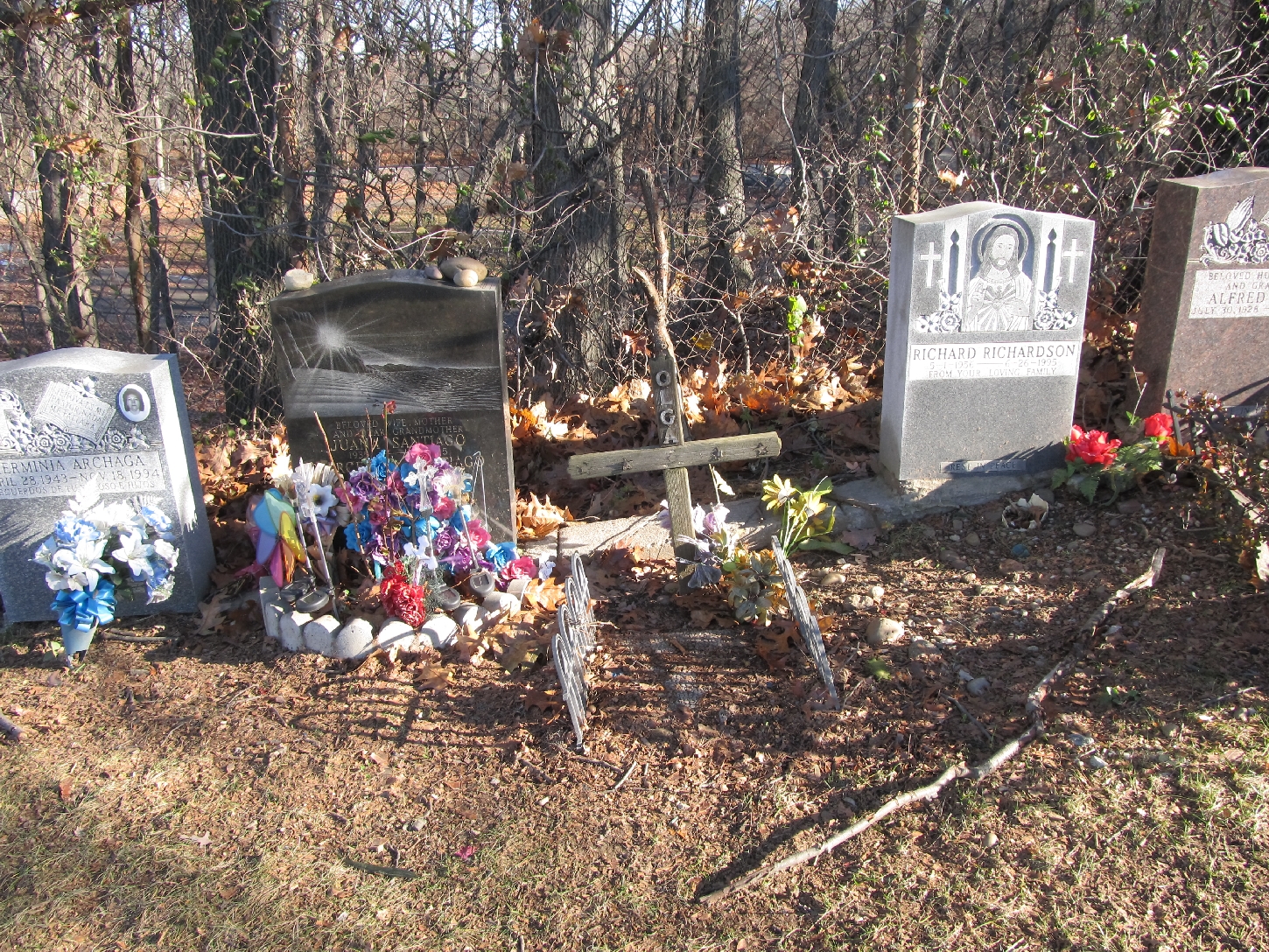 In our last walkabout, we speculated that there was a walkway that used to run next to the Interboro, now the Jackie, which you can see below.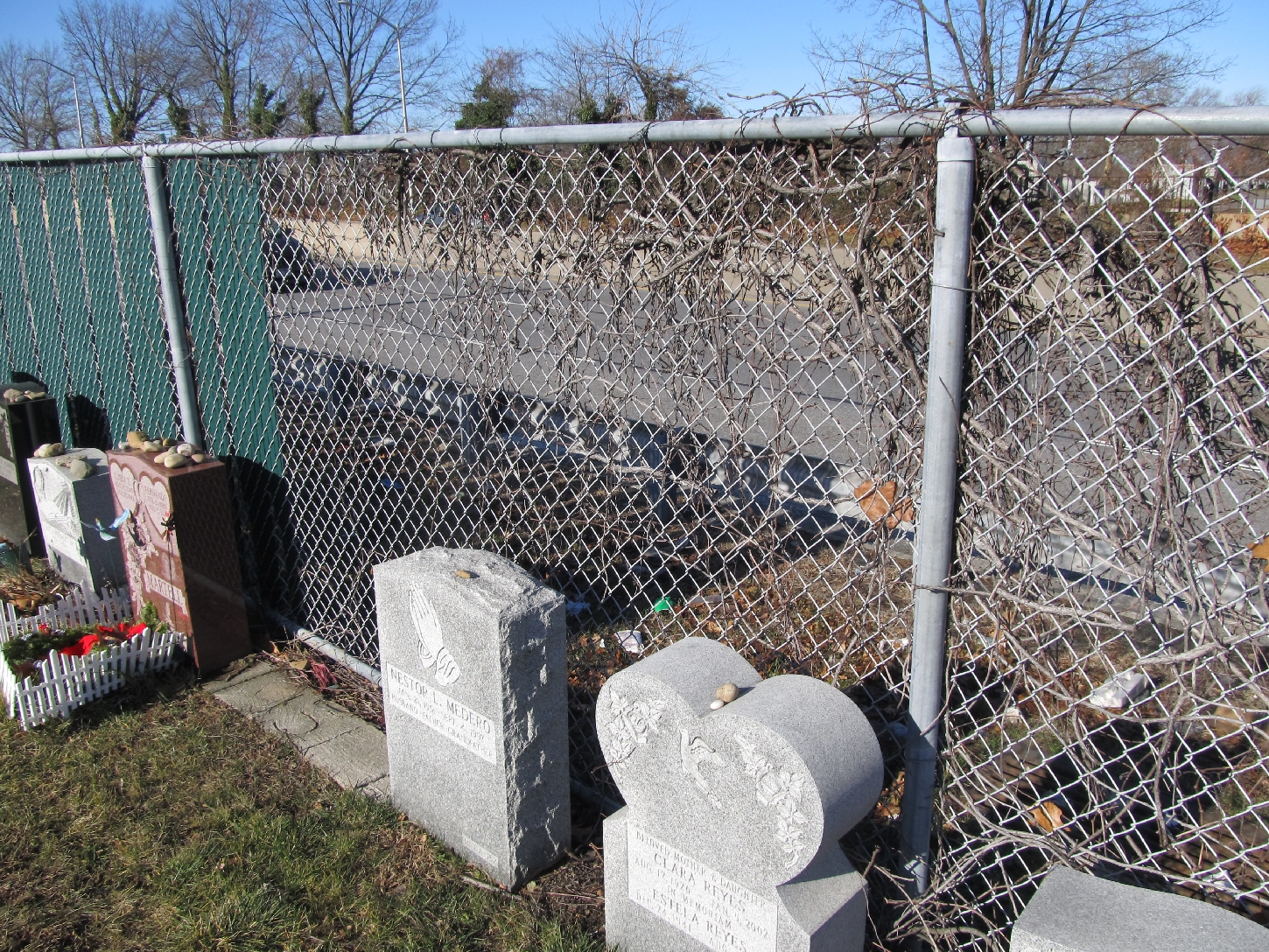 From 1951, you can see a faint impression running alongside the Interboro at the left hand side of the picture below. Right around where the red X is is where I took the picture below this. I'll have to consult with our resident Woodhaven Historian Allan Smith (who is working on the 96th St Cemetery project and co-authored a book about Cypress Hills Cemetery), but I'm wondering if this was simply a back entrance to the cemetery. If you lived in Glendale, or anywhere else on that side of the park, this would be a way to get into the cemetery without having to go around the entire outside, to Brooklyn, first.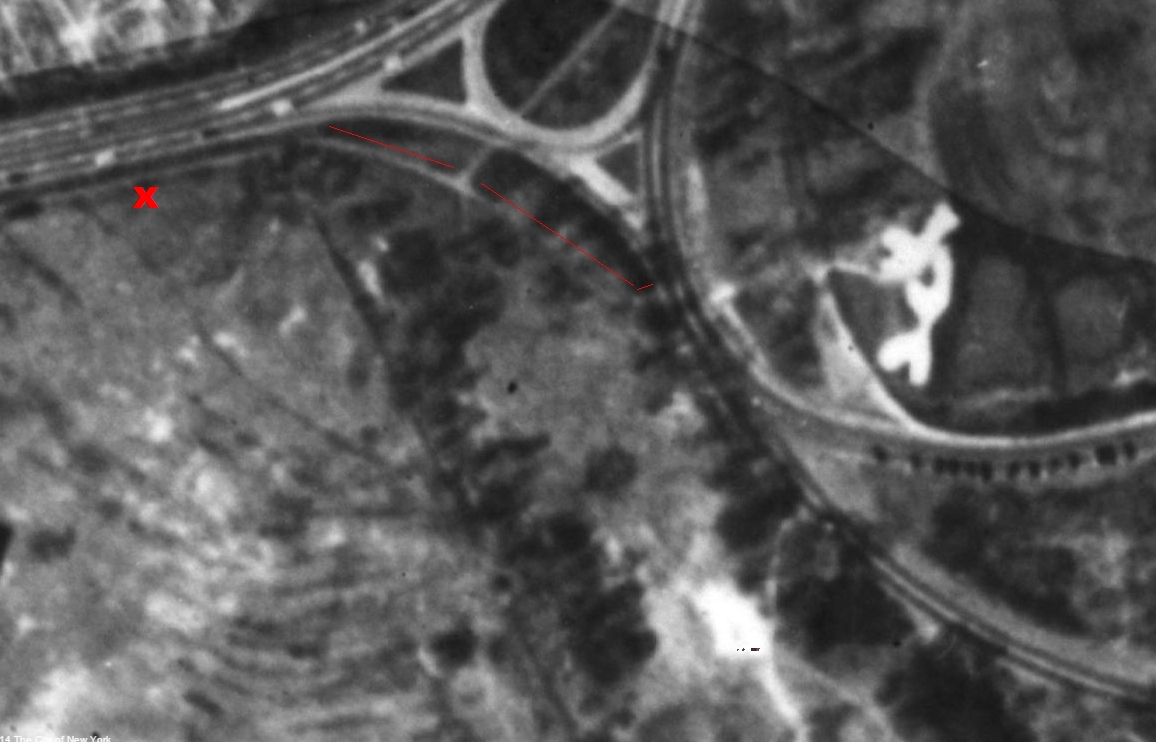 Anyway, the view over the fence of the Jackie Robinson. The exit sign for Forest Park at the right -- the green in the background is the golf course. And to the right is that . . . oh, I'm not going to say it.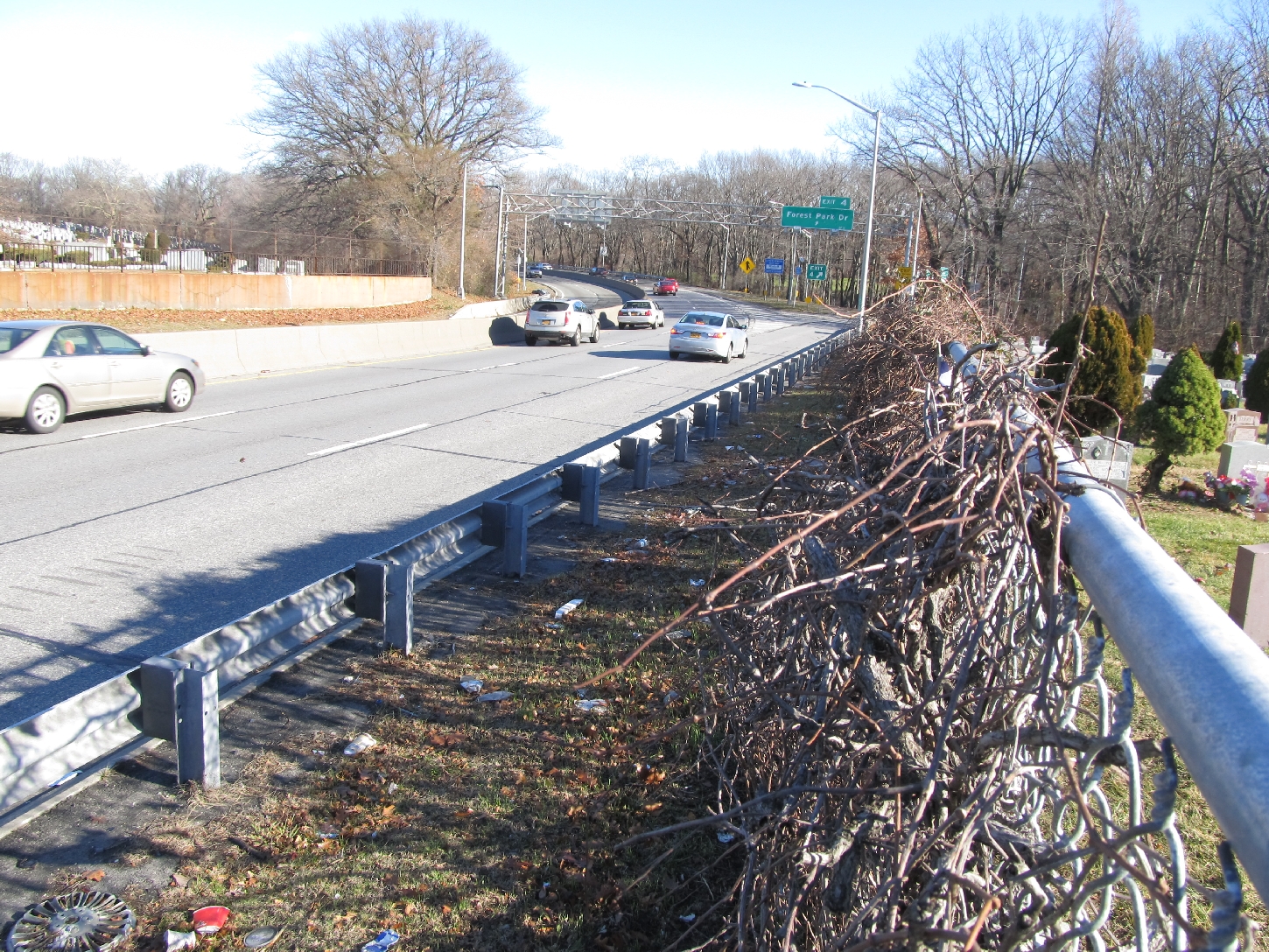 Heading home, a look west towards Manhattan. There were a lot of people in the cemetery today, visiting loved ones, and I steered clear of them, gave them privacy. However, I crossed paths with one woman who was by herself, laying wreaths at a gravesite. She spotted me and wished me a Merry Christmas and I wished her the same in return.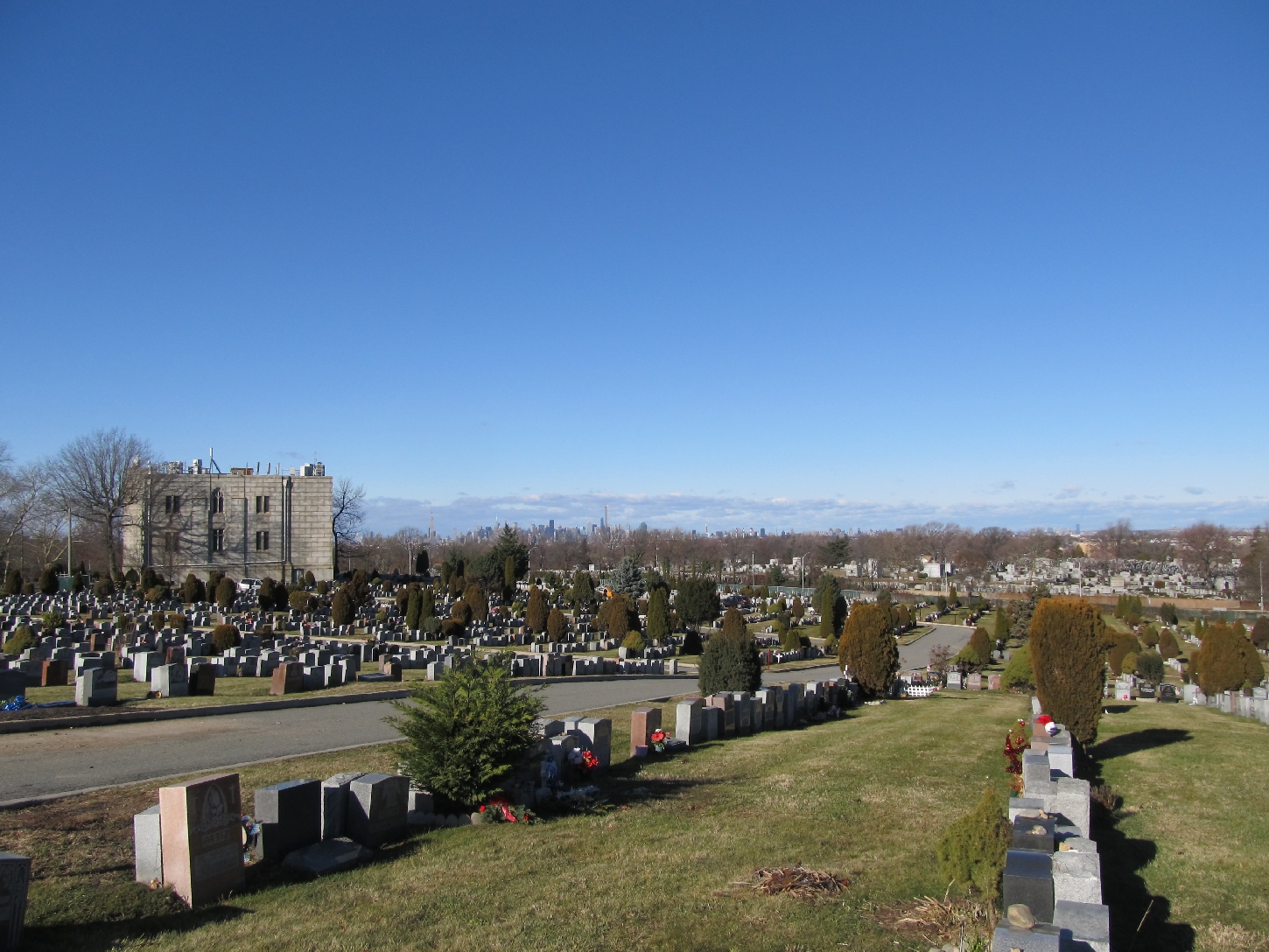 One last look -- a old tradition, placing a stone on top of a gravestone each time you visit, seems to be multi-cultural. I saw this in the Jewish section, Spanish, Chinese -- people coming to visit their loved ones and laving a rock on top to say "I was here."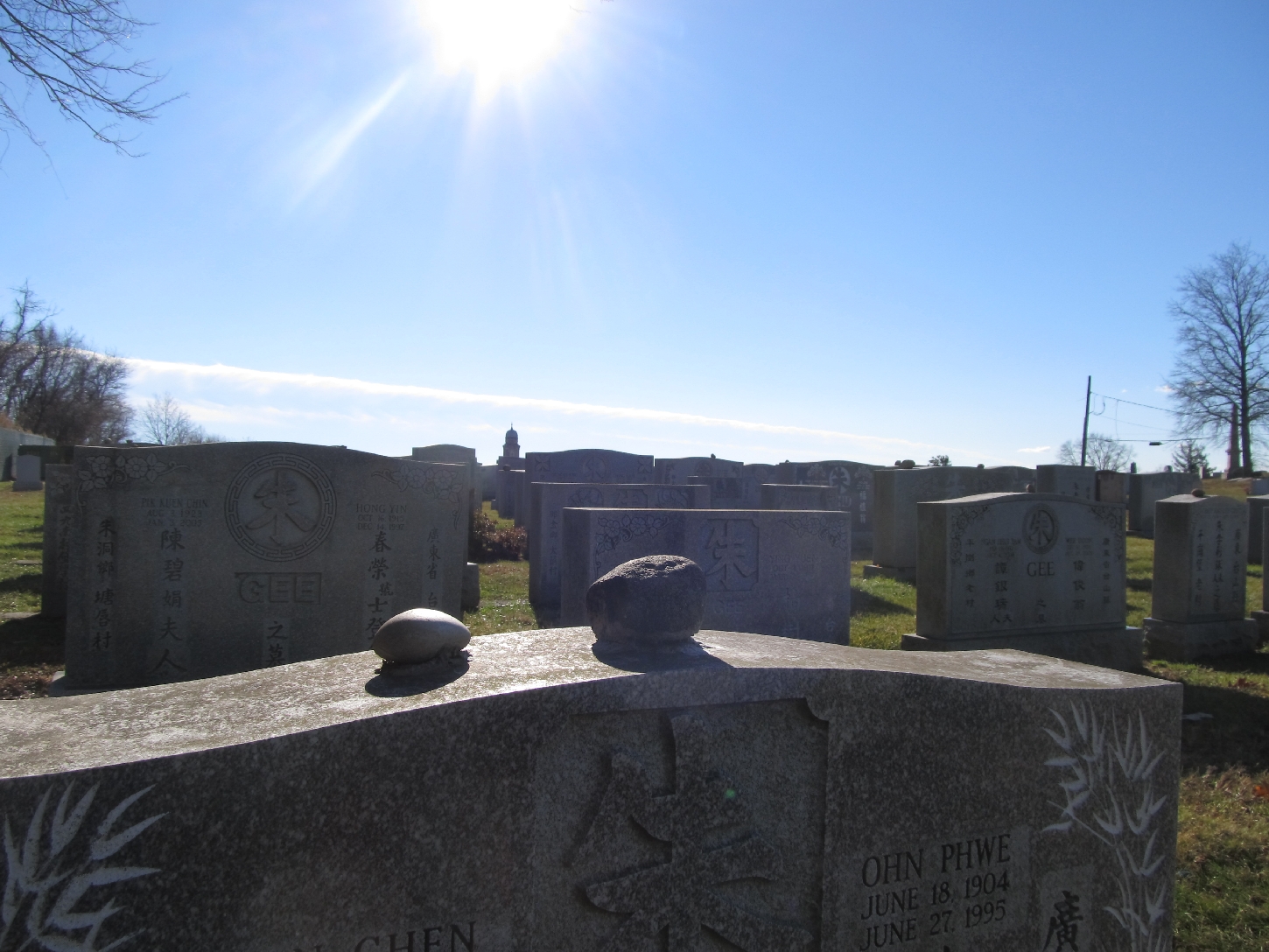 I didn't have any loved ones buried here, but I did pay my respects by offering a silent prayers for all their souls - and an extra one for the woman who looked so very sad laying two wreaths on Christmas Day - and a final one for Olga, whose wooden cross has me curious. And with that, we left the cemetery behind us -- me and my stick.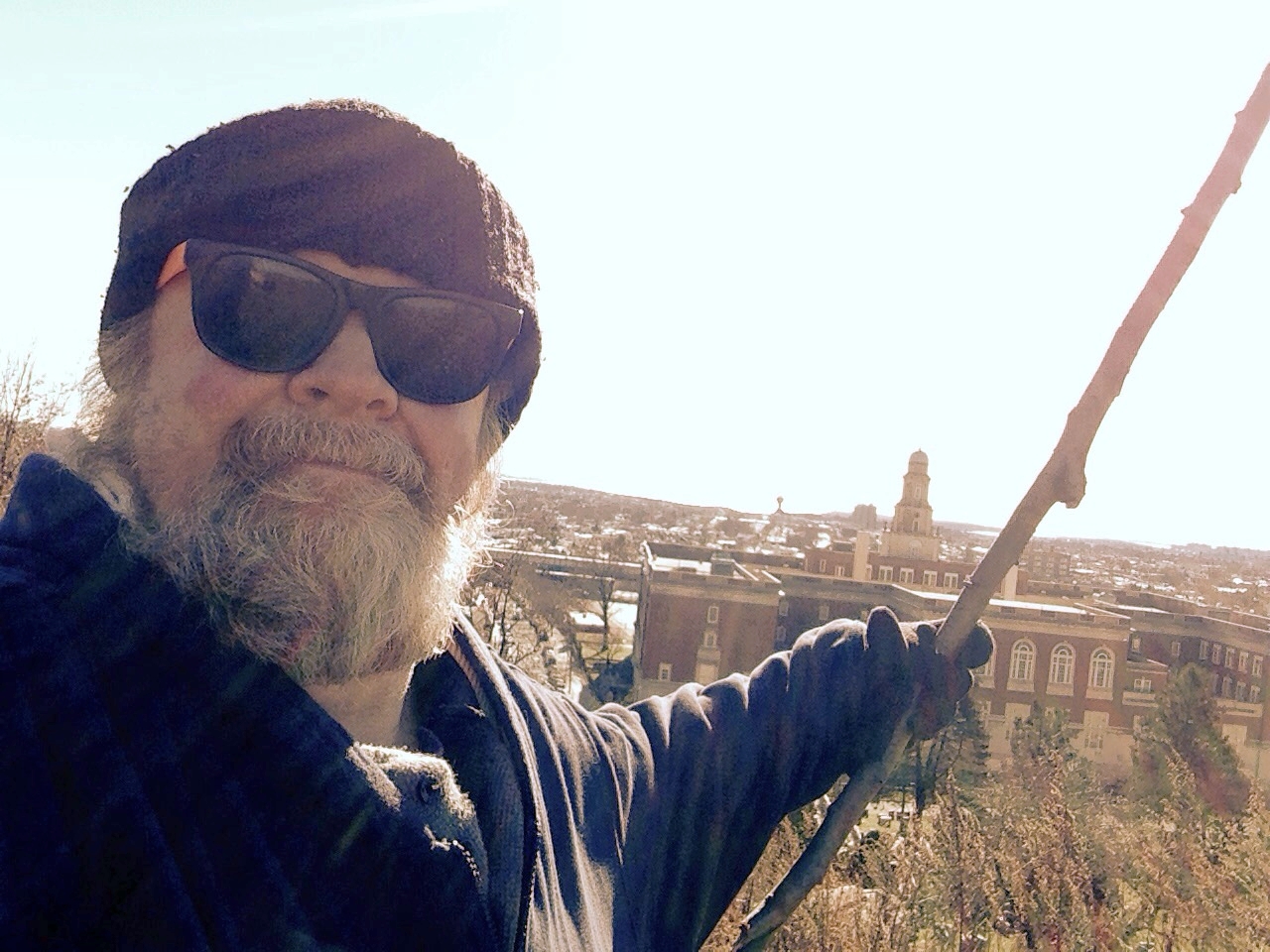 If you have any comments, or would like to suggest other projects, drop us a line at info@projectwoodhaven.com or projectwoodhaven@aol.com.
Return to Project Woodhaven's Home Page
Photos by Joey Wendell