The temps were in the mid to upper 30s for this month's cleanup of Wyckoff-Snedicker Family Cemetery behind All Saints Church on 96th Street and 86th Avenue. The colonial-era cemetery has been subject to neglect over the years, but with a new pastor and a new attitude, the future of the historic cemetery is bright. Click here for a recent feature in the Times-Newsweekly about our historic cemetery.
The cleanup is being sponsored by the Woodhaven Cultural & Historical Society with tremendous support from the students at St. Thomas the Apostle's Woodhaven History Club, led by teacher Patty Eggers. And this morning, we were joined by Councilman Eric Ulrich and his staff -- Sal Simonetti, Greg Mitchell and Ciara Grace. Eric' s grandma also came along to lend a helping hand. This cleanup is funded through money allocated by Councilman Ulrich and we were proud to show off the hard work that we've done so far.
There are a lot of real interesting pics this month -- be sure to check out some of the "before/after" pics at the bottom of this page to see how far we've come -- but before we get to the pics, check out this video from Saturday's cleanup.
The group arrived a bit after 8:30 and it was about 39 degrees, but there was a wicked little wind which made it feel a lot colder. Woodhaven Historian Allan Smith - who was a lifetime member of St. Matt's and has vivid memories of the cemetery as a child - started the day off with a tour. The cemetery was privately owned but then was taken over by the city many years ago - in the 1960s, the church bought the cemetery in an auction and it has remained in their possession ever since. It has been neglected over the years, but we are hoping that a sustained effort to clean it up will lead to it being open to the public, a quiet space that people can come and enjoy come peace and quiet.
The students of St. Thomas the Apostle have been a huge part of this project - and the Woodhaven Cultural & Historical Society presented them with their very own banner.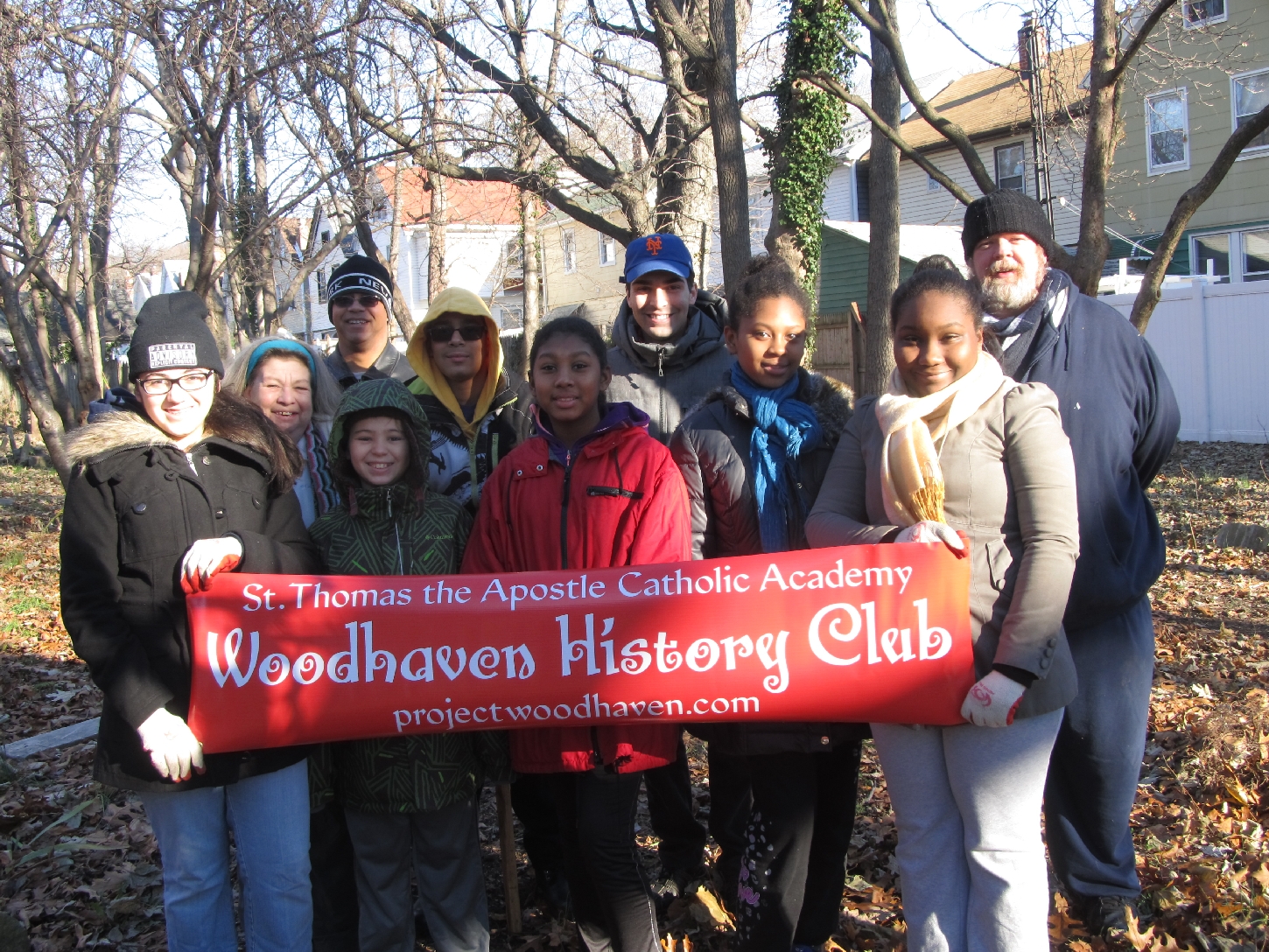 Then the work began. First up, the north end of the cemetery where there were a few large downed trees. Mostly, we needed to take the ax to the trunks and chop them into manageable pieces. Below, John Eggers hauls away a large piece of a tree that had been taken down some time in the past (notice the clean cut).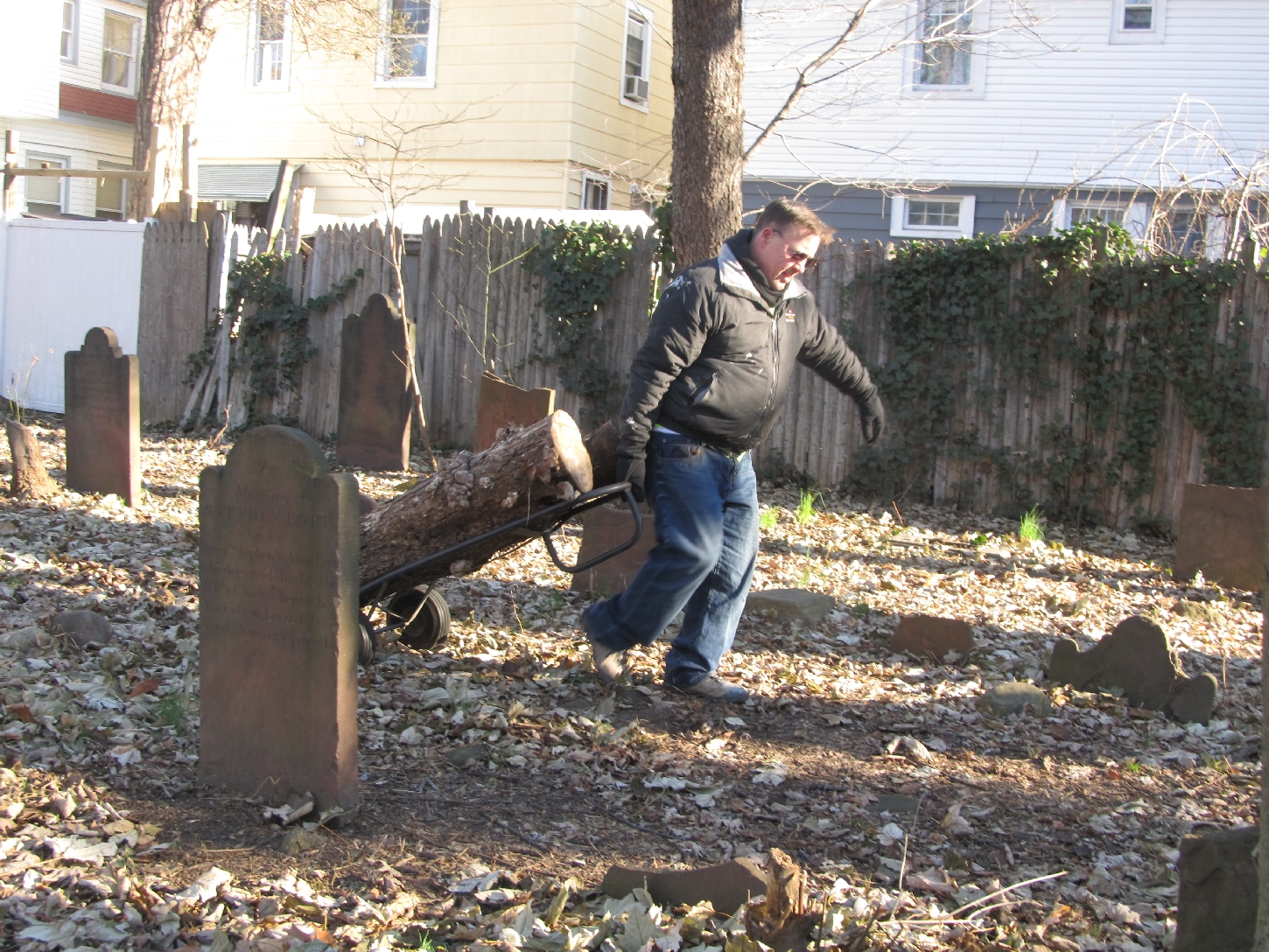 For one of the larger trees, we decided to see if it could be lifted and carried to our rapidly growing wood-pile. It was really heavy - and once we lifted it, we needed to carry it from one end of the cemetery to the other, over some less than even footing - stepping over roots, and a few pipes and other things. Joining us on this trek was CM Ulrich's staff as well as Eddie Gardiner. This thing was very heavy.
As Eric says at the end of the trek, after the tree had been dropped with a crash on the pile, "Many hands makes light work," and these words certainly sum up this project - we've had lots of volunteers and that has certainly made it easy. That being said - we could always use more volunteers. Our next cleanup is scheduled for Saturday, January 10th at 9 AM. Have a group that you'd like to get involved? Just want to get out and get some exercise? Want to be part of the restoration of a beautiful historical treasure? Contact us at projectwoodhaven@gmail.com.
The crew fanned out and picked spots to clean - preferably in the sun - and got to work with rakes and clippers.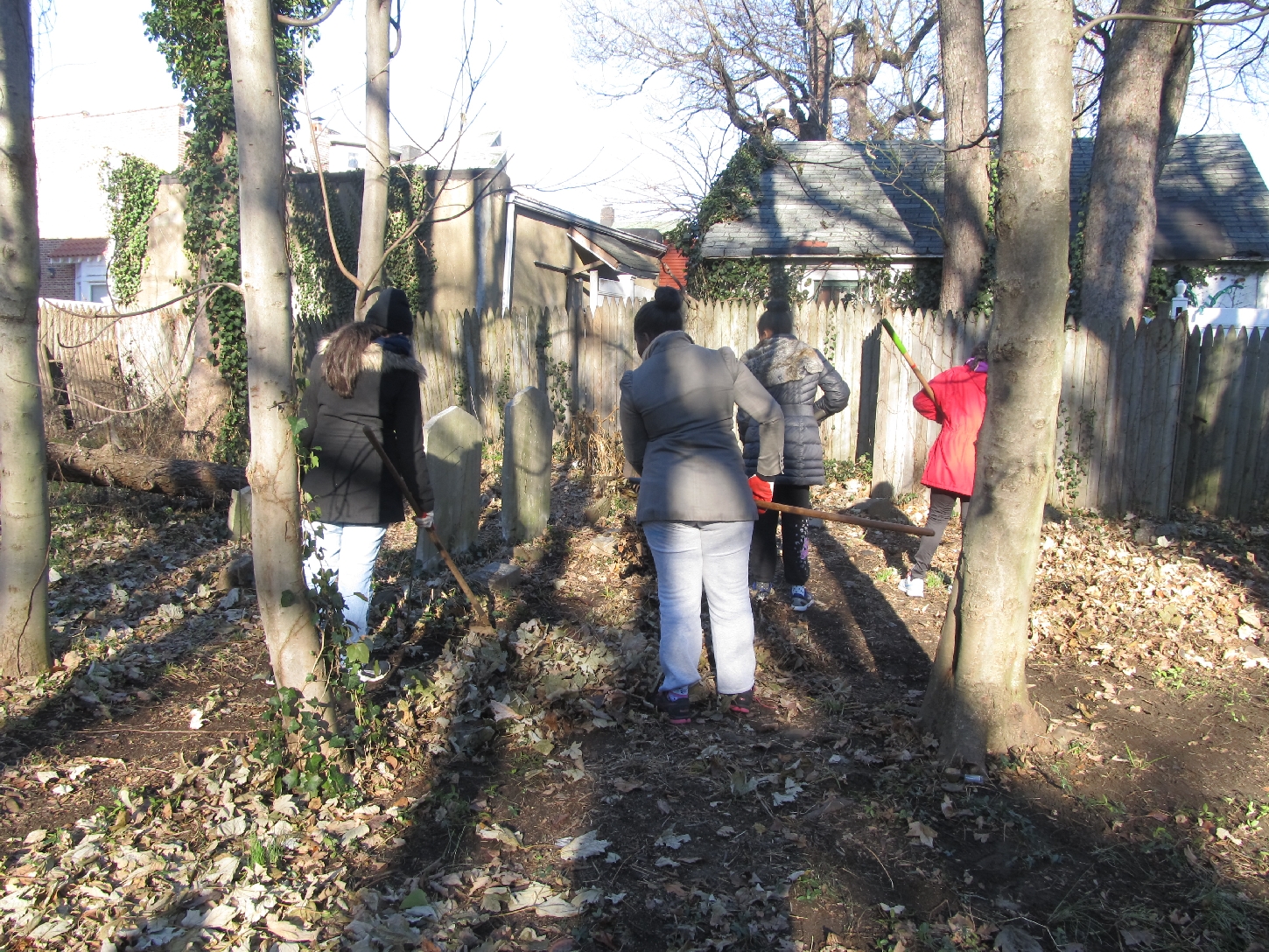 There are a lot of leaves to be picked up and bagged. Between weeds and vines and ivy and leaves, we've thrown out a few hundred bags of garbage - and we have many more piled up awaiting collection. If you look in the background of this picture, you can see Jamaica Avenue, to give you an idea how close to the avenue this cemetery is.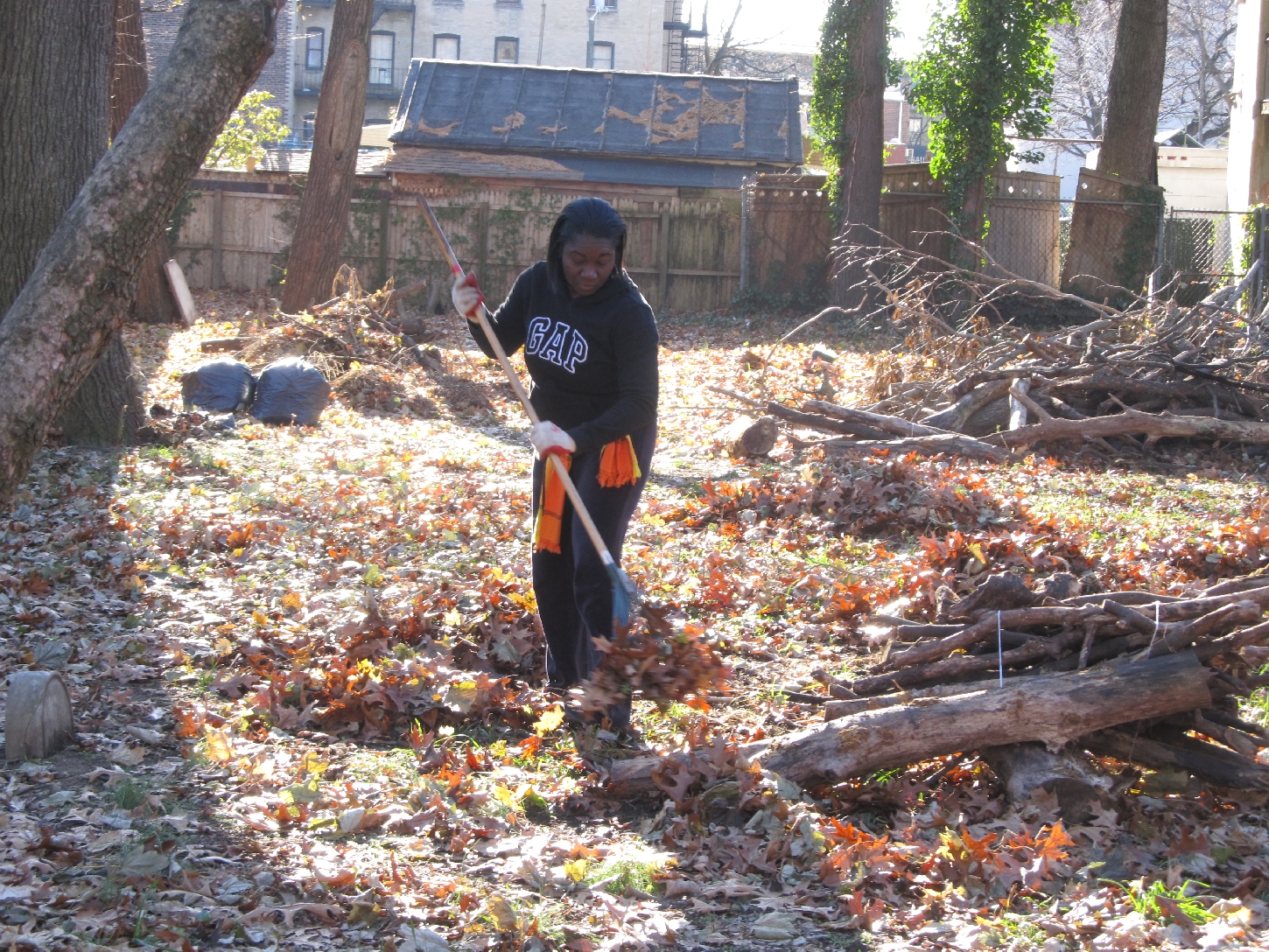 There is the gravestone for Mary Eldert who, it was once thought, was buried in a backyard on 86th Street (where the gravestone was discovered). There was also rumors of ghost sightings. The true story of Mary Eldert is actually much more interesting - but we'll save that for another day. For now, though, Mary's gravestone sits here, awaiting final placement in the Eldert section of our cemetery.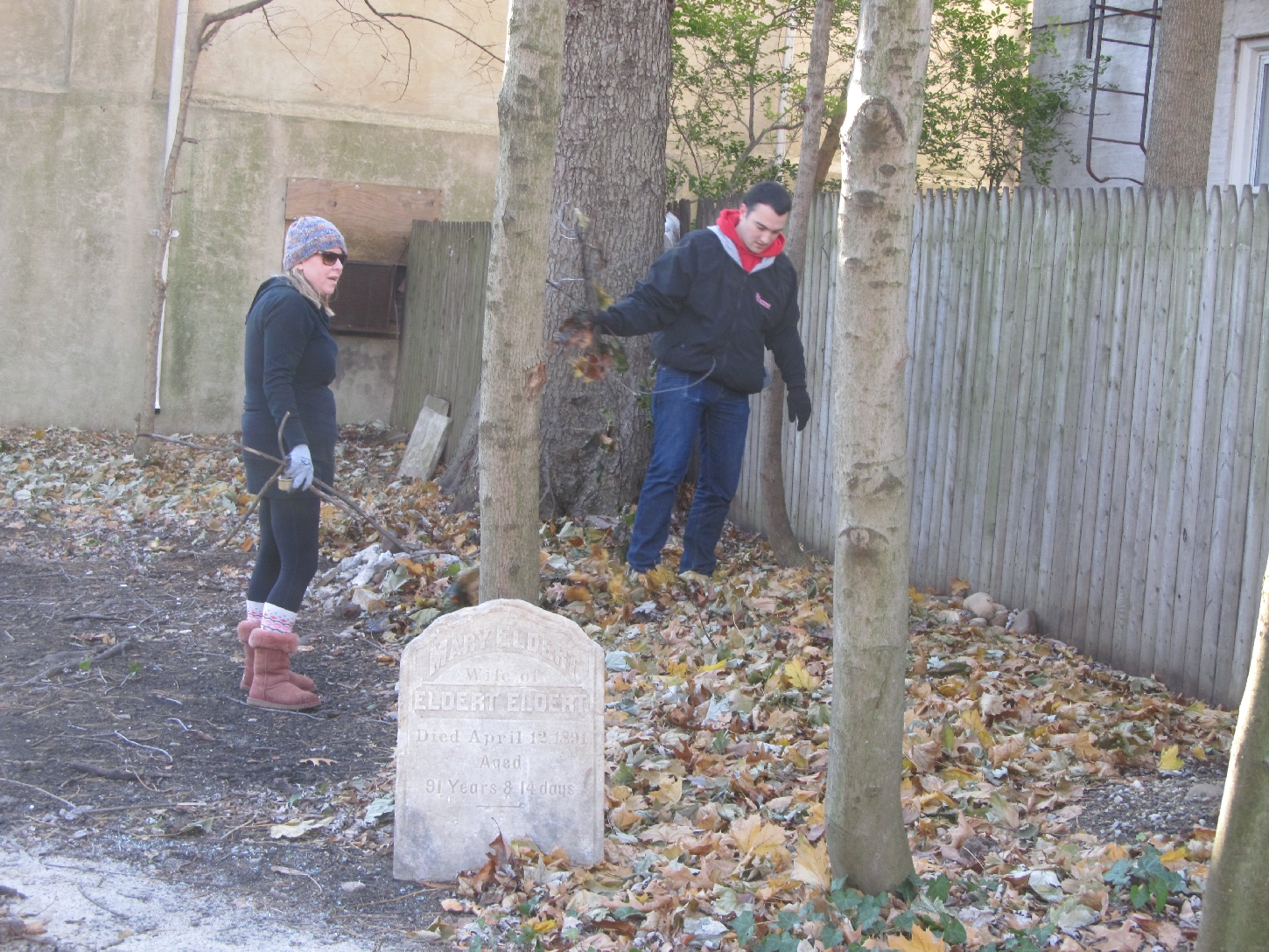 John Eggers and Kyle Faisca dropping another piece of heavy wood on our pile. Some of the trees were rotten and dead, others looked like they were strangling each other. We still have a ways to go - and we have a big pile of wood to deal with - but we have made tremendous progress.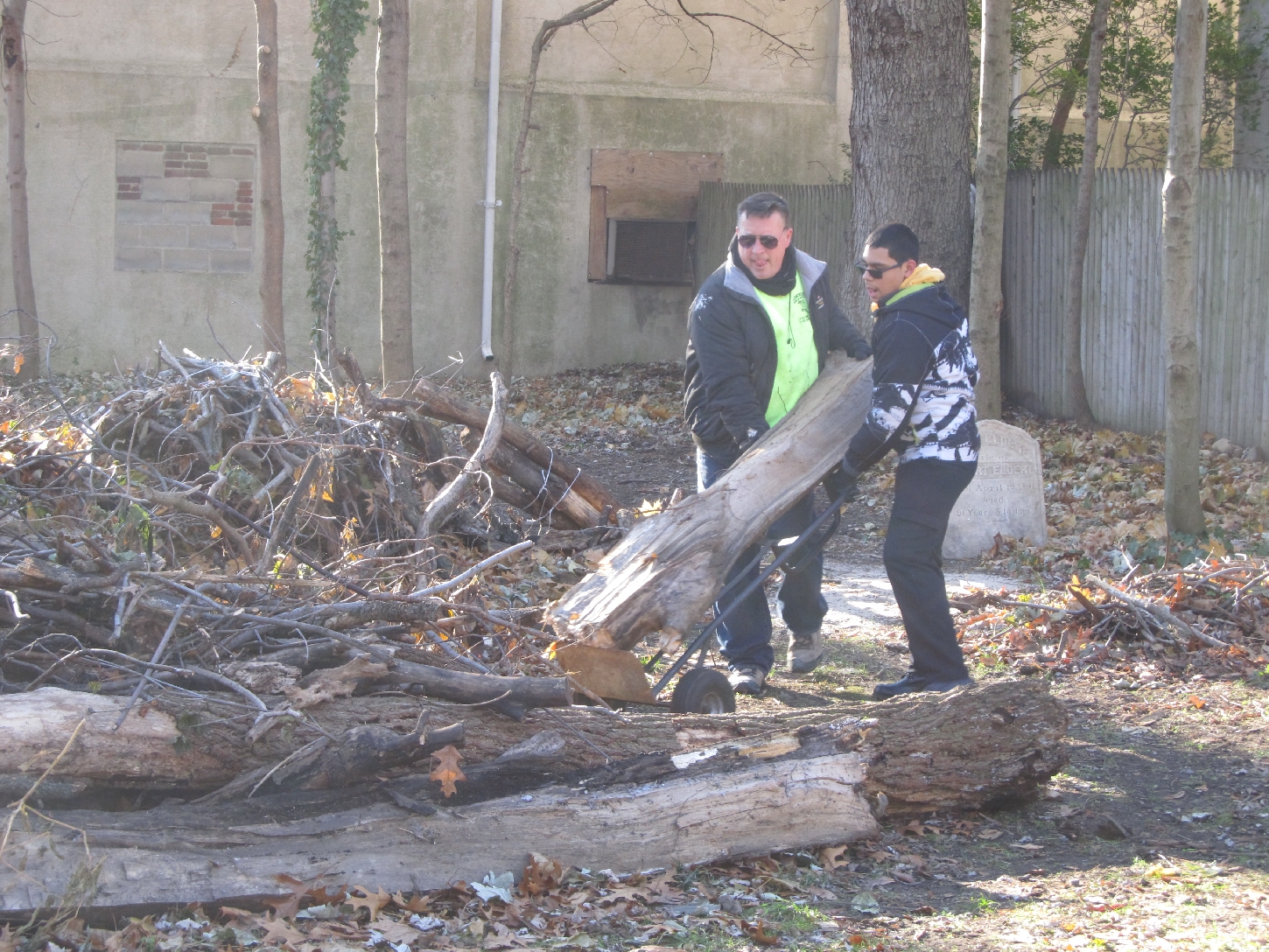 As you can see, there are a ton of leaves on the ground - and picking them up takes time! For the next cleanup, we're going to try to get a leaf blower!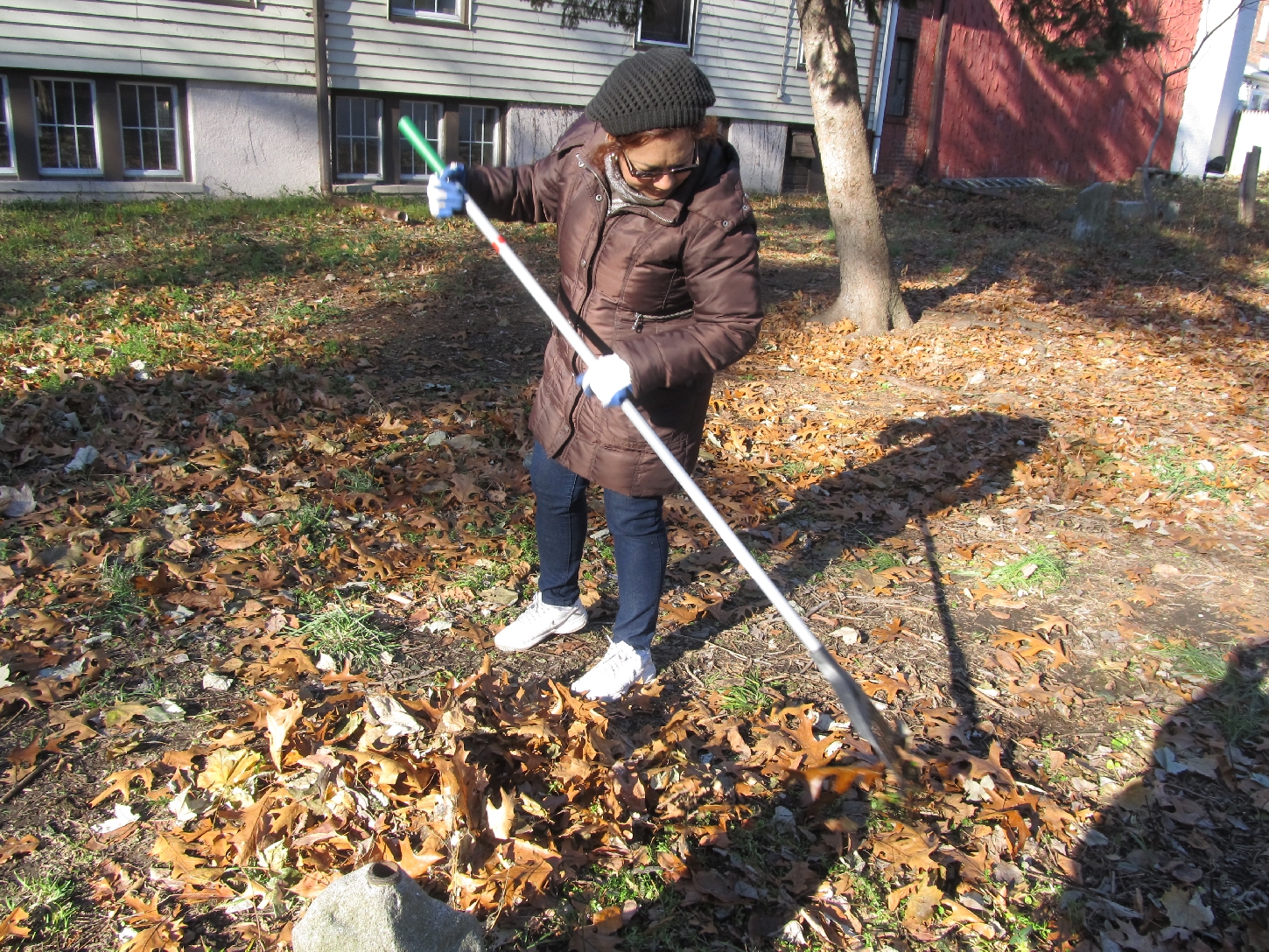 Another tree trunk - this one was tough to chop and real heavy. Next month, we'll bring a chainsaw!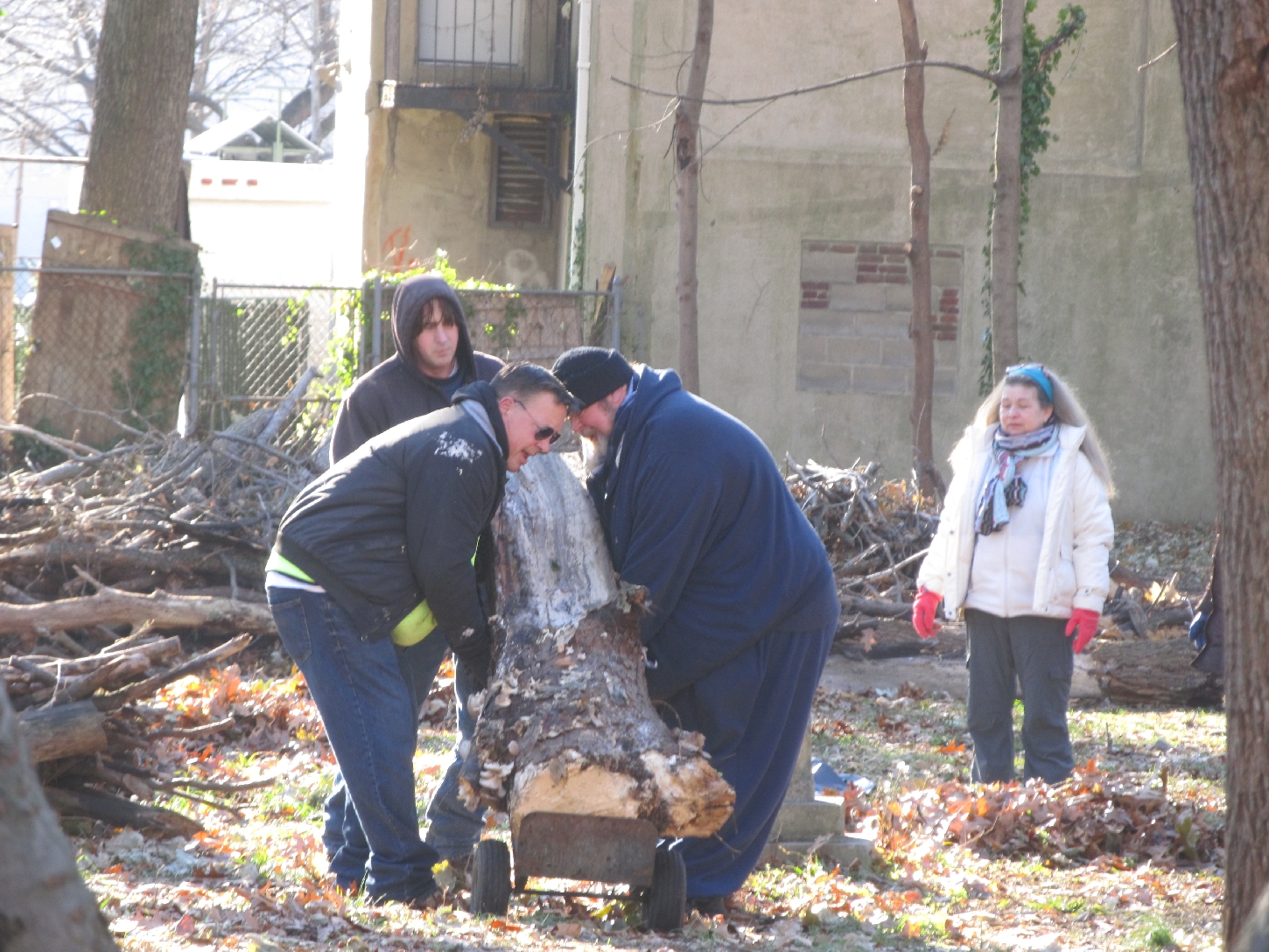 The northeast corner, the backs of houses of 98th Street just on the other side of the fence.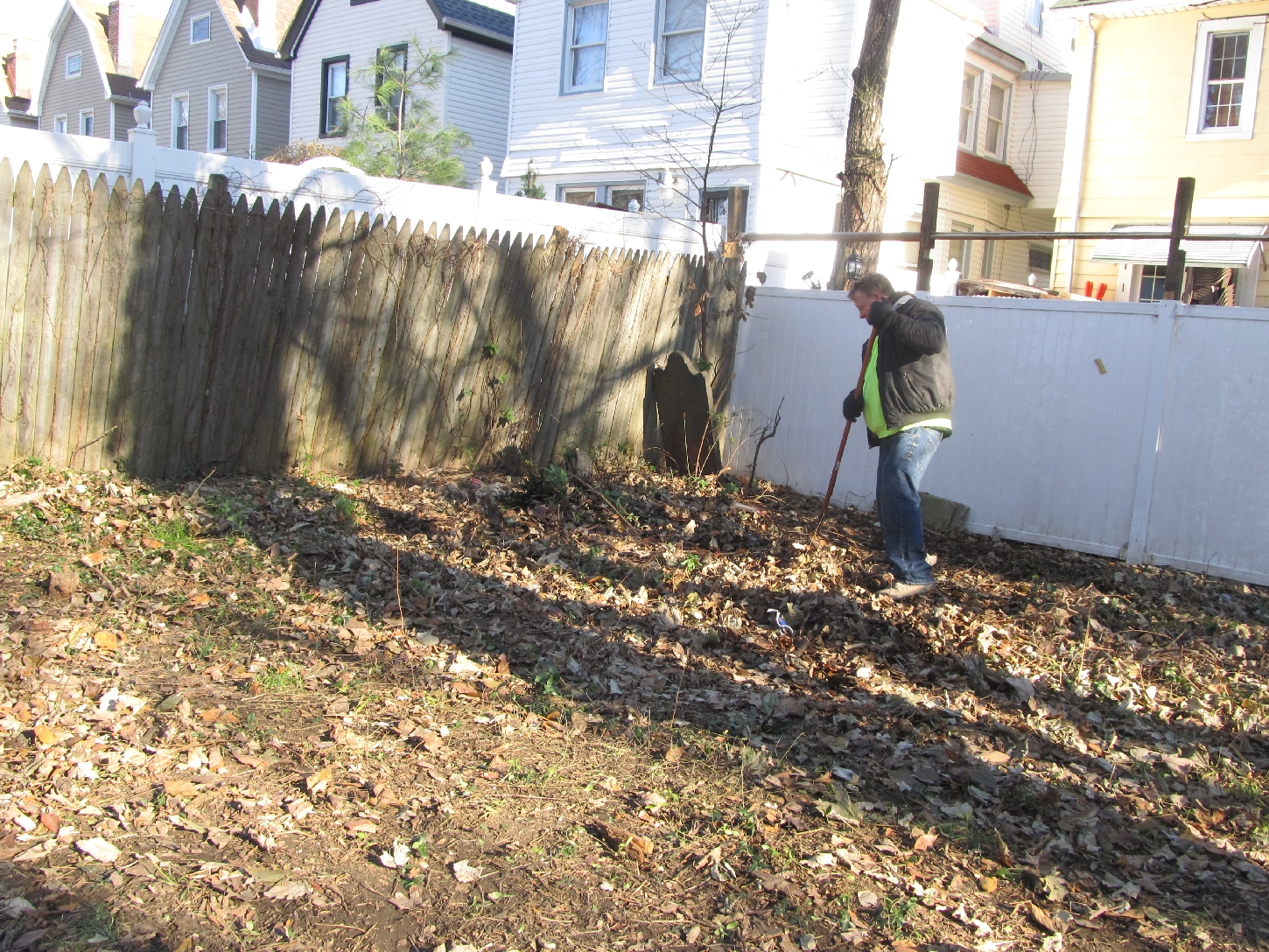 The northwest corner, where the big tree sat that morning. That fallen tree was impeding our cleanup efforts in that corner.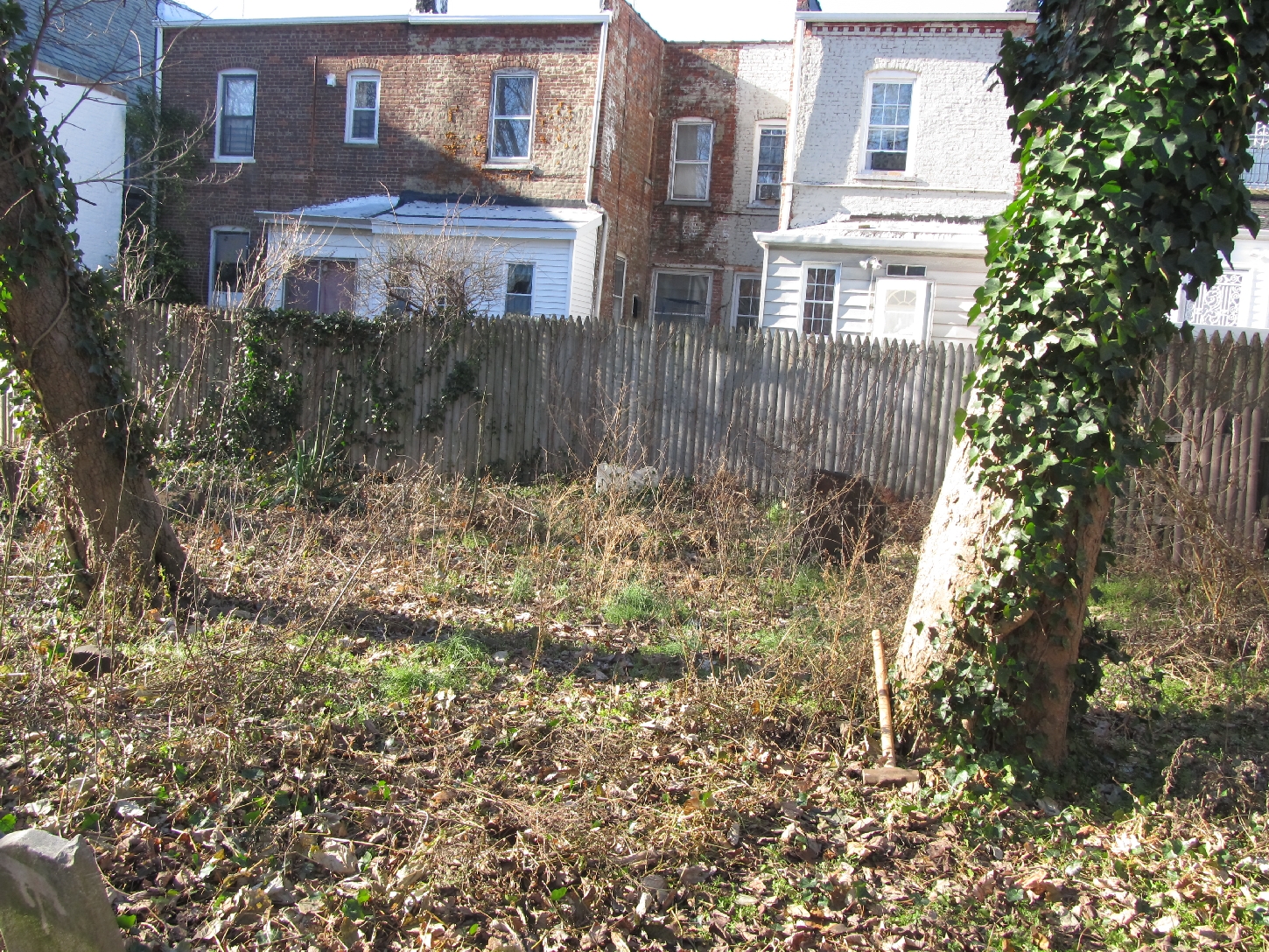 Carting off an old piece of fence, the backs of the houses on 96th Street just over the standing fence. Some of the fencing around the cemetery is in bad shape - some of it is brand new.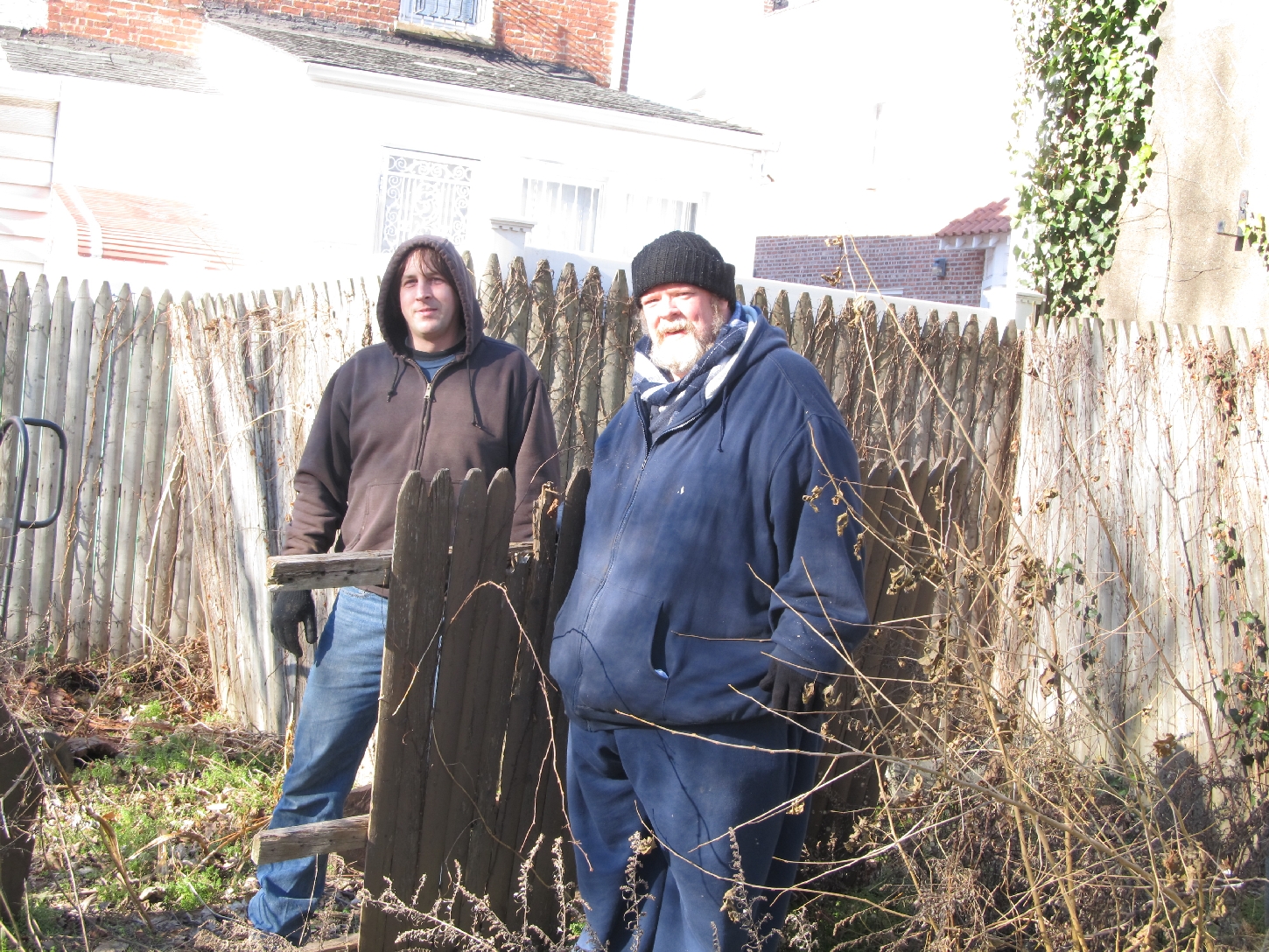 There was some excitement in the midst of the cleanup as a "lost" gravestone was discovered. Over the years, some gravestones had been vandalized and destroyed. Some had been knocked over - by vandals, by animals, by the weather, or some due to age - and over time, they were covered up with leaves, dirt, and weeds. Some of the gravestones are buried under a few layers of dirt and we have no idea how long it has been since they've seen the light of day. The students take a large sheet of paper and create a rubbing of the stone, which better reveals the wording which, in many cases, has faded a bit.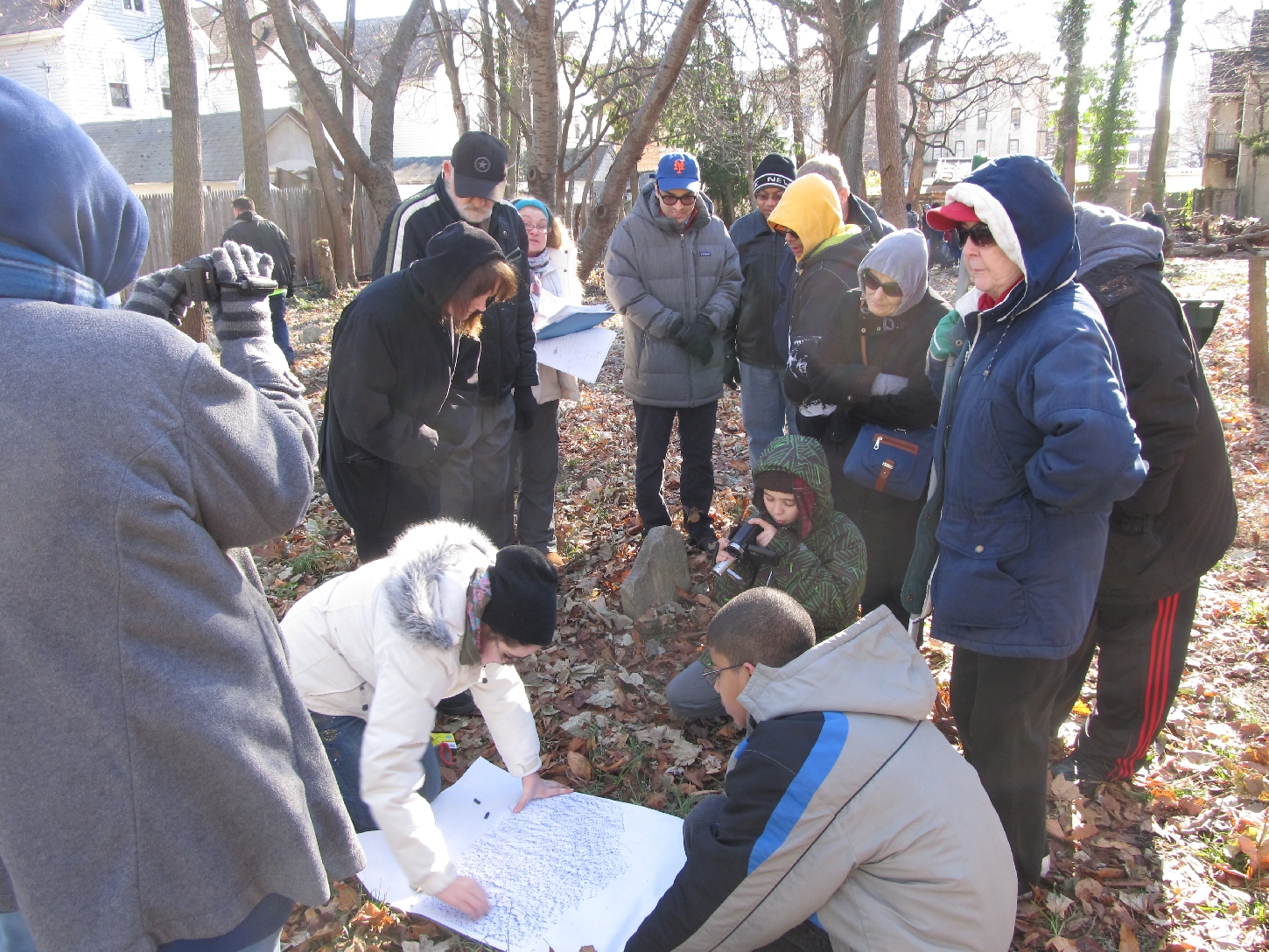 The rubbing really brings out some of the words which can then be compared to the inscriptions we have on file (from a survey done in the early 1900s). Unfortunately, we have not yet been able to identify whose gravestone this is - but that's just a matter of time.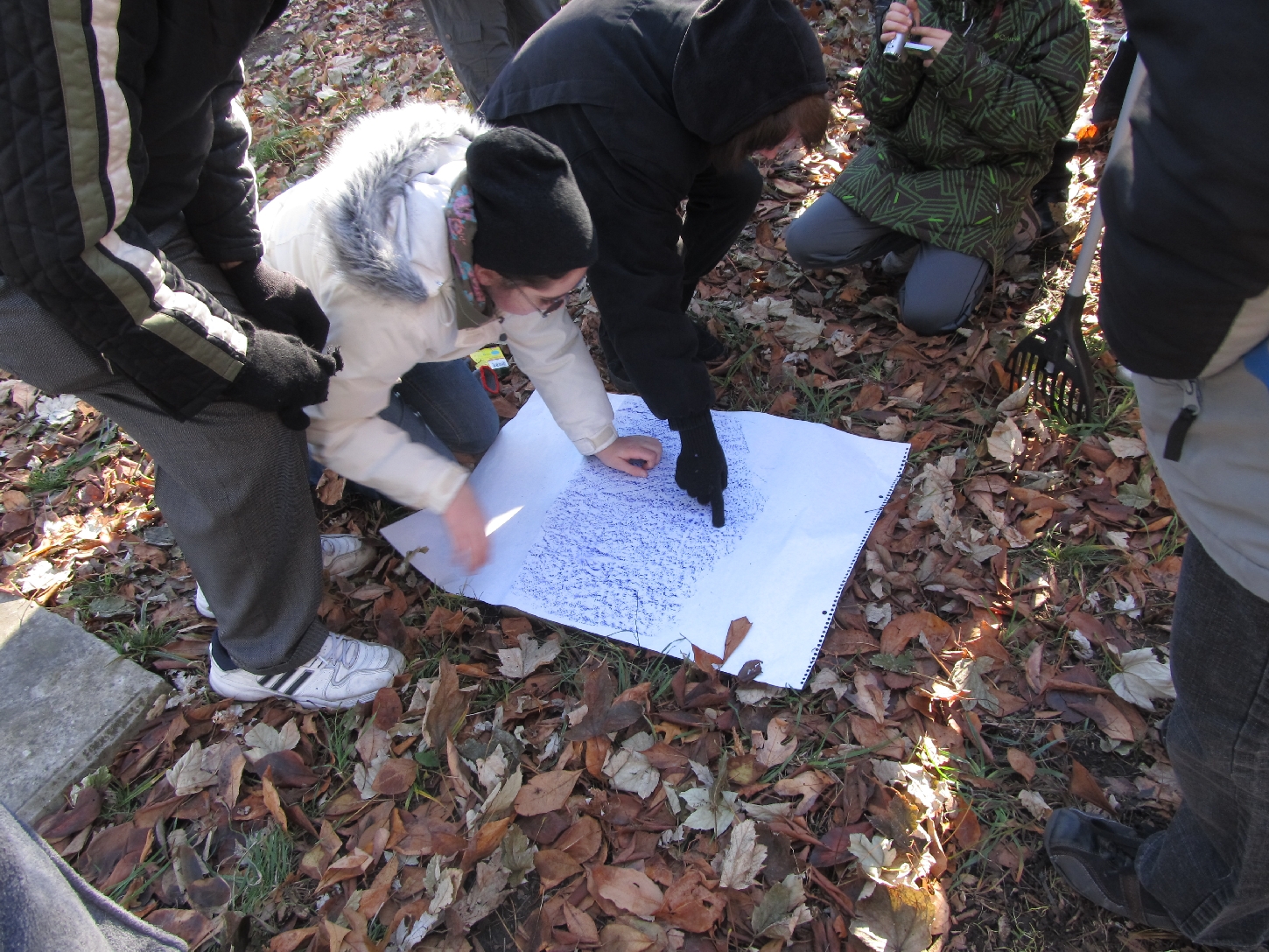 We took advantage of the excitement to take a breather - from left to right STA Teacher Patty Eggers, All Saints Fr. Whitmire, Woodhaven Historian Allan Smith, CM Eric Ulrich, PW's Ed Wendell, CM Ulrich's Chief of Staff Sal Simonetti, and Eric's grandmother Rosemary Kulick.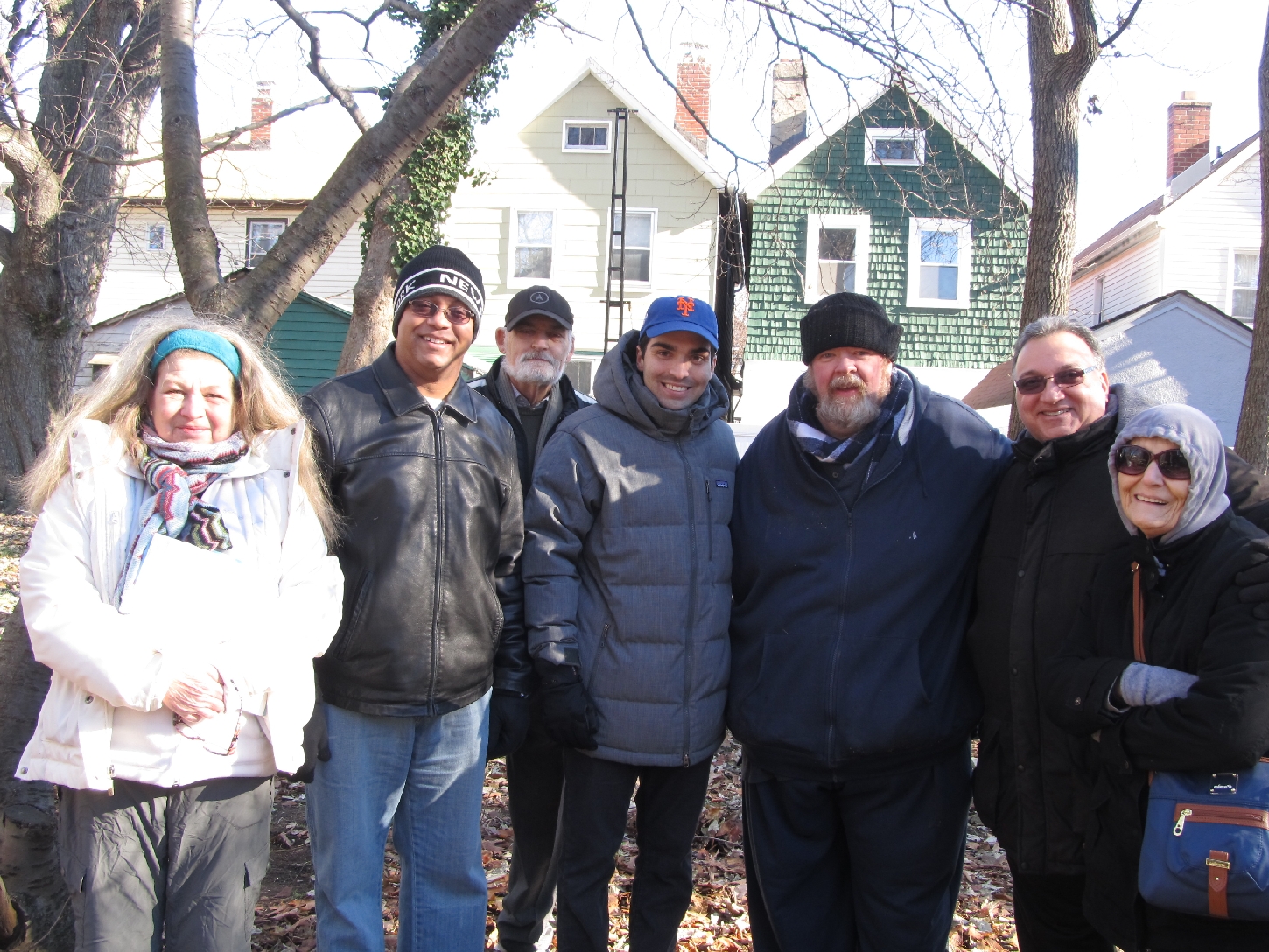 And here, Eric and his staff with Fr. Whitmire - from left to right, Ciara Grace, CM Eric Ulrich, CM Ulrich's Chief of Staff Sal Simonetti, All Saints Fr. Whitmire, and Greg Mitchell.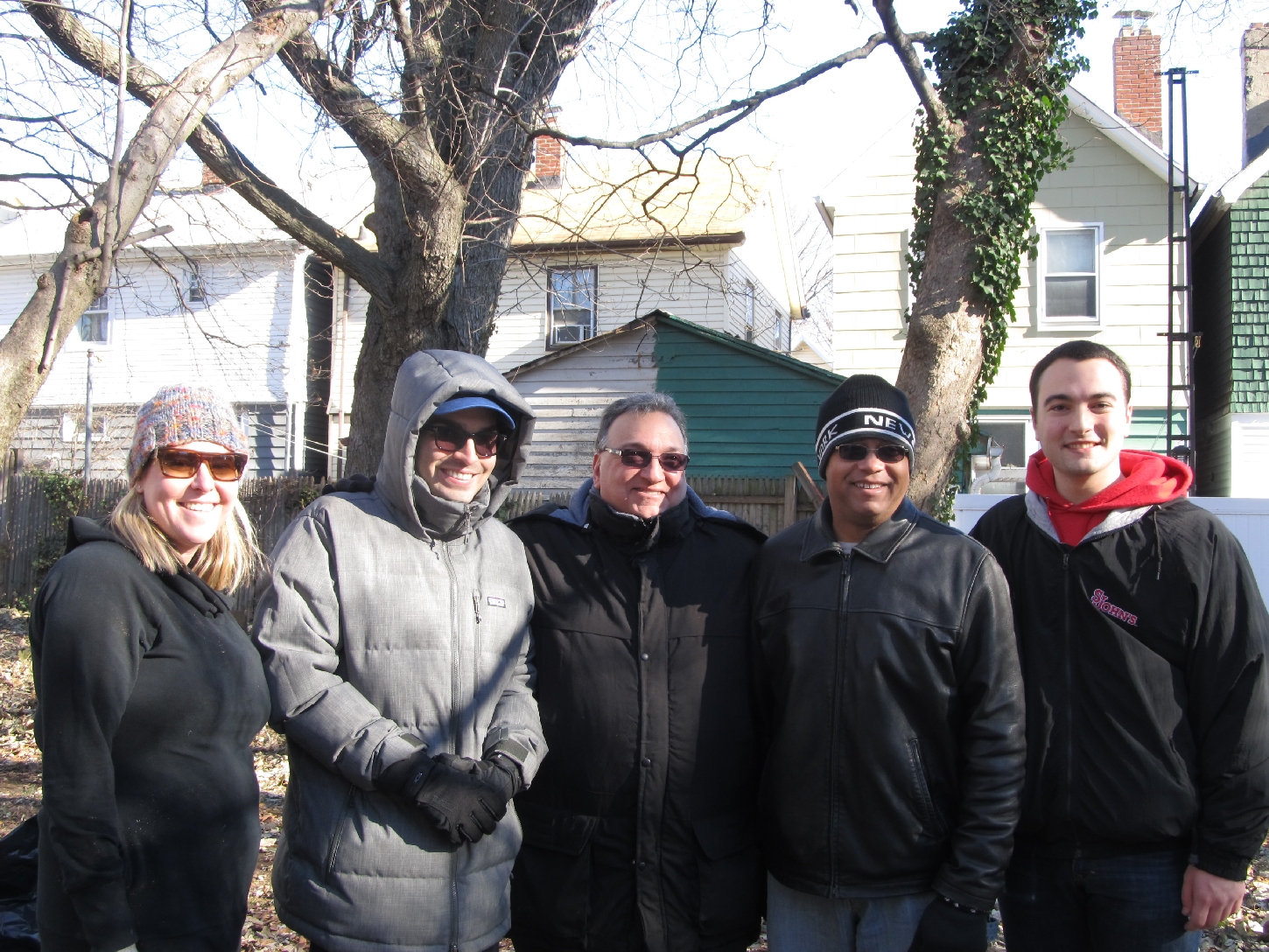 Kyle and Sean Eggers take the tools and work on the wood pile.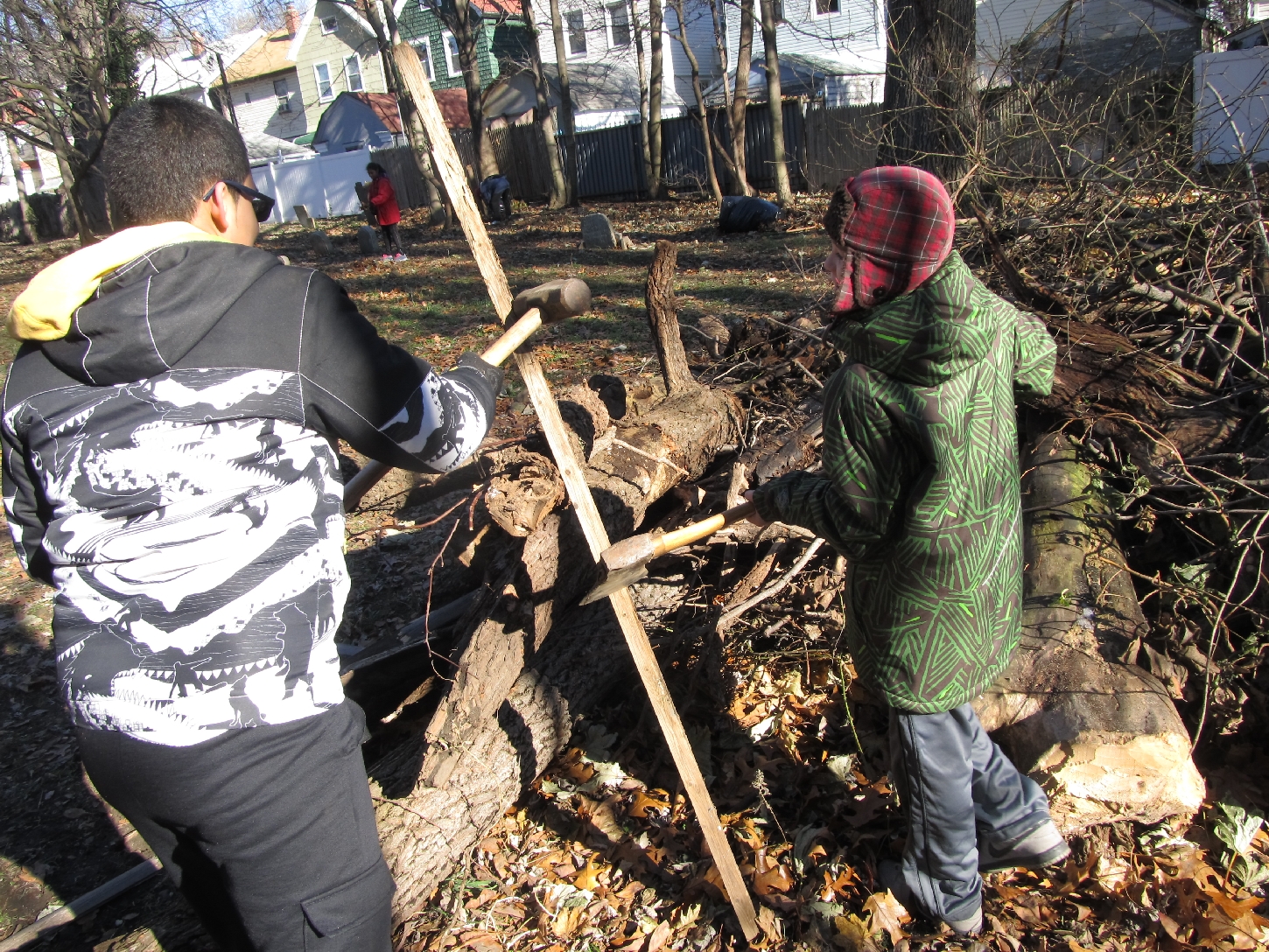 Here is the tough crew that braved the temps to take part in this month's cleanup. Whether it be cutting and hauling thick trunks of trees, breaking up old debris, pulling weeks, picking up sticks, or raking leaves, this crew gets it done!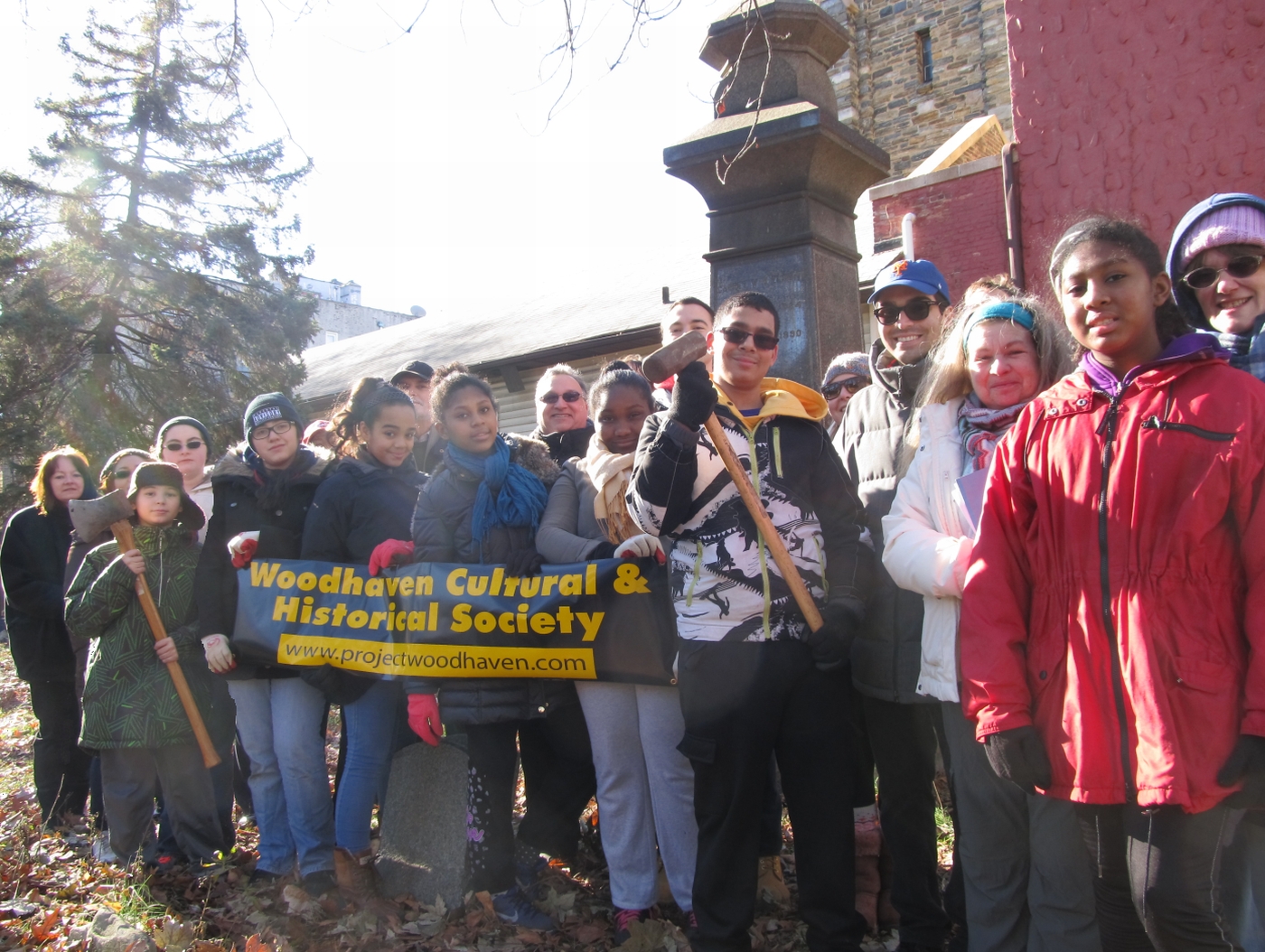 To give you a good idea of what we've accomplished - here is what the yard looked like back in July -- weeds 5 or 6 feet high in spots, right across the cemetery.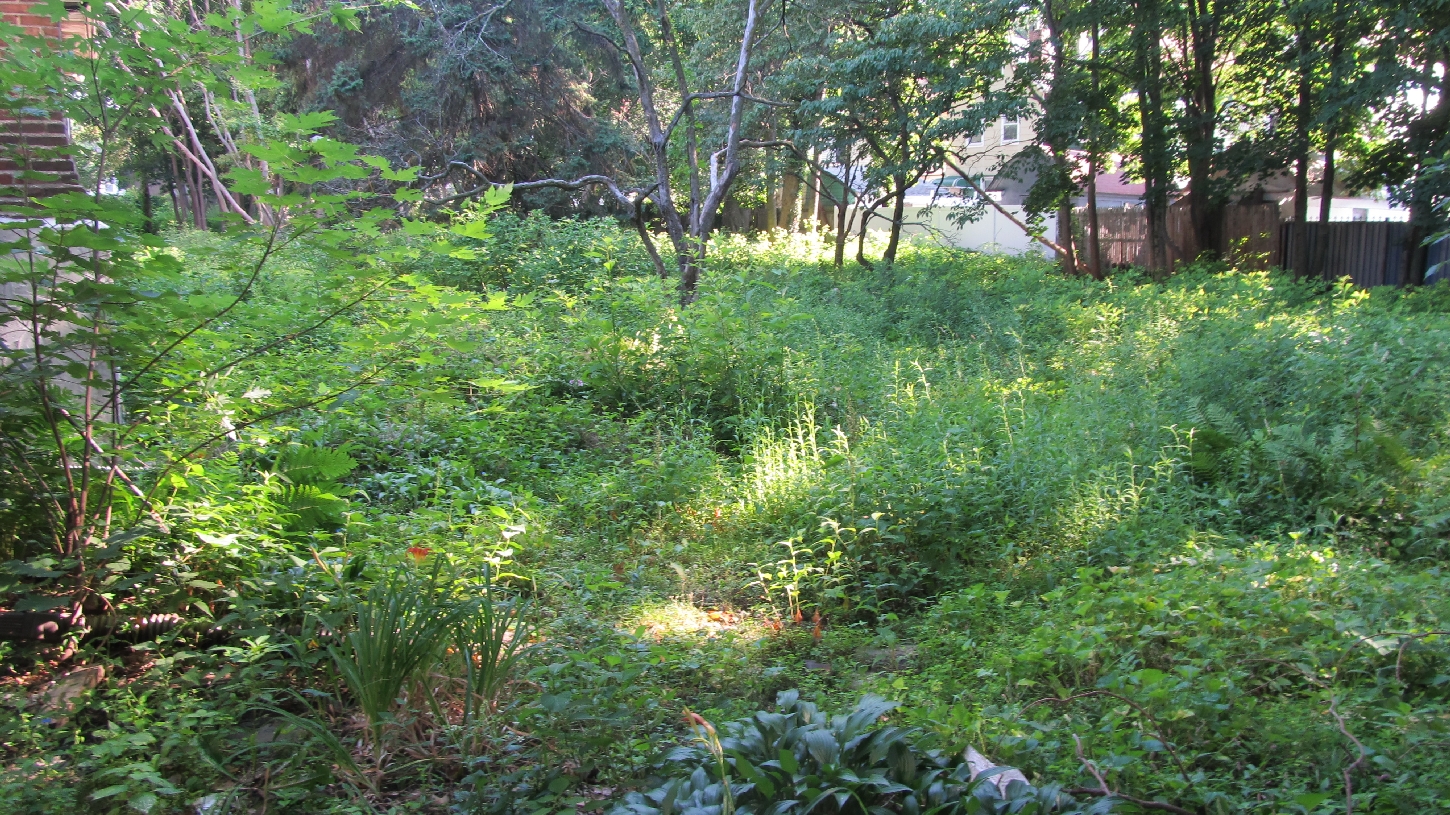 The cemetery, with a lot of hard work under our belts, is now starting to look like one.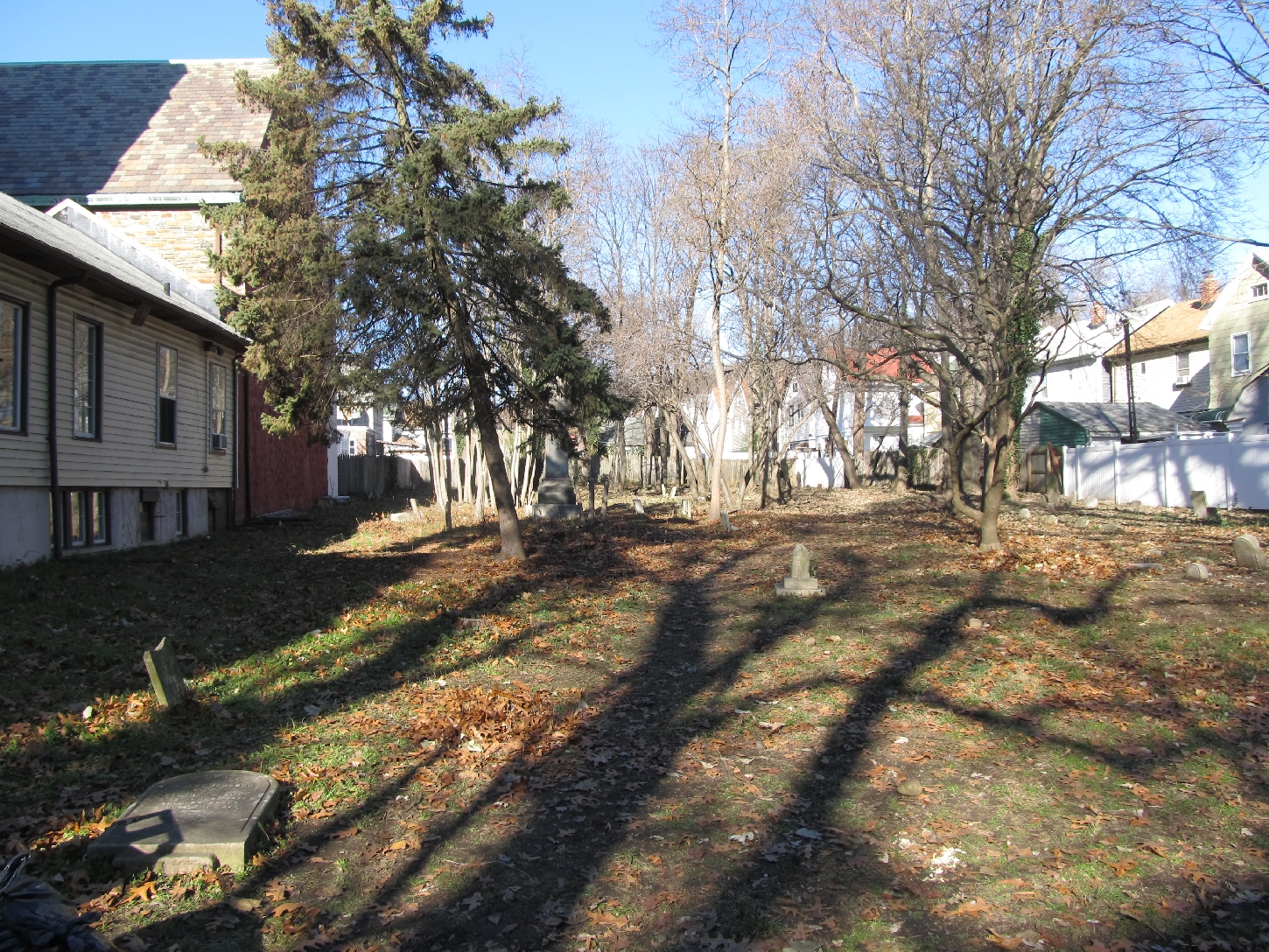 Compare again to how it looked after 2 months of cleanup - this picture was taken after the August cleanup - we were just reaching the large evergreen and our wood pile was minuscule.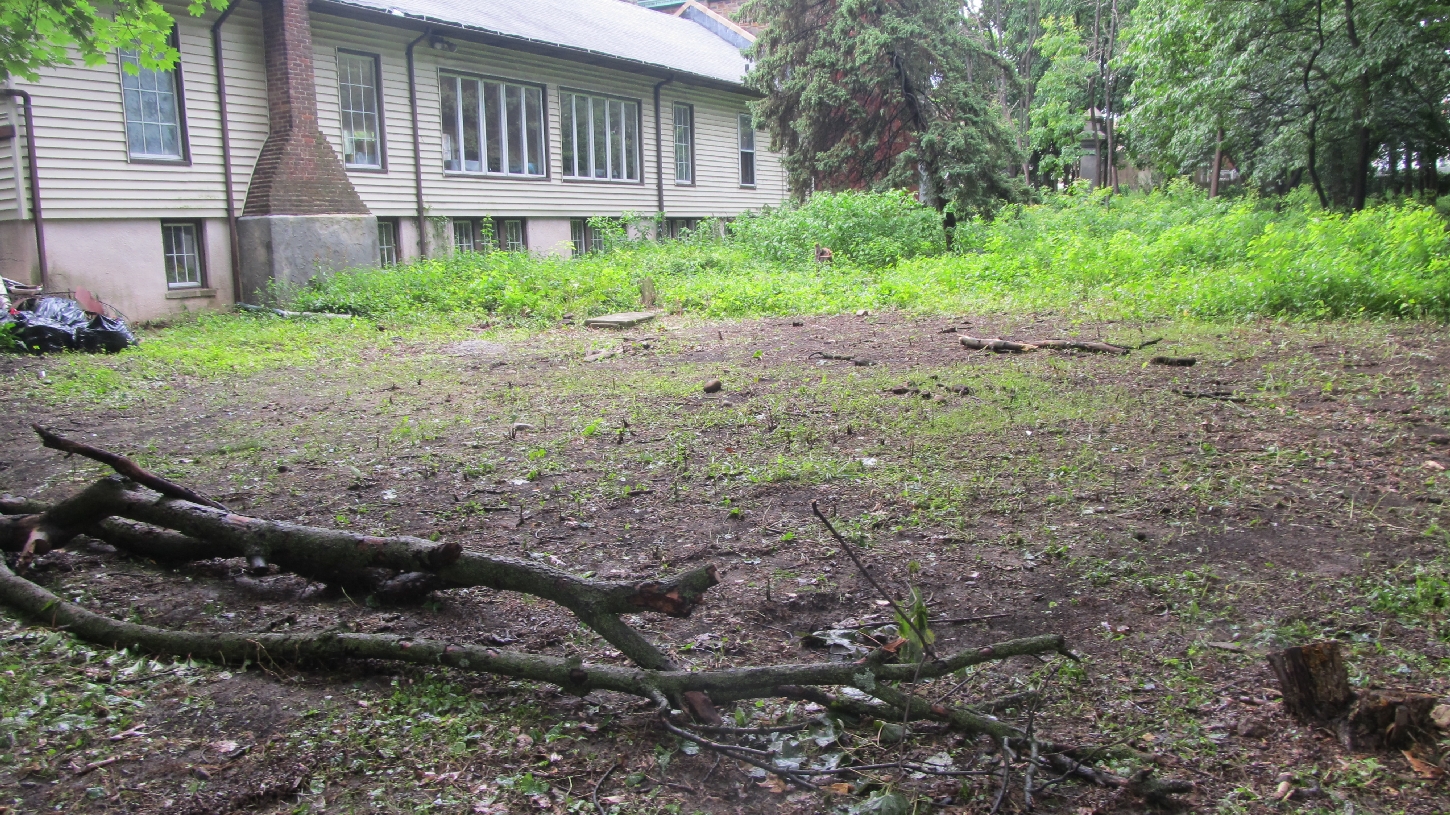 The pile of wood has grown -- and we'll have to address that soon -- but it is no longer cluttering up the rest of the cemetery.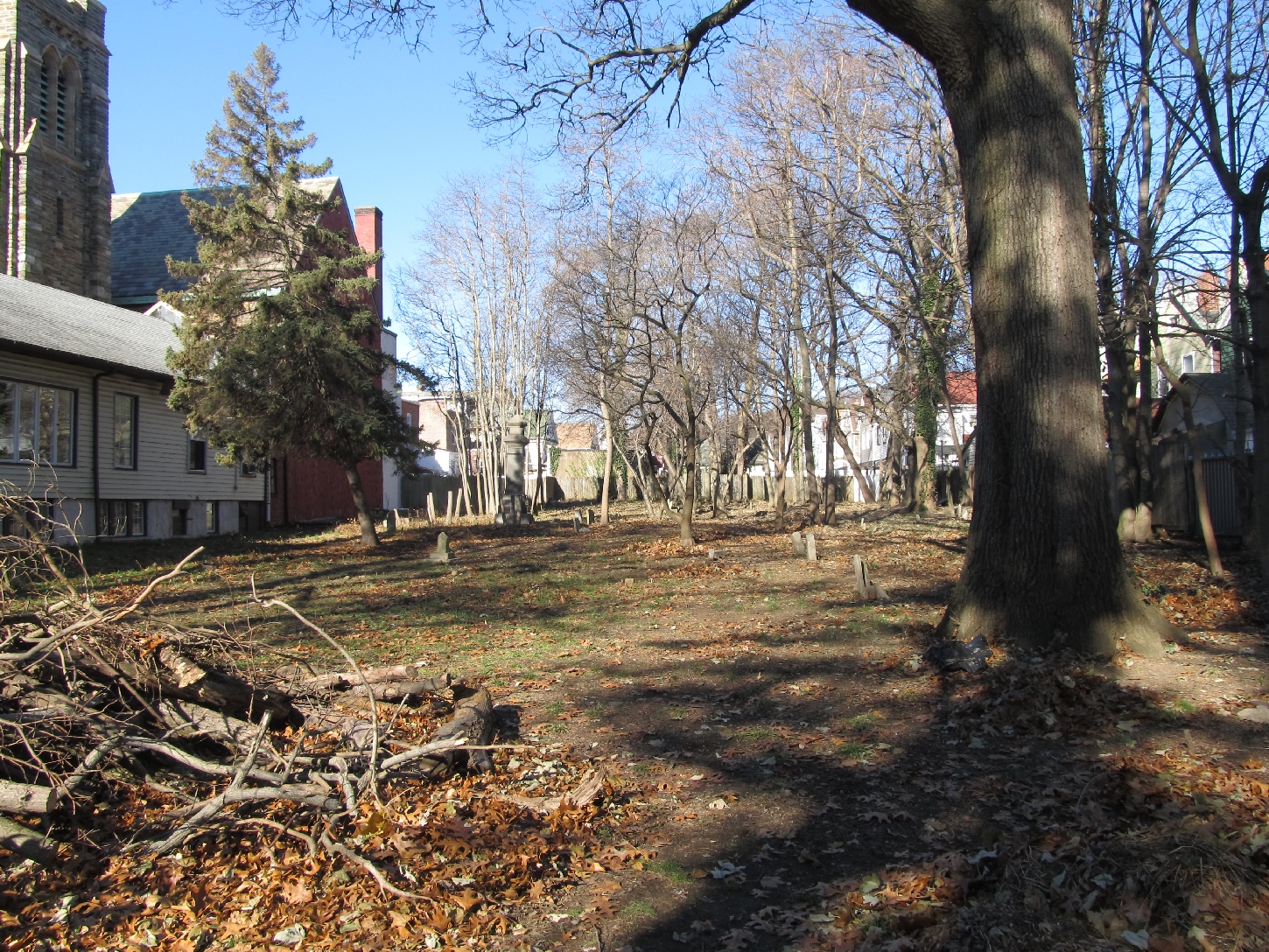 Here's another look at our wood pile.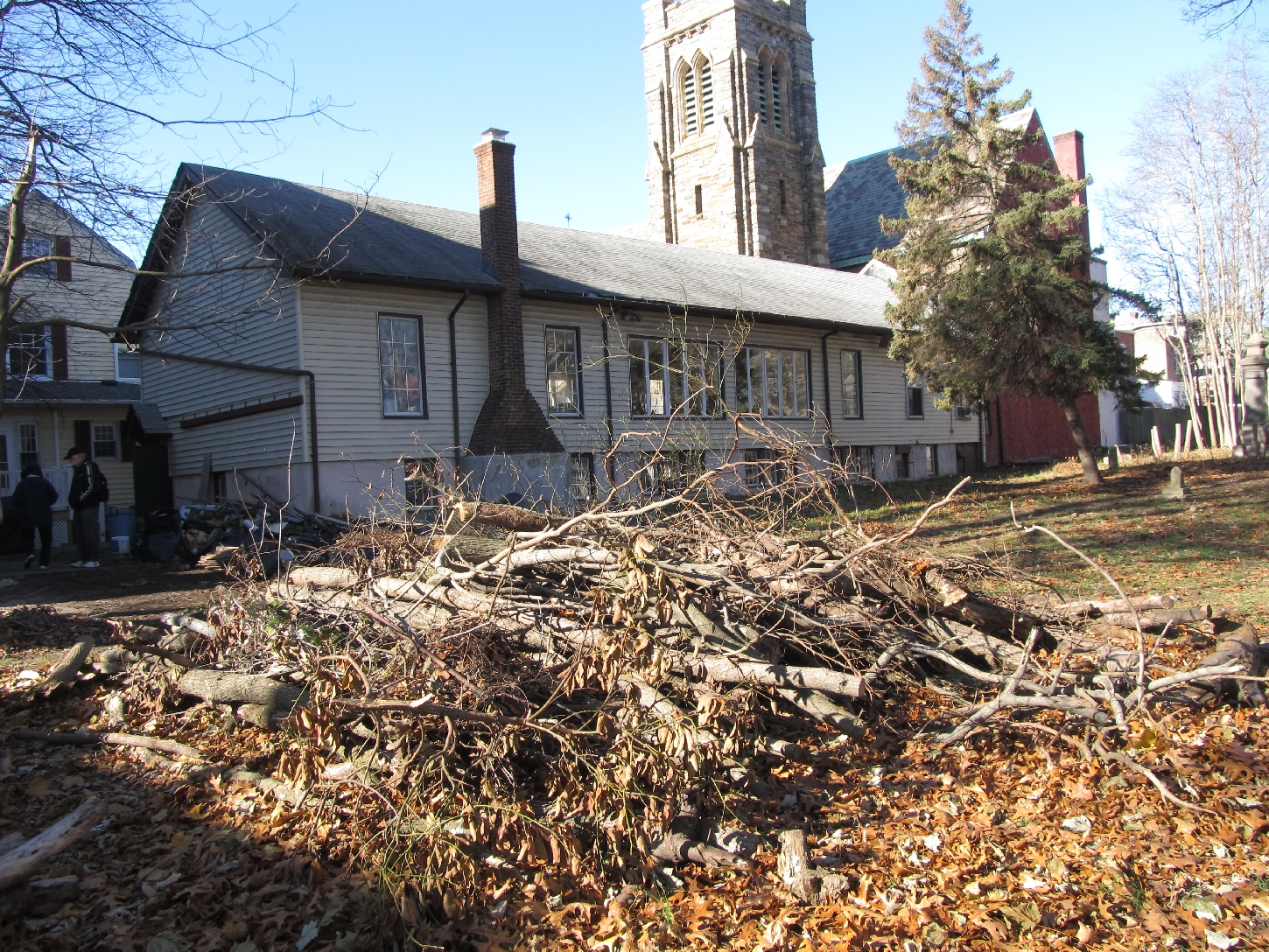 And without the debris, the stones of the cemetery are now out in the open. This is a real nice look at the oldest section of our historic cemetery.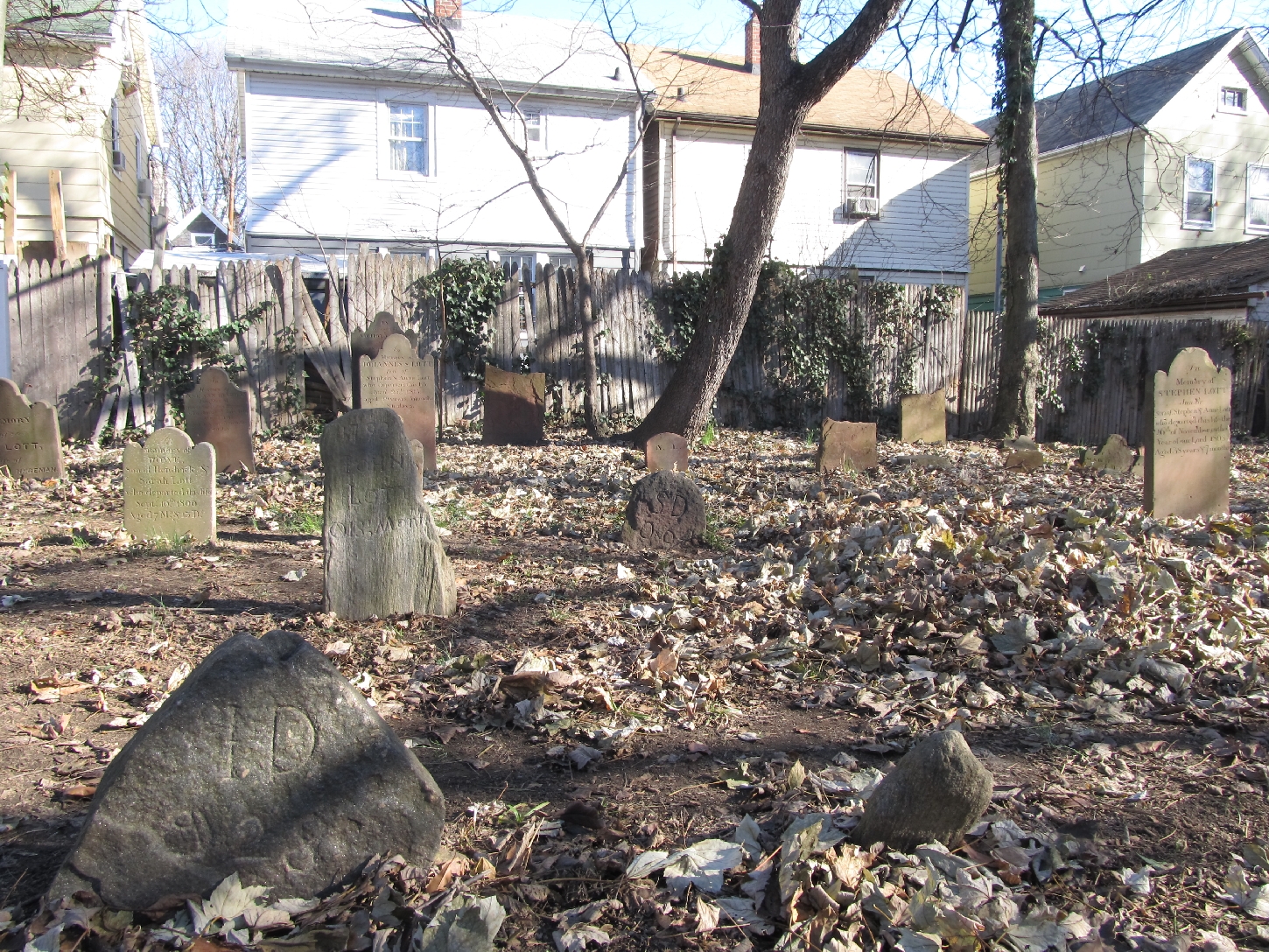 A close up of some of the stones near the back fence.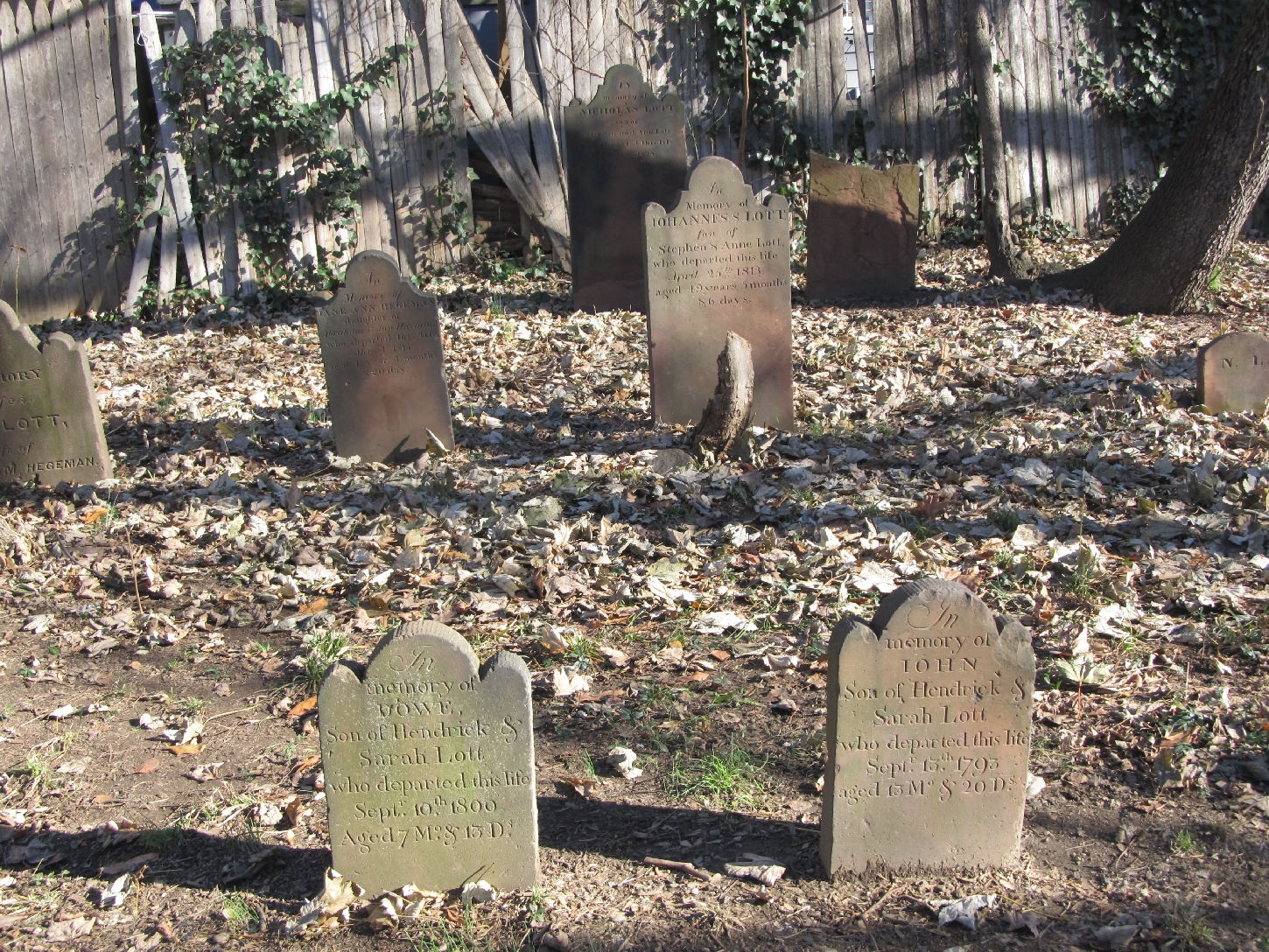 And one of the oldest stones, presumably someone from the Ditmas family who died at 64 years of age, initials SD. Close to 300 years old. Right here, tucked away in Woodhaven in our historic little cemetery. Come and join us at a future cleanup and be part of the team that restores this treasure to the residents of Woodhaven and Queens.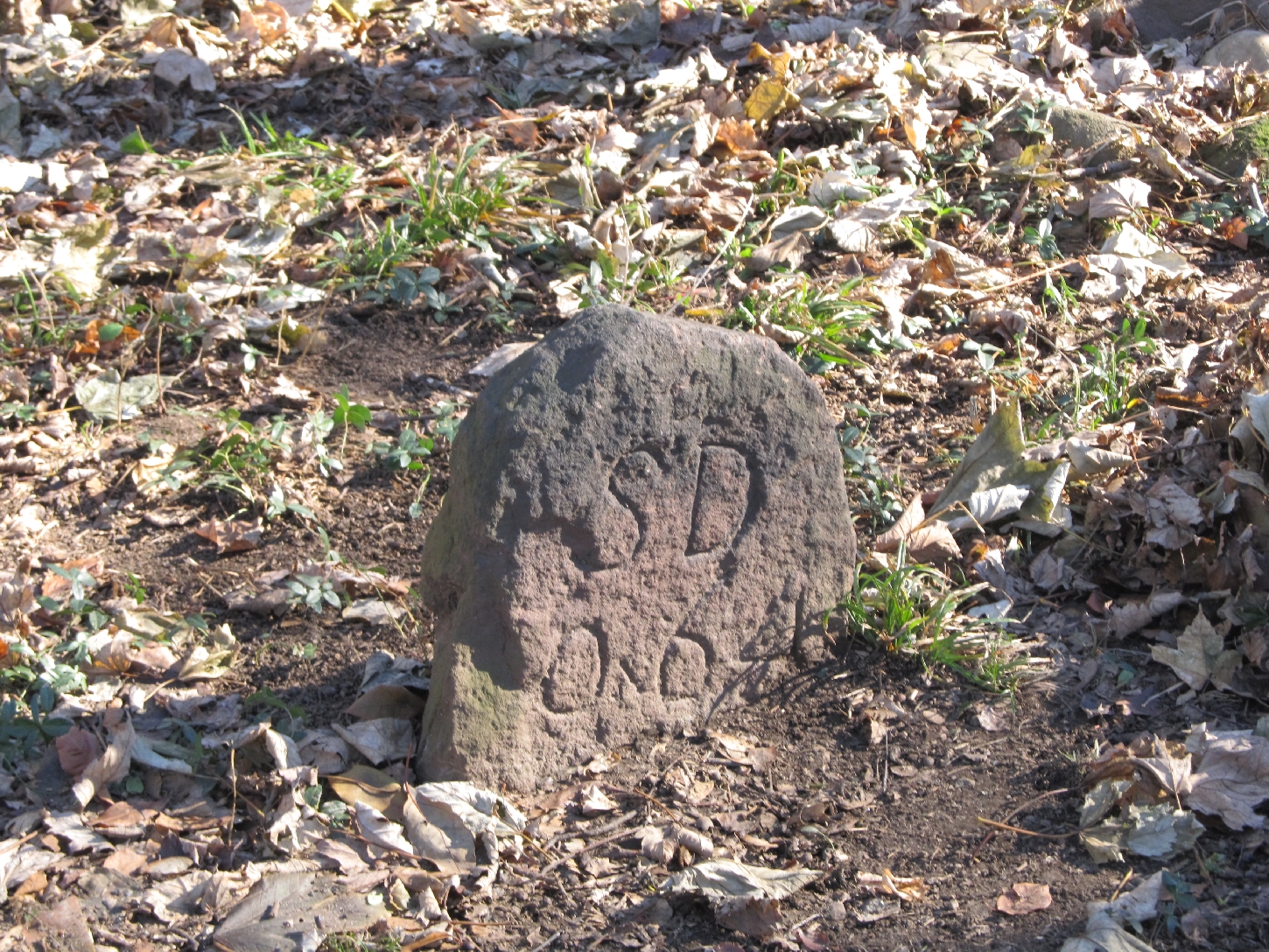 If you have any comments, or would like to suggest other projects, drop us a line at info@projectwoodhaven.com or projectwoodhaven@aol.com.
Return to Project Woodhaven's Home Page
Photos by Joey Wendell