Felt like getting out of the house and taking a little walk today - plus, wanted to experiment with our new camera a bit (Canon Rebel T6i). Started at Park Lane South and 91st Street. Love park Lane South - right next to Forest park, lots of nice benches to sit and relax. Lots of nice big, thick sycamore trees - next time you're walking along PLS, look at the trunks of these trees - all very interesting.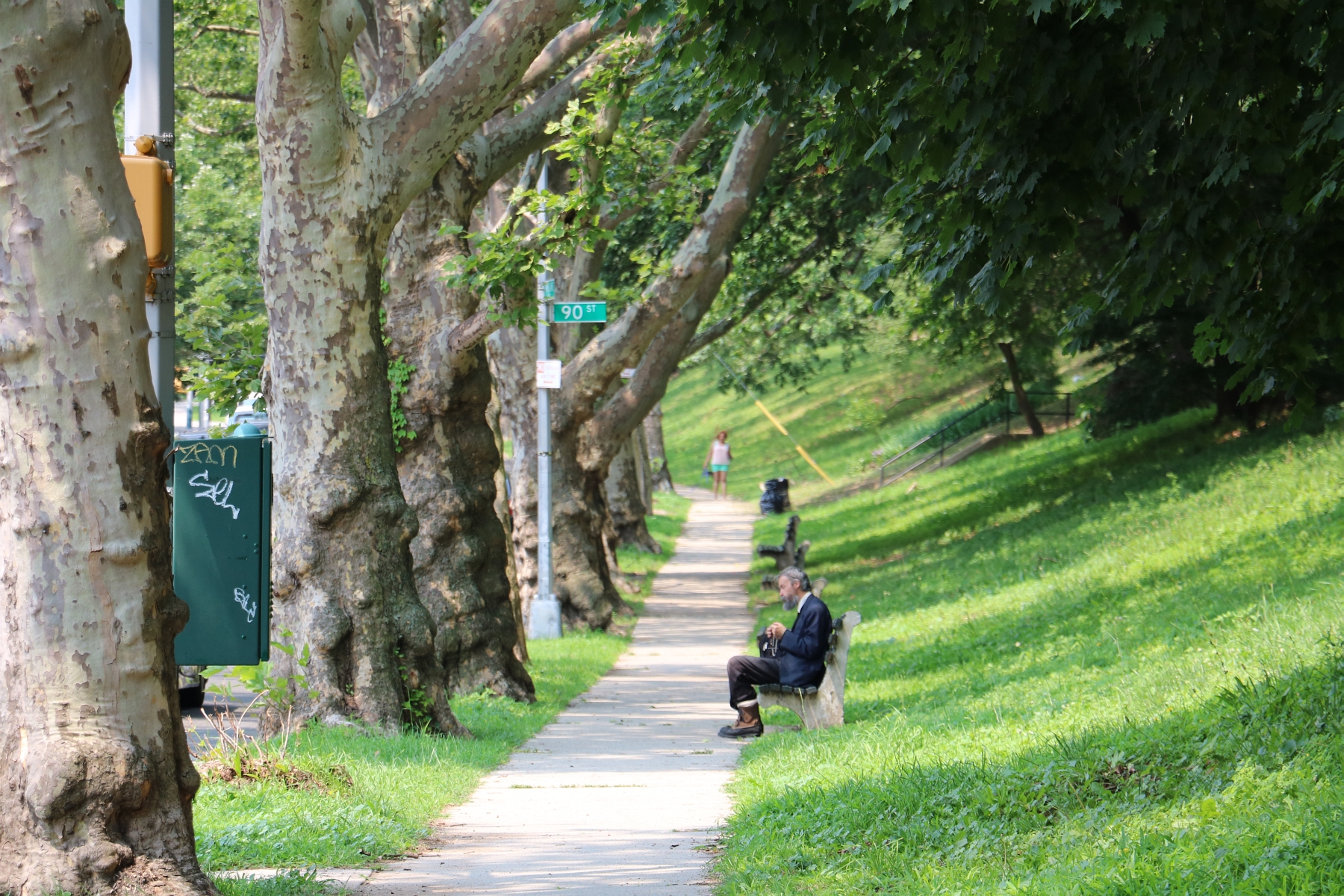 This house is on PLS and 91st - it's a beautiful old house that has fallen into disrepair and is now sealed up. Look at the beautiful stone work by the front steps. I look forward to seeing this house renovated someday - when it does get renovated, I hope those stones by the steps are retained.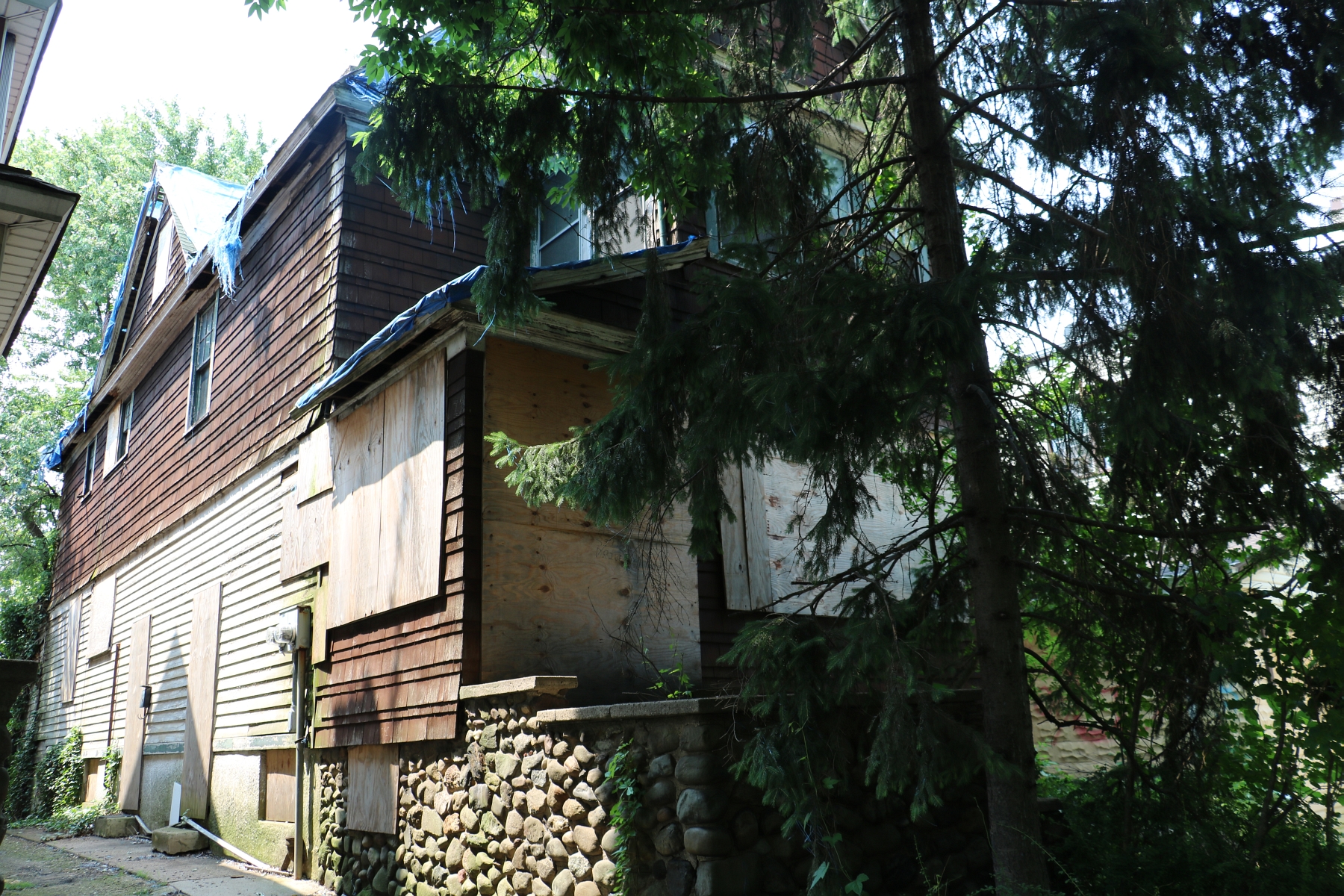 The light behind the Fire Dispatcher at PLS and Woodhaven Boulevard -- testing out the zoom on the camera to get a better look at the top of the tower. Look at that rod that is hanging out on the right - there's some sort of large bird sitting on it. Is that a hawk? Didn't notice it until I looked at the pictures when I got home.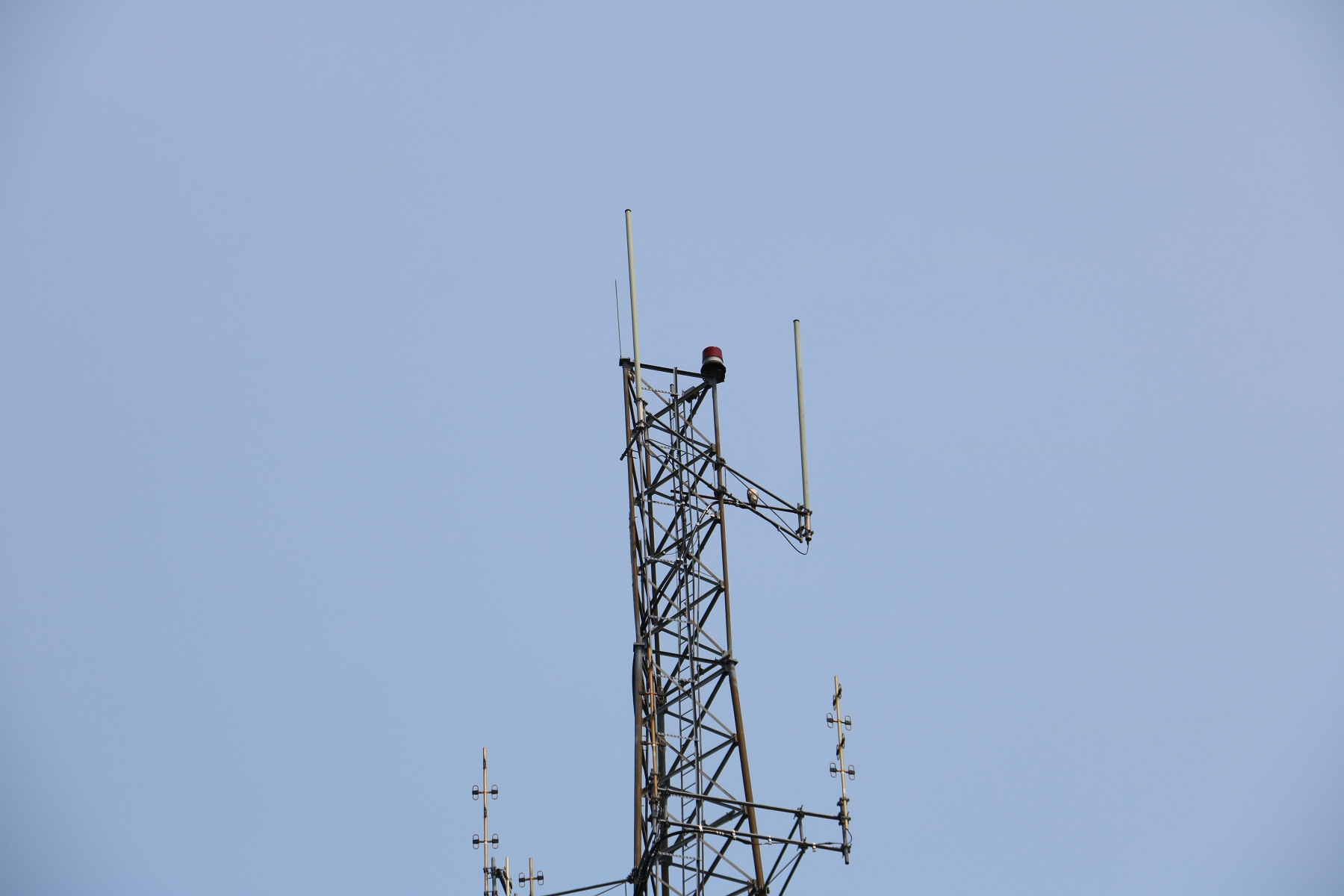 Here's a closeup of the bird -- the ladder that people use to climb to the top (to change the bulb, I guess) is nearby giving us an idea of how big it is. Pretty big.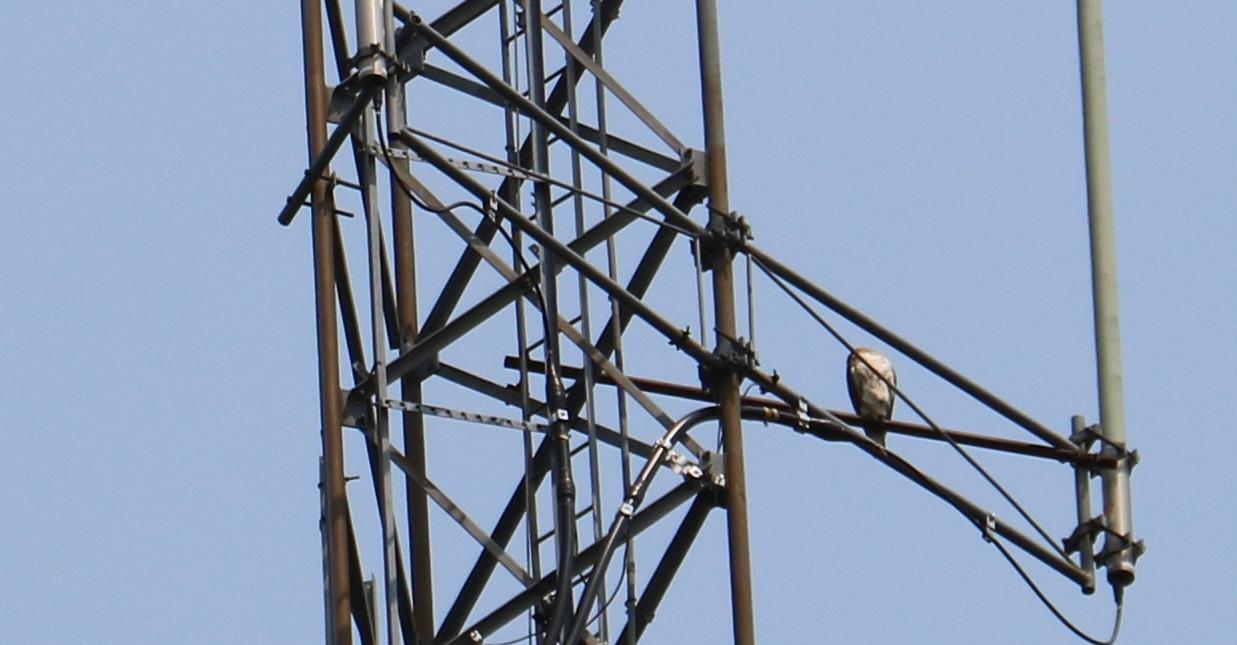 Can't see the hawk from here - from inside the tennis courts. The eastern side of the tennis courts are not in playable shape. Even if weeds weren't growing through the cracks, you'd still have those cracks.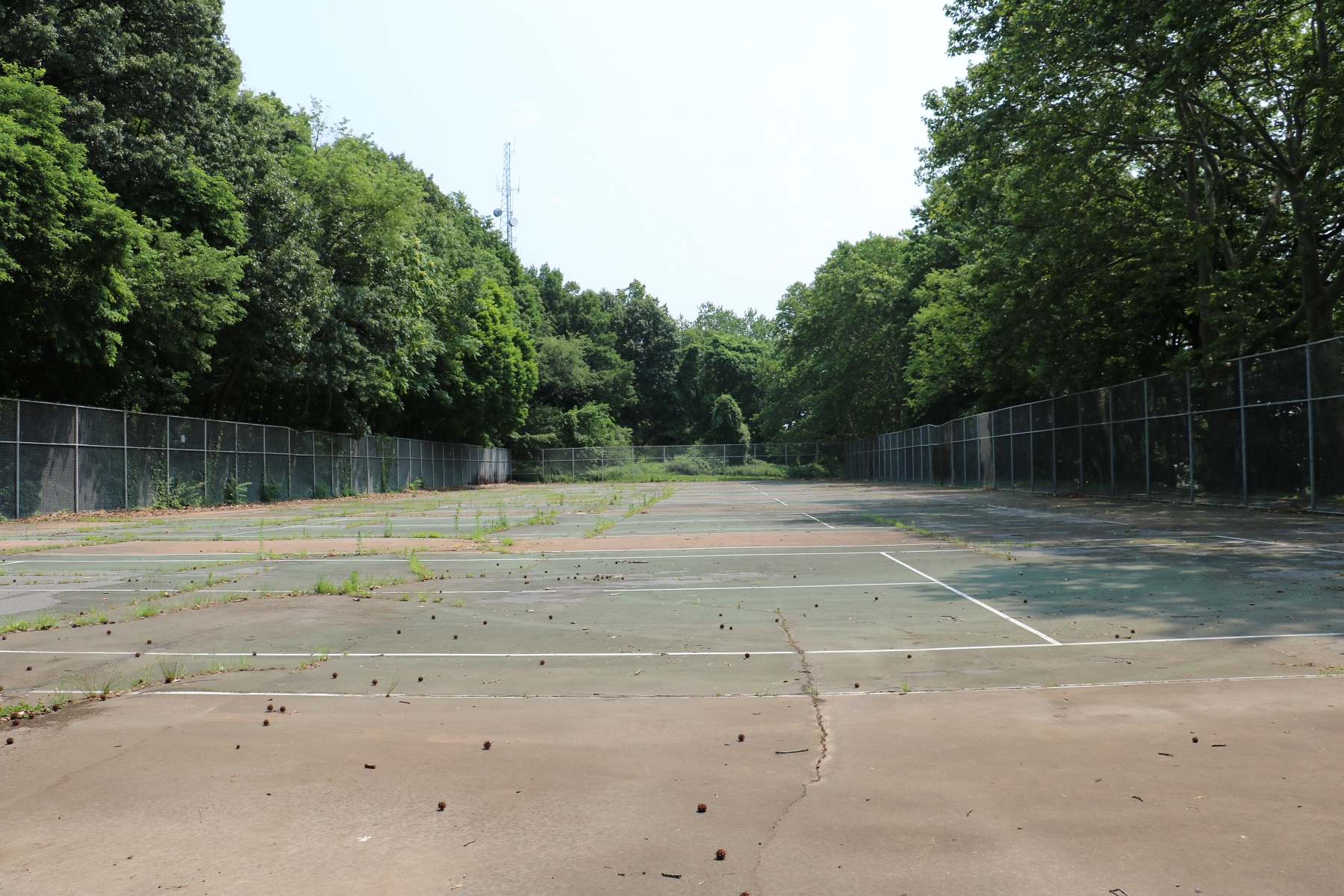 A nice view from the sidewalk next to the tennis courts. Is that an angel with a harp on the roof of someone's porch? Christmas in July!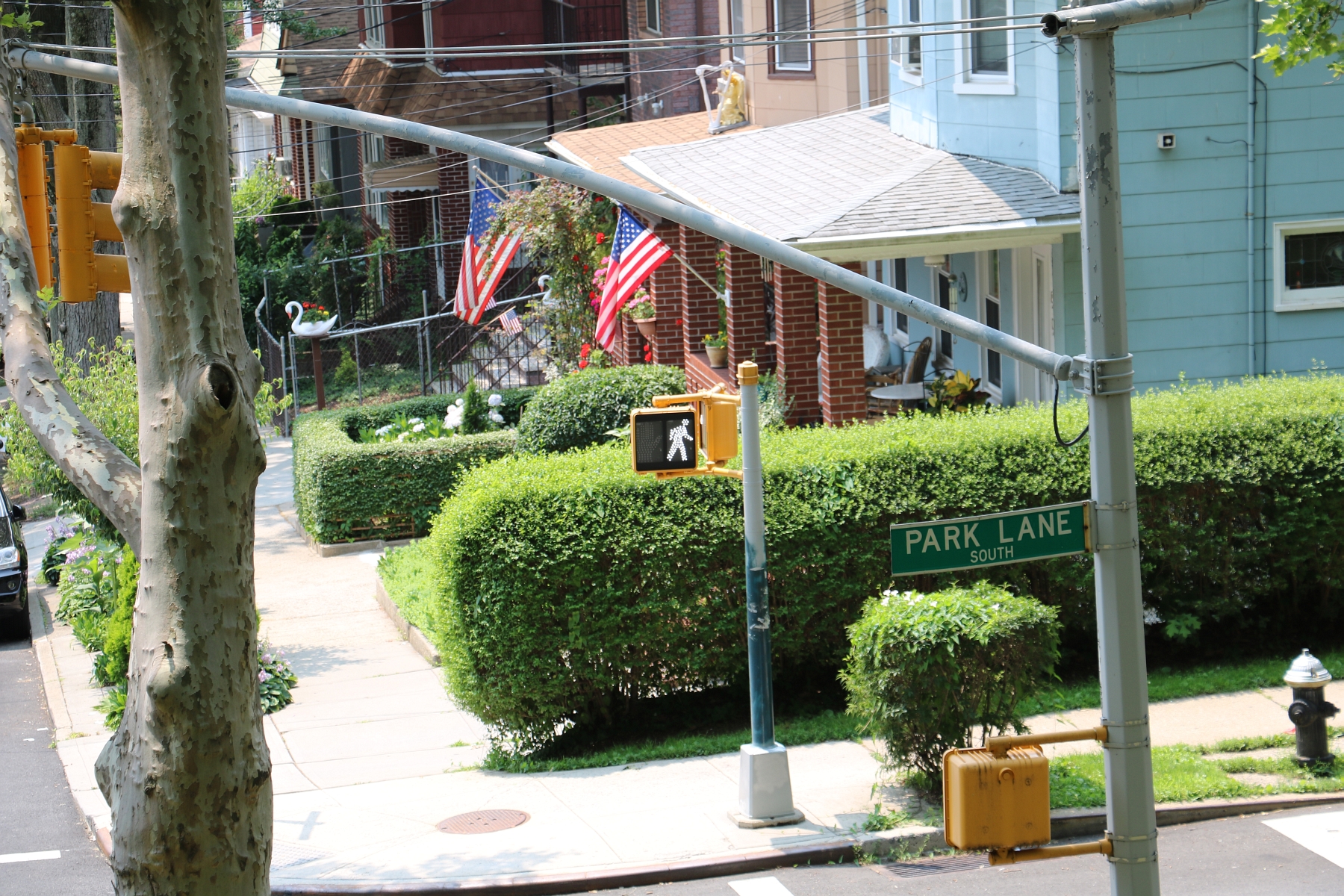 The other half of the tennis courts were renovated back in 2011 - and they look great. Usually on a Sunday they are more busy - but I guess the day after the 4th of July is a slow day, huh? The entire park seemed a little empty today.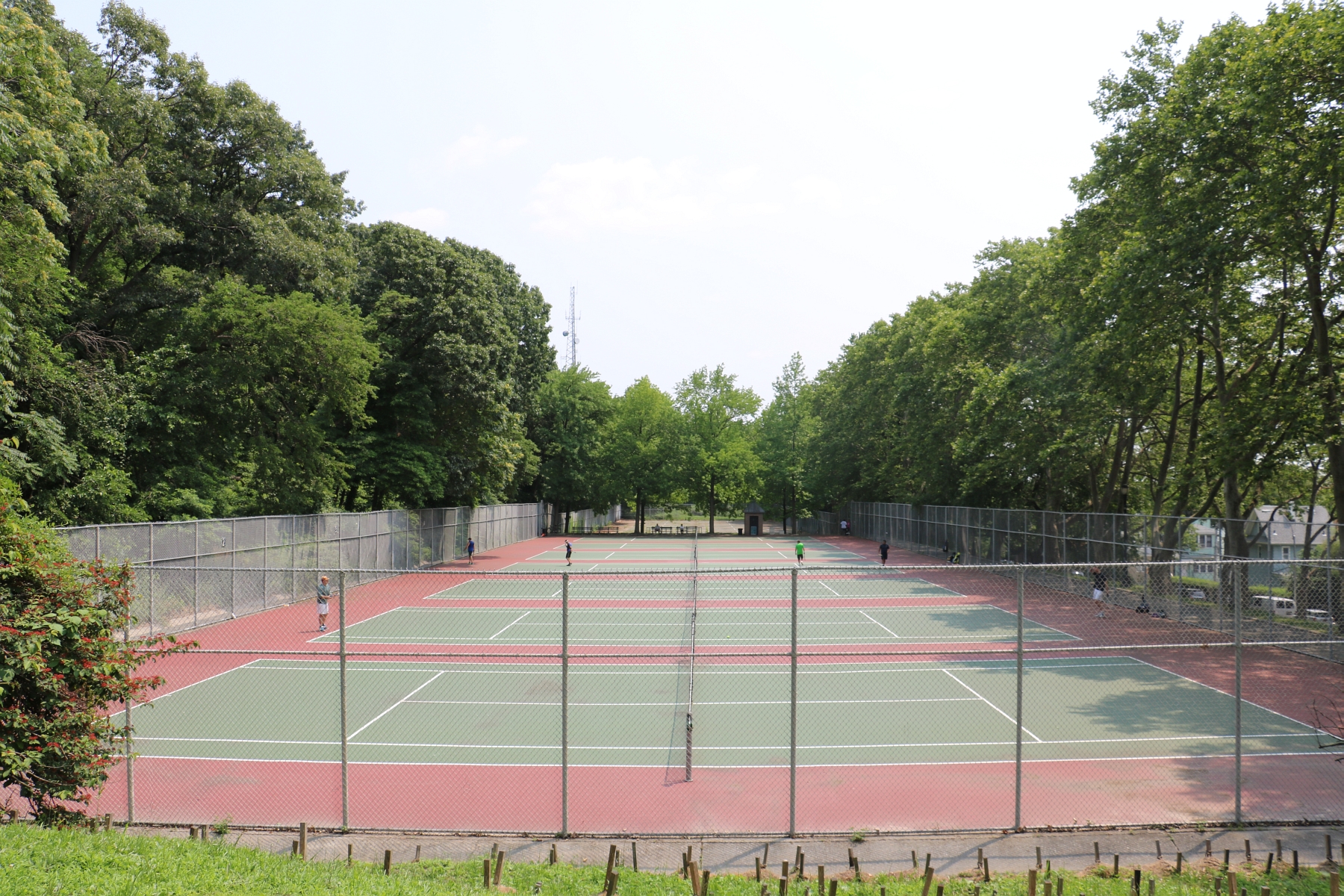 These two found a nice spot on the shade to sit and enjoy the day.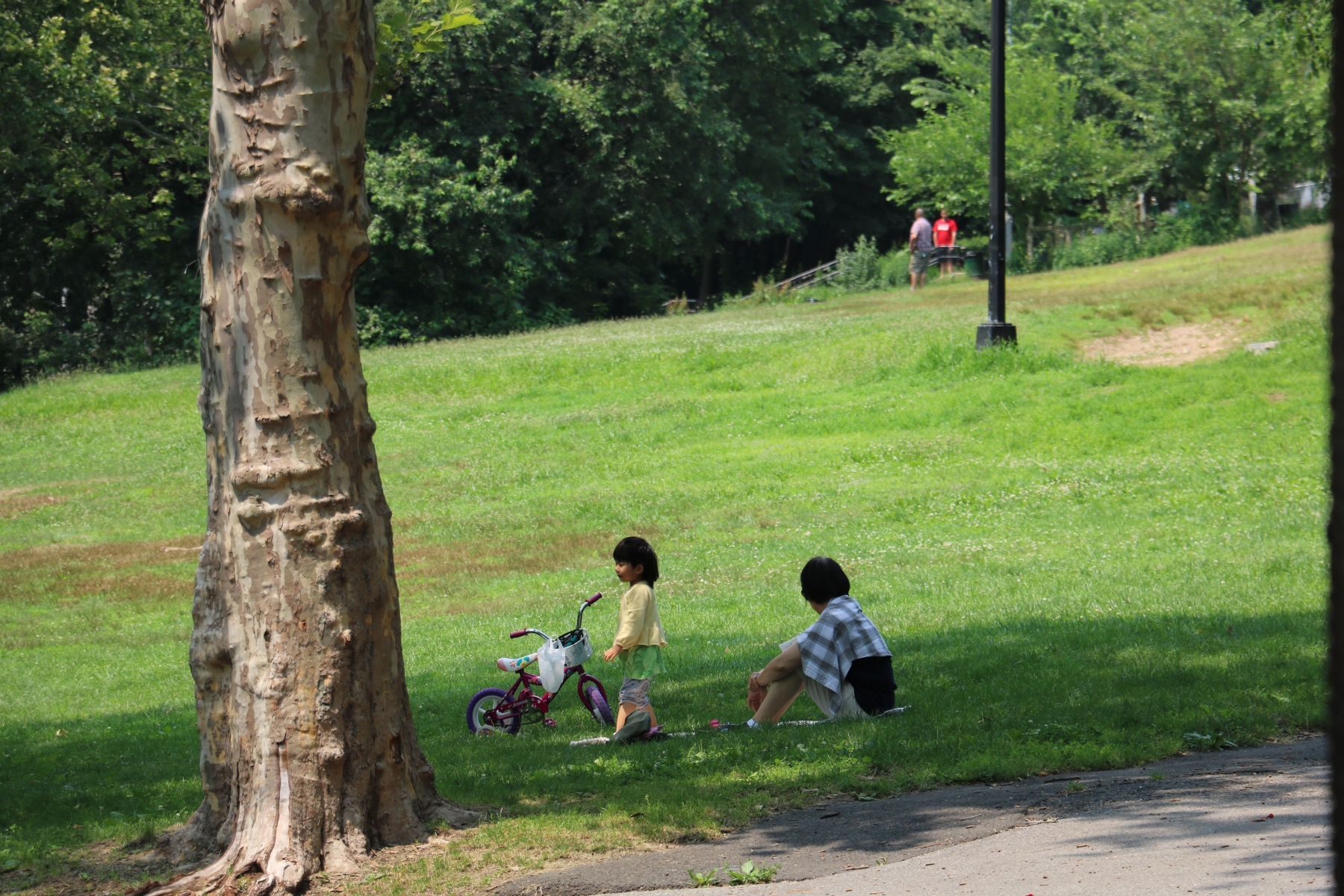 The road up to the bandshell - I've always known this as Baby Carriage Lane. I wasn't heading up that way today. I wasn't really sure where I was heading, but I had to hit the avenue to get a few things so I was kinda wandering that way. Sort of.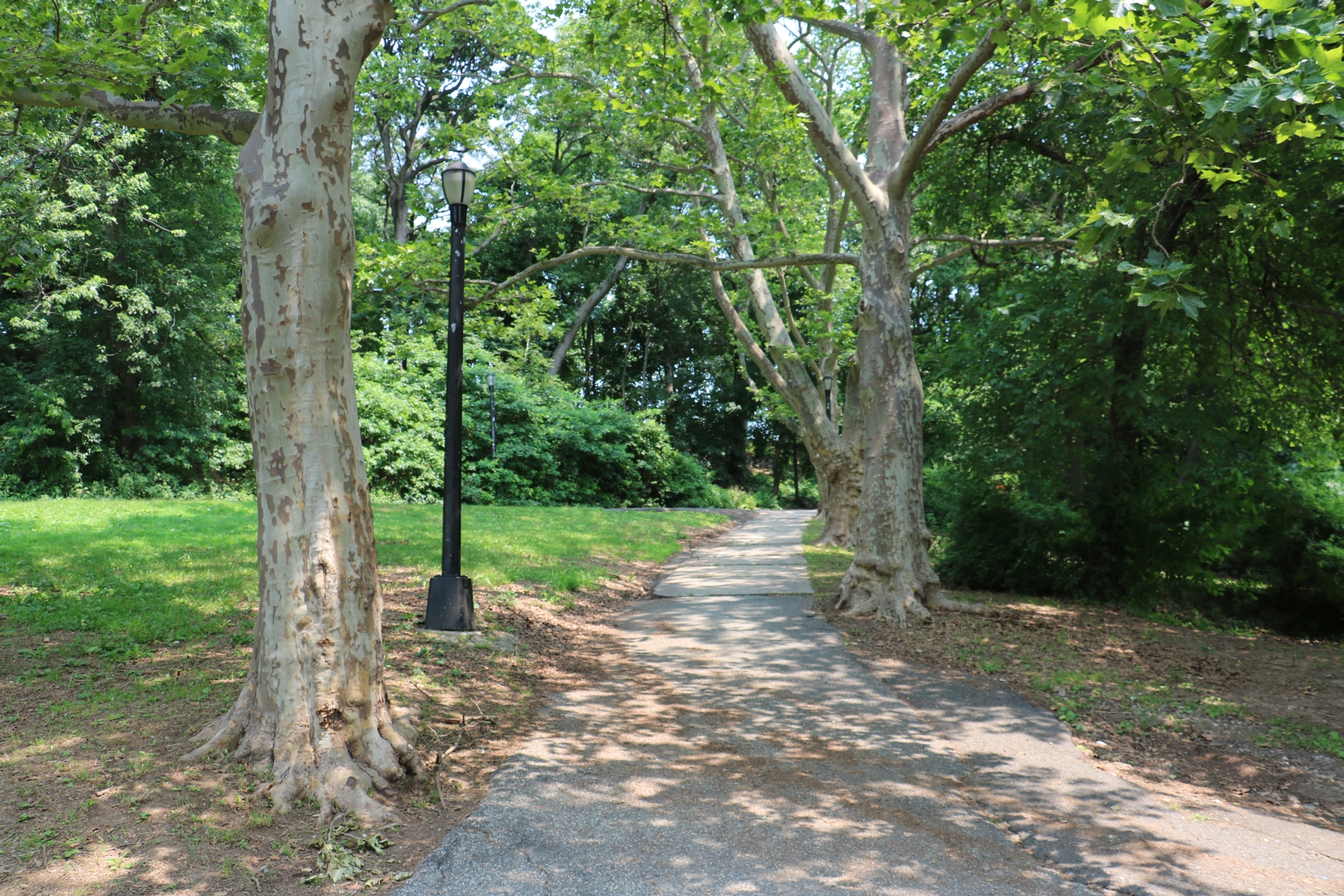 So what is this thing? Someone told me it was a man-made perch/cave for bats.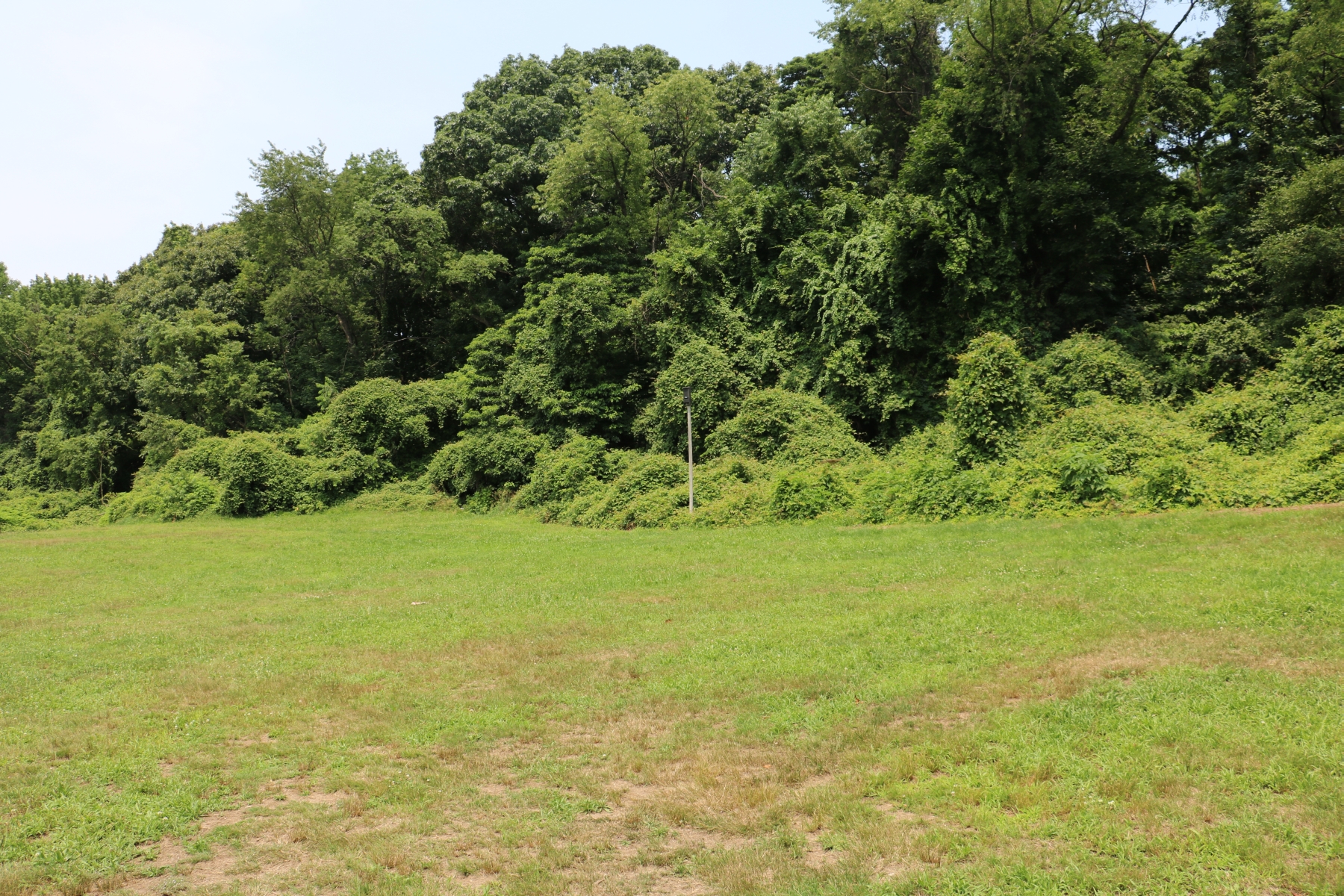 Here's a closeup of the bat cave. I whistled, but no bats came out for a peek. Maybe if you sat there near sundown they'd start coming out. We'll never know because I won't be there at sundown.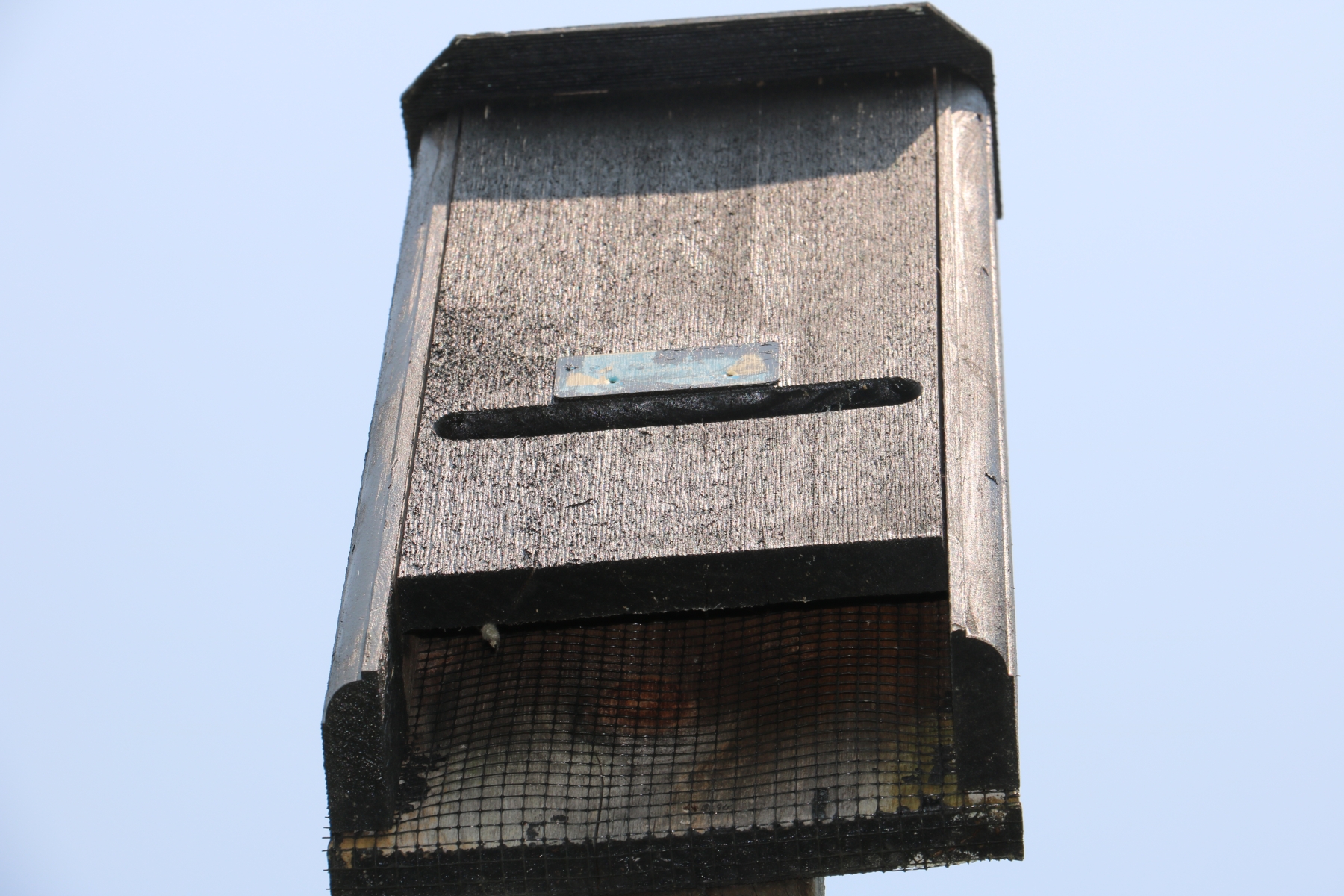 As I was checking out the bat cave, I saw a man burrowed in the bushes, in a nice shady spot. I spoke to him briefly, or rather I should say we whispered back and forth -- he was drawing a picture of a bird (I think) and it was sleeping. We whispered so as not to disturb it.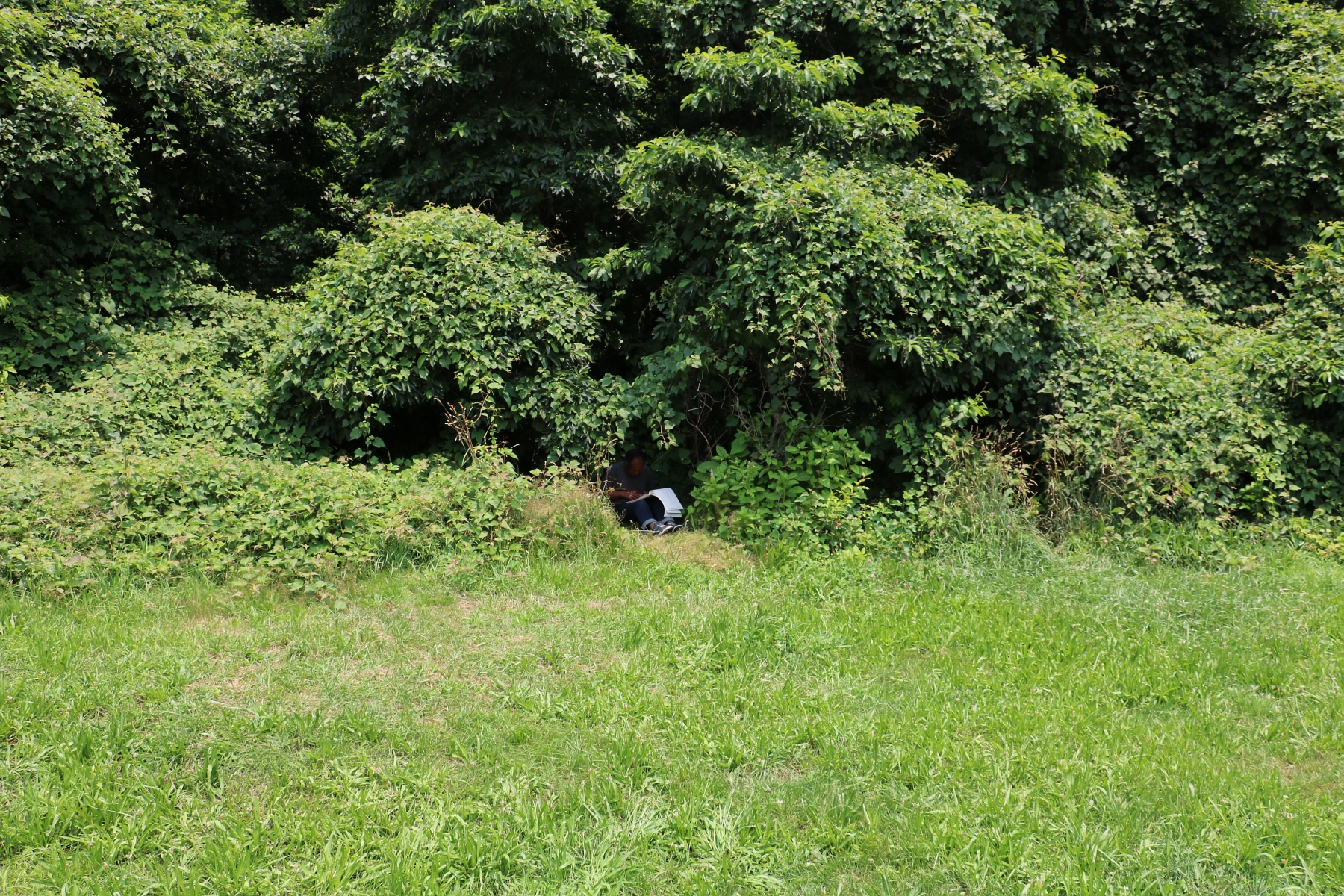 The K9 Korral Dog Run at Forest Park. Looking very nice!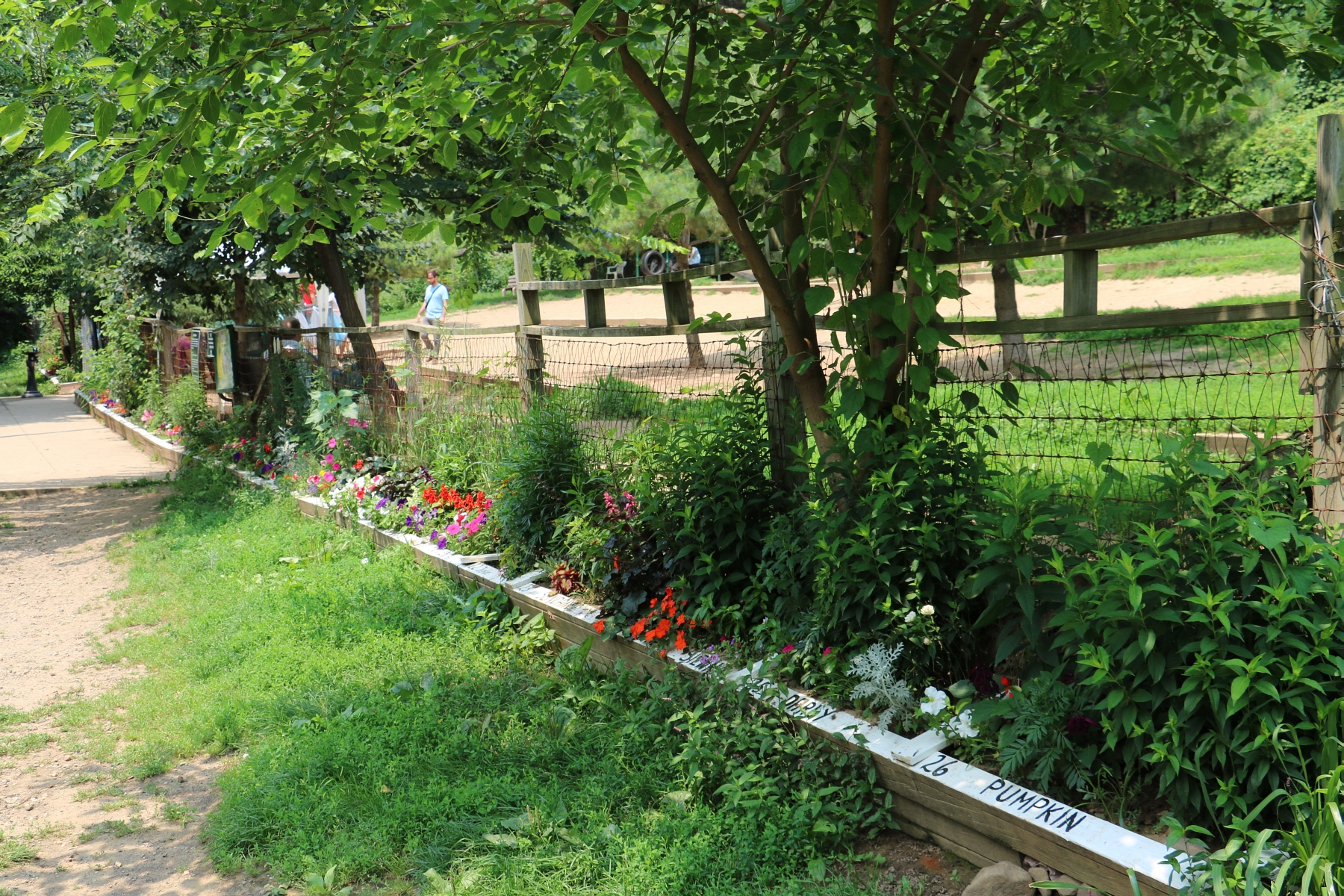 The sign for Forest Park -- our park offers so much. I just wish it were better funded by the city. Our local pols fund it well - but it needs more support from the city.
The lawn near Mary Whalen playground. Usually, on a nice day you'll see people laying on blankets, playing frisbee, etc. Today, nobody. Maybe everyone was nursing 4th of July hangovers?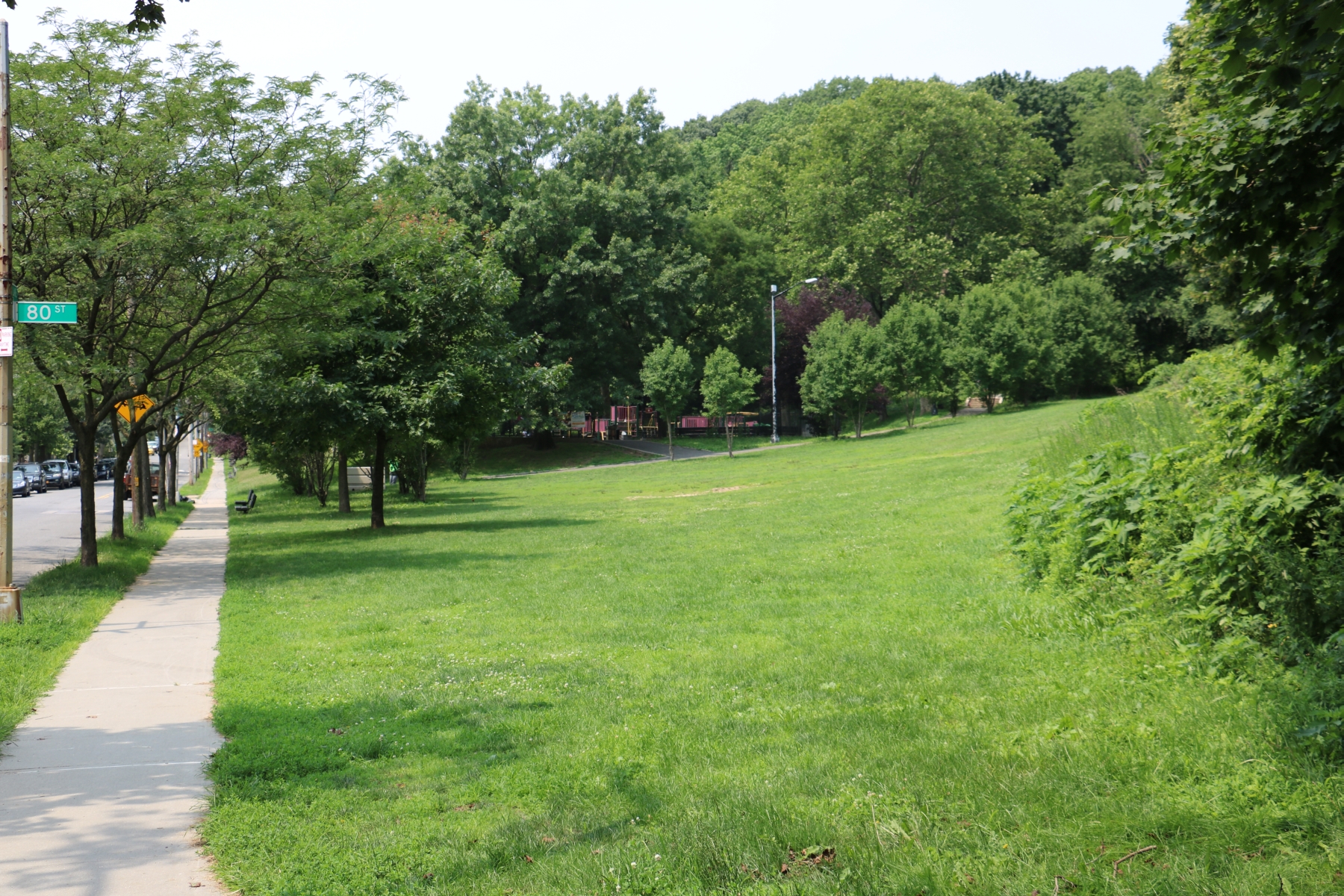 The benches along PLS near 76th Street were empty. I had my eye on the bench at the far end - it's in a nice spot of shade.
The steps at 76th Street and Park Lane South. We did a feature on these steps back in 2009 (6 years ago!!) - click here to see it. The pictures we posted were so much smaller back then. We should revisit that post and update it with new, larger pictures. I do hope to see these steps restored someday. This park used to be known as the Shaw Avenue Playground - and they used to be a part of the golf course until residents complained (back in 1916 or so). These steps lead to Oak Ridge, which was the golf clubhouse - in all likelihood, at the turn of the century, these steps were used by many to enter the golf course.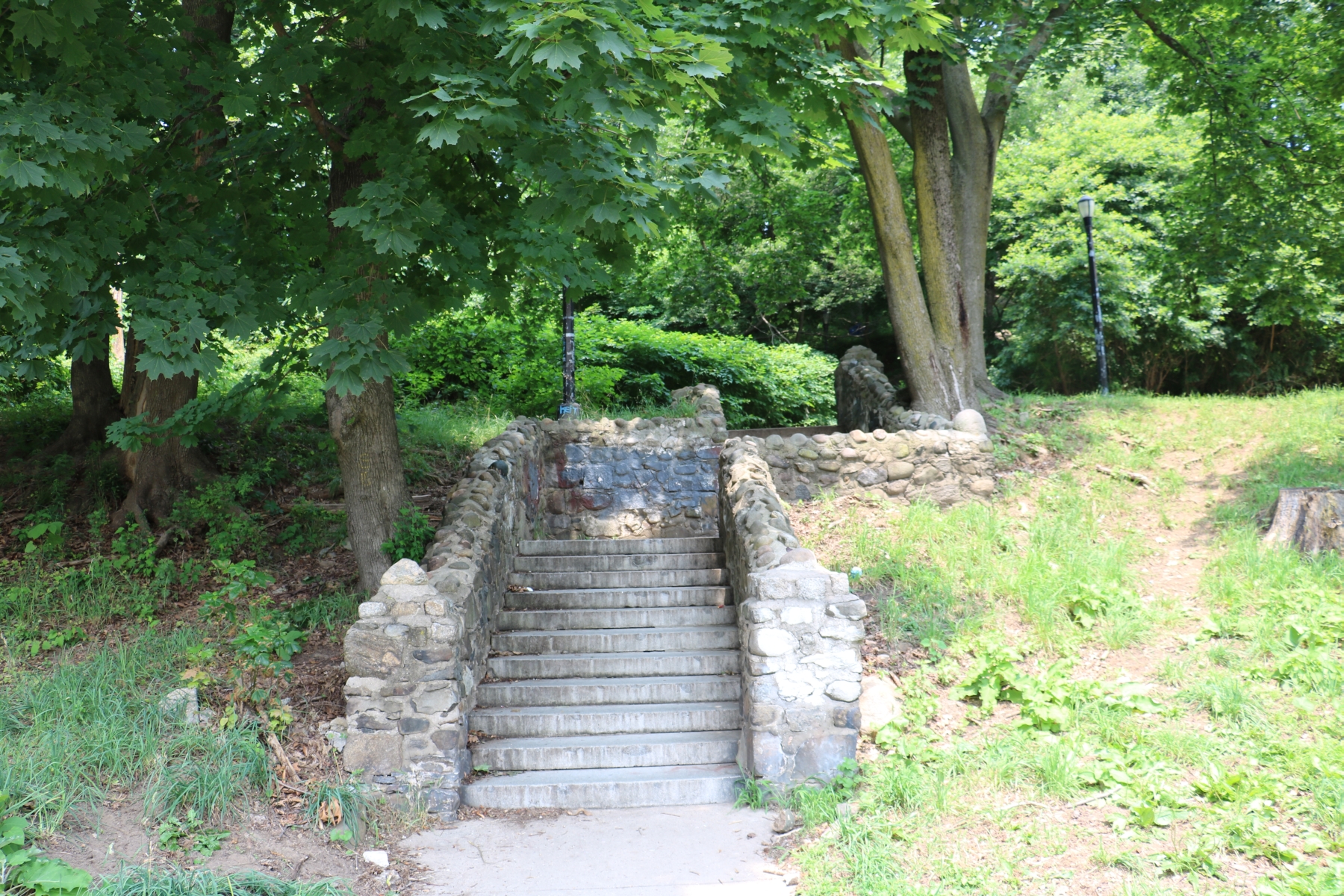 The markers in the grass continue to fascinate me. This is on 76th Street -- there are two here and if you look in the distance, on the next block, there is a 3rd one. Woodhaven's Stonehenge.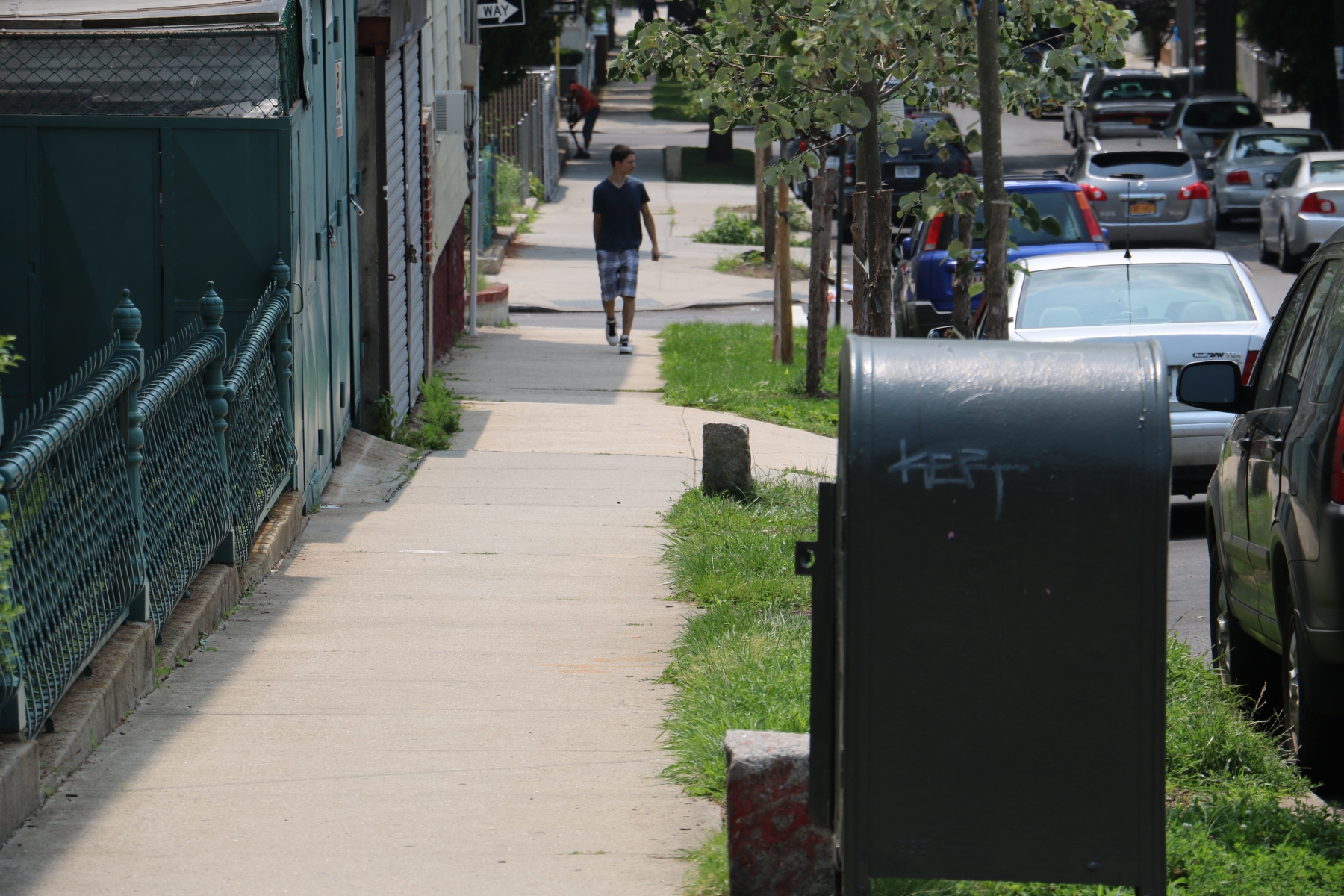 Someone named Antonio immortalized his name in the wet cement using pieces of metal, back in 1999. It's holding up well, Antonio! Except for the "I".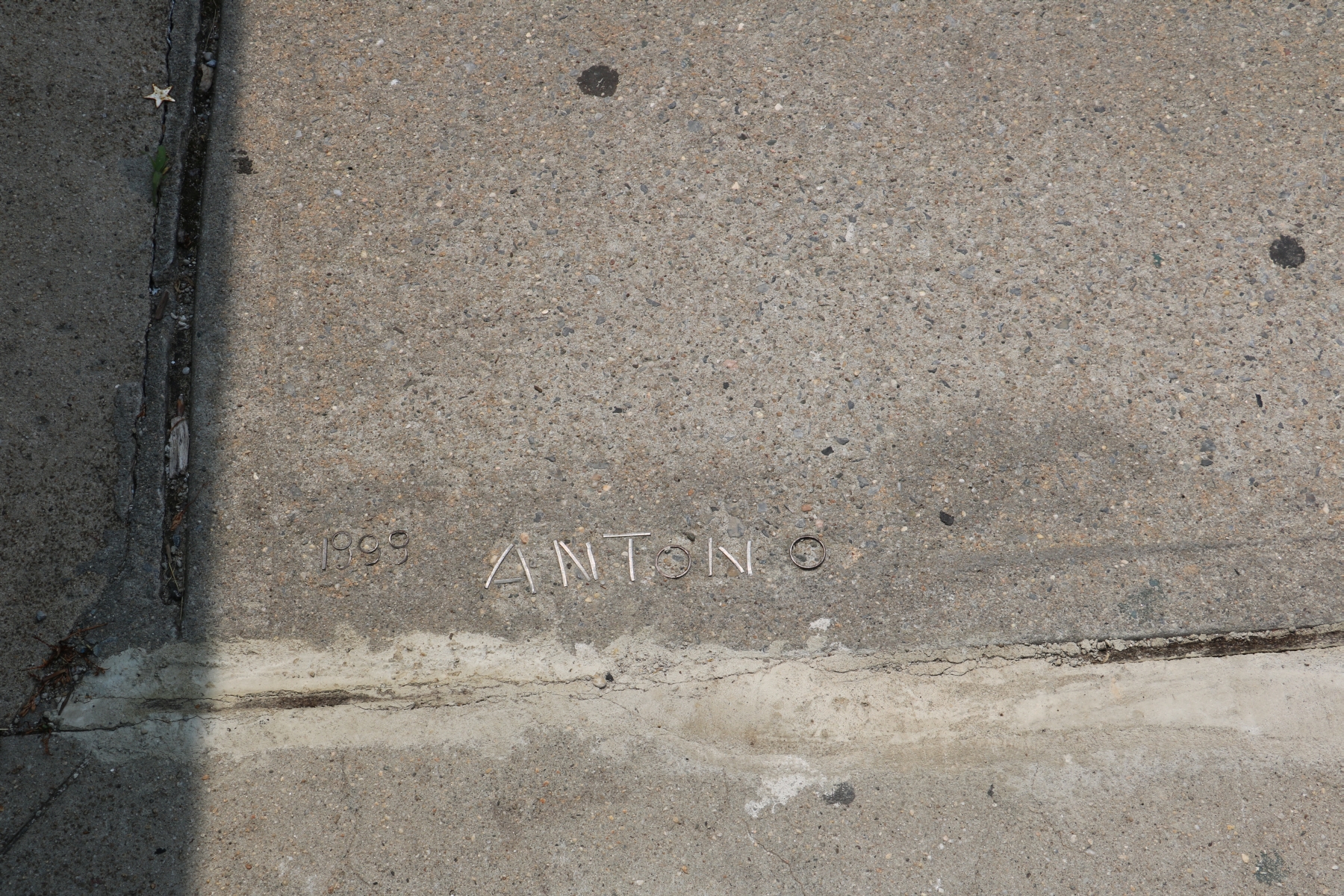 Sometimes, the curb your dog signs are not enough!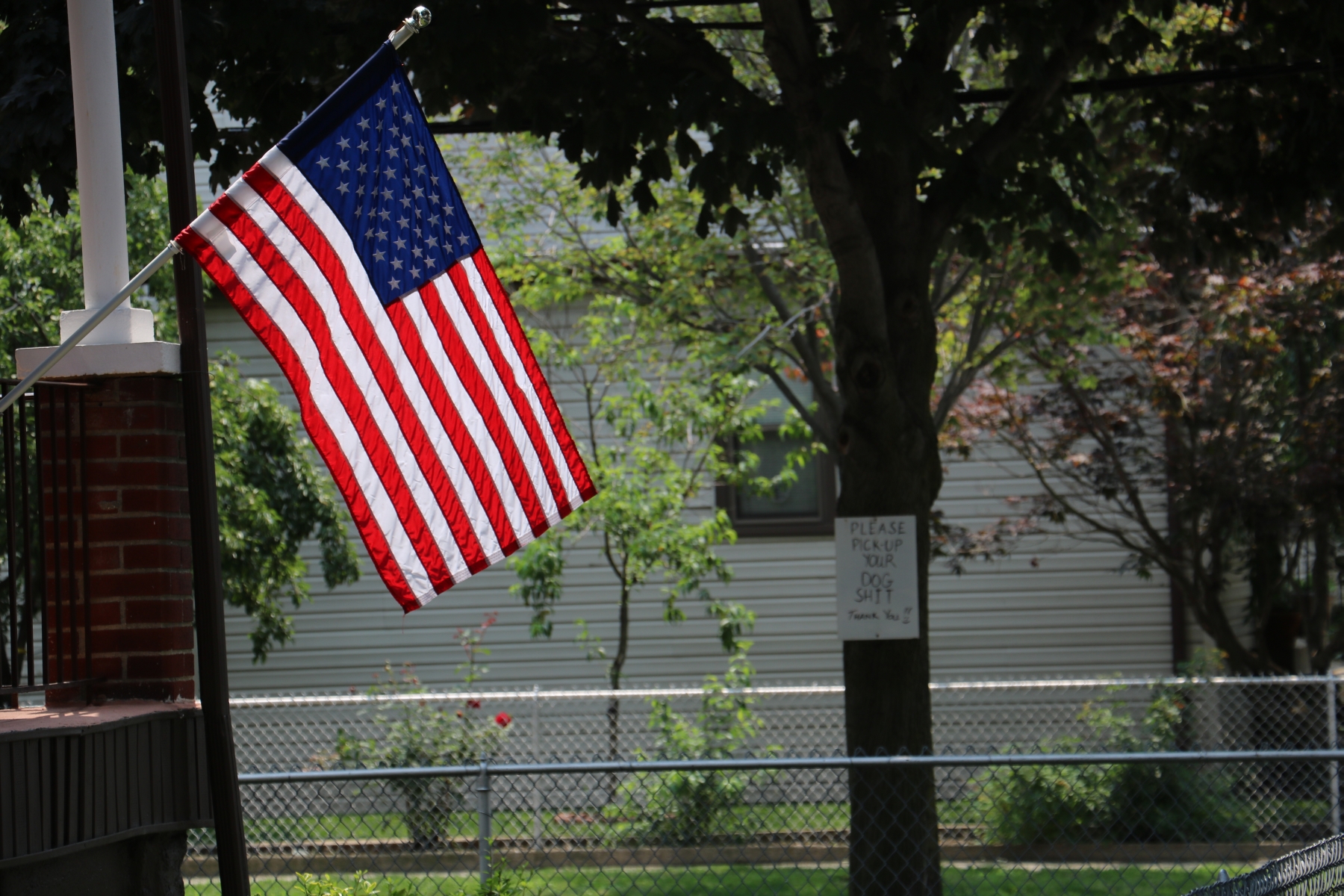 I remember neighbors painting the hydrants like this back in 1976. Looks nice.
This building here at the corner of 76th and Jamaica is the last house-type structure on Jamaica Avenue in Woodhaven. It's huge. I suspect it may have been a church - but I haven't one any research on it at all yet.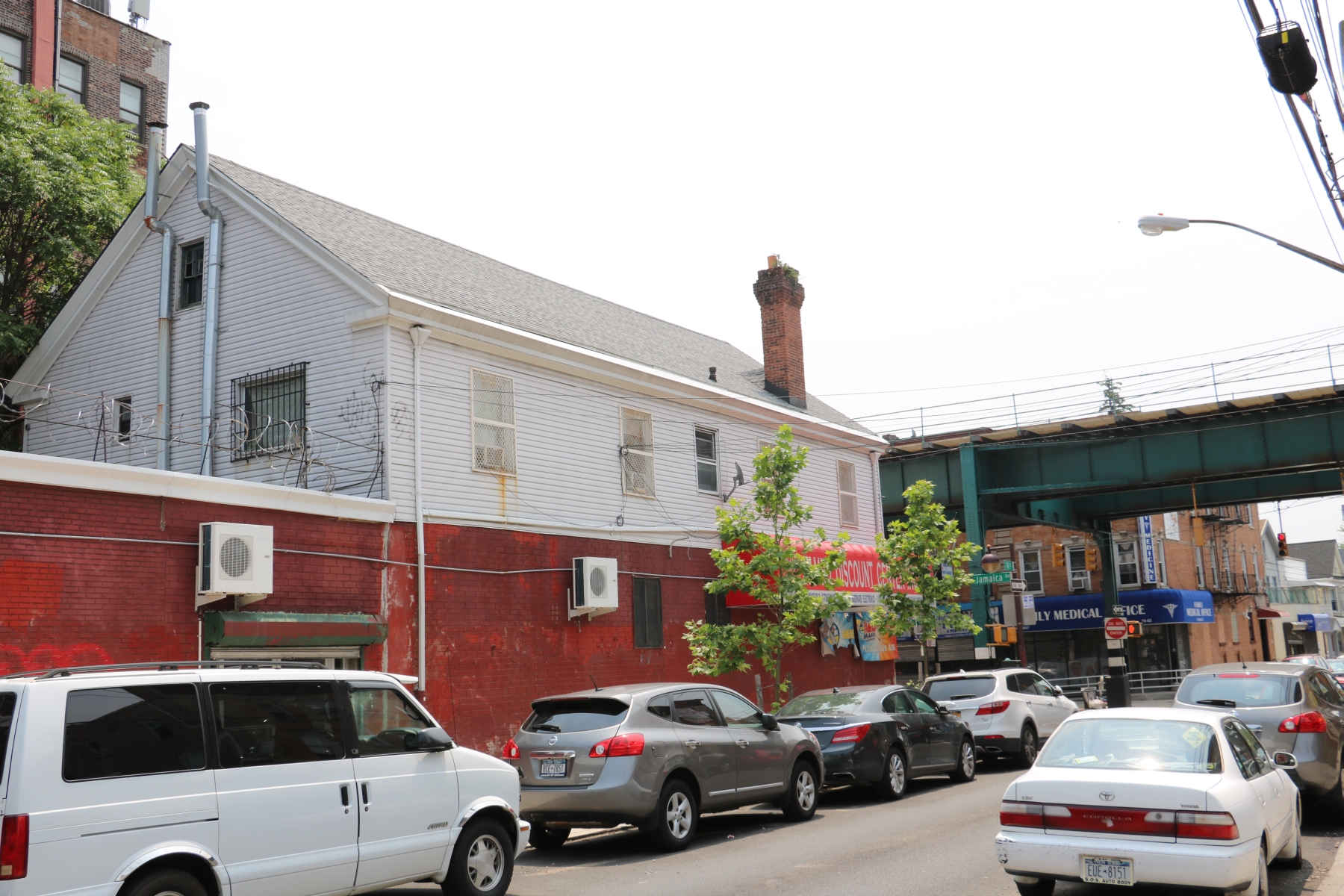 The used books at 80th and Jamaica. Picked up a few good paperbacks this afternoon.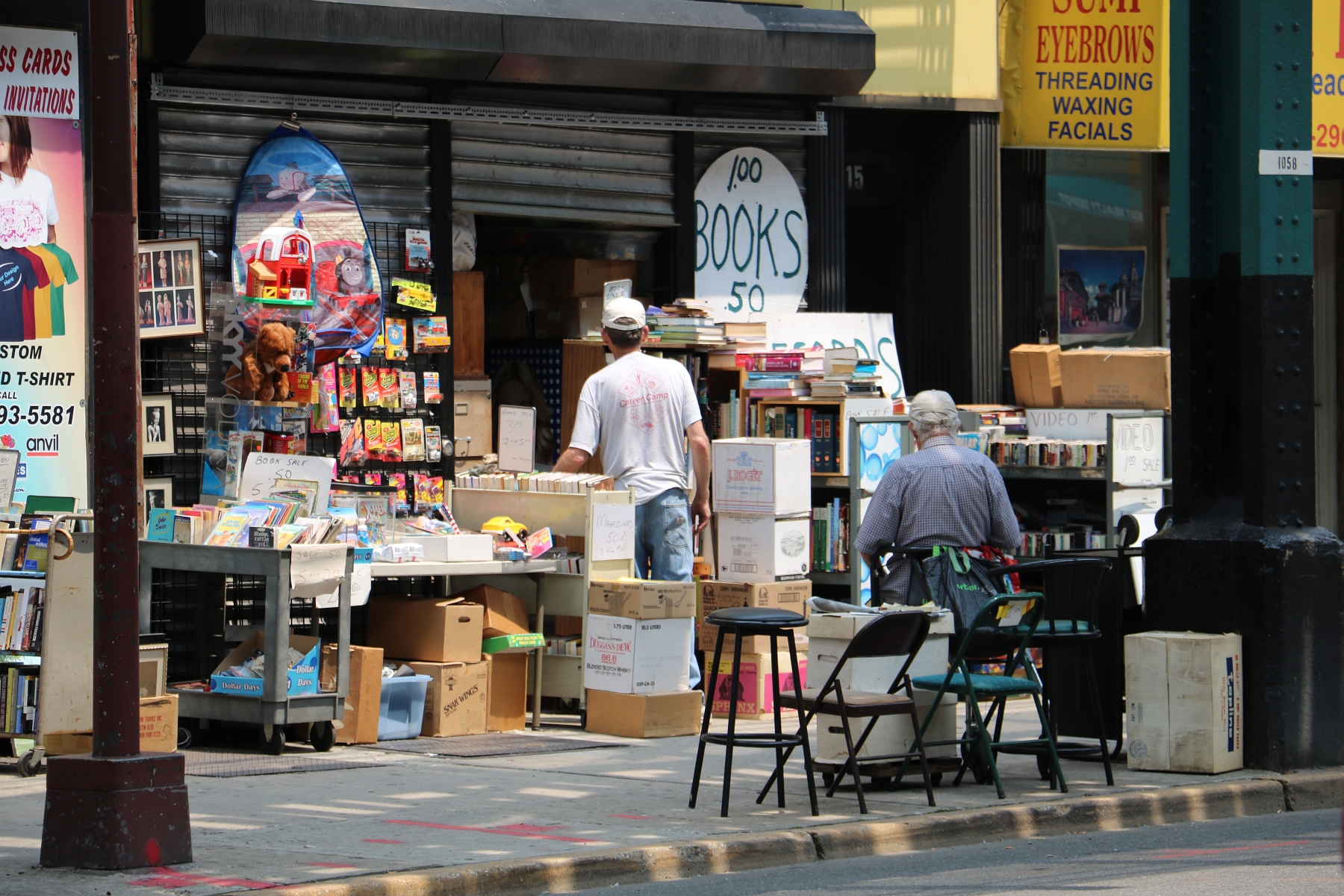 Mike's Pub had their flag out.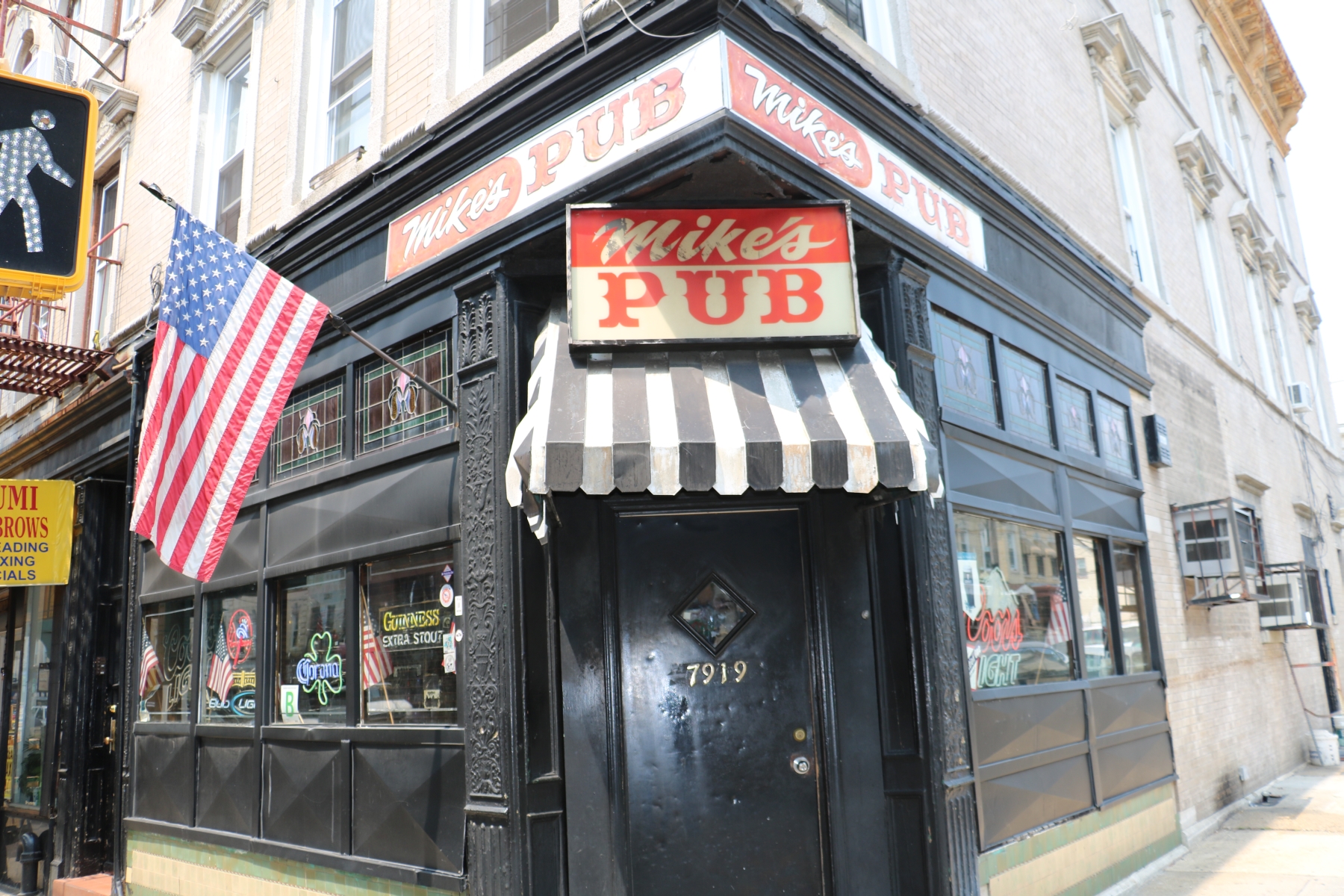 Had a little sit down at Forest Parkway to do some people-watching. The food cart was doing a good business today.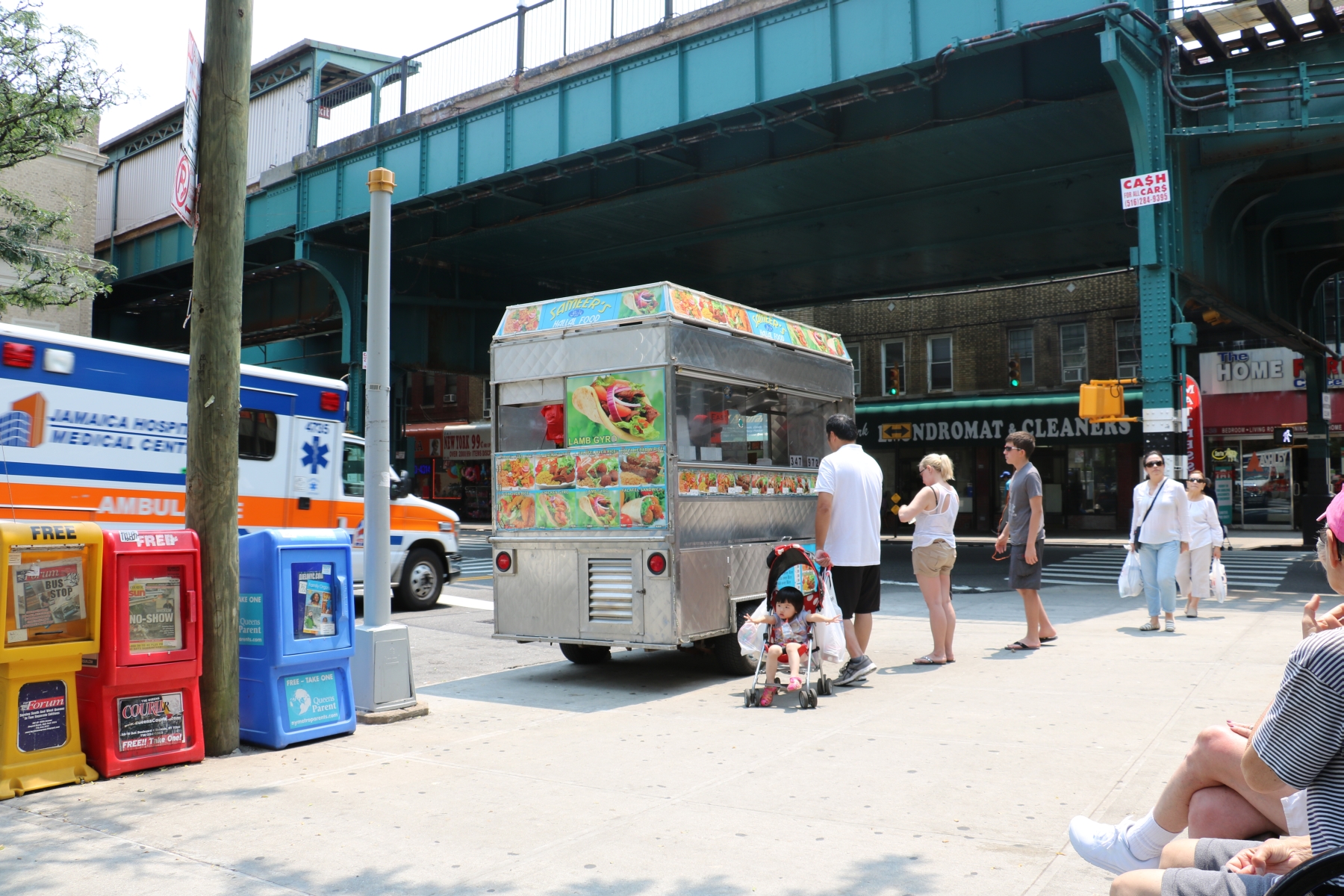 Forest Parkway - looking uncharacteristically empty today. Where is everyone? Apart from the food cart above, I haven't seen more than a few people at a time.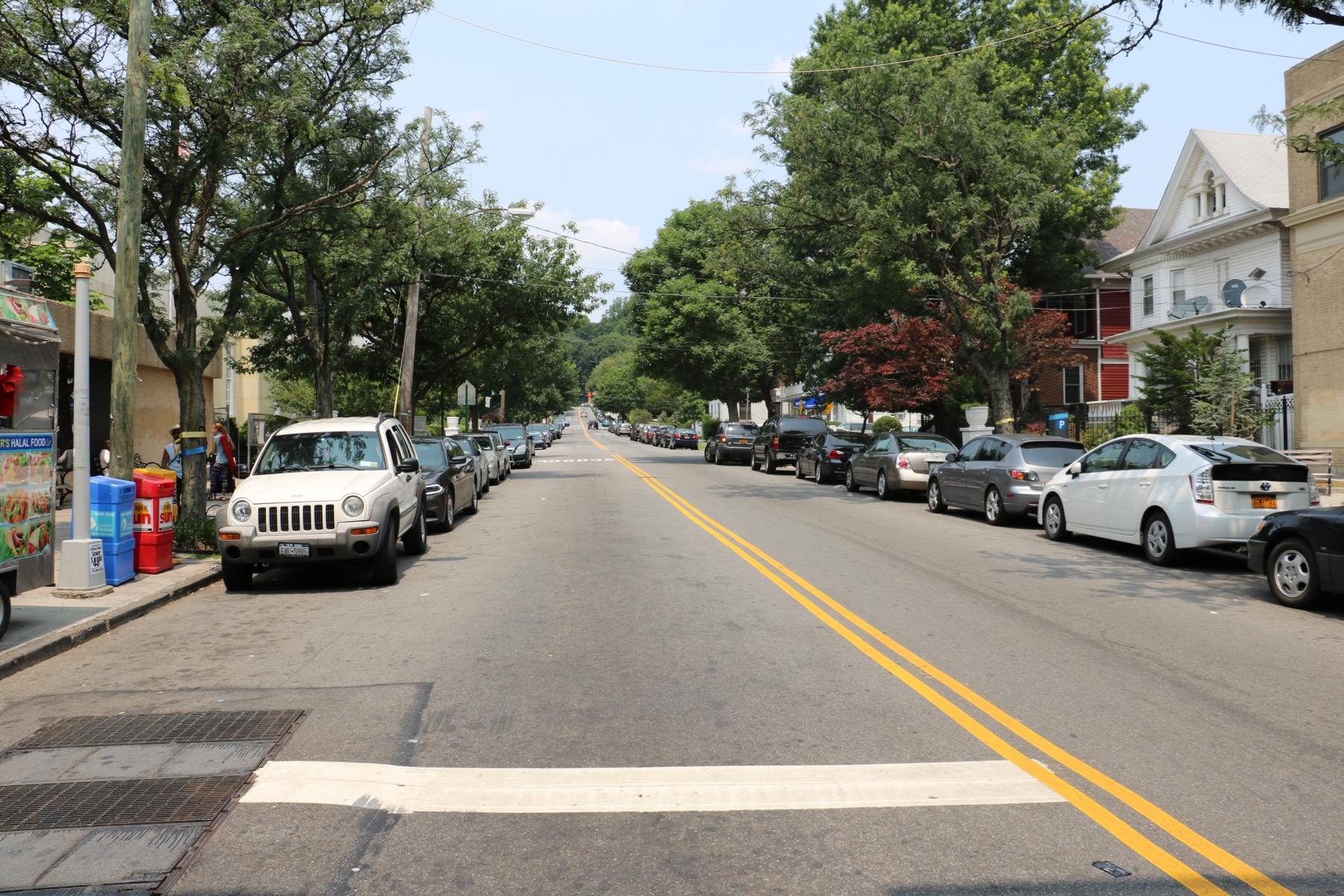 The Mister Softee truck was on Jamaica Avenue. I was testing out my zoom here. Took this down past Scaturro's (85th) -- can see the corner Deli and beyond on 90th in the distance.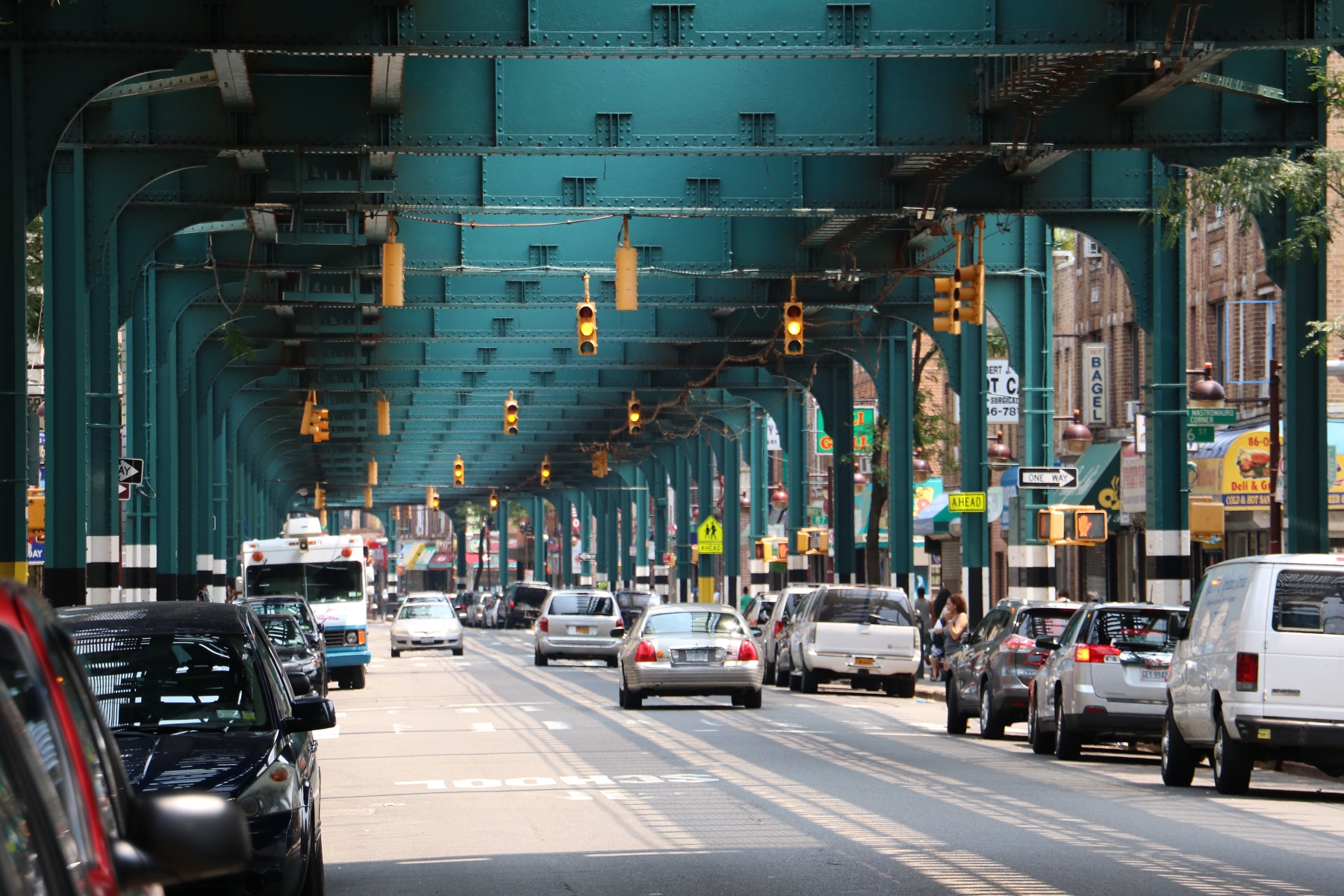 Heading back home now - one last blast of patriotism, Woodhaven-style! Until next time...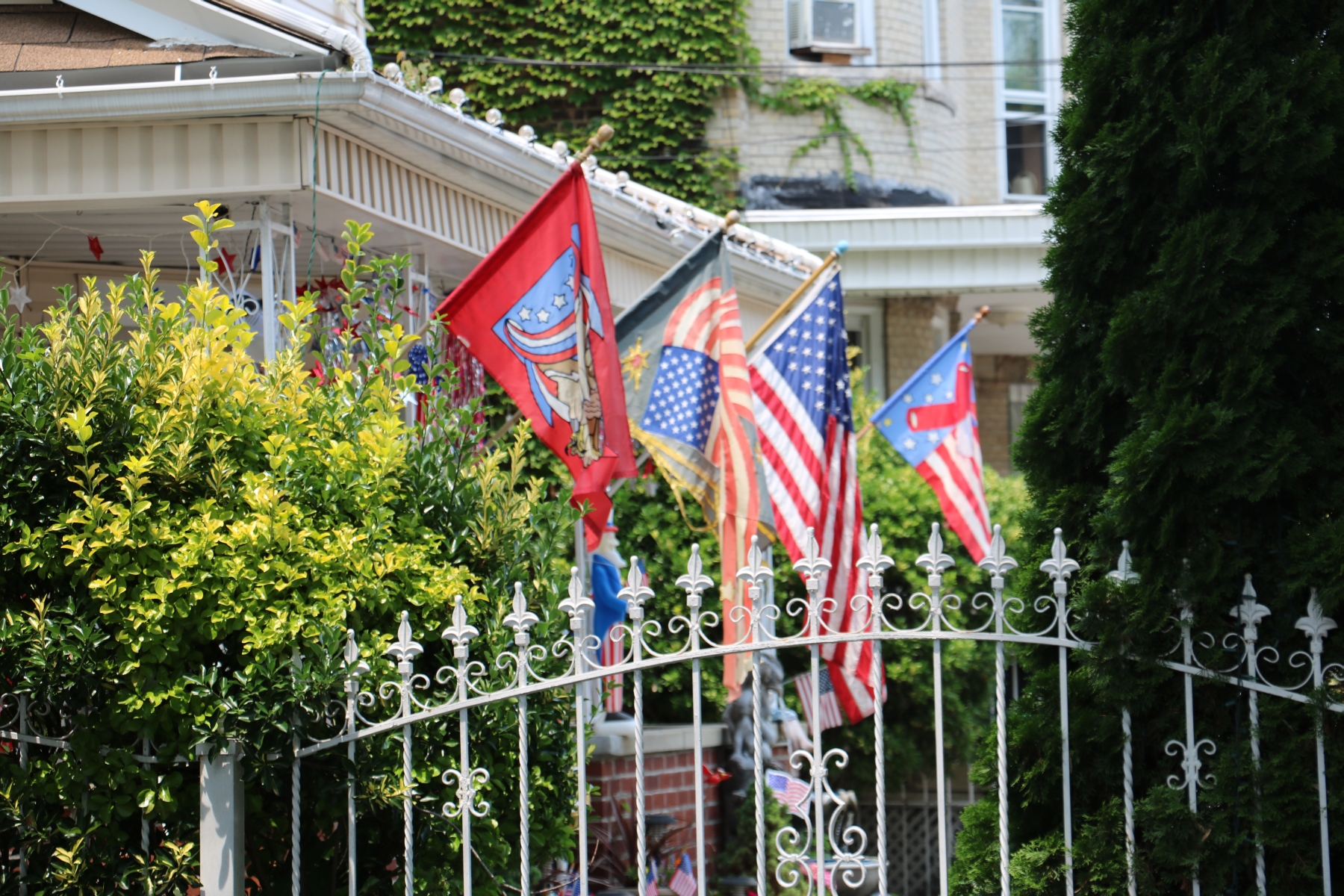 If you have any comments, or would like to suggest other projects, drop us a line at info@projectwoodhaven.com or projectwoodhaven@aol.com.
Return to Project Woodhaven's Home Page
Photos by Joey Wendell