It was a nice morning for a walk through Woodhaven. True, it was real chilly - and the sidewalks were slick in some spots - but the real light dusting of snow we received gave promise to some beautiful sights. This was the view from my front porch around 7 AM. Our garbage can had been blown into the sidewalk. It was windy. I hadn't left my porch and I was having second thoughts.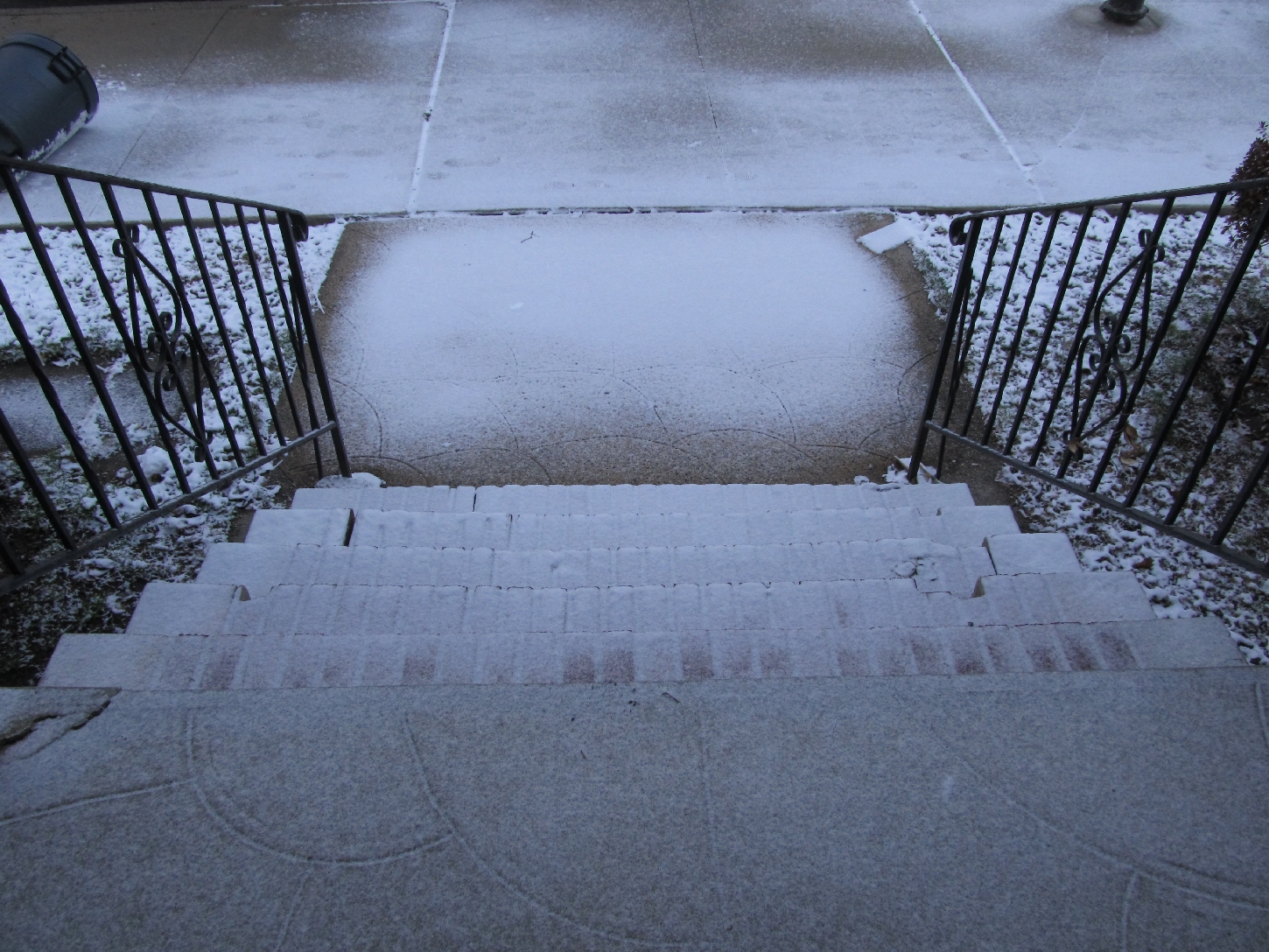 Should I Walk? Or should I Don't Walk? This light at 91st and Park Lane South wasn't helping me make up my mind.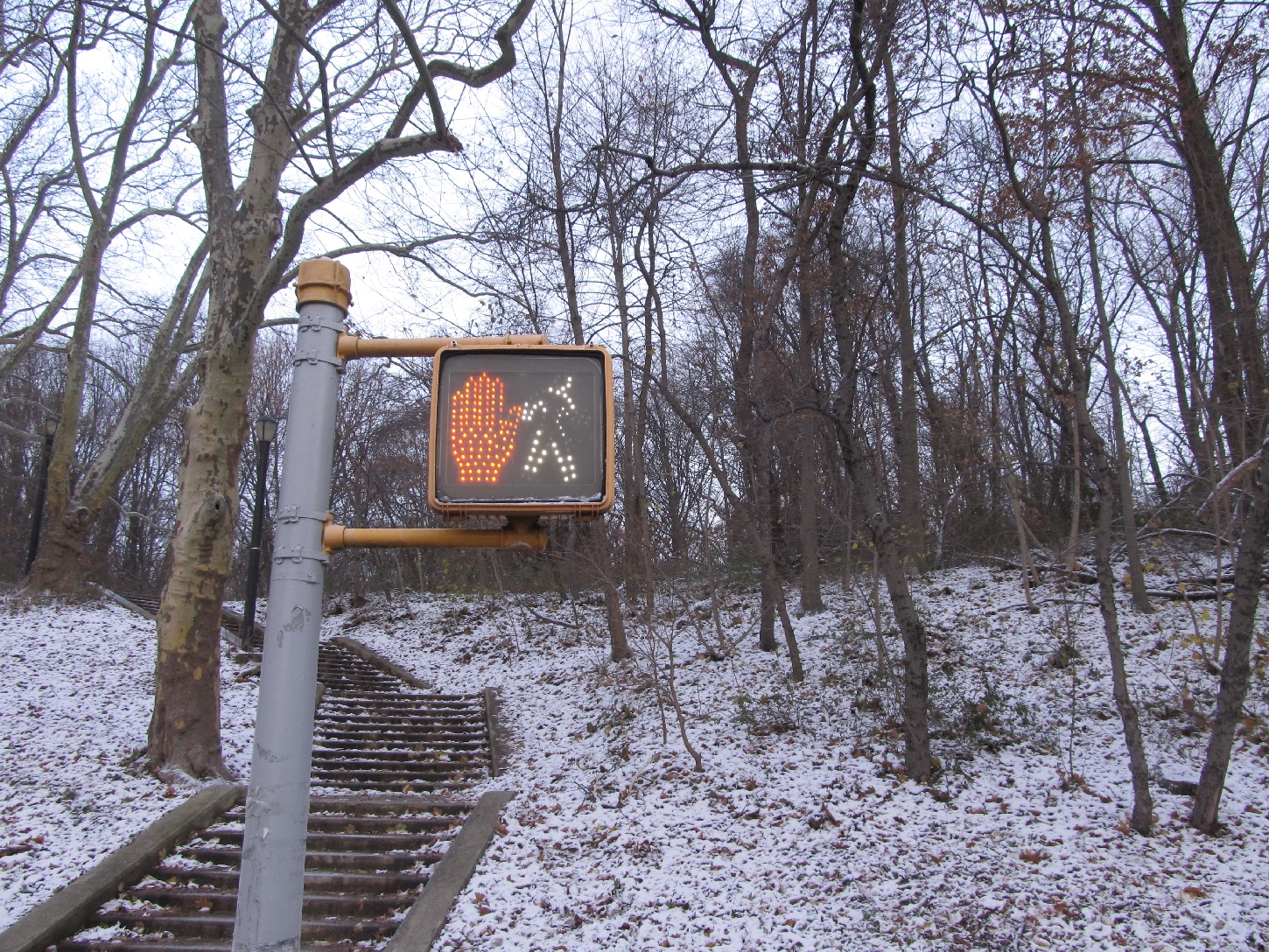 The steps at 91st up to the tennis courts. It's a great time of year for a dusting because the leaves have recently fallen and if you're a visual person, sights like this are real enjoyable.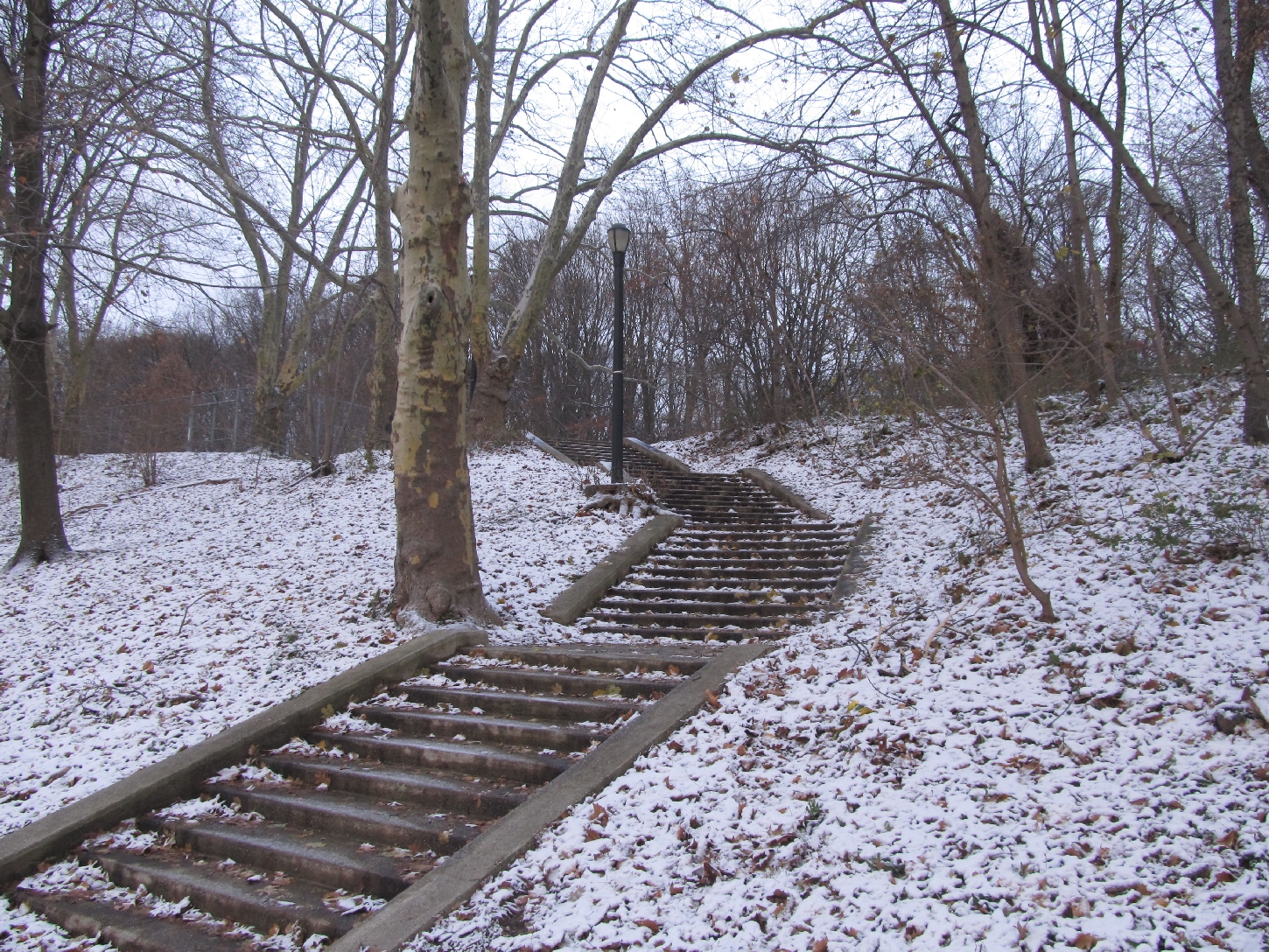 The Fire Alarm Telegraph Station and the tower that overlooks Woodhaven. Park Lane South & Woodhaven Boulevard.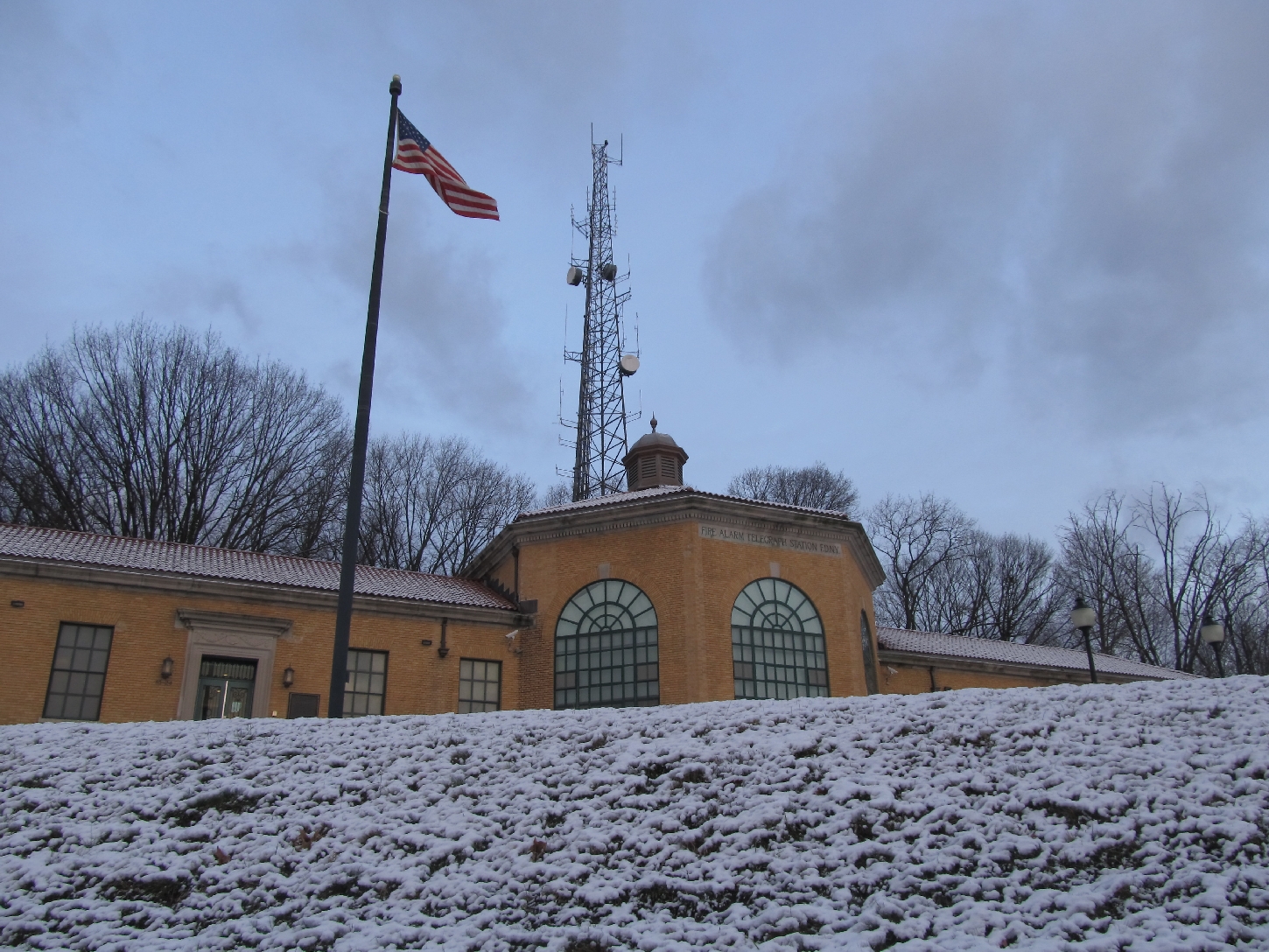 When I went out this morning, I had a wooly hat, gloves, a scarf, etc. But I left with 2 old batteries in my camera which died right after the shot above. So I walked up to the Deli right off of Myrtle on Woodhaven Boulevard and got 2 fresh "AA" batteries there. I was back in business. I snapped a shot of these cold commuters outside of the deli. There were a half-dozen more inside. By this time it was around 7:30 or so. My cell phone had also died so I couldn't tell. I really wasn't prepared for this morning's walk.
This guy was riding his bike very carefully. The sidewalks were very slippery and I imagine it's even more likely to slip while on a bike. But he seemed pretty happy and why not? It may have been cold but everything looked so nice.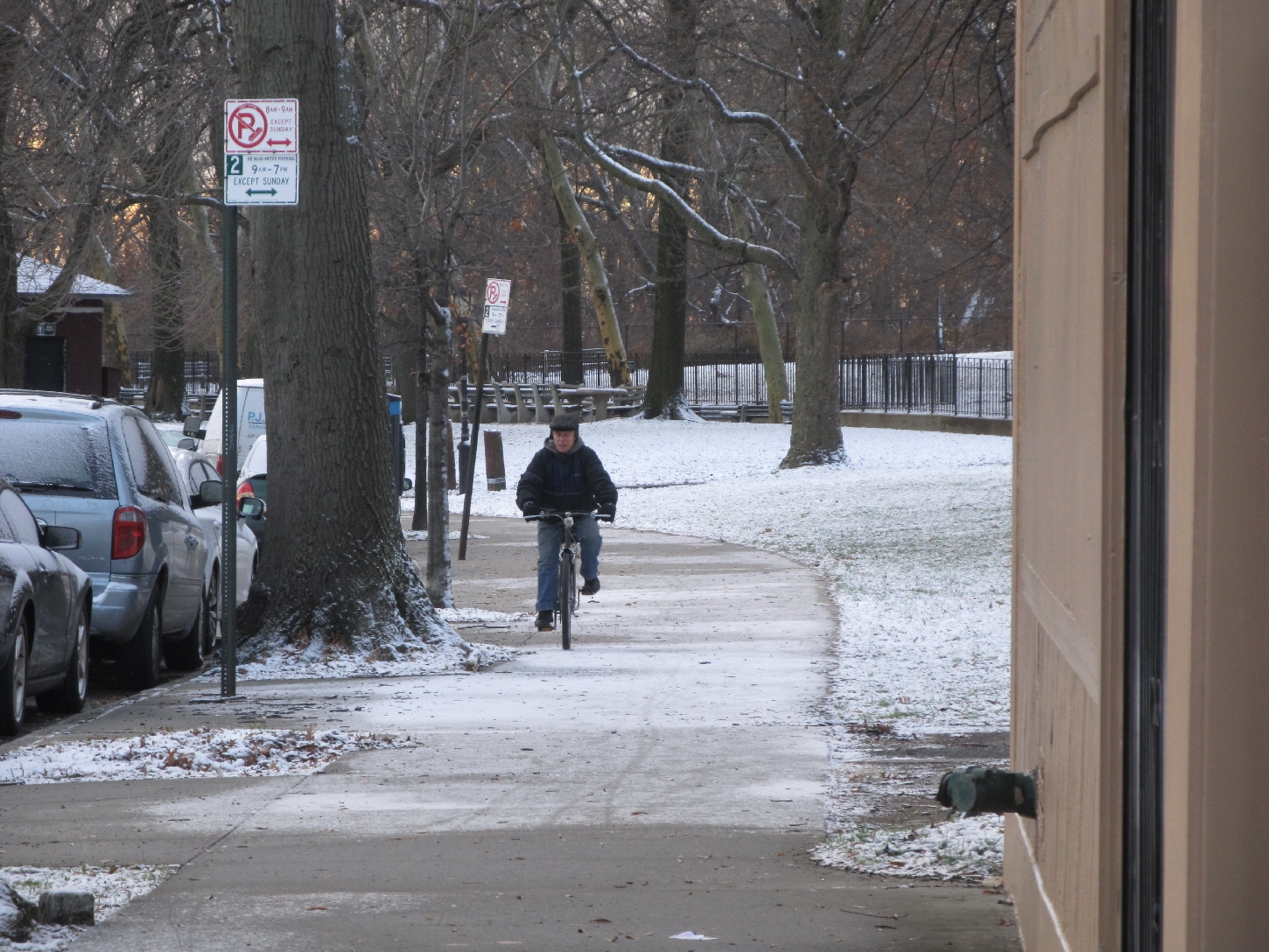 It won't be long -- oh, about 130 days -- before the Forest Park Carousel opens up for the 2015 season. The distance between now and then seems as far away as it does in this picture, with a long cold patch ahead of us. That's nearly poetic.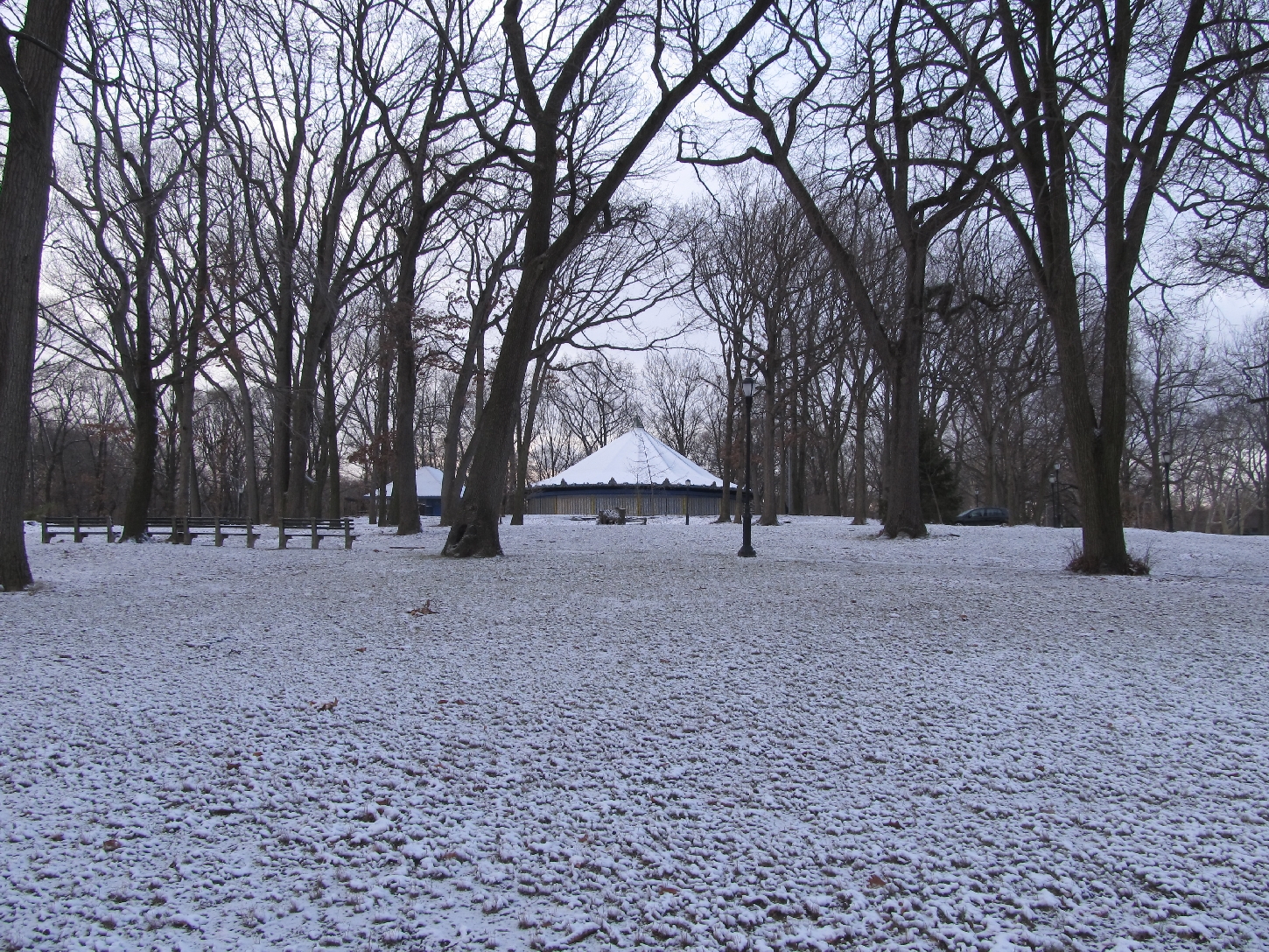 Checkmate. Snow covered benches always look lonely to me.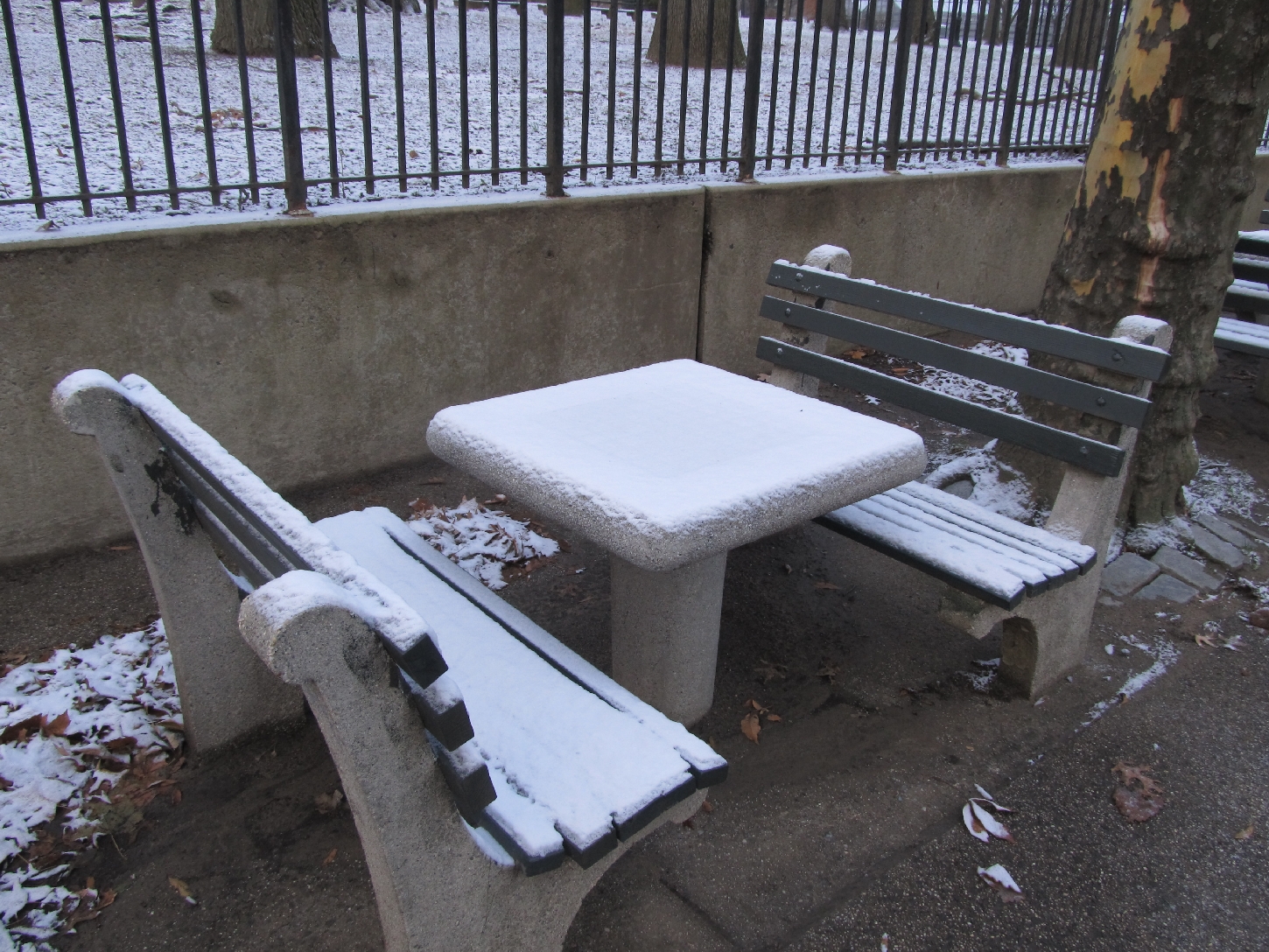 I turned into the park, walking along Forest Park Drive, which allowed me to take another glance at the Forest Park Carousel.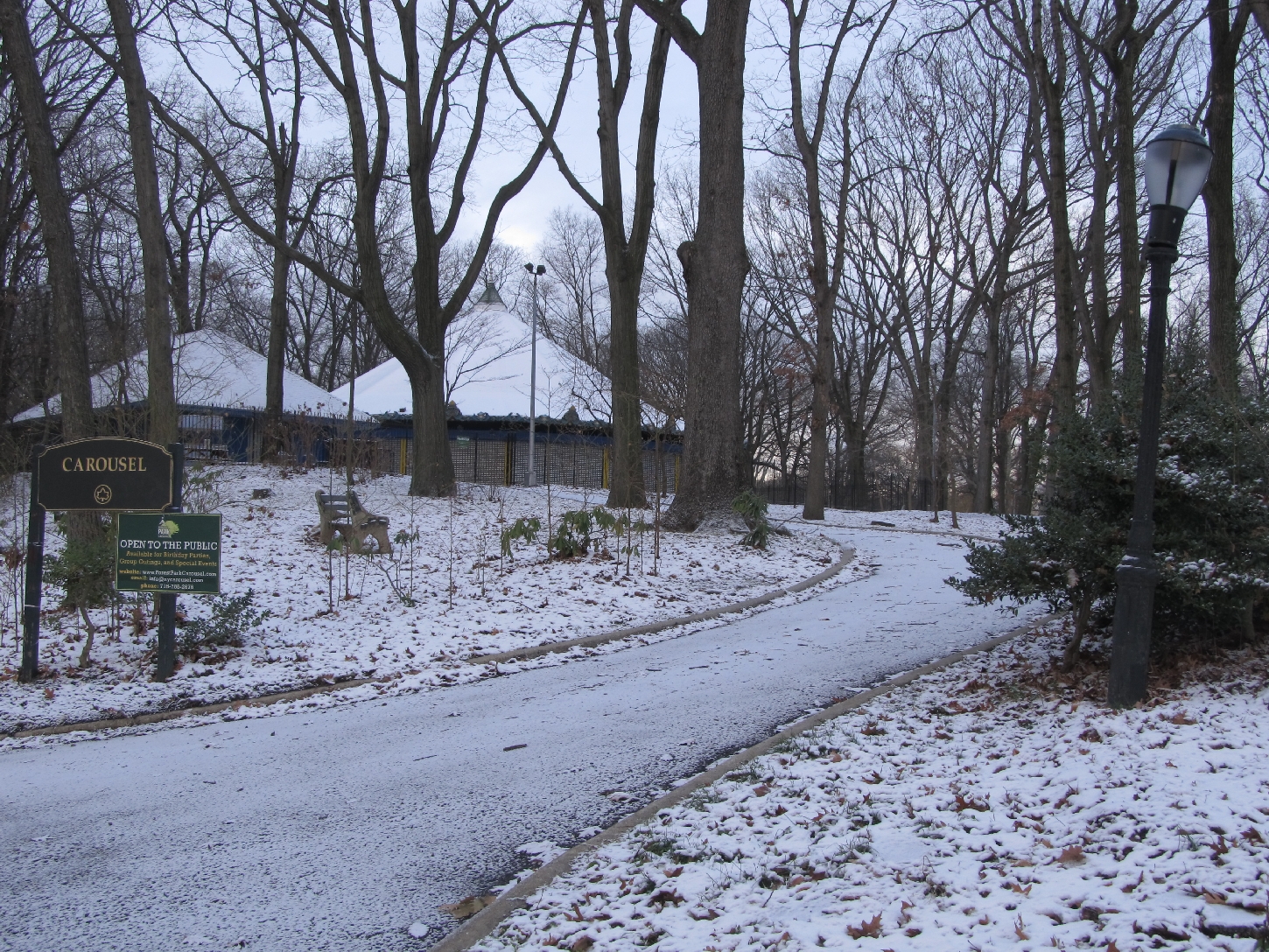 I stopped off briefly at the Seuffert Bandshell. By this time it was about 8 AM and usually by this time there are a group of people who meet here and do some Tai Chi. Was hoping to get a shot of them doing that in the cold but they outsmarted me by staying home.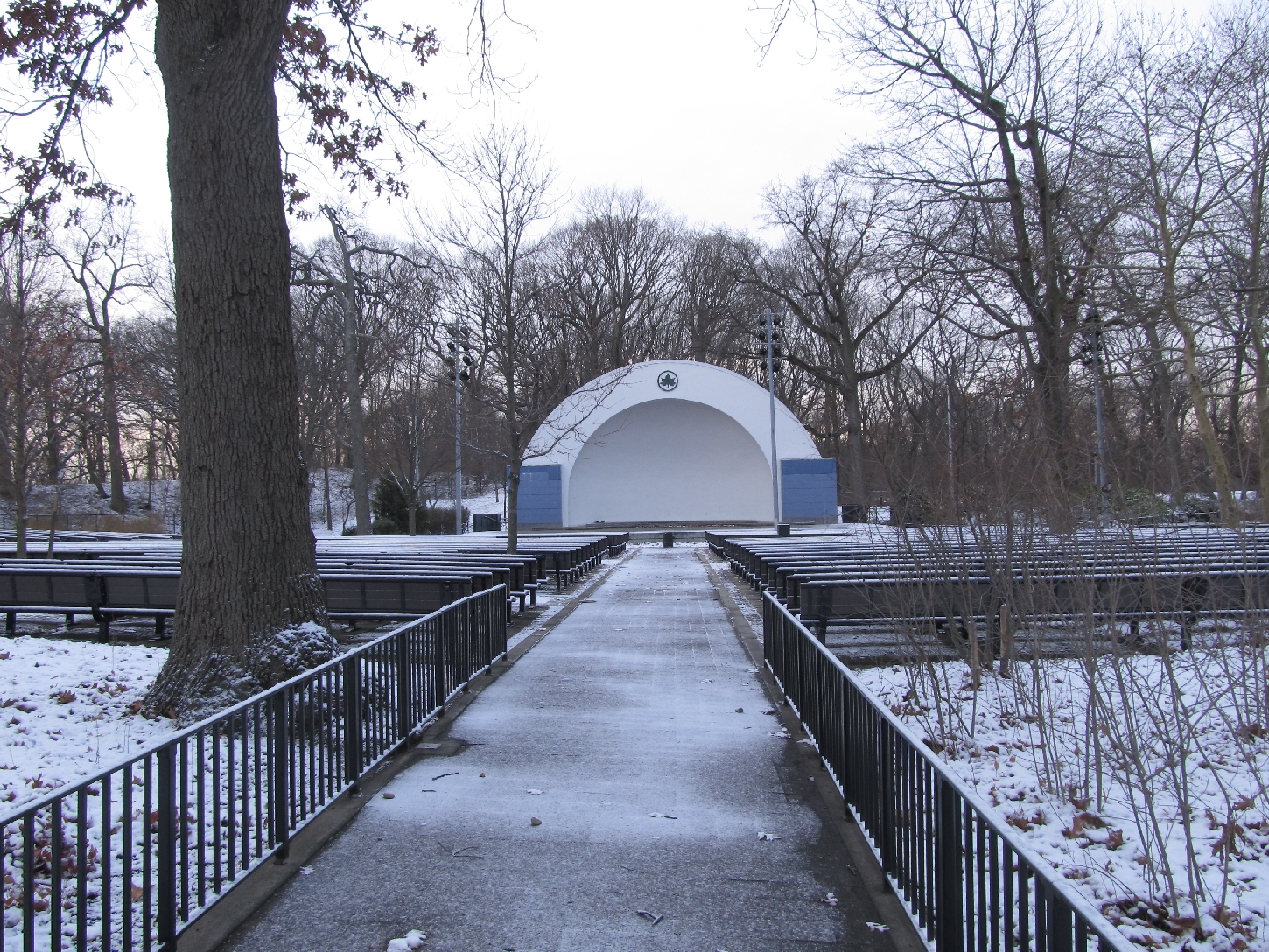 The view over Woodhaven and beyond. The tennis courts are below. The road goes down to 87th St - Baby Carriage Lane.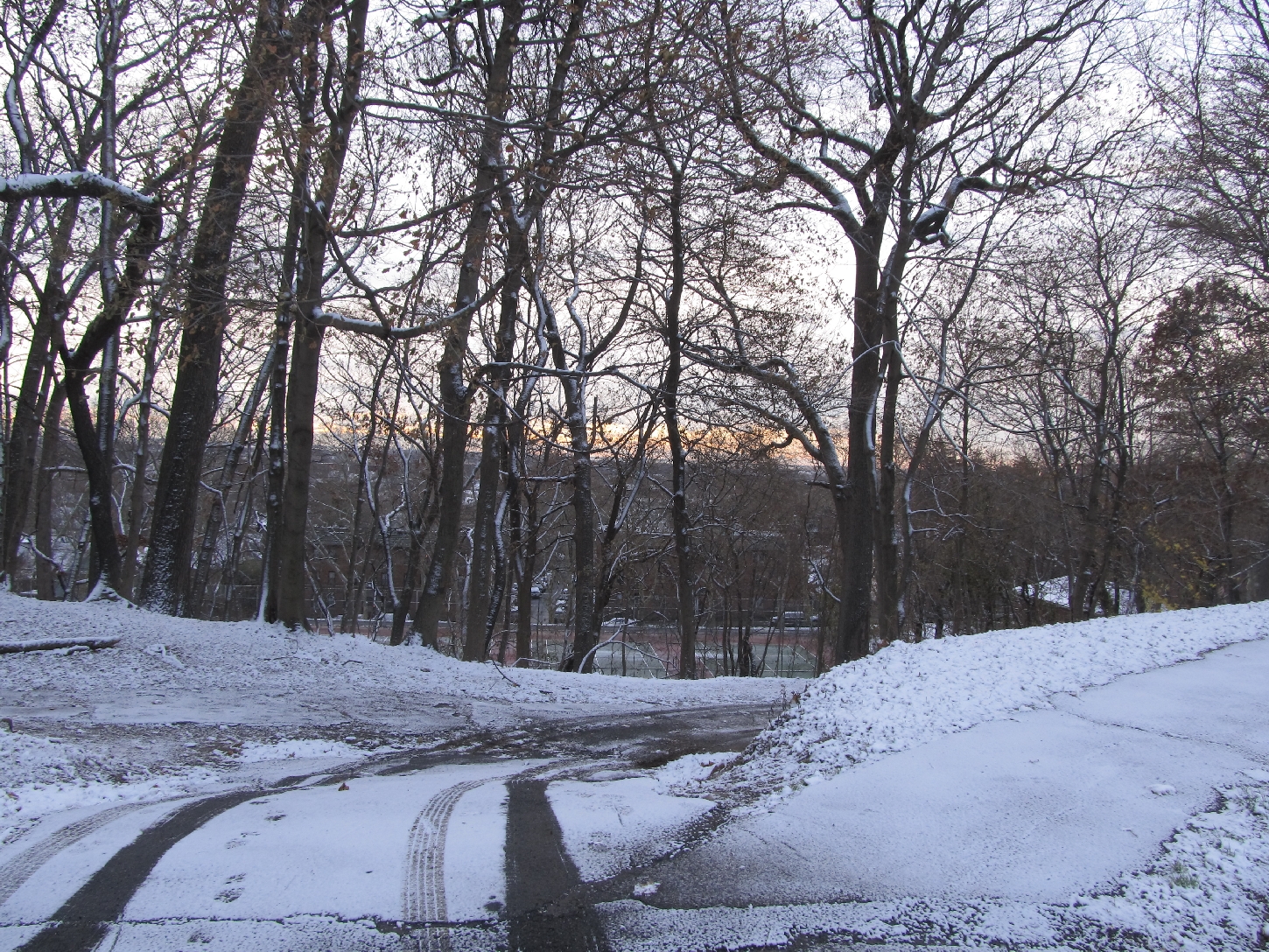 The road through Forest Park - aka the Queens GreenWay.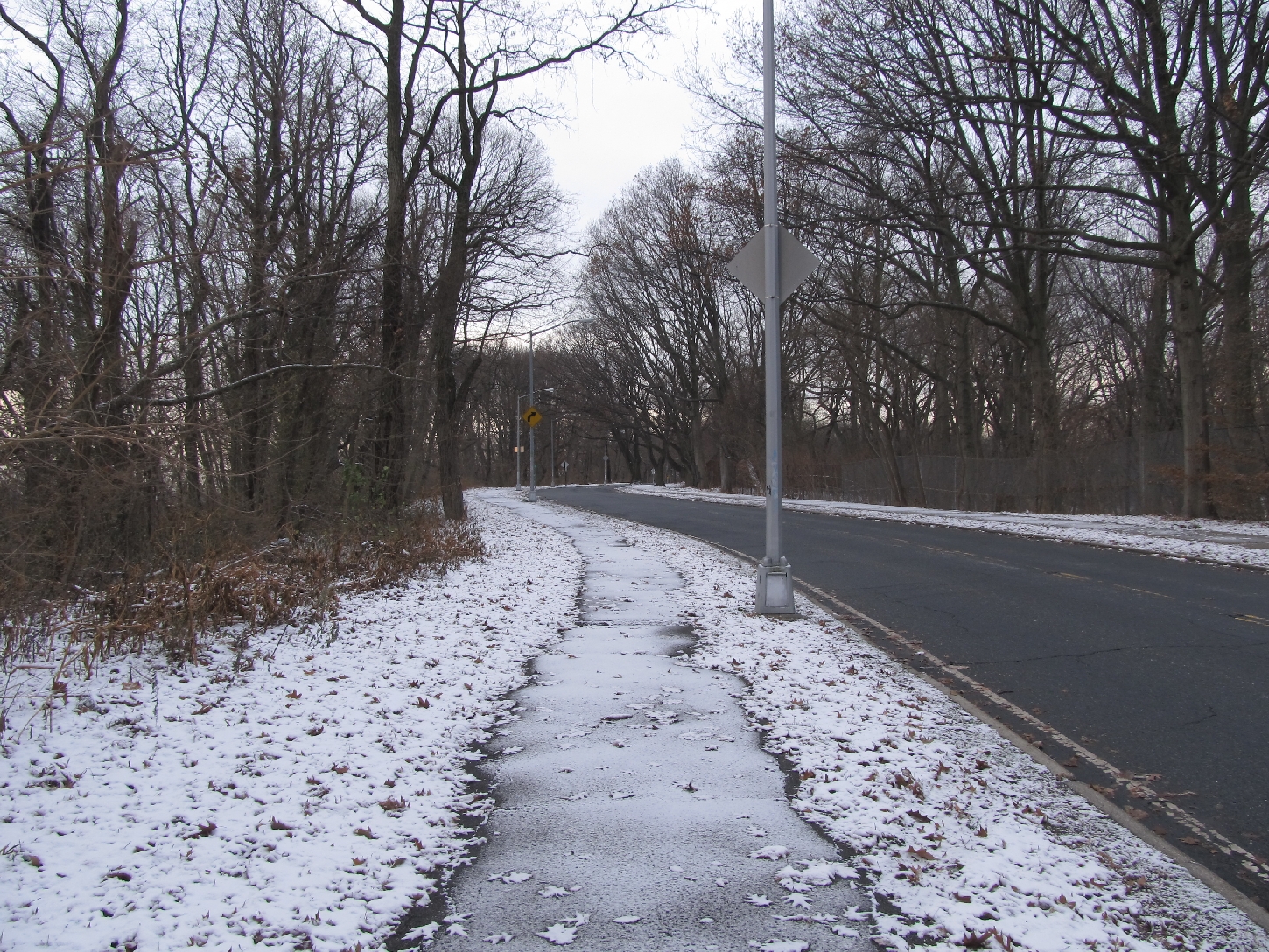 One of the really nice things about winter is the view from Forest Park. The leaves have fallen, affording you some spectacular views in the morning.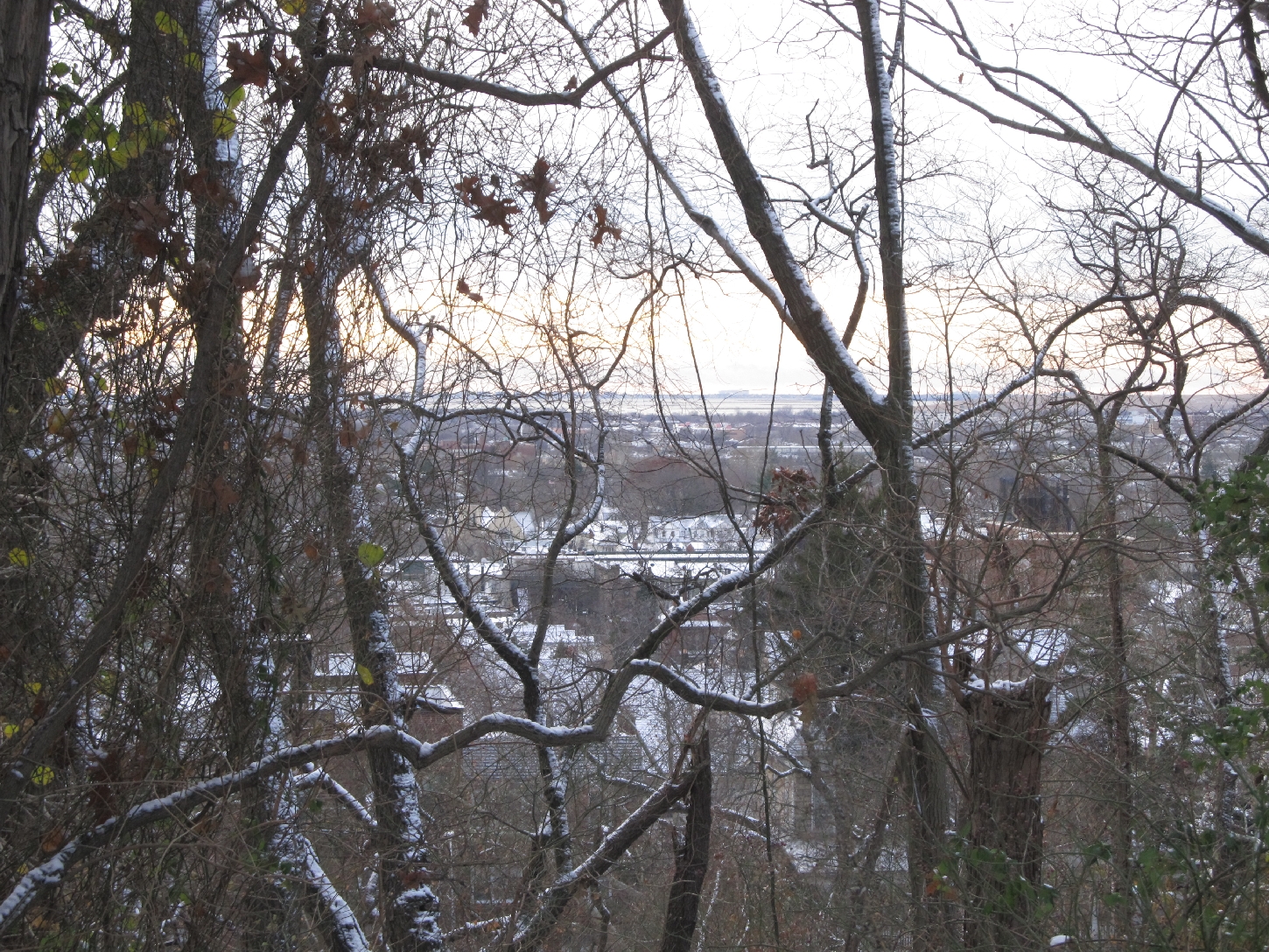 The steps of Forest Park down to Forest Parkway (click here to see a feature we did on these steps 5 years ago under much warmer -- and greener -- conditions).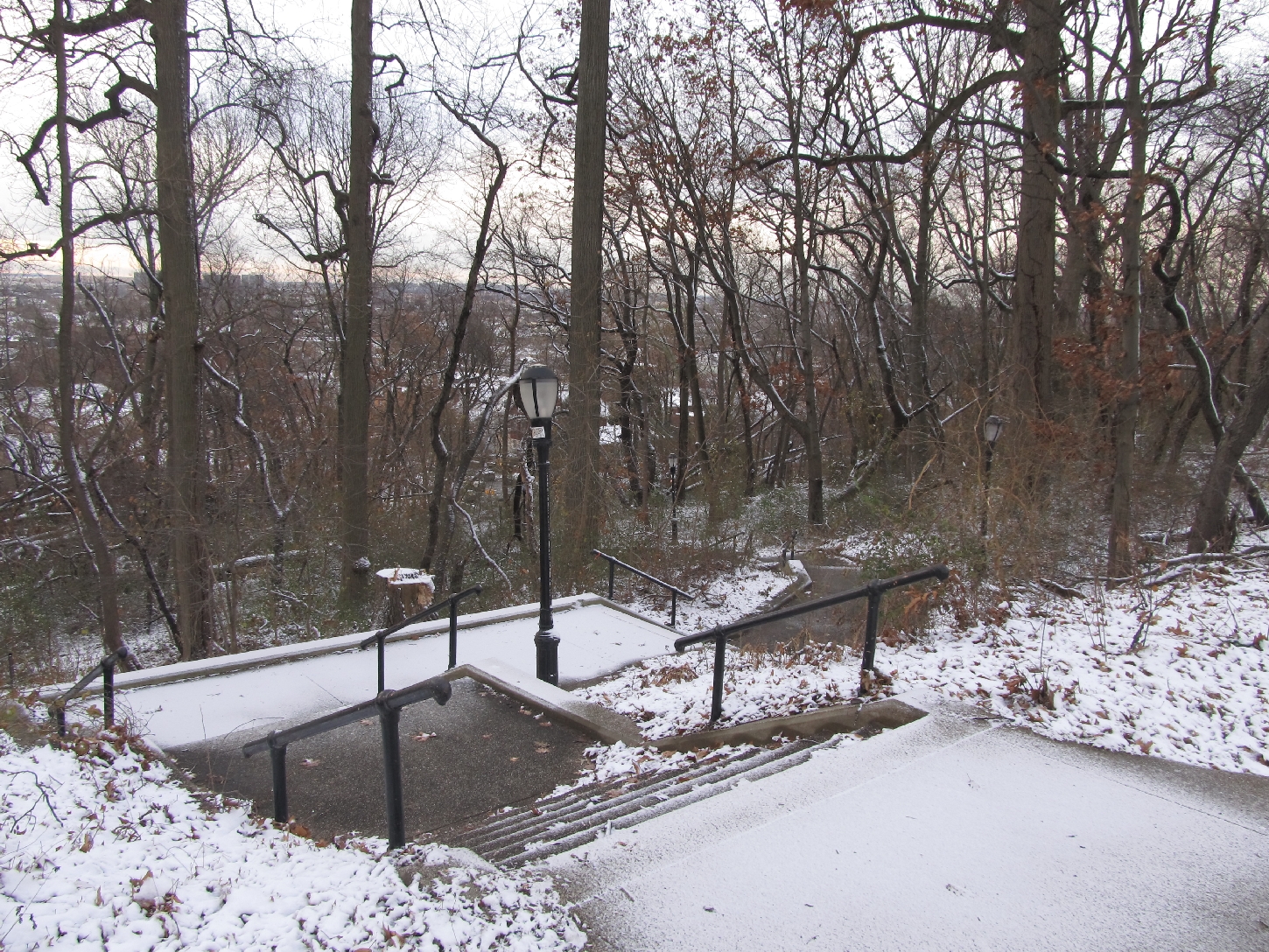 The Memorial Trees of Forest Park. Click here and here to learn a bit more about these trees lining Forest Park Drive - each of them planted in the name of a Woodhaven soldier killed in World War 1.
The sign for the GreenWay. It's a beautiful road - a real nice walk any time of the year. It needs to be better maintained, more funding needs to be allocated towards repairs and maintenance.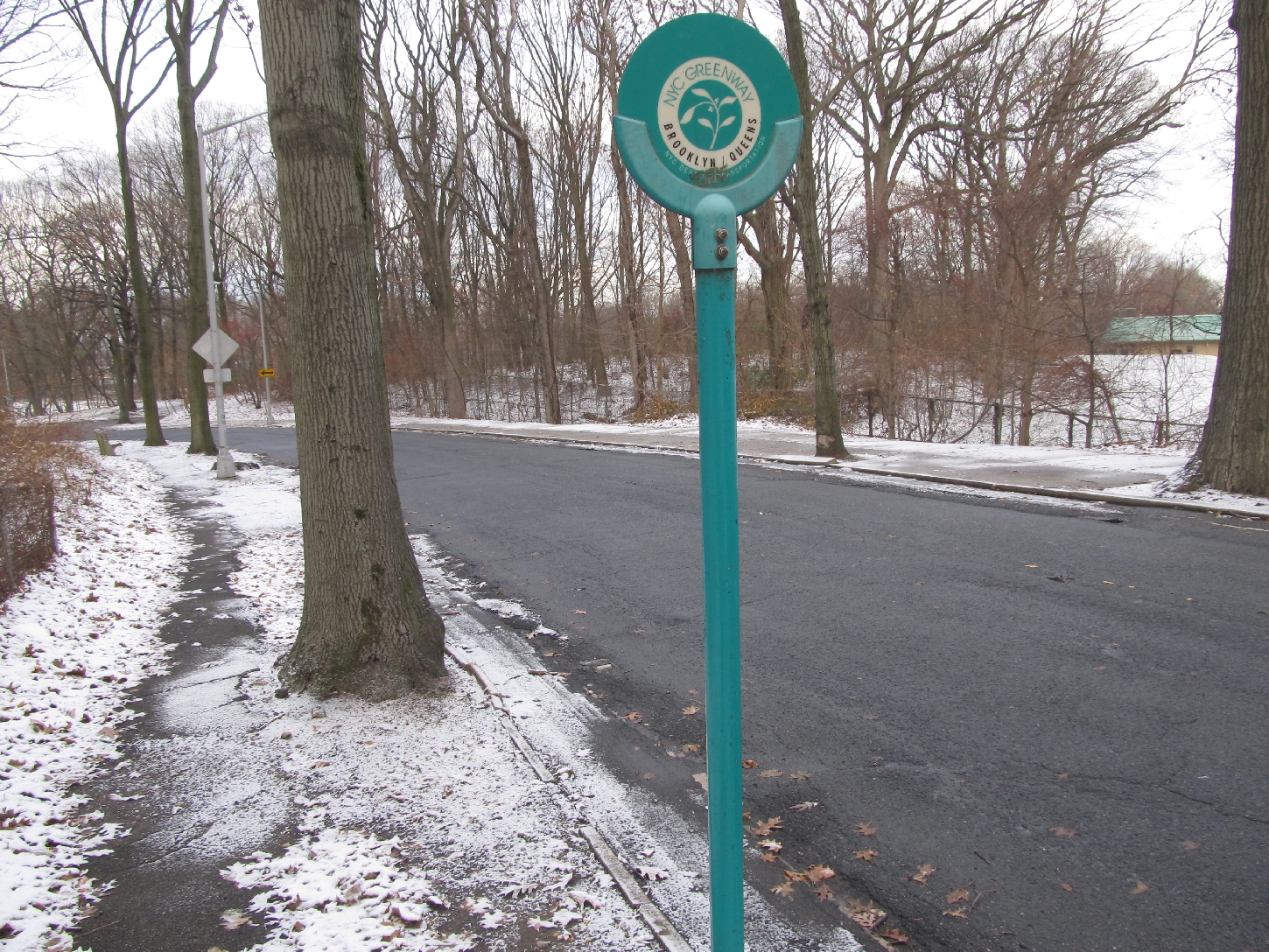 The former Forest Park Golf House, or as it is now known, Oak Ridge.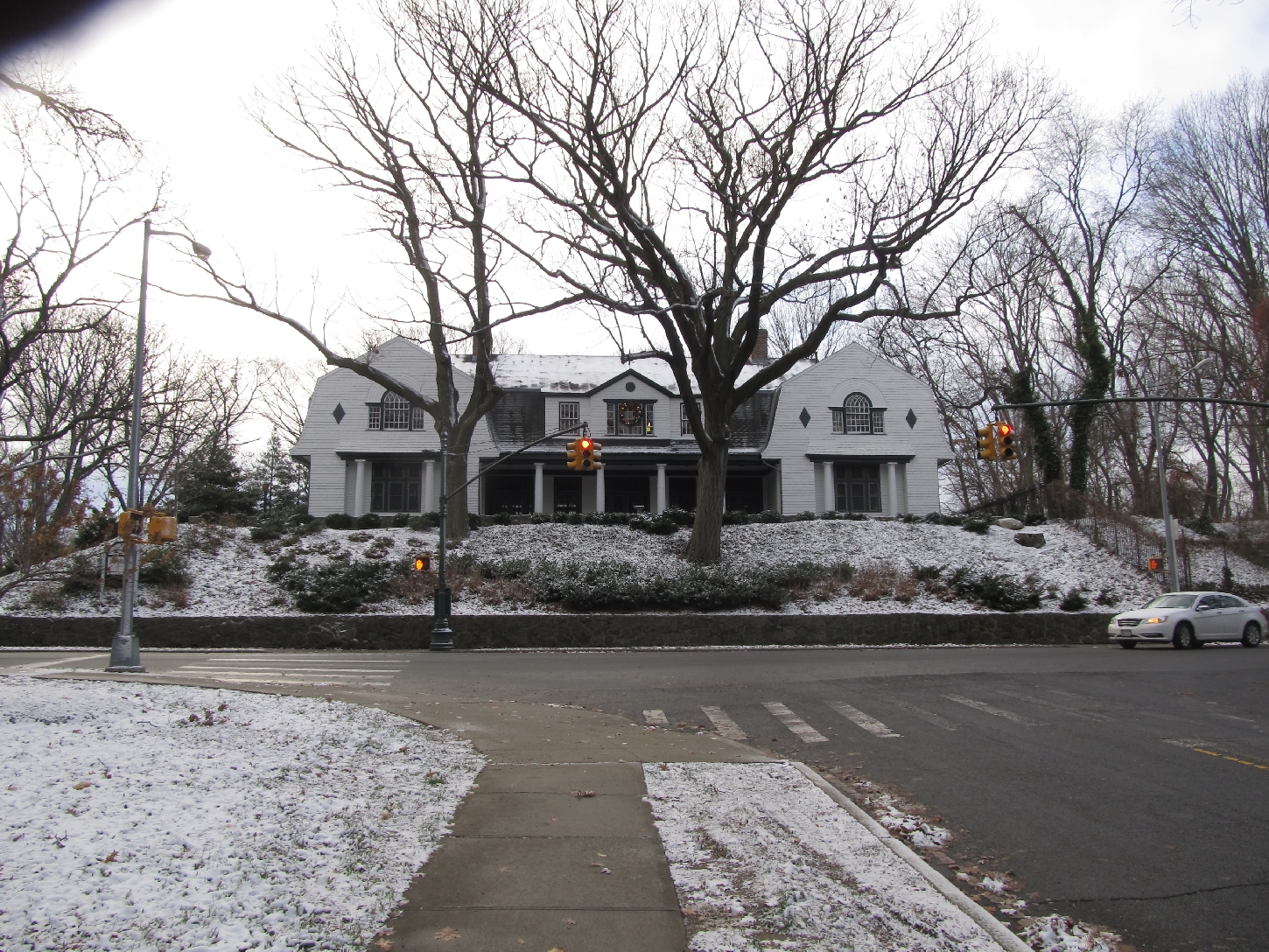 I eyed these steps suspiciously before walking down them. It was still really cold and the ground was still slippery in spots. As I got here, there was a guy just getting to the top. Is it slippery? I asked. He shrugged. Wasn't too helpful. I walked down them slowly, keeping near the railing. A few steps were slick but I made it down without embarrassing myself.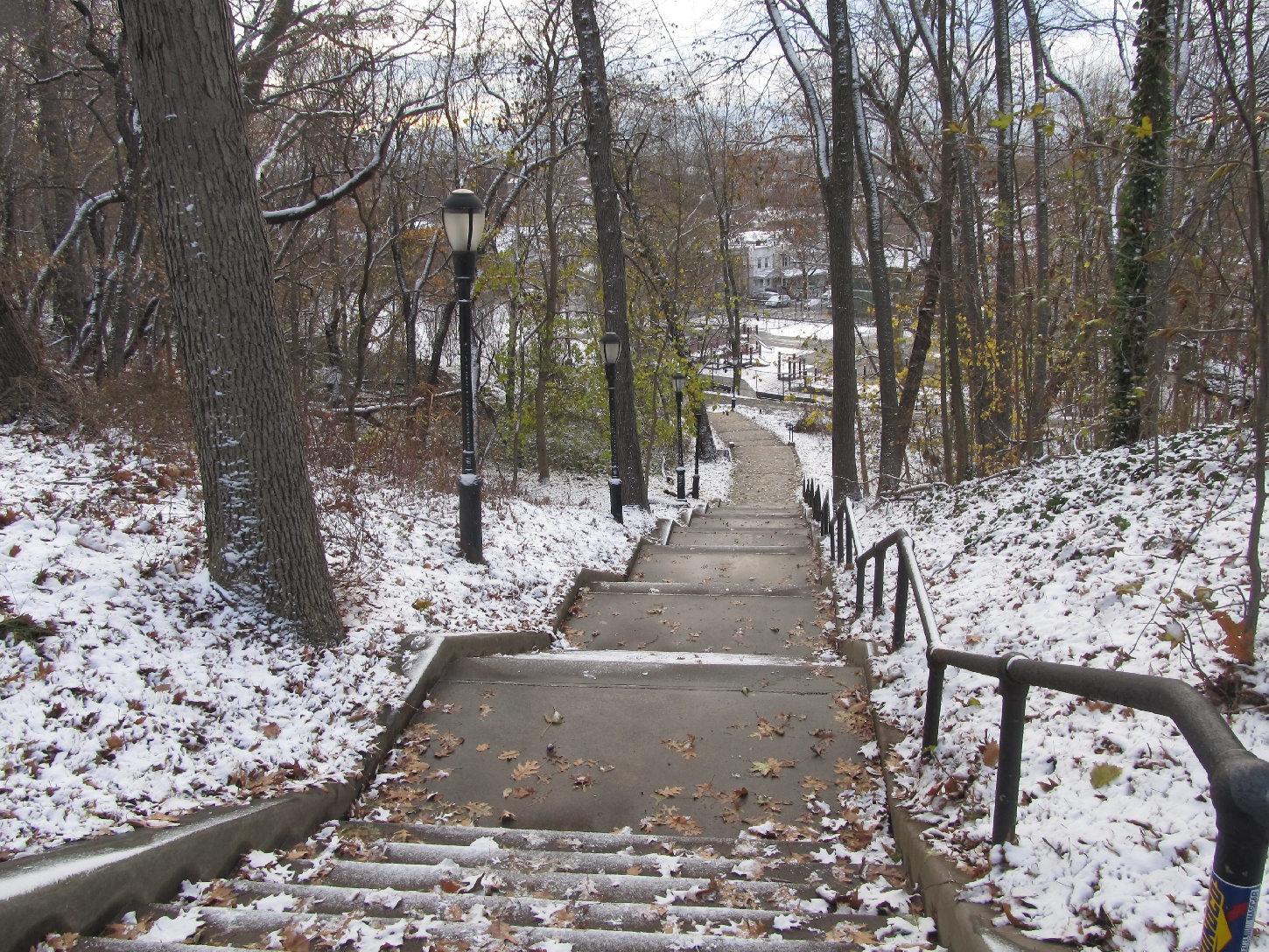 Mary Whalen Playground at 79th and Park Lane South (click here to see The Woodhaven Residents Block Association cleanup this park earlier this year). It's about 8:30 AM.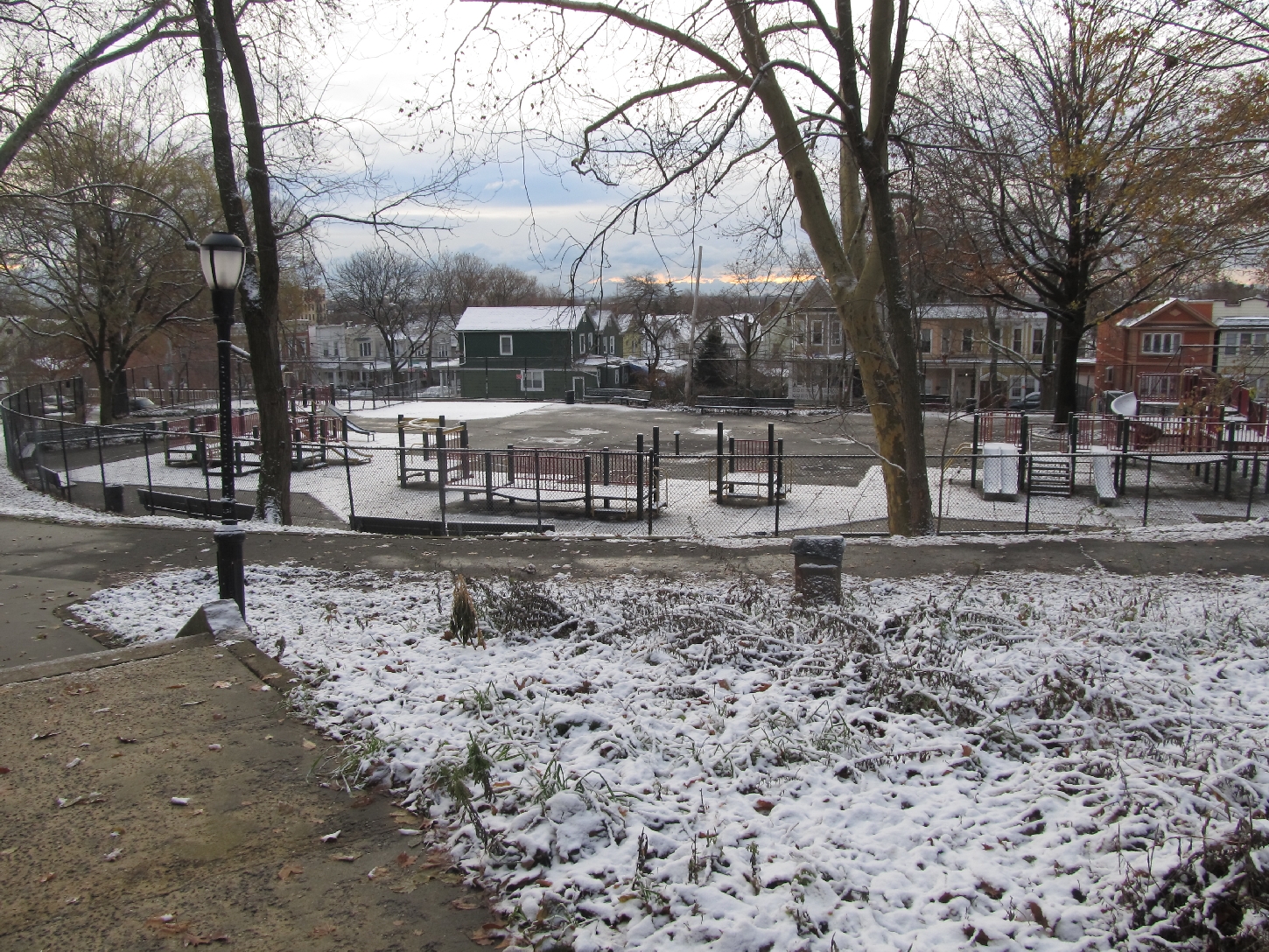 The path behind Mary Whalen Playground, looking up at the back of Oak Ridge.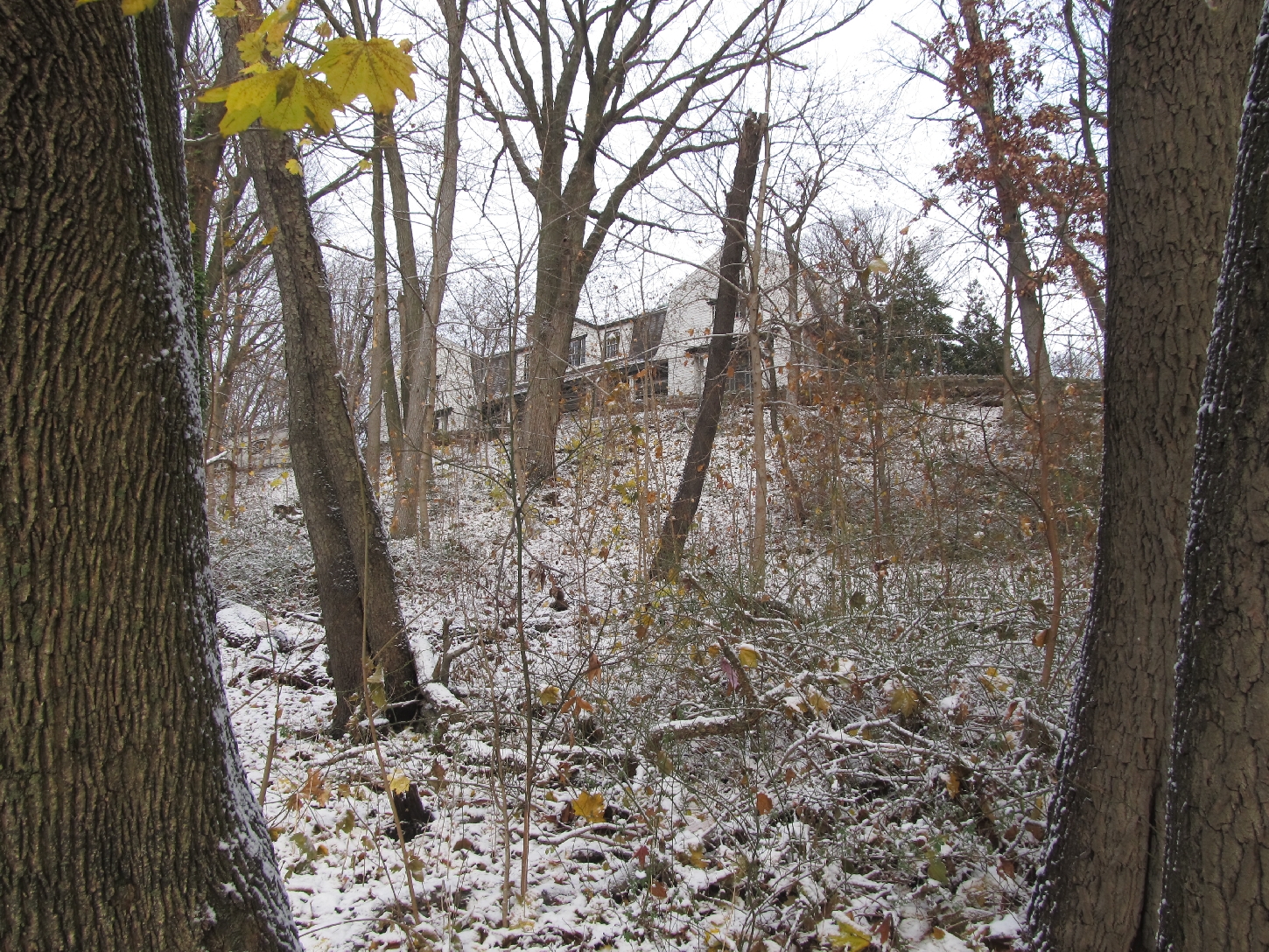 The steps at 76th Street, leading up to the back of Oak Ridge. We did a detailed feature on these steps 5 years ago (click here to see it). These steps are beautiful year-round, but they are really nice looking after a dusting of snow, like today. By this time, my hands were numb.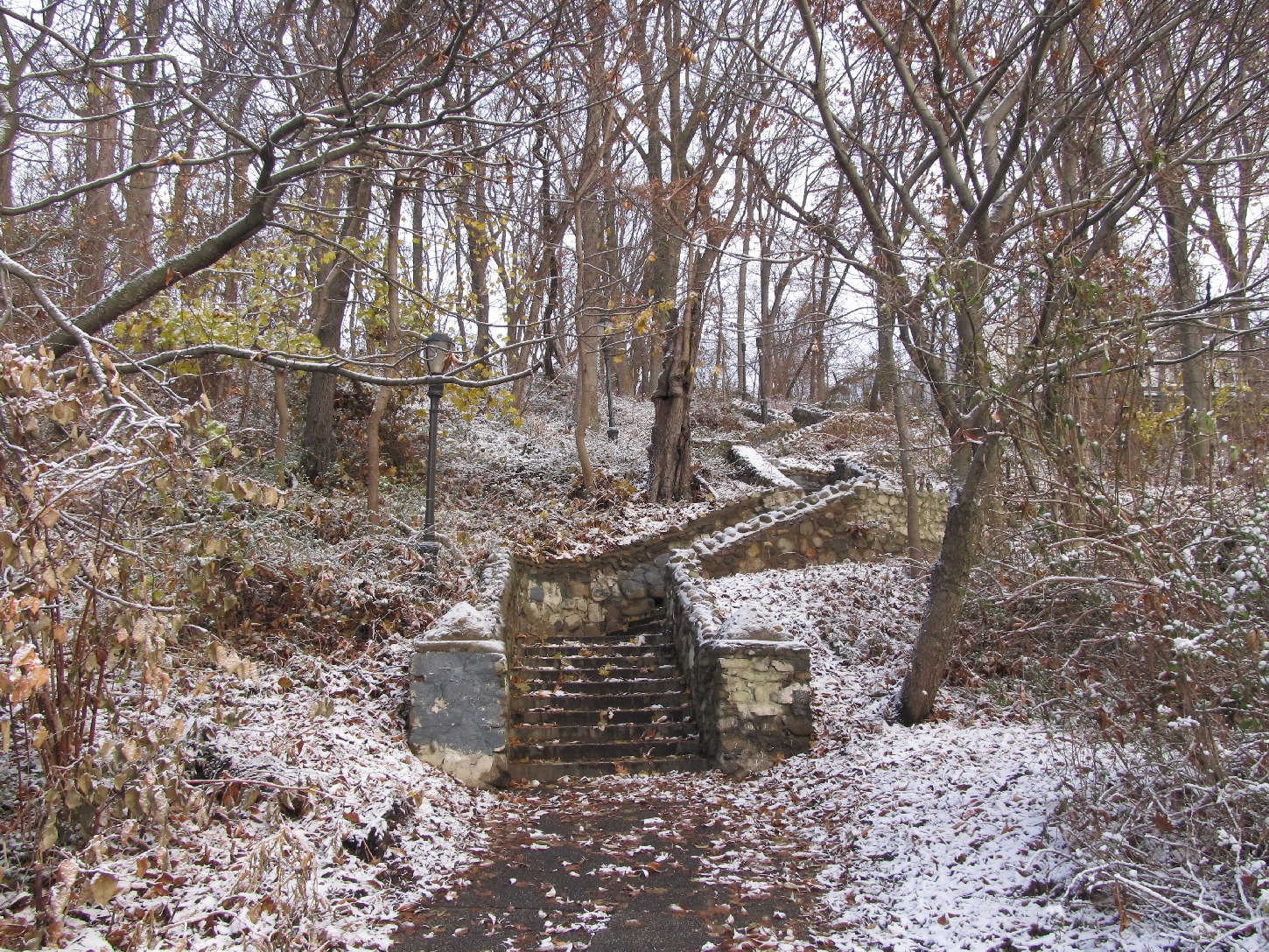 The steps at Forest Parkway and Park Lane South. A while ago we were looking at the top of these steps, now we're at the bottom. We just took the long way around.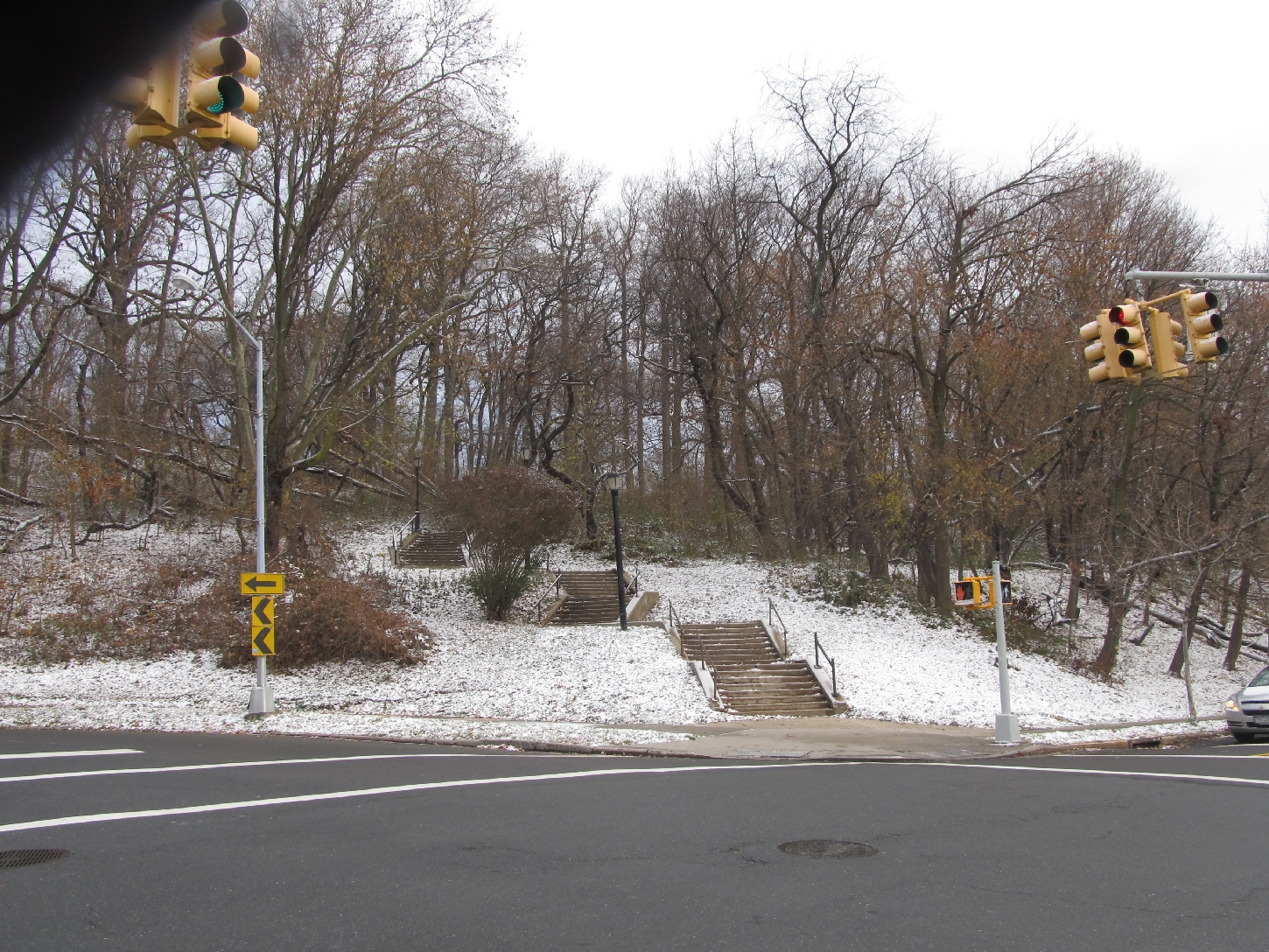 Heading down Forest Parkway we stopped for a brief look at the Library. These are signs put up by the Woodhaven Cultural & Historical Society, they are Historical Markers. There is a common misconception that these signs mean that the building is landmarked, that is untrue. Only the Forest Park Carousel is landmarked in Woodhaven.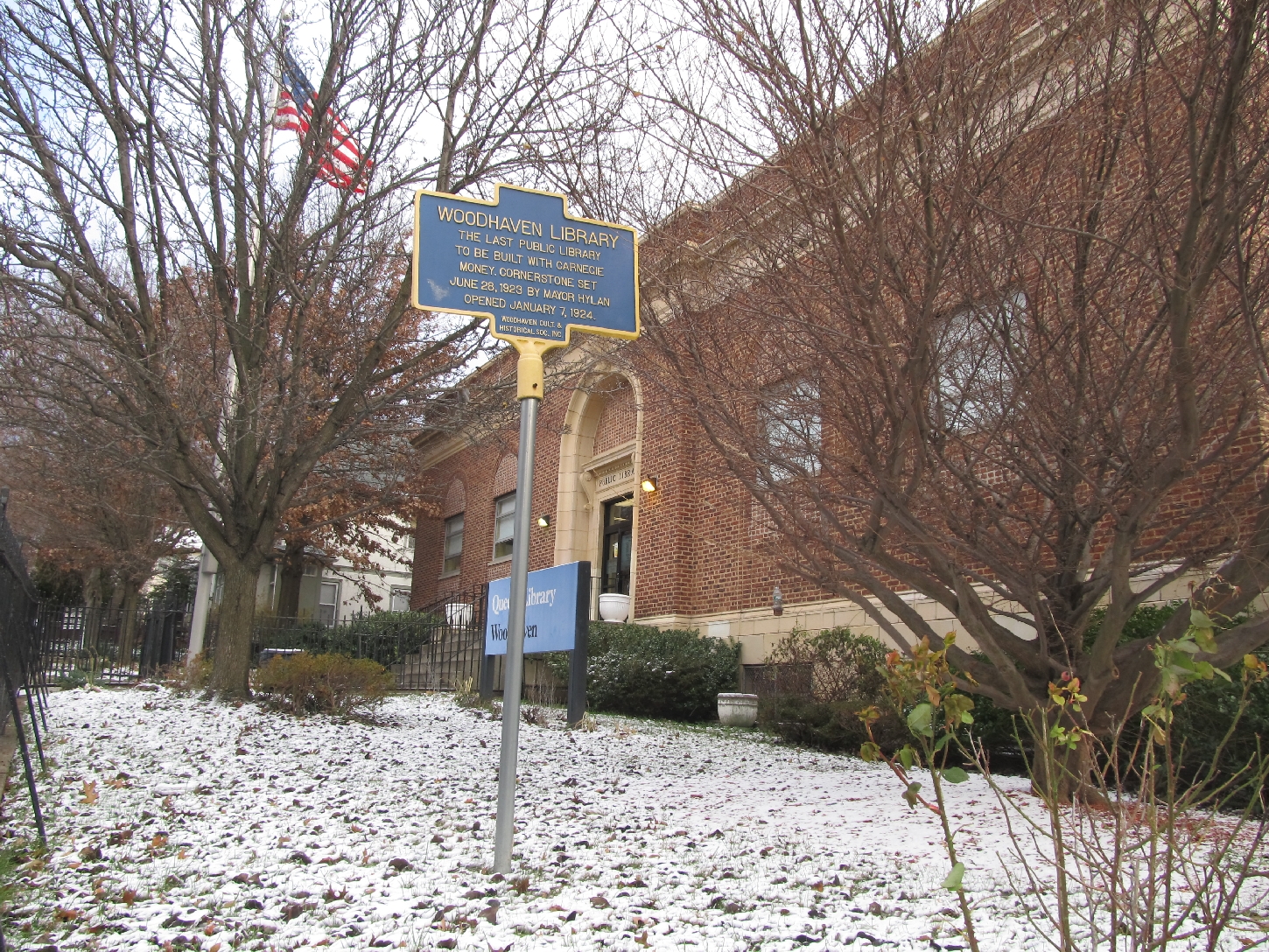 It was getting a little warmer. By that, I mean it was freezing earlier, now it was just sort of freezing. Some of the older sidewalks were beautiful in the dusting though - took a closeup of this sidewalk along Forest Parkway.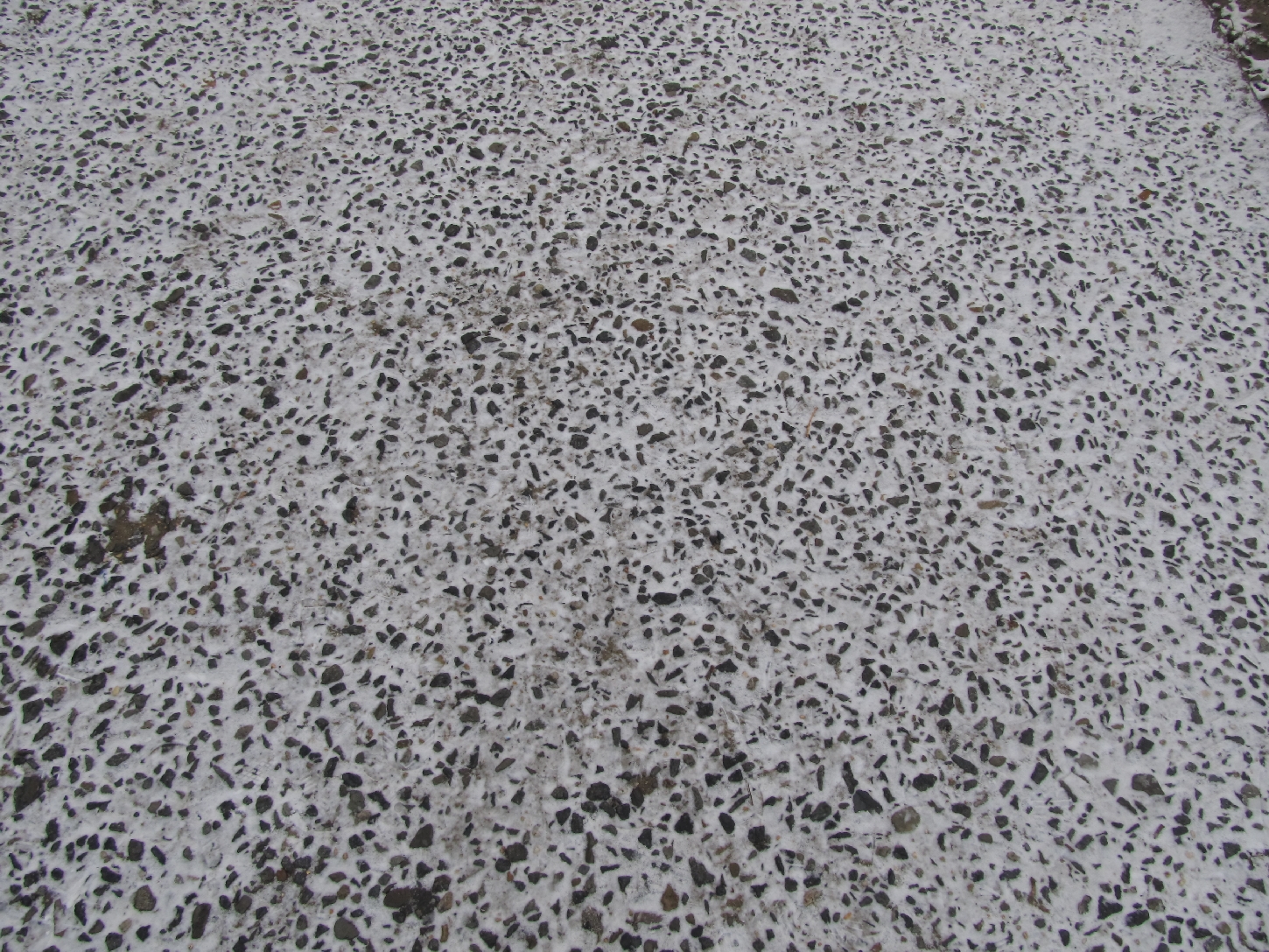 The Christmas Trees of Forest Parkway. The artificial one of the left - and the recently planted Blue Spruce which we hope will be our community's tree for generations to come.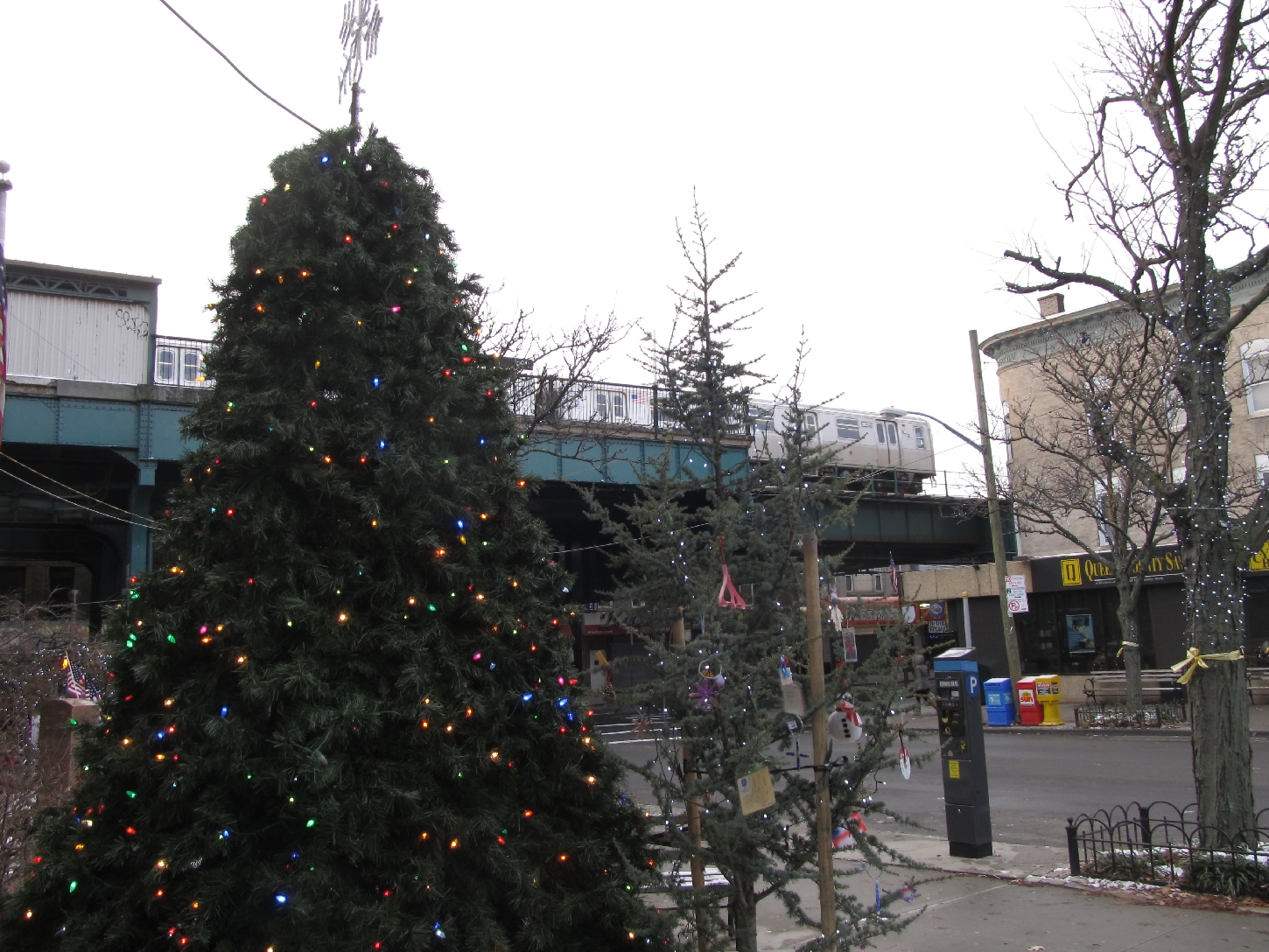 The trees and the whole plaza is decorated by the Greater Woodhaven Development Corporation and decorations and greetings from neighborhood children is a really nice touch.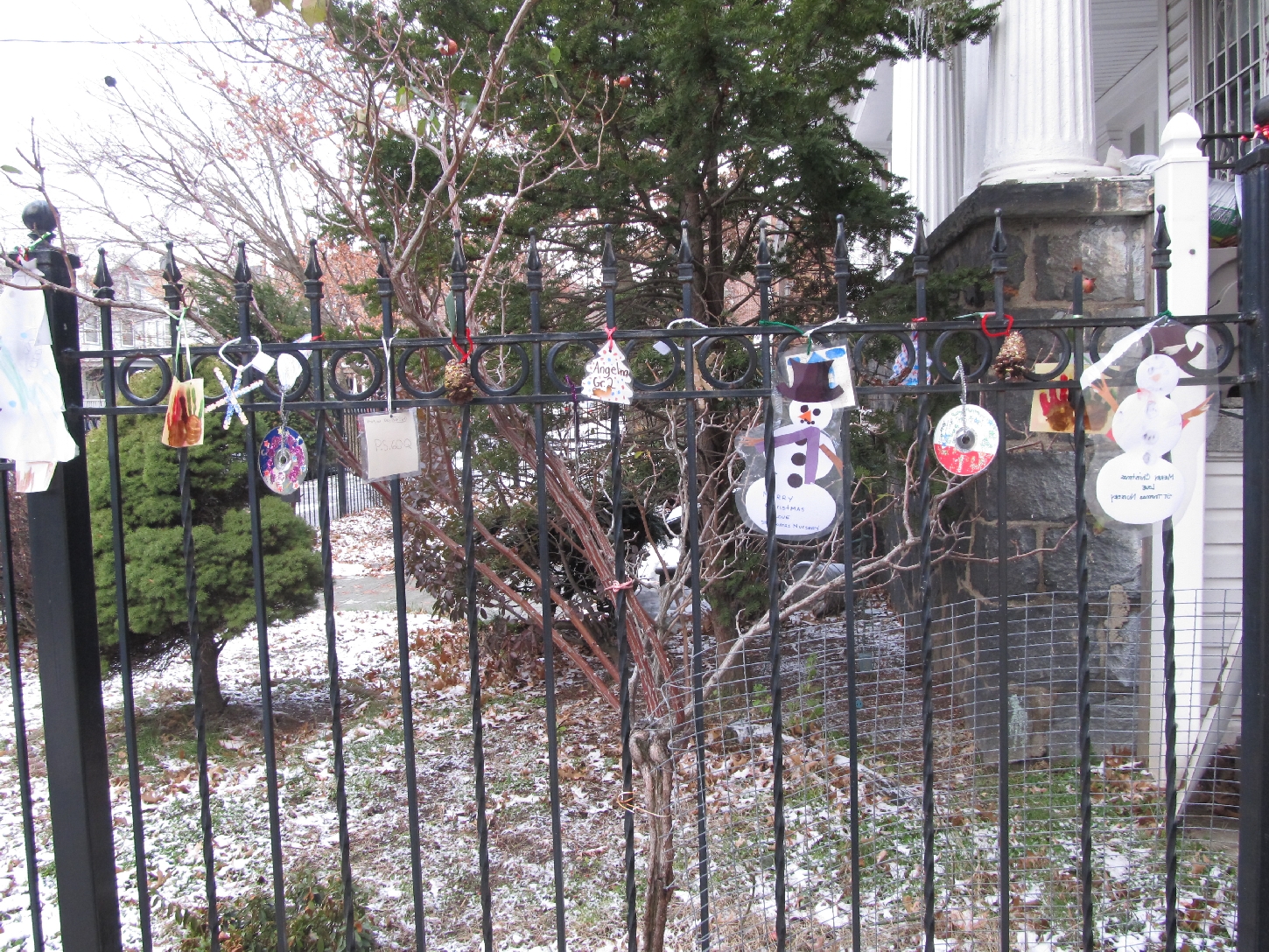 And by now it was 9 AM and the avenue was starting to get busy. The day was officially underway.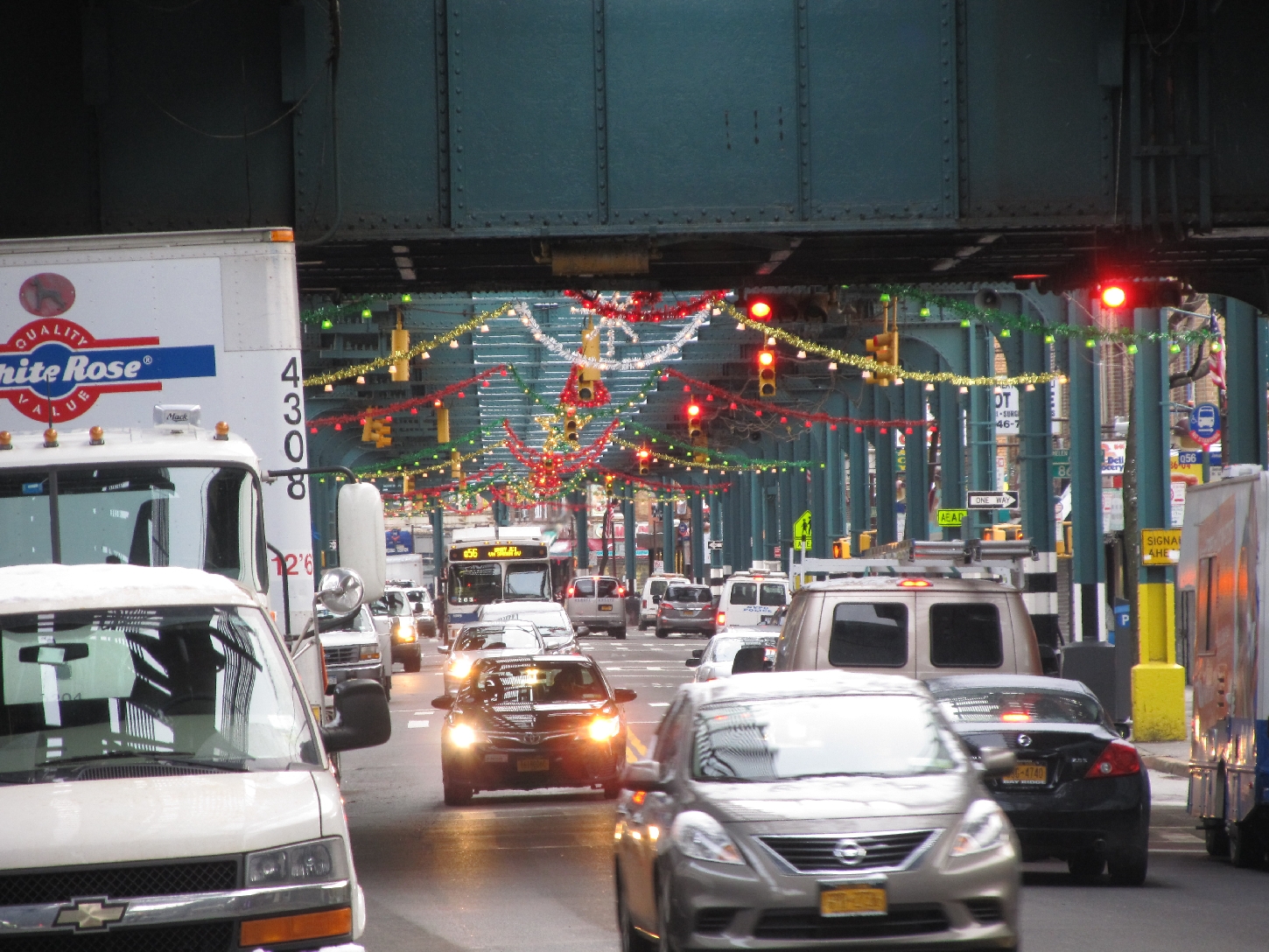 The
If you have any comments, or would like to suggest other projects, drop us a line at info@projectwoodhaven.com or projectwoodhaven@aol.com.
Return to Project Woodhaven's Home Page
Photos by Joey Wendell