For over a thousand days, the gates to Forest Park's historic Carousel have been chained shut, the gates rolled down, the beautifully sculptured horses that master carver Daniel C. Mueller carved by hand hidden from public view. We got a brief glimpse of it during a tour for potential vendors last April, but that round of proposals did not have a happy ending as the Parks Department turned down a bid from the current operator of the Flushing Carousel (see our interview with that operator here).
In December, the Parks Department released another RFP - seeking more bids to run both the Forest Park and Flushing Carousels -- you can review that RFP here. Within that RFP, it states that there would be a site tour of Thursday, January 12th -- and we were looking forward to once again walking through the gates that hardly open.
This was our first time inside since the old cyclone fence was replaced with this beautiful wrought-iron gate back in October -- looks nice, doesn't it?


There were nearly 30 people in attendance including representatives from the Parks Department, potential vendors, members of the media, local activists and residents. Also in attendance, Sal Napolitano (described by the Parks Department as a Carousel expert) and representatives from Central Amusement International, the company that helped create Luna Park in Coney Island (click here for more info on the site visit).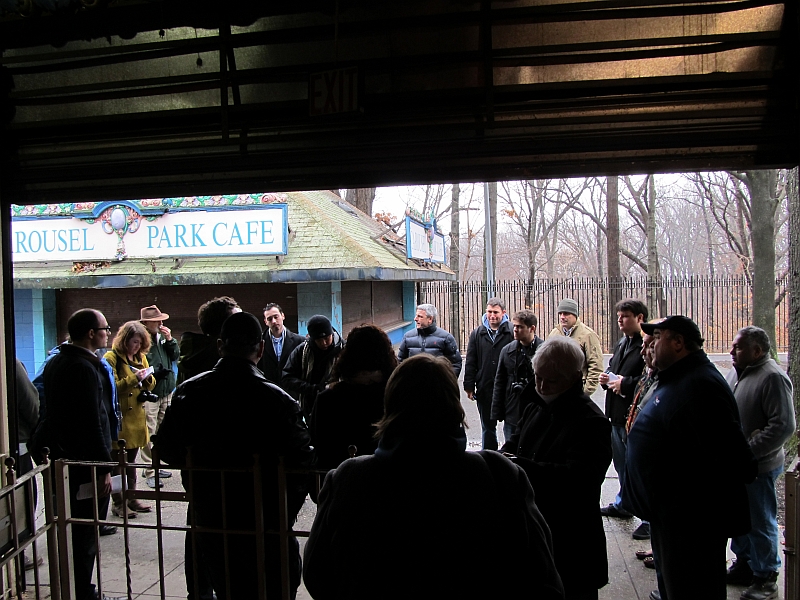 Because of the inclement weather, we were allowed inside the carousel for a little while longer than the previous tour -- and we're happy to report that our carousel is still a beautiful work of art. Mueller's carvings are unique in that it mixes horses and tigers and lions --


The horses looked nice and polished -- and under the colorful glow of the lights above, they looked magical.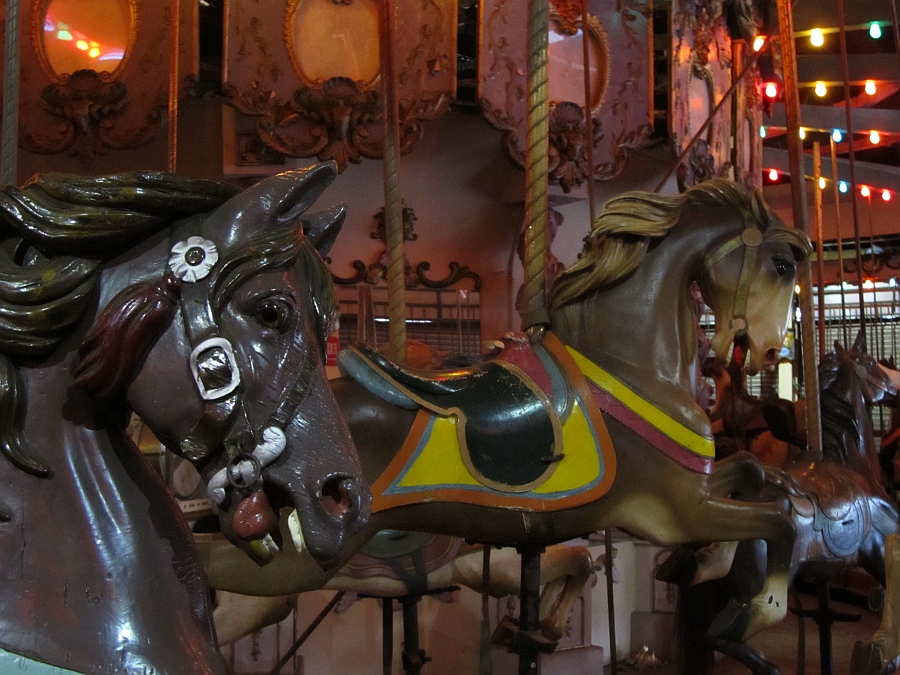 We were allowed to walk around, take our time, and take pictures. At one point, we sat down at a picnic table that had been moved inside -- and just sat there for about 10 minutes enjoying it. After so much talk, after passing by those closed gates every time we drove through the park, it was real nice to sit and relax and just soak it in.


We were able to look around and catch a lot of details -- many of those details will be revealed in our next update. But we can say that the update involves the paintings that circle the carousel (see below).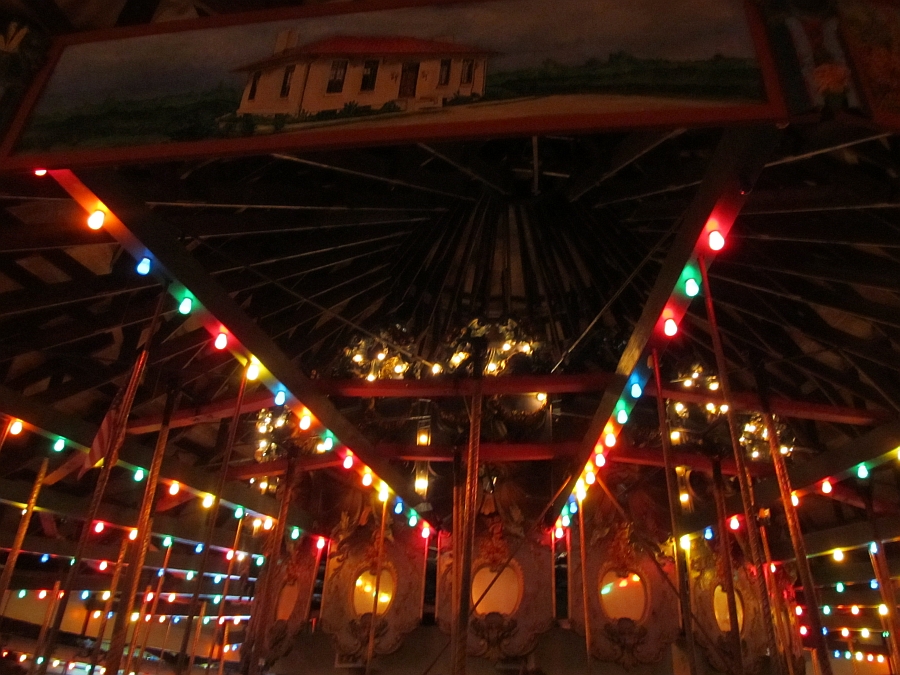 While we were inside, looking at the roof, we caught a glimpse of something moving -- and upon further inspection, we saw that it was a raccoon! The Mrs. had the camera so I couldn't get a picture -- but Mr. Woodhaven was nearby and he snapped this shot -- cute, innit?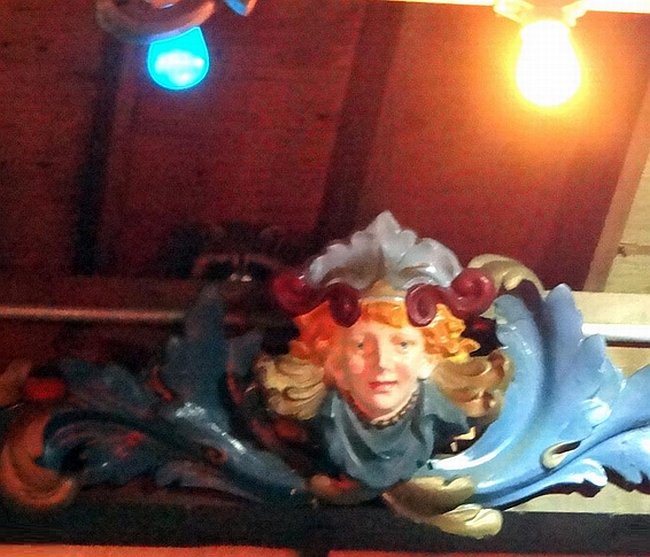 You forget, sometimes, just how big the our carousel is --here's an overhead shot -- compare the carousel (top center) to the bandshell (bottom left). It's not surprising that a few raccoons manage to sneak in.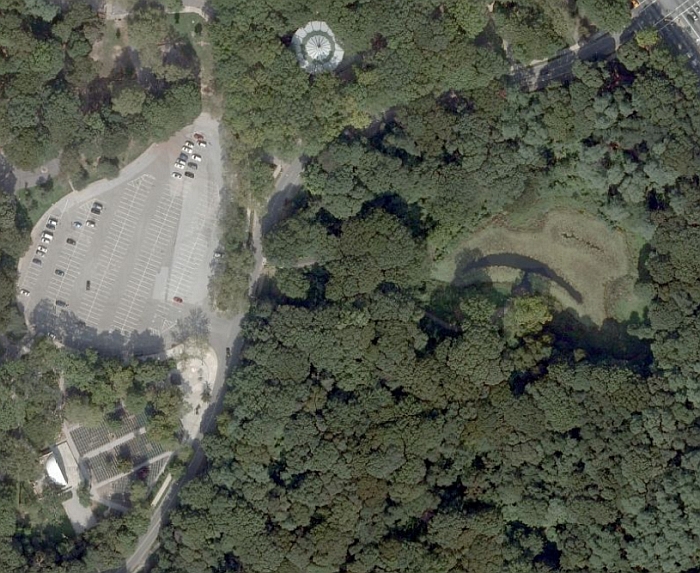 Back to the carousel -- I particularly like this horse, with the saddle blanket (plus the one rolled up behind the saddle), and the long sword and the water canteen -- this is a horse prepared for battle.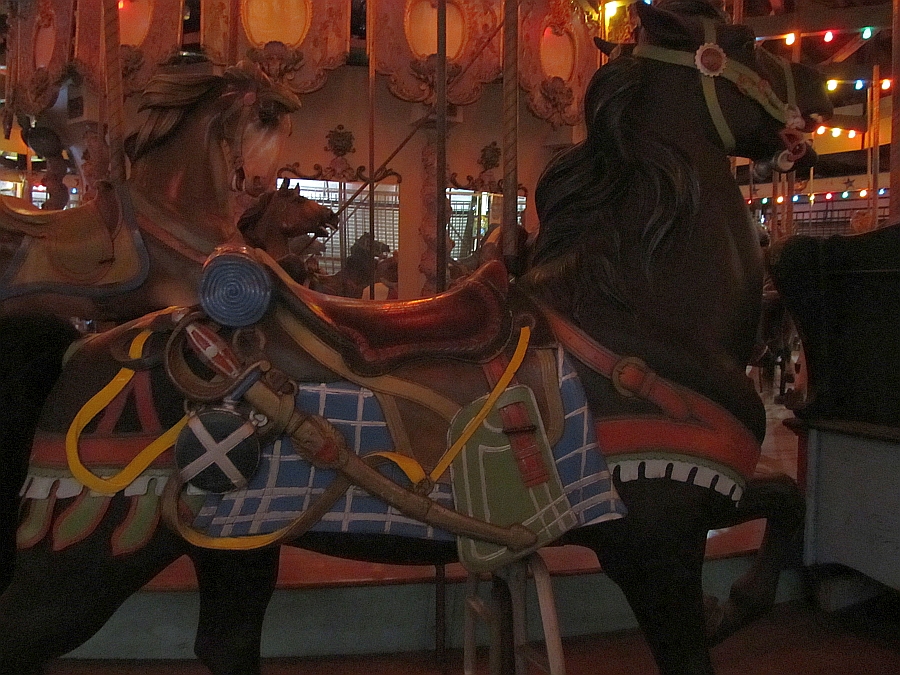 Here's a beautiful lion -- his mouth wide open -- fangs bared --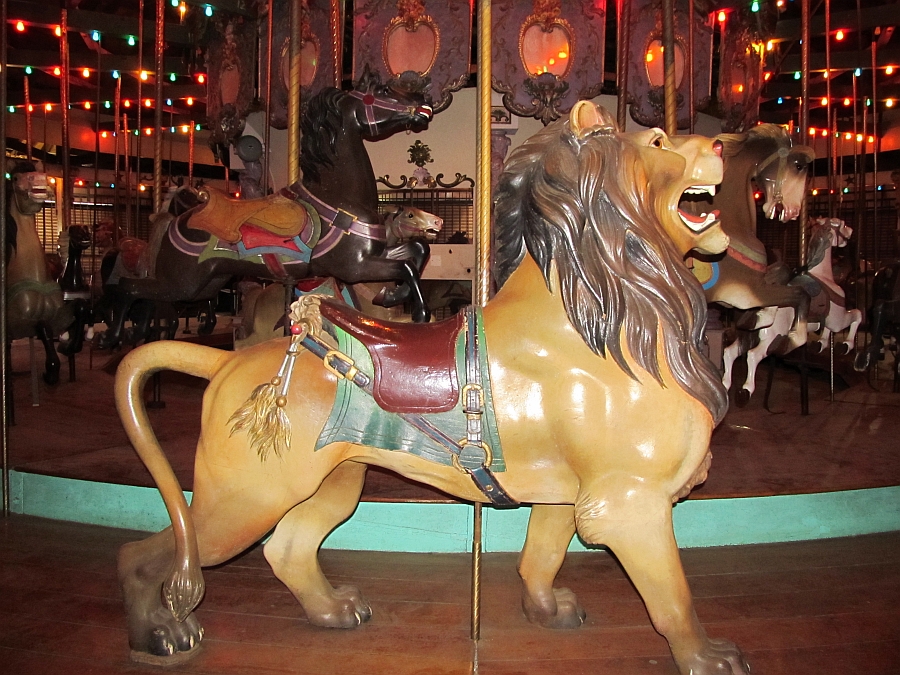 A beautiful picture -- we left this one extra big so you could enjoy the details --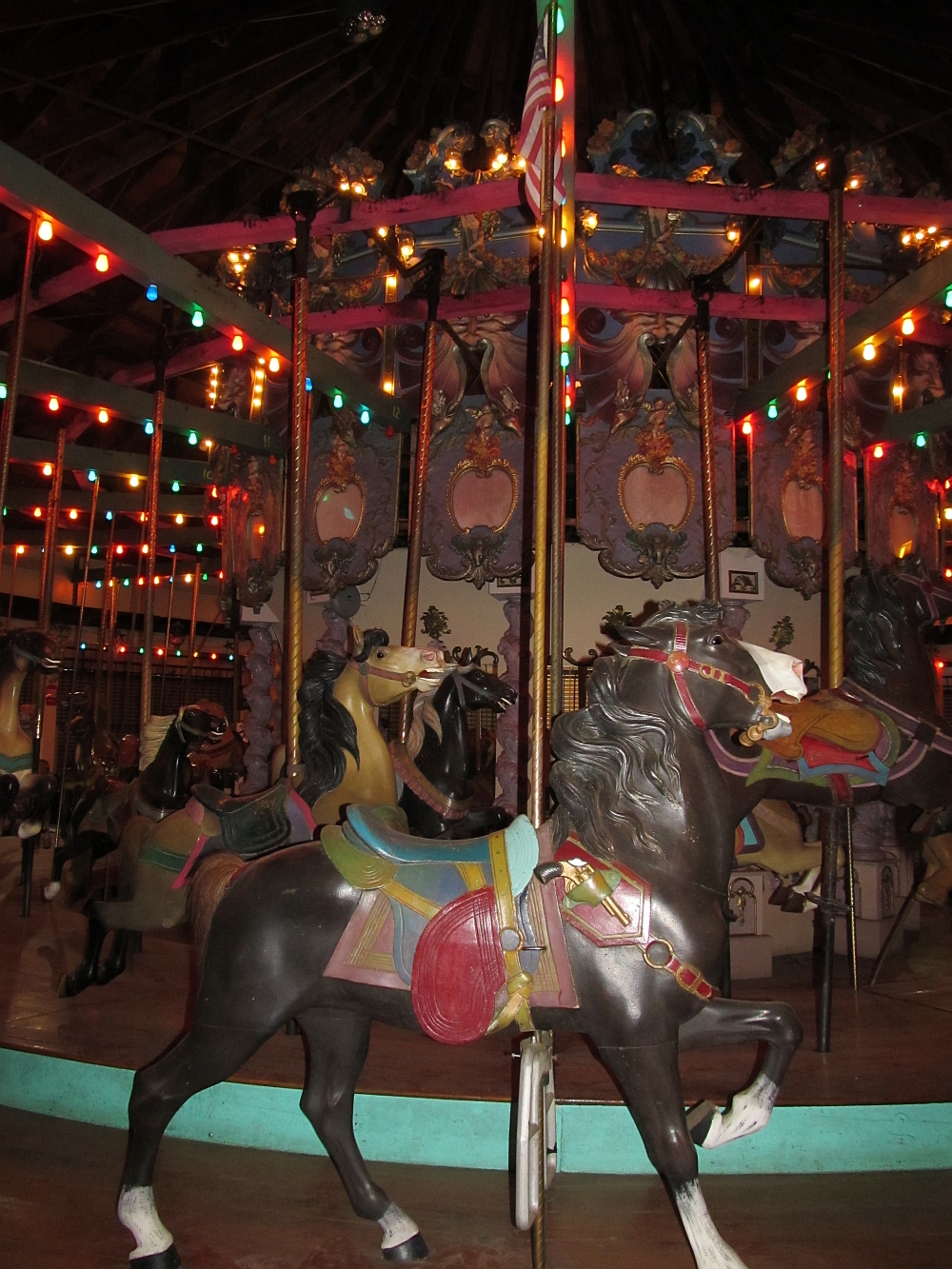 The Forest Park Carousel in action -- the horses galloping ahead. These carvings are over 100 years old -- they need to be cherished, protected and preserved.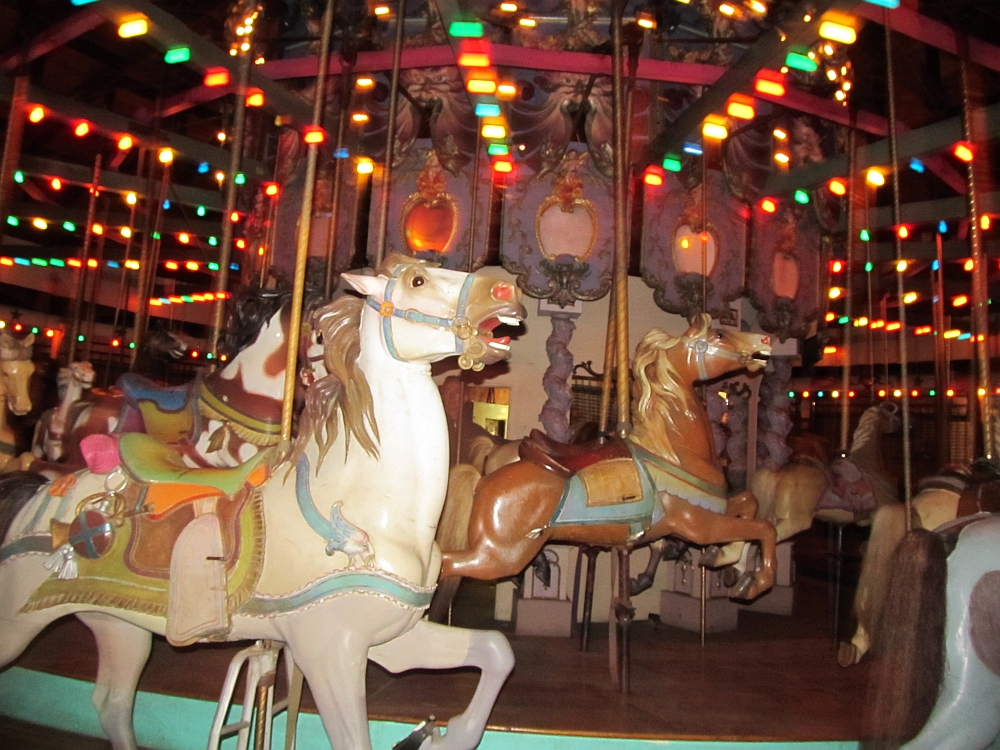 We'd love to do an inventory -- a picture and description of every horse, lion, tiger, etc. It'd be nice to have some contests with the local schools to have the kids give names to each one.

Everywhere you looked, you saw something new. We hope there aren't any more tours and that the next time we visit, it will be as paying customers.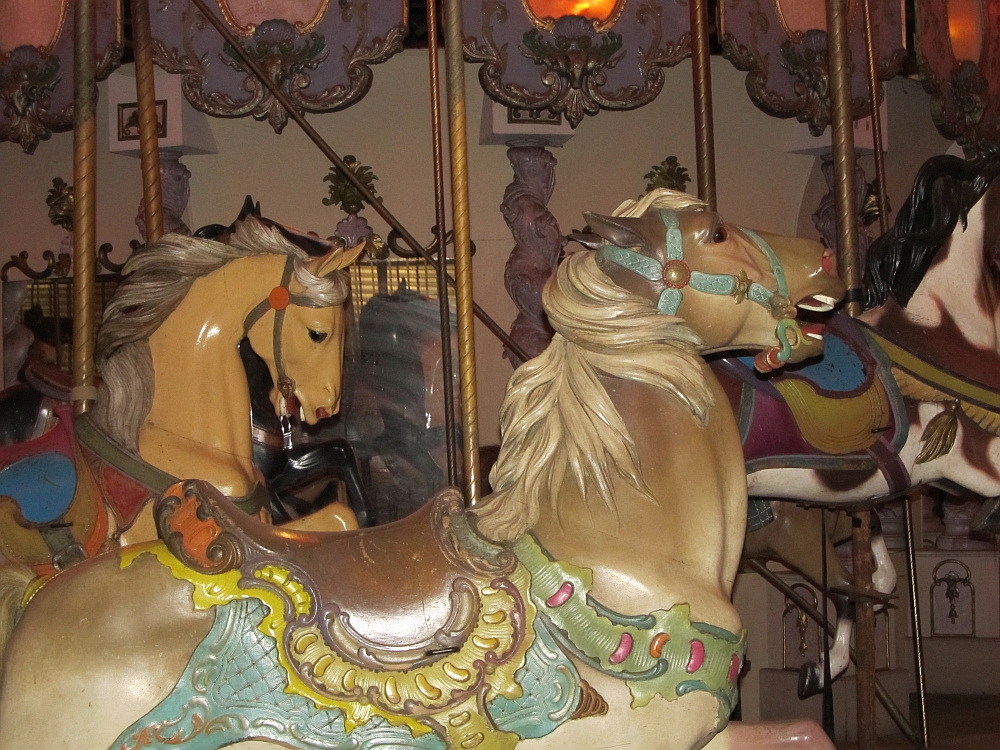 We'll be back with some very cool additional pictures of the carousel -- and we have some video. In the meantime, please enjoy this video shot and prepared by Mr. Woodhaven --
If you have any comments, or would like to suggest other projects, drop us a line at info@projectwoodhaven.com or projectwoodhaven@aol.com.
Return to Project Woodhaven's Home Page
Photos by Joey Wendell