On the second Saturday of every month, volunteers have gathered at the Wyckoff-Snedicker Family Cemetery on 96th Street and 86th Avenue (behind All Saints Church) in Woodhaven. Our next cleanup is Saturday, August 8th, at 9 AM. More volunteers are welcome and needed! Check out the fun we had this month:
These grounds had been put aside as a burial ground for residents of the area since the mid-1700s - and over the years it has been subject to periods of neglect. When St. Mathhew's closed, we feared that the cemetery would fall into conditions that were beyond repair - but when All Saints came in, led by the Rev. Dr. Norman Whitmire, Jr., we put our head's together and it turned out that we shared a common vision for this historic land - to create a quiet, green-space just a few steps away from Jamaica Avenue that is fully respectful to it's original intent.
We gathered together on July 12th, 2014 -- and this is how it looked on that morning. The cemetery is roughly 80 by 266 feet and as you see below, it was heavily weeded. I'll give our volunteers a lot of credit - it would have been real easy to get discouraged and walk away from this project. But they got right to work and we got off to a very good start.
July 2014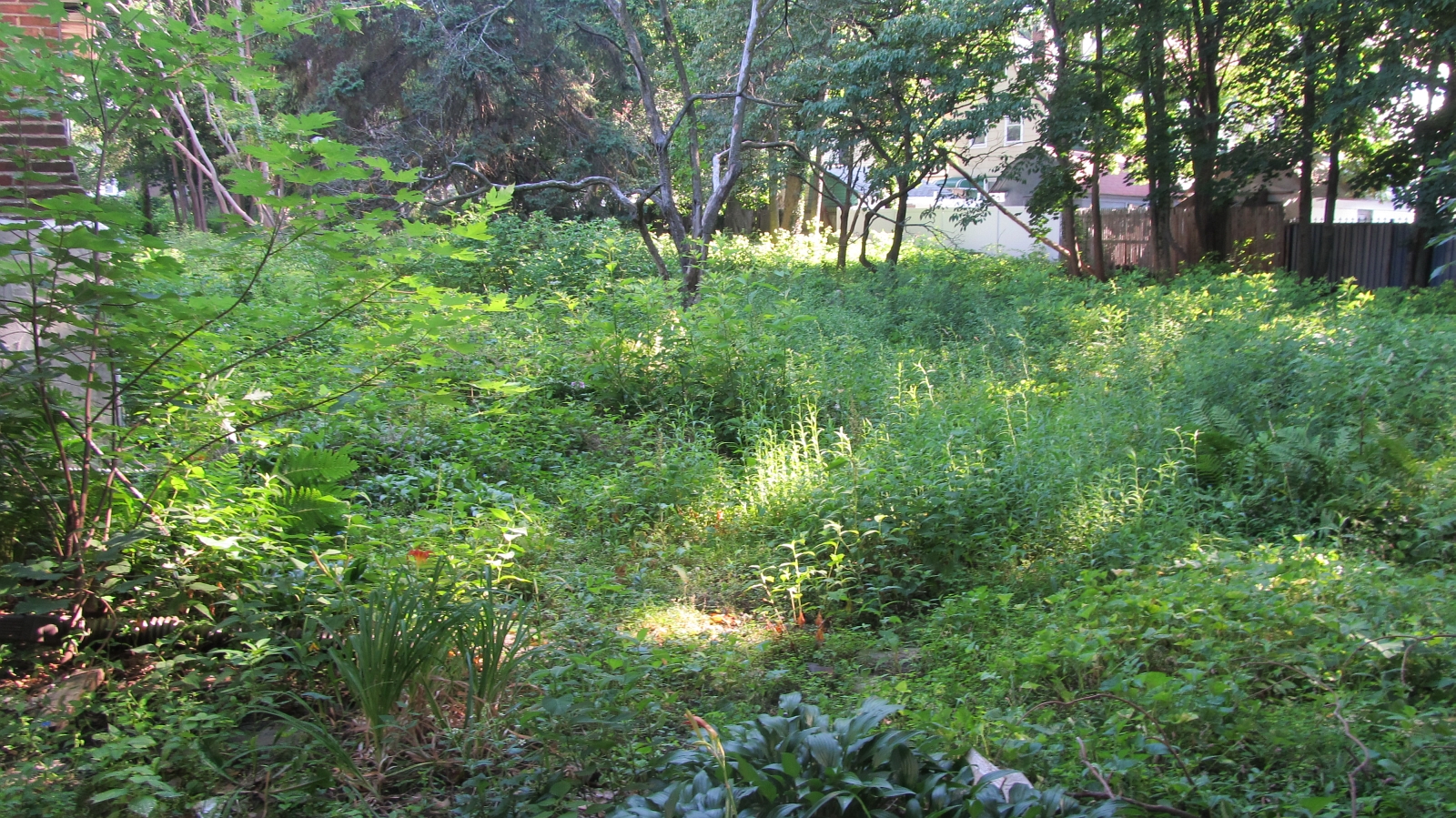 The group continued to work throughout the summer -- and into the Winter including a few very memorable and very cold cleanups. And all that hard work has led us to this - one year later. Compare the following to the picture above to see what one year's worth of hard work can accomplish.
July 2015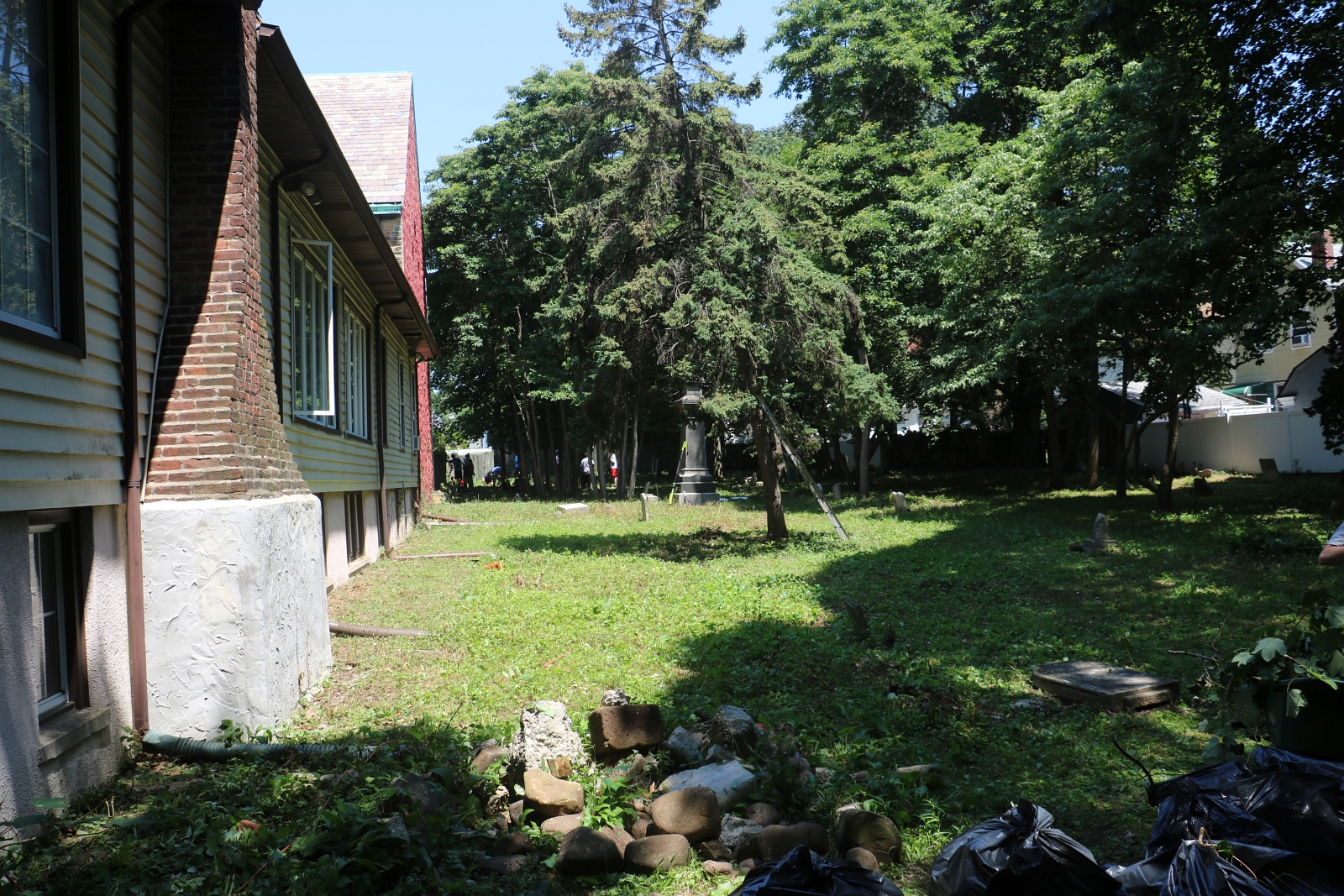 Before we secured bragging rights, we still had a bit of mess to clean up. Namely, the Northwest corner of the cemetery which we never managed to clear last year. This was one of our top goals of the day.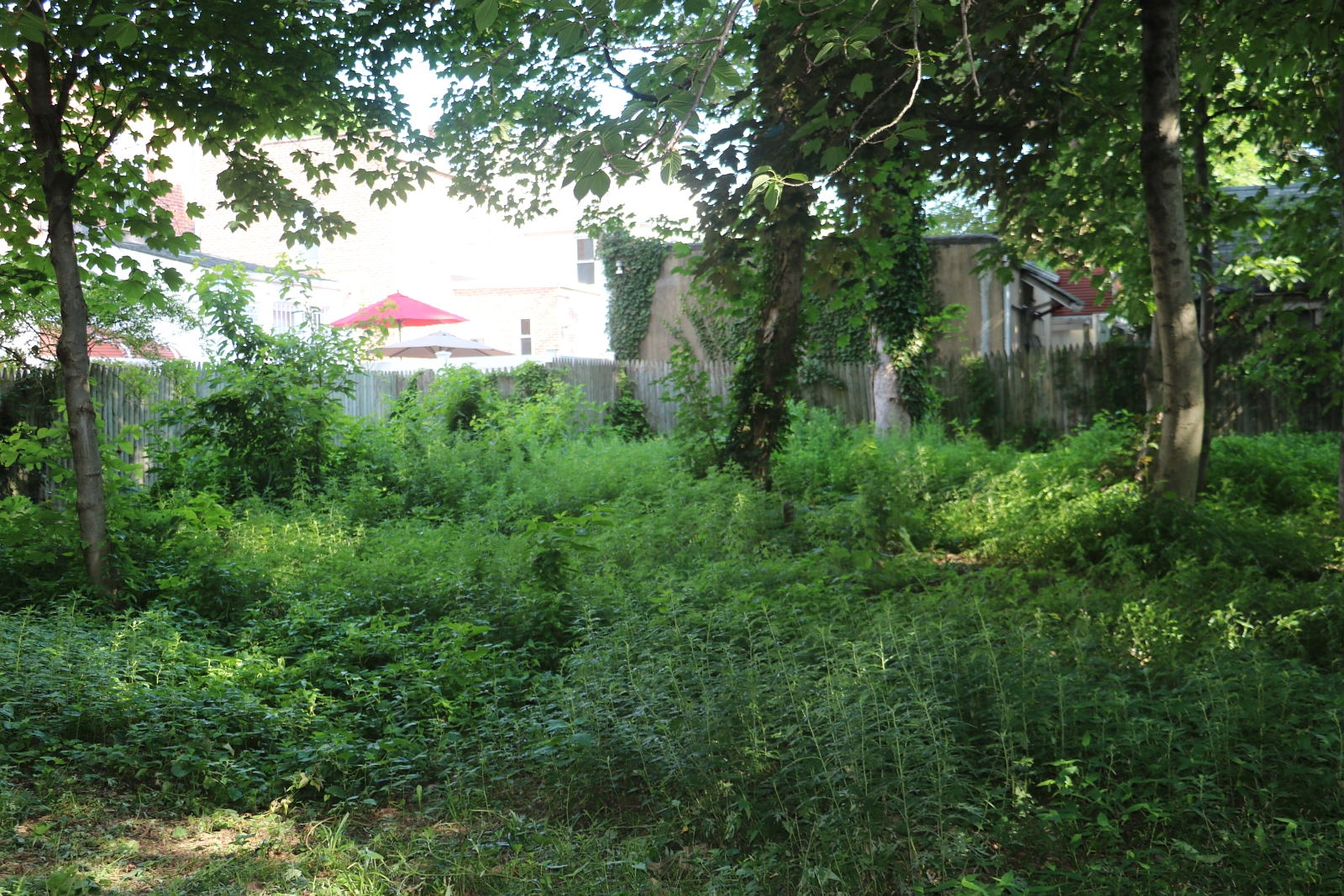 The Northeast corner wasn't much better! Working this corner can be tricky - some of the stones are small and hidden in the weeds. You need to be careful walking through here so you don't trip on a headstone.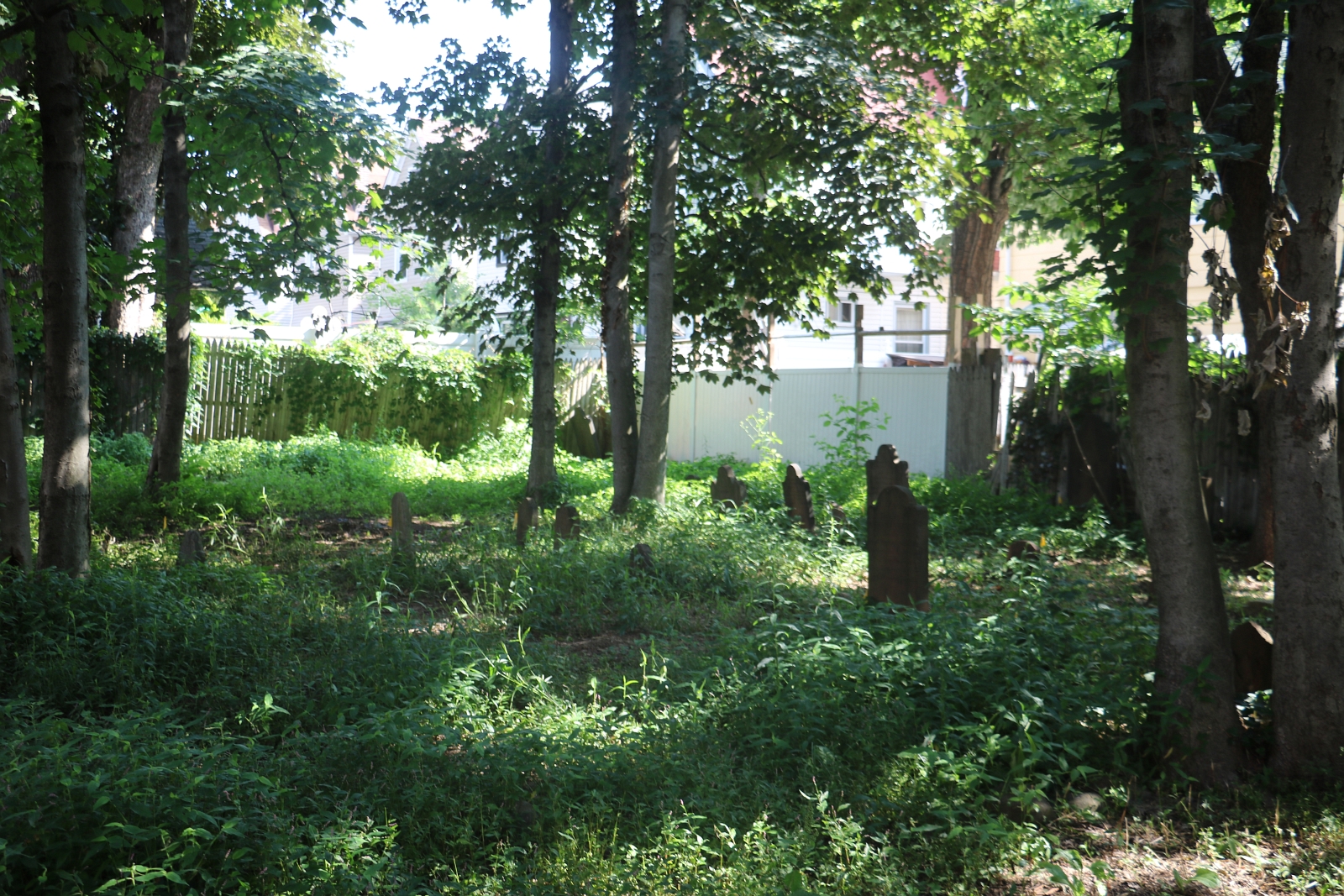 The group picked up their rakes and got to work, raking up the cut down weeds and bagging them for removal. Our plan is to work this land, removing stones and rocks, and getting it to the point where it can be simply cut down with a lawnmower. We still have a long way to go - but we've come a far piece already.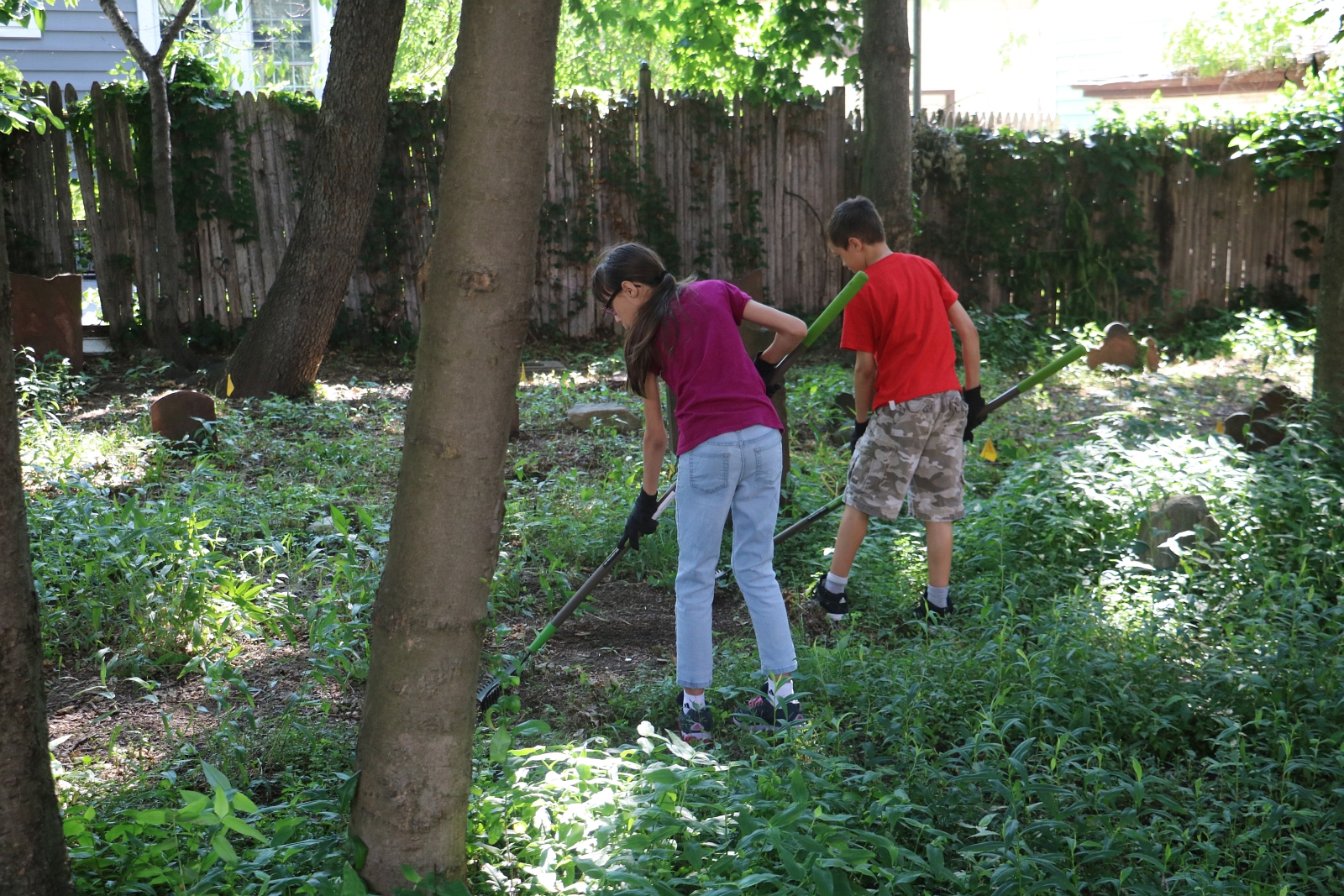 It was a warm day - but one of the nice things about this piece of land is the amount of shade it offers. It makes working on a hot day bearable. Here's Tyler, doing a terrific job clearing away fallen weeds.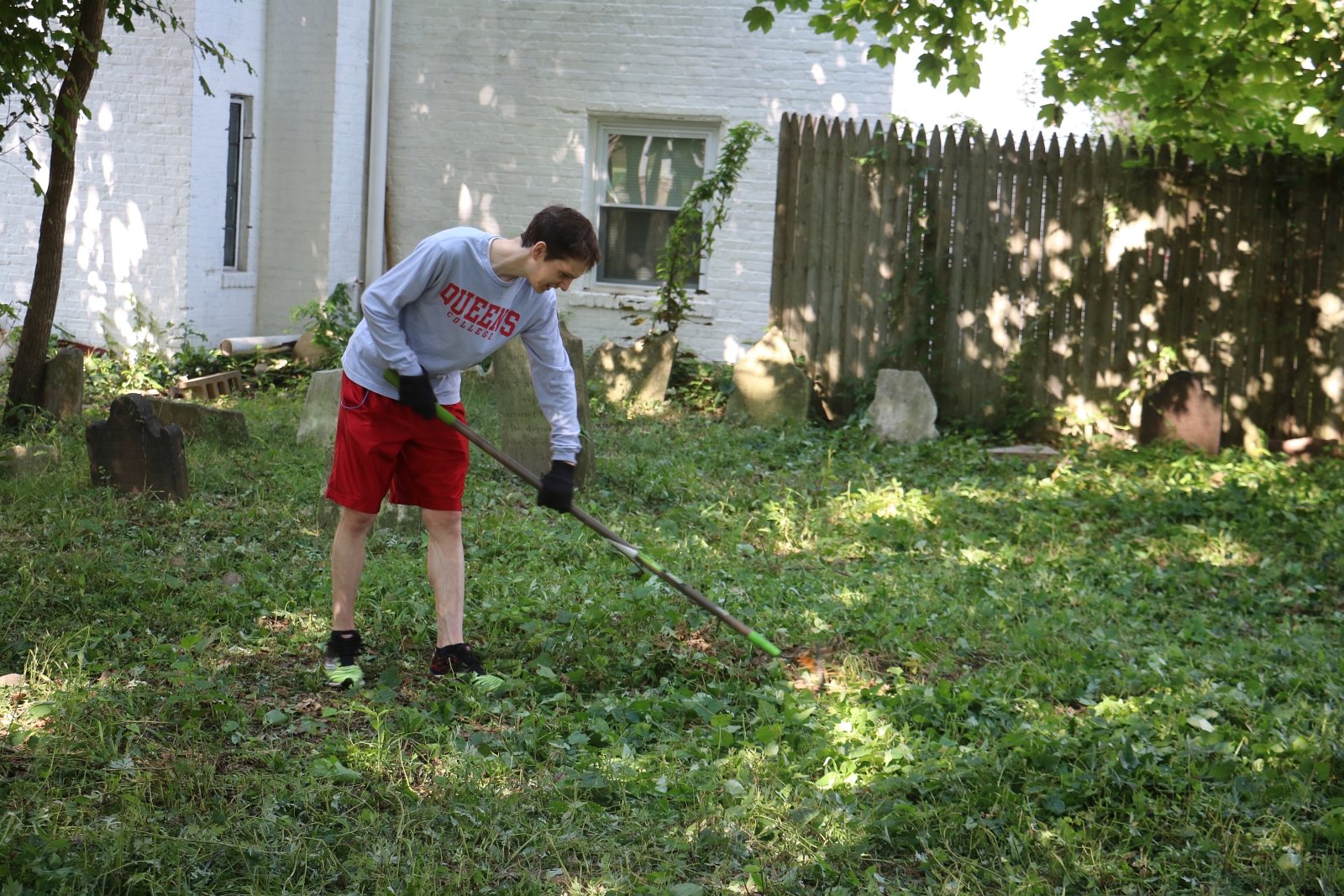 There were a number of dead trees in the cemetery that we cut down last year, but the tall stumps remained. Below, Eddie Gardiner and John Eggers work on removing some of them.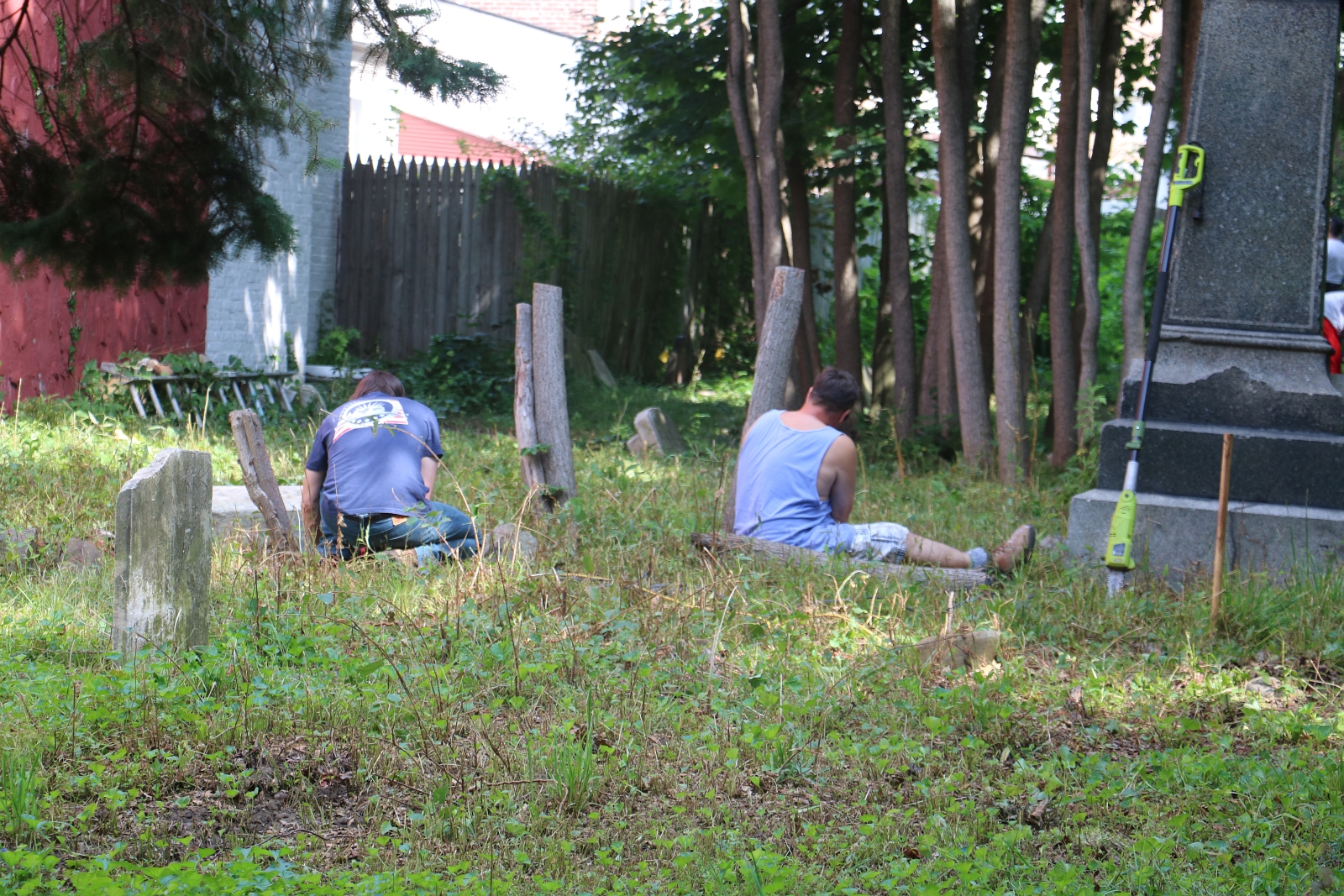 Kenichi 'Kenny' Wilson of Community Board # 9 came to the party with his own gas-powered weed whacker - and it worked wonders! Wait until you see how this corner looks at the end!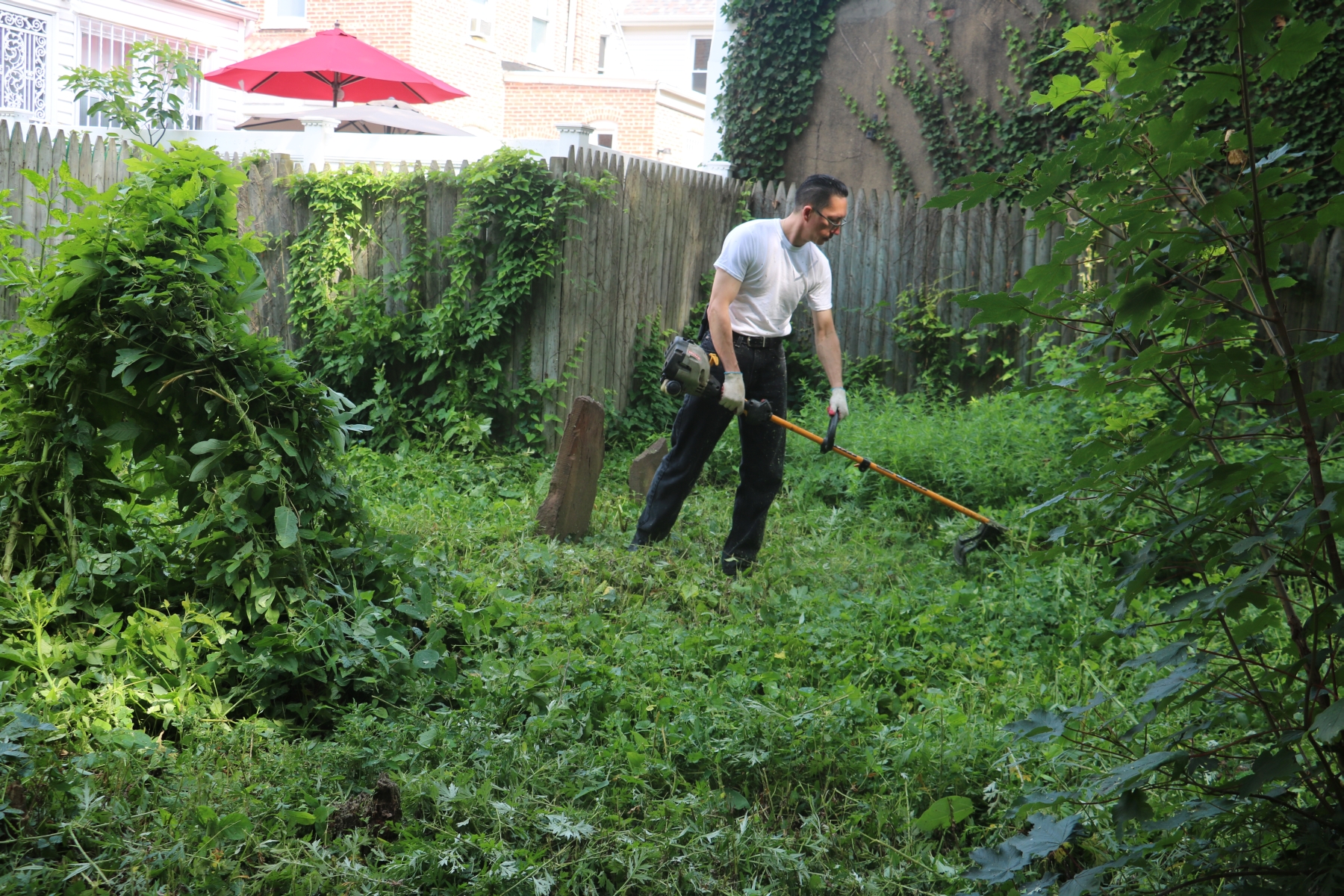 Here, we recovered a headstone that had been missing for about 100 years. Garret Bennet, who died in 1825, was buried in our cemetery - but his tombstone didn't show up on the 1919 survey. A kind neighbor to the cemetery called and let us know it was in her backyard. St. Thomas the Apostle Woodhaven History Club leader Kyle Faisca provided the muscle and helped return the stone to where it belonged.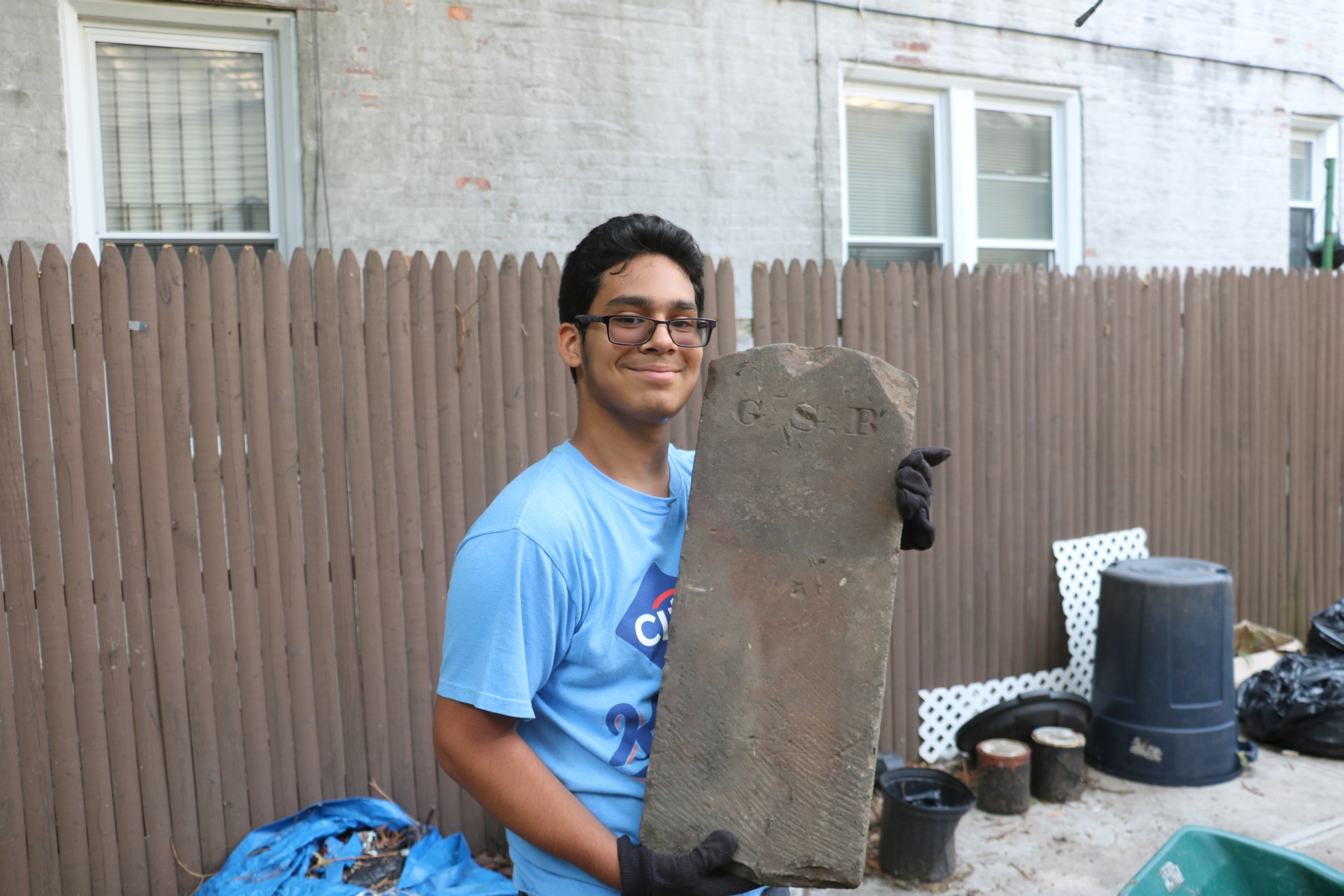 Commercial Break! The Woodhaven Cultural & Historical Society is hosting an old-fashioned 1950's Drive-In Party. Click here for more details. It will be on Saturday, August 22nd and will feature cartoons, short films, 50's music, free tattoos for the kids, a snack bar and more! Only $5 for adults and $2 for children - all proceed go to support the Woodhaven Cultural & Historical Society.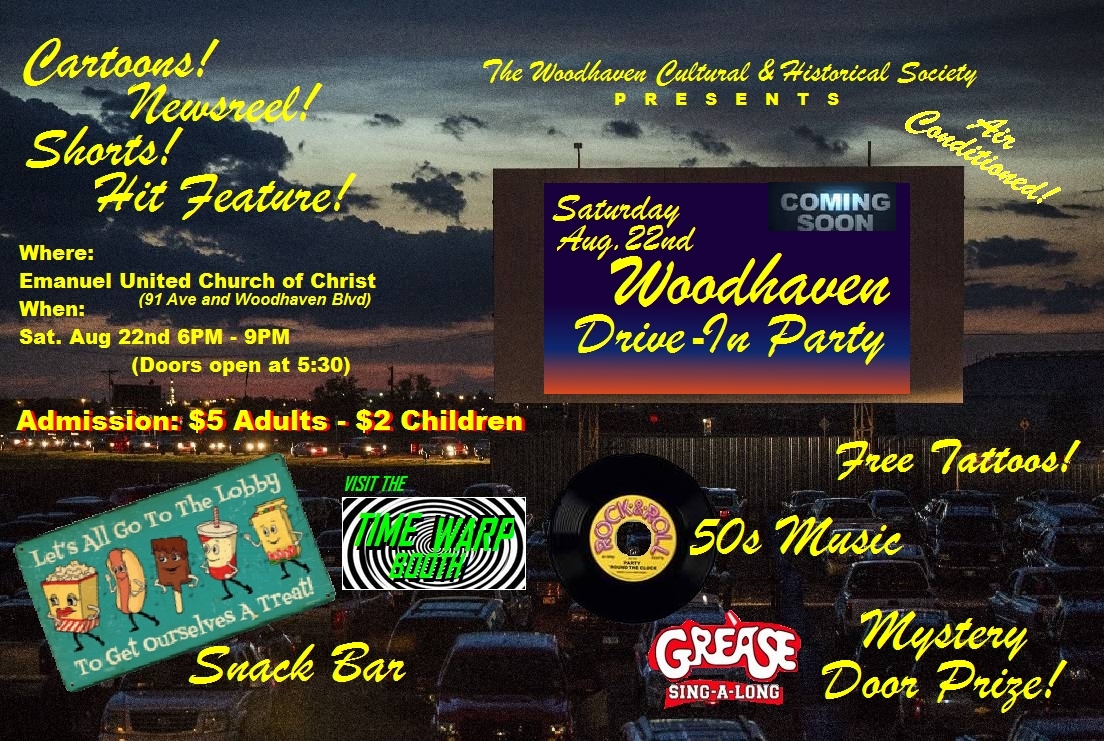 The big leaning pine tree in the cemetery had a few branches that were hanging too low, so we took a few minutes to trim them.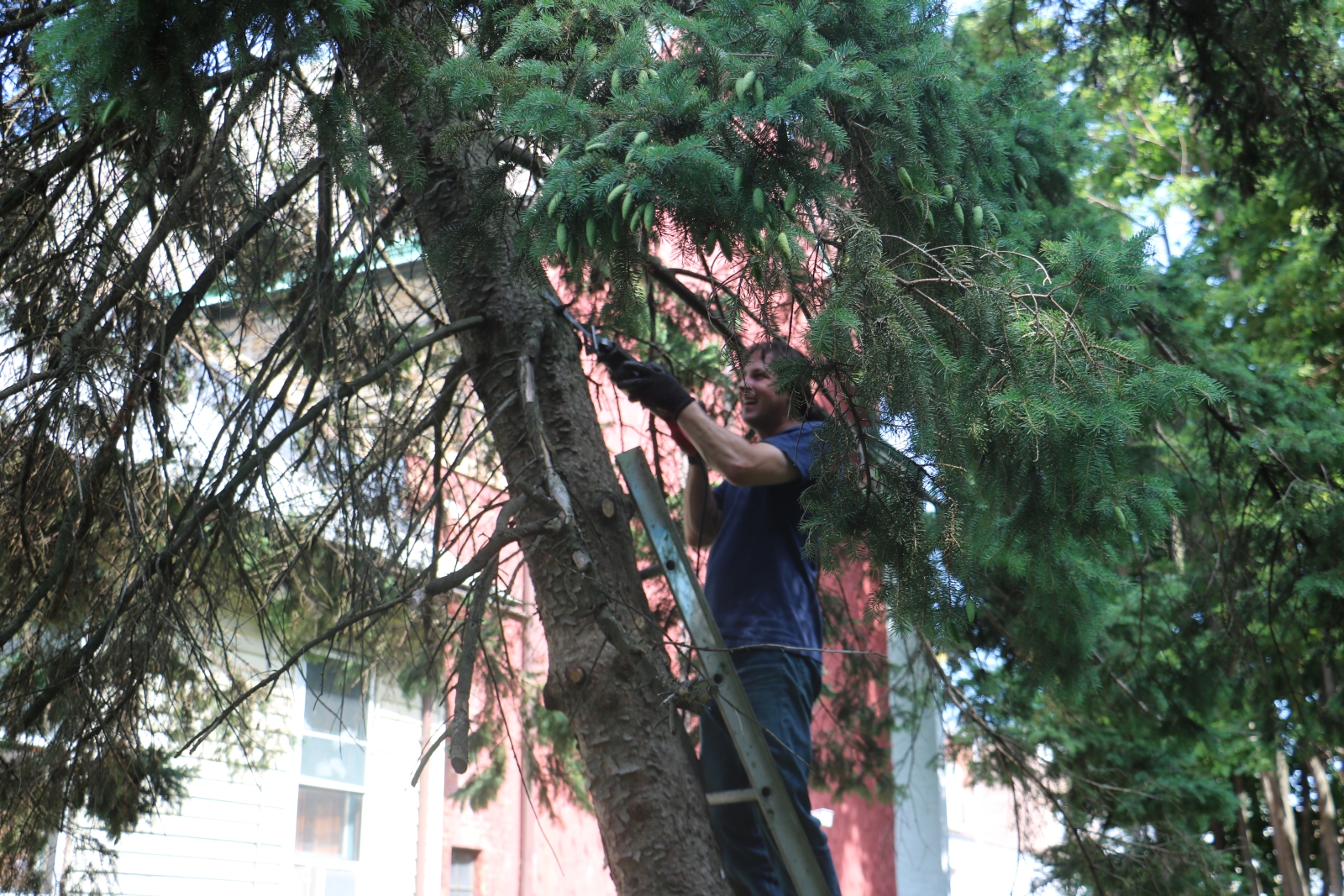 Patty Eggers, teacher at St. Thomas the Apostle Catholic Academy consults the 1919 survey. Now that we've got the weeds on the run, we can turn more of our attention to the headstones and their locations.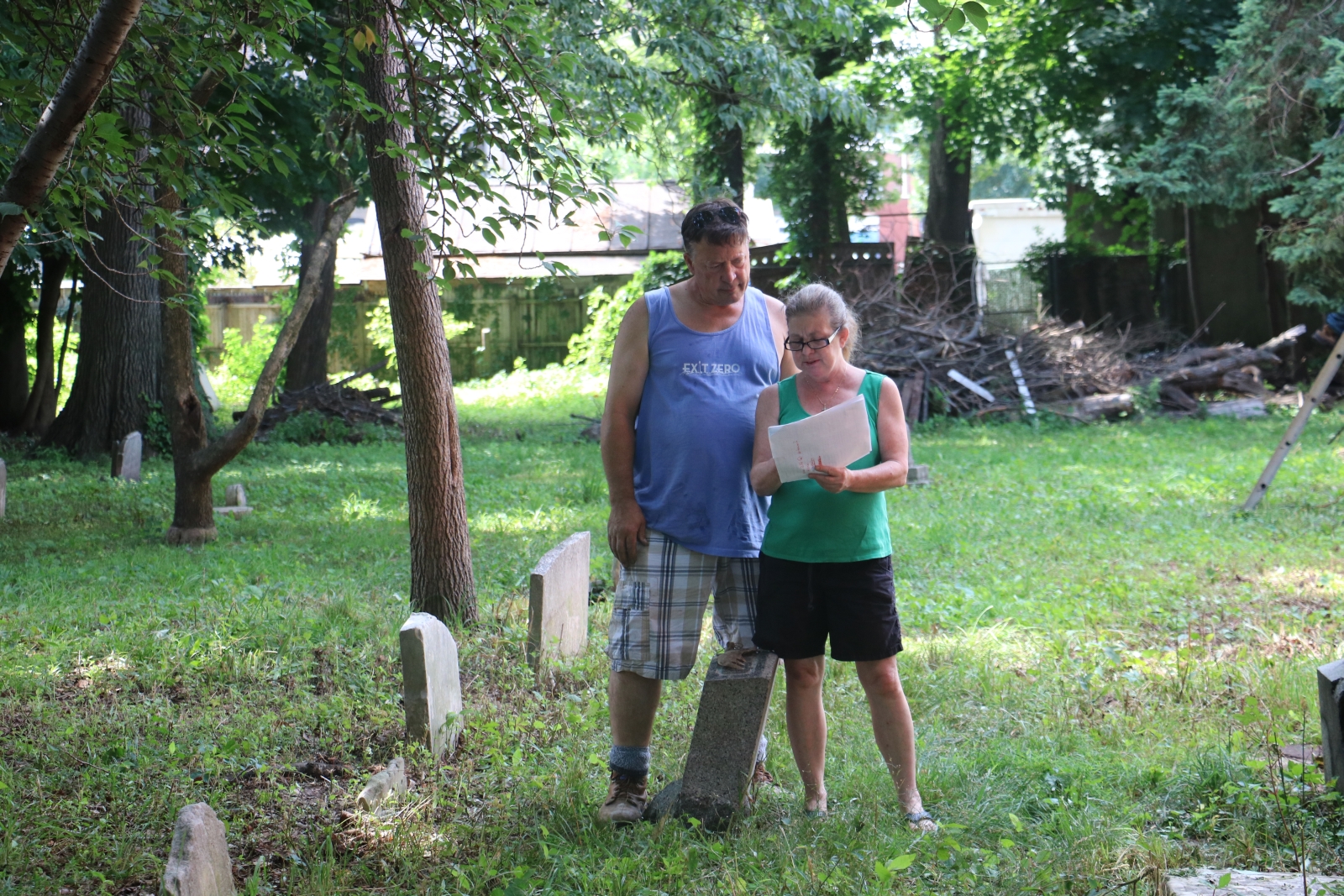 The 1919 survey - taken in an era when one section of Woodhaven was part of Richmond Hill and parts of Ozone park were known as Woodhaven - identifies the exact location (down to the square foot) of each plot - and the inscription that was on the headstone. This is a very valuable piece of the puzzle as it will help us identify the exact locations of all of the people with missing headstones. We will mark those graves somehow in the very near future. Note: In the bottom left-hand corner of the map, it notes the Masonic Temple which today is the Queens Tabernacle on 96th Street. Being that building has not moved an inch, we can use that as our base marker when locating the other burial plots.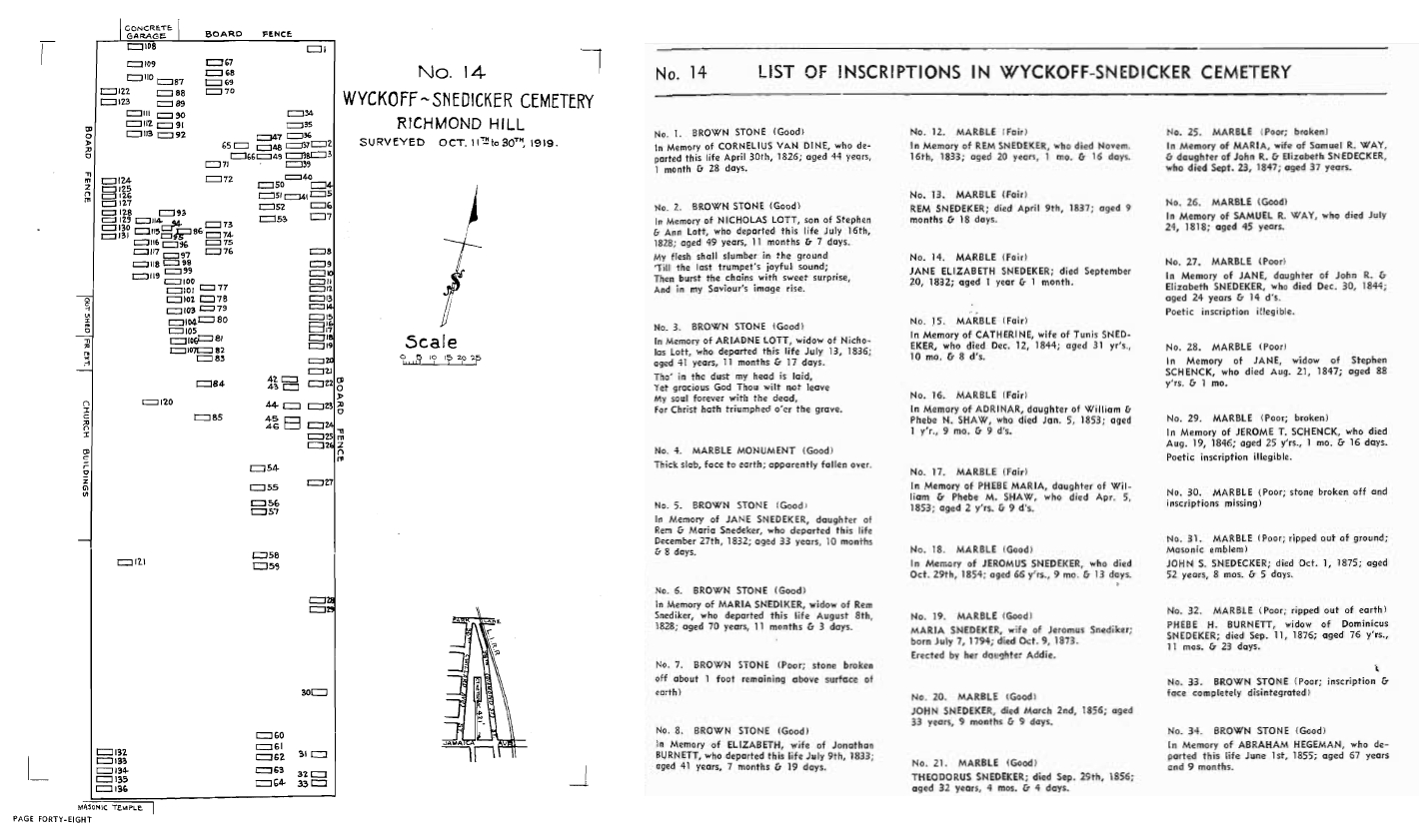 Here is the Northeast corner before we started work on it Saturday morning.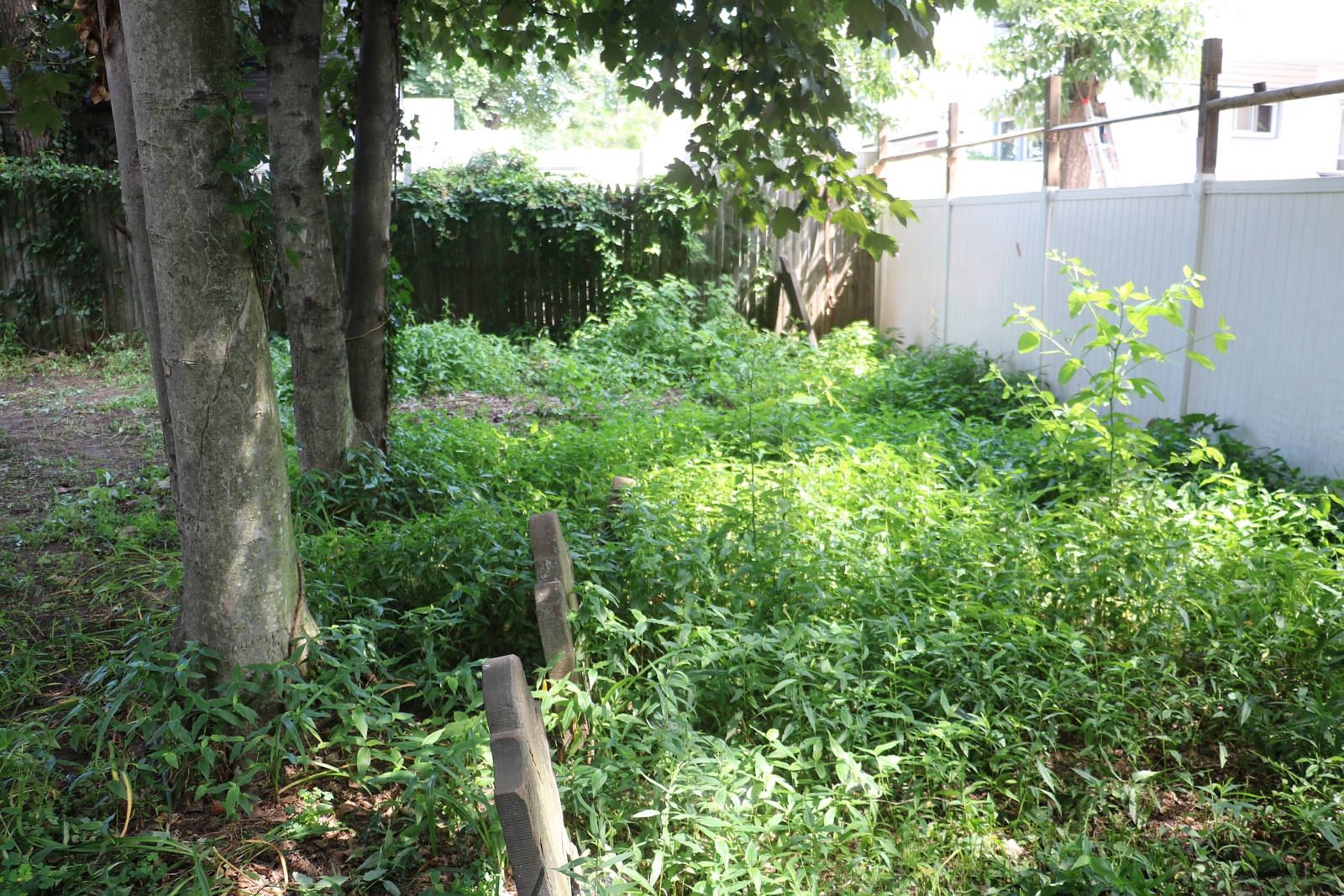 And here is the same corner after we rolled up our sleeves and got to work. These weeds will dry up and be easy to rake and collect next month.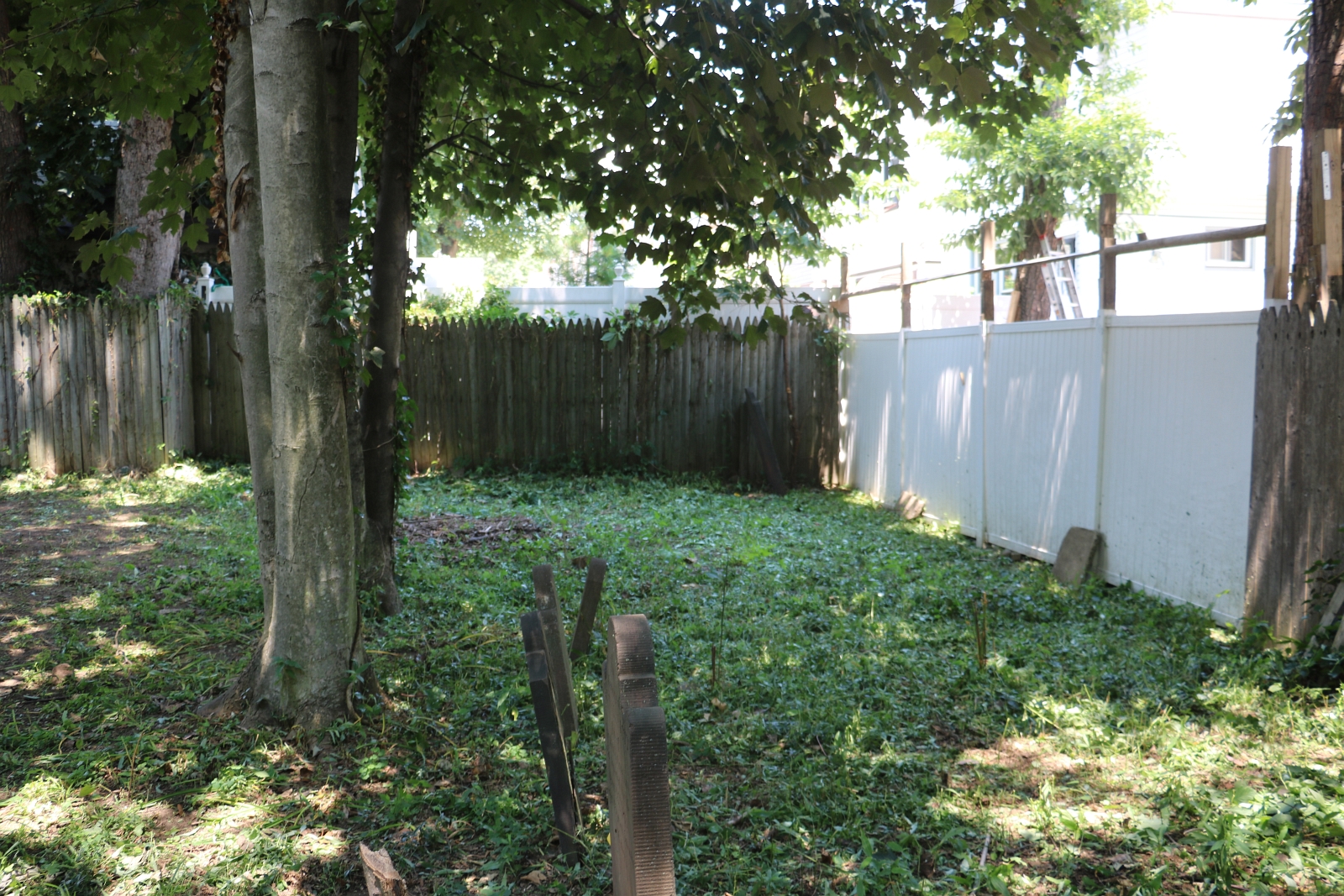 The next bit of headstone relocation would be a little more difficult. Phebe Johnson, who died in 1888, was married to Stephen Lott -- the Lotts were a very prominent family in Woodhaven (Lott Avenue today is 76th Street). Her headstone is extremely heavy and was laying flat on the ground on the south side on the graveyard. It needed to be moved all the way to the north side - a long way to move such a heavy piece of stone.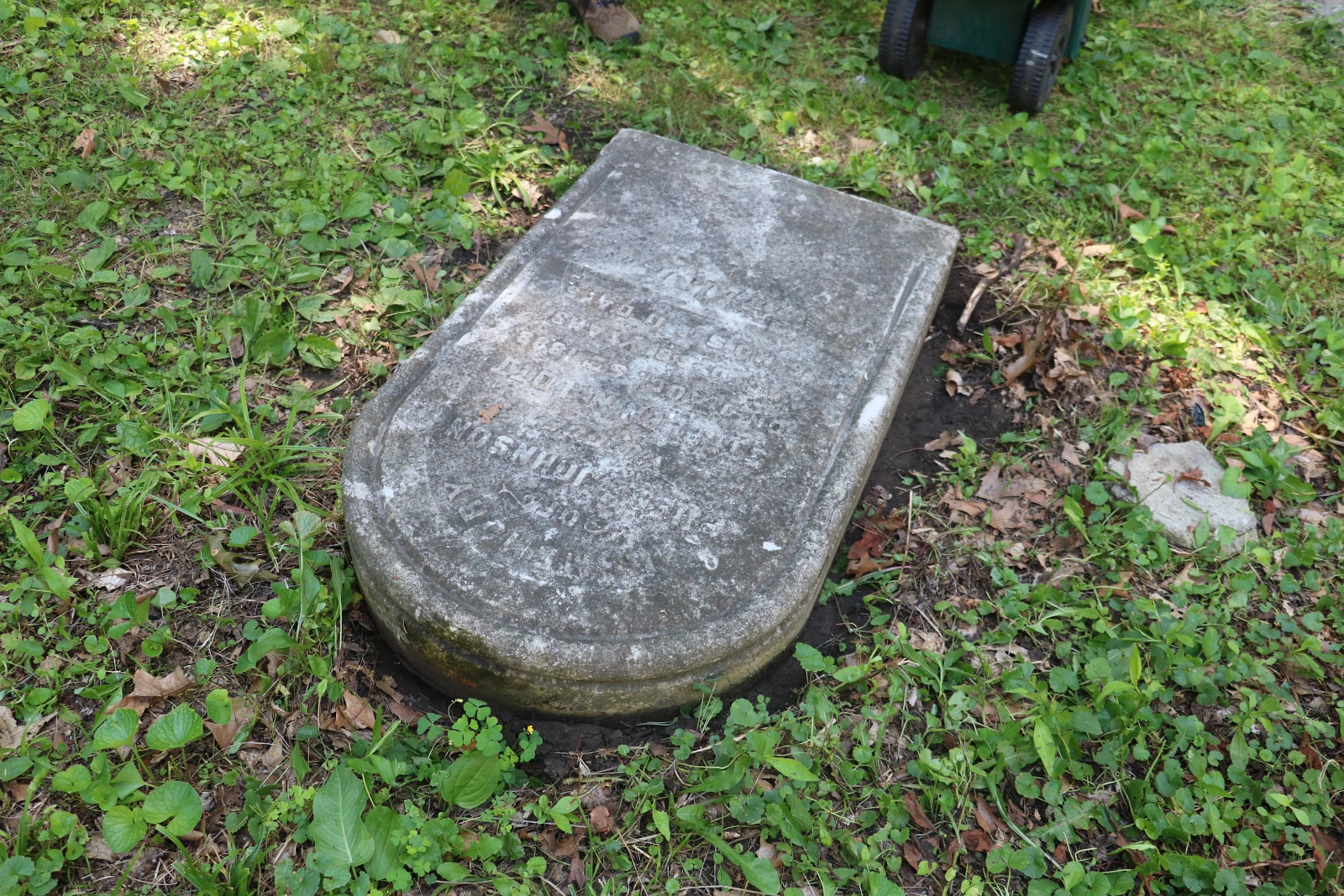 Here, John Eggers holds it in place and talks to Marge Augliera (while they get photobombed from behind!) What's interesting in this picture is the notch at the bottom of the headstone - you will see that again later. In any event, at this point we were thinking about using the green wheelbarrow to help move this. But we ended up deciding to get a metal hand truck. It's a good thing because that stone would have flattened the wheelbarrow! So, we'll come back to this story later on in this update.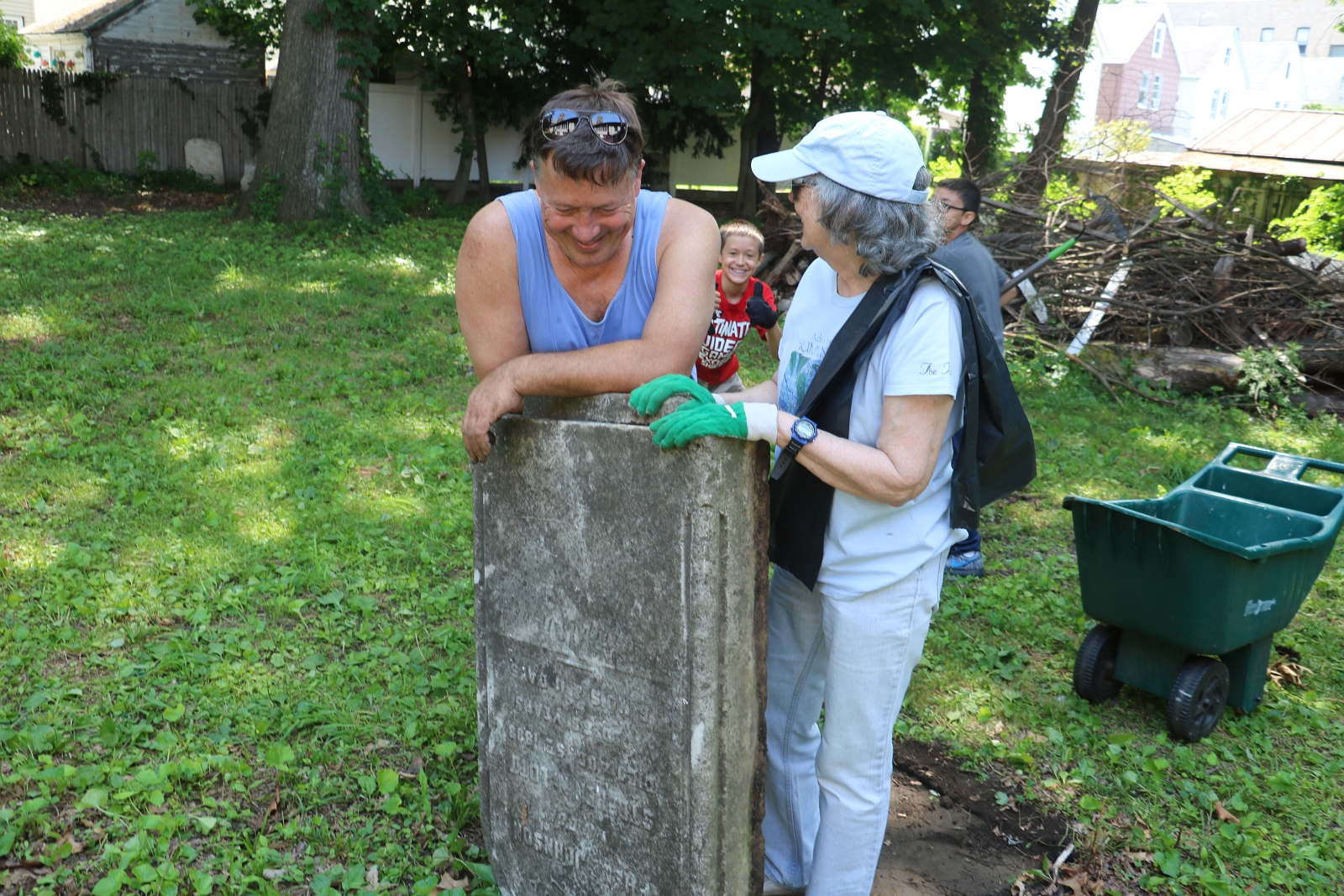 The crew did amazing work in the northwest corner. Bag after bag of fallen weeds were collected and carried to the other side of the cemetery where they will be put out a few bags at a time. Again, it was a warm day - and people are the inverse of cats -- they stuck to the shade!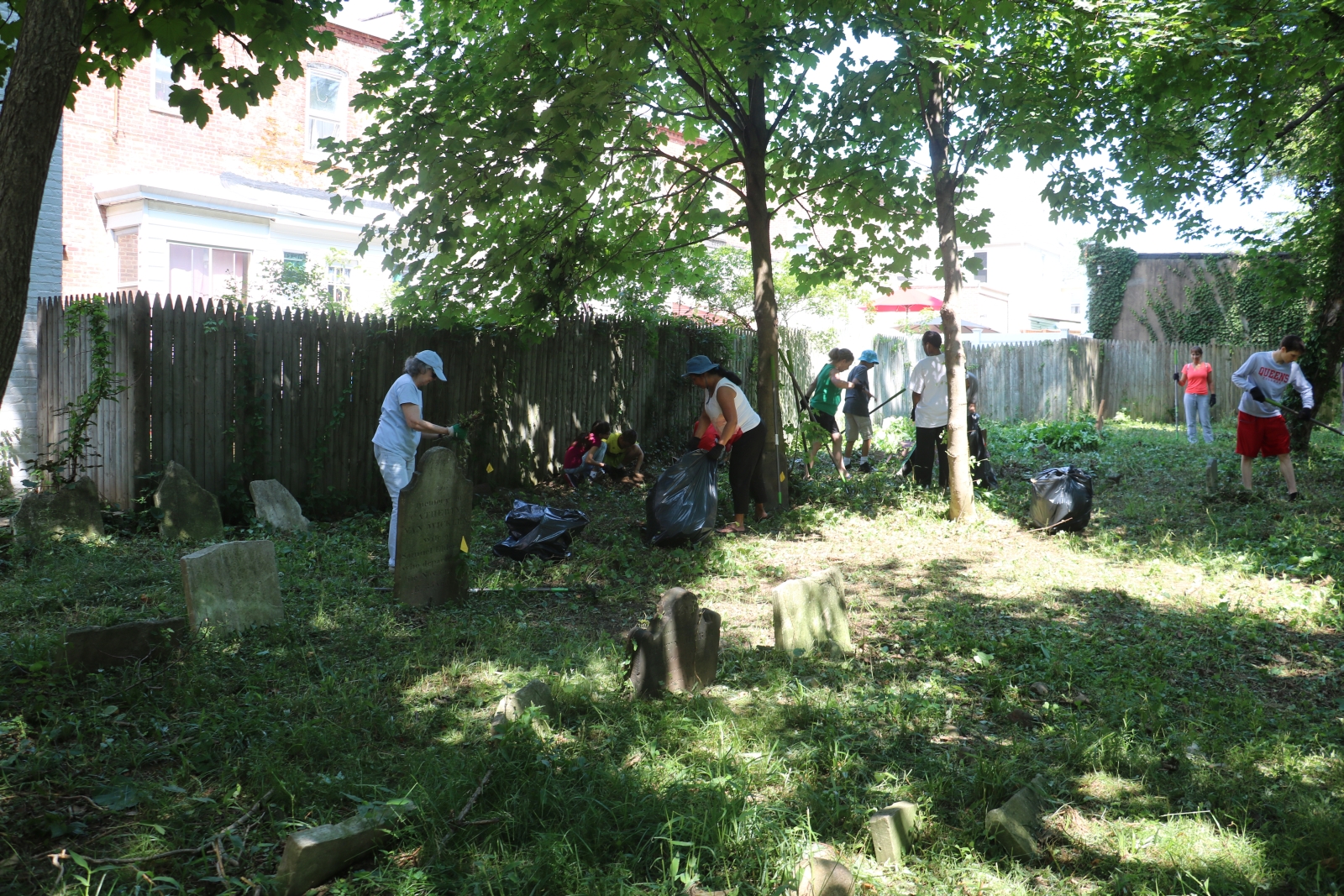 The weed whacker knocks down the weeds - but ultimately they need to be pulled.
Woodhaven's Historian, Allan Smith - Woodhaven's 2014 Man of the Year. As a child, Allan used to go to Sunday School and look out the window at this cemetery. It was overgrown back then and most of the children had no idea what it was.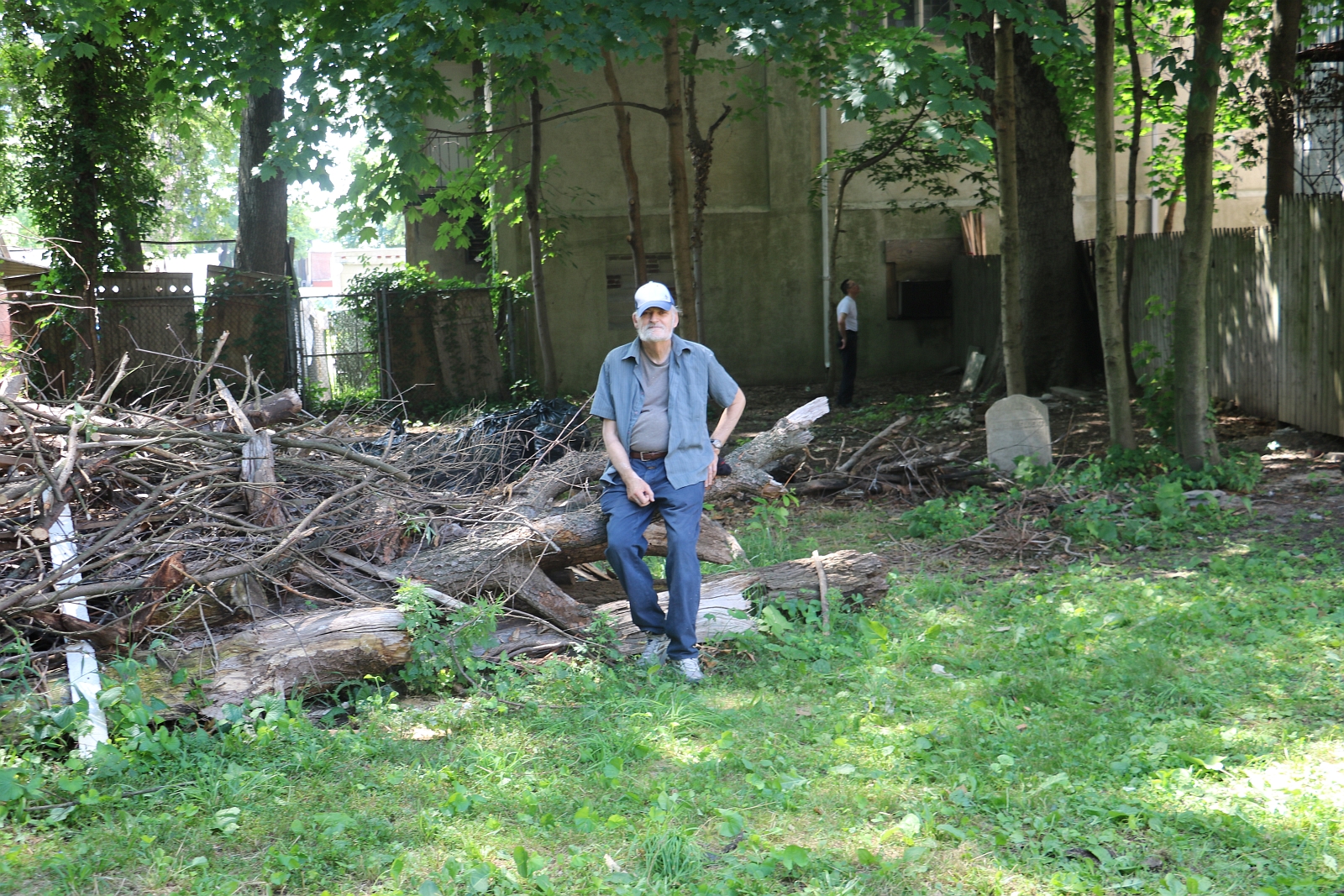 This was interesting - these two kids found this headstone and carefully washed away dirt --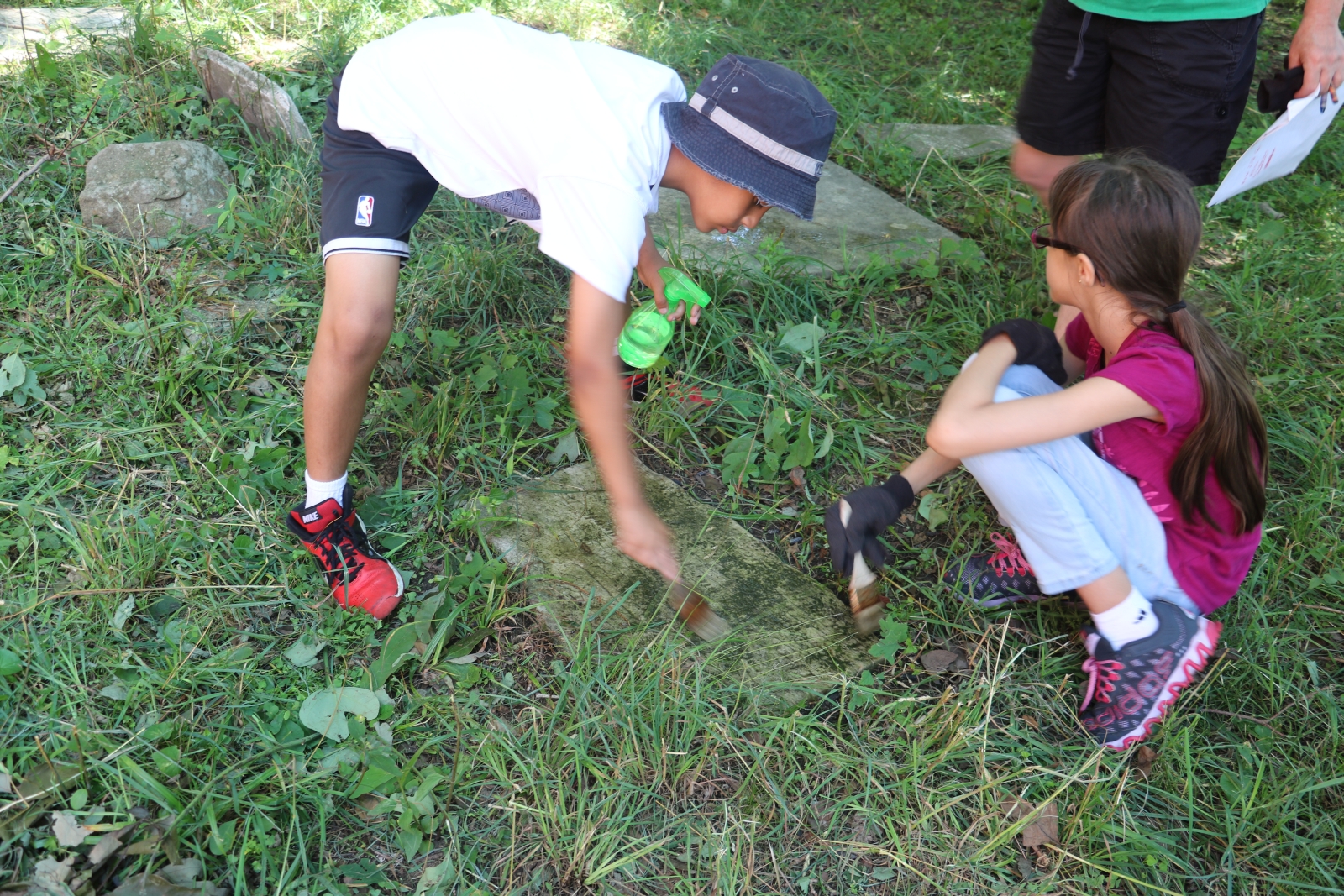 The 1919 survey says, of this headstone, that it is not legible. Well, as it turns out it appears to be very legible - and the students later took a rubbing of it. We'll let you know what it says as soon as we have it deciphered. Nice find!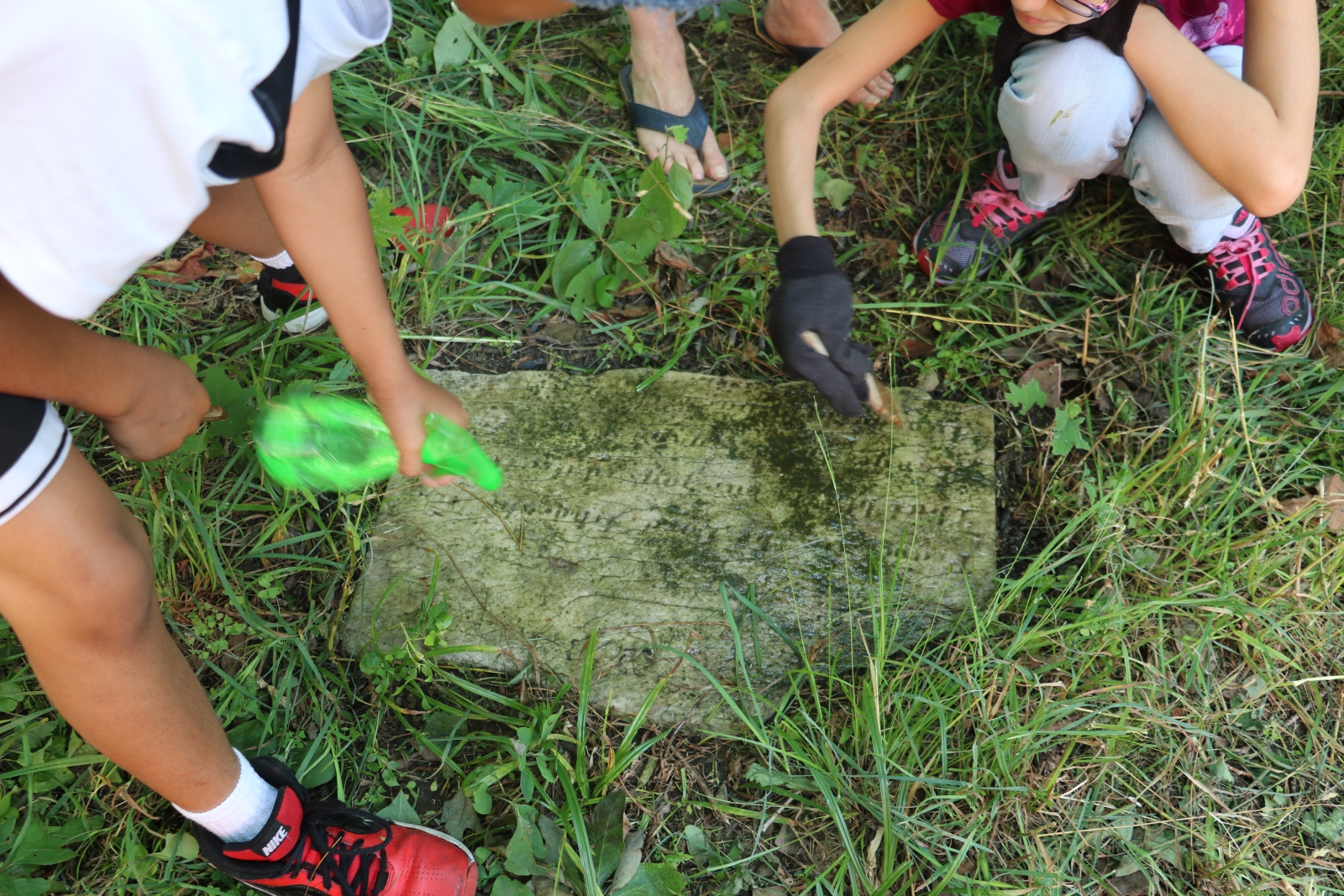 We were joined by 2014's Woman of the Year, Margie Schmidt of Schmidt's Candies, who did a fantastic job bringing weeds from one end of the cemetery to the other.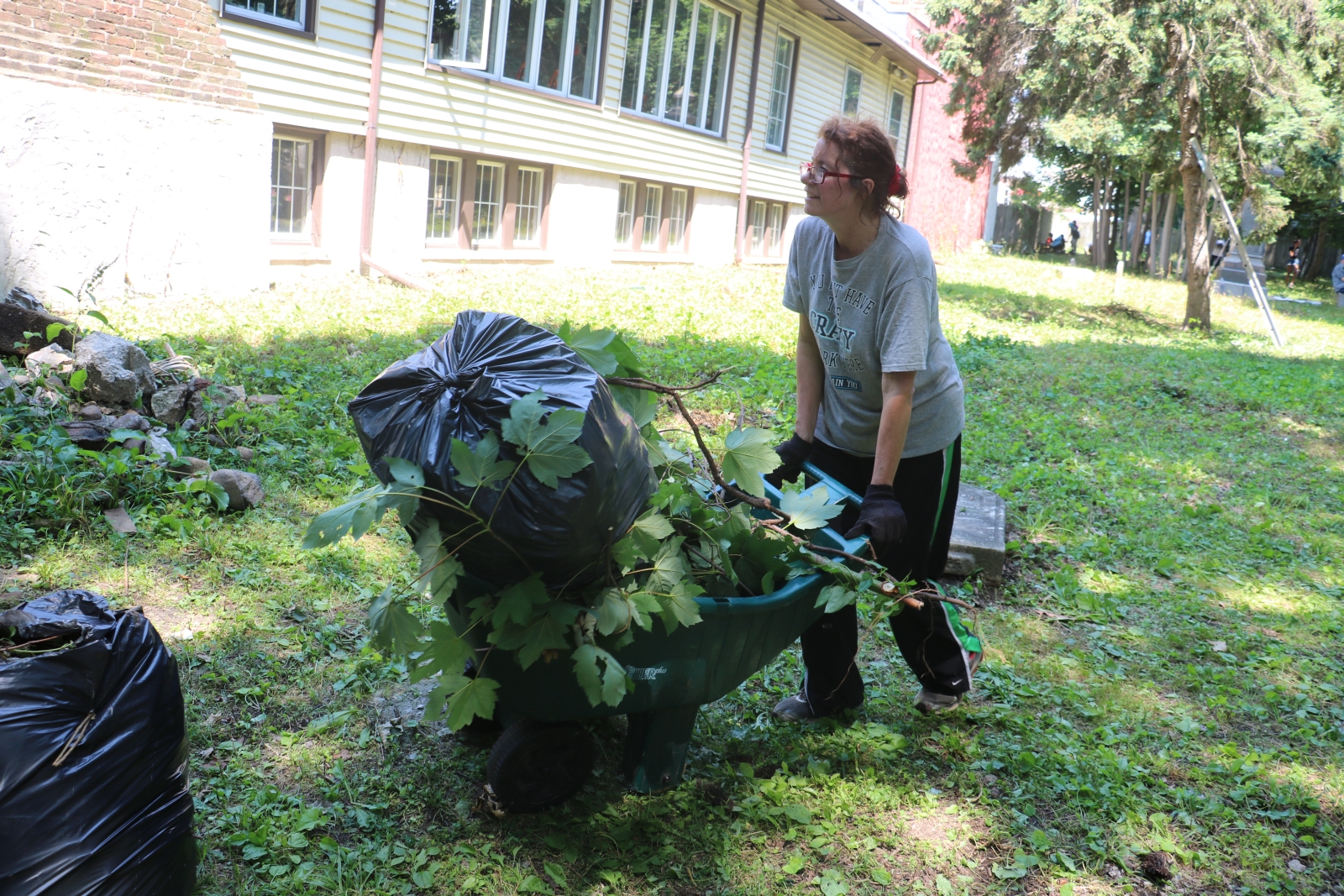 The group took a 2 minute break to pose for a picture. These cleanups are always fun and you get to meet some good people - there's still plenty of fun ahead, so make sure you sign up for one of the future cleanups!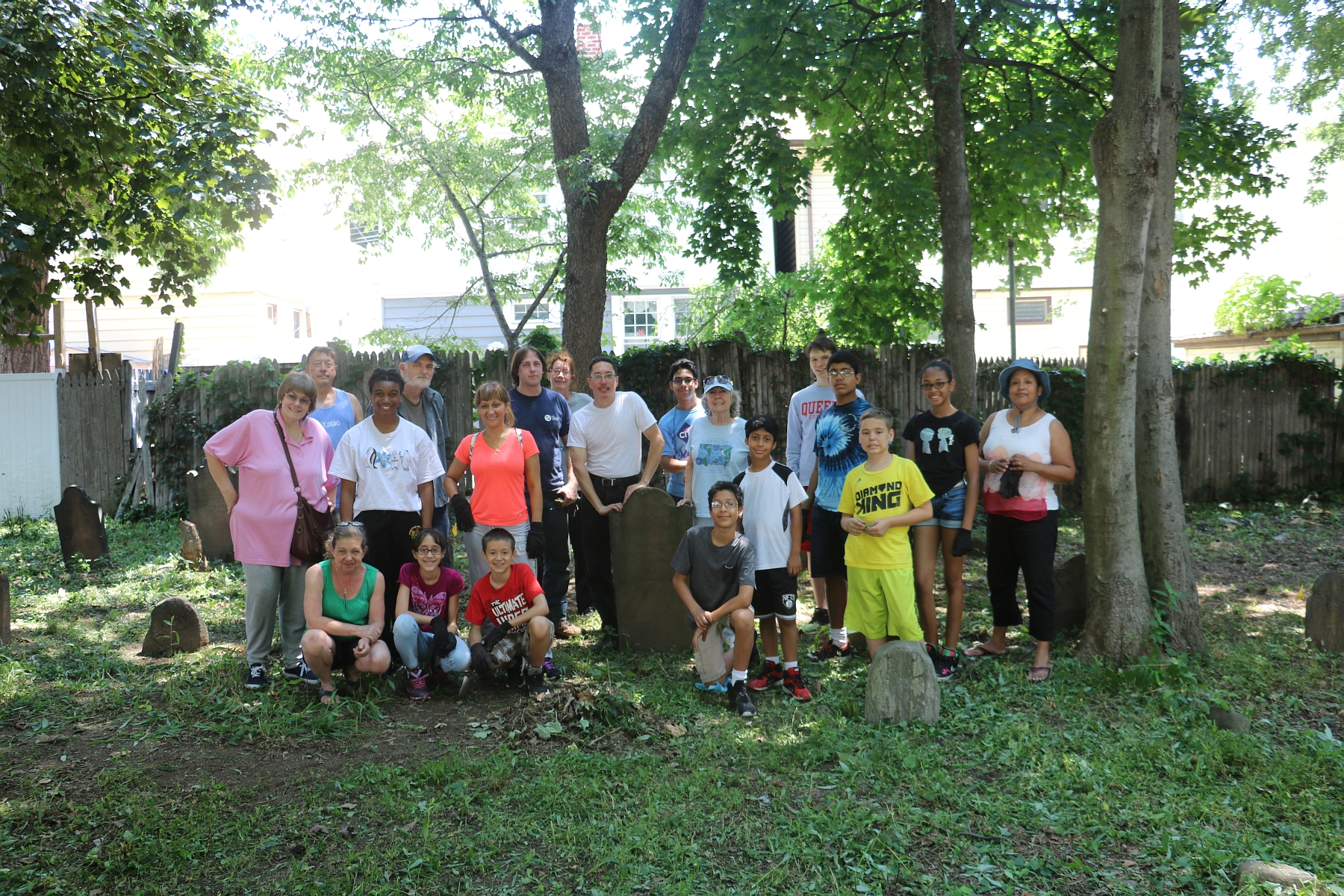 Last year's Woodhaven Man and Woman of the Year having a few laughs --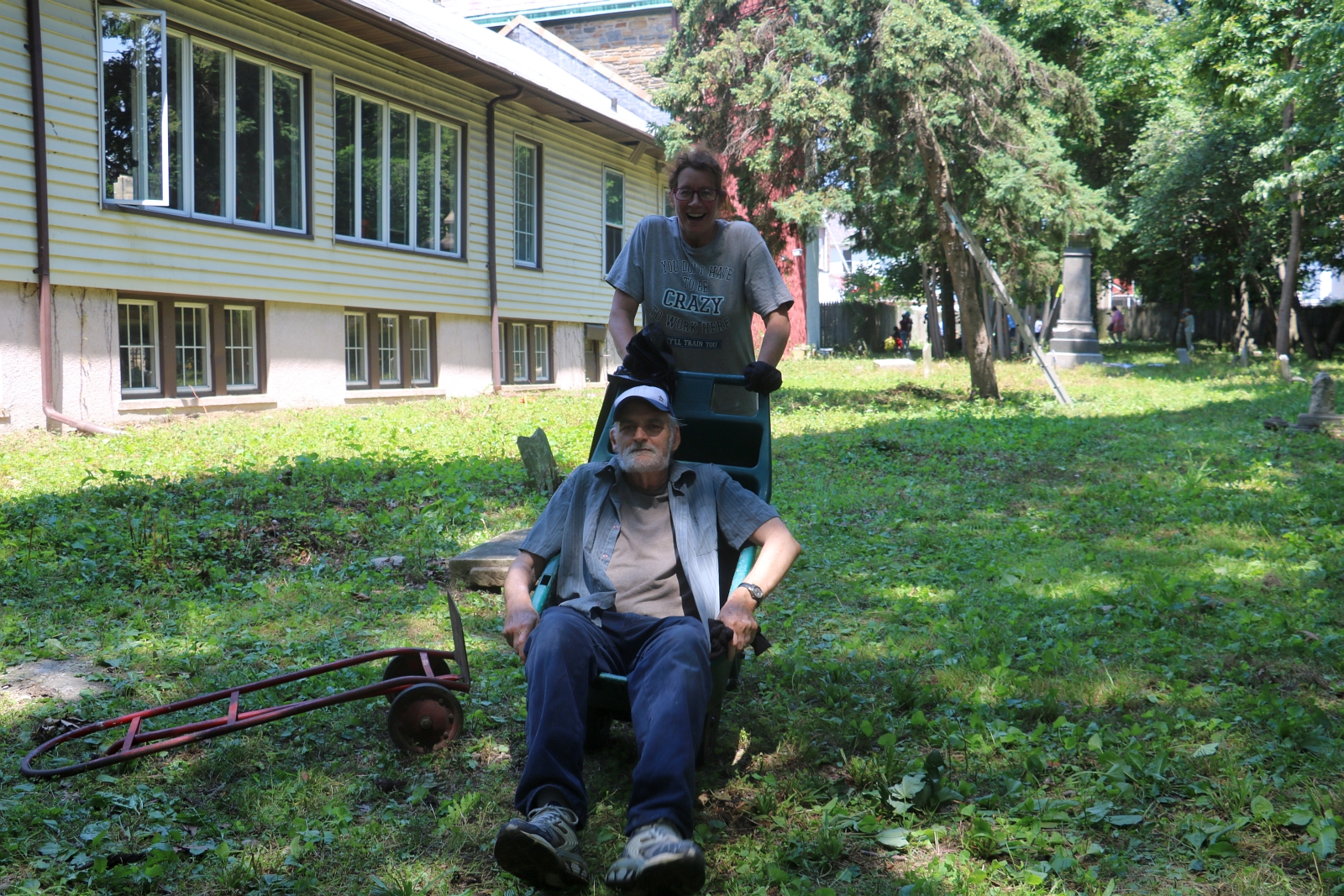 We used a portion of our Citizen's Committee grant to pick up a bunch of new rakes - many thanks to the Citizen's Committee for their support.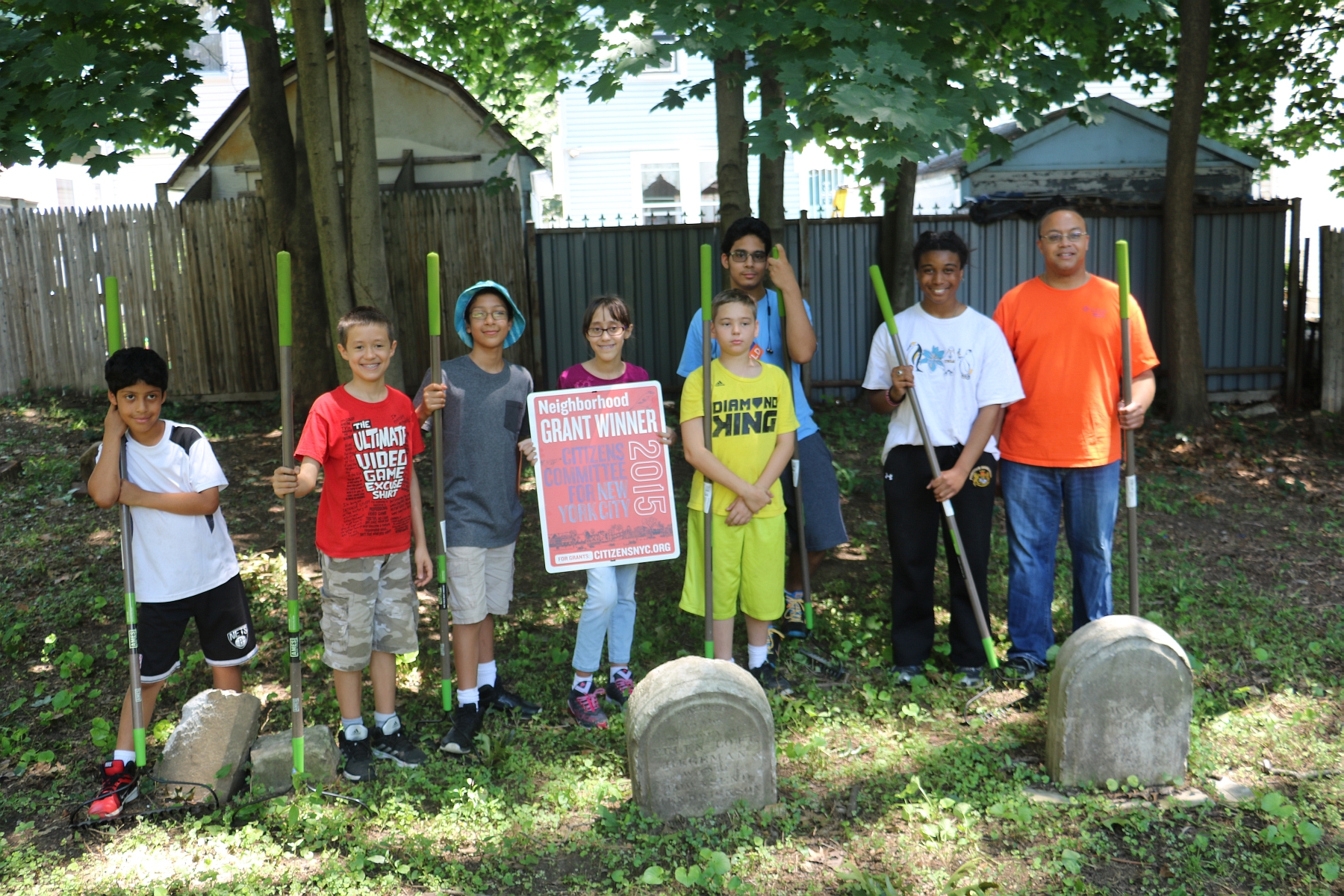 Remember this corner from earlier that morning? Scroll down to just below this picture to see what it looked like by the end of the cleanup -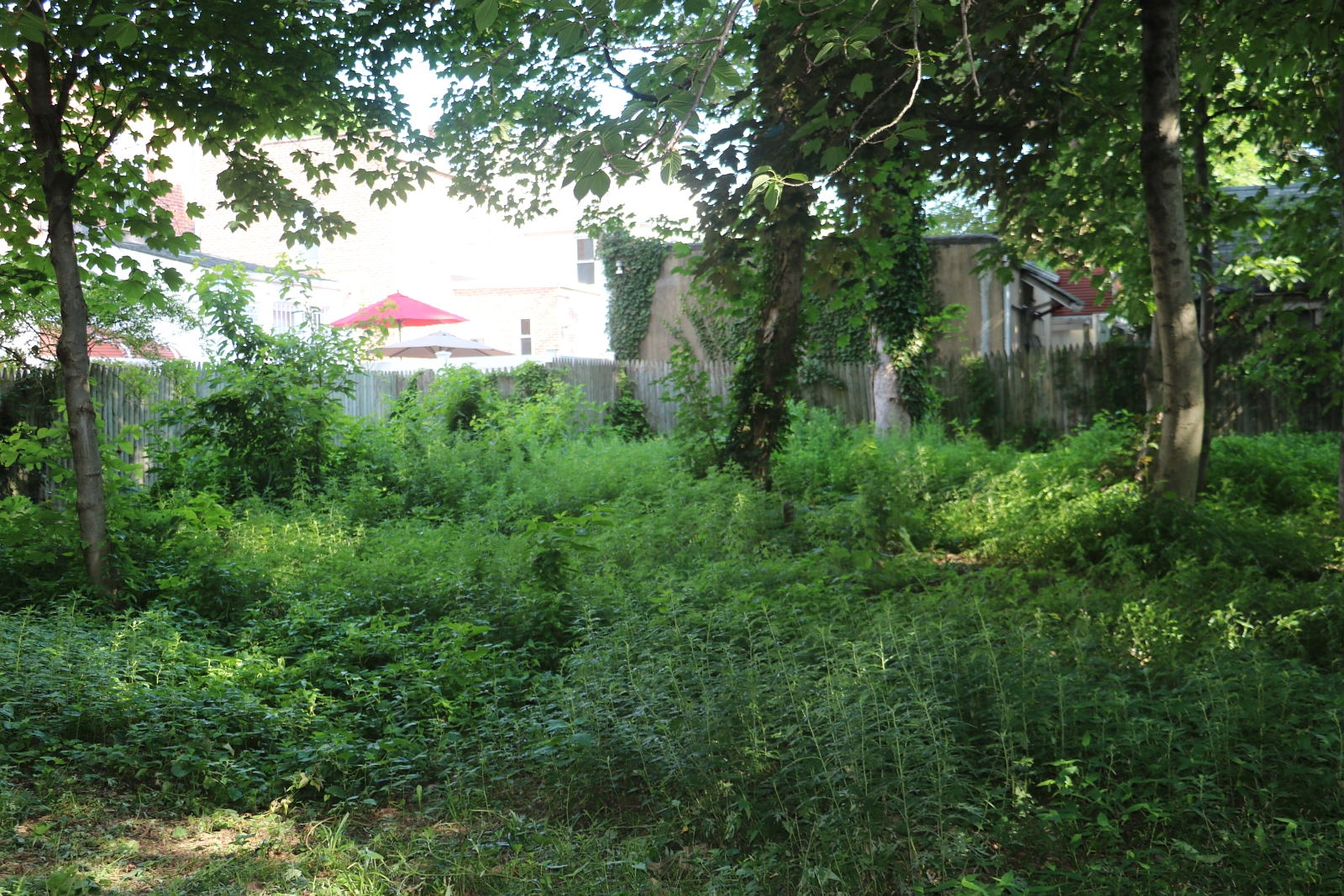 Wow! We got rid of a lot of weeds - it's looking really nice.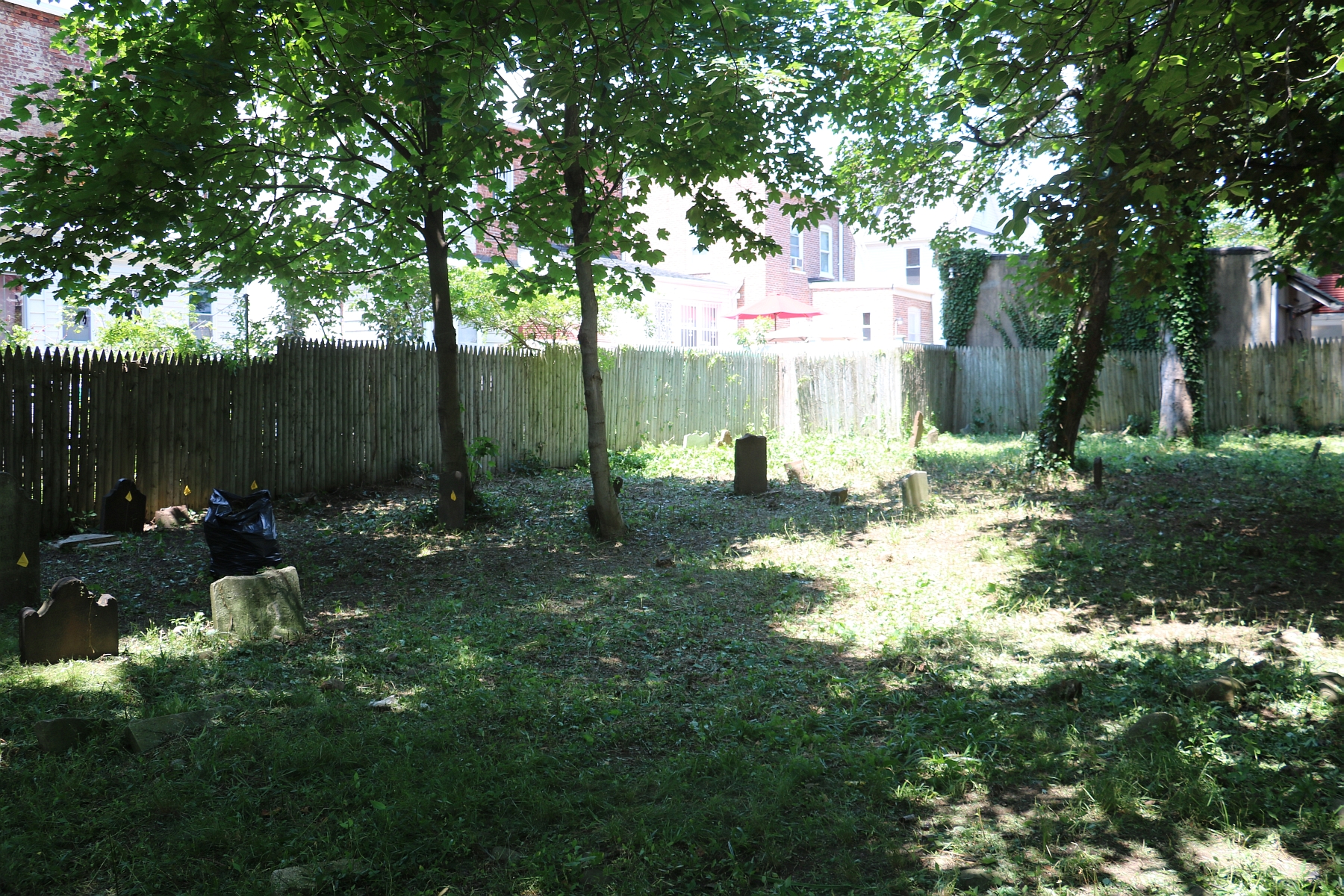 Someday, we'll have a few benches here - and you'll be able to walk in from Jamaica Avenue and sit and enjoy the nice peace and quiet.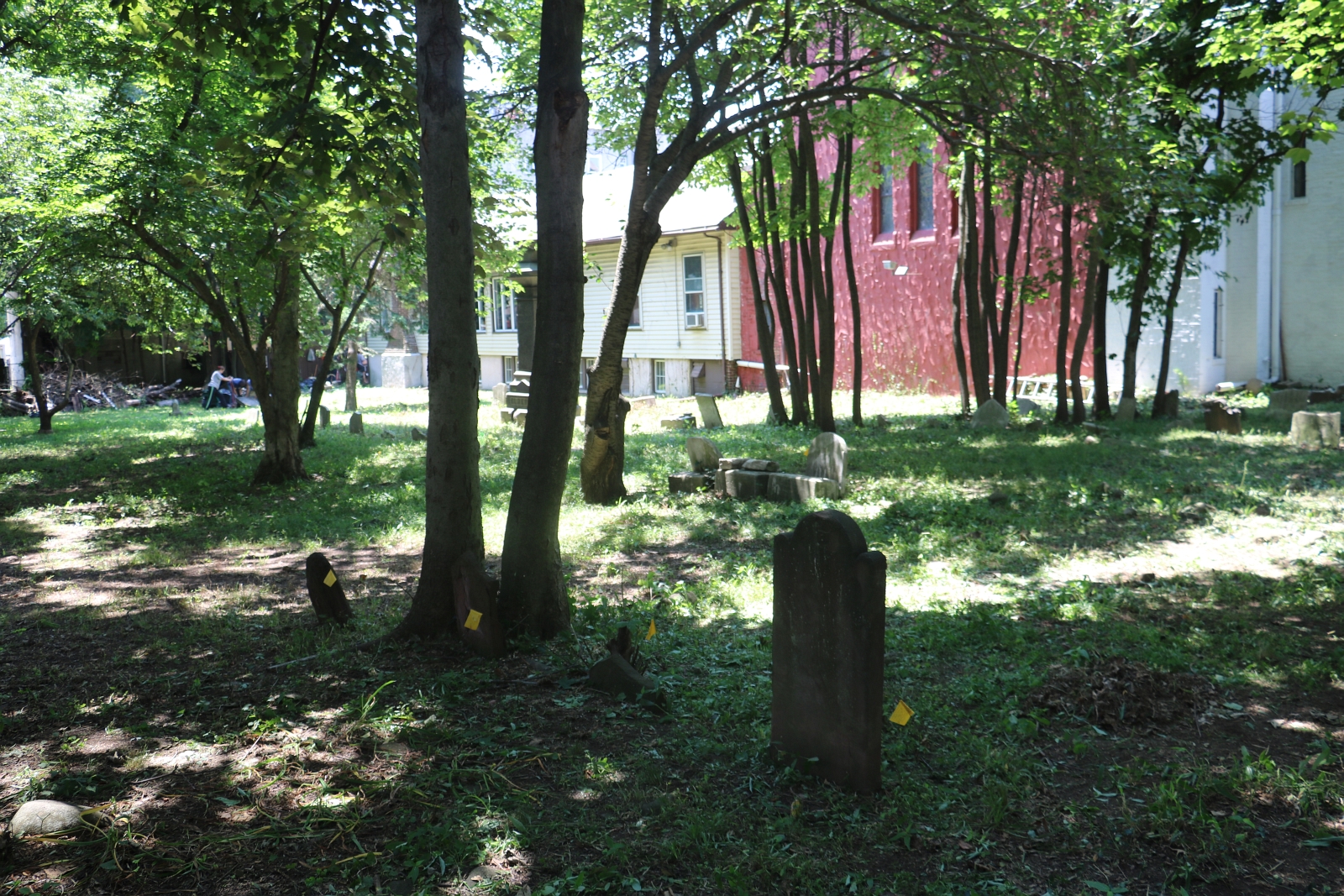 Below is the overhead view of the area from 1924, over 90 years ago. We've identified Park Lane South, 96th, 98th, and Jamaica Avenue. And we've surrounded the cemetery with a red box. In those days, people used to walk up the community drive from Jamaica Avenue (next to the Willard, or the Cordon Bleu, if you prefer) and into the cemetery. When the church bought the cemetery from the city, the driveway was afforded right-of-way status in perpetuity. Currently, there is some stuff blocking that entrance - we'll fight that battle down the road. What's interesting is that there used to be a second gate, at the northern end of the cemetery - and beyond that gate was a narrow path that you used to be able to use to walk straight through to Park Lane South. We've spoken to people that remember that path. That was back in the days when people didn't have backyard fences. Once they started fencing off their property, they began claiming this path as their own - and it disappeared.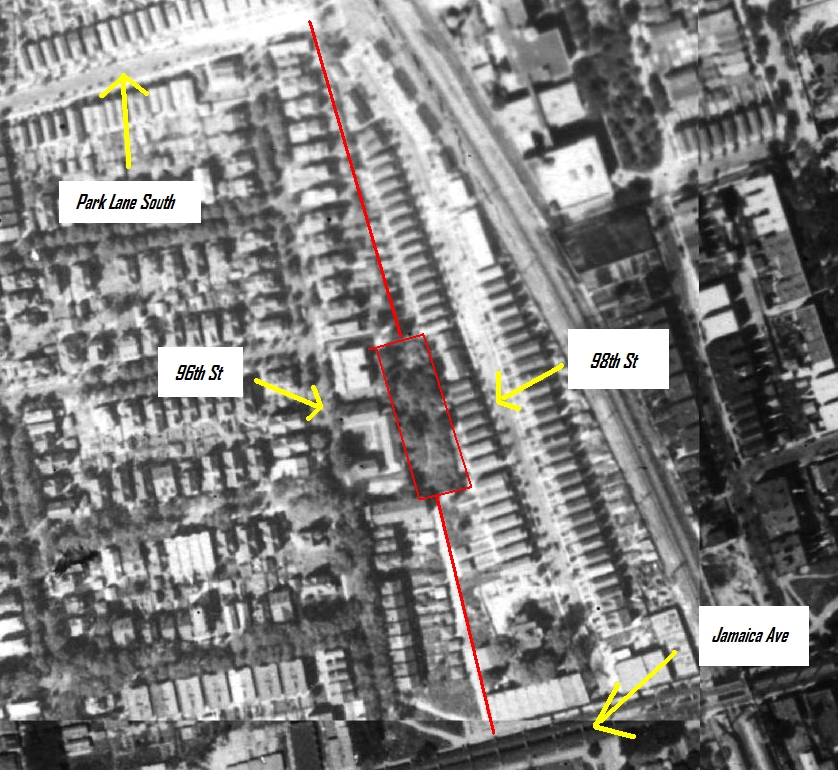 Ok, let's wrap this up in a big way -- our two musclemen, Eddie and John, get the heavy headstone on the handtruck and drag it -- not really wheel it -- but pretty much drag it across the cemetery.
The base is back there against the fence. They've come a long way - but still have a bit ahead of them.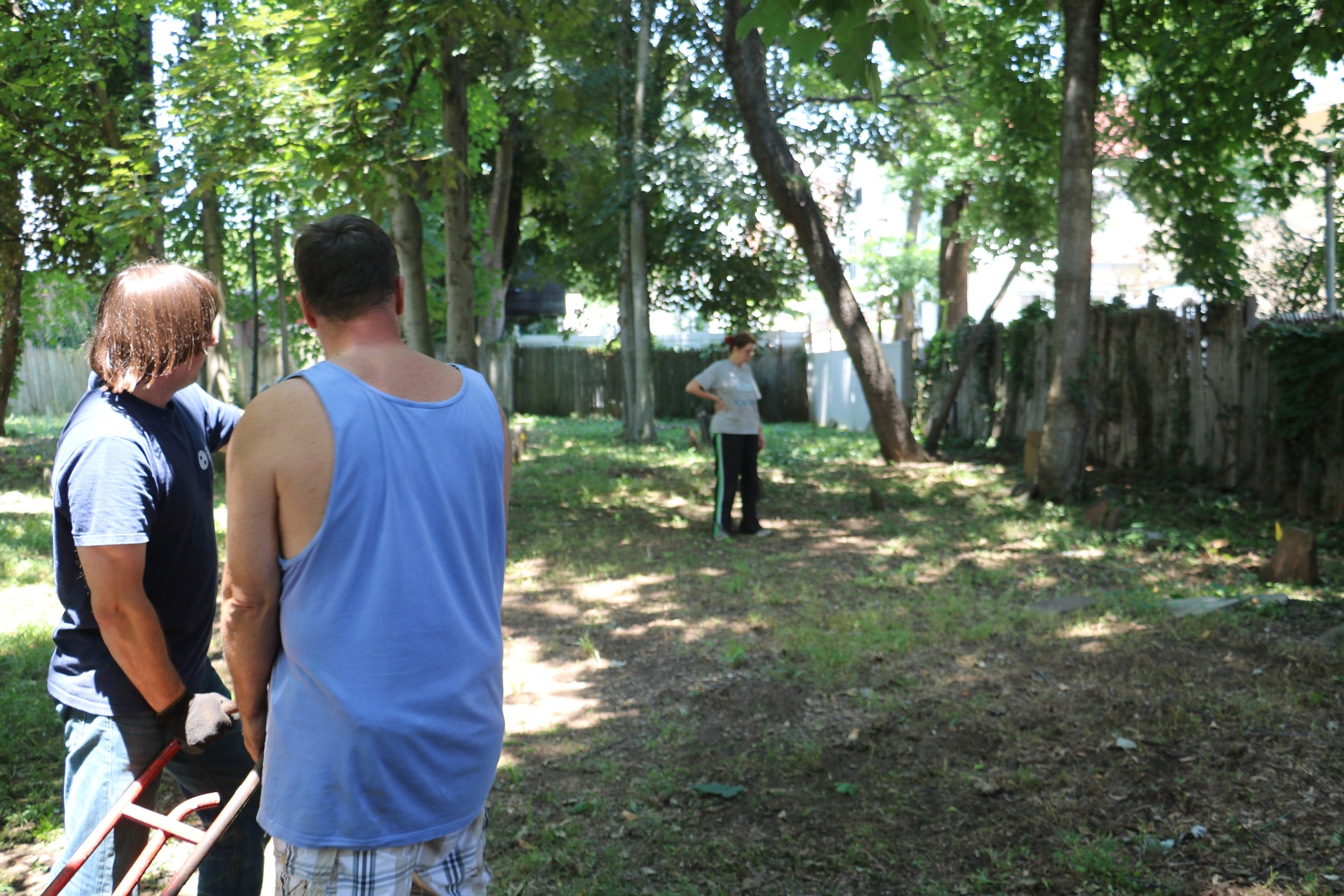 The headstone is almost home - and if you look closely, you'll see the notch where the headstone will fit.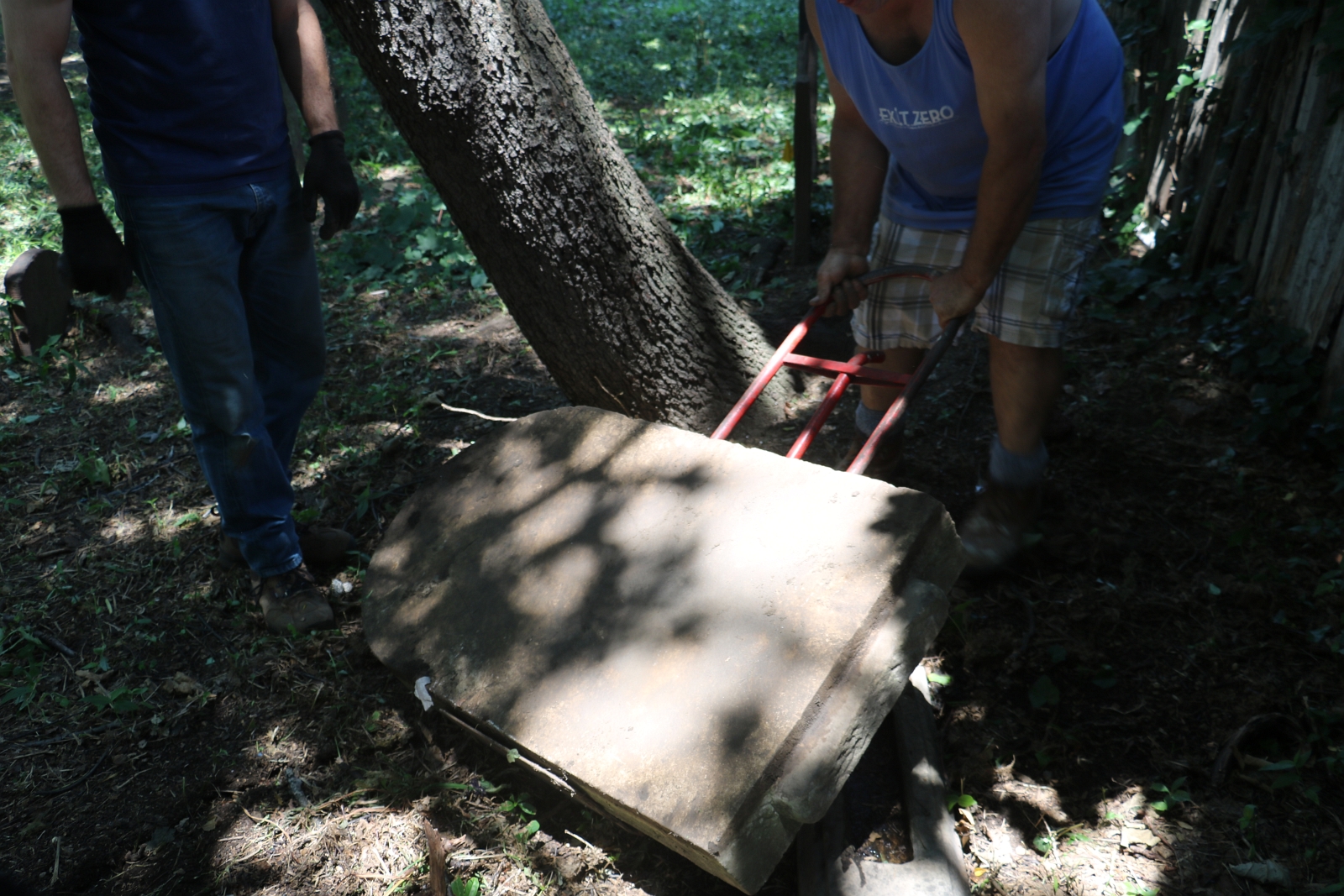 Here's a better look of the headstone fitting into the base.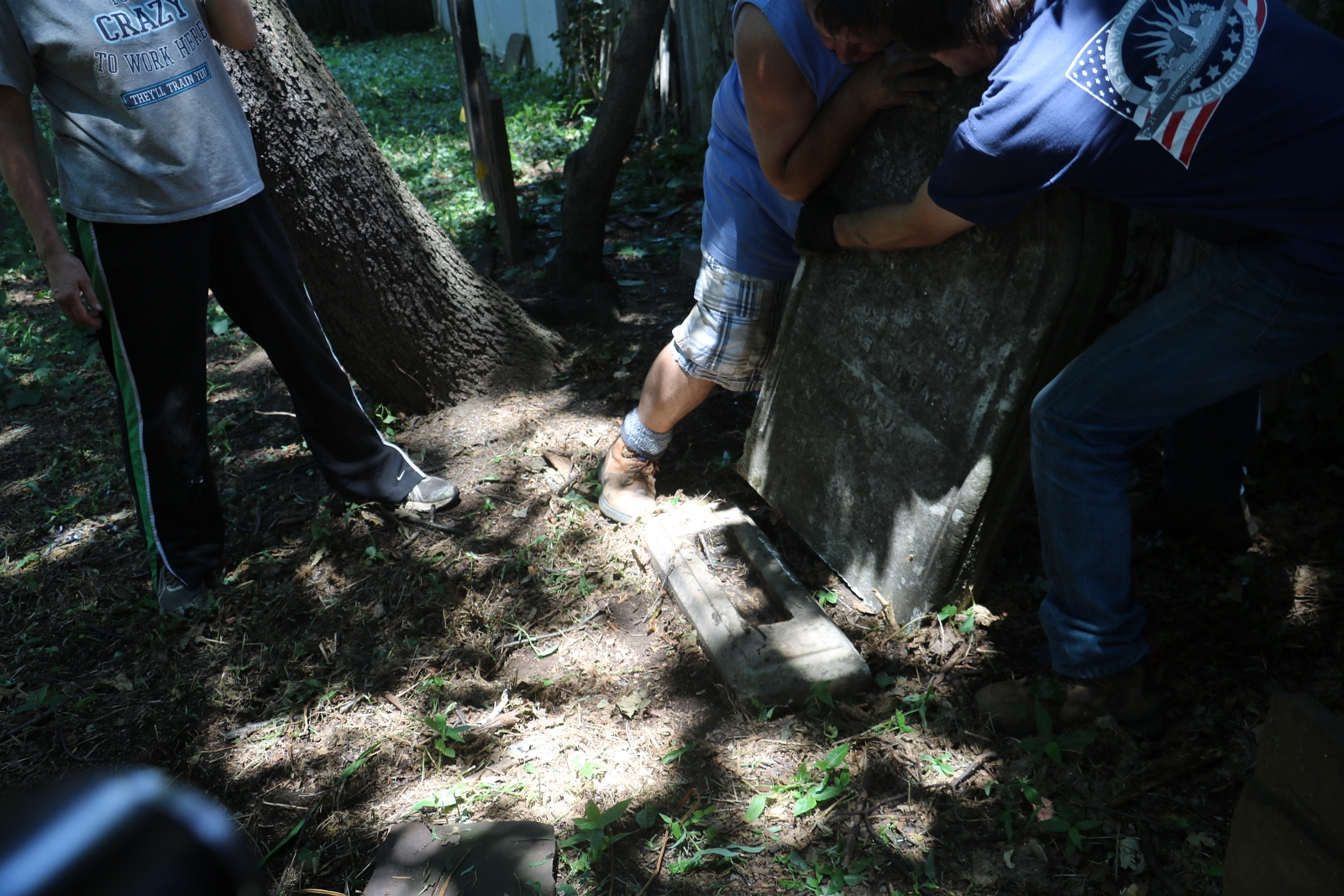 There's the team that got it done - great work!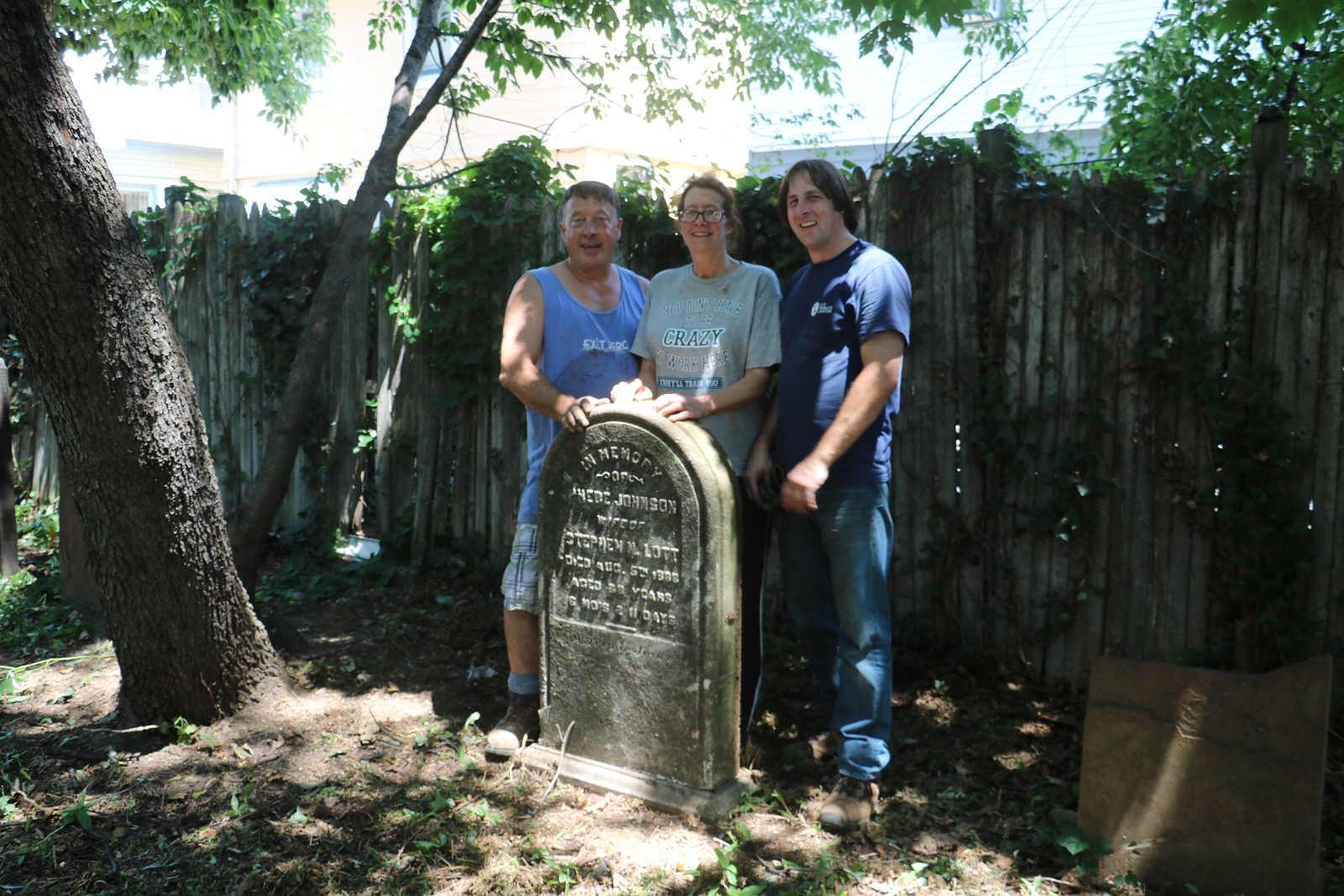 Afterwards, we noticed how the sun just seemed to be hitting that stone as if welcoming it home.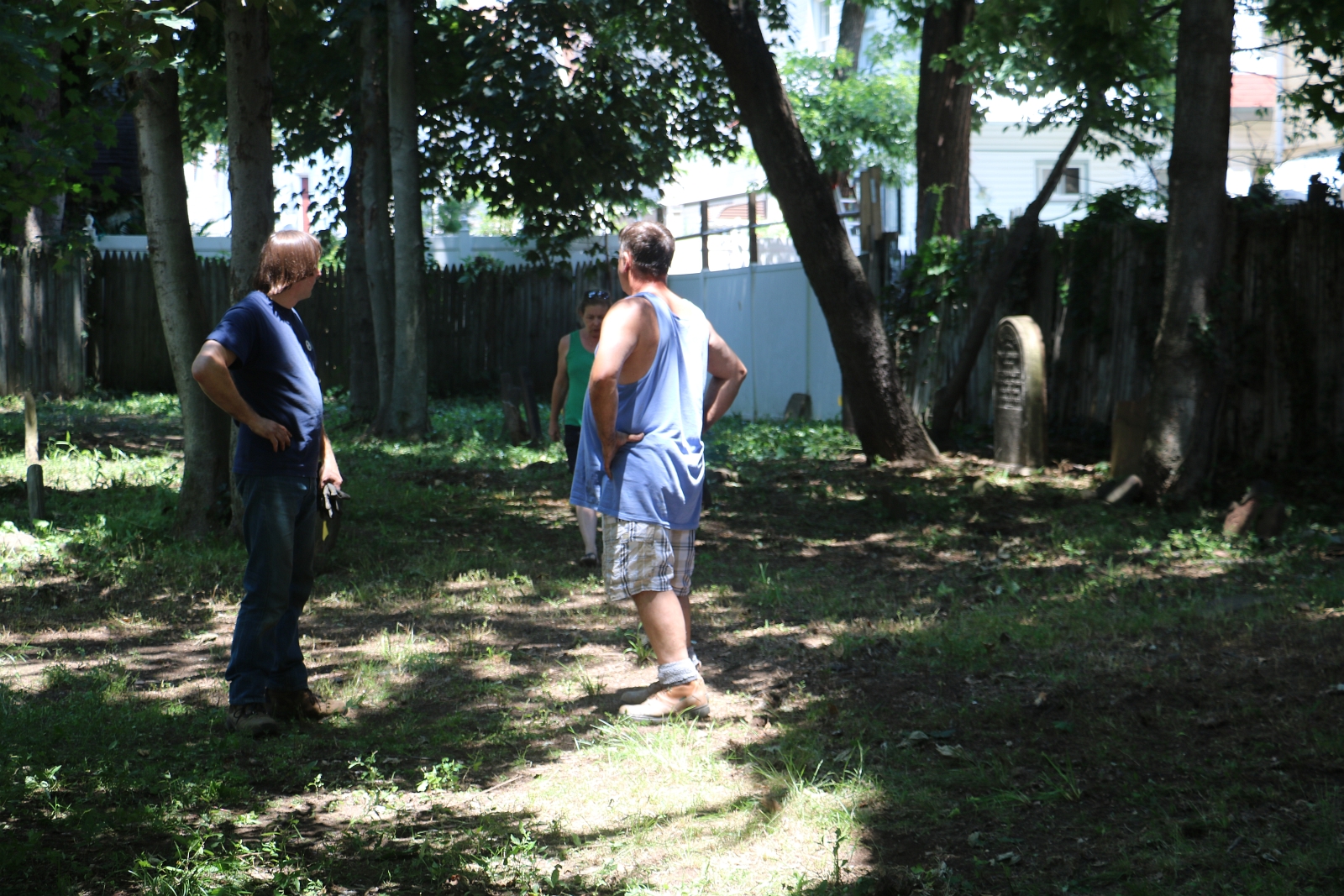 It's been a great year - and we're very happy with the results so far.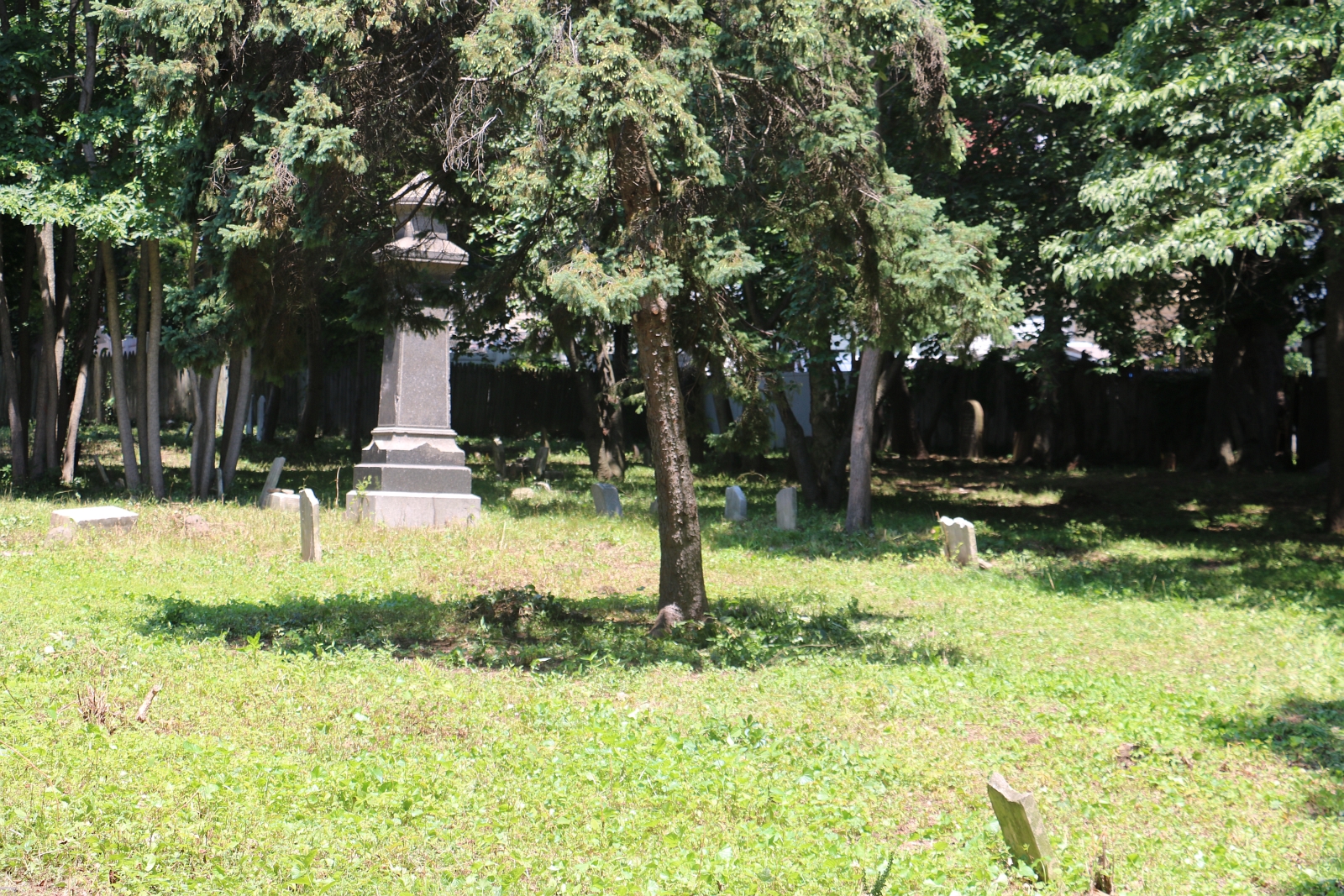 The
If you have any comments, or would like to suggest other projects, drop us a line at info@projectwoodhaven.com or projectwoodhaven@aol.com.
Return to Project Woodhaven's Home Page
Photos by Joey Wendell