We walk around the neighborhood a lot - and the camera is always nearby. It's a treat walking around Woodhaven in the summer - you always know you're going to see beautiful trees and houses - but there's always little surprises awaiting you on the way. We started from our home on 91st Street near the park - this beautiful house sits at the corner of 85th Road. I love this turret - or do you call it a tower? - with the FDNY Tower in the background. There are a bunch of houses with similar features in our community. Have you ever read the booklet on Woodhaven's Architectural Heritage? Click here for a real treat.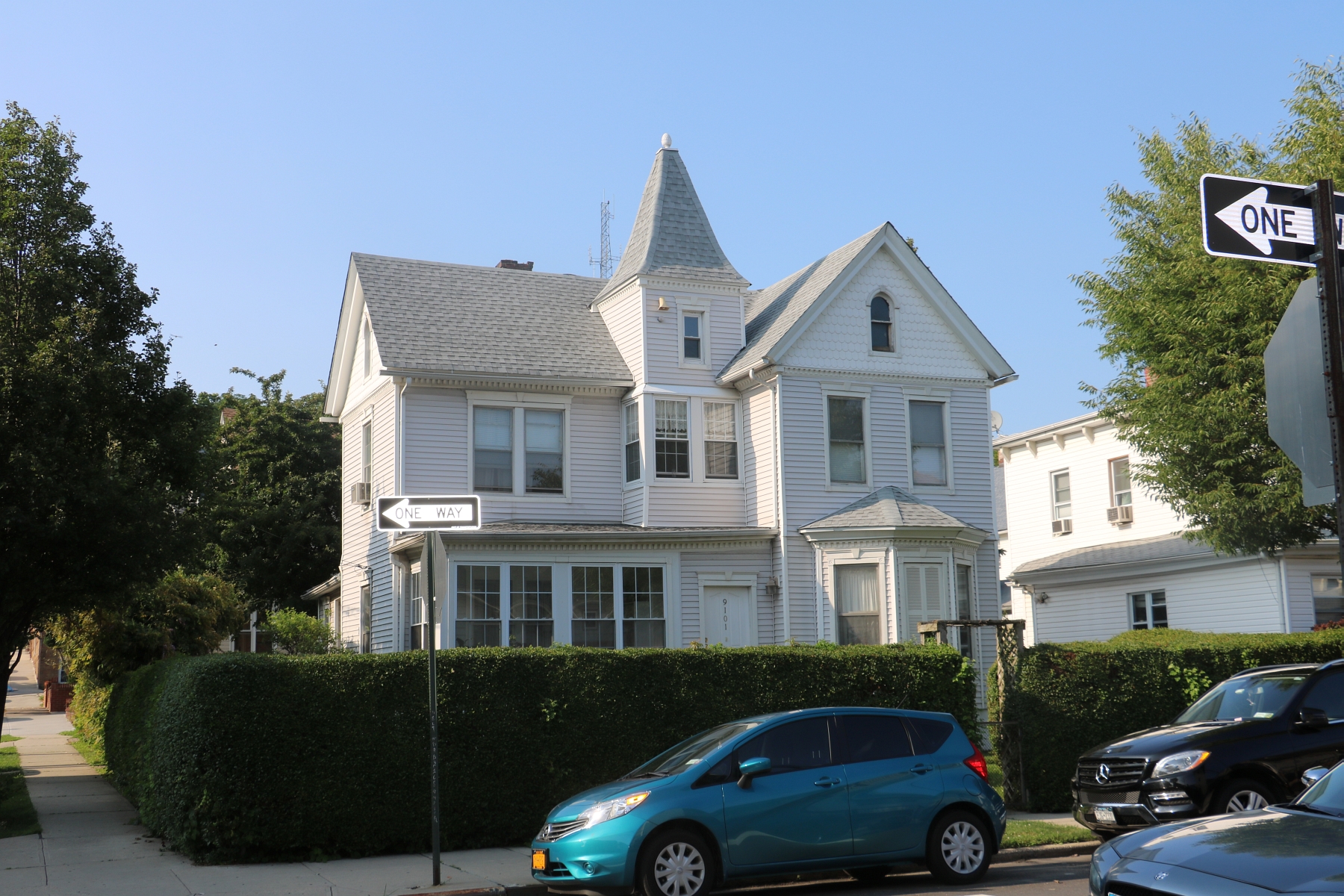 We'll start numbering these walkabout journeys. During Walkabout #1, we noticed a hawk at the top of the FDNY Tower - if you look closely near the top of the tower, she's back! Maybe this is her regular spot.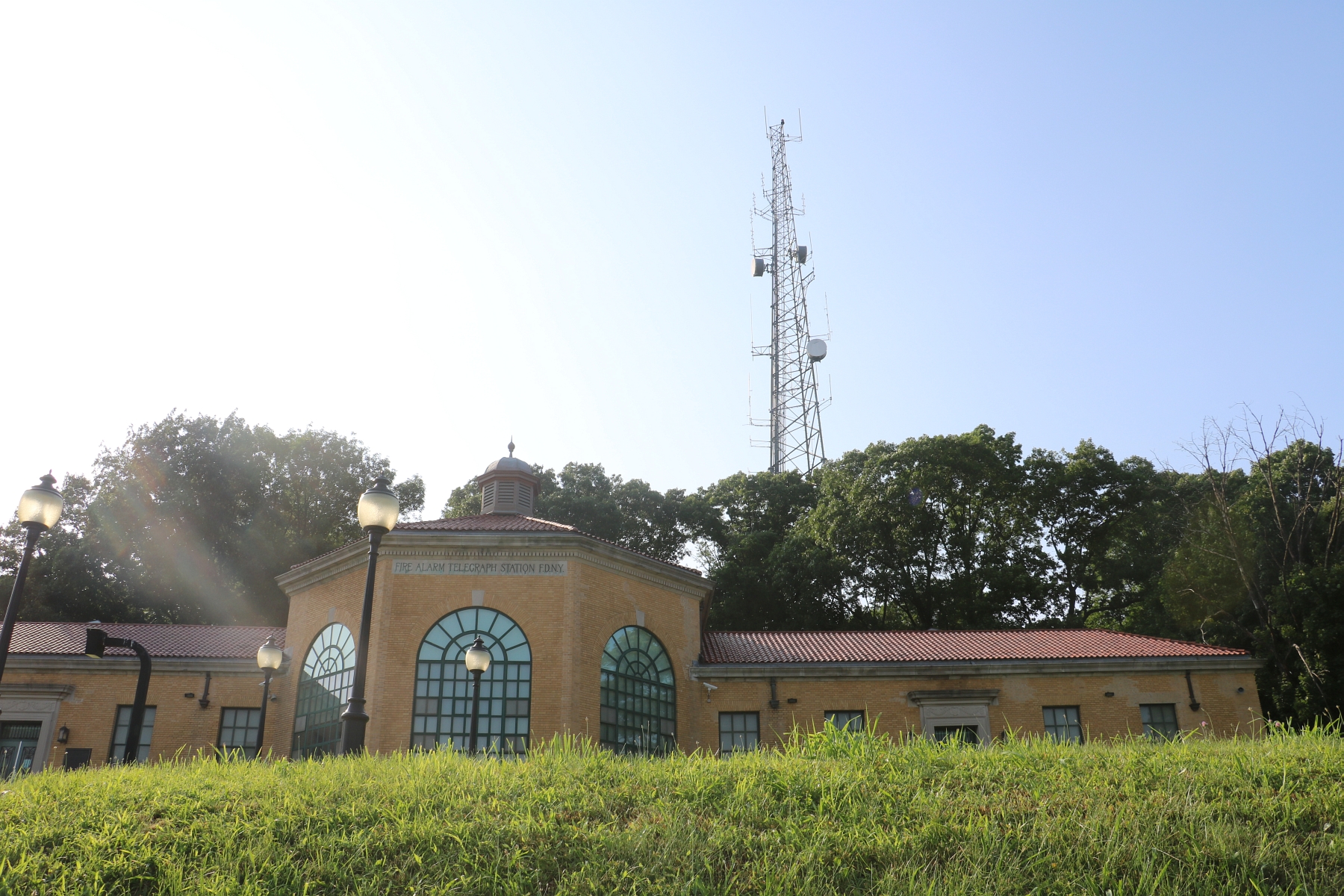 Here's a closeup. We have a stronger lens which we'll bring along next time to get an even closer view of her. She just sits up there, looking over Woodhaven - sort of like Batman.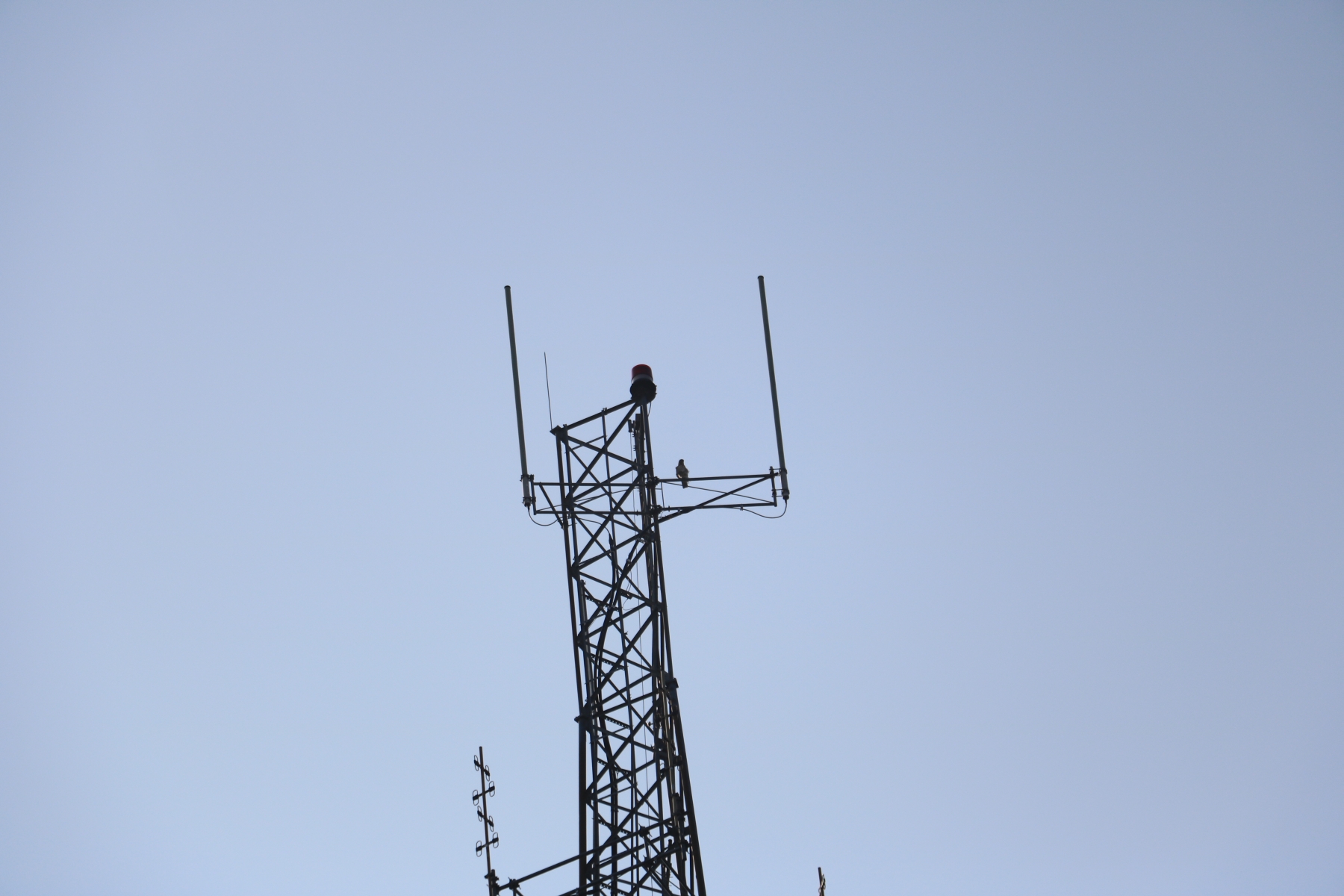 The boulevard - subject to so much recent controversy - quiet on a hot, humid late Saturday afternoon. If the proposed Select Bus Service plans go through, there would be two dedicated bus-only lanes going down the center of Woodhaven Boulevard. As you would expect, this has been the subject of ongoing controversy. But for this moment, enjoy a quiet, wide-open boulevard.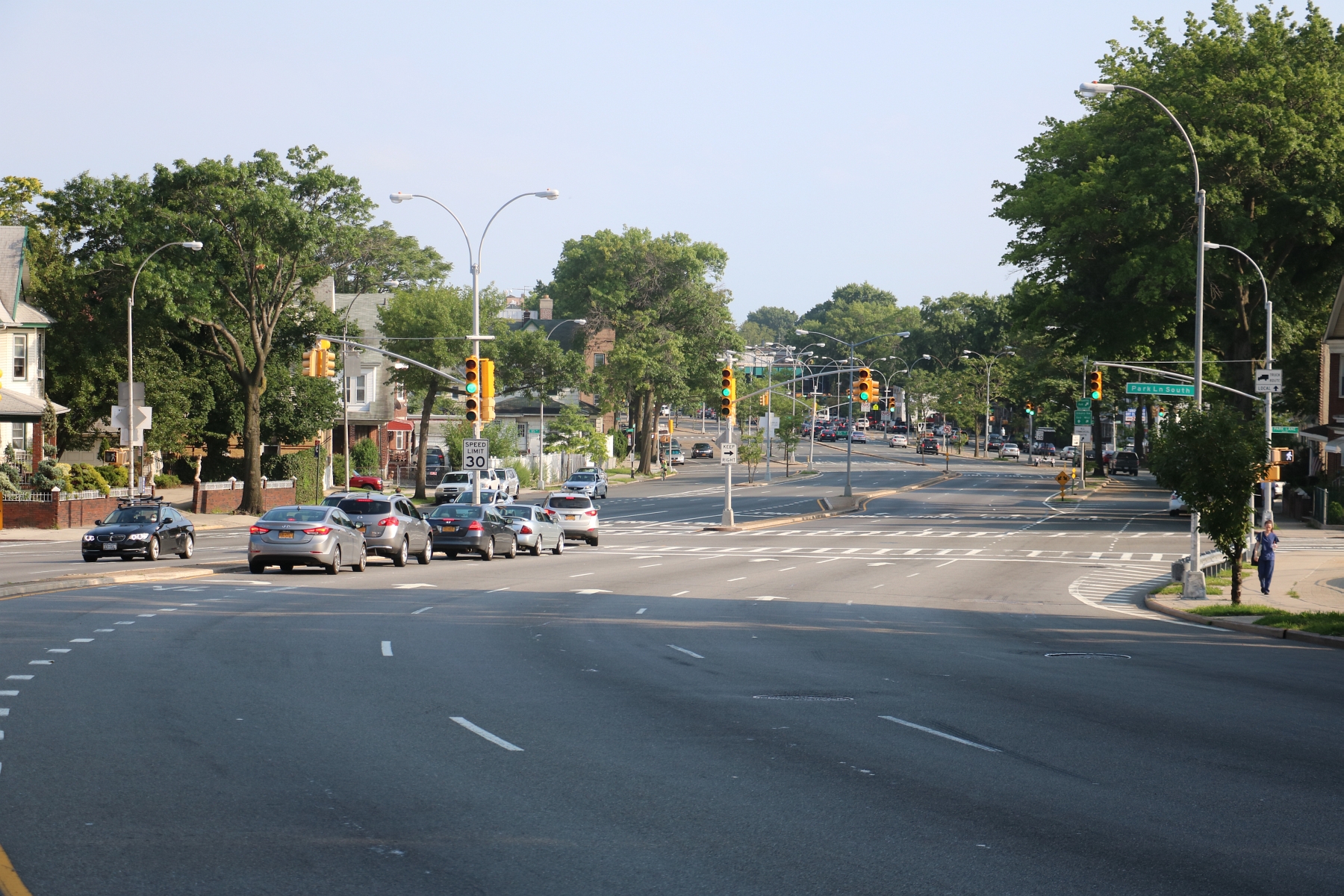 The view from Forest Park Drive -- you can see the stands at Aqueduct Racetrack quite clearly from here. There are some spectacular views from certain spots in Forest Park.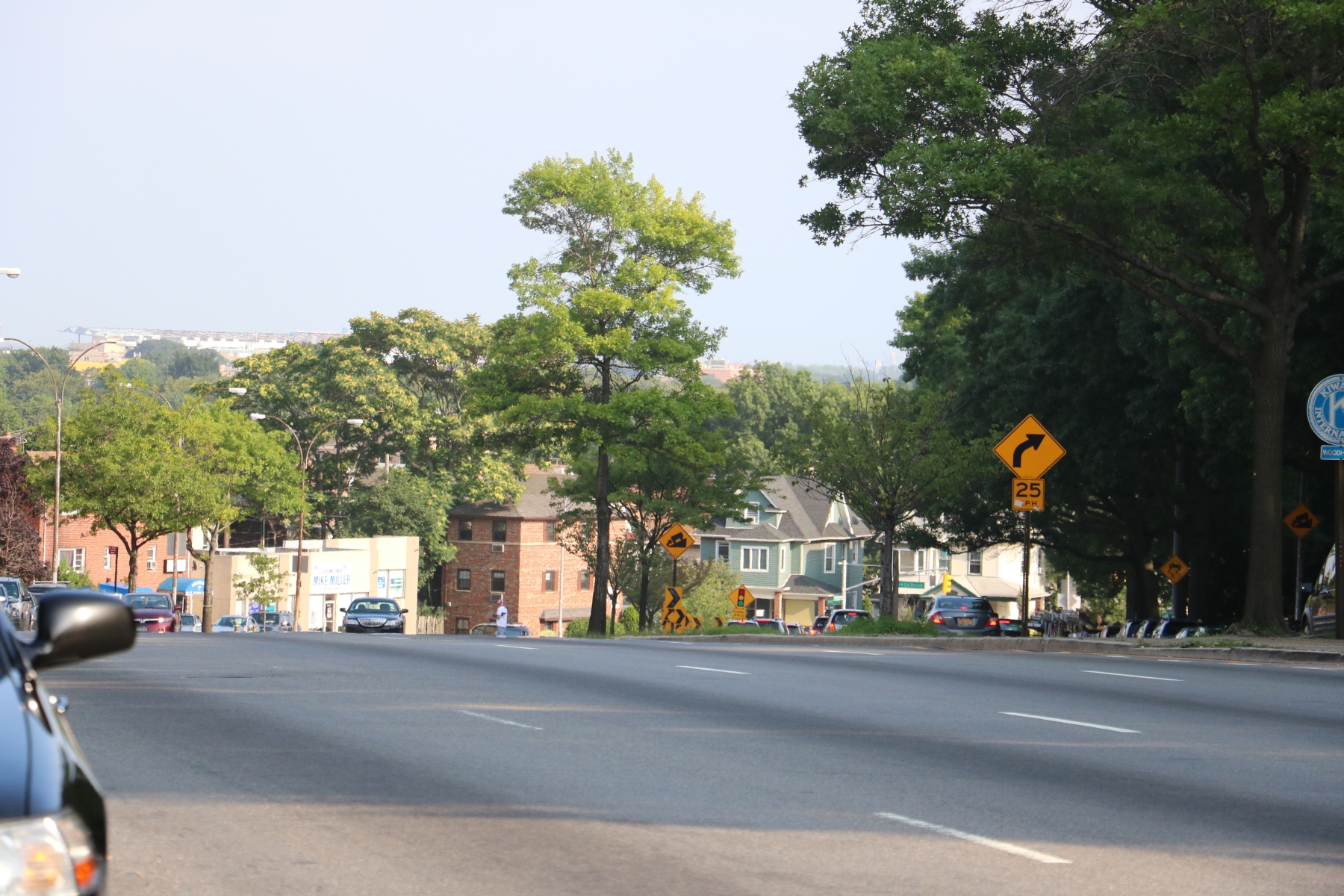 The sun was starting to go down, but we had about 2 hours of light left. This is a really nice time of day at the park - you get a lot of beautiful shadows and burst of sunlight. With all of the grass and green leaves and trees - lots of pretty views this time of day. It was pretty hot and humid on Saturday, so the healthy amount of shade was welcome.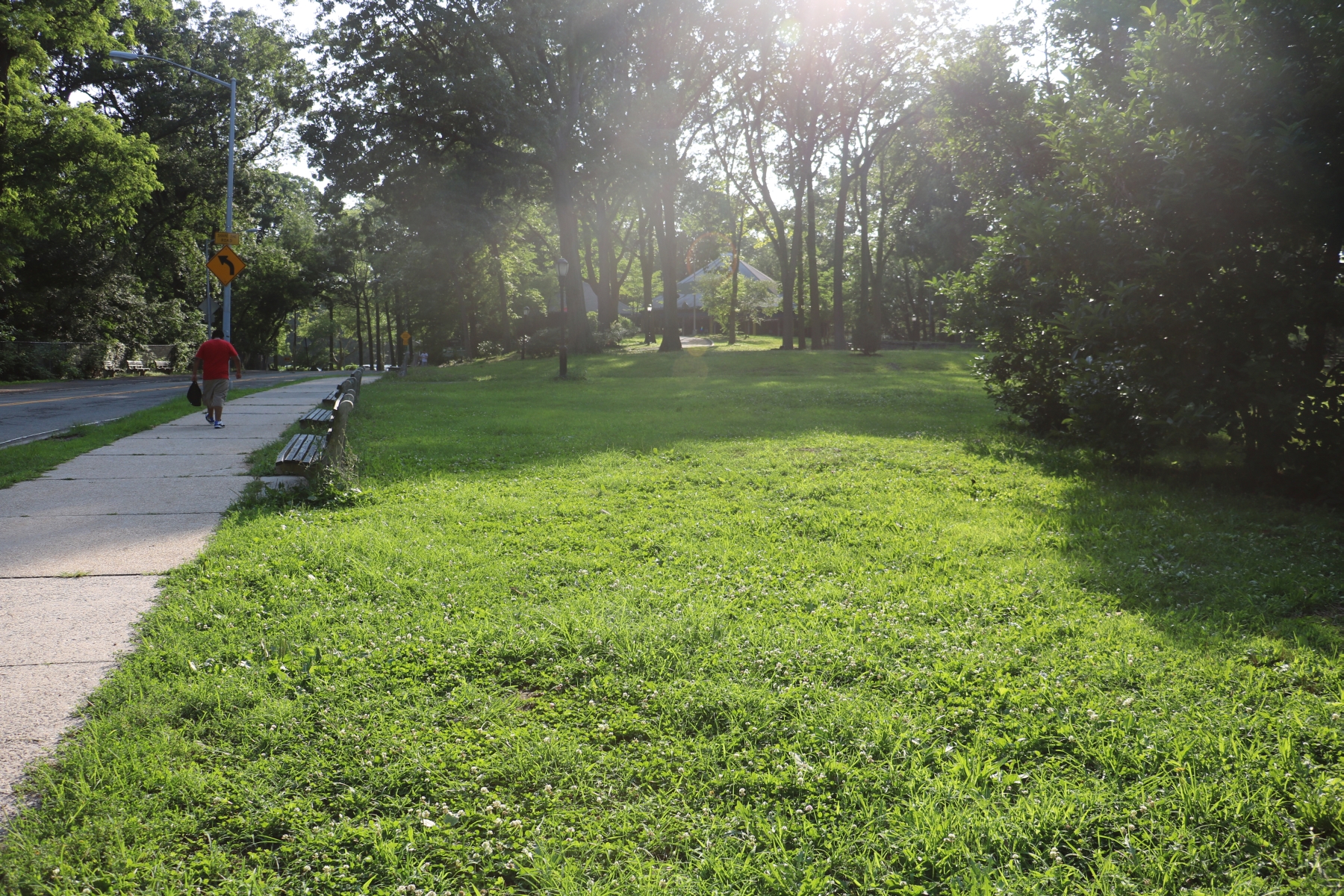 Forest Park Drive on the other side of the boulevard is closed to automobile traffic. On this side of the boulevard, however, cars and bicycles and joggers and walkers all have to share the road. That would be an easier task if the road itself wasn't it poor shape and in need of repaving.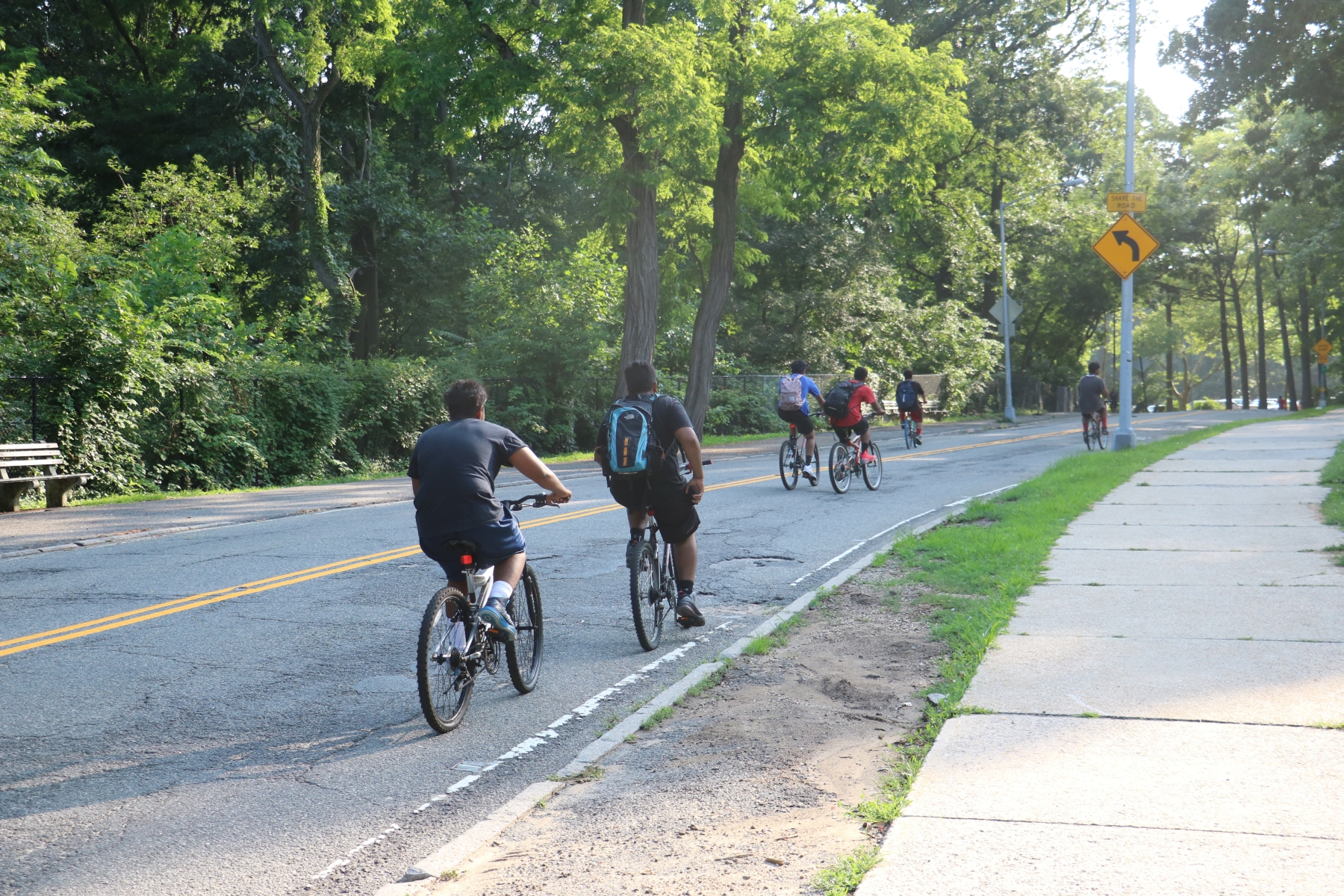 A closer look at the Forest Park Carousel. This is as close as we get to the carousel on this day -- but if you want to see a really interesting view of the carousel, check out our report on the rebuilding of this New York City landmark over the past winter.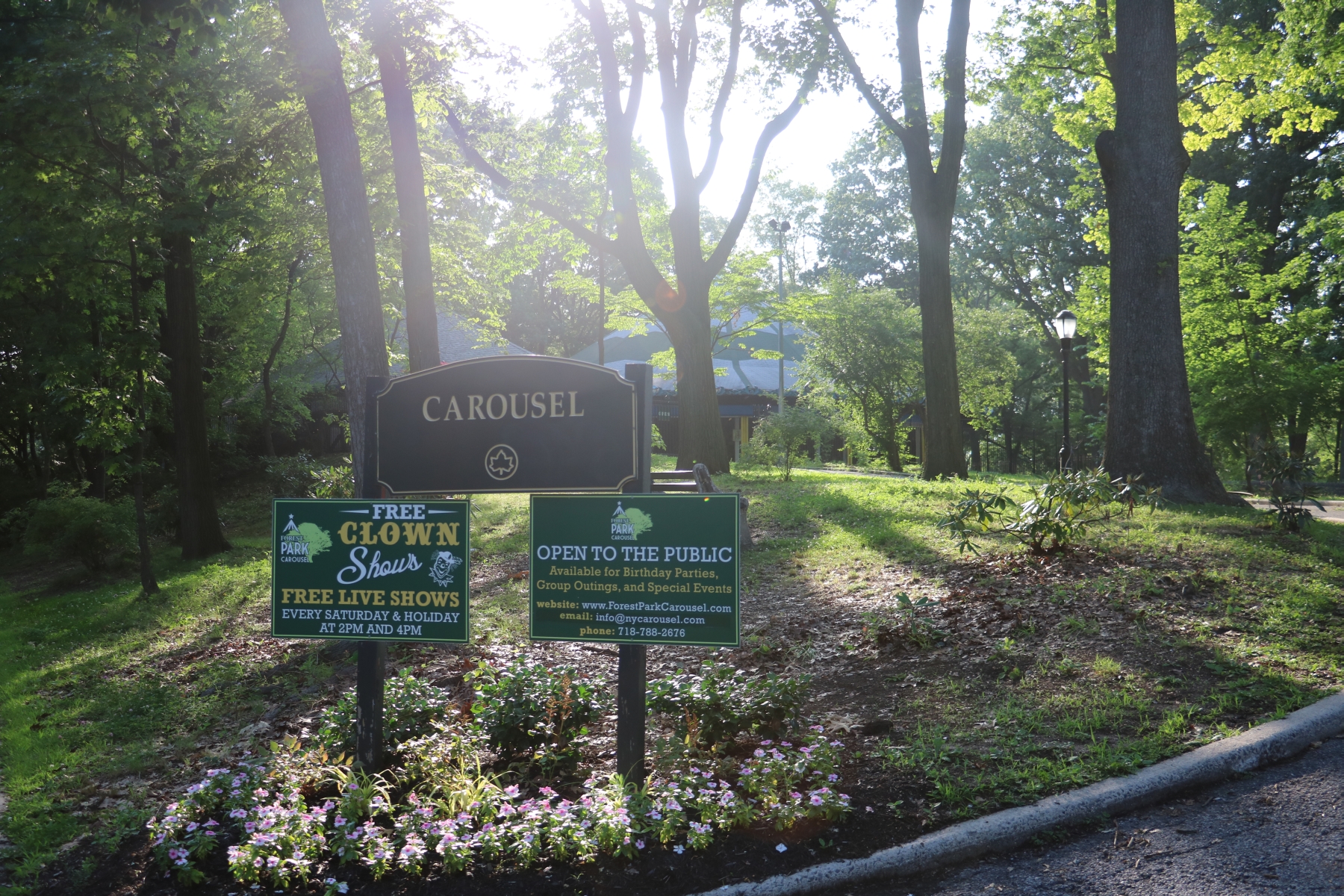 Another iconic location in Forest Park, the Seuffert Bandshell. We've been doing a little research and found out a little bit more about the man who the bandshell was originally dedicated to back in the 1920s (when it was more commonly referred to as a bandstand). His name was Harry Tourte - and today his name is nowhere to be found.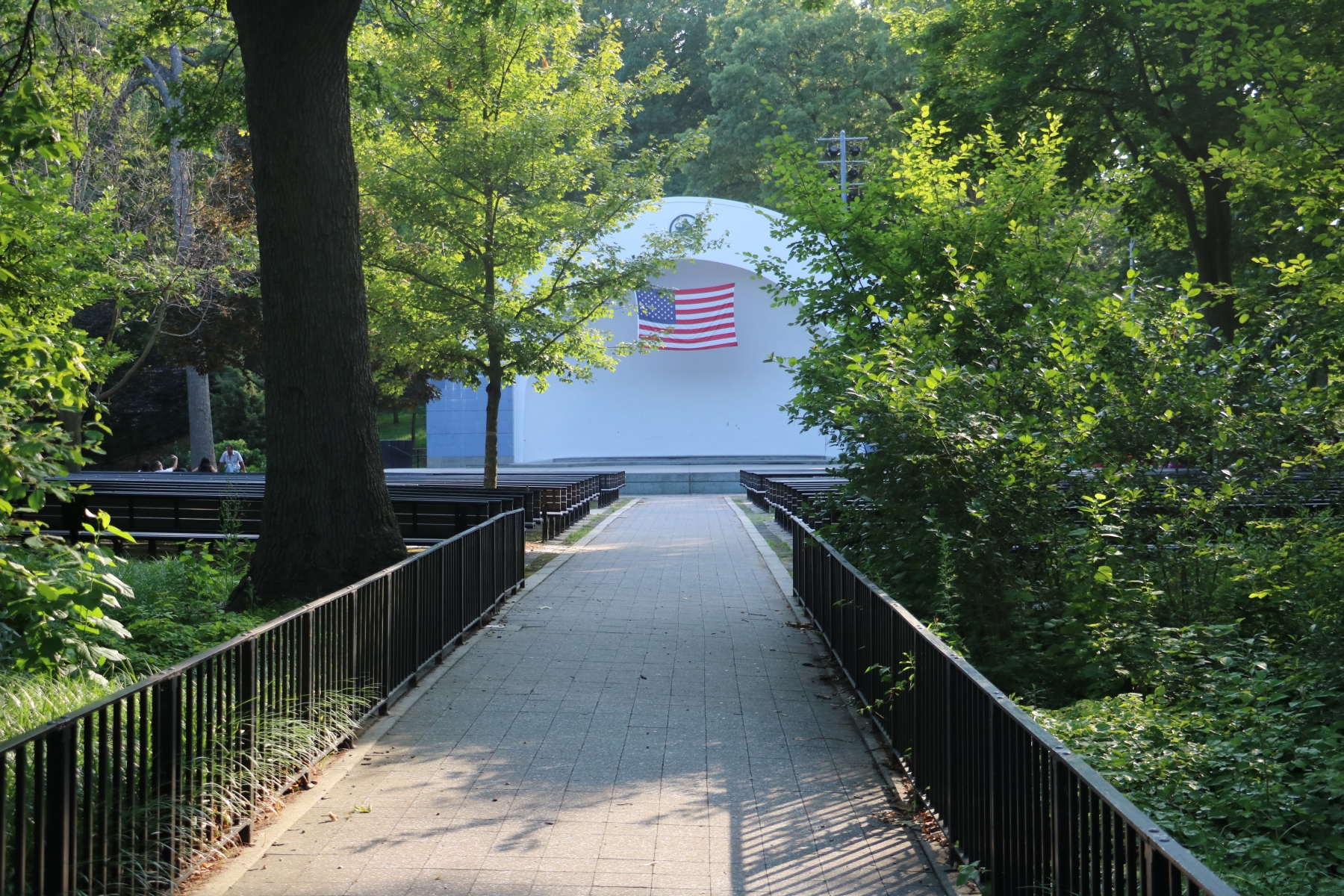 These girls were having a great time playing ball. I couldn't figure out the rules - I think they might have been making them up as they go, but they were having a great time! The bandshell was empty on this afternoon, but gets crowded when there's a show. Click here to view the Woodhaven Community Calendar which includes all the concerts in the park.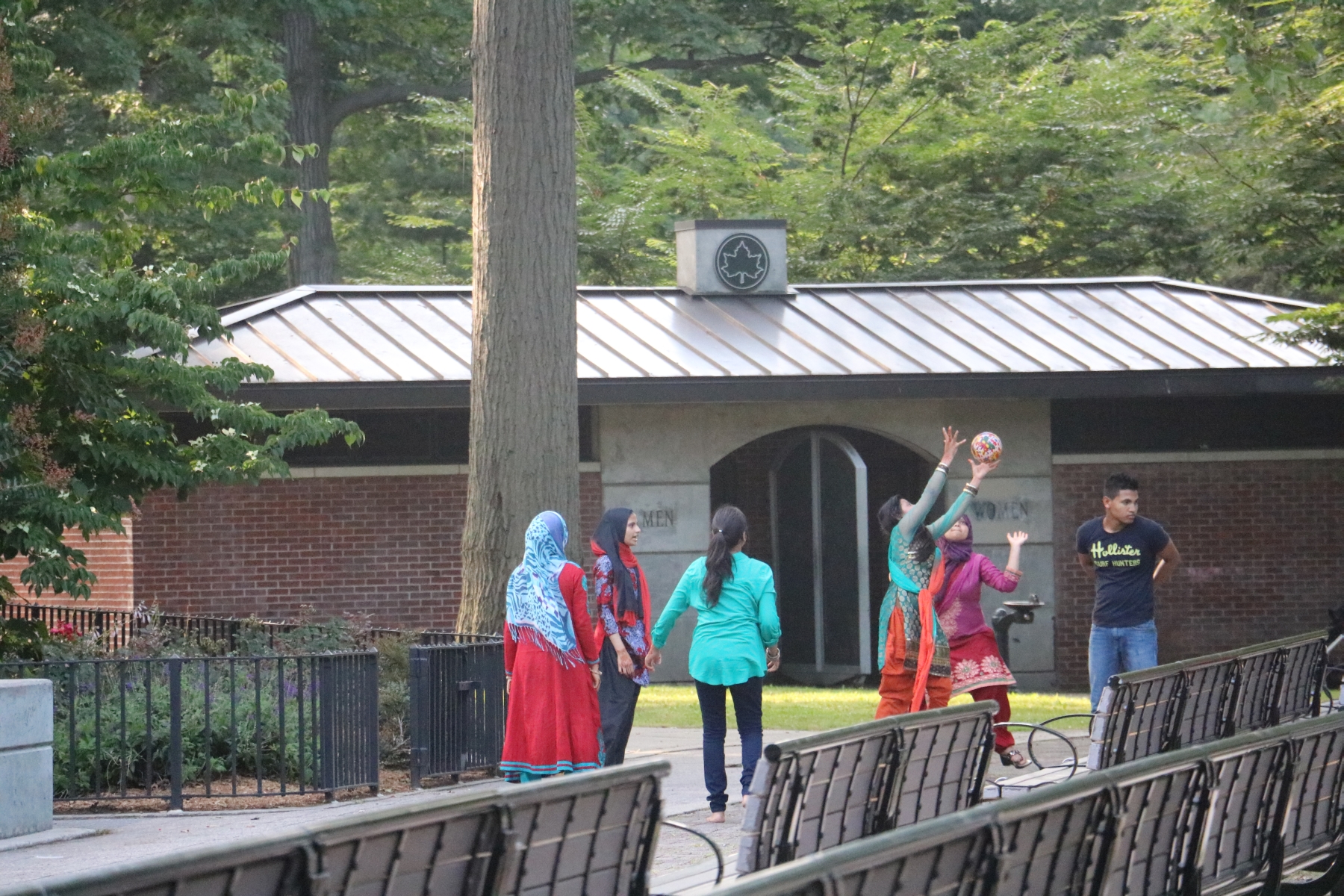 The staircase leading the way out of the Seuffert Bandshell -- and across the street, another staircase, this one without railings of any kind. Beyond those steps is Baby Carriage lane leading to the tennis courts and Park Lane South. Being those steps are right next to an active road, there should be handrails.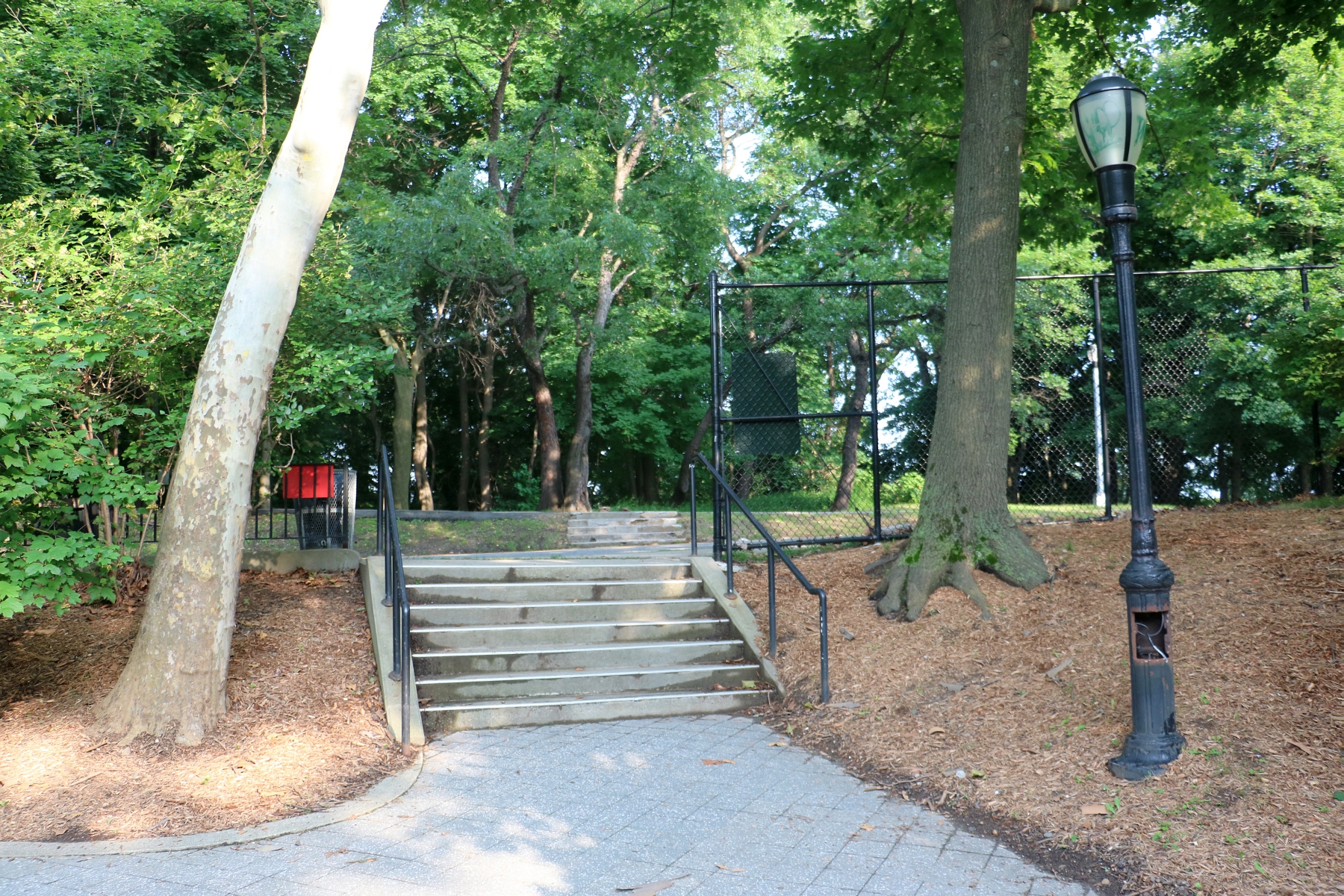 This is the start of my favorite part of the walk through Forest Park Drive -- or as the sign proclaims, the Brooklyn / Queens NYC GreenWay -- or as I like call it, the Queens GreenWay. Whatever you call it, the city needs to allocate more funding and resources to it. The roads are a mess and the sidewalks much worse. The lighting is better than it was, but there was a time when we were fighting DOT just to keep the lights on. You can read more on the Queens GreenWay here.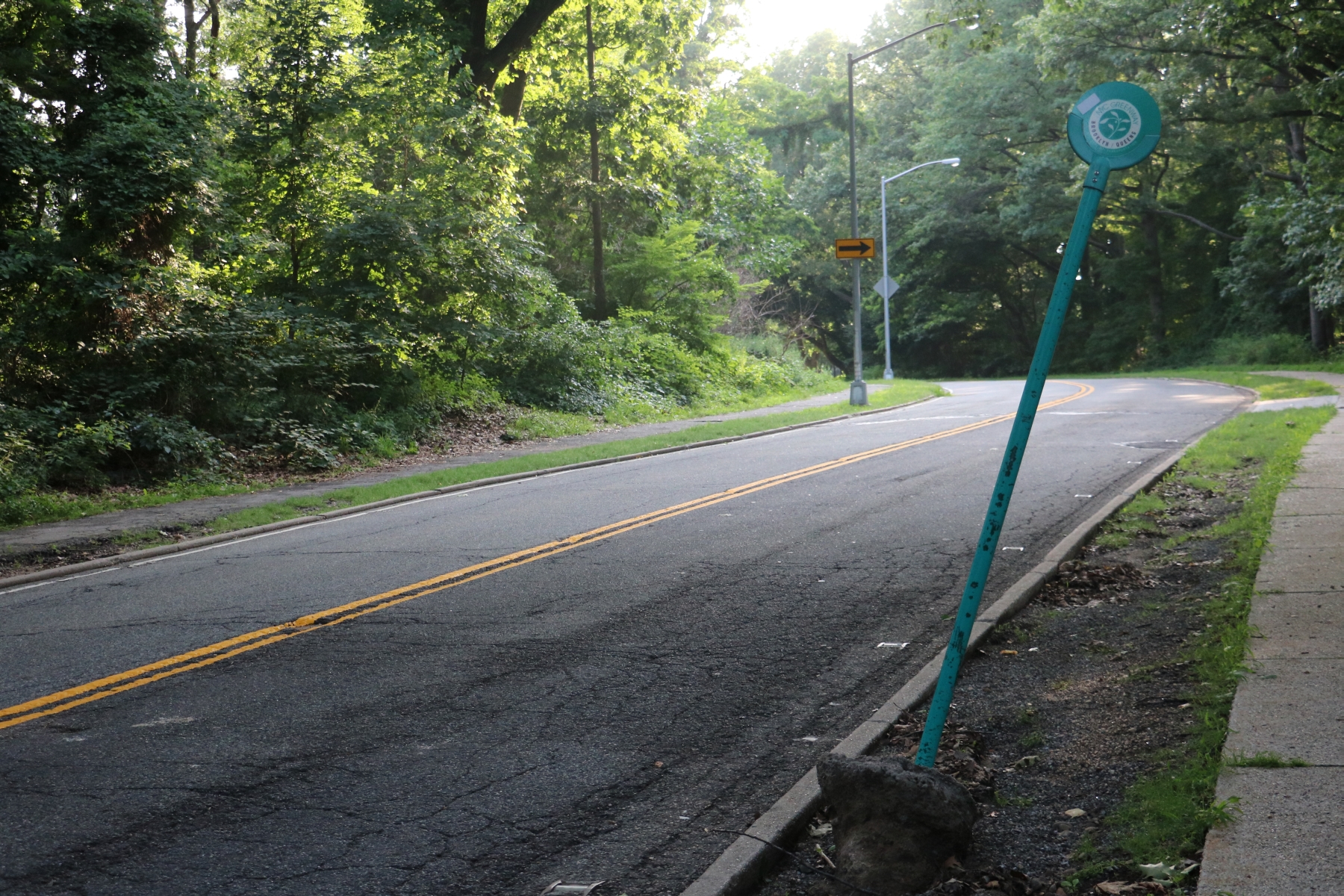 The little road behind the Seuffert Bandshell - this was part of a recent renovation. I like how the road wiggles away from that tree just a little bit.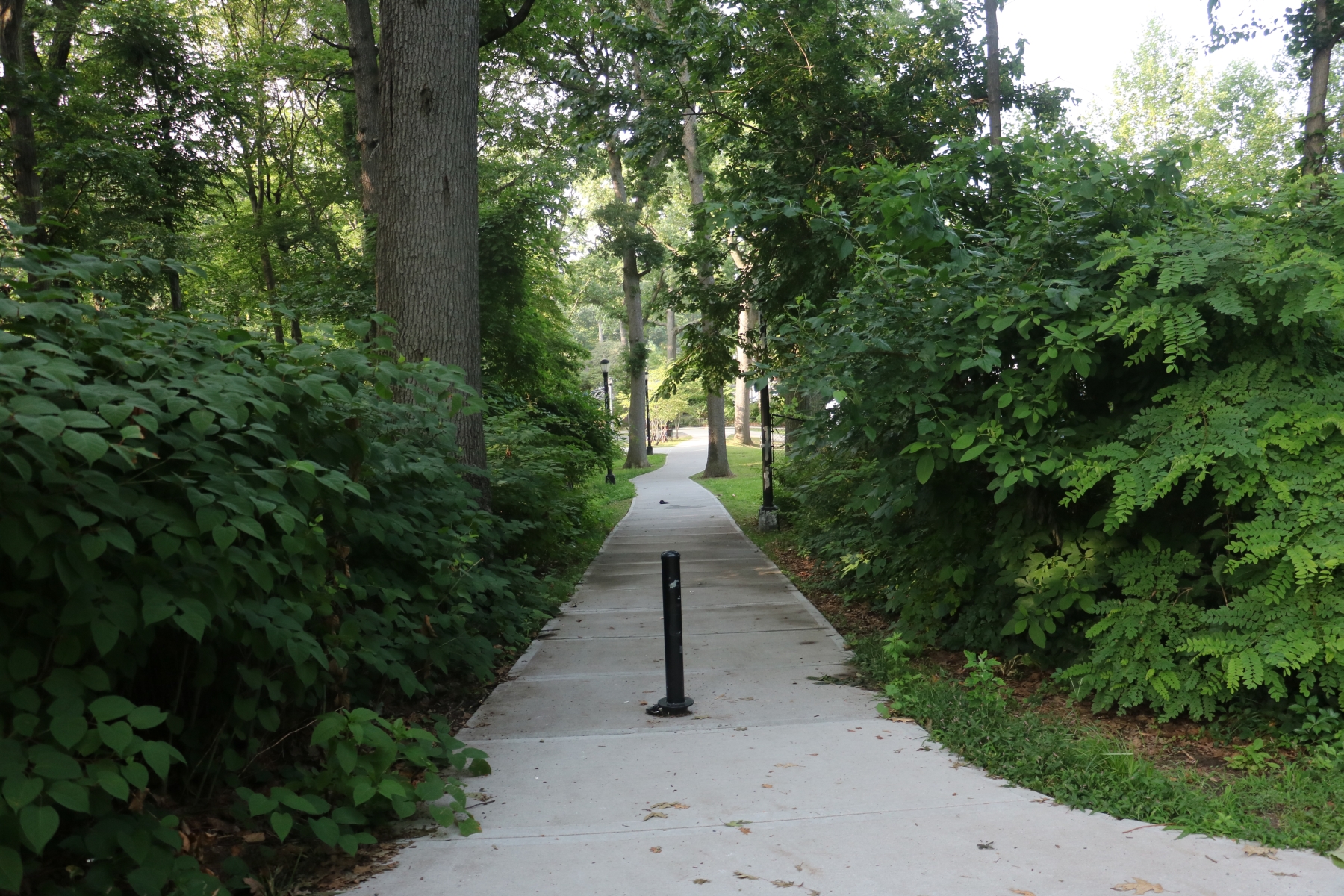 The Queens GreenWay is a nice walk at this time of night - just watch your step! See that tree on the right? That used to be a part of a pair -- but its twin fell down a few months ago. You can see all the earth near the curb; they just removed the massive stump recently.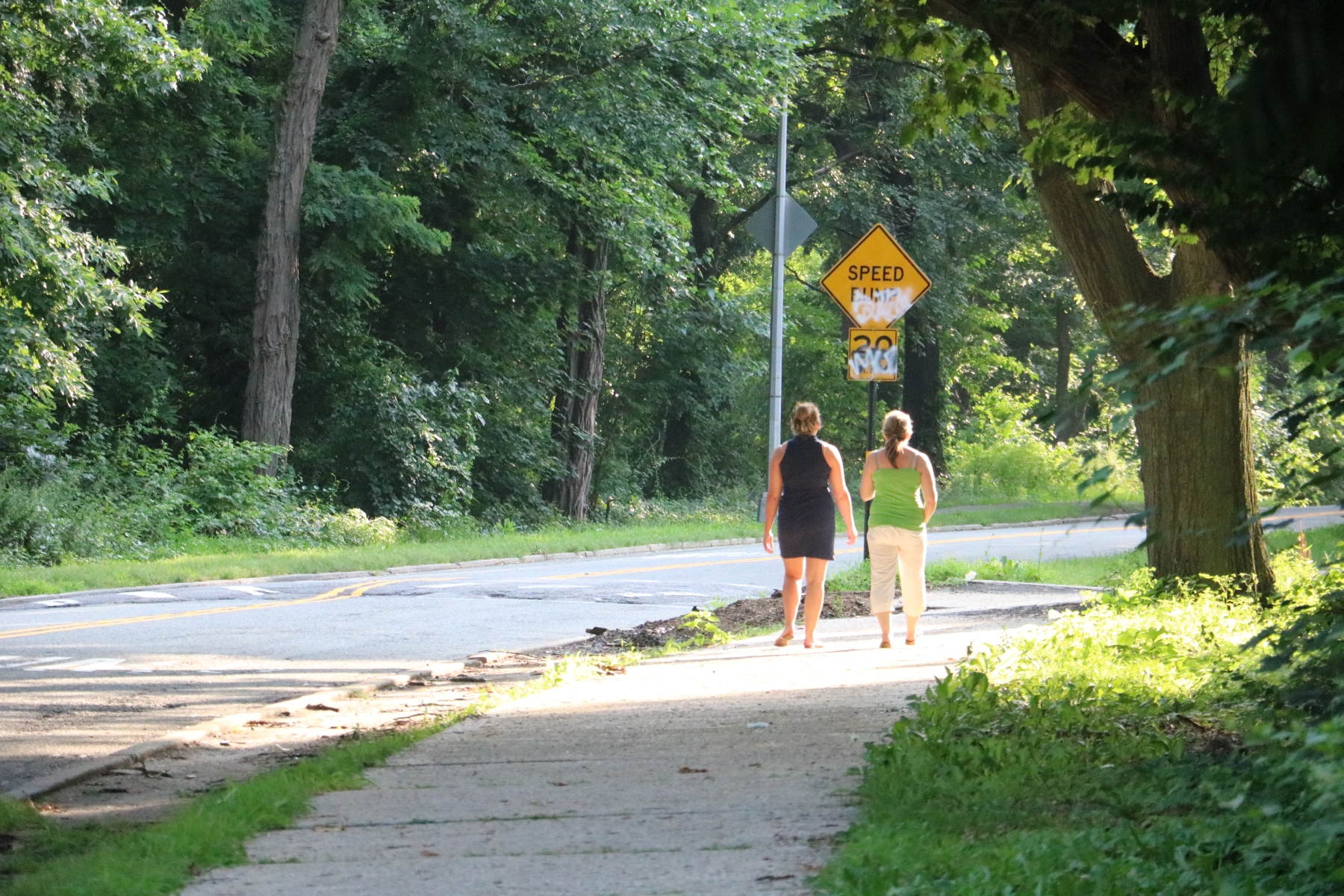 The golf course. I would like to walk around inside taking pictures - it really is beautiful. This hill is one of my favorites for two reasons. One, if you come by at sundown, at just the right moment, the top of this little hill is bright with sunlight while the sides of the hill are dark. It's pretty spectacular - I will make it a point to wait for that picture soon. The other reason is that when I was a really young kid, this was my favorite hill to slide down in the winter. Some kids liked the big hills - I was too chicken for them, this one was my speed! Plus, you didn't have to climb back up a big hill!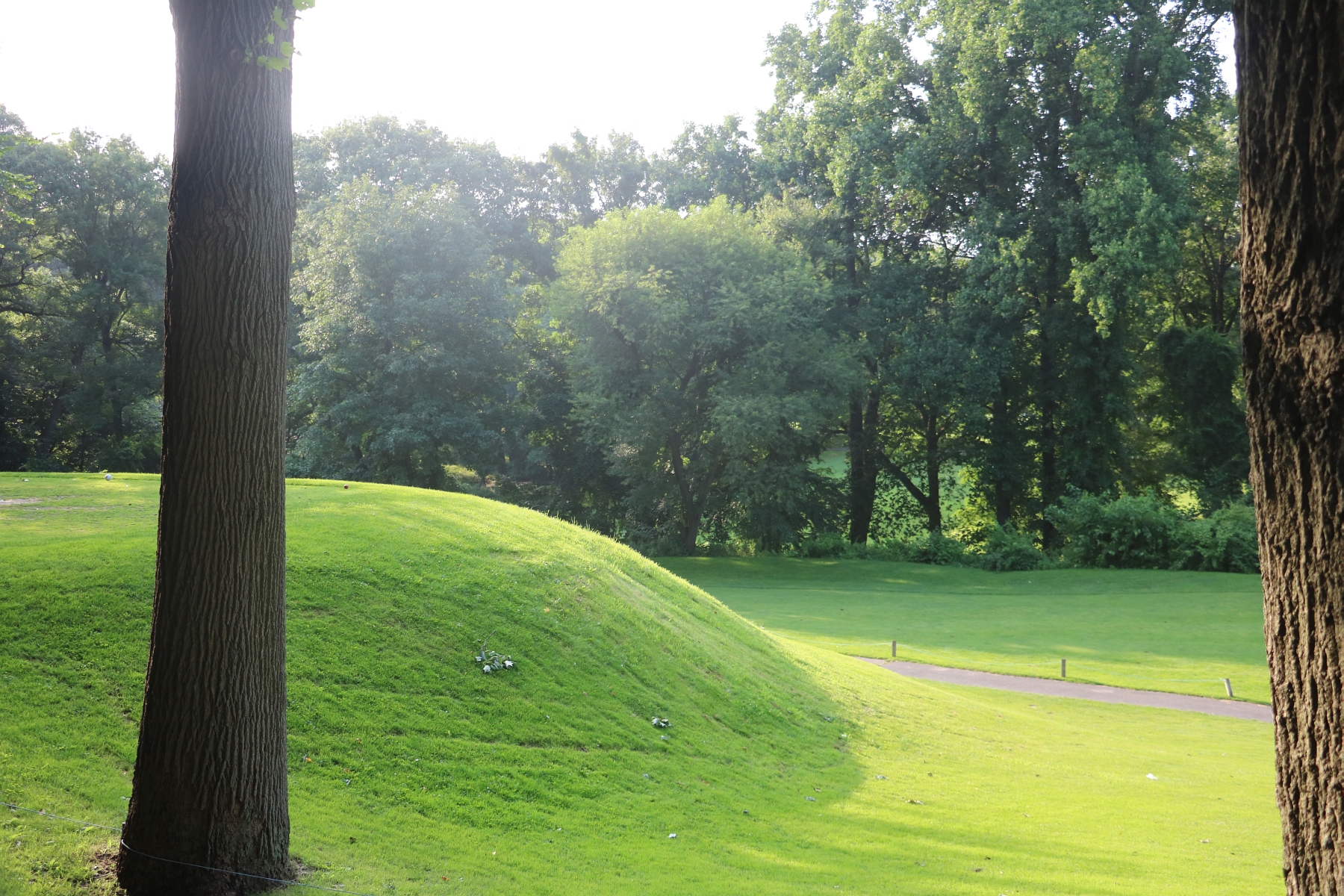 This looks like the golfer brought up a lot of big divots with his swing - but it's just little spots of sunlight peeking through on the bushes and trees in the background.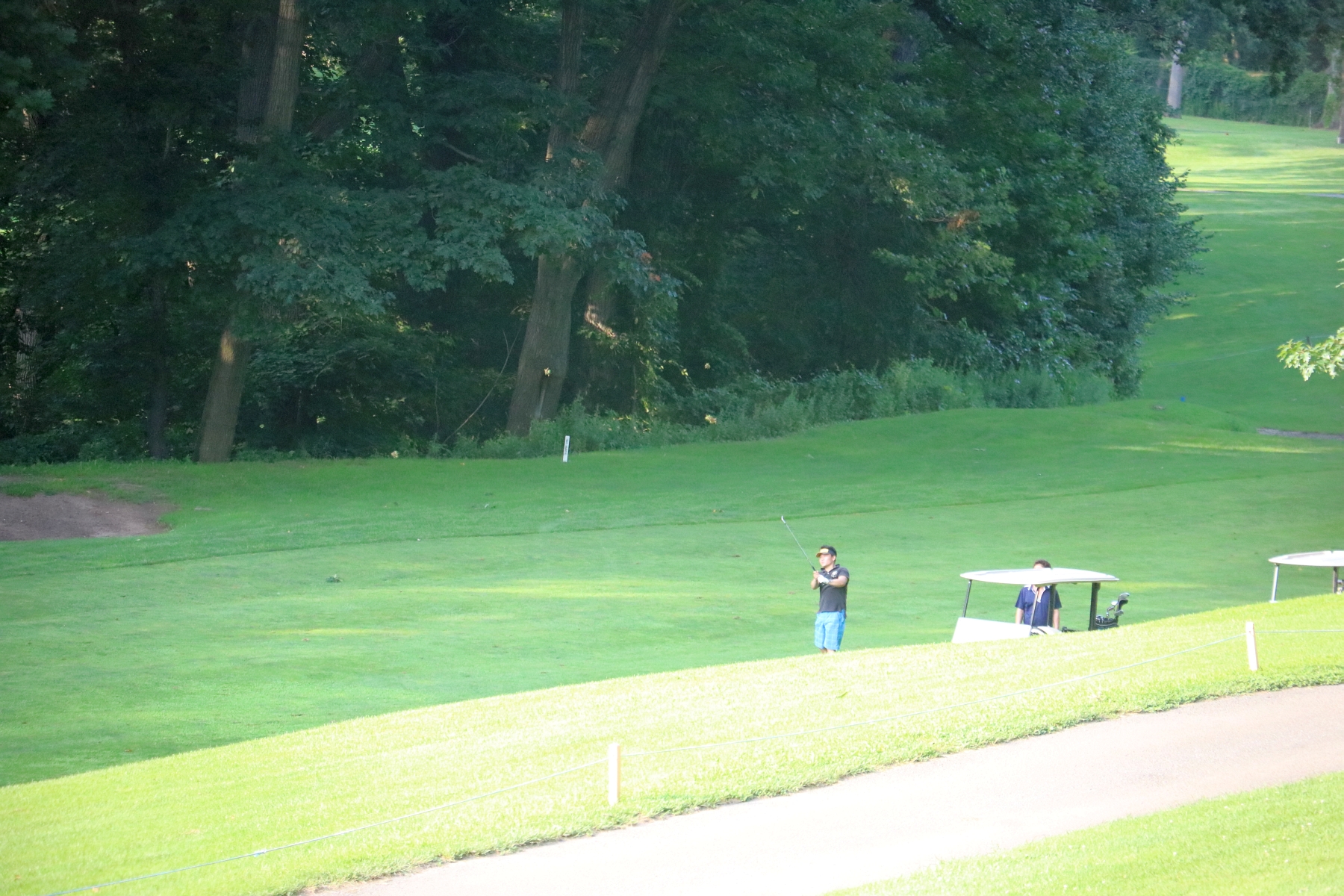 You get people of all ages walking through the park. Or in this case, skateboarding.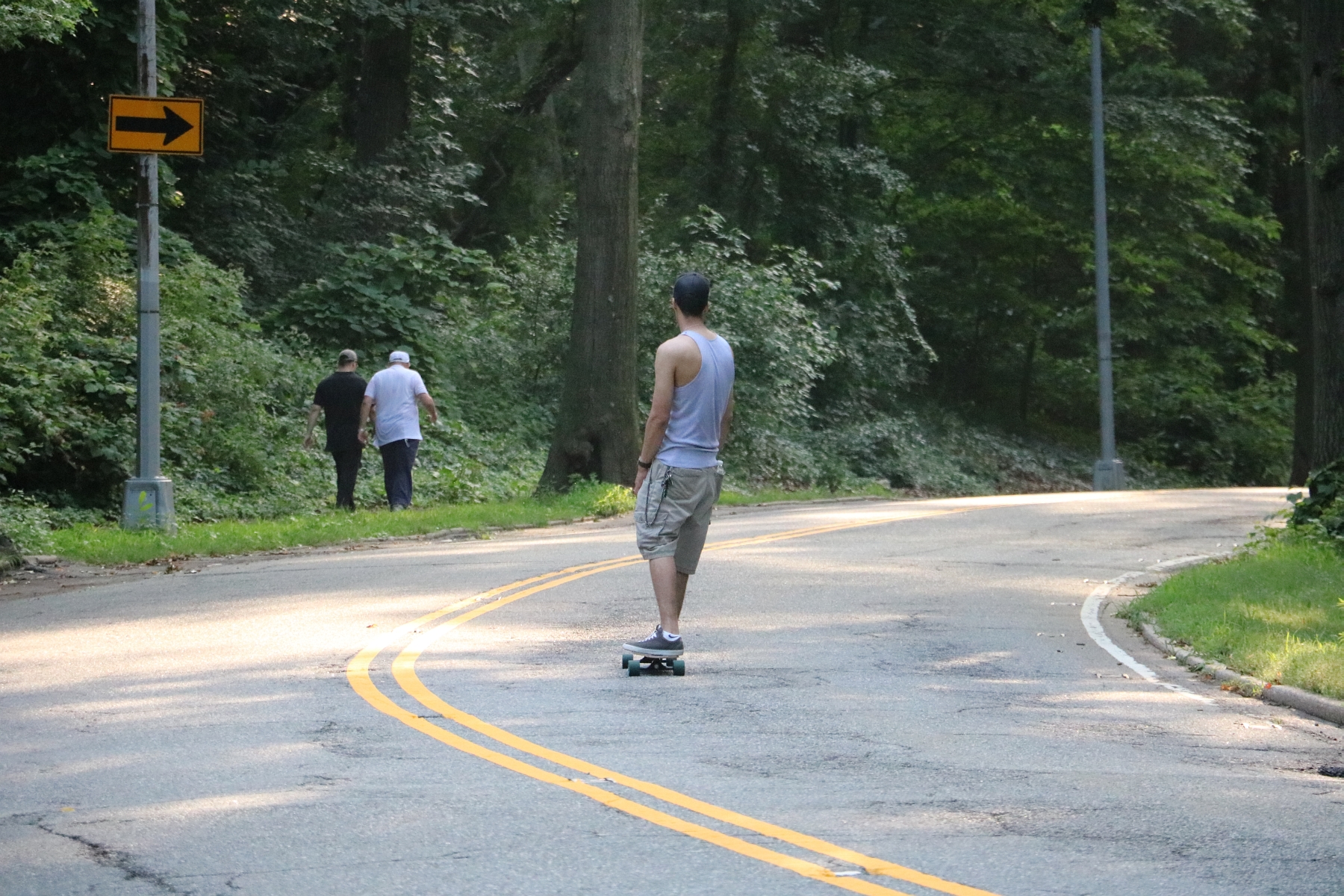 The World War 1 Memorial Trees of Forest Park. Since their rediscovery, we have taken extra pleasure walking this section of the park.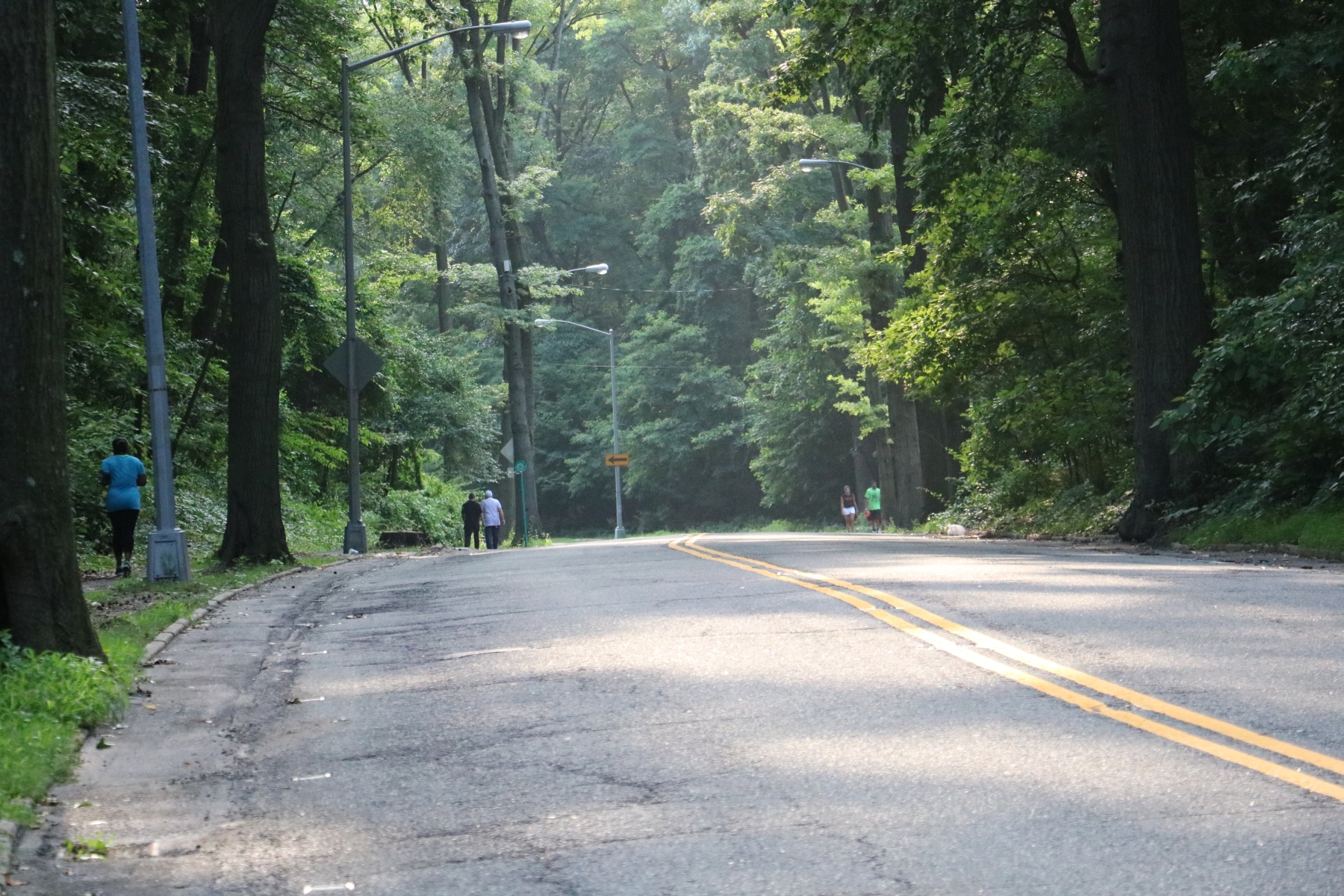 For those who might have missed it, here's a little background on the Memorial Trees of Forest Park - something special that had been forgotten until rediscovered by the Woodhaven Cultural & Historical Society last year.
This is a nice, peaceful section of the walk -- we hope that in years to come, the sidewalks will be fixed, trees planted to replace those that have fallen, and a nice sign explaining their significance be erected. The 100th anniversary of their planting is just a few years away.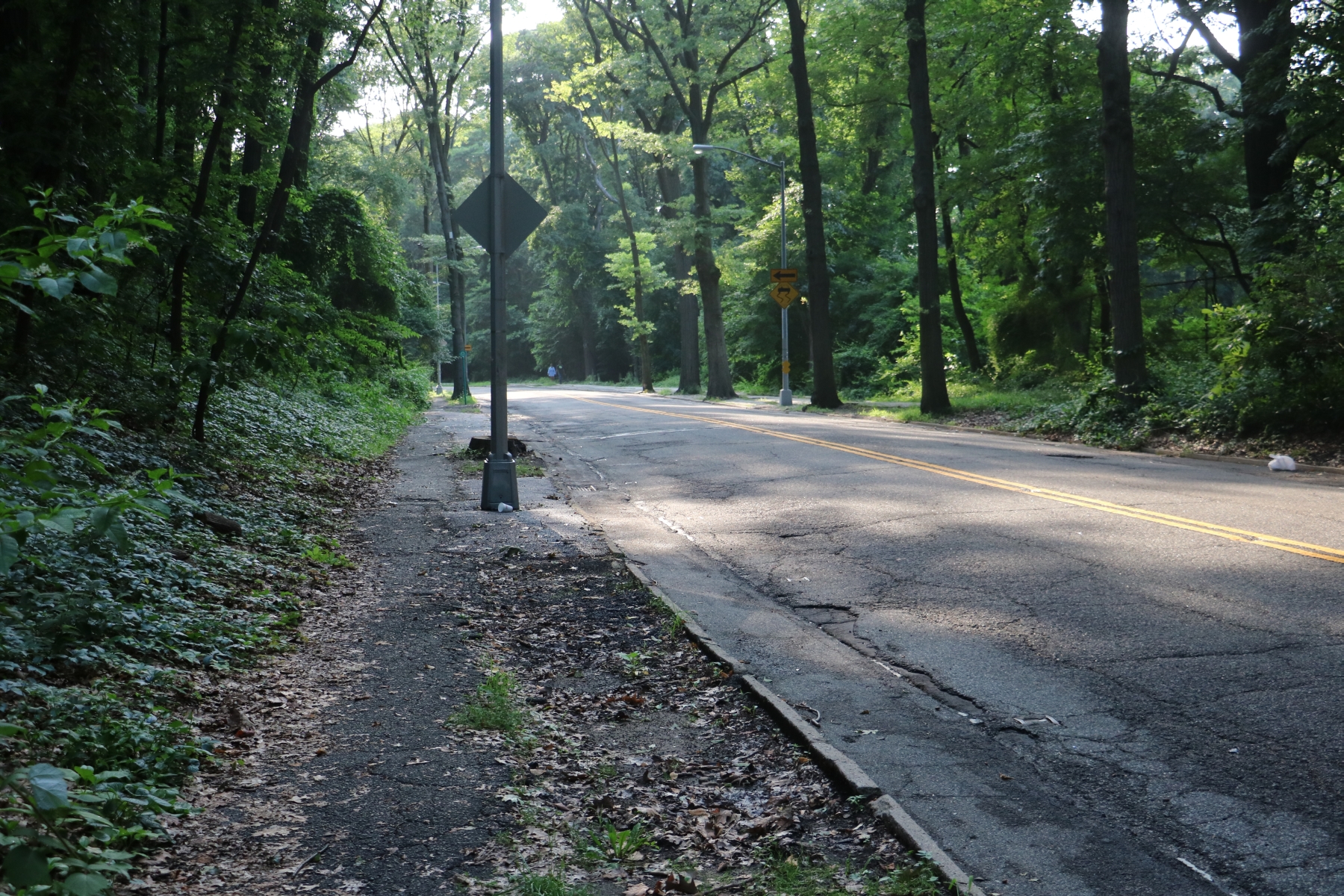 The Queens GreenWay sign --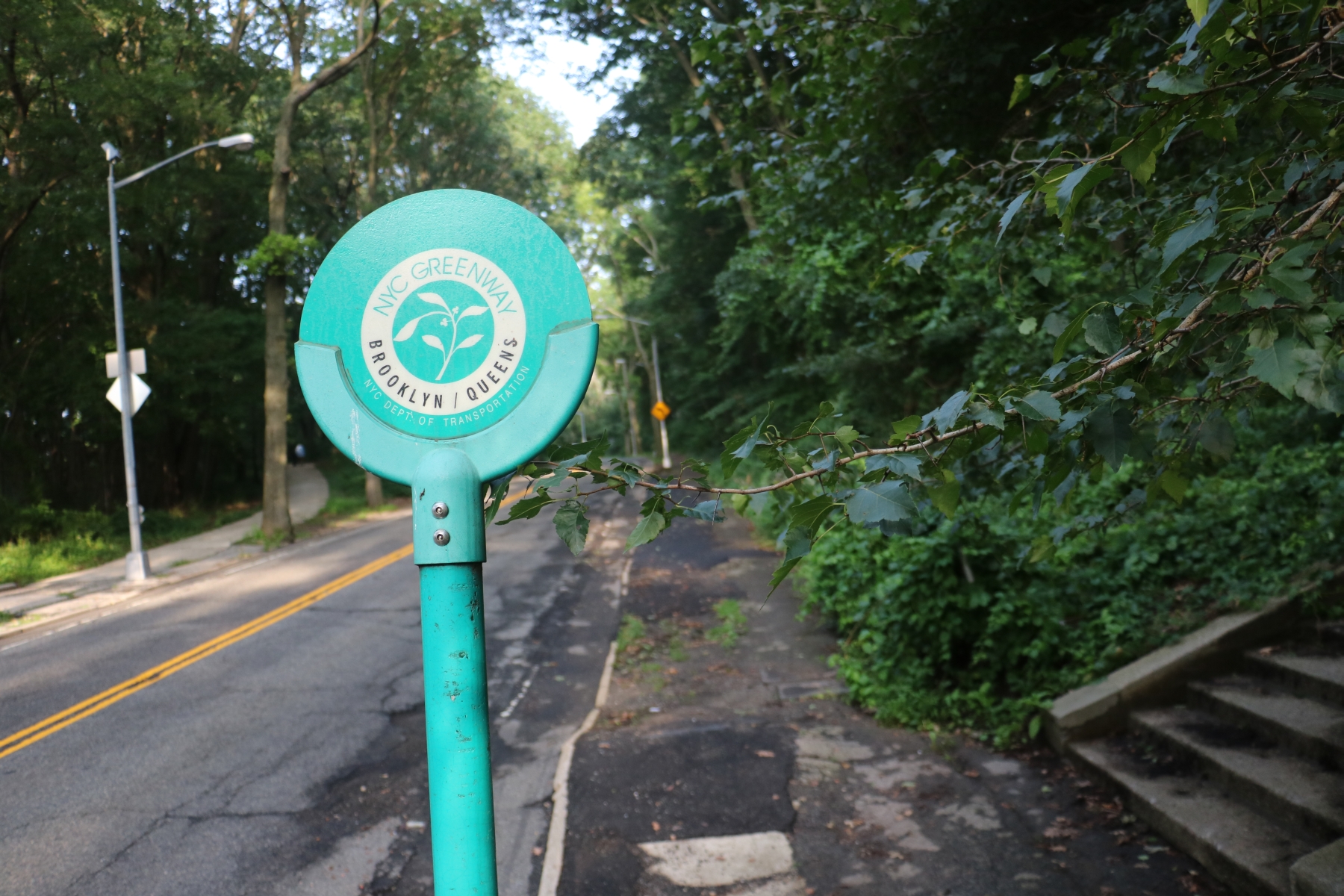 These potholes are dangerous to motorists, bicyclists and joggers alike -- DOT has done a lousy job in Forest Park, between the lights and the roadway, and our complaints drew the attention of WPIX's Greg Mocker.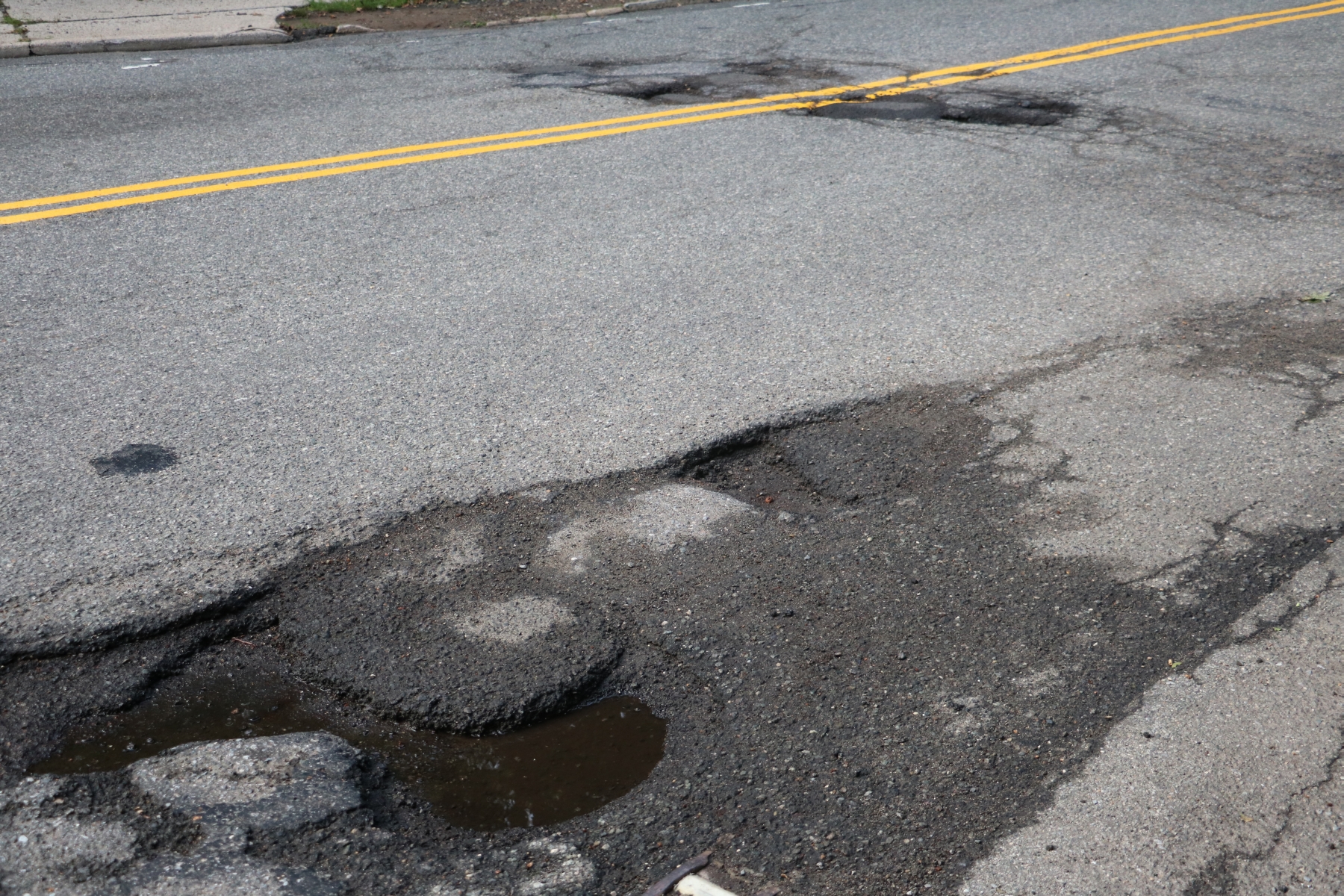 This is right near a turn in the road - look at how far cars go to avoid it, right into the other side of the road.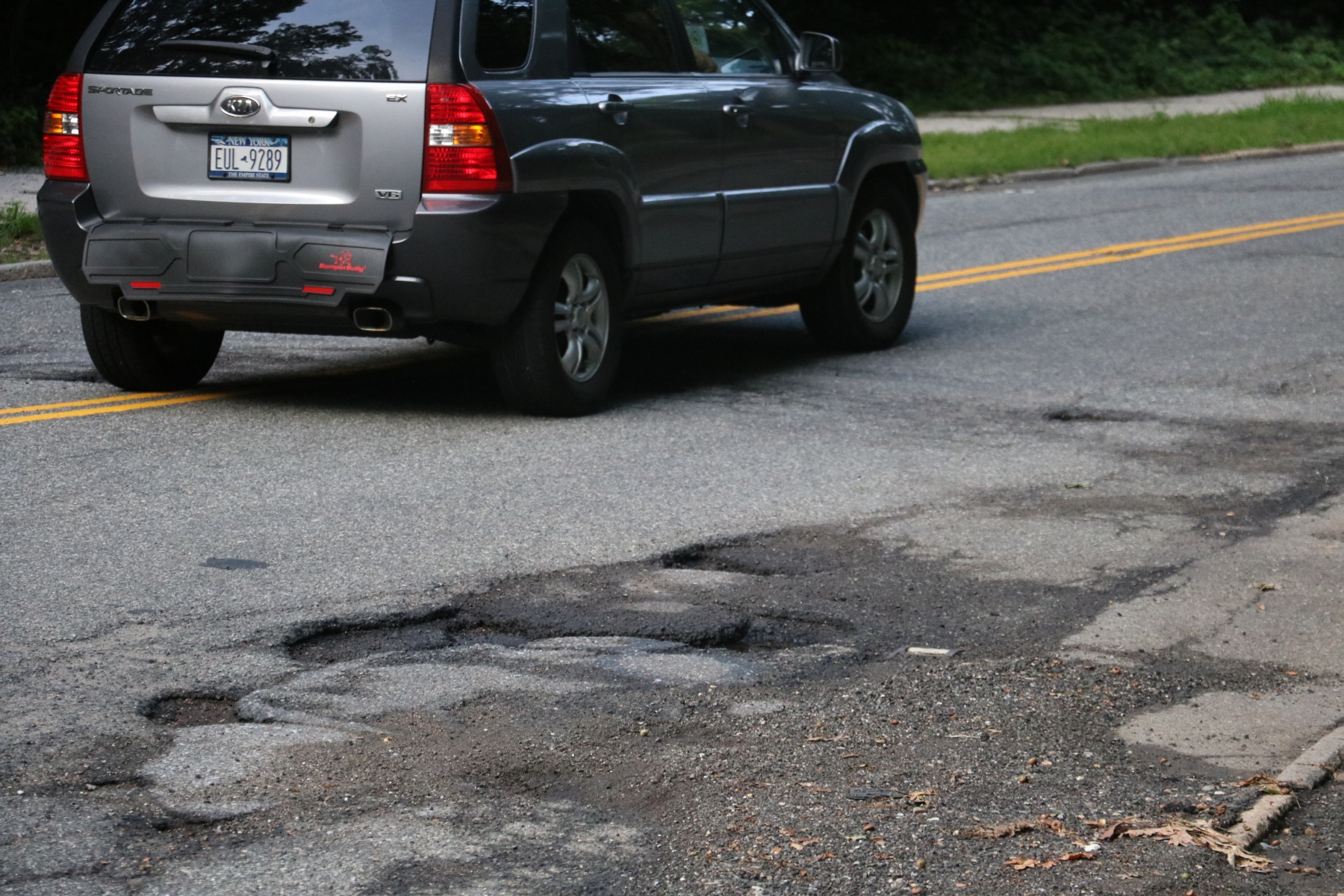 I like taking pictures of golfers through the fence - I don't know why. I've never gone golfing (unless you count the miniature kind). Would be nice if we had a miniature golf course in Forest Park - would make perfect sense, wouldn't it?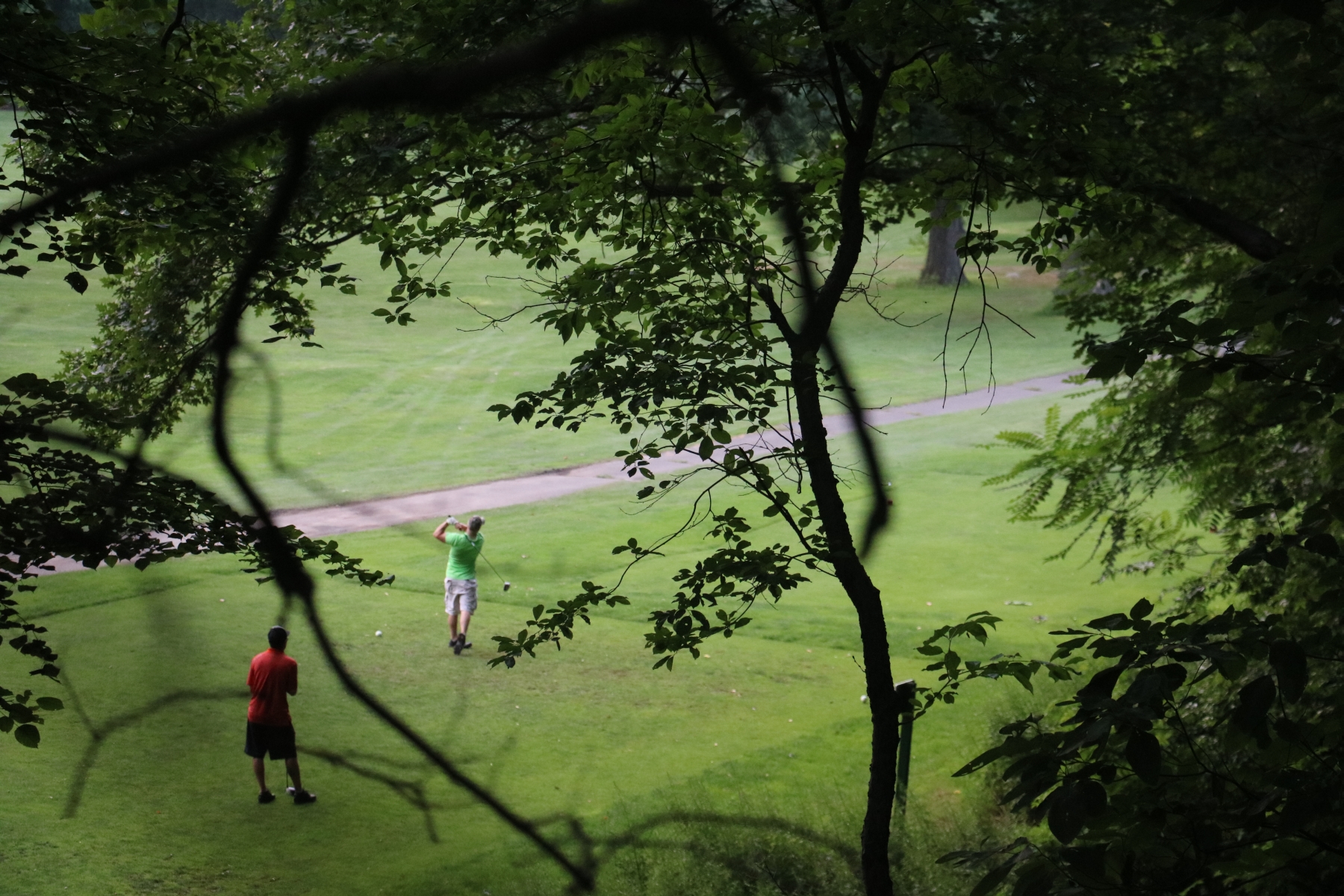 This is one crazy section of road - the entrance to the Jackie. You have cars coming off, cars going on, cars going left, cars going right, cars going straight through -- I'm surprised there aren't a lot of accidents here. The other day I was driving through here and me and another driver cut each other off. Not sure who was right or wrong, depends who you ask. He gave me the finger, I gave him the finger, and we went on with our lives.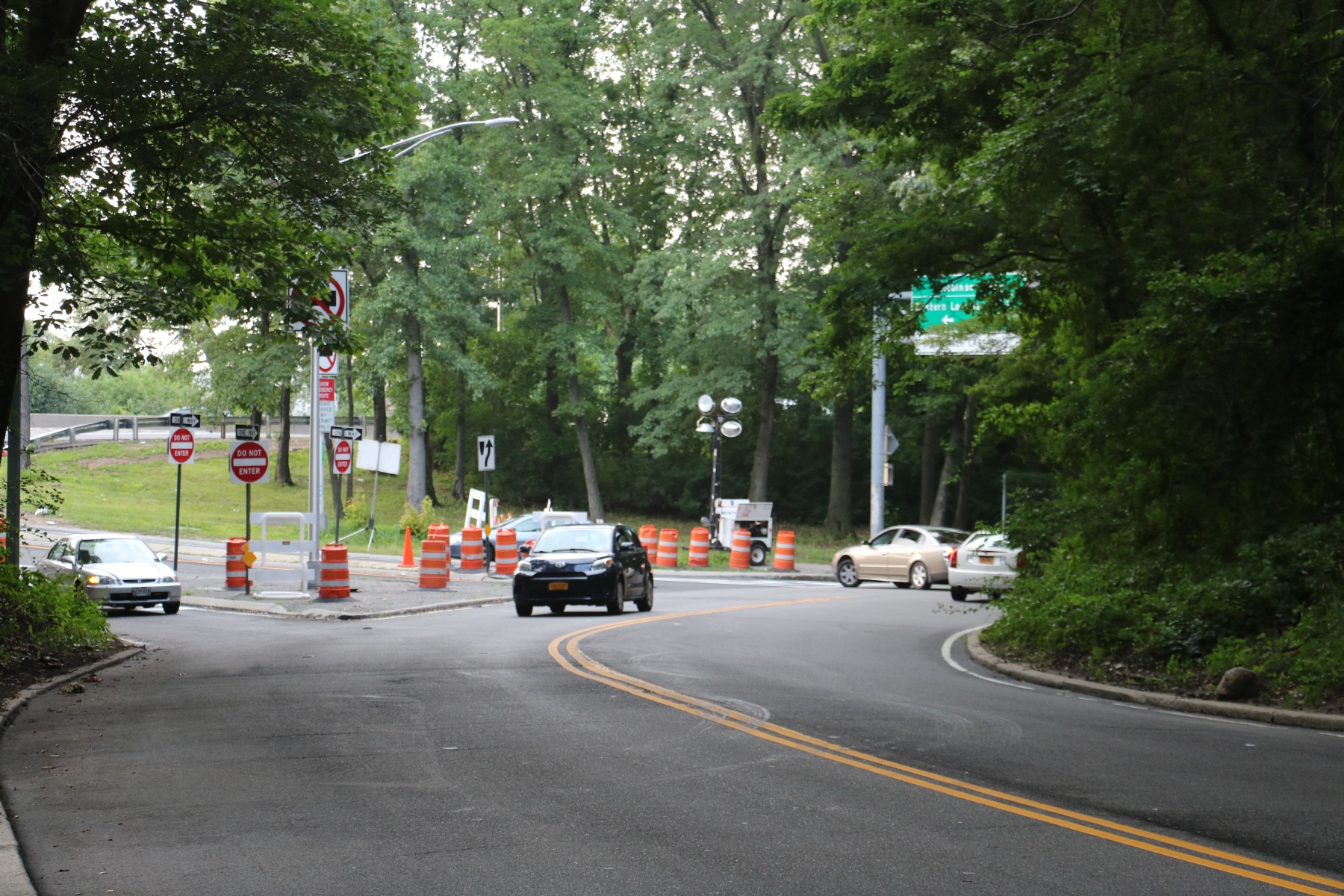 The model airplane field. I never see anyone using this. If it wasn't so close to the road maybe we could repurpose this land. It's the perfect size for a little league field for really small kids - but the location is no good for that. Does anyone ever use it? Are there any local groups that meet here?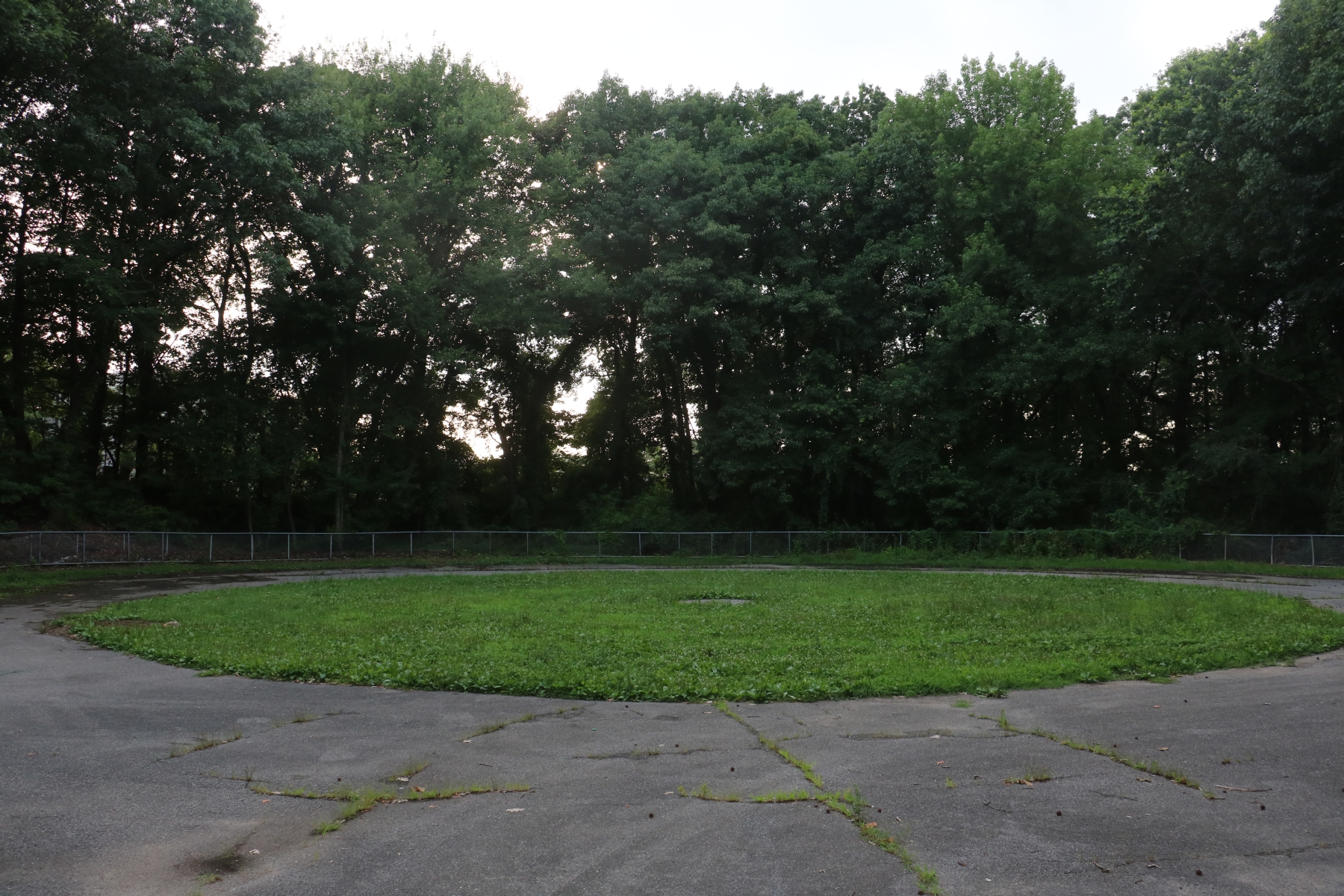 The sidewalk along Forest Park Drive leading to the Jackie. Seriously - that's really shitty. If you or I left our sidewalk like that, the city would slap a fine on us so quick our heads would be spinning.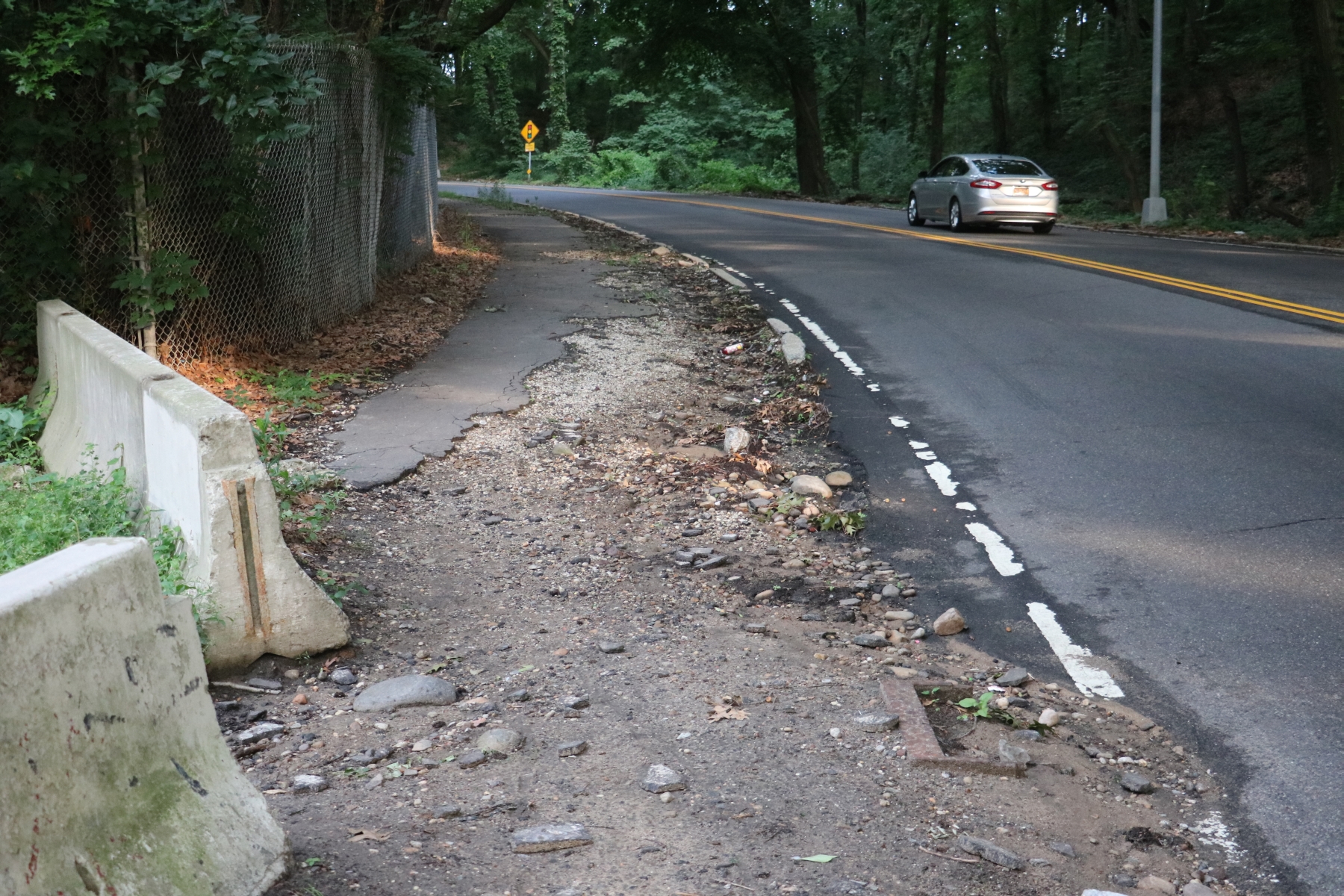 The steps behind Mary Whalen Playground. These steps have always reminded me of The Exorcist. By the time I got here, I was pretty hot and sweaty and glad I was walking down these steps instead of up.
Mary Whalen Playground, 79th and Park Lane South, formerly the Lott Avenue Playground. This was part of the golf course until the 1920s when residents from Woodhaven complained. The golf course was reshaped, they took an extra bit of land from the Glendale side to make up for the two holes they lost. Click here to read more about it. This playground is about to undergo a major renovation - CM Elizabeth Crowley has invited everyone to be a part of a groundbreaking ceremony at 10 AM on Tuesday, August 18th.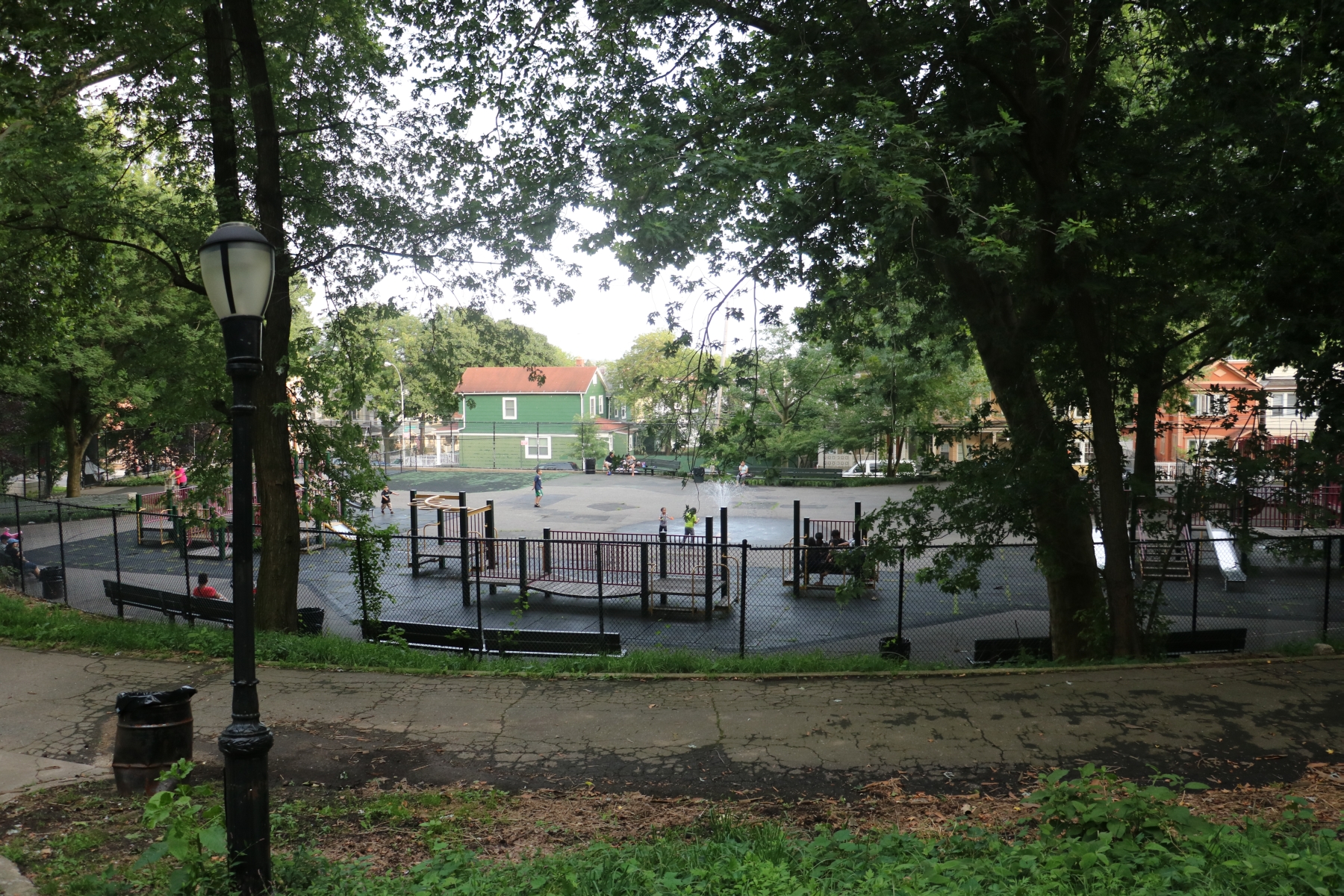 The water fountain - surrounded by the remains of many water balloons. How many of you remember filling up balloons at the fountain? Good times. By the time I got here, I was mighty thirsty - the water was cool and tasty.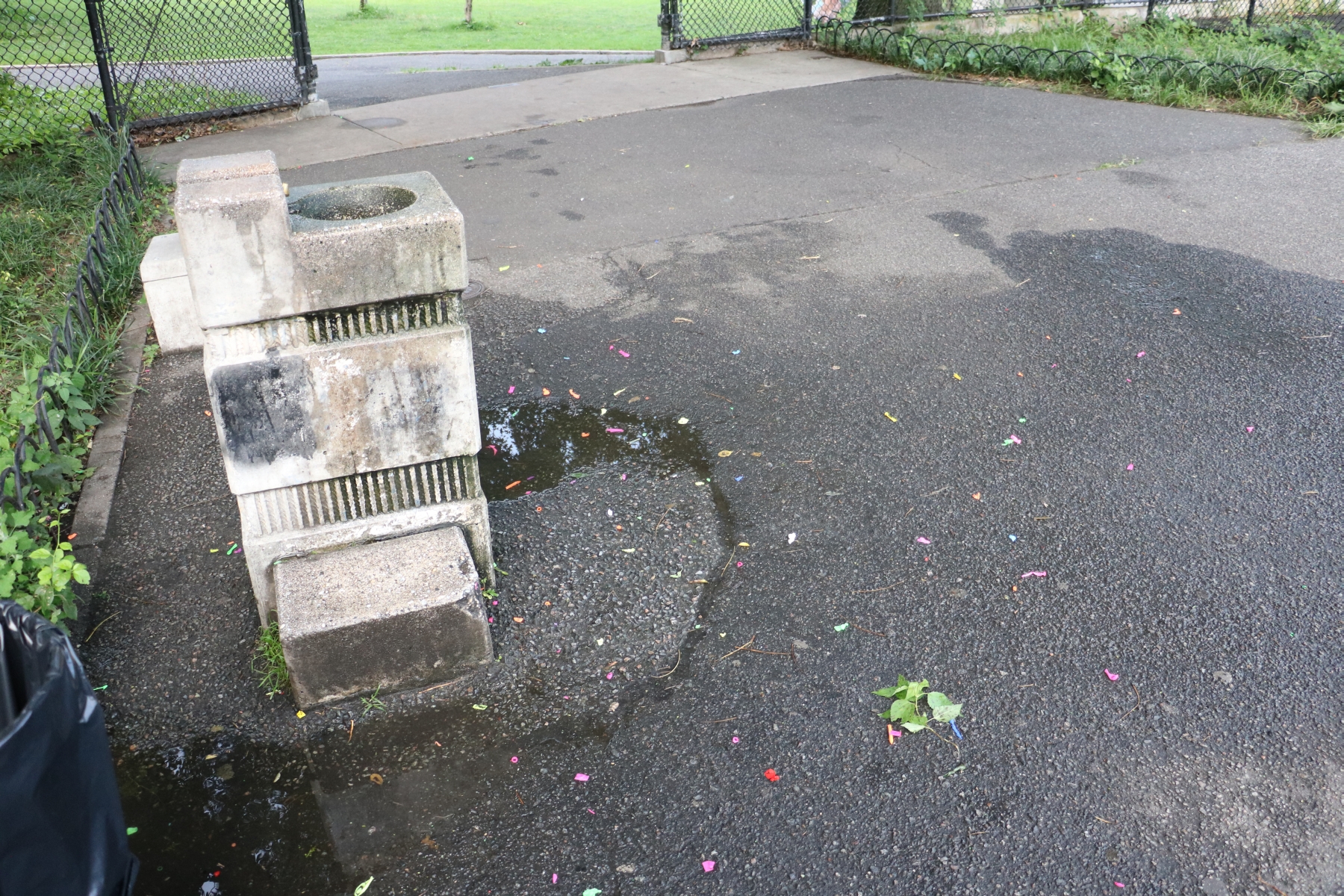 On boy, this fountain looked refreshing. If I could have run through this without losing my dignity and scaring the children, I would have.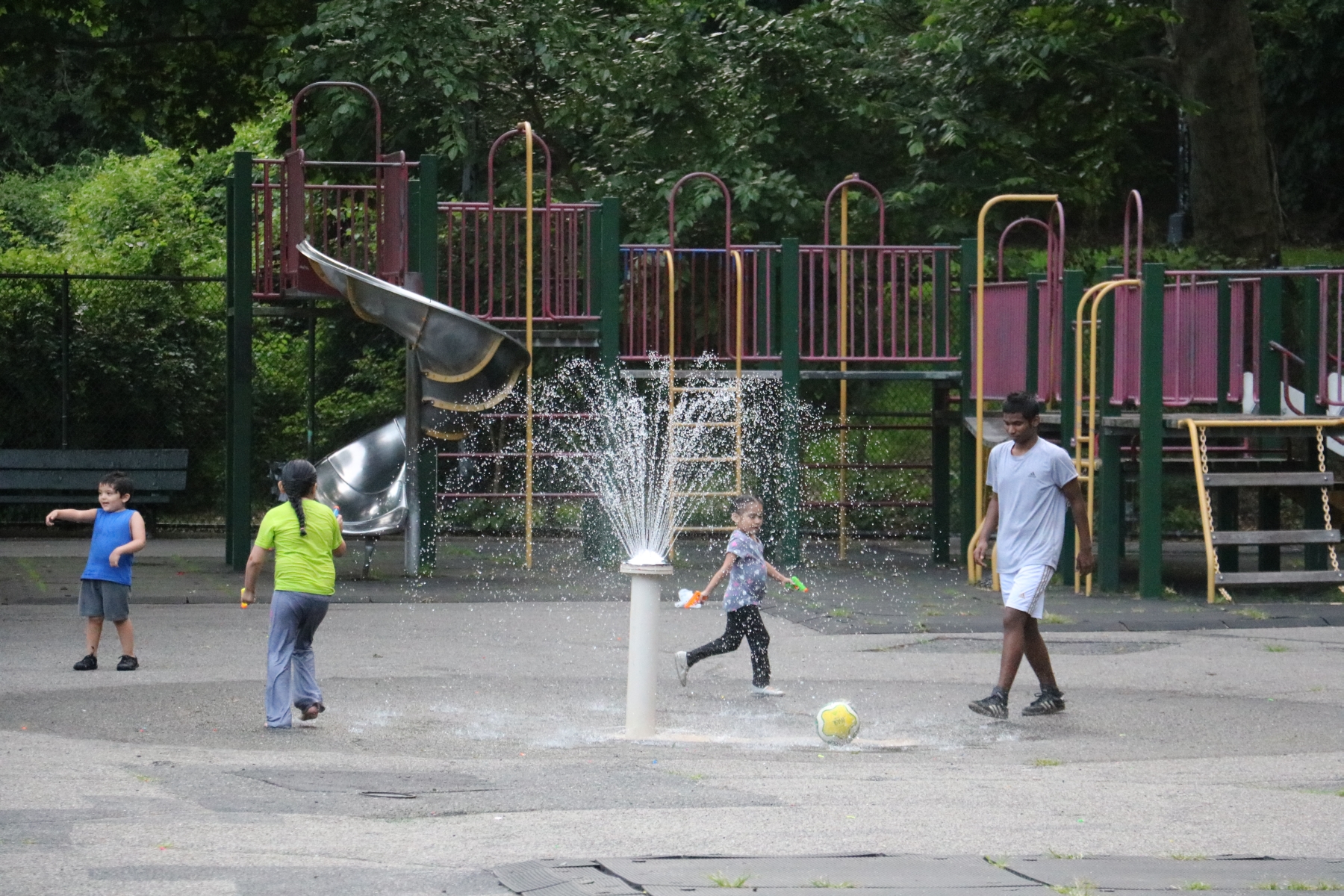 Moving out of the park, I came across this car right off Park Lane South. Imagine what it must have been like when these kinds of cars were the rule, not the exception.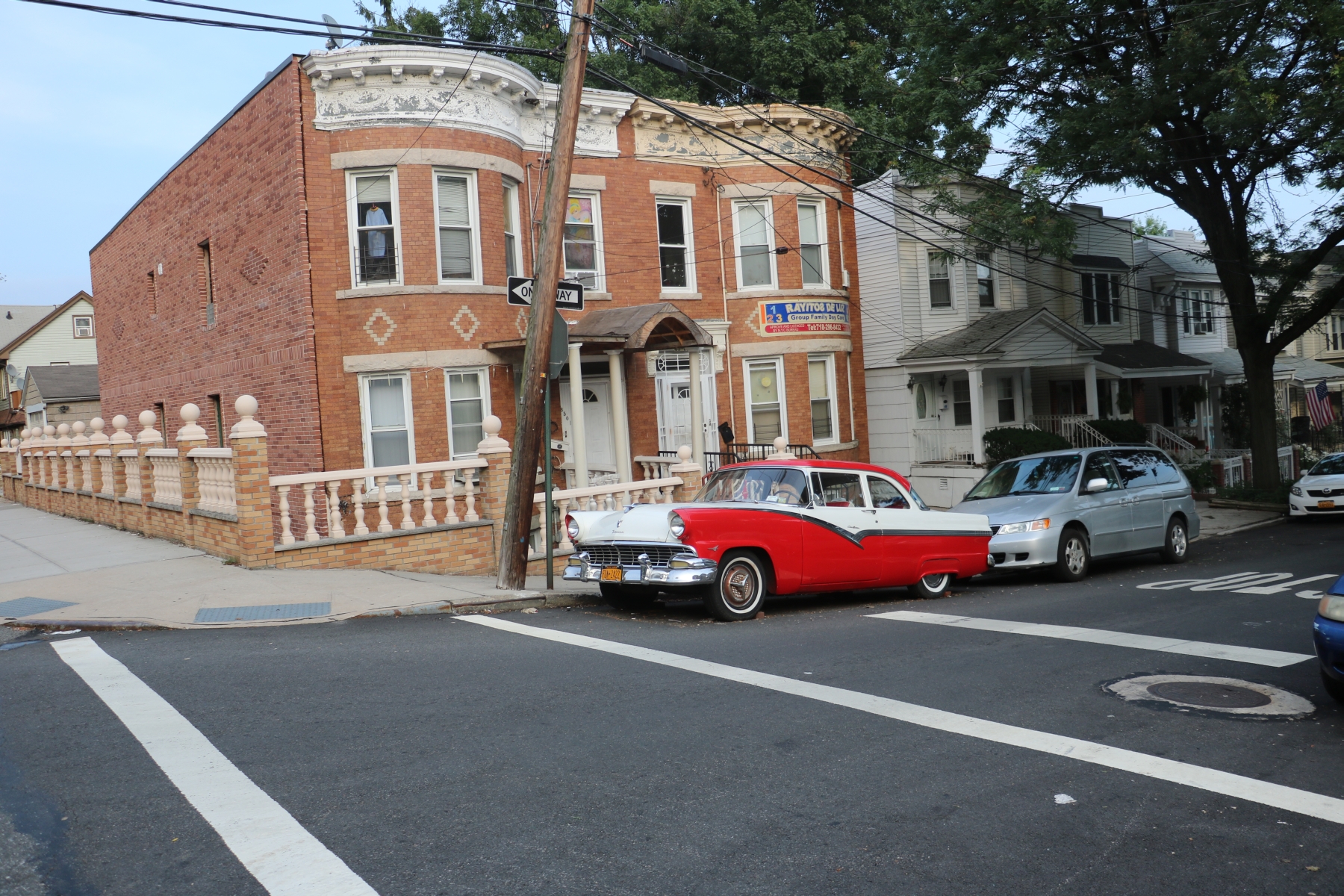 These two cats own this street like a boss. I had to wait a few minutes before both of them would look at me at the same time. I was happy to get this shot. They didn't share my excitement. I really do like this picture. This is 85th Avenue off 80th Street.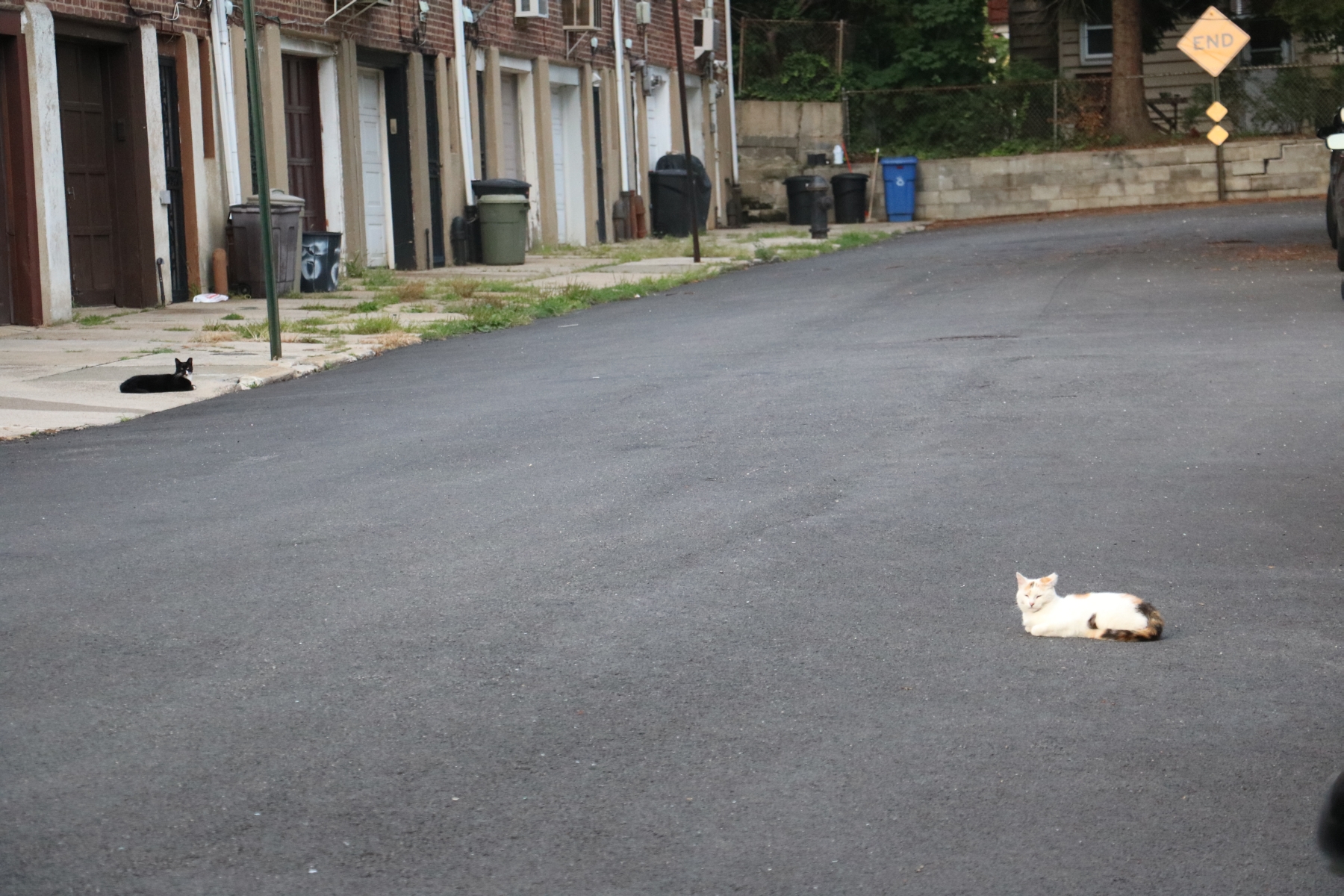 There's always a surprise waiting for you when you walk the streets of Woodhaven. Heading down 80th Street I came across a box of free items for kids, mostly books - how considerate!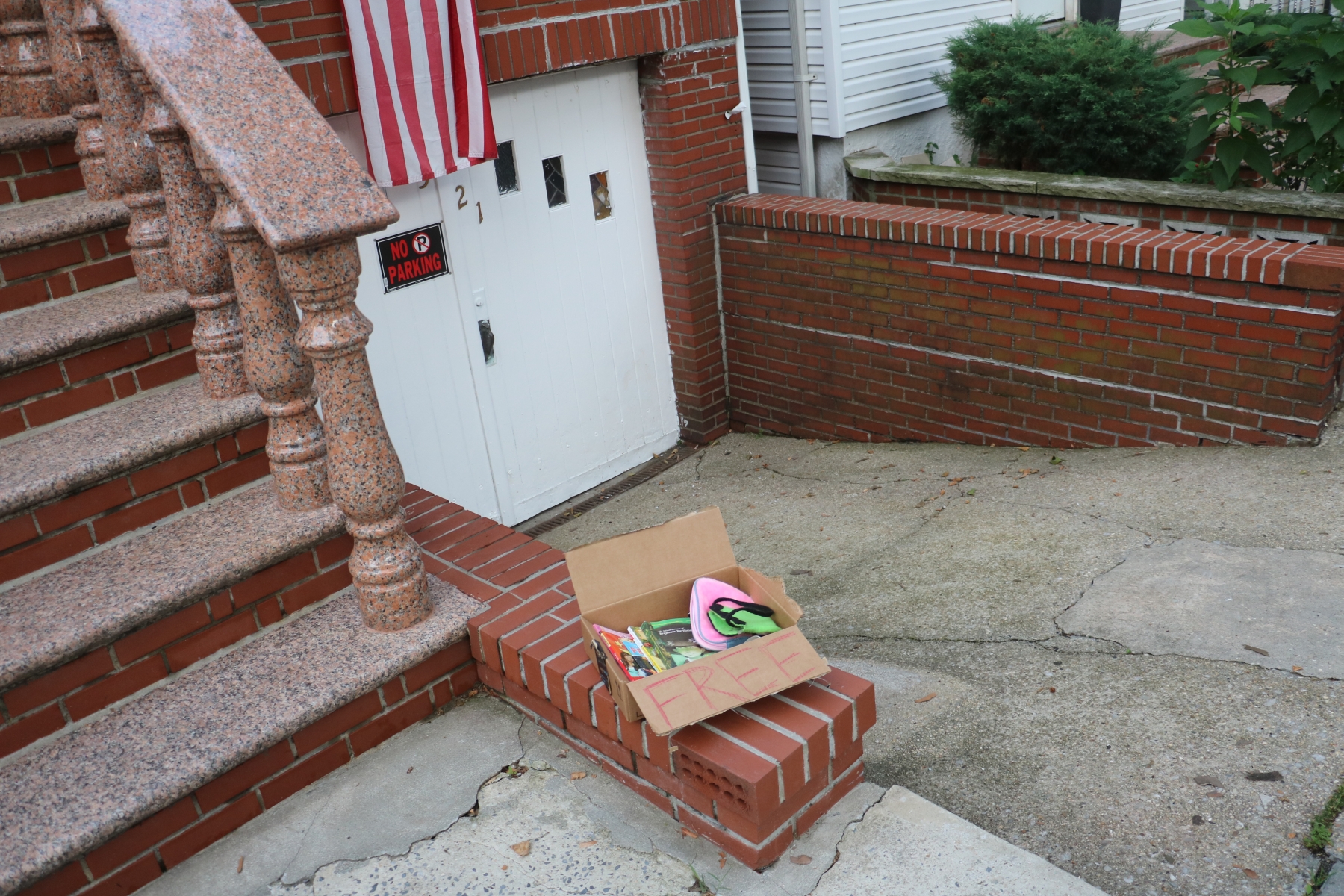 Here was another surprise - a caterpillar hanging out over the sidewalk. Took me a few shots to get something even remotely focused.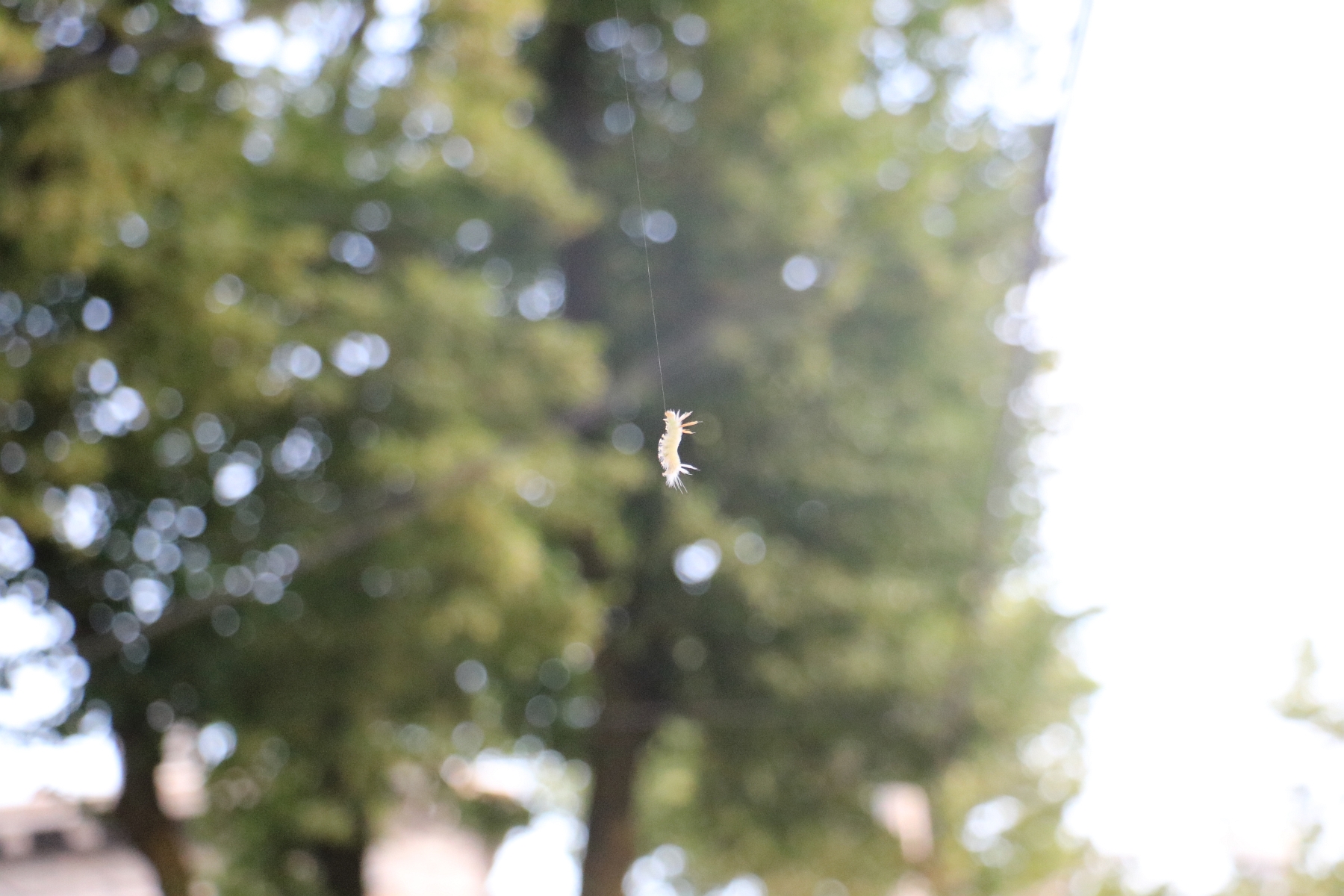 This house is cool - you don't see many houses like this where so much brick is exposed. Our house has wooden siding, shingles and finally aluminum siding on it -- I'd love to see what it looks like naked. I like to think it would look something like this. Very nice.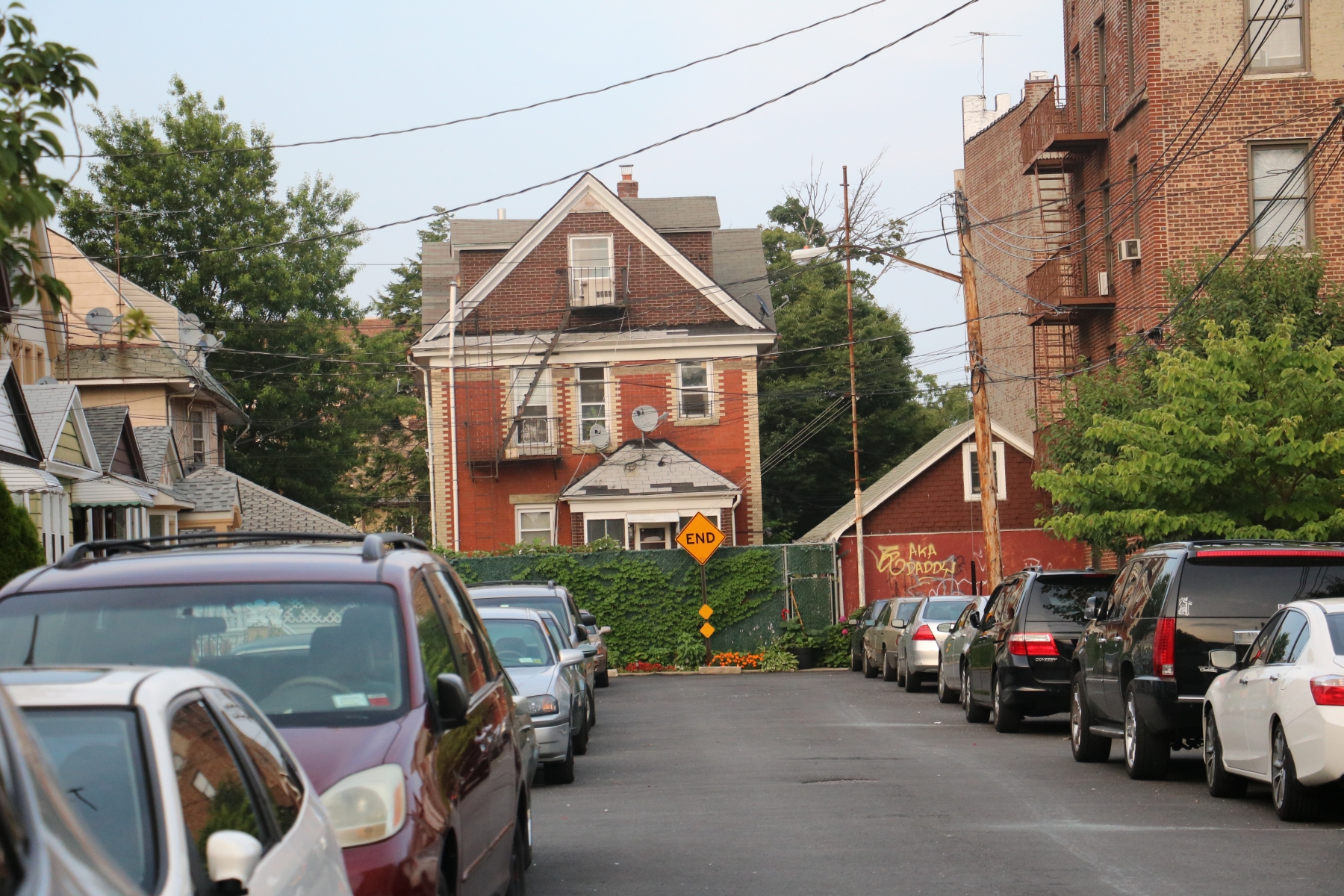 Back on the avenue - this woman collects a lot of cans and bottles in her travels.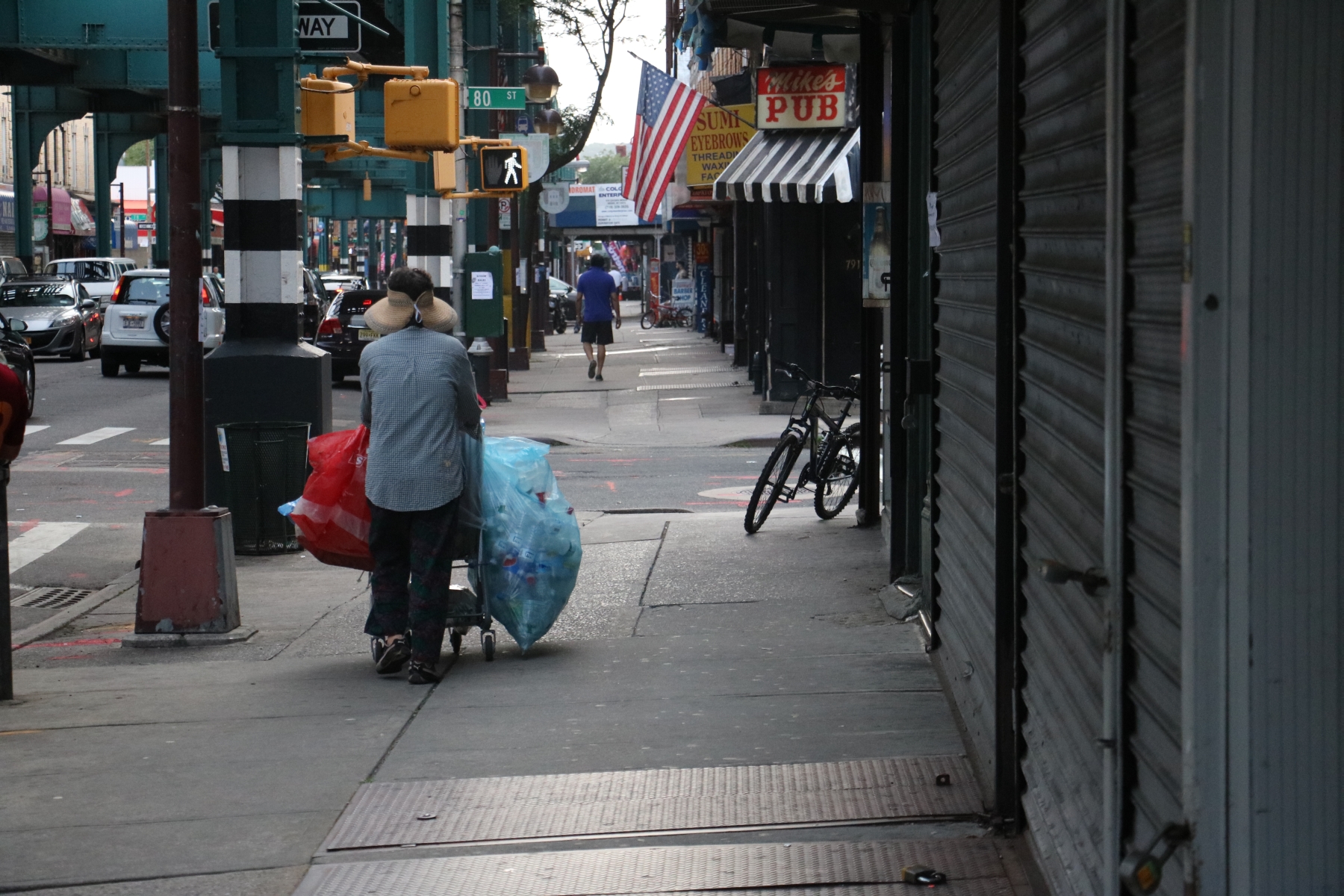 A familiar sight on our avenue, the push cart vendors. I avoid doing business with them; I prefer to support businesses that pay taxes. How would you feel to be paying rent and taxes -- as the store right behind her does -- only to have someone standing right outside selling cold ices and beverages - taking your potential customers. I'd chase them away with a broom.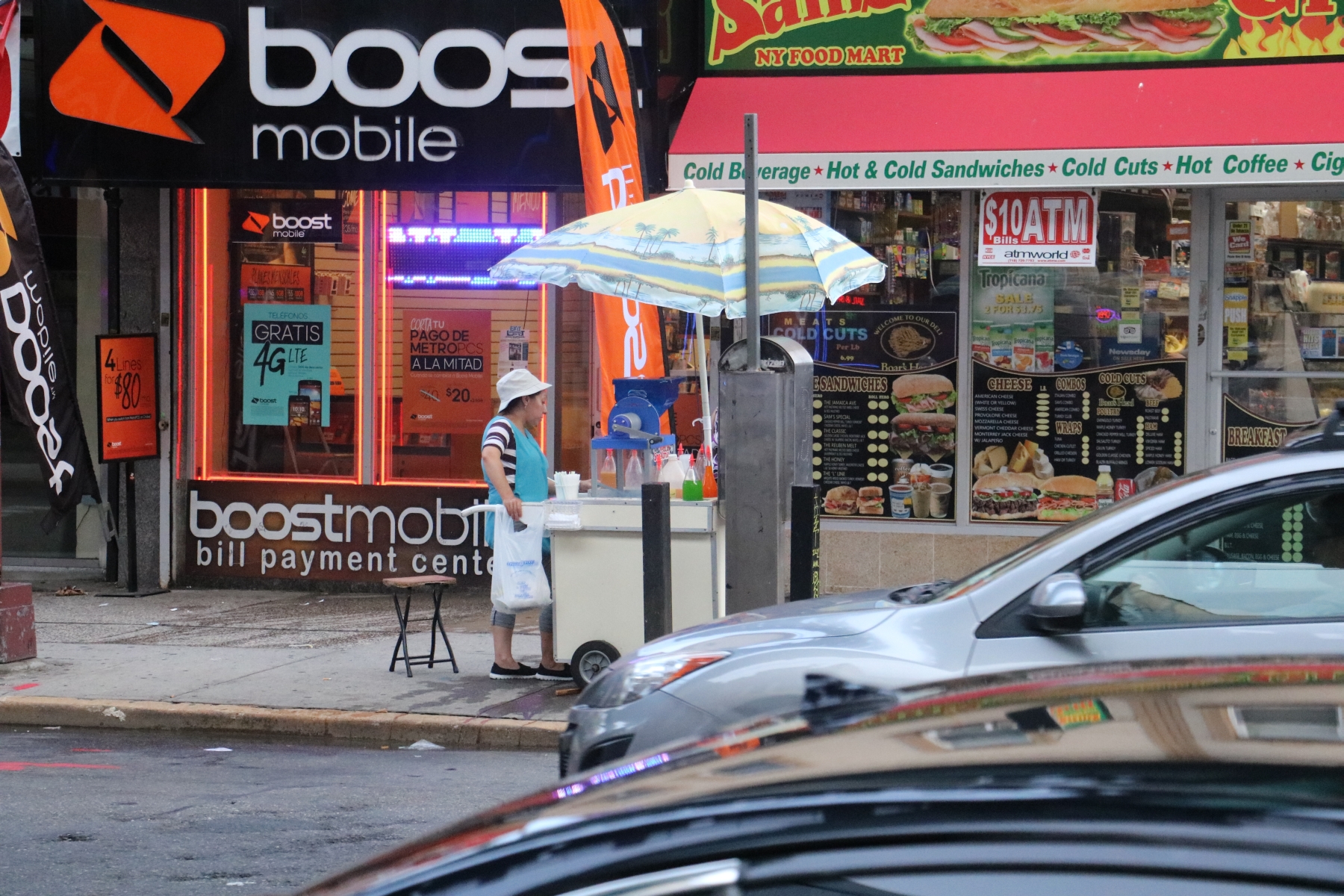 There's got to be a story behind this bike - or what's left of it - at Forest Parkway and Jamaica Avenue. Were pieces of it stolen? Did it break down? Did the owner forget the key and just take what he could?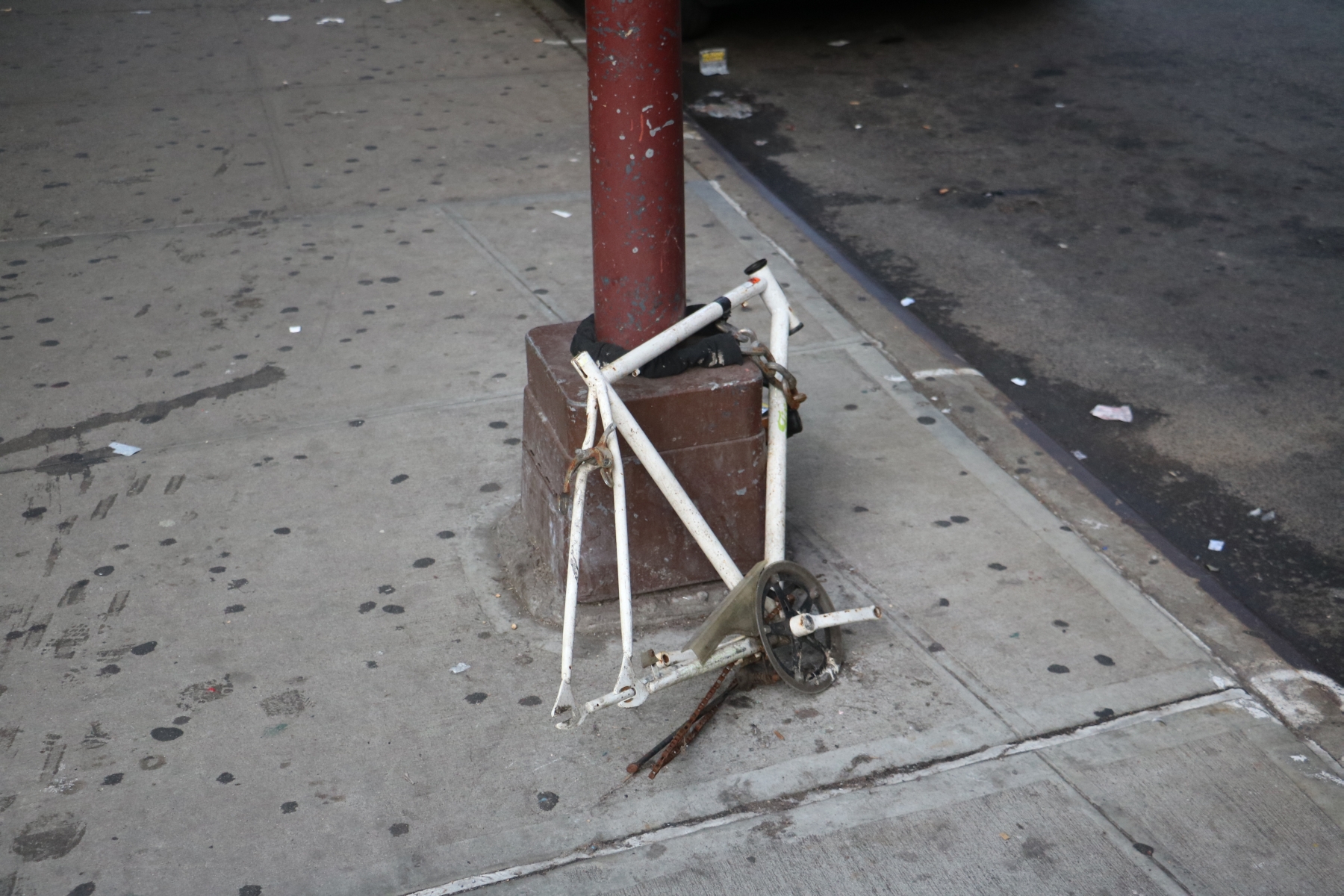 Sal's Pizza. Seeing that lady selling ices put me in the mood for an Italian Ice, so I went to Sal's. Shop local and support your local businesses. And if you notice, there's a little framed certificate on the wall -- Sal's supported the Woodhaven Residents' Block Association. If you see a framed certificate like this in a business, thank the owners for supporting the community.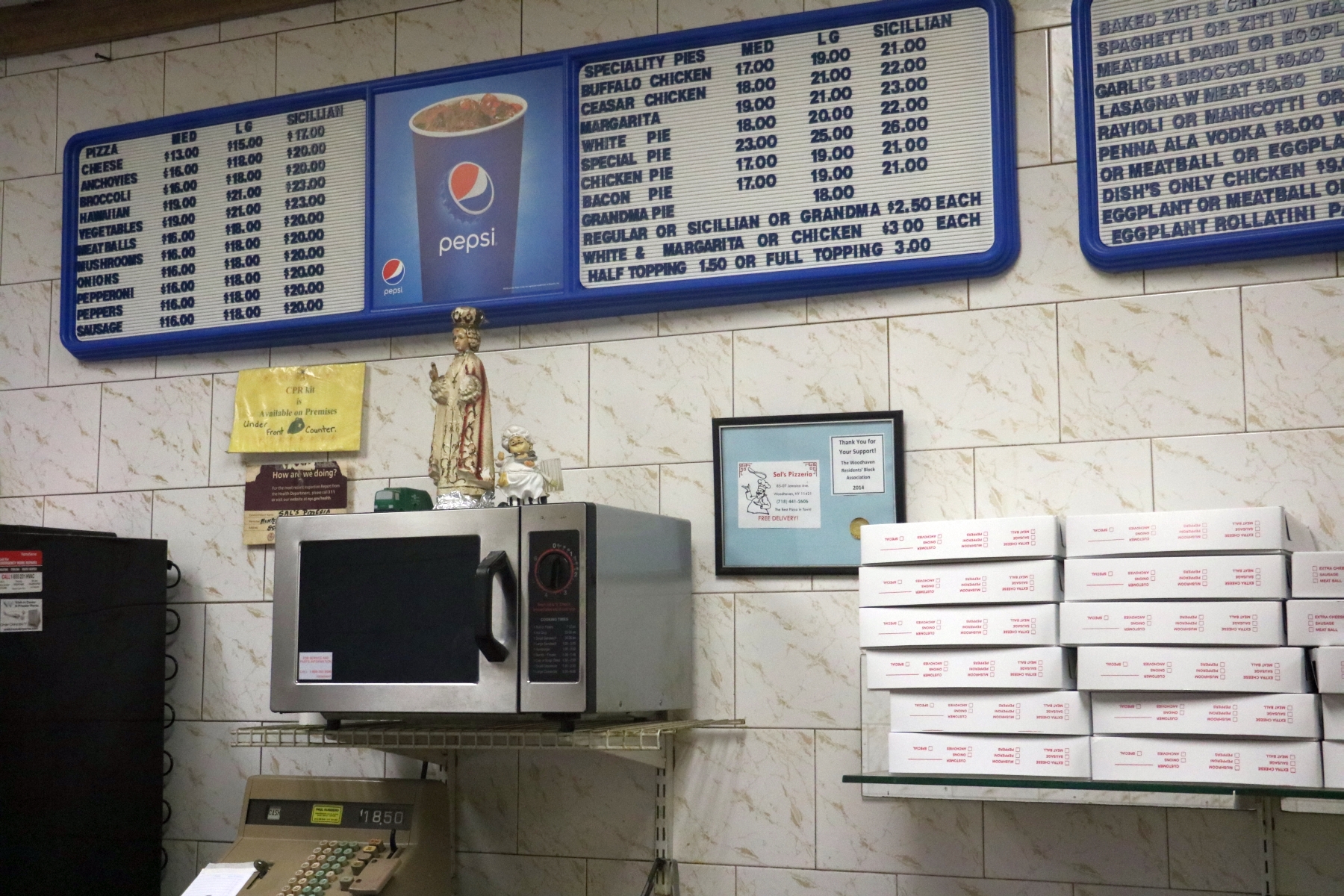 The newest addition to Jamaica Avenue -- a Sushi Restaurant. Right off 85th Street.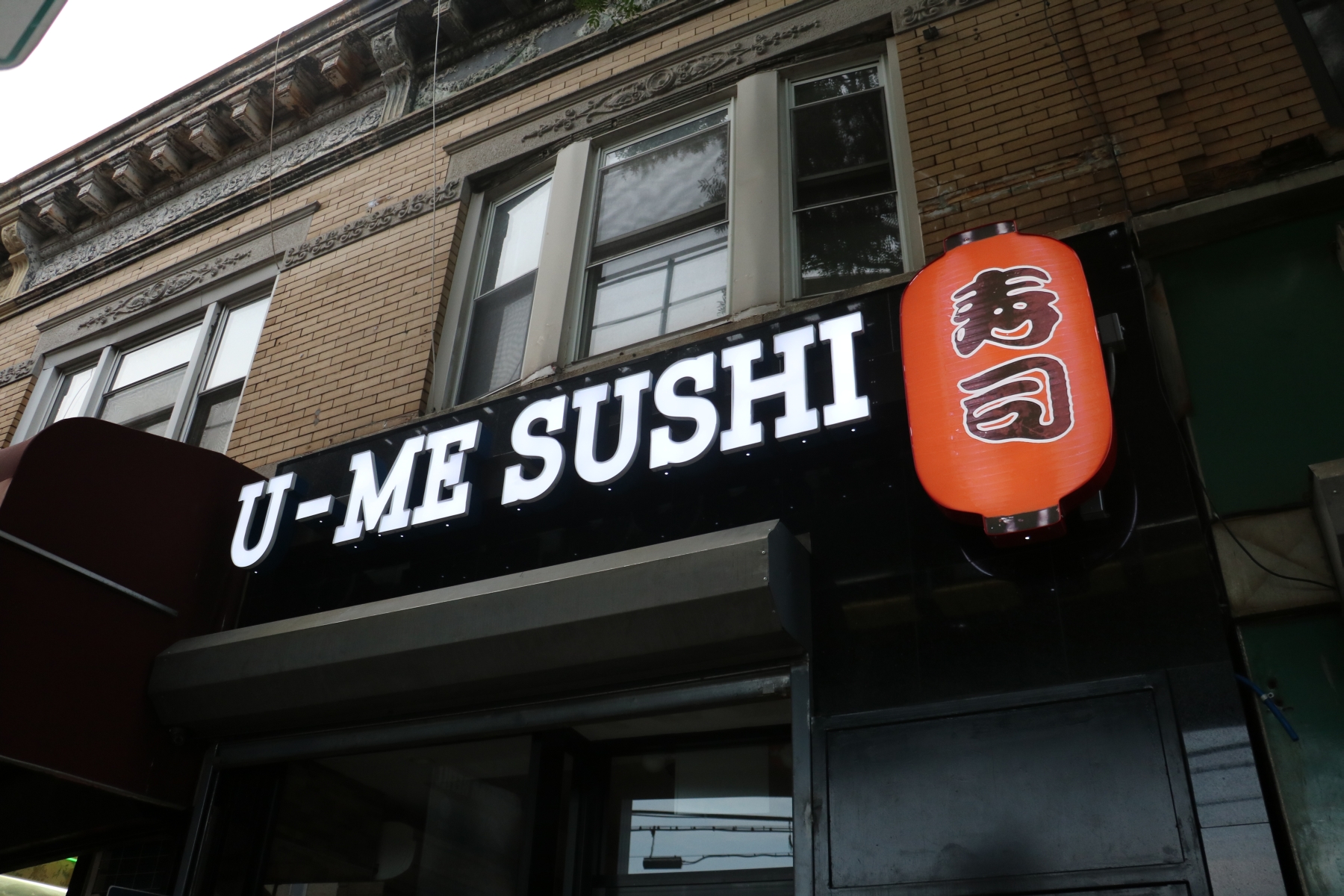 That 'No Ball Playing' sign look ancient. I might bring a Spaldeen with me on my next walk and bounce it against the wall a few times. Just to be a rebel.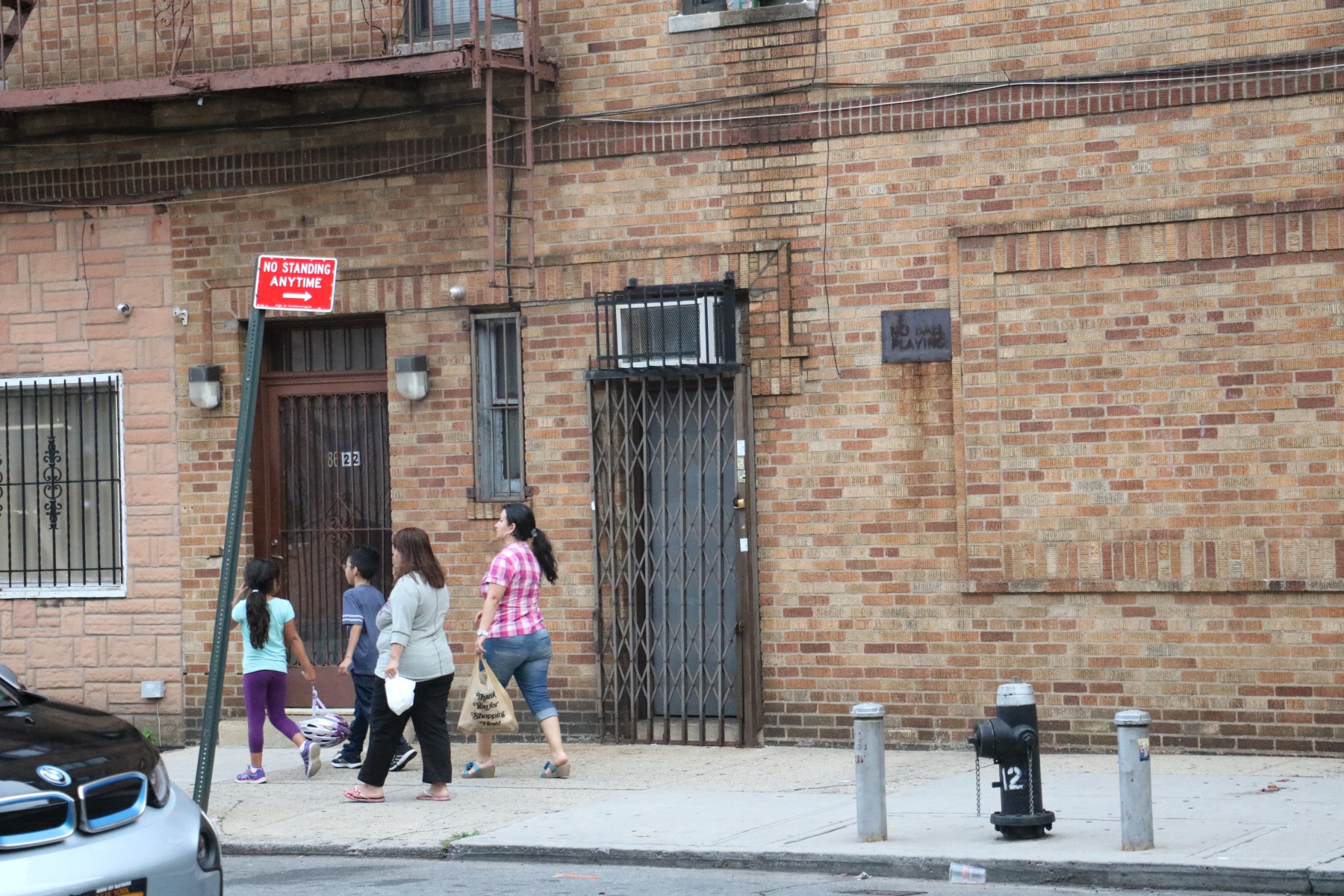 And the last picture from this little Walkabout -- these old paint can ads have been up for a really long time, back when the paint store was known as Liberty Paint. Click here to see an old picture of Liberty Paint and you'll see the paint cans on the all.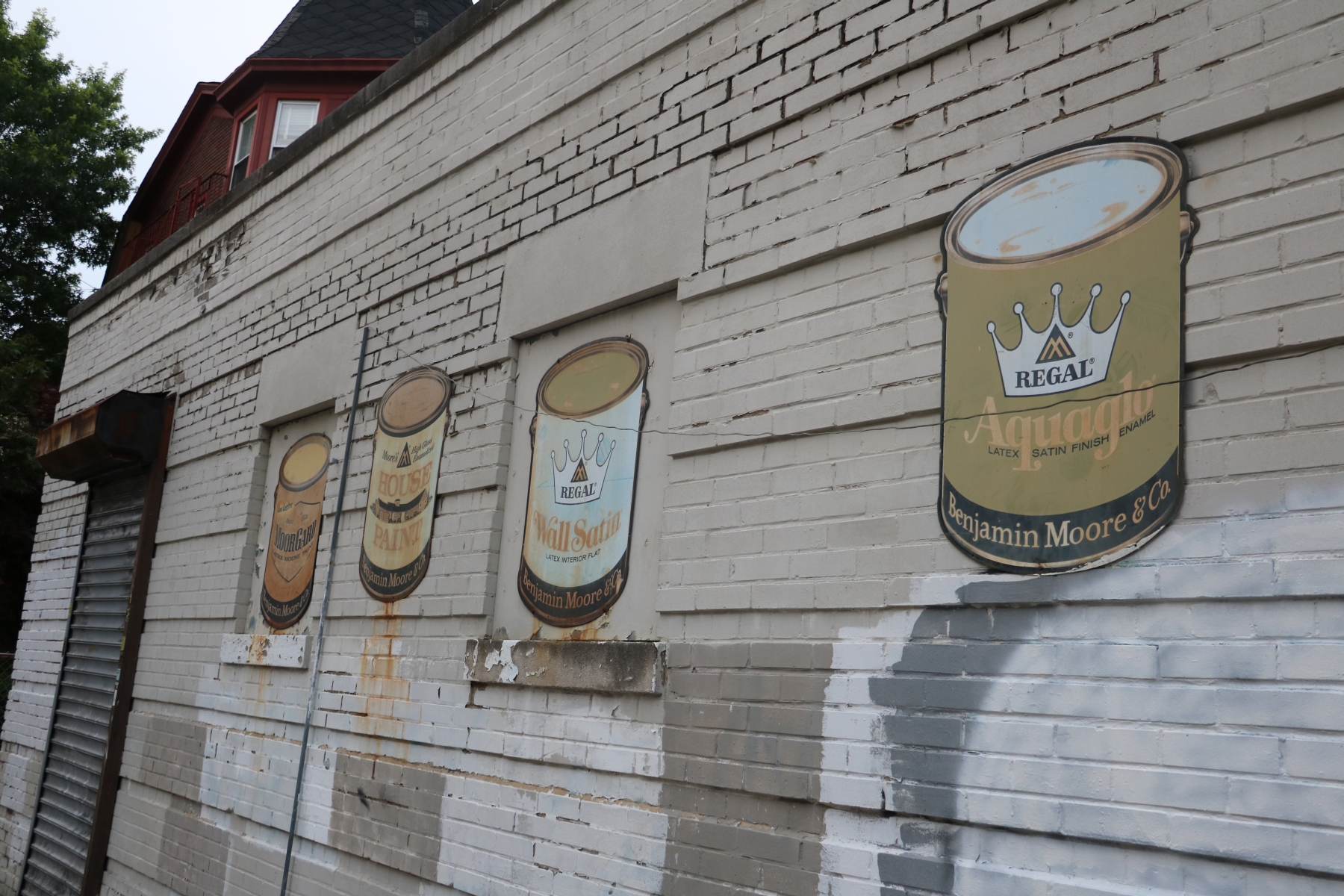 If you have any comments, or would like to suggest other projects, drop us a line at info@projectwoodhaven.com or projectwoodhaven@aol.com.
Return to Project Woodhaven's Home Page
Photos by Joey Wendell